Drool-worthy Cake Ideas for an Intimate Wedding Ceremony
Planning an intimate wedding? Here are some totally stellar Cake Ideas for an Intimate Wedding Ceremony to put a twist to your bakery designs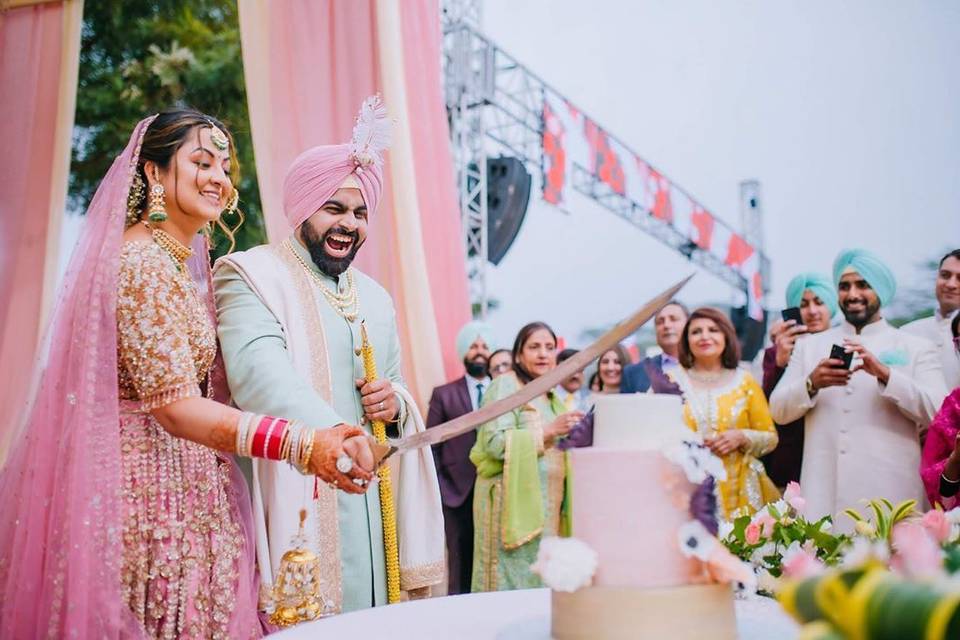 World-known American chef Julia Child said, "a party without a cake is just a meeting"! And we couldn't agree more. A cake is not just a dessert item for your events. It's a source of happiness. And when it comes to a wedding cake, it's not just about the taste anymore. The cake design ideas that bakers come up with these days are nothing less than works of art. From funky Bachelorette cake designs to gorgeous Engagement theme cakes, the creativity in every little piece is just awe-inspiring. So, if you're planning an intimate wedding and need tips on the cake, we have just the article for you. Check out some stunning cake ideas for an intimate wedding ceremony that would appease all your senses!
Blue Flower Cupcakes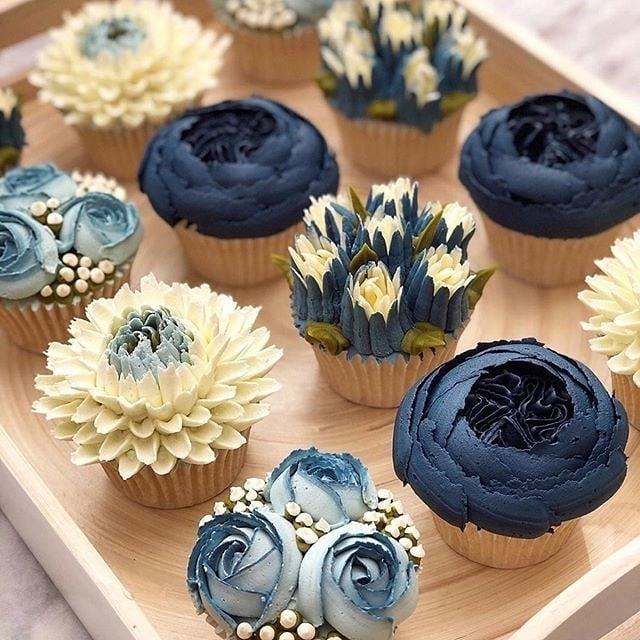 Image Courtesy: Cakes by Jane Taylor
if you're looking for cake ideas for an intimate wedding ceremony with a twist, try these floral shaped cupcakes. Cupcakes with fancy designs are always a great idea especially if it's a pre-wedding ceremony like a Cocktail party or a Bachelorette. The royal blue and white colour combo would also go fantastically if you're organising a blue theme wedding event. Sprinkle some tiny edible silver balls over the cupcakes for the perfect finish.
Multi-tiered Homemade Cake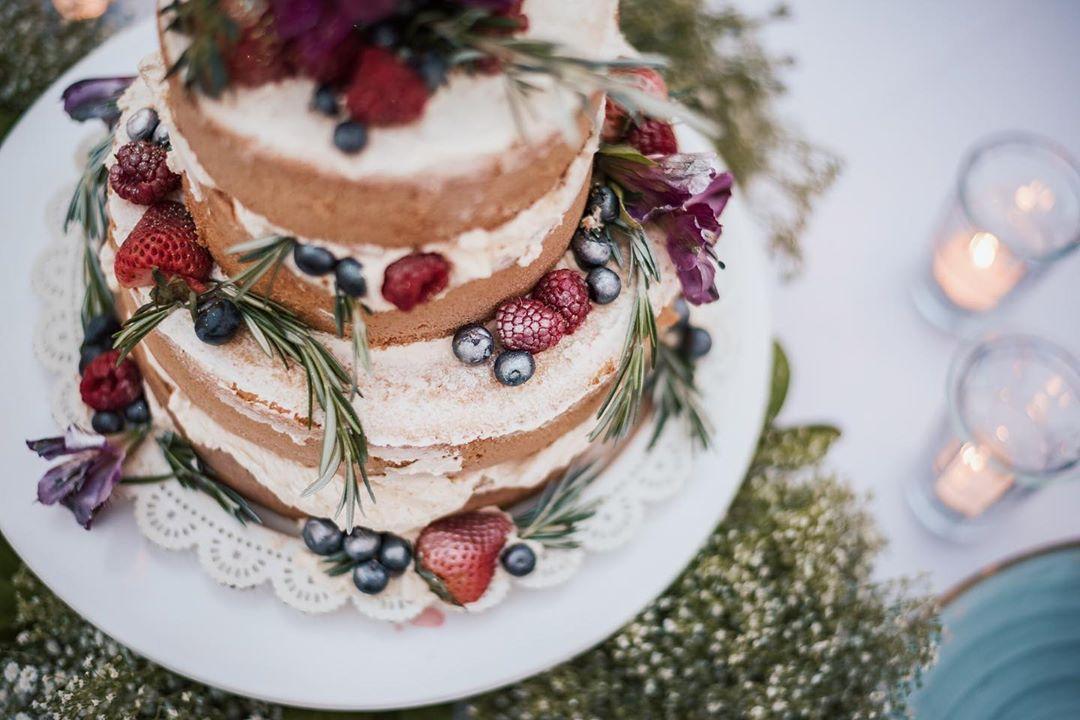 Image Courtesy: Ban Kasa Curacao
When it's an intimate wedding, nothing works better than a homemade cake! One of the winning cake ideas for an intimate wedding ceremony is when one of your loved ones bake something special for the occasion. A multi-tiered homemade cake with sumptuous frosting decorated with strawberries and blackberries would be just the perfect gift for your BFF if you have a baker's knack! If you can pick the colour of the cake keeping her wedding dress colour in mind, that would simply be just icing on the top!
Pink Roses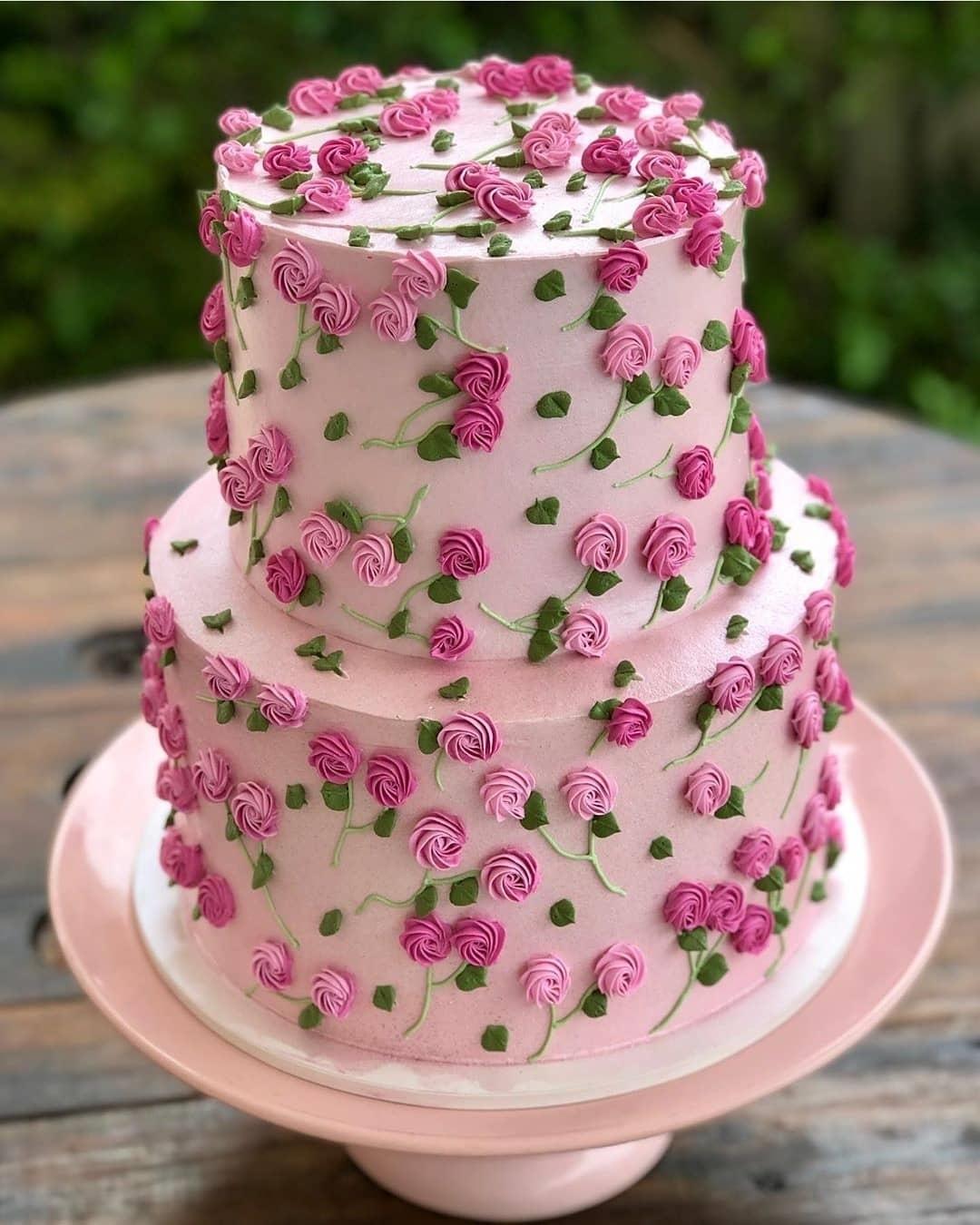 Image Courtesy: Gordices Da Mah
Planning a fairytale theme romantic wedding? A pink cake with pink little roses with stems all over it would be just one of the most perfect cake ideas for an intimate wedding ceremony in that case! The sheer romanticism and delicate look of the cake would go perfectly with your dreamy pink lehenga or a soft princess gown on your reception. You could also go with this cake on your floral theme Mehndi or other pre-wedding ceremonies.
Peach Cake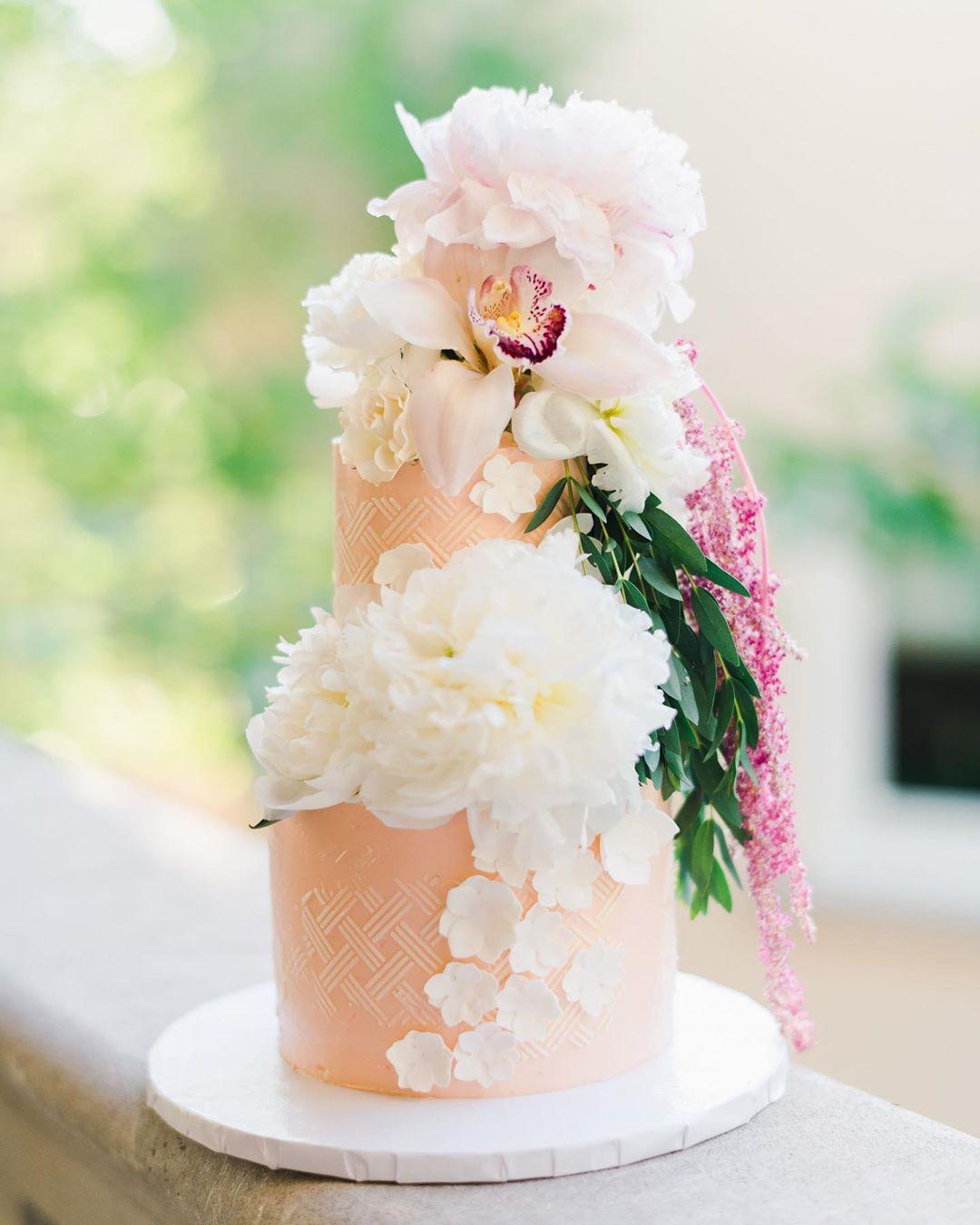 Image Courtesy: Honey & Salt Co.
One of the most popular cake ideas for an intimate wedding ceremony is a peach cake. It's ideal for a Christian wedding, an Engagement or any wedding reception party. Everybody loves a classic old fashioned peach colour cake with flower & pearl decorations. Go for a simple cake design or get a huge multi-tiered one. Don't forget the silver beads and petal toppings to make it look all the more elegant and delicious.
Bright Yellow Flower Cake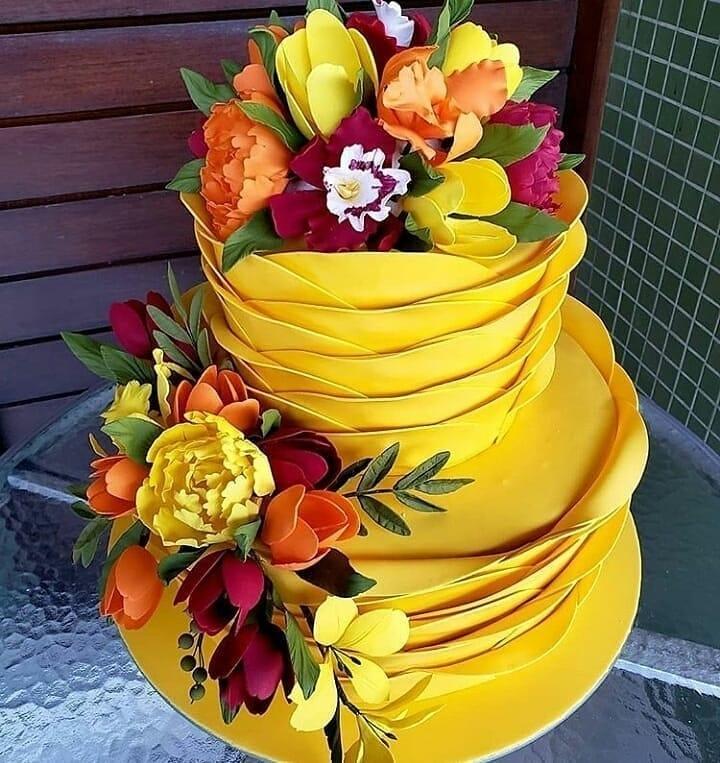 Image Courtesy: Mariana Hebolos
Want to bring some colours to your whole wedding theme? Opting for a bright yellow flower cake would be one of the boldest yet trendsetting cake ideas for an intimate wedding ceremony! Especially if you love vibrancy and cheerfulness! You could assign yellow as your reception theme and sport a gorgeous yellow lehenga to keep up with the scheme. This grand yellow cake would also be an ideal choice for a fun destination beach wedding with appropriate floral decorations and funky table decor ideas.
Black & White Wedding Cake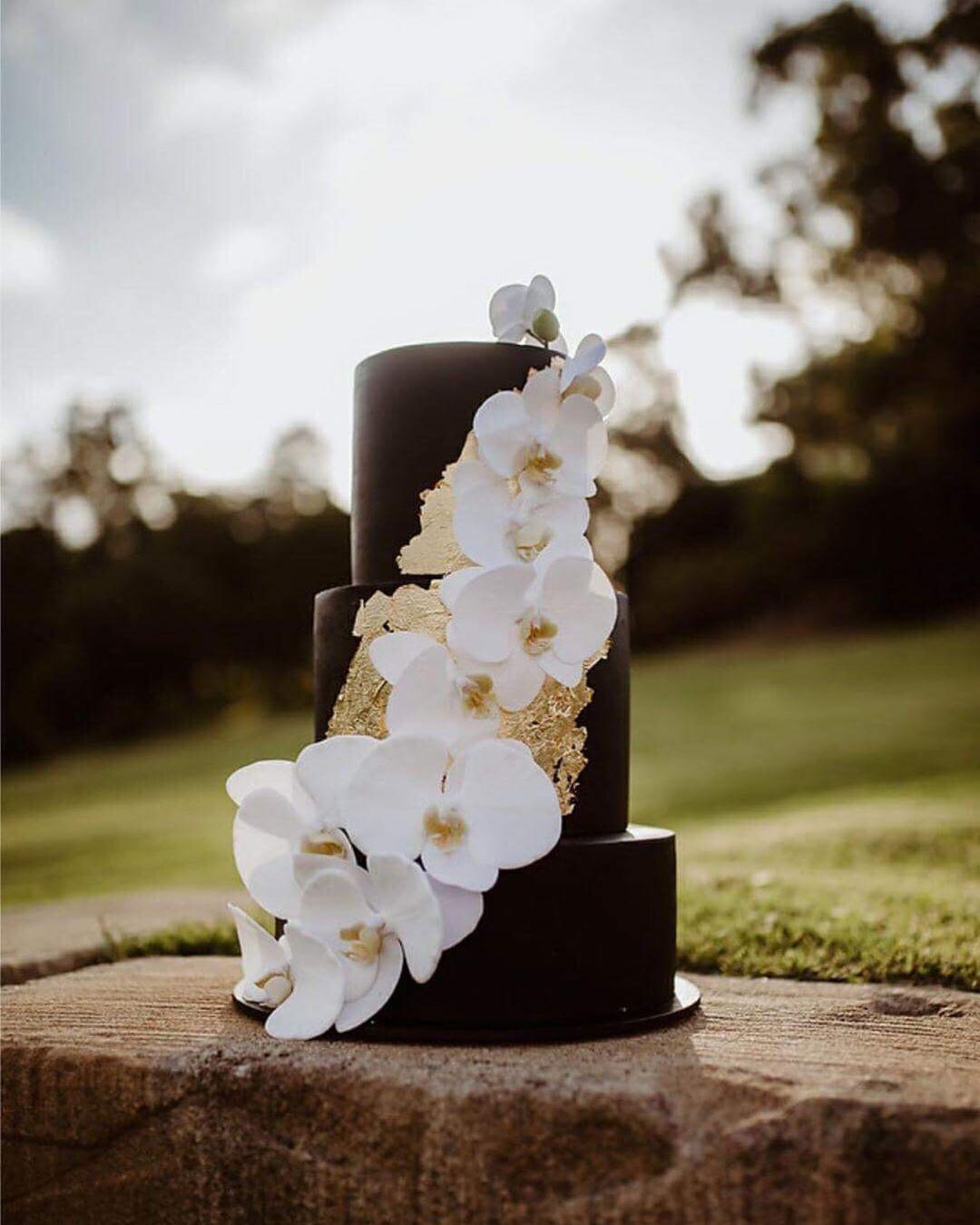 Image Courtesy: Sweet Society Co.
A graceful black and white wedding cake is something that will never go out of style. The dark chocolate cake with subtle white icing is one of the all-time classic cake ideas for an intimate wedding ceremony. If you're planning an elegant reception party where your outfits and reception decor are more of minimalist in nature, this is the cake to go! The bride in a chic white gown and the groom in a dapper dark suit with the most romantic songs playing at the background for their first couple dance right before they cut the gorgeous cake...now, that's the perfect frame!
Unique Shaped Cake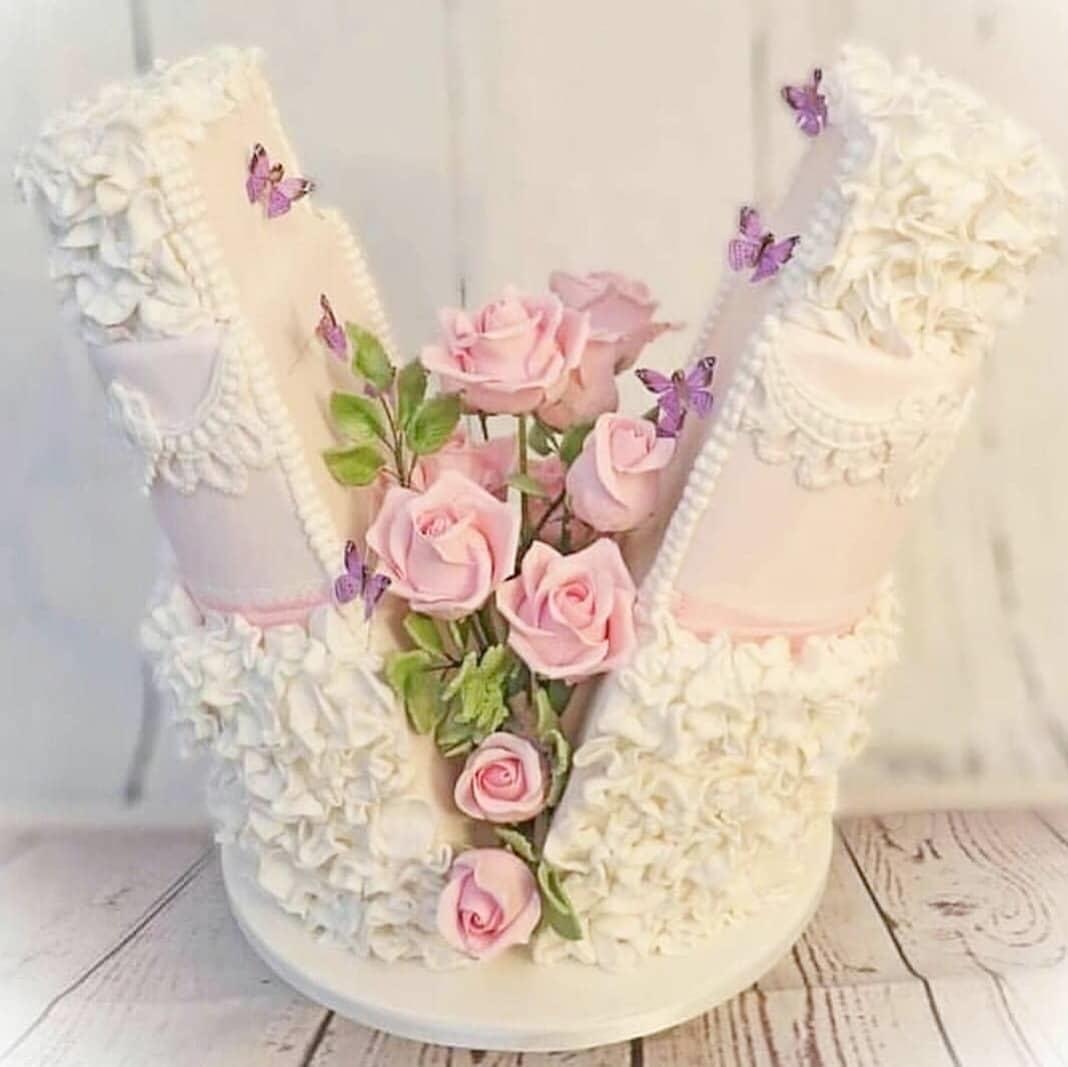 Image Courtesy: Tasty Chanel
Dial-up the fun and naughty with some funky cake ideas for an intimate wedding ceremony! Go for unique shaped and funny cakes for your Bachelorette party or cakes with naughty motifs for some innocent laughter and giggles. After all, it's not just about eating the cake but also about having a whole lot of fun with it!
White Dripping Cake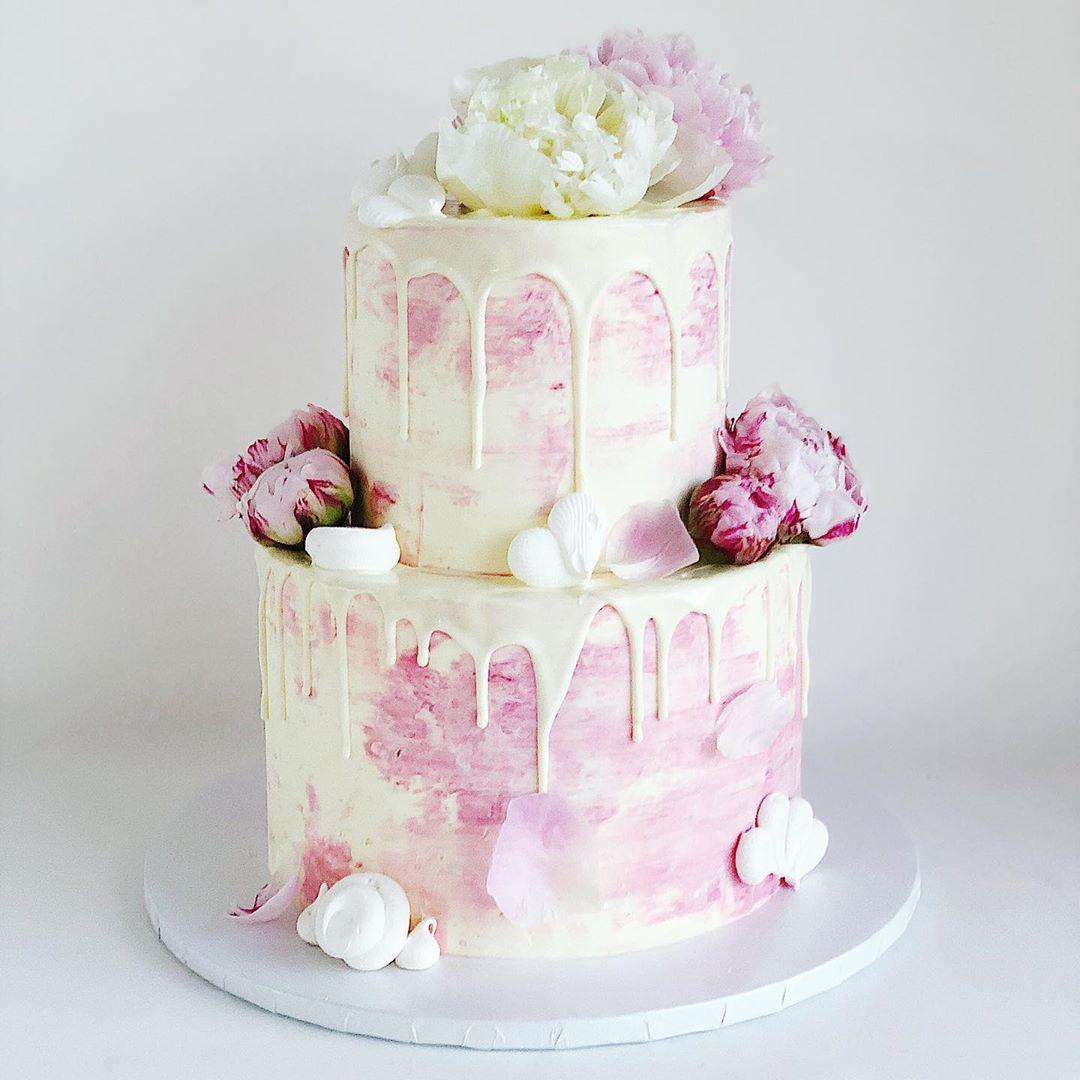 Image Courtesy: K Pilch Cakes
And finally, the queen of all kinds of cakes- the white vanilla cake with dripping frosting and decorative flowers! The elegance that a white cake exudes is incomparable to any other contemporary style of baked products. Its simplicity and royal appearance are enough to make a statement and everybody loves a piece of that!
You can use personal photographs and memories too as cake ideas for an intimate wedding ceremony. Use your proposal story or the cutest pre-wedding photo and customise your wedding cake using that image imprinted on it. Think creative. Personalise your cake using the theme of your wedding events. Musical instruments, celebrity photos, comic characters or superheroes...whatever clicks! Live your fantasy by incorporating innovative cake ideas to make your wedding function more exciting!
Looking for the best baker in town? Take a look at our vendors' list for some great deals!