Plan The Perfect Destination Weddings in Pushkar with WeddingWire India
Plan your destination wedding in Pushkar perfectly. Know more about the wedding budget, wedding venues in Pushkar and more right here. Scroll on!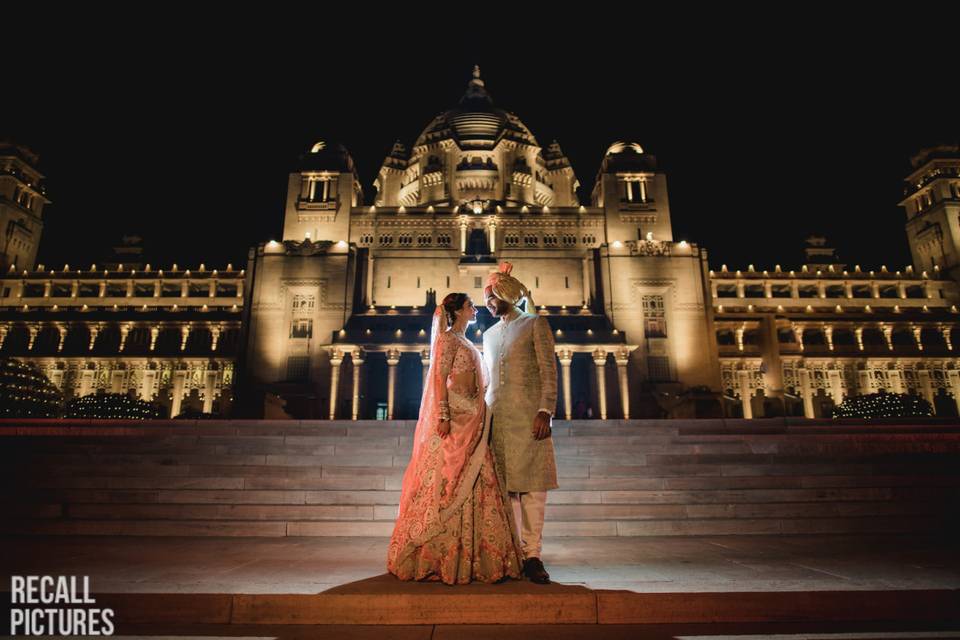 Destination weddings in India are a hot deal now. In fact, couples have gone ahead and planned destination weddings with themes and ideas that we only read about in fairytales. From royal weddings with palatial backdrops to intimate weddings in the lap of a valley - Indian destination weddings have seen it all. And when it comes to picking a location for your wedding in India, a destination wedding in Pushkar is on top of the list. The majestic touch of Rajasthan is poised with impeccable natural beauty - you can plan your perfect destination wedding in Pushkar.
The land where the oldest and biggest ever camel festival is held - Pushkar is also known all over the world for its Holi celebrations. This quaint spiritual town is also home to the beautiful Pushkar lake which serves as an exquisite pilgrimage site for the Hindus. That is not all, because the town of Pushkar is also renowned for its scenic beauty – surrounded by the magnificent Aravalli ranges on one side and the sublime Thar desert on the other.
Nestled in a beautiful area of Rajasthan, hosting a destination wedding in Pushkar would be an excellent way to embark on your new journey. Offering the panache of elegant wedding venues and the promise of a gorgeous wedding celebration, Pushkar is indeed one of the best wedding destinations in India.
To help you plan the perfect destination wedding in Pushkar we have curated a list of things you need to consider.
Things to Consider
Unlike planning a wedding near your residence, destination wedding planning has its perks and quirks. A detailed wedding plan is a must if you are looking forward to hosting the perfect destination wedding in Pushkar. While you are taking care of the bigger tasks on your wedding checklist, here is a list of things that you must not miss out on!
A budget that includes miscellaneous investments.
While you plan your wedding budget with all the significant chores in mind, make sure to leave a certain part of the wedding budget for miscellaneous things or urgent backups - just in case! This way you will be fully ready to take on whatever comes your way, without being faced with an unsightly surprise and a budget spillover.
What is the most suitable time to host a destination wedding in Pushkar?
The heritage city of Pushkar sees a plethora of weddings every year making it one of the most common occurrences in this tourist destination. However, the summer months might be extremely uncomfortable for you to host any festivities especially if you have any outdoor events on the itinerary. The winter months, however, are one of the best times for you to host a destination wedding in Pushkar. October to March is a pleasant period where the temperatures may even drop down to 1 or 2 degrees at night making it the best time to flaunt those silks and velvet outfits. If you want to avoid the extreme weather conditions, you can even try and plan your monsoon wedding in Pushkar around August and September with light showers that bless the city accompanied by a soft breeze. Y
Do you hire local wedding vendors?
Honestly, hiring local wedding vendors - meaning vendors who reside in the same area as your wedding destination, might save you a lot of extra expenses that might incur when you plan to fly the vendors in along with you. Hiring local vendors dismisses any travel and accommodation expenses. In fact, hiring vendors in Pushkar for your destination wedding in Pushkar is also a safer bet considering the local vendors have a birds-eye-view of the situation and with their local market knowledge, they will be very well prepared for the celebrations. However, you might always have a favourite vendor be it a photographer, the mehndi artist, the HMUA and so on - who you can bring along with you to your wedding venue.
Prioritise the location of the wedding venue in Pushkar.
While the spiritual hollow, Pushkar, can be accessed conveniently via different means of transportation, prioritising easily accessible wedding venues in Pushkar is also important for you. Especially if you have guests flying in from different parts of the world, you will need a wedding venue in Pushkar that can be reached comfortably via road, flight or train. Make sure the location of the venue is not very complicated for your guests to arrive at. This will also provide your guests with the freedom to arrive at the wedding as per their comfort without having to be dependent on another person's schedule.
Budget For Destination Wedding in Pushkar
Ideally, a destination wedding in India can cost anywhere between INR 10 lakhs to INR 5 crores depending upon the kind of wedding you are planning. While the guestlist plays a very significant role in the wedding budget, we at WeddingWire India have seen couples spend INR 1-2 crores even in an intimate wedding. It is the experience that you are planning to execute at your wedding that matters most these days. Couples are going to every length to make their wedding a story of a lifetime not only for them but for everyone who experiences this celebration. Be it the exotic decor or the impeccable food menu - millennial couples are hosting literally fairytale weddings and we love it!
However, the budget for a destination wedding in Pushkar will cost somewhere between INR 10 lakhs to INR 40 lakhs. A simple wedding with less than 100 guests in Pushkar can be accommodated in less than INR 10 lakhs if you do not stretch the number of days that you book the venue for. There are high chances that the wedding venue will be so beautiful that you will not have to spend much on wedding decorations or even if you do, you can hire local florists to deck the venue up within your wedding budget. In fact, there are times when the wedding venue offers you packages that are inclusive of food and accommodation too - which will again keep your wedding budget manageable and light.
Pick the venue as per your wedding budget and we are not exaggerating when we say the wedding venues in Pushkar will leave you spoilt for choice. From luxury Havelis, Forts and Palaces to boutique hotels and 7-Star properties embedded with modern amenities, you will surely find a destination wedding venue in Pushkar for your nuptials that will not only be perfect as a location but also provide an experience of a lifetime to you and your guests.
Also Read: Host Your Destination Wedding at Pushkar Fort Rajasthan for a Unique and Soulful Experience
Destination Wedding Venues in Pushkar
While Pushkar has numerous properties that are capable of hosting the perfect wedding for you, we have handpicked some of the best and most popular destination wedding venues in Pushkar that offer a variety of packages to fit your requirements best.
Scroll on and bookmark the ones that you like.
Regenta Resort Pushkar Fort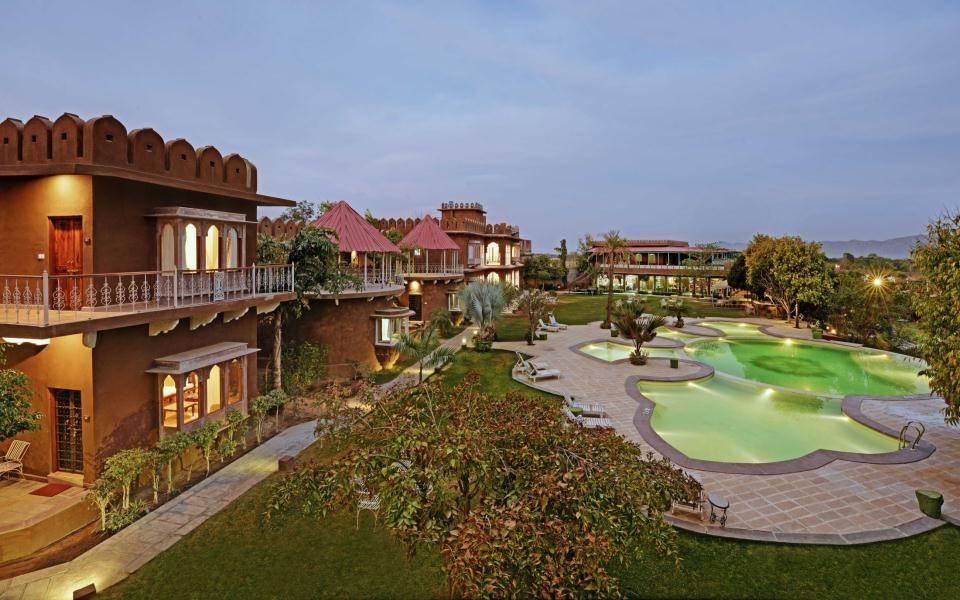 Regenta Resort located in Pushkar is a part of the Royal Orchid hotel chain that provides you with a fulfilling place at the venue and offers you some amazing wedding experiences related to pre-wedding and wedding events that will impress you and your guests as well. The venue provides you with a thrilling experience and memorable wedding gala with the help of their services.
The Greenhouse Resort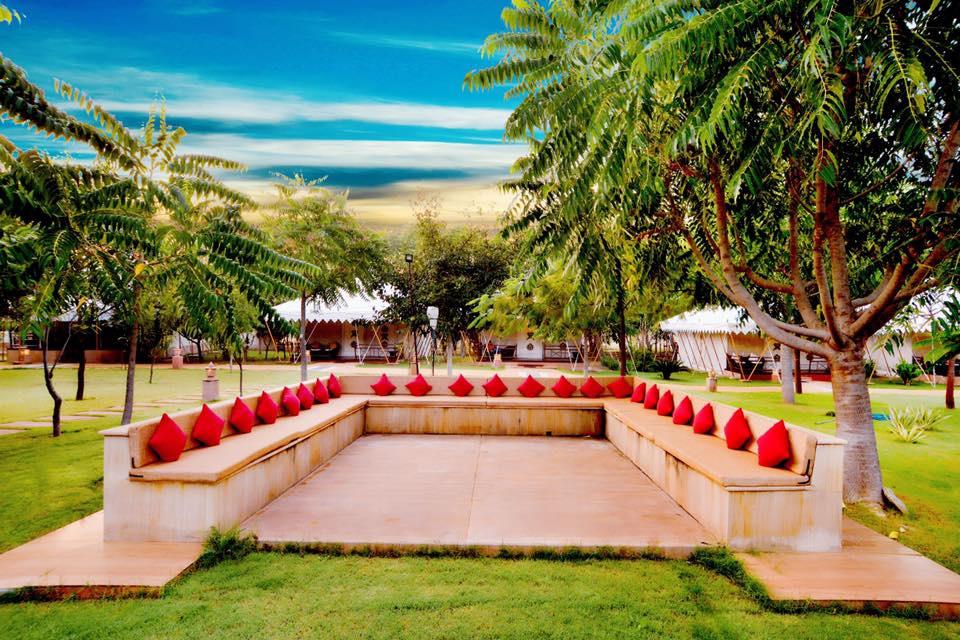 The Greenhouse Resort - Pushkar is located in the city of Pushkar and has been a favourite choice for the hosting of any special occasions. Weddings are one of the most impressive occasions that one can witness in their life, but planning the same is not an easy task to achieve. The first step of wedding planning is to choose a venue where you can host any and every wedding celebration of yours with peace and comfort. If you are looking for a venue like that, then your search can end here as this can be an excellent choice. With a capacity to entertain 30-300 and offer you the option to pick in-house catering too.
Also Read: Be One Step Ahead With Our Destination Wedding Cost Analysis To Plan A Flawless D-day
Ananta Spa & Resorts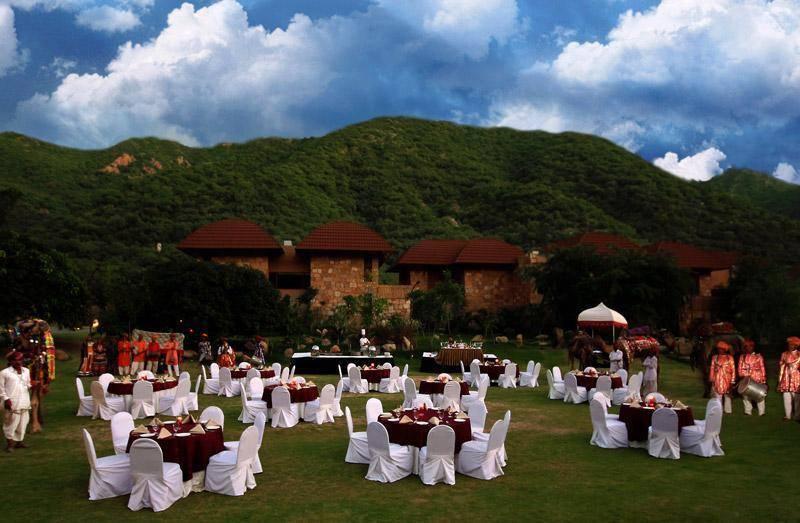 Looking for a beautiful destination wedding ceremony to have in Rajasthan, that has a royal feel yet a modern tranquil setting, then Ananta Spa & Resorts in Pushkar provides you with a great space to organize your wedding ceremonies and enjoy the regal feeling. The management and staff are efficient to offer you warmth and great hospitality. The Ananta Spa & Resorts has the capacity of accommodating 750 people and providing you with a great space, be it in a banquet hall, on the lush lawns of the resort or even at the poolside; Ananta Spa & Resorts makes sure that you are offered with the right setting and proper management of the wedding functions and ceremony.
The Country Side Resort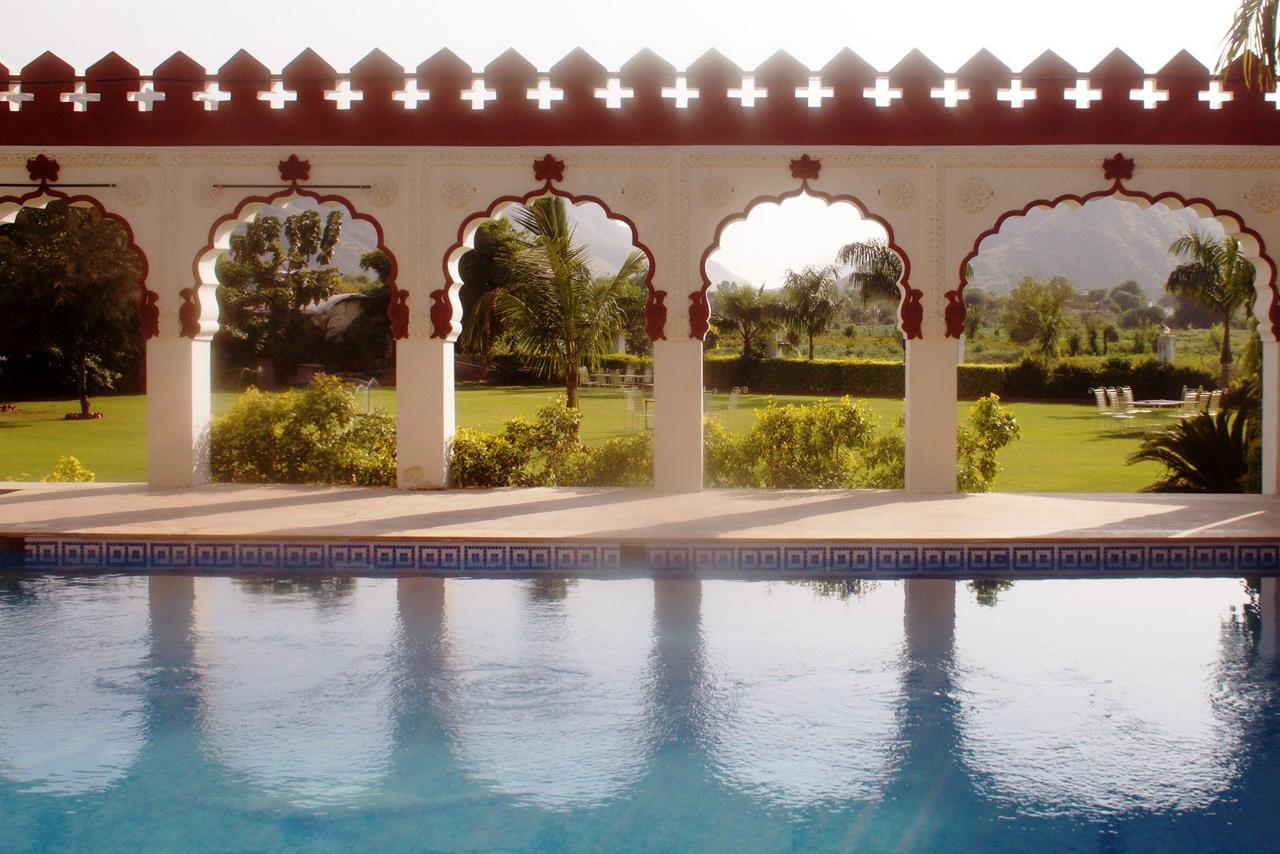 The Country Side Resort is a gorgeous wedding venue located in the city of Ajmer. It offers a perfect blend of comfort and serenity to its guests. The venue is engulfed by rejuvenating fresh and cool air along with a panoramic view of Pushkar's beauty. The contemporary amenities and splendid hospitality of this resort will definitely leave guests with fond memories of the place. The Country Side Resort has surpassed the expectations of the guests with its spellbound beauty and a wide range of amenities. The venue is very capacious and can easily accommodate 200-800 guests of yours at a given time. Their widespread lawns and welcoming lobbies are sure to strike a perfect balance between modern and rustic living. They have an enormous list of basic amenities including room service, internet, 24-hour front desk, air conditioning, bridal room, service staff, sound/music license and round the clock security. Their swimming pool is purified with a water filtering system and is huge enough and ideal for a refreshing dip.
Rawai Luxury Tents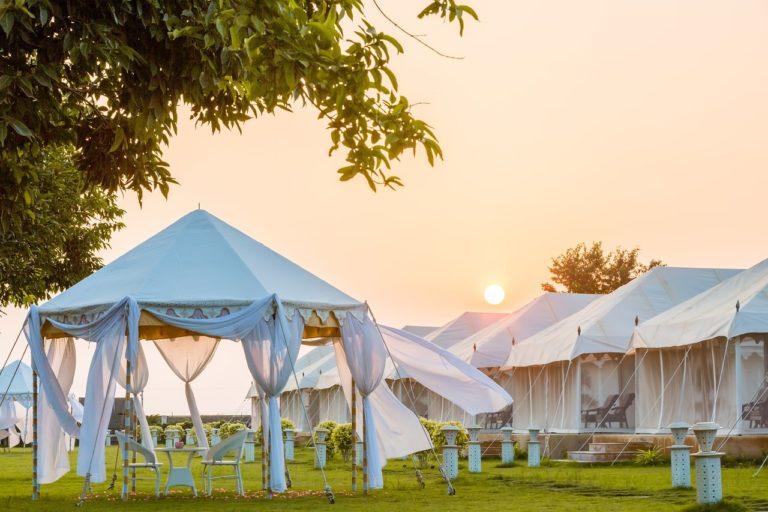 Rawai Luxury Tents is a wedding venue based out in the city of Ajmer. The fascinating world of perfection is here as this space is filled with magical vibes to host all kinds of your wedding days in the most perfect manner. Be it a family outing, a friend's party or a grand wedding, you can host the most cherishable and memorable moments of your lives at Rawai Luxury Tents. This venue can host any event in its extensive banquet area and is one such place where you will get one of a kind experience. Rawai Luxury Tents offers you the best tents and spaces to host your pre-wedding, wedding and post-wedding ceremonies. Their banquet hall can easily accommodate a guest list of 200 people at a time and the rooms are also spacious and made with clothes and tents to give a village-like vibe to your stay. If you have always wished to get married under the magnificent stars and exemplary assistance, then Rawai Luxury Tents is the perfect place to start the beginning of your new venture with your loved ones while forging wonderful concepts for a lifetime.
Also Read: Destination Wedding in India & Everything You Need to Know About It
Genx Rangmahal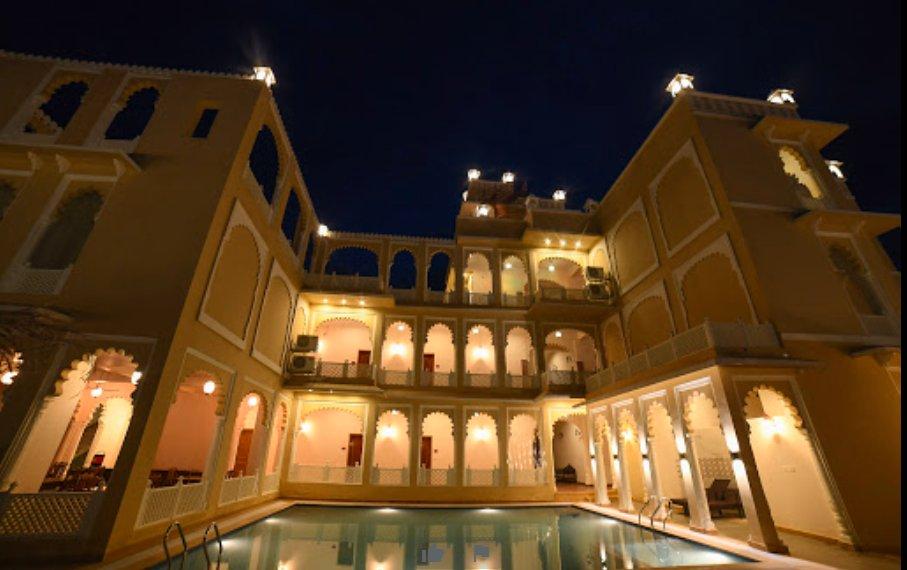 GenX Rangmahal Pushkar offers a variety of event spaces to host your wedding functions. Their open lawns can host up to 200 people at a time and their gardens can accommodate up to 500 people without any hindrance. GenX Rangmahal Pushkar provides guest accommodation with a restaurant, free private parking, an outdoor swimming pool and a bar. This 4-star hotel offers a 24-hour front desk and room service. The hotel has a garden and features a terrace for stellar views of the location. Genx Rangmahal Pushkar has its own catering facility. You can have a sit down with their in house chefs to plan an elaborate and eclectic mix of different cuisines for your buffet menu to elevate the guest experience.
Moti Mahal - A Heritage Haveli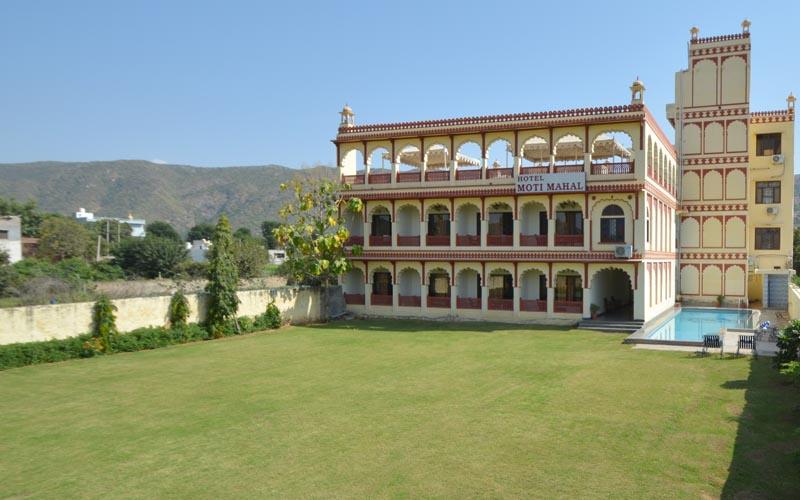 Moti Mahal - A Heritage Haveli is a marriage garden based out in the city of Pushkar. Nestled amidst the pristine Aravalli Range of Pushkar Rajasthan; Hotel Moti Mahal, A Heritage Home Ambience of a charming mountain view and lake view hotel with 25 Hotel Rooms, this venue is a perfect place for you to host your pre-wedding, wedding and post-wedding ceremonies. This venue radiates an ambience of peace and spirituality that casts a lure to visit again and again and also gives you thousands of memories to treasure for a lifetime.
The Westin, Pushkar

The Westin, Pushkar is one of the most popular business hotels in the city. It is only fifteen minutes away from the airport and is easily accessible from the party destinations of the capital region. The Westin has beautiful and spacious banquet halls, stunning gardens, and amazing event services to celebrate your wedding perfectly. From traditional to contemporary, be it any type of wedding or event, The Westin will serve you with great dedication and will offer you unforgettable hospitality to make your special celebrations a beautiful experience.
Top Blogs on WeddingWire India