Sangeet White Gowns That Will Make You Look Like a Princess!
The freshest lot of white gown styles have arrived in India and we are giving you an opportunity to call dibs on your favourites first!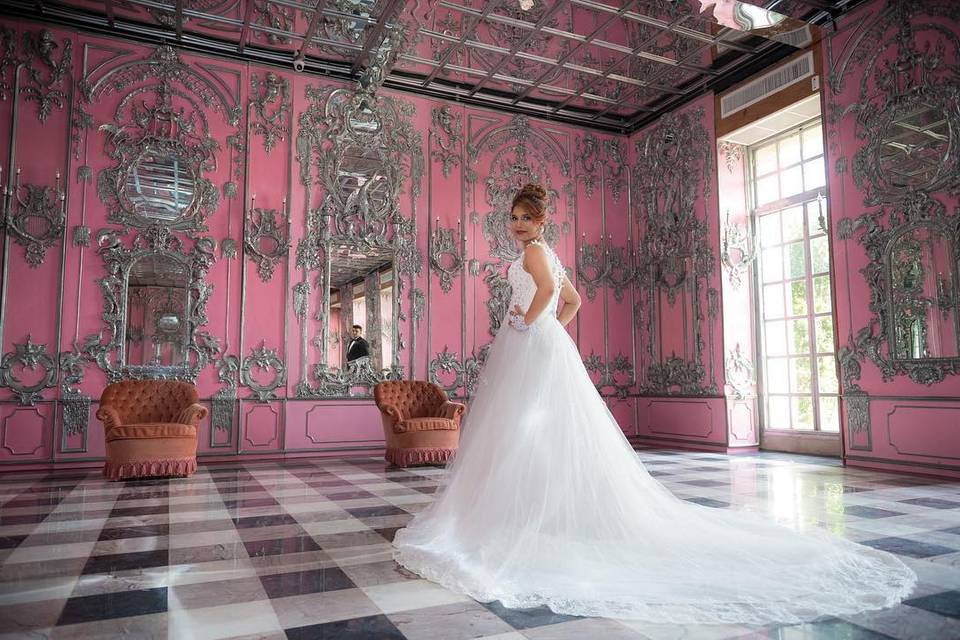 In India, the very definition of a white gown is limited to the bridal trousseau that a Christian bride adorns to the alter. When it comes to other Indian wedding ceremonies, we often skip considering white gown styles as an option. But with so many beautiful white gowns gracing the apparel racks of designers, brides-to-be are now noticing the trend and are slowly incorporating it to their wedding wardrobes as well.
Designers have recently introduced international trends of white gown styles to the Indian market and we cannot stop falling head-over-heels in love with each one of these designs. Let us present to you the finest white gown designs that we have spotted on the Indian runways in the recent past. Check them out!
1. Off-Shoulder White Gown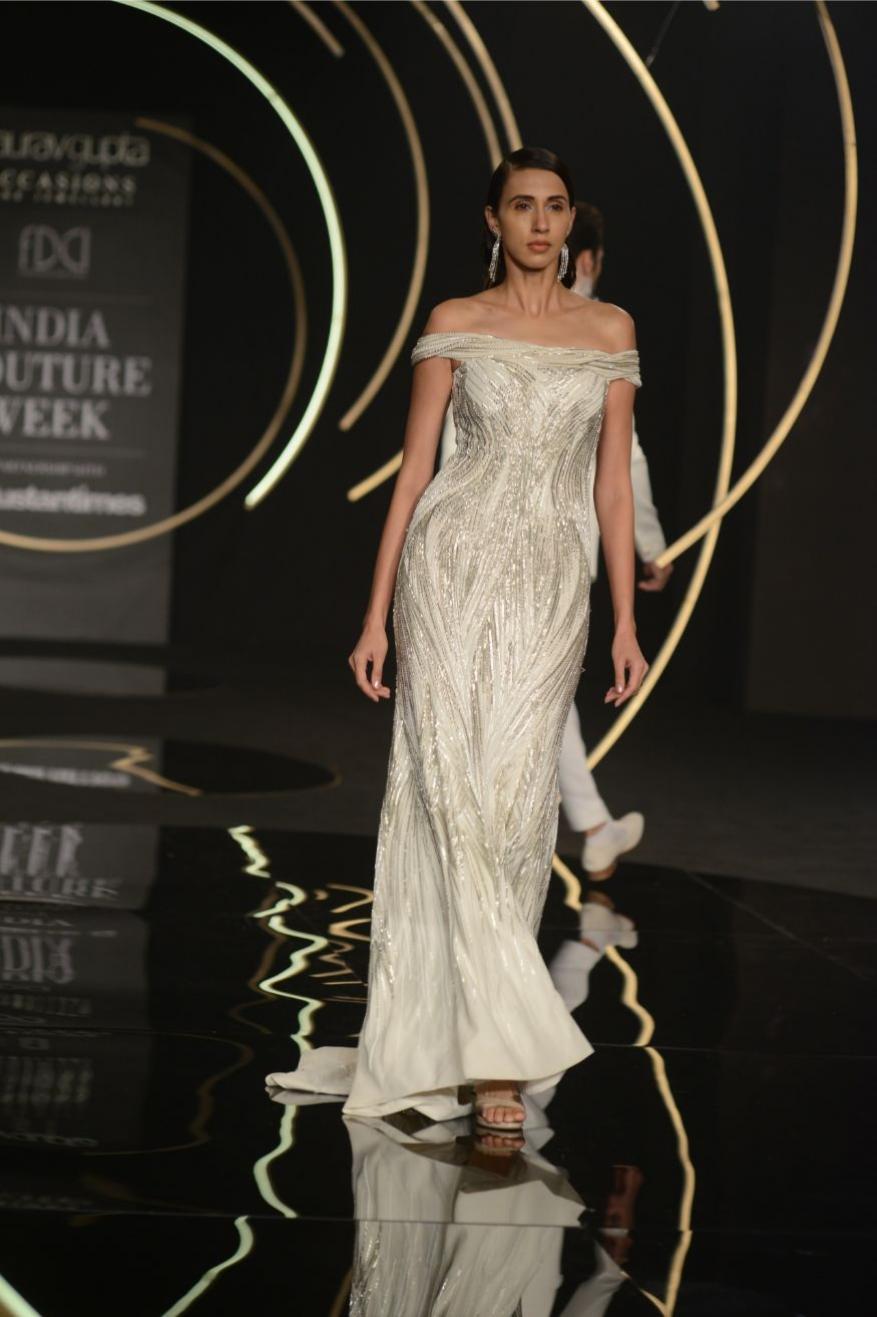 Image Courtesy: Subhash Baroli
Gaurav Gupta recently showcased his Couture 2019 Collection and this white gown is what caught our attention from his 'Undercurrent' collection the most. As an off-shoulder slender floor-length gown, this dress meets the international standards of glamour, without compromising on the bling quotient even a little! This white gown consists of intricately sewn Japanese iridescent bugle beads in verticle lines all over the gown. These embellished vertical lines will make any wearer look taller and slimmer upon wear. Jackpot, yes?
2. Geometric Deep Neck White Gown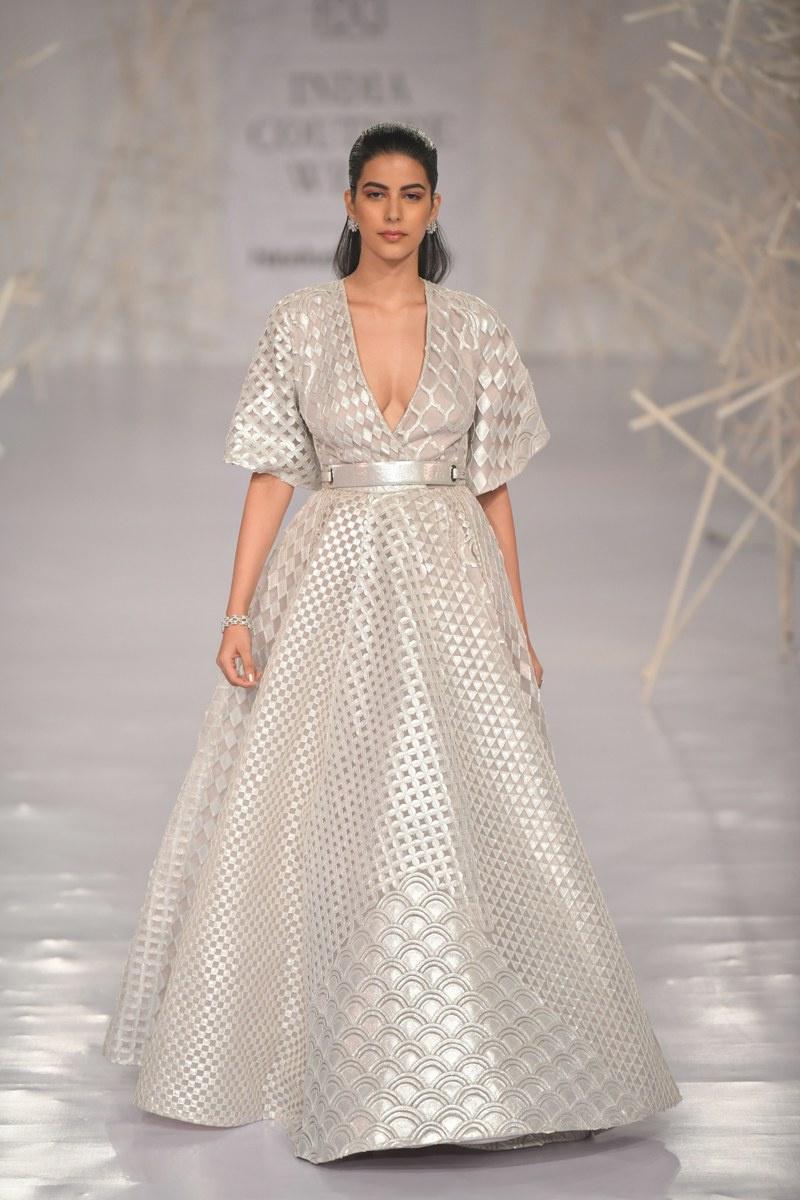 Image Courtesy: Vogue India
Any bride-to-be will look like a princess walking into a party when she will adorn this beautiful white gown by couple designers Pankaj & Nidhi. The features of this white gown consist of hand-cut appliques sewn to create a beautiful mesh of metallic fabric with underlying layers of translucent tulles for added volume to the skirt.
This is the kind of love the designer duo has put into creating their version of a couture white gown. We admire how different geometric shapes have been seamlessly woven together to create one stunning white gown. The well fitted deep cut blouse with oversized sleeves of this white gown will give a structured look to the wearer, instantly. Don't forget to complete the styling of this white gown by securing the all-white and metallic belt around the waist for a more fitted look.
3. Resort White Gown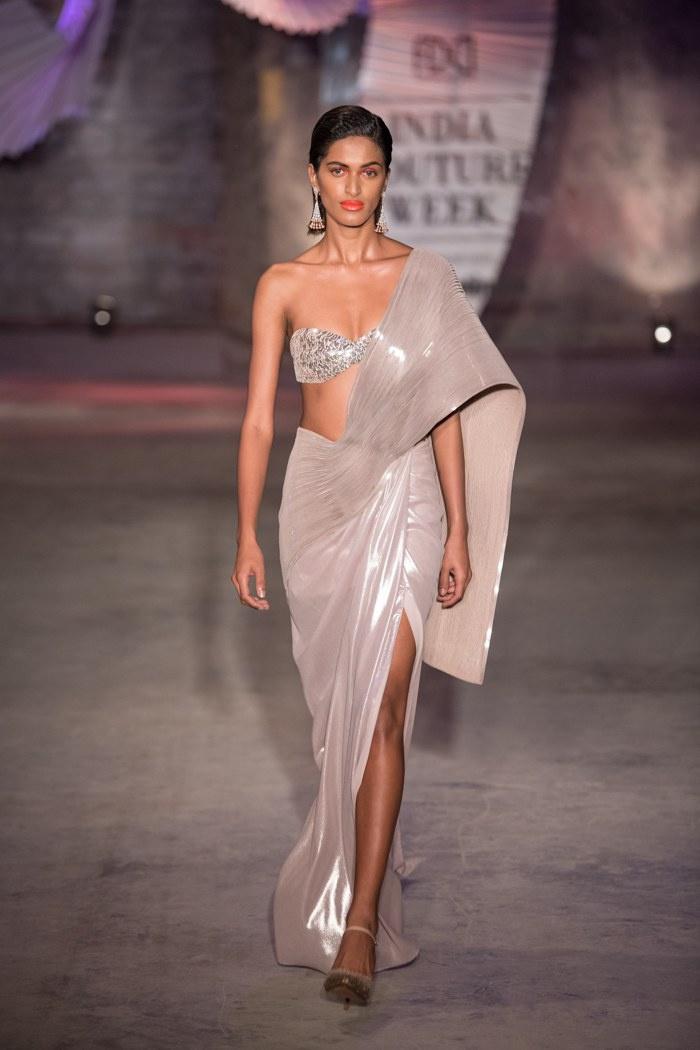 Image Courtesy: Vogue India
Your beachside Sangeet party will feel incomplete if you won't wear something that will be appealing and will go well with the ambience. Wearing sensual white gown dress, like this one by Amit Aggarwal, will make you look like Snow White of the beaches. The metallic saree fabric matched with heavily embellished metallic bandeau is worth admiring.
Brides-to-be who plan on putting their fashionable foot forward at their wedding cannot miss on including this resort white gown as their ensemble for the Sangeet function. A pair of solitaire studs and white or nude stilettos are the two add-ons that you can consider at max to go with this look.
4. Lace Floor Gown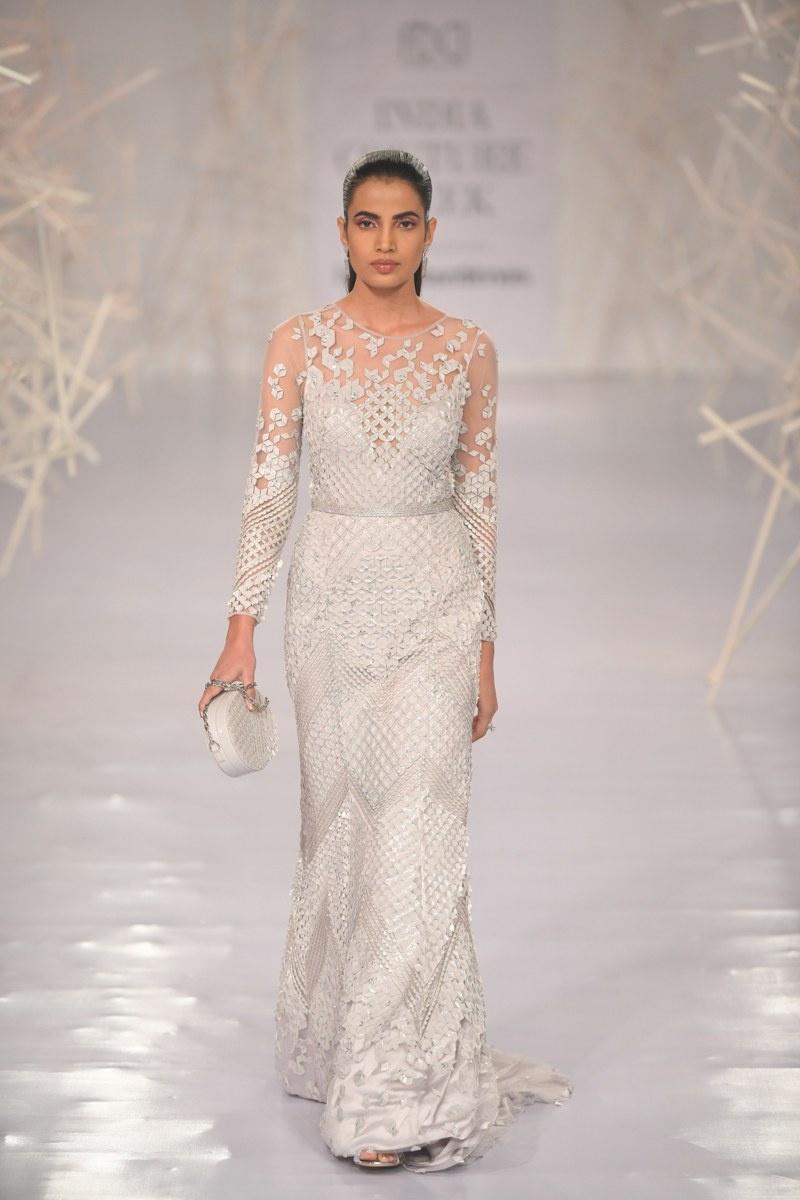 Image Courtesy: Vogue India
Pankaj & Nidhi have showcased their signature 3D applique work on this white gown, making this ensemble precious and a rare find among other white dresses that are available in the market. An amalgamation of Victorian net mesh gown design matched with the geometric cut-outs appliqued all over is what makes this white gown a fine specimen of a couture white gown.
Brides-to-be can imagine themselves entering the Sangeet venue, wearing this stunning white gown and looking like a queen who is here to conquer the world with her modish best. If you plan on wearing this white gown, make sure that take fittings process very seriously, as the right fit will make this dress look like it was brought into this world only for you!
5. Ballgown With Dramatic Sleeves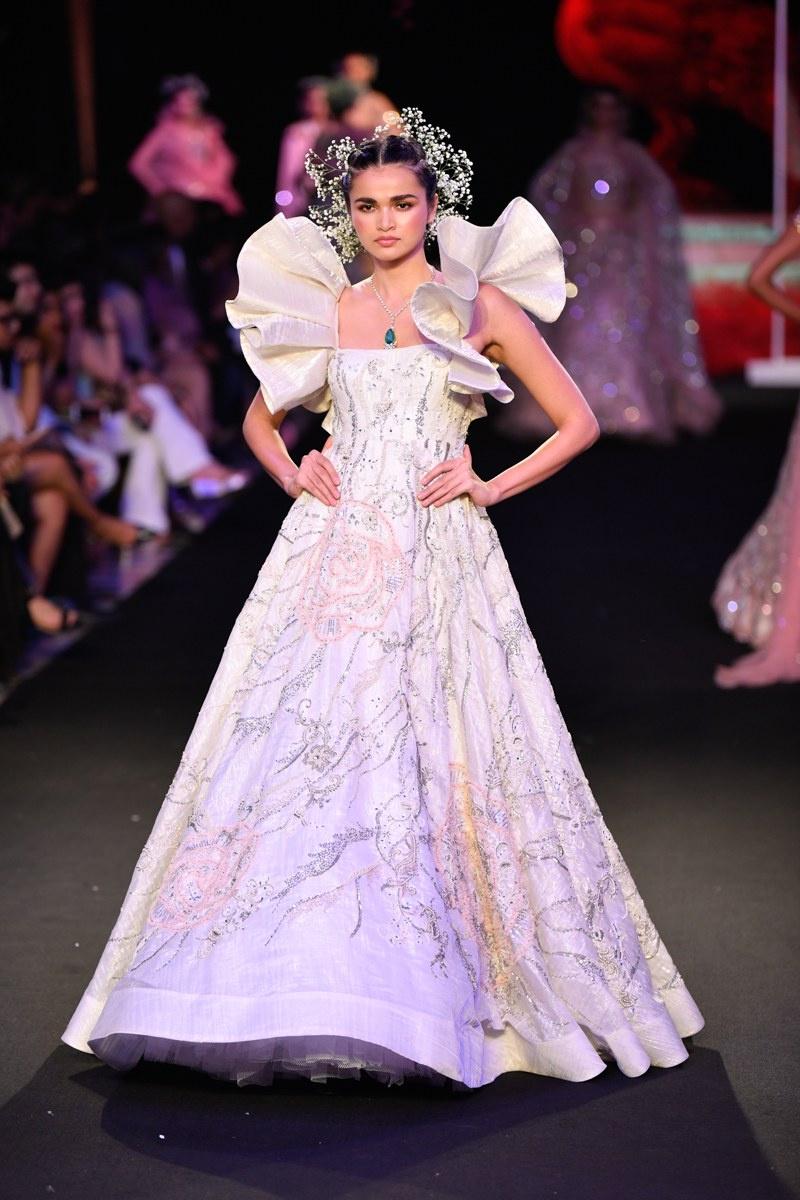 We have something in store for brides-to-be who love being a little extra with their fashion choices. This white gown, by Suneet Varma, is the perfect blend of a traditional silhouette of the skirt matched with the animated and dramatic features of the ruffled bell-sleeves.
Oversized floral patches, sequins embroidered skirt and crowd attracting ruffled sleeves are the elements of this white gown, that makes it a unique yet easy-to-adorn style for an Indian Sangeet function. The emerald tear-drop necklace is how you can break the monotony of the white gown without stealing away the elegance of the dress even a bit.
These white gown styles are dreamy, guaranteeing a graceful appearance to the bride-to-be at her Sangeet ceremony. Each one of these designs is a showstopper in itself, so you don't really need much accessorisation to complement them. The only ideal way to accessorise these white gown styles is by looking out for a Swarovski studded hand-clutch, a pair of solitaire earrings and pristine white heels to conclude the look.
The latest makeup trend that all designers and makeup artists are adhering by is the dewy makeup style. So we are looking at matching nude lips, moisturised and contoured face and soothing eyes to go well with these white gown looks.
Which designer's white gown style did you like the most? Tell us in the comments section below! And if you require more styling tips around white gown styles, comment and let our experts answer it for you!