Find a Virtual Assistant for Wedding Planning on WeddingWire.in
Meet Simran - your virtual assistant on WeddingWire India, who can help you with key wedding planning tasks through an easy to use Chatbot.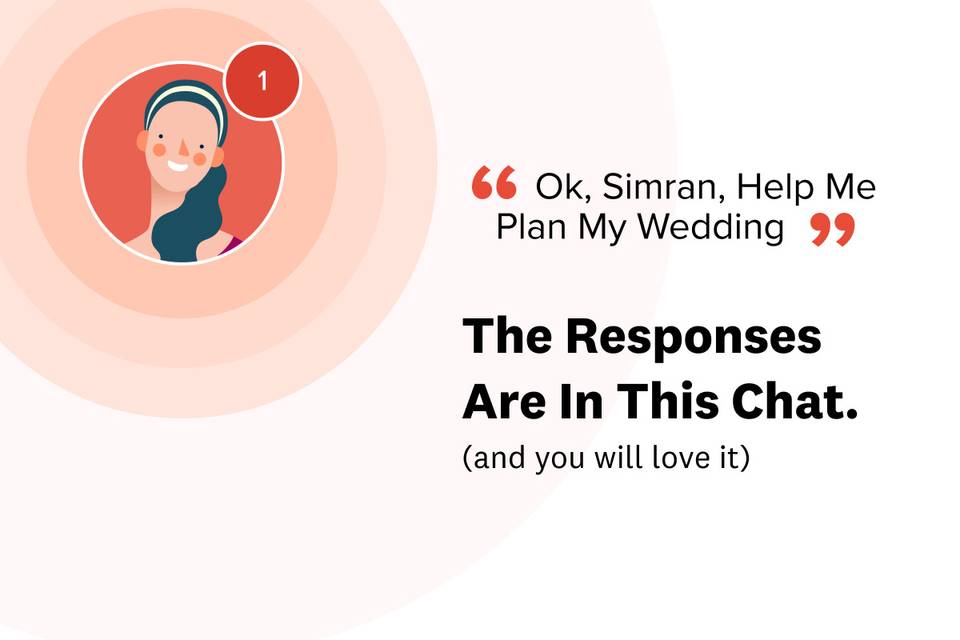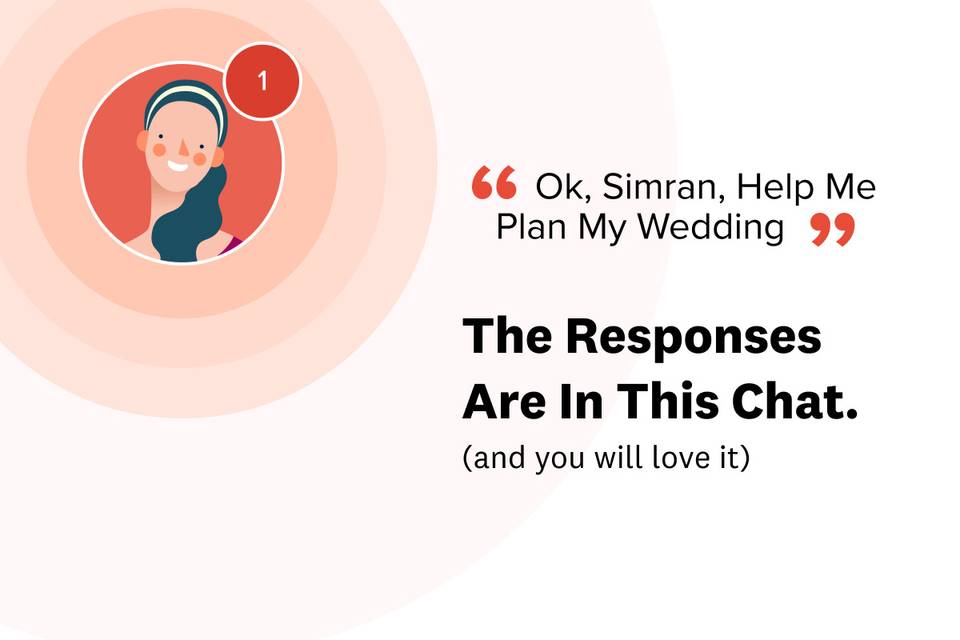 "Hi! I'm Simran, your (totally free) wedding planning assistant. Would you like me to help you find wedding venues and wedding vendors for your wedding?"
Technology has been taking over different aspects of our lives to make them easier, so why should wedding planning lag behind? An ideal example is ChatGPT, a tool that is gaining popularity to help you manage all your planning tasks and organize them with efficiency. WeddingWire.in has a similar dedicated virtual advisor who can help you plan your entire wedding with ease.
- Meet Simran, a virtual chatbot assistant available on WeddingWire.in who is dedicated to answering all your wedding planning questions.
How can you organize your wedding with WeddingWire India's chatbot?
Here are a few steps that you and your partner should complete before you reach out to our chatbot, Simran, to plan your wedding.
Now you have all the information Simran will need to help you find your wedding vendors.
Reach out to Simran directly and she will ask you a few basic questions like your name, wedding city, tentative date, etc. Now choose your exact vendor or venue requirement with our chatbot. She will share multiple options with you, and all you have to do is choose the option that fits your requirements. Once she has the required information, she will quickly create your detailed account and send a list of top-rated vendors/venues your way.
Still have doubts?
Here are five reasons why you should start using the WeddingWire.in chatbot to plan your wedding -
It's free of charge. Ask Simran as many questions as you want to plan your wedding.
The wedding planning experience is completely personalized for you. Answer a few basic questions and get your results customized as per your requirements.
Once Simran sends you information about shortlisted vendors within your budget and in your city, you can send them a query directly. This means the vendors will now have access to your contact information, and you can plan the whole discussion all by yourself.
Your chat takes place online, and within a few minutes, your query reaches all the right vendors. You can find multiple wedding vendors and venues in a short period of time.
Simran is always connected, no matter the day or time of your appointment. She works 24 hours a day and is always available on the page or app on the right side of your computer or cell phone screen.
That's it. You can now unlock this function on your favorite wedding planning app to organize your wedding.
Download the WeddingWire.in wedding planning app or head to weddingwire.in's homepage and start planning your wedding with Simran today!