#WWIExclusives: "Wedding Season" Stars on the Importance of Communication to Bridge Generation Gaps
In conversation with Wedding Season stars, Pallavi Sharda & Suraj Sharma, and Director, Tom Dey, we explore the key message of Netflix's new romantic comedy film.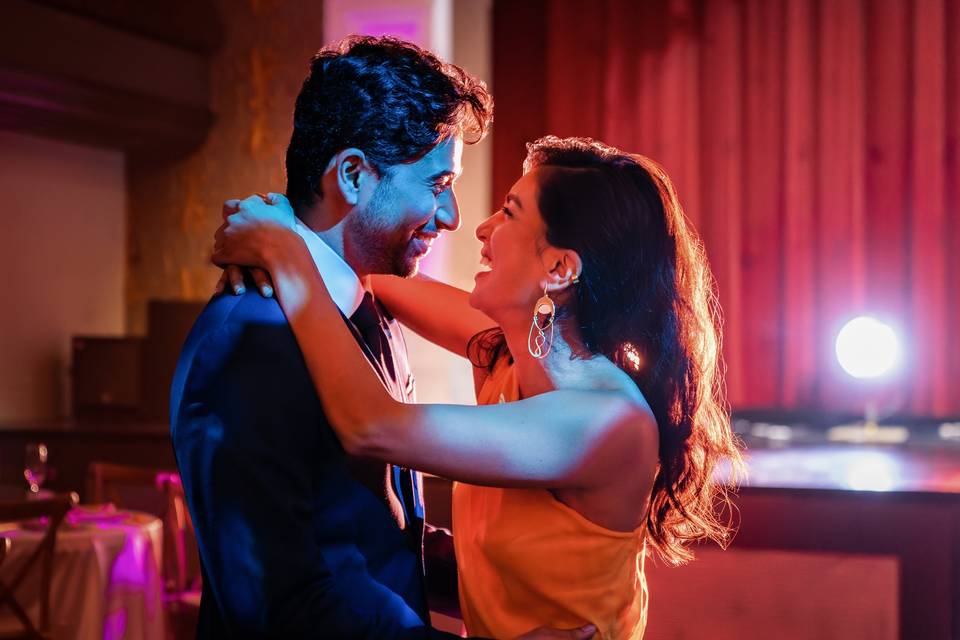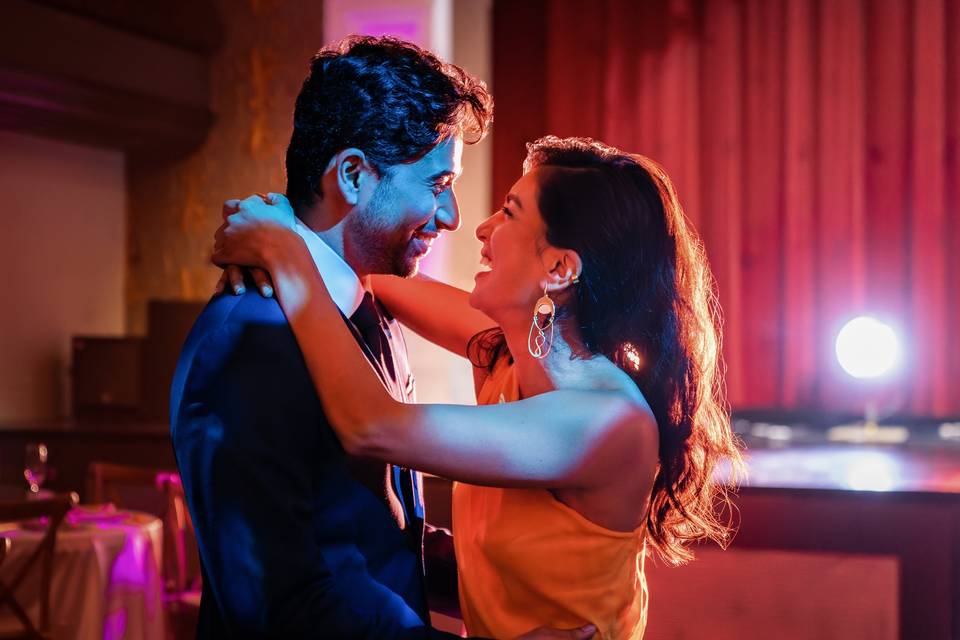 Image Credits: Netflix
2022 marks the onset of a new era of weddings in India. Post the pandemic blues, couples, and families who have waited patiently to celebrate sacred unions together are writing new narratives and wedding stories. The true Millenial wedding adventure began this year - with everything from ivory/white lehengas to minimalistic or eco-friendly green wedding decoration, and intimate wedding experiences coming to the forefront. The fiesta of wedding celebrations will be at its best this year from October, meanwhile, Netflix released a brand new romantic comedy film, Wedding Season on August 4. This is your sign to sit back, relax and fuel your anticipation for the wedding celebrations with a light-hearted romantic movie.
The plot of Wedding Season revolves around Asha (Pallavi Sharda) and Ravi (Suraj Sharma), two single Indians based out of New Jersey, who find themselves in the clutches of family pressure to marry and settle down. While it's important for the young generation to respect their parent's needs and wishes, there is also a burning desire to live a free-spirited life and not be tied to timelines anymore. Pallavi and Ravi soon find themselves in a tricky situation, where they start pretending to date for a whole summer full of wedding parties, to lessen the pressure from their beloved family. The plot traces a simulated familiarity that couples of this generation face as they navigate relationships, and career goals.
In a conversation with WeddingWire India, the lead actors and Wedding Season's Director Tom Dey offer an intimate window into the film's plot and authentic Indian representation. Read our exclusive interview here -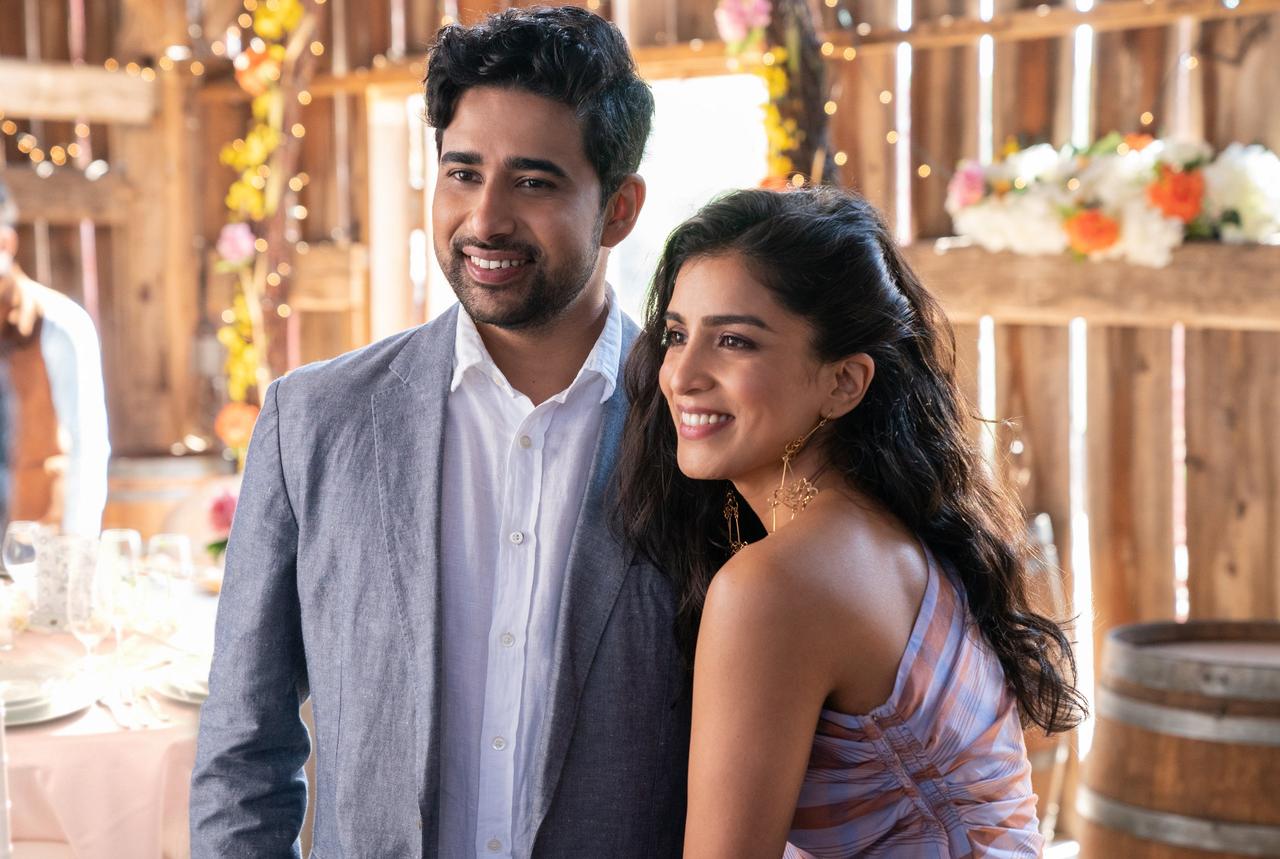 Image Credits: Netflix
On Wedding Season's message
"The basic message of the film is just to let your love be greater than your fear. It's a movie about two people who obviously want to respect their parent's wishes but they also need to reconcile what their parents want for them with what they want for themselves," Tom Dey reflects. "The protagonists of this film at the beginning feel like they're really getting a lot of pressure from their parents, so they're reacting against that. By the end of the journey, and by the end of the film, they realize that it's not an either-or choice like they don't have to either choose a life that their parents want them to lead or the lives that they want to lead, but that there's a way for both of those to coexist." On a lighter note, the director shares, "I want my viewers to laugh and cry and be moved by it and to follow these characters on their journey. Weddings are such a great backdrop for films because it's such a concentration of so many emotions in a very short time, and it really creates a pressure cooker situation that exposes all kinds of interesting drama, and comedy as well. So this is very much a romantic comedy."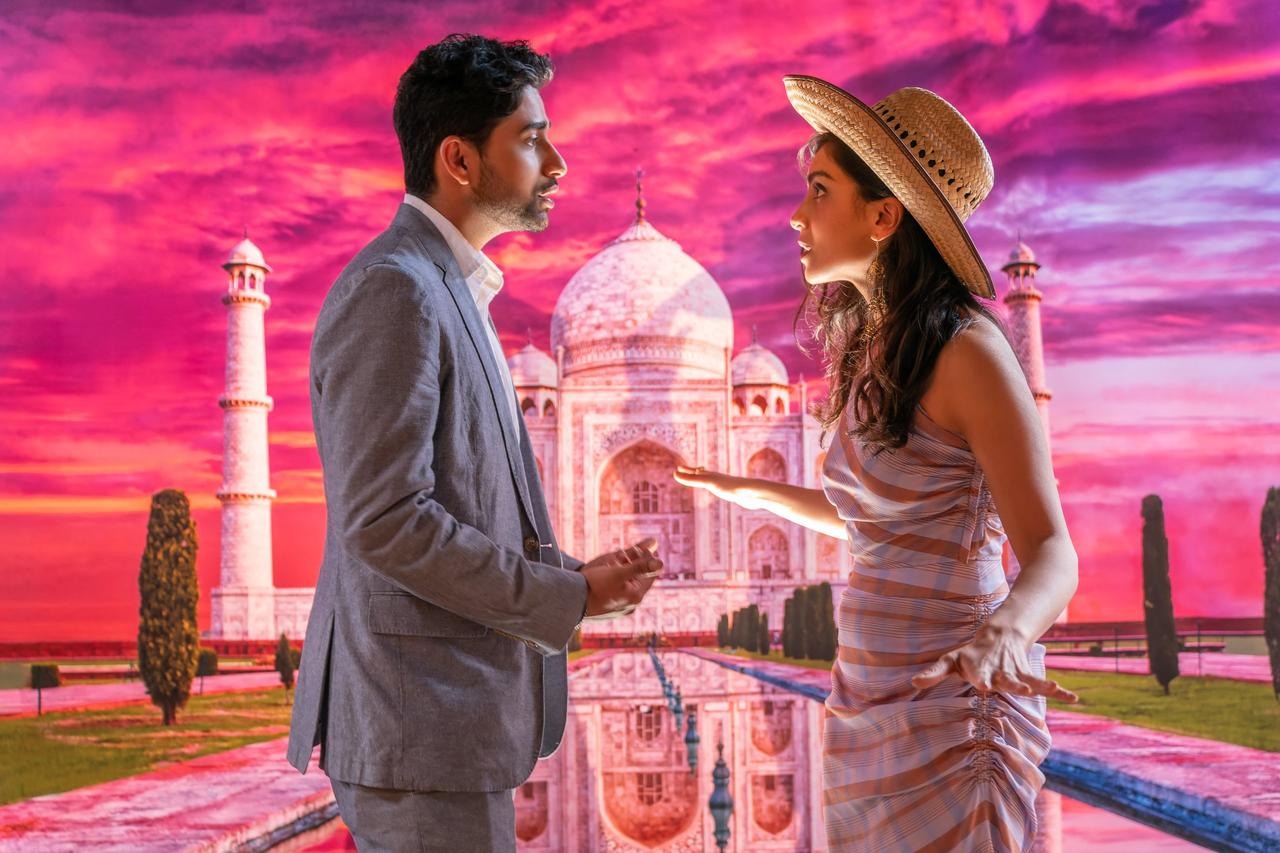 Image Credits: Netflix
Authentic representation of Indian culture
Amidst a notable spike in the consumption of content that narrates the Indian diaspora at an international level, Wedding Season comes with a fresh perspective. There's much to laugh about, with important lessons for the new and old generations sprinkled throughout the script. Talking about the authentic representation of Indian culture in the movie, Pallavi Sharda, the lead female protagonist shares, "We have done a really good job actually. This was something we were taking a lot of care of because we wanted to make sure that anyone of Indian heritage watching the film, whether you are from the North or South Indian background, or from South Asia - you recognize the tropes and the kind of wedding and community that we have shown. There's nothing incongruent and it fits the many archetypes of what it means to be South Asian." Suraj Sharma, the male protagonist of the film also confirms, "The important thing to remember is that there are different types of South Asians so saying authentic in itself is a funny thing but to one of those groups, this is true."
Also Read - #WWIExclusives: Bridgerton Actor Charithra Chandran On Bridgerton Diversity & Inclusion
How Wedding Season highlights the role of communication between generations
Actor Pallavi Sharda is often amazed at how far she has come, in terms of better communication with her parents. "In my own life, when I have these open conversations with my parents, I never would have imagined as a kid that I could have these conversations someday. It's such a different aspect of the relationship and our culture doesn't necessarily breathe that inter-generational communication so I hope that improves," she tells me upright. A vibrant Sharma, adds to the conversation, "Communication is a huge part of letting people know why is it that you do something, believe something, or are acting in a certain way. Especially at a young age, that is when it all starts but it doesn't have to. When you are older, you can still start bridging your relationship with your parents through communication. Talking about things in a real way, not worrying about being judged or letting them down. Just talk - it's vital to everything."
Ruminating on one of the central themes of Wedding Season, Sharda reflects, "The central theme is building on better communication that these two characters need to develop with their parents and the delta between their parents and the upbringing. The reckoning our characters have is not just with each other, it's with our families as well. The importance of talking is the thing we learn a little bit later in the South Asian culture and everybody regrets the years that they lost. Let's just have fun with one another from the start and have that openness. I hope that this film does something to send that message out."
Also Read - #WWIPowerCouples: An Exclusive Heart-to-Heart with Shama Sikander & James Milliron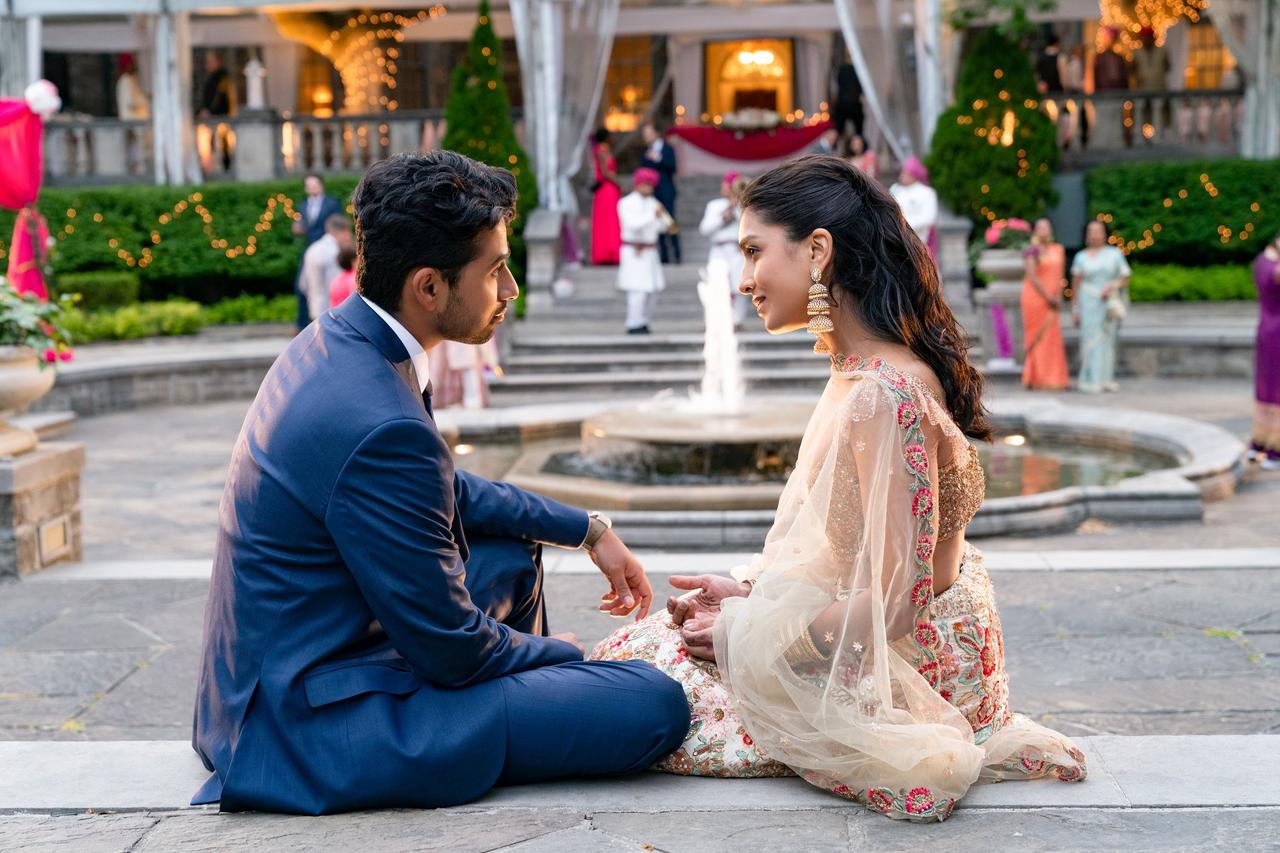 Image Credits: Netflix
On the importance of Self-love in this generation
Taking us right into the inner chambers of her mind, Sharda shares, "I think that no one else matters except for yourself. At the core level, this is something I am actually struggling with, my father says this to me. He says, 'You think of everyone else too much, think of yourself,' and I think it's such a societally ingrained thing. Especially for women, whether or not you are South Asian, we are trained to put others before ourselves." The actor gracefully slips back into her fun-loving persona and adds, "I am very single so I don't know how to give couple's advice, I will do the single person advice - just take care of yourself. Nothing else matters."
On the concept of settling down by a certain age -
Charting the past years of her life, and the freedom she has reveled in, Sharda shares, "I have never experienced that pressure, I am really lucky." The actor infact, confesses to having taken matters of society into her own hands and poked her parents during the pandemic on the fact that they had never abided by this societal belief. "I questioned this during the pandemic. I was like, don't I get a suitor, don't I go through the ritual of my parents asking 'when are you going to get married? I never experienced it. I am very lucky in that regard, I have lived a very free life and I continue to do so." To this, Sharma adds a meticulous observation about the idea of ambition vs expectation. "So as a parent, maybe you don't want to expect, and it's ok to have an ambition for it but between the parent and the child, there need to be conversations which help bridge those gaps and understand that. So if someone asks you, 'when are you getting married', just say, 'we don't know yet,' unless you do. The thing is if you won't be honest when you should be honest, then there will be gaps in your generation and the generation after that, and it will just keep going. I also think that a lot of times, arrange marriages work. So you can't box something in, as good or bad because if it works, it works."
A conclusion I draw from my heartfelt conversation with the actors is that - Let love conquer all of it. The fear of failing, being misunderstood, or not finding the right one, all of it fades away when love starts to weave your stories together.
Find the trailer of the movie here -
Go watch this light-hearted comedy on all things Love, Weddings & Relationships on Netflix now, and remember as you laugh and jive through it all - they are showing us love jaise picture me hota, and there are amazing lessons for us here.
Director Tom Dey's Reporting Credits - Sarah Hanlon