8 Beautiful Ganpati Decoration Ideas That Are Just Perfect For Your Wedding Functions.
Every auspicious task is usually started with the blessing of a deity. Weddings are no exception. Many people believe in starting by paying their respects to Lord Ganesha. Here are some ideas for Ganpati decoration that are just beautiful.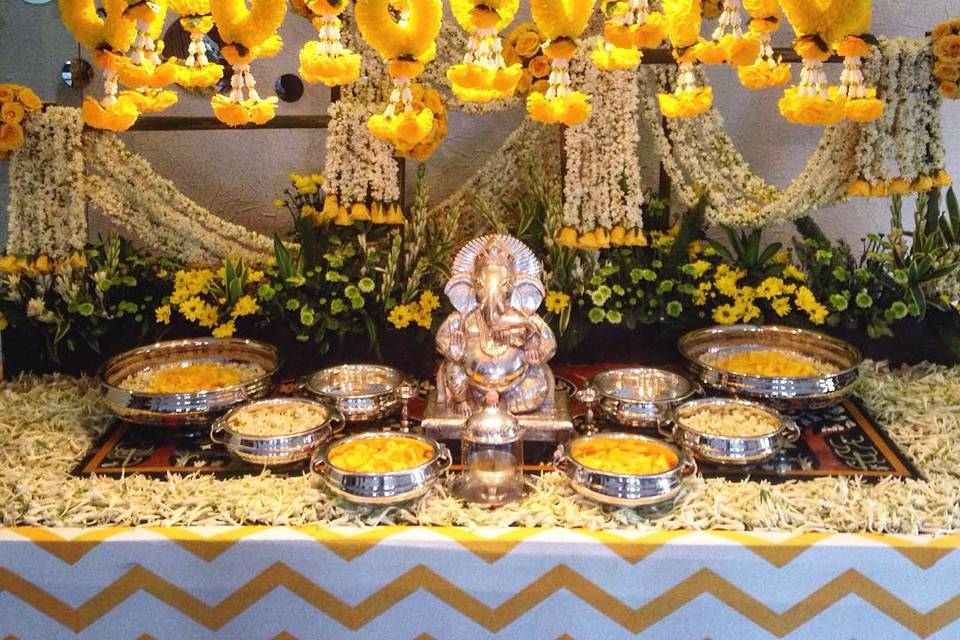 There's an excitement in the air, a lovely positivity but some nerves too. You've finally decided to take the next step in your relationship. Marriage! Of course, it sounds daunting but is equally as exciting. And when it comes to our culture, all auspicious events are started by paying our respects to the deity, especially in a Hindu Brahmin wedding. For the hope of a happy and prosperous future for the couple. And it's imperative then that the idol of the deity looks beautiful as he sits in your functions. Here are some elegant Ganpati decoration ideas that you can work with on your big day.
1. Feathers And Embellishments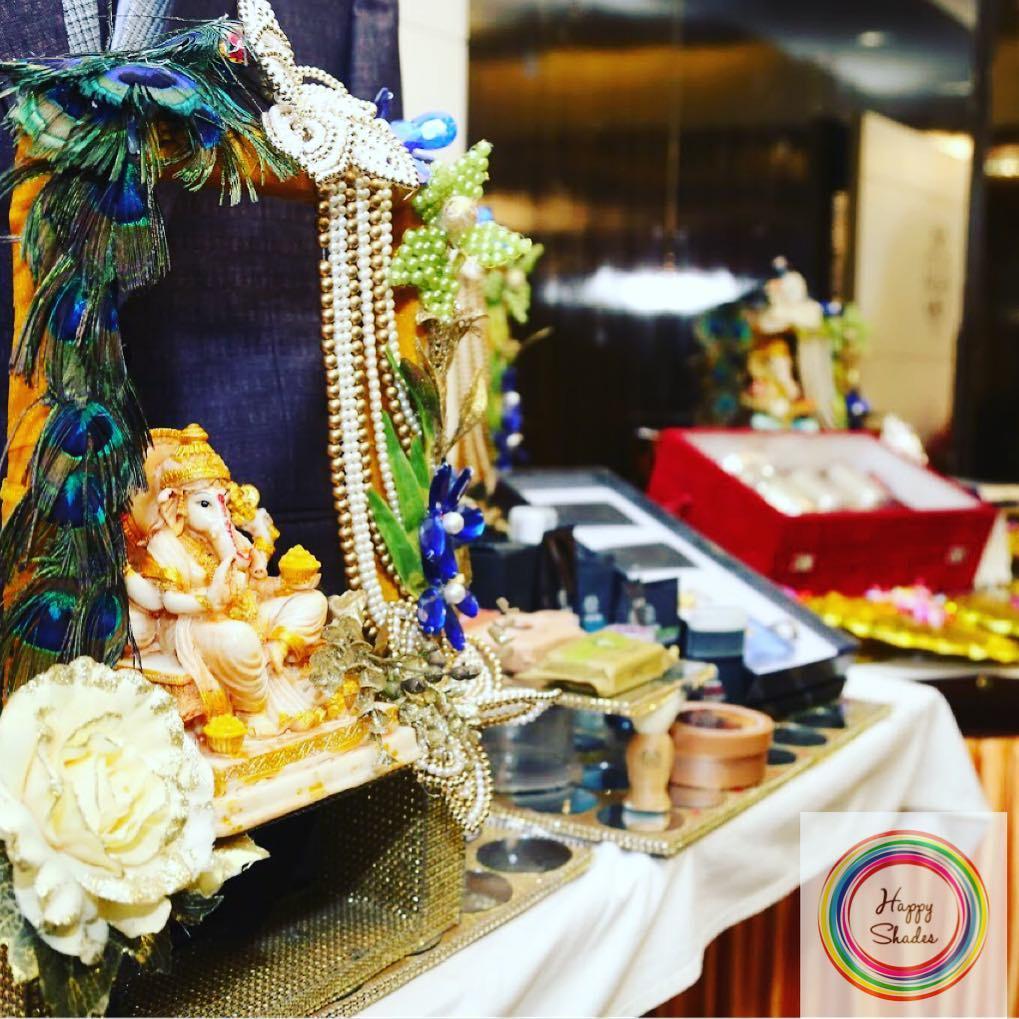 If you want a compact yet pretty setup then this is perfect! It's easy to carry and undoubtedly looks splendid. The peacock feathers add a really lovely pop of colour to the setup. Paired up with lovely little pearl strings and other cute embellishments, this Ganpati decoration is just perfect! The best part is that this is so effortless that you can even make it on your own.
2. Lotuses And Leaves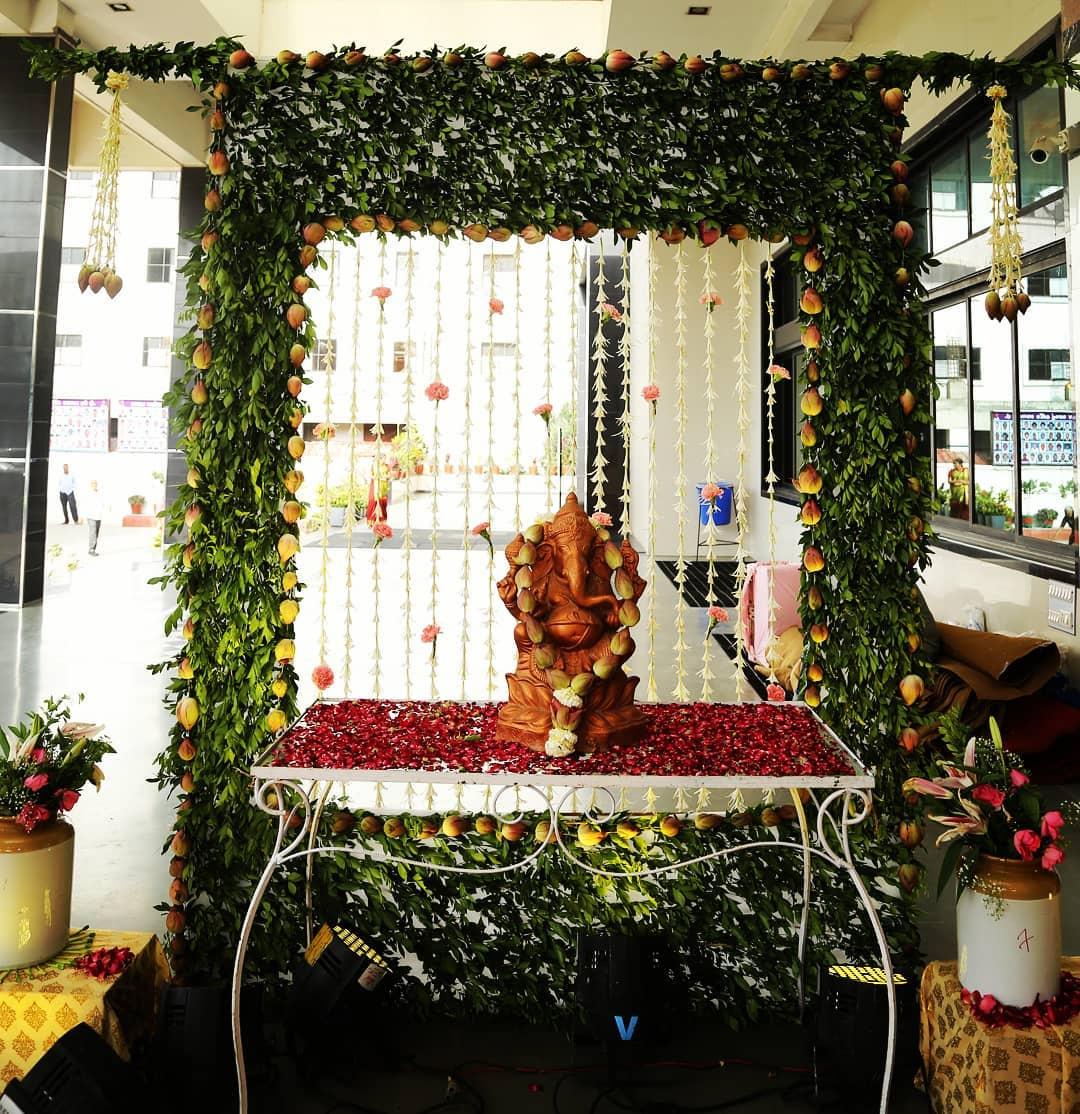 This setup is definitely gorgeous. The simple brown statue of the deity surely gives a rustic look. Moreover, the addition of lotuses is a really good idea. Considering how Lord Ganesha too holds a lotus in one of his hands this Ganpati decoration makes complete sense. The addition of leaves also makes for a lovely frame. The flower strings for the backdrop and the rose petals for a pedestal surely are the highlights of this. Undoubtedly, this floral setup is truly perfect! Ask your wedding planner if they can arrange for something similar.
3. A Floral Seat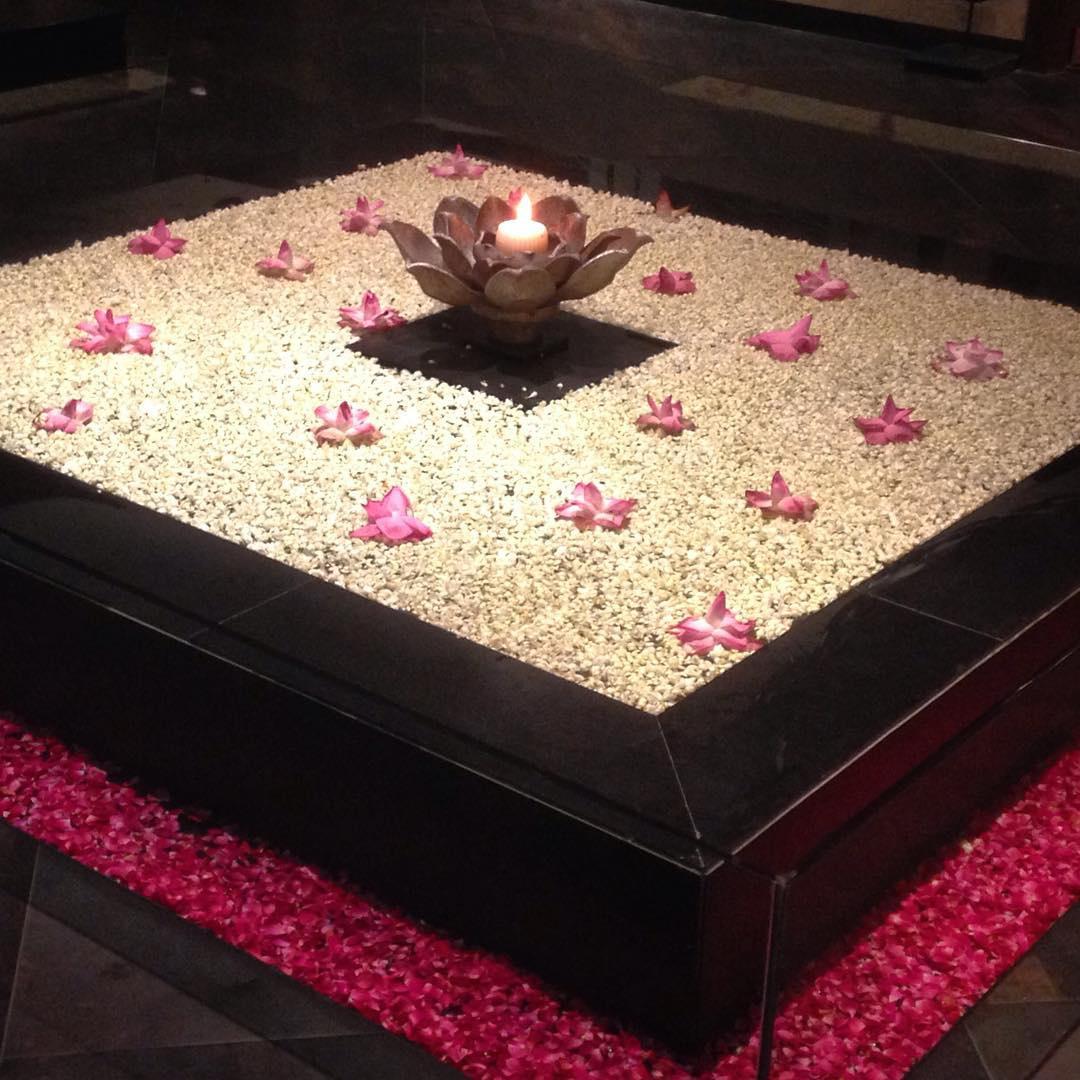 We think that a whole floral setup like this over a pool would look absolutely stunning. You just need a small fountain pool and you can fill that up with flowers. The place where the big lotus is can be used to place the statue of the deity. This idea for Ganpati decoration will definitely make for a charming setup. It's lovely how the pink flowers too have been placed with such precision. We suggest adding some tealights to the mix too. You can also go for paper flower decoration ideas for this.
4. A Royal Backdrop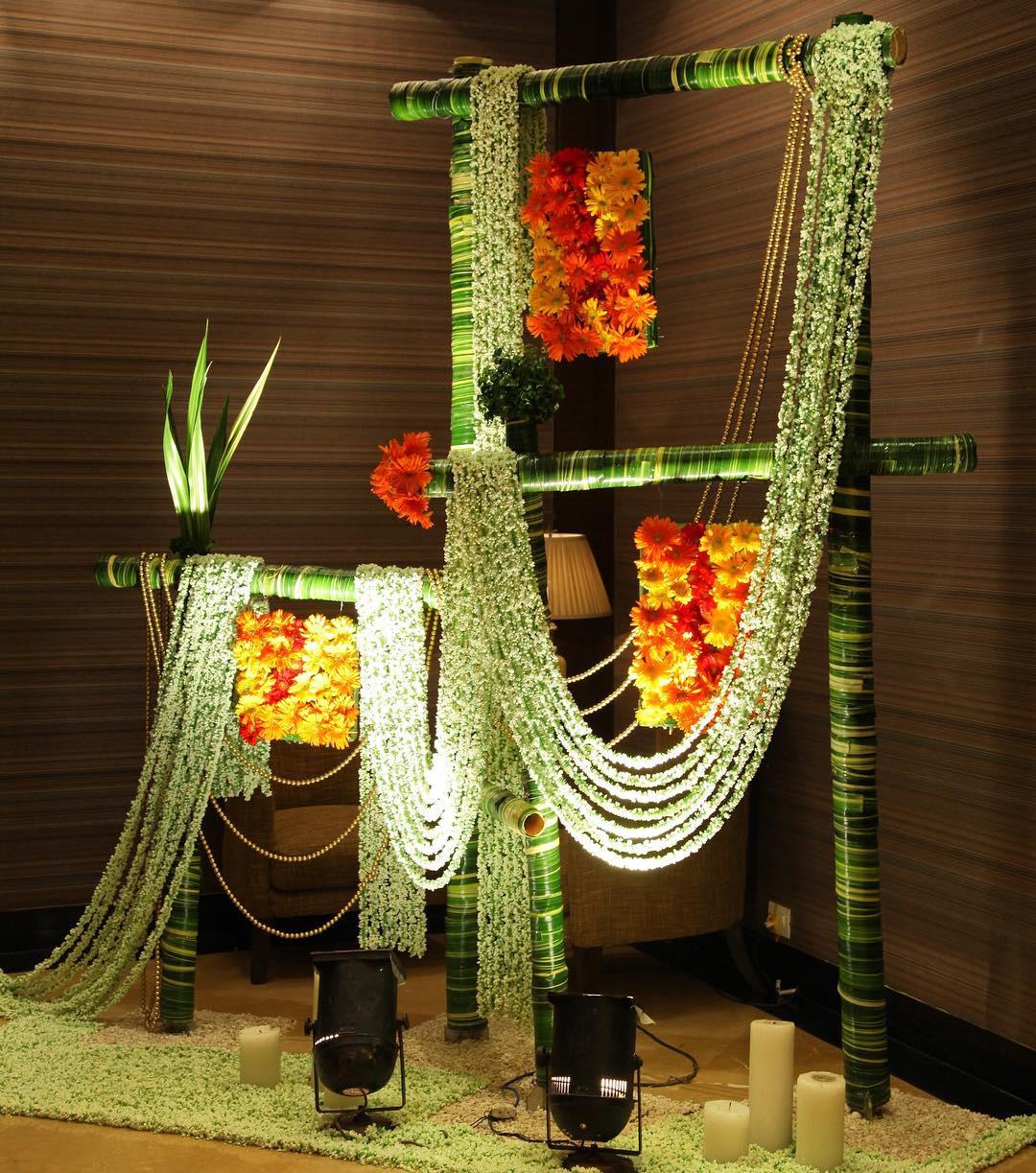 This could act as the perfect backdrop to station Bappa against. The bamboo, flower strings and marigolds surely make for a cohesive look for a backdrop. Either a table could be placed in front of this to place the statue. Or one of the bamboos could be replaced with a slab so that the statue can perch on this setup.
5. Hanging Kalash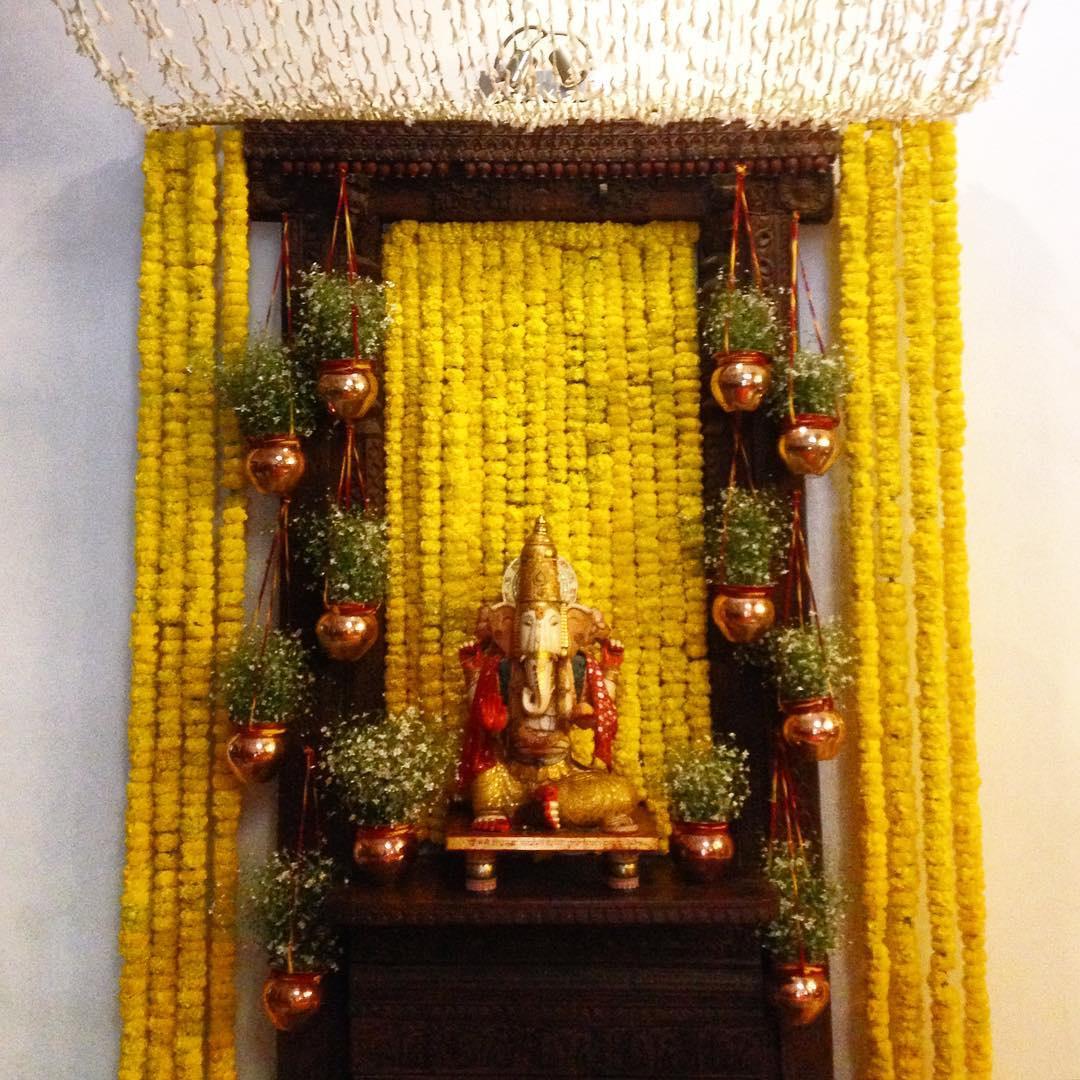 This such a magnificent Ganpati decoration setup! There is so much happening which makes for a complete look. The hanging Kalash are surely the highlights. Especially against this bright Marigold backdrop. The white flower strings for the roof definitely complement the yellow. The best part about this setup though is how the Kalash have been filled up with dainty little baby's breaths. We definitely love the whole setup.
6. The Floating Ganpati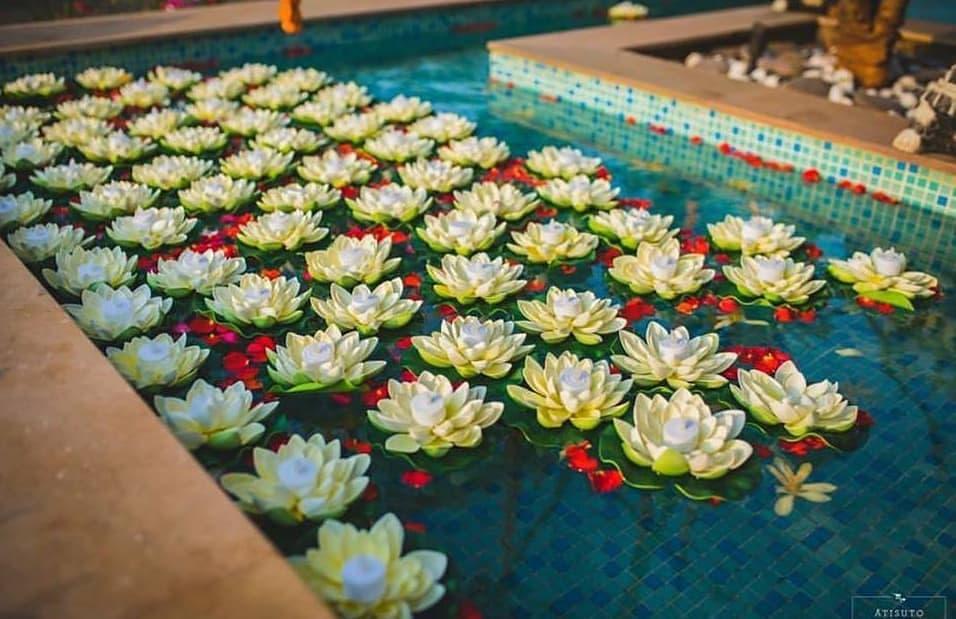 Placing a statue among these lotuses in the water would make for a lovely Ganpati decoration. It would look super pleasing. Of course, you cannot place the statue and expect it to automatically float. The pool would need a sturdy platform that is connected to the base so that it can sit on it without actually drowning. We suggest throwing in some tealights to the mix and it will surely look beautiful!
7. The Marigold Backdrop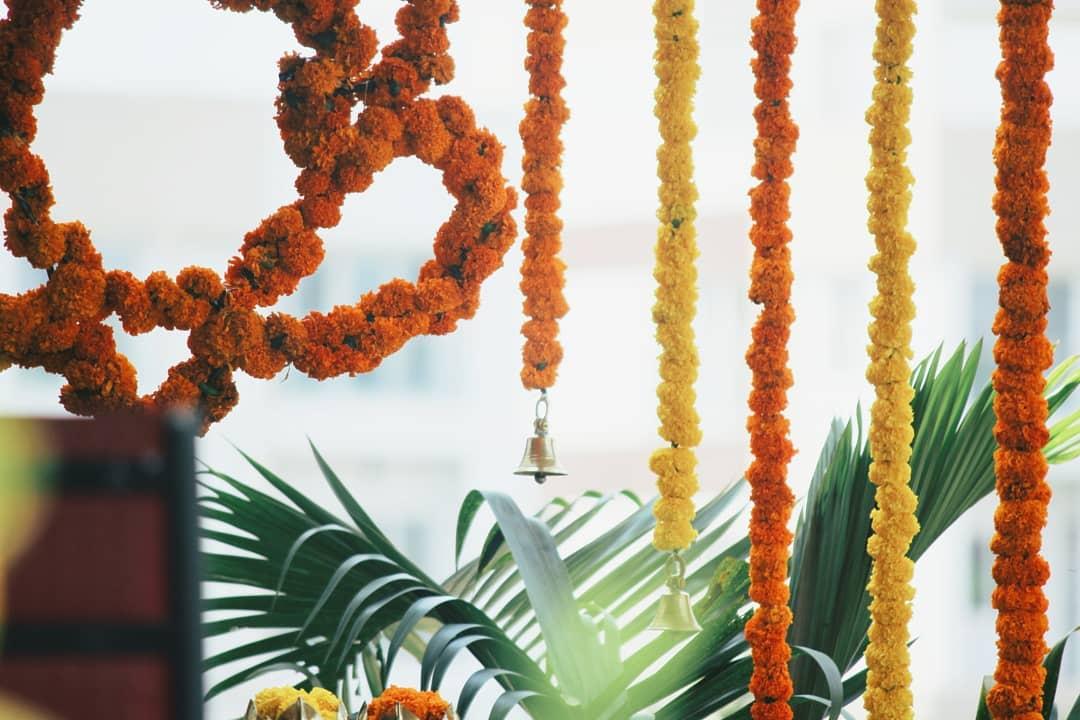 A backdrop of these marigold strings with the little bells at the end would be perfect! All you need is a backdrop like this, a nice sturdy stand and a statue of the deity. Another very creative Ganpati decoration idea is to make a silhouette of Ganesha out of these flowers. The strings with the bells could be kept to the sides while in the middle could an outline be carved out. It would look wonderful!
8. Flower Roof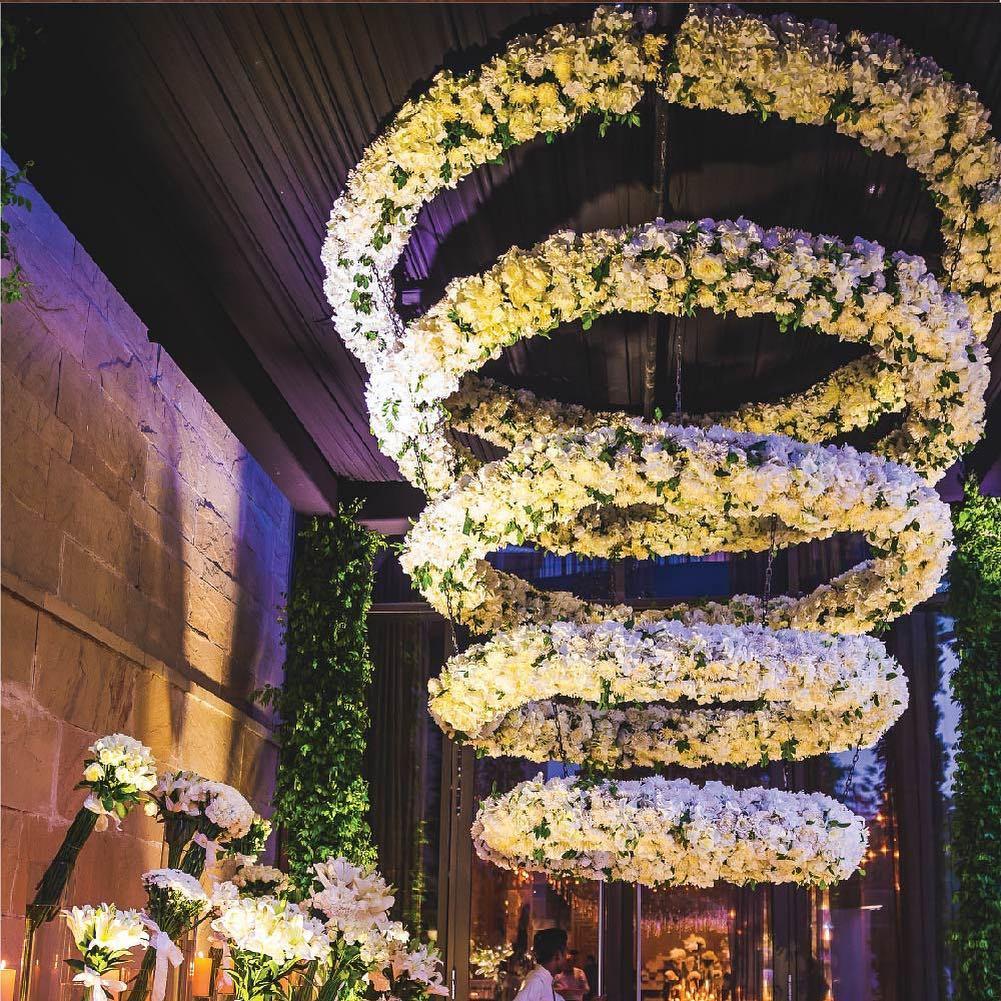 If you plan to erect a bigger statue then something like this on the top would look really beautiful. This chandelier-like installation would be the perfect addition to any setup. We suggest filling up the background with some nice white flowers too, which would complete the look beautifully. Moreover, you could even adorn a pretty white garland on the statue. That would look stunning too!
These ideas for the perfect Ganpati decoration would really add that touch of elegance to your event. It doesn't matter how big or small of a statue you place. What matters is with how much love and compassion do you set him up with. Just explain your vision to your wedding decorator and s/he will surely come up with a lovely set up for the Ganesha.
Have more amazing ideas? Don't forget to share them!