Wedding Bells For Renowned Punjabi Singer Millind Gaba and Famous Video Creator Pria Beniwal
Another wedding in B-town has recently created ripples in the market! This wedding is of a renowned singer Millind Gaba who found the love of his life! Scroll below to read why this news is creating a stir!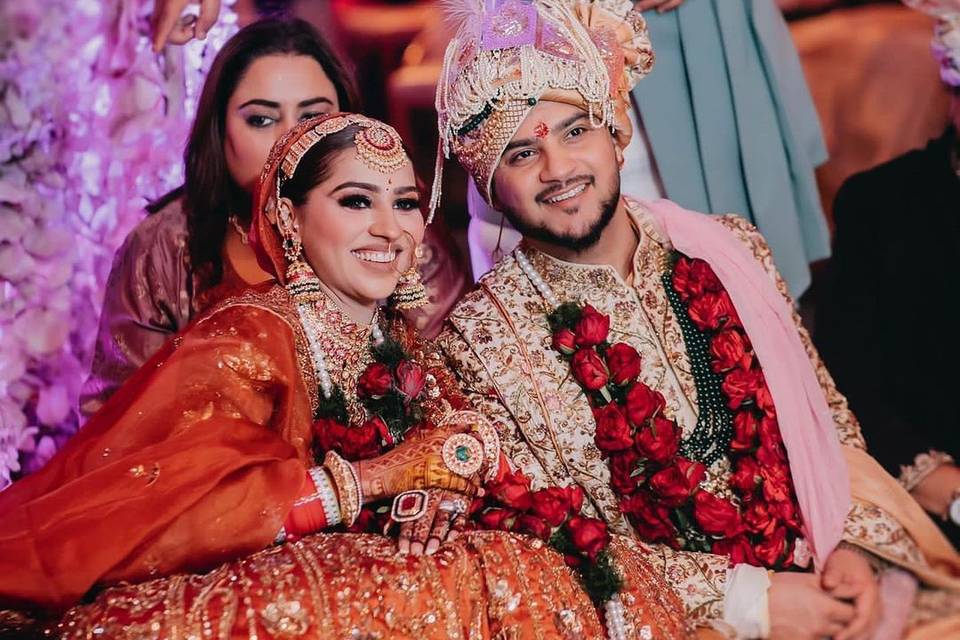 Millind Gaba and Pria Beniwal, the singer's longtime girlfriend, tied the knot on April 16 in Delhi. Images and videos from their grand wedding have surfaced on social media. The wedding festivities began on April 11, 2022, with the sagan ceremony. The couple threw a cocktail bash for their friends and family on April 13 and Pria's Mehendi ceremony took place on April 15 at her place and their wedding on April 16. On the wedding day, Millind looked royal dressed in a sherwani, while Pria looked stunning in a heavily embroidered lehenga.
We have heard a lot about their love story - even in the house of Big Boss - he often expressed his feeling about her. Now let's scroll down to read about their enticing love story. A beautiful story that leaves us in big awe!
The Fairy Tale Beginning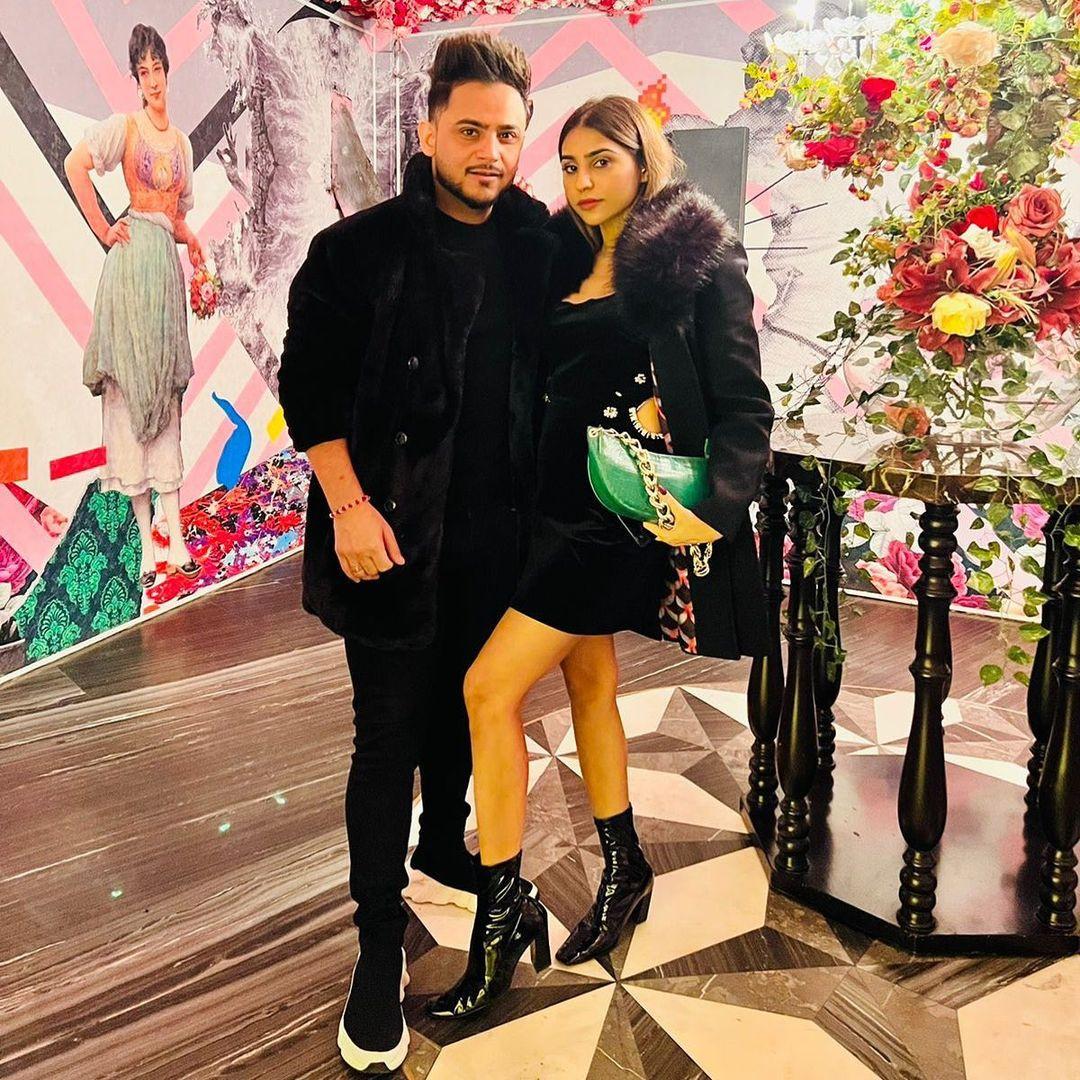 Image Credits - Pria's Instagram
Through their Instagram profile, we could see the beautiful bond they share. Be it from twinning in the same colour dresses or be to celebrating a festival together - the duo is always found gleeful together.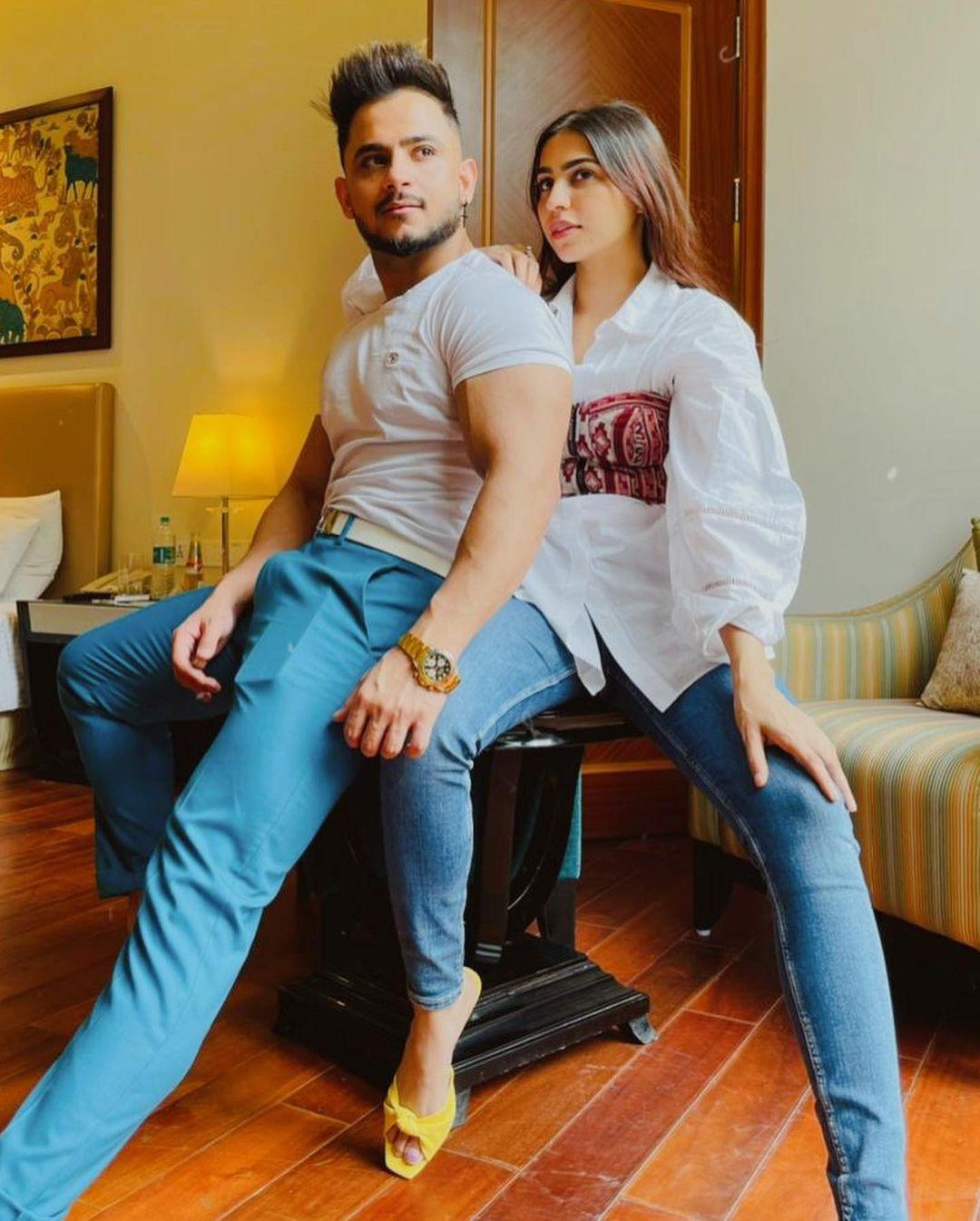 Image Credits - Pria's Instagram
Last month, Millind spoke exclusively about his bond with Pria to Hindustan Times. "Everything I do for her is for her. I want to make her smile. Four years ago, things were different and difficult. I'm struggling even today, however, things are easy now (as compared to earlier). She has supported me when I was nothing and that means a lot to me. I respect that she has stood with me from the beginning. She has supported me whenever I'm down. And today, I'm more emotionally connected to her."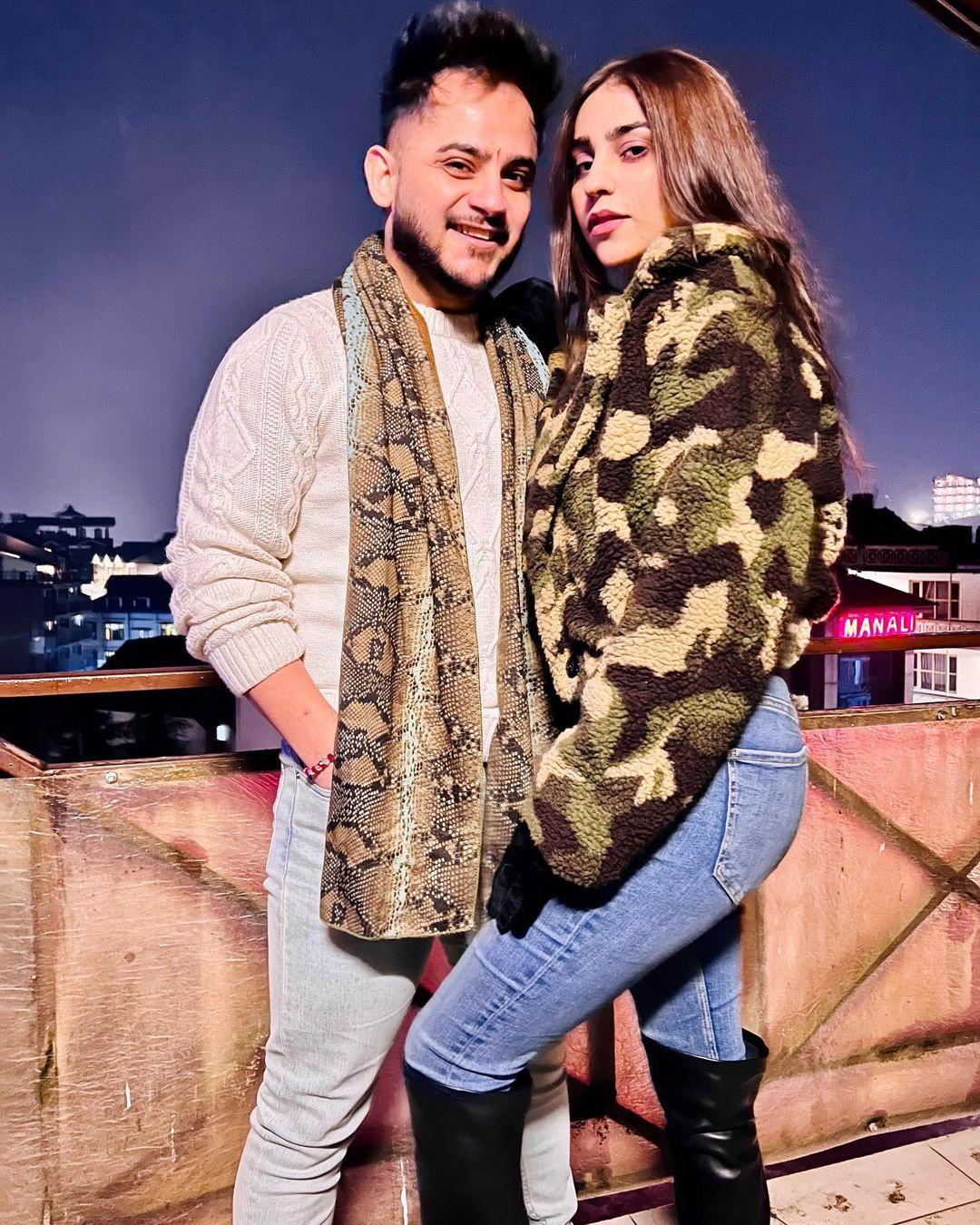 Image Credits - Gaba's Instagram
The Starry Cocktail Night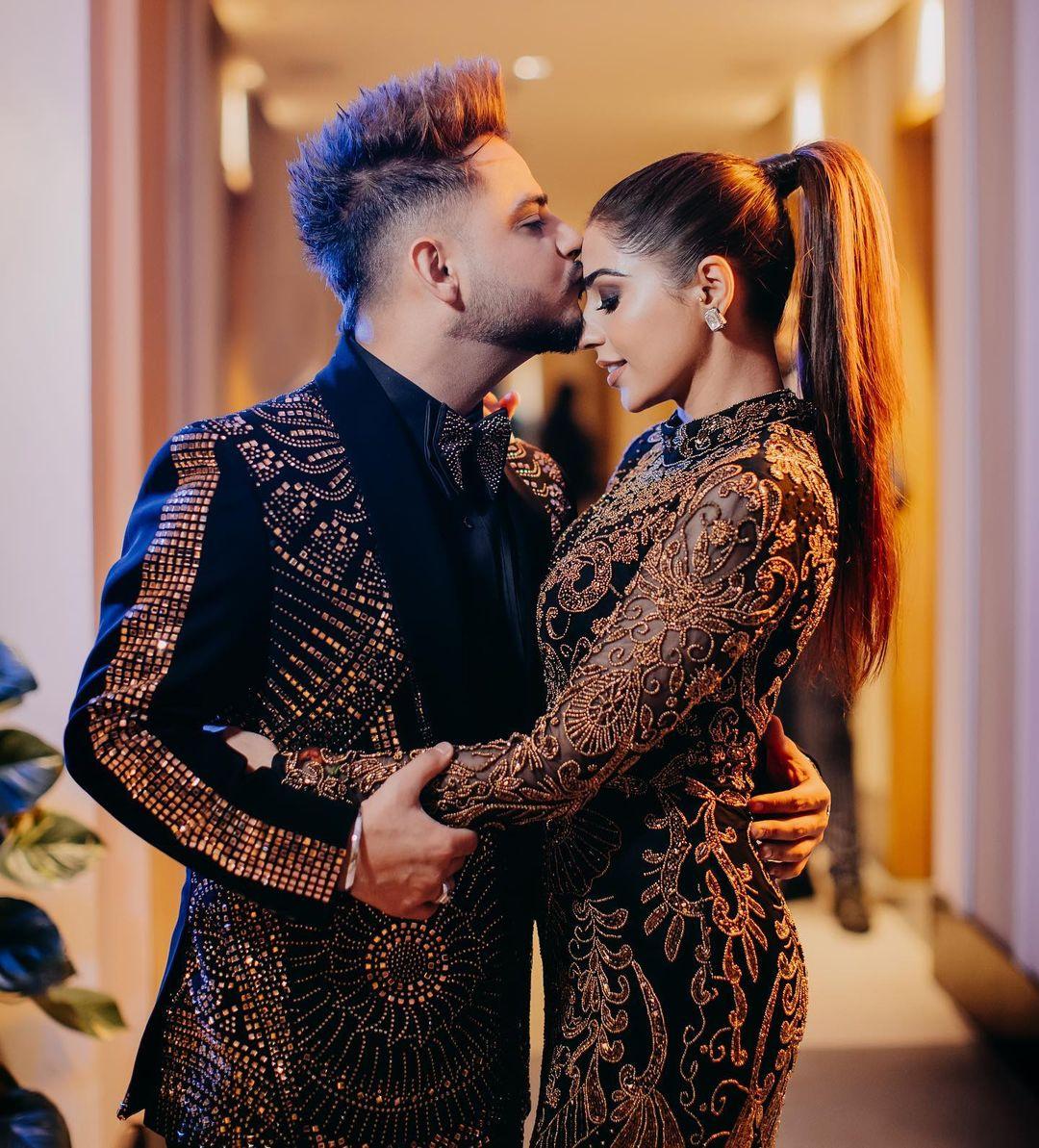 They celebrated their love story with the hashtag #MillindKiPria across all digital handles and events. Several Punjabi and Bollywood stars attended the cocktail party held on April 11, 2022. The duo did twinning on the cocktail day as they wore scintillating attire! Take a look at some of the cutest picture-perfect moments that were captured by the photographer, here. The netizens are super-excited already!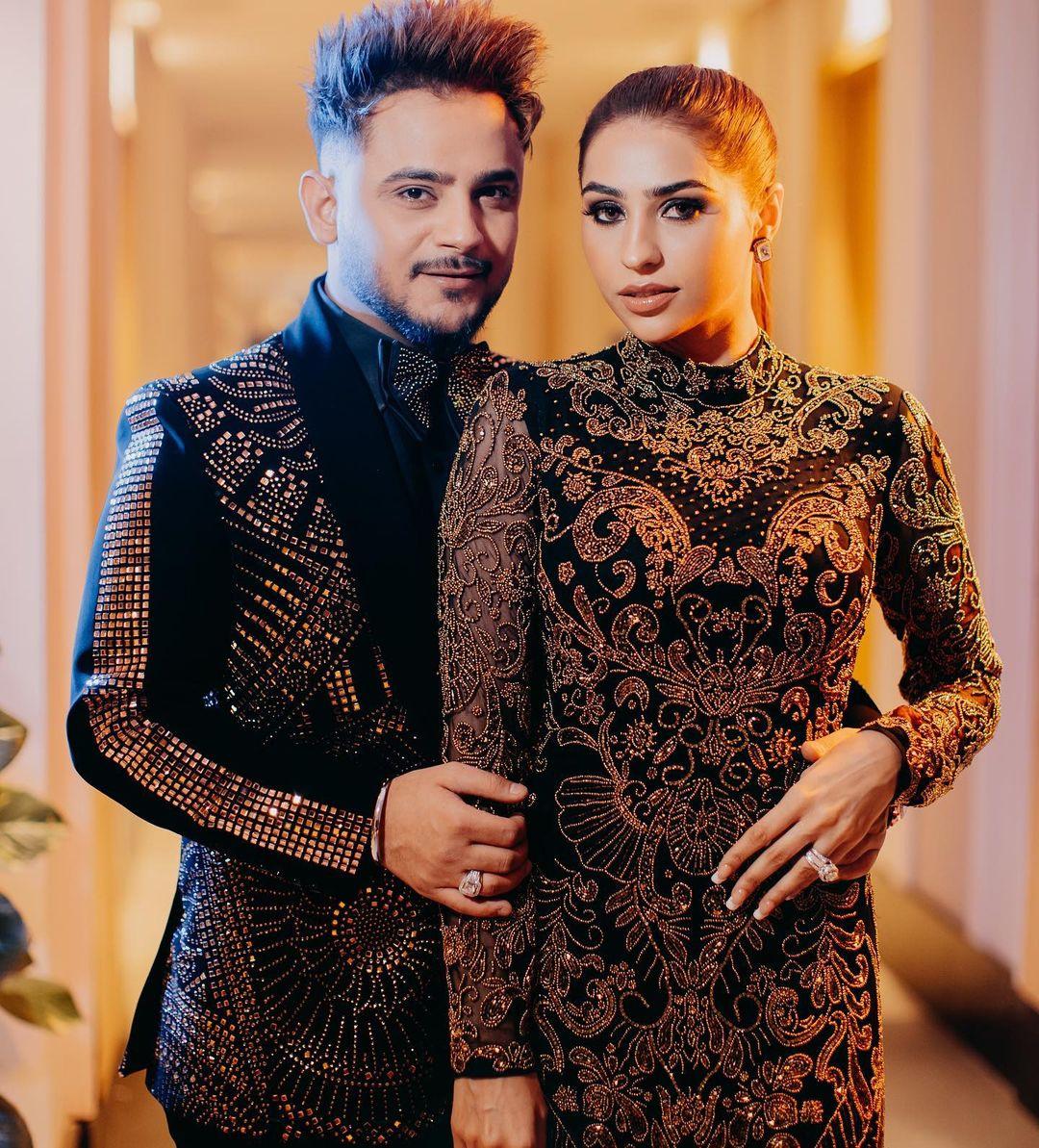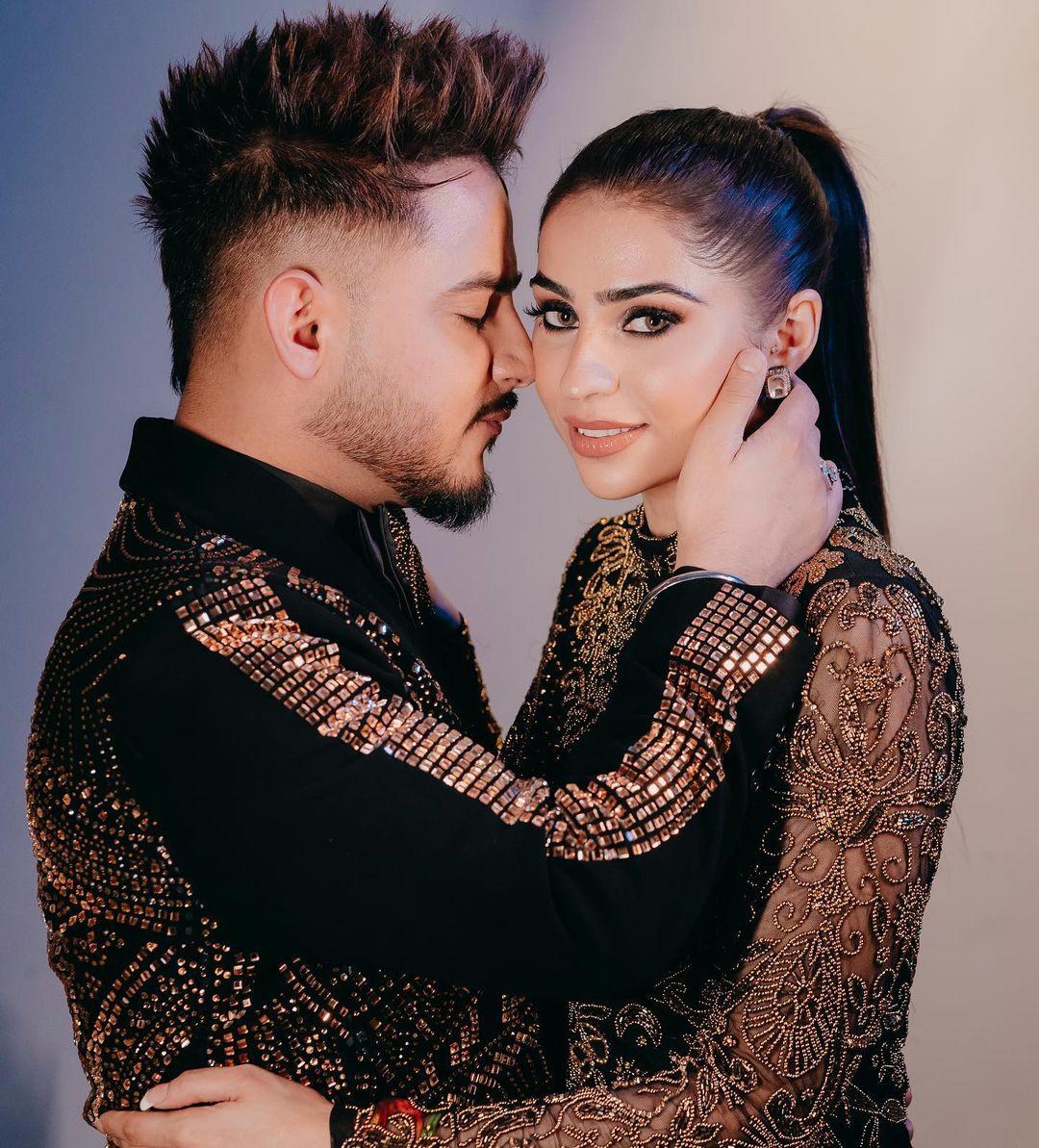 The Internet is already in a daze with such pre-wedding moments! What about you? The smile, the love, the chemistry, the twinning, and whatnot will not make you go gaga!
Also Read: Inside Rahul Vaidya and Disha Parmar's Wedding
The Vibrant Haldi Ceremony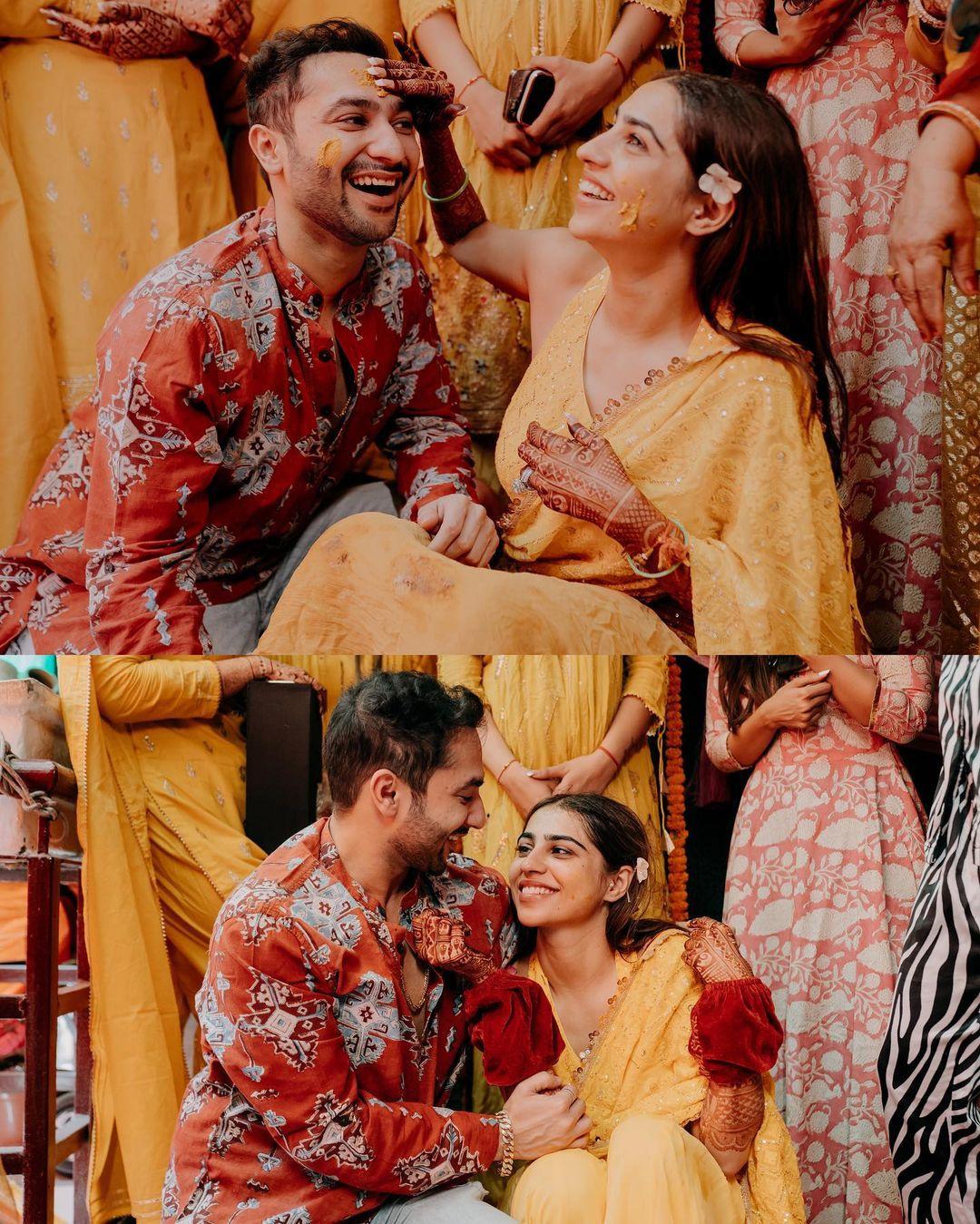 The Haldi ceremony further reveals the happiness they hold inside their hearts! They were elated whilst celebrating the ceremony in a beautiful way. Pria was looking graceful in her Yellow Haldi outfit and Millind looked dapper in his red printed attire! They are posing happily while being smeared in the turmeric paste! You can have glimpses of the day from these pictures whilst reading the itty bitty deets from the day.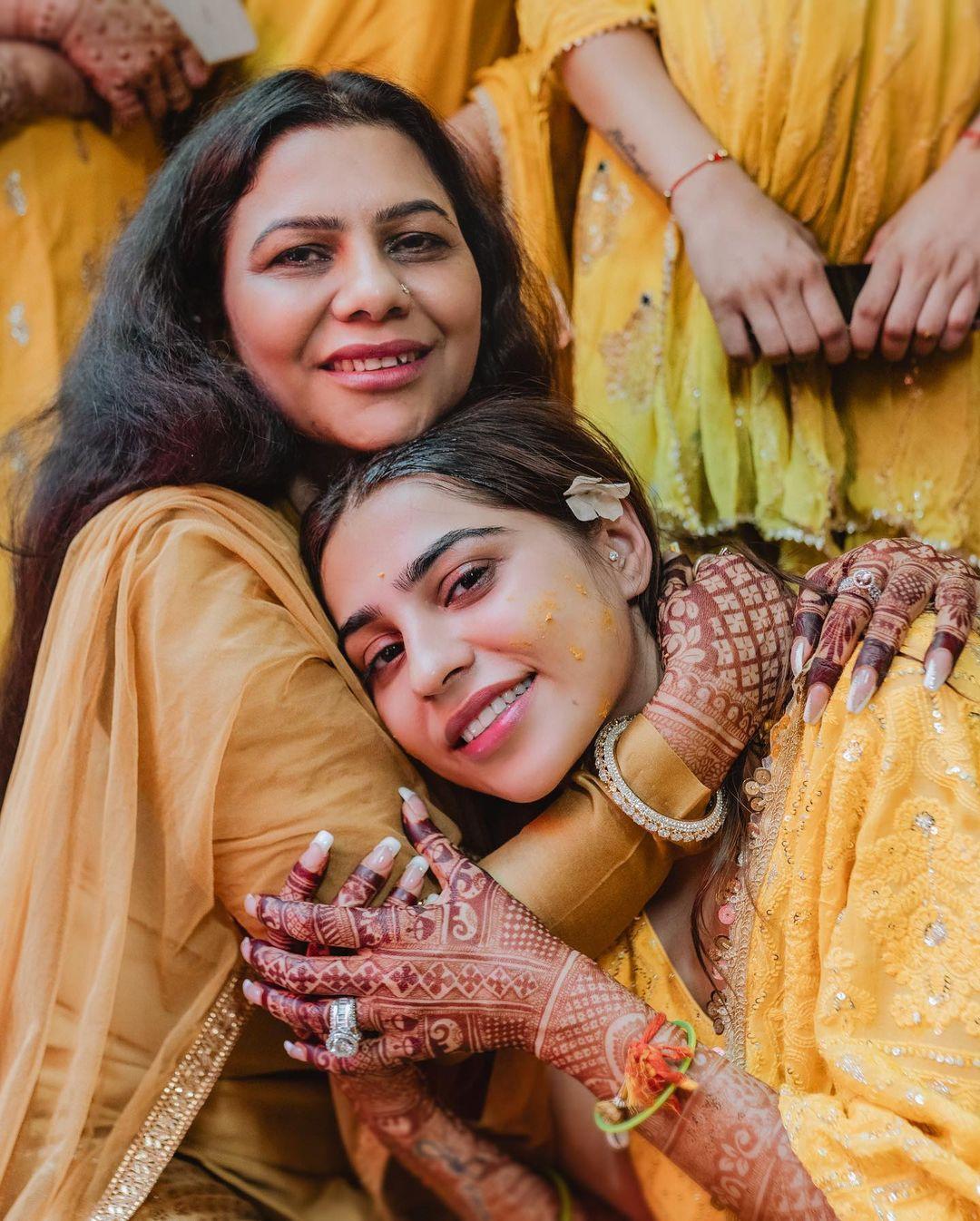 The love of a mother has no norms and here u can find that through the picture. The mother-daughter bond exhibited happiness as you can see how happy her mother looked here. The warm embrace depicted here is touching for sure.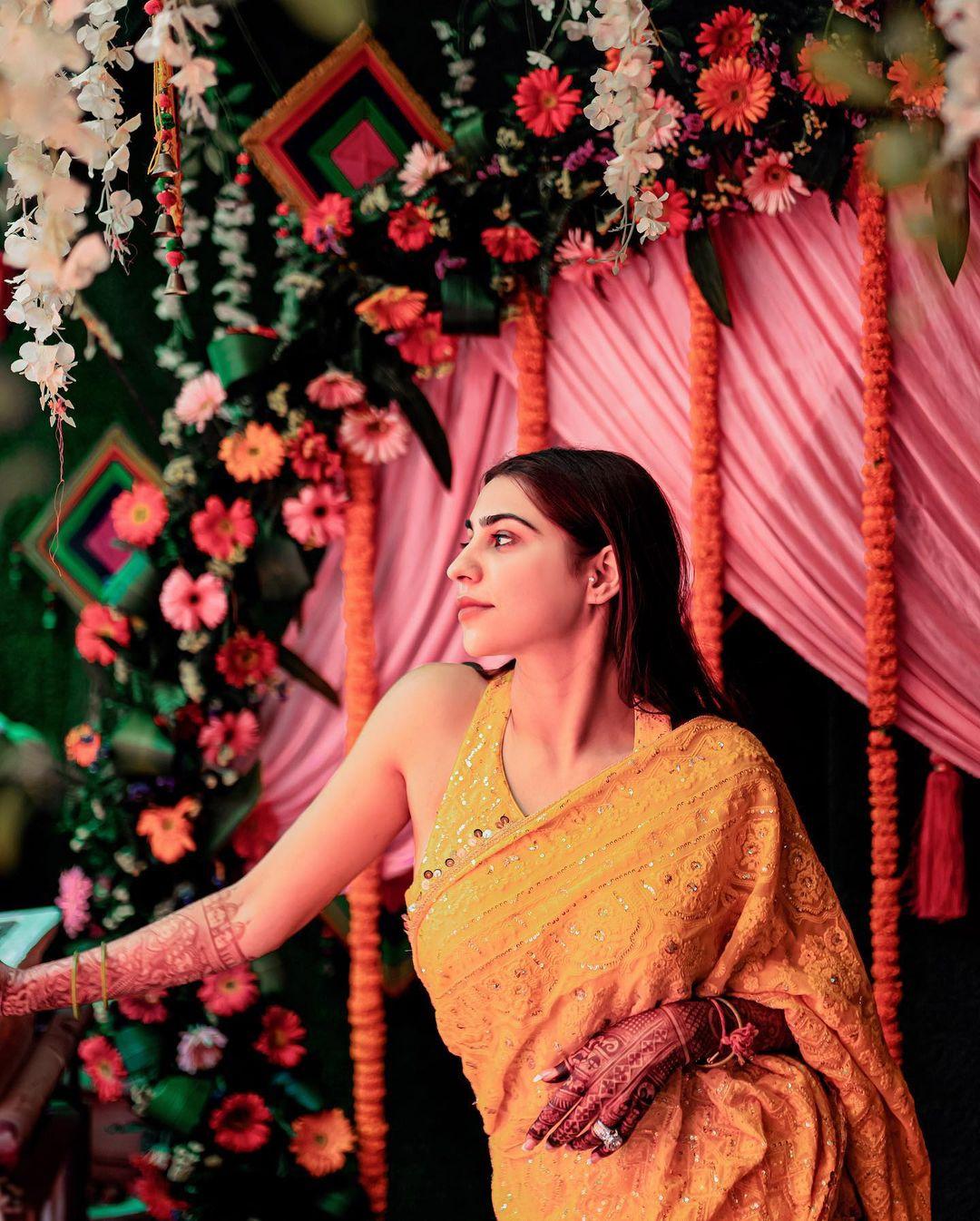 The Wedding Ceremony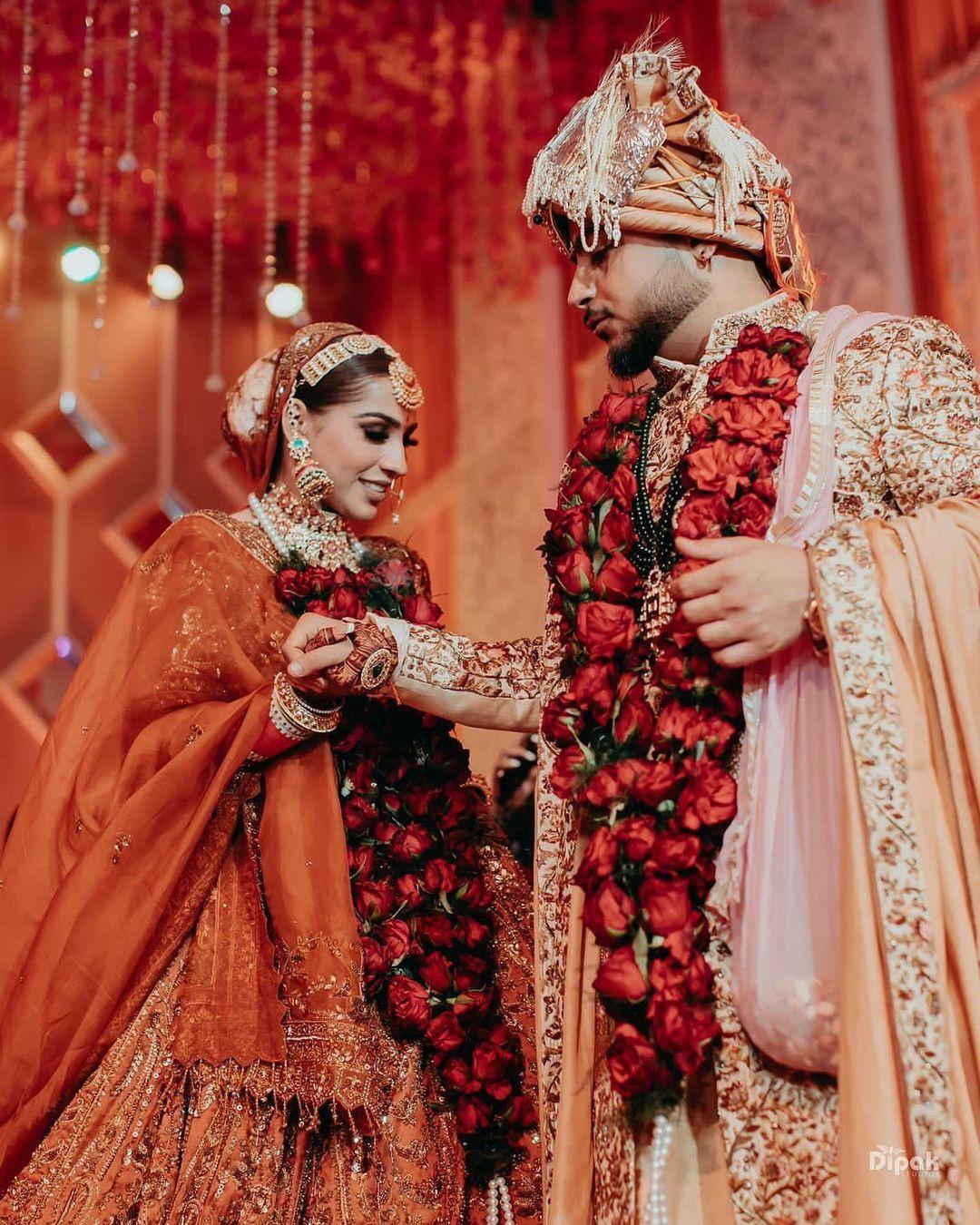 Pria looked stunning in a heavily embroidered lehenga while Millind looked royal in a sherwani. The caption on Instagram by Millind, "16/04/22 To Eternity "resonated with how madly they are into each other. While on the other hand, Pria posted while sharing his picture with netizens, "Our infinity and beyond starts now."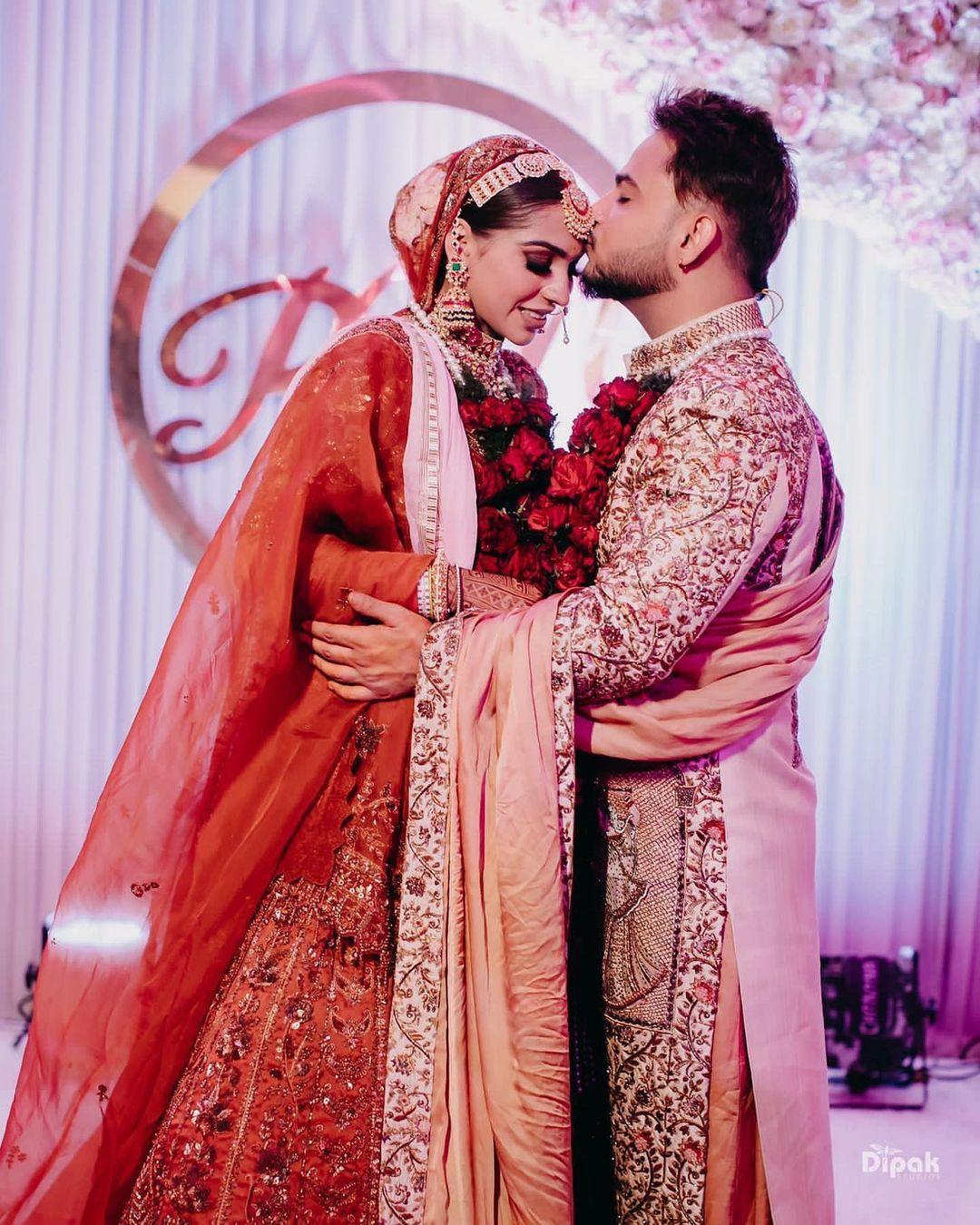 An Instagram account shared glimpses from Millind and Pria's big fat Delhi wedding, Millind is also seen mesmerized by Pria's beauty and love, as they looked at each other, exchanging a smile. Millind kissed her on the forehead expressing something special here.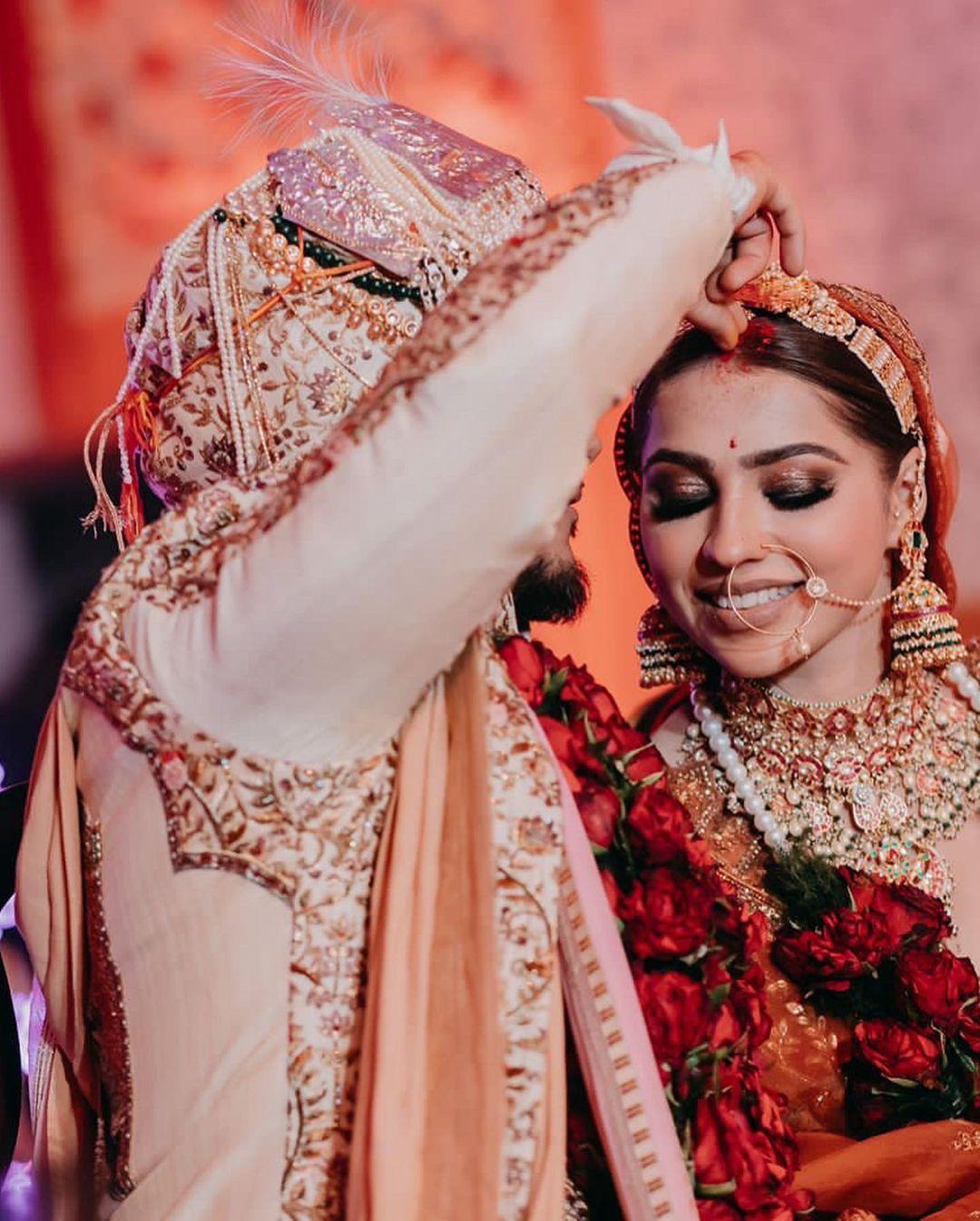 The following picture is from their sindoor- a beautiful Hindu wedding ritual. Millind is putting vermillion on her forehead! Isn't this dreamy and enticing to the core! We are elated to see such dainty pictures. What about you?
From attire to the wedding venue, everything in this wedding took our breath away! Do let us know your views in the comment box below.
Dream Team
Photography - Dipak Studios
Outfit: Payal Keyal Designs
Millind's outfit: H2 Bharat Reshma
Makeup: Face stories by Leena Bhushan
Jewellery: Omsons Bridal Store

Mehendi: Raju Mehandiwala

Event: JK Events - Wedding Planner
Top Blogs on WeddingWire India
Wedding Anniversary Wishes | Proposal Lines | Mehndi Design | Propose Day Quotes for Boyfriend | Romantic Bollywood Songs | Wedding Anniversary Wishes for Sister | Engagement Anniversary Wishes | Pre Wedding Quotes | Wedding Invitation Quotes | Funny Wedding Wishes for Bestfriend | Simple Mehndi Designs | Rangoli Designs | Mehndi Songs | Finger Mehndi Designs | Blouse Designs | Hindi Songs for Dance Performance