New Hairstyle Images: Here are the Best 10 Hairstyle Pics to know What's in Vogue
Wedding hairstyles can get repetitive after a point of time & it becomes imperative for millennial brides to try something new. So let's find a new hairstyle image that suits you!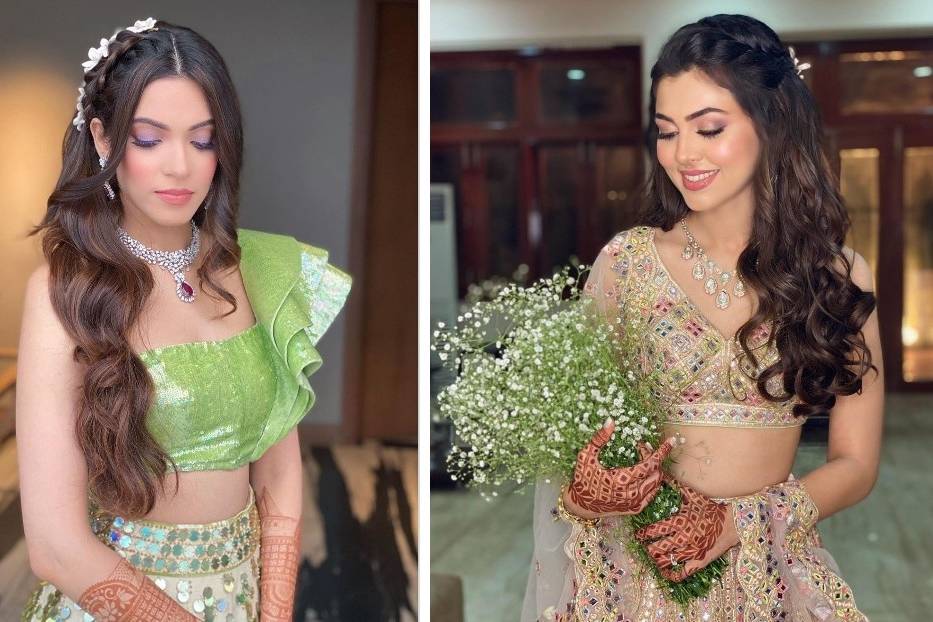 Every detail of a bride's look holds equal importance on her wedding day. From her outfit and shoes to her hair, bridal makeup and bridal jewellery, there is absolutely nothing that can be overlooked. Therefore, when you put in enough time finding the right bridal outfit and jewellery that stands out, then why not research to find a new hairstyle image as well which isn't one of the common ones that most brides have been seen wearing over the years.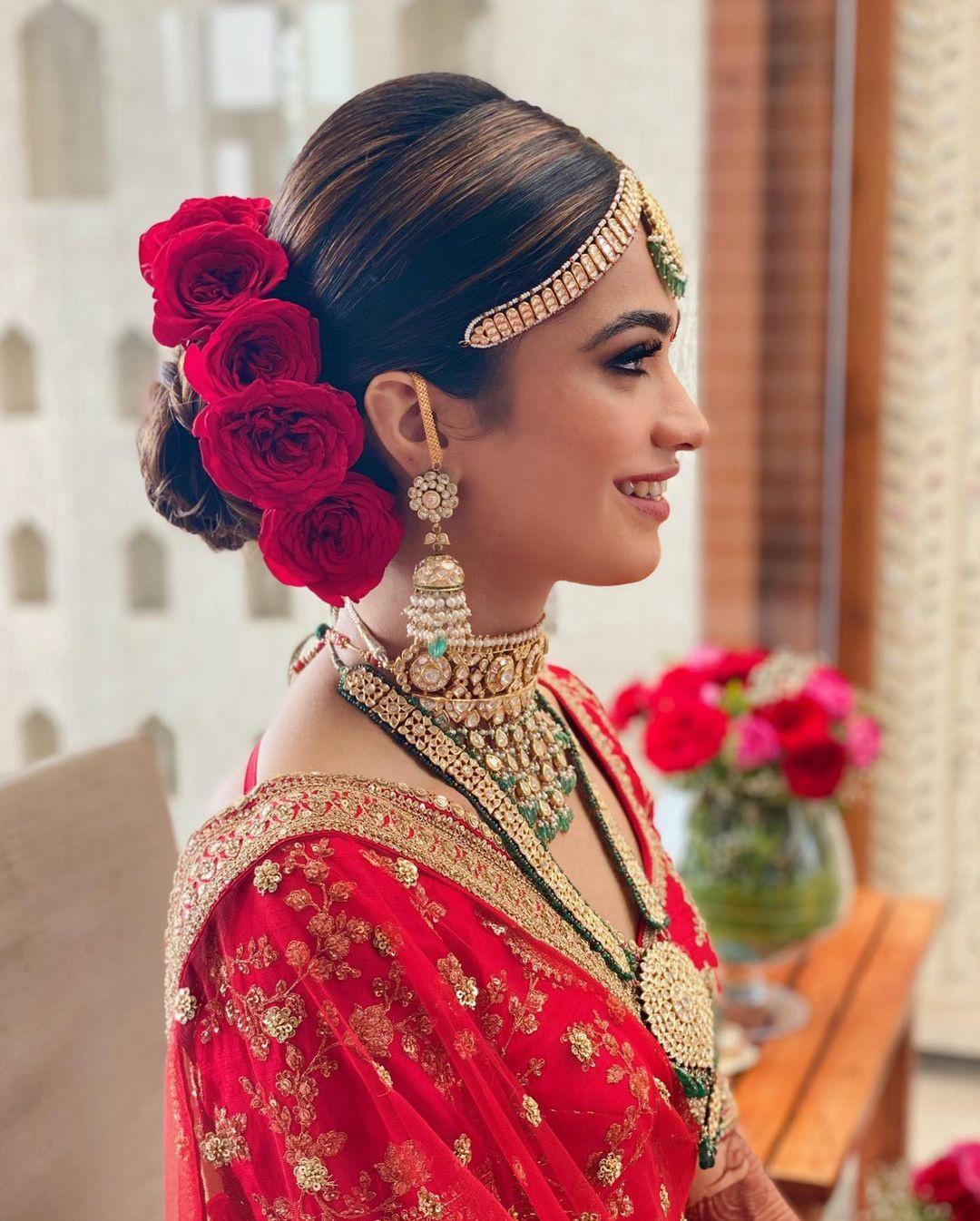 Your hairstyle adds as much drama to your look as your jewellery, so waste no further time and get on the job of looking for new hairstyle images that'll work with your wedding outfits. Don't know how? We have got you covered with a list of the prettiest new hairstyle images which will make you go happy in the head. Scroll up and pick your favourite hairstyle image!
Indo-Western Hairstyle
Choosing the best hairstyle for yourself can be a bit of a hassle. From floral braids to soft curls, hairstyles have topped the bar of rage. Are you looking for an indo-western hairstyle? We have got your back, sweetie! Get ready to roll in a rocking look while you pick the best hairstyle image!
Let the Waves Play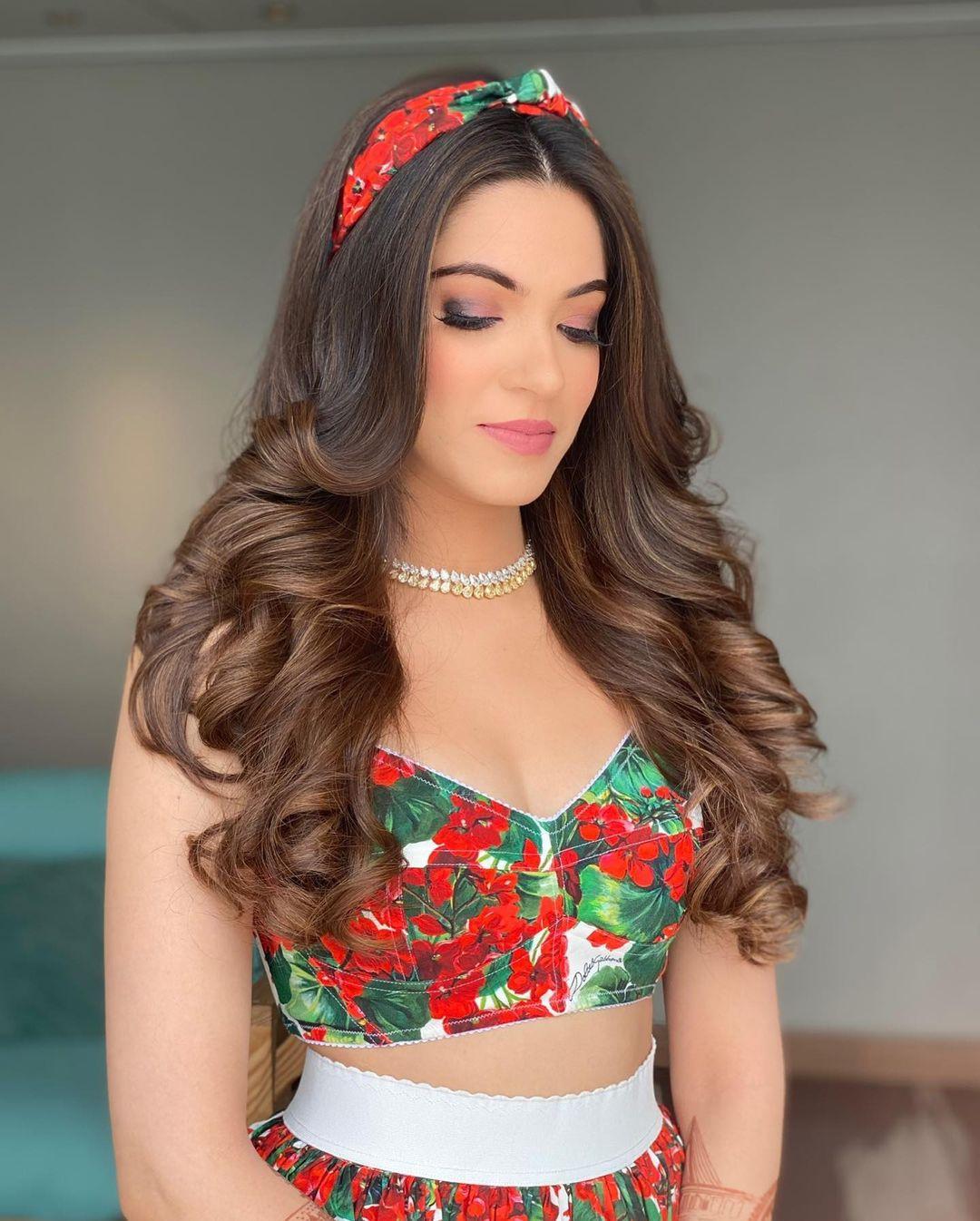 This pretty and new hairstyle image has got our hearts captured! If you are looking for an elegant hairstyle for a wedding function, this hairstyle image is an ideal pick for you. Styling the hair strands into loose and wavy curls gives a perfect glow to the face. Pick this indo-western hairstyle while you hit the stage with a classy look.
Perfect for: Mehndi function, Reception Ceremony, Sangeet Ceremony
Oh-So-Pretty Soft Curls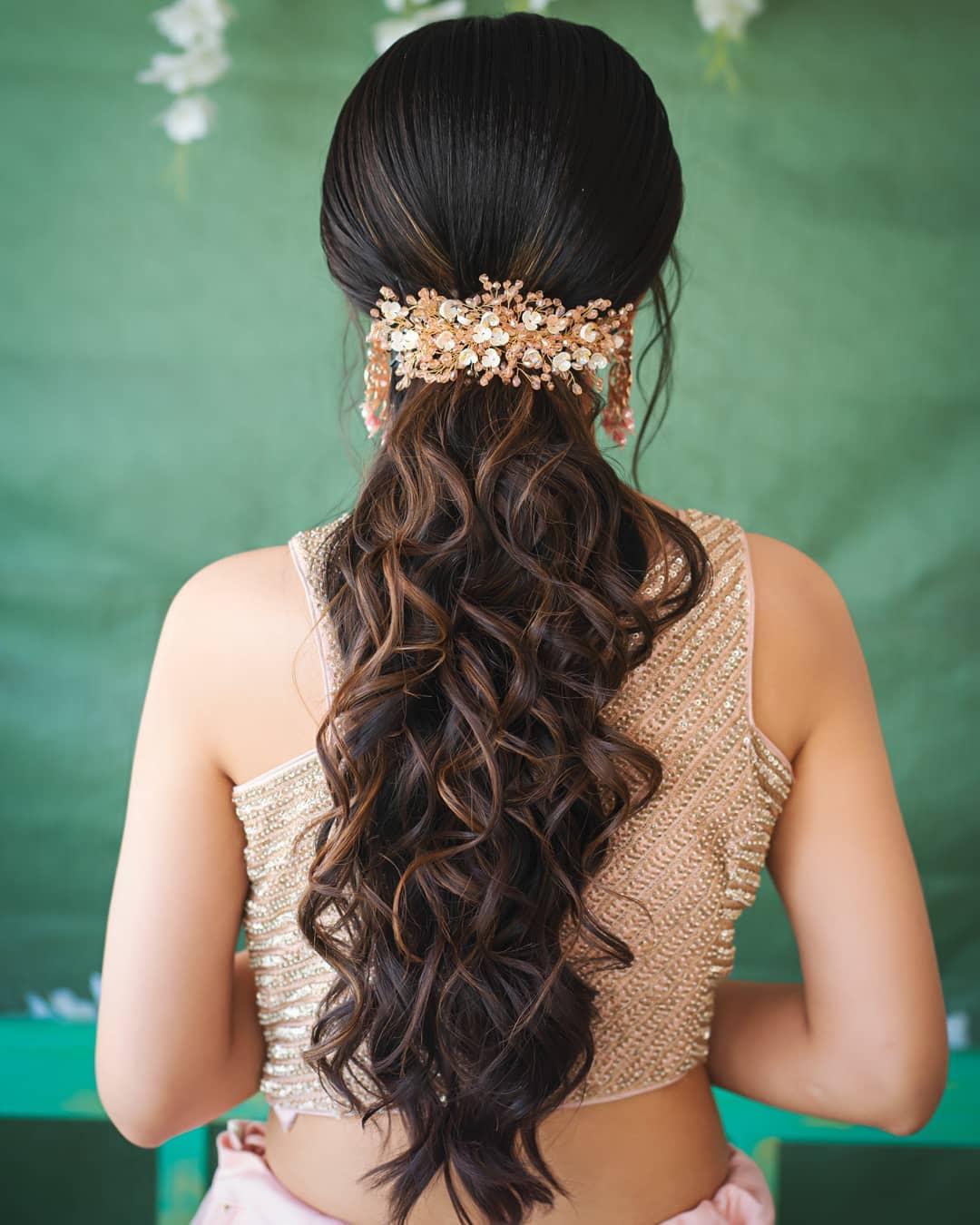 Image Courtesy: Simmy Makwana
Wish to avail princess vibes? This new hairstyle image is a hit hit! This indo-western hairstyle will amp up your engagement hairstyle game with finesse. Before we could get over those ultra-gorgeous curls, the oh-so-pretty hair accessory made us fall for the look. Make memories with your loved ones while you seize the hairdo look in style.
Perfect for: Engagement and Sangeet Function.
The Rose Corner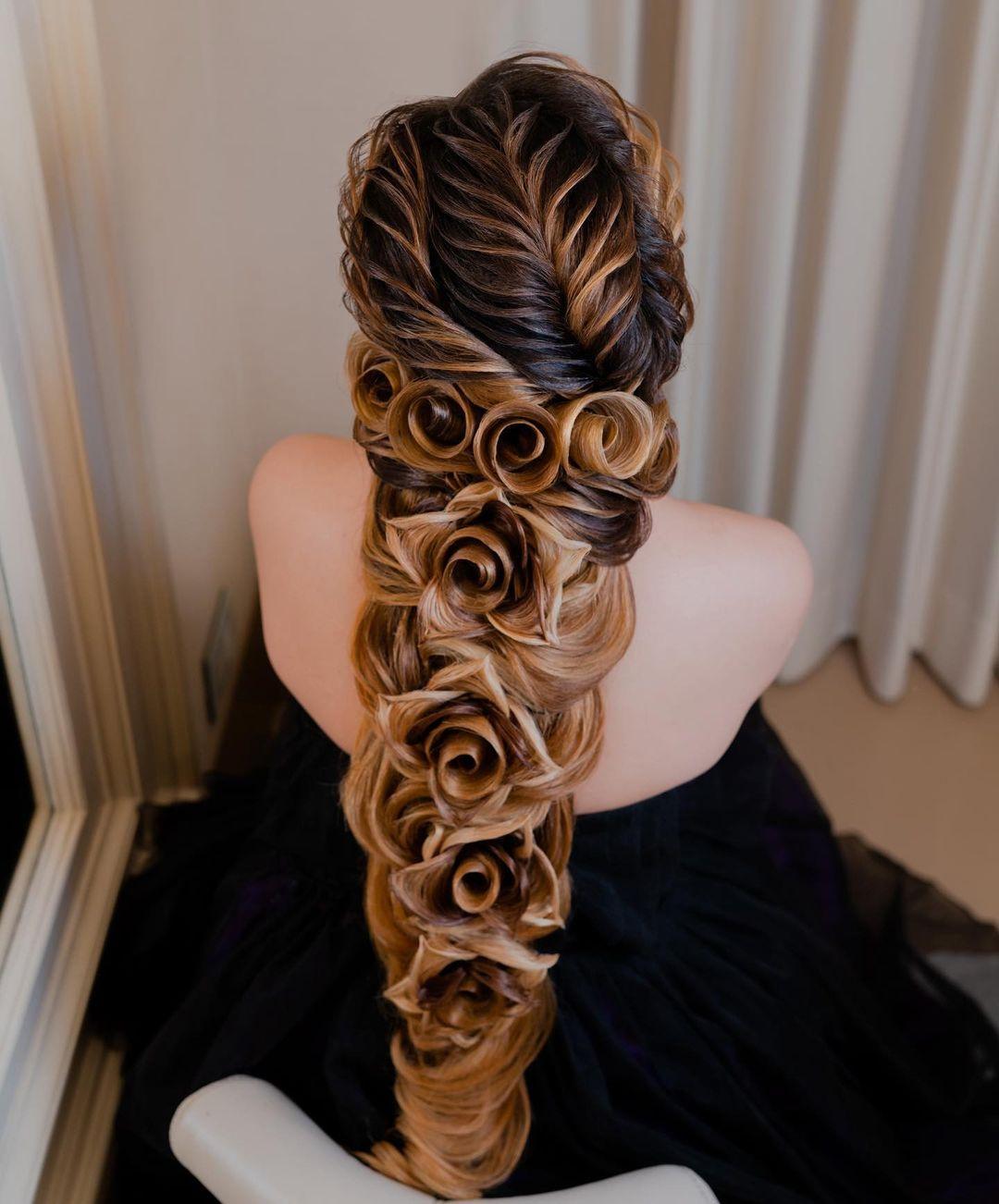 Have a soft corner for roses? Why not include this in your hairstyle! Shoutout to the prettiest rose braid we have ever come across! To all the girls looking for a unique and elegant indo-western hairstyle, this is it. From perfectly twirled hair to beautiful intertwined roses, this pin-worthy new hairstyle image is all you need to begin the functions with beautiful vibes.
Perfect for: Wedding ceremony, Reception ceremony
Straight From Hollywood Waves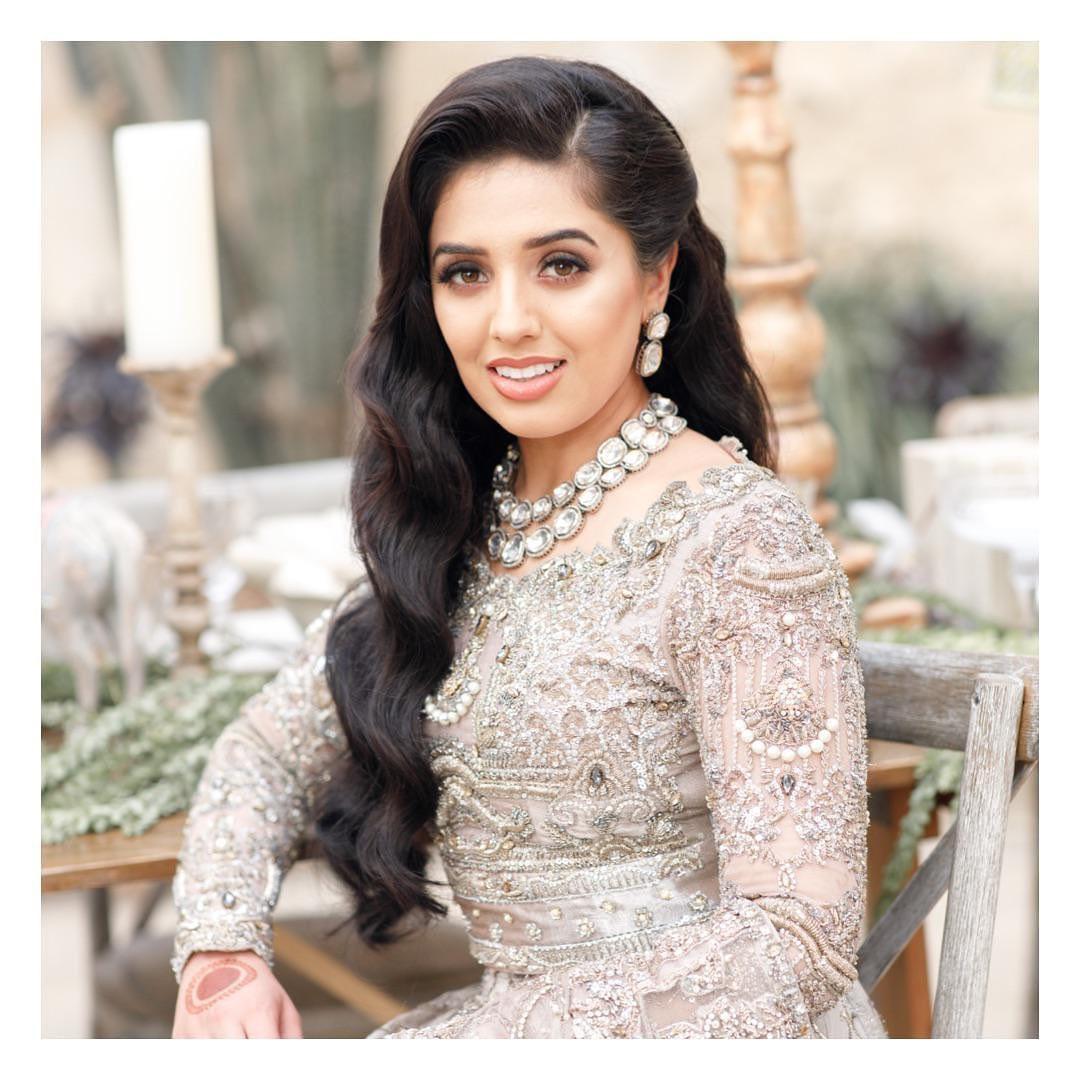 Image Courtesy: Amir Naveed Hair
If you want to go for an easy-peasy indo-western hairstyle, this hairstyle image is a win win! An impeccable hairstyle not only elevates your look but makes you feel confident and flawless. This new hairstyle image is proof of a regal look. Loose waves with a side parting always top the hairdo look with a mesmerising finish. To all the pretty brides-to-be, if you want a quintessential look for pre-wedding or post-wedding function, this western hairstyle is the best pick.
Perfect for: Sangeet and Mehndi function.
The Lavender Touch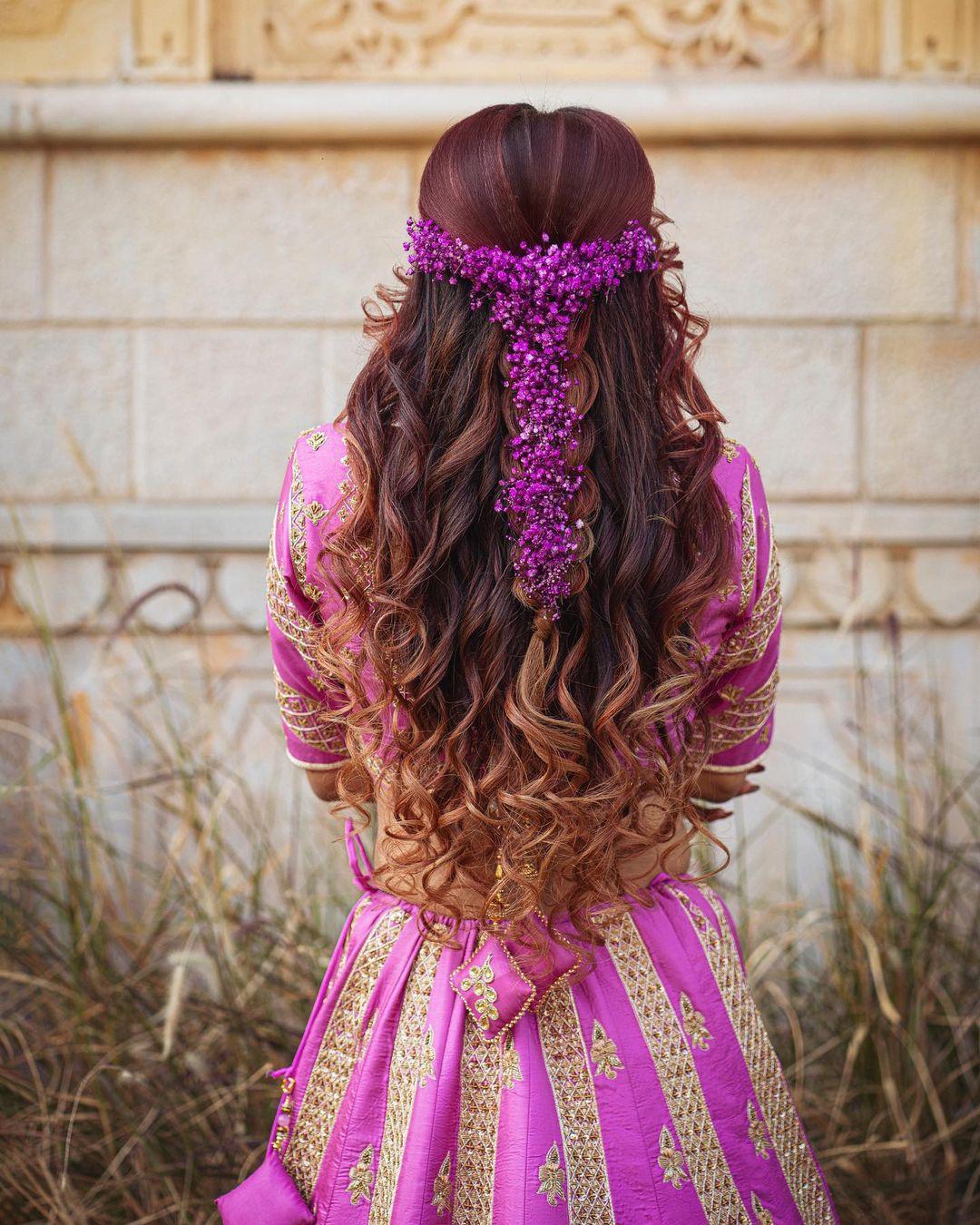 Image Courtesy: Simmy Makwana
We are going head over heels for this gorgeous new hairstyle image! If you are that bride who loves everything bright, then this new image hairstyle is the suitable pick for you. We are swooning over the symmetry of the curls! How about you?
Perfect for: Sangeet function, Engagement function.
Ethnic Hairstyle Images
Dolling up in an ethnic outfit demands a traditional hairstyle as well. Most people get confused when it comes to styling in an ethnic hairstyle. But guess what? We have skimmed these new hairstyle images that are drop-dead gorgeous. Scroll up and pick your favourite hairstyle image!
Playing with Braids and Accessories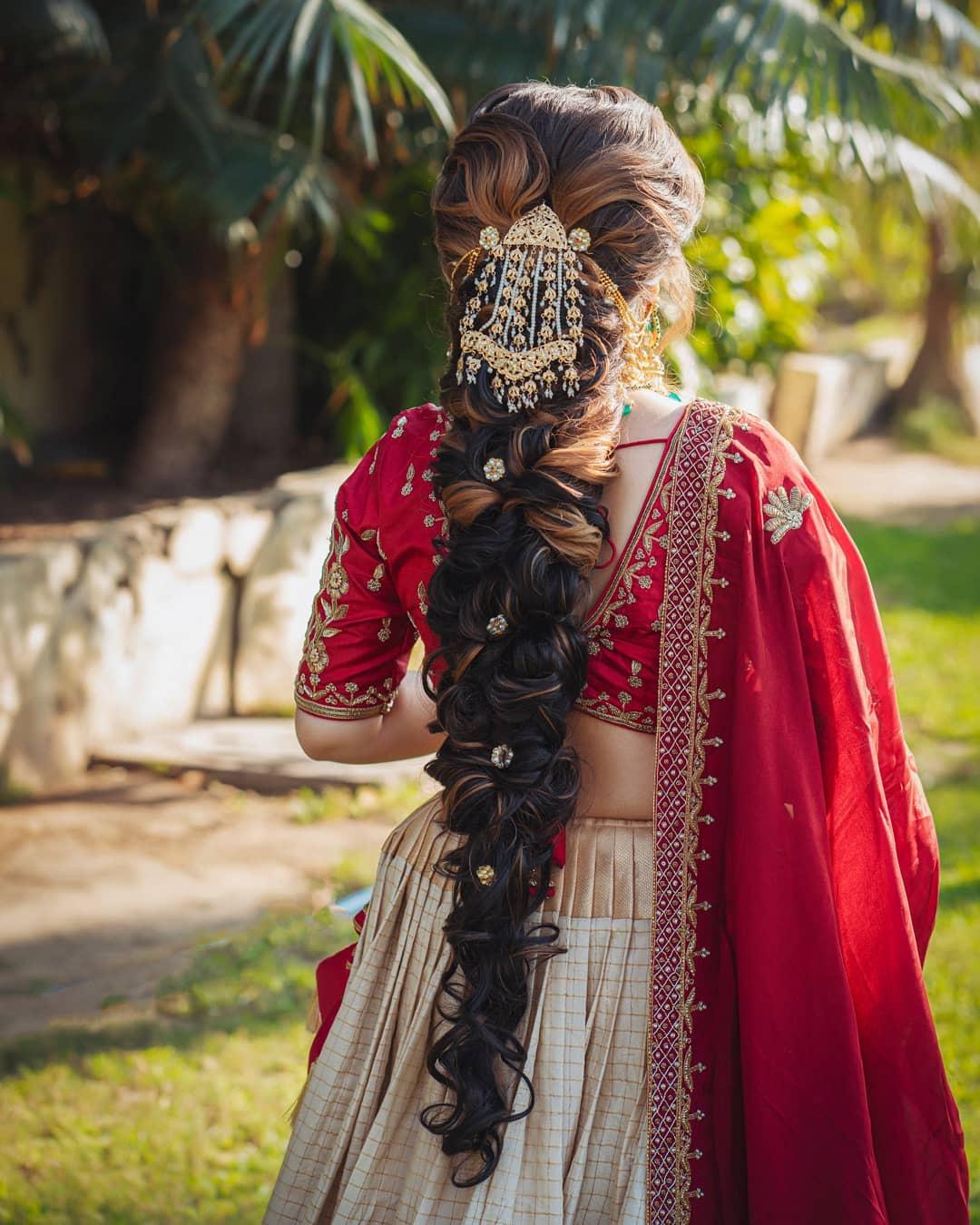 Image Courtesy: Simmy Makwana
The braid hairstyle always adds a dash of classic vibe to the whole bridal look. What's better than attaining a classic look while you flaunt your d-day look with utmost elegance? This new hairstyle image is perfect for a bride to don with a lehenga or even a traditional saree. If you want to hit the spot of ethnic and beauty, we recommend you to opt for this lovely hairstyle image and start the new beginnings with happiness. Whether it's your sangeet function or wedding function, these conventional accessories will look superb with your braided hairstyle.
Perfect for: Wedding function
The Rainbow Effect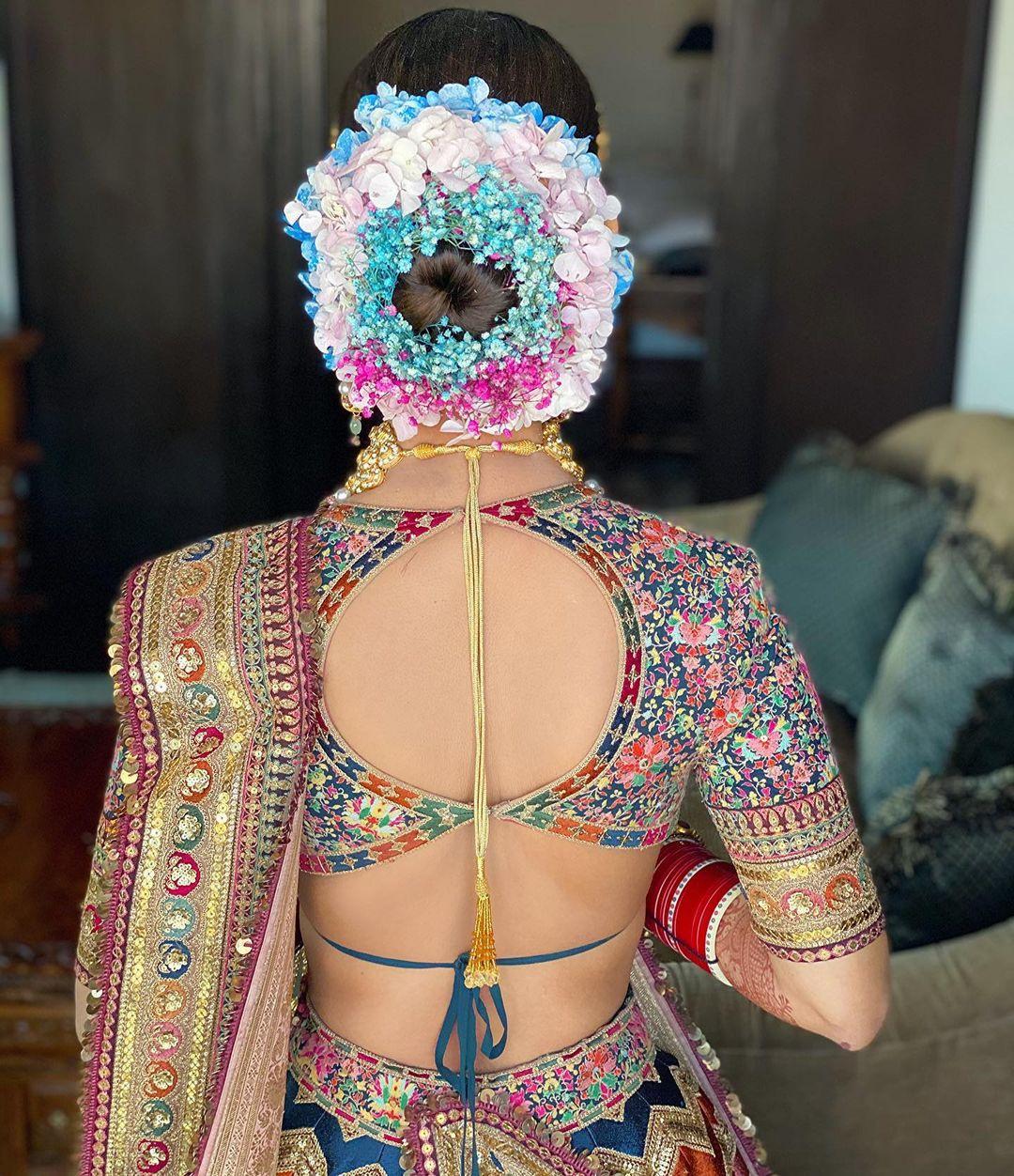 Are you a floral fan? If yes, this new hairstyle picture will take your breath away! We are swooning over this gorgeous donut bun hairstyle image which not only looks smooth but minds blogging as well. This donut bun perfects to wear for your engagement or sangeet ceremony. This colourful bun can be well-paired with a saree or designer lehenga. Jazz up your wedding functions with this hued bun hairstyle image and make tonnes of gleeful memories with your loved ones.
Perfect for: Sundowner Weddings and Sangeet Function
The Pleated Braid Hairstyle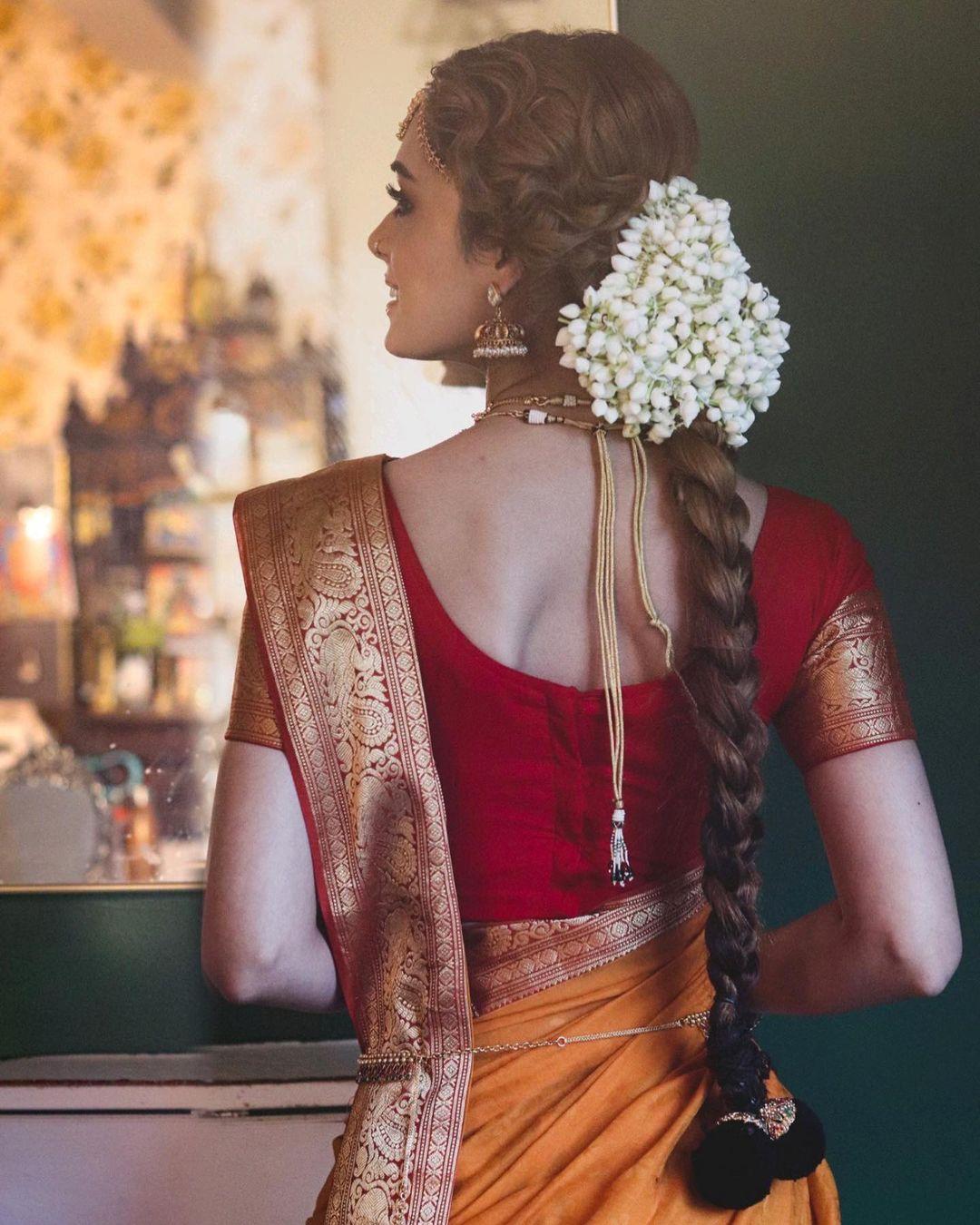 Image Courtesy: The Styles by Sha
Do you also swoon over 'Gajras'? This long hairstyle image shouts grace. Jasmine flowers signify the Indian traditional look. Grab the 'Gajra Mohabbat Wala' moment while you express your happy feelings out there. This voluminous braid hairstyle image is twirled with a pom-pom paranda and is best suited for pre-wedding functions.
Perfect for: Mehndi Night, Sangeet function
The Peacock Feather Bun

Image Courtesy: Simmy Makwana
How pretty does this hairstyle look! We are swooning over this lovely peacock hair bun with delightful baby breaths. Get your 'Morni Banke' vibe for real while you pick this new hairstyle image. We have never seen one such peacock hair bun! If you want to go out of the box, then this hairstyle image is an apt choice for you. Make this wedding season a hit while you pick this new hairstyle with a charm on your face.
Perfect for: Wedding function
The Pony-Tale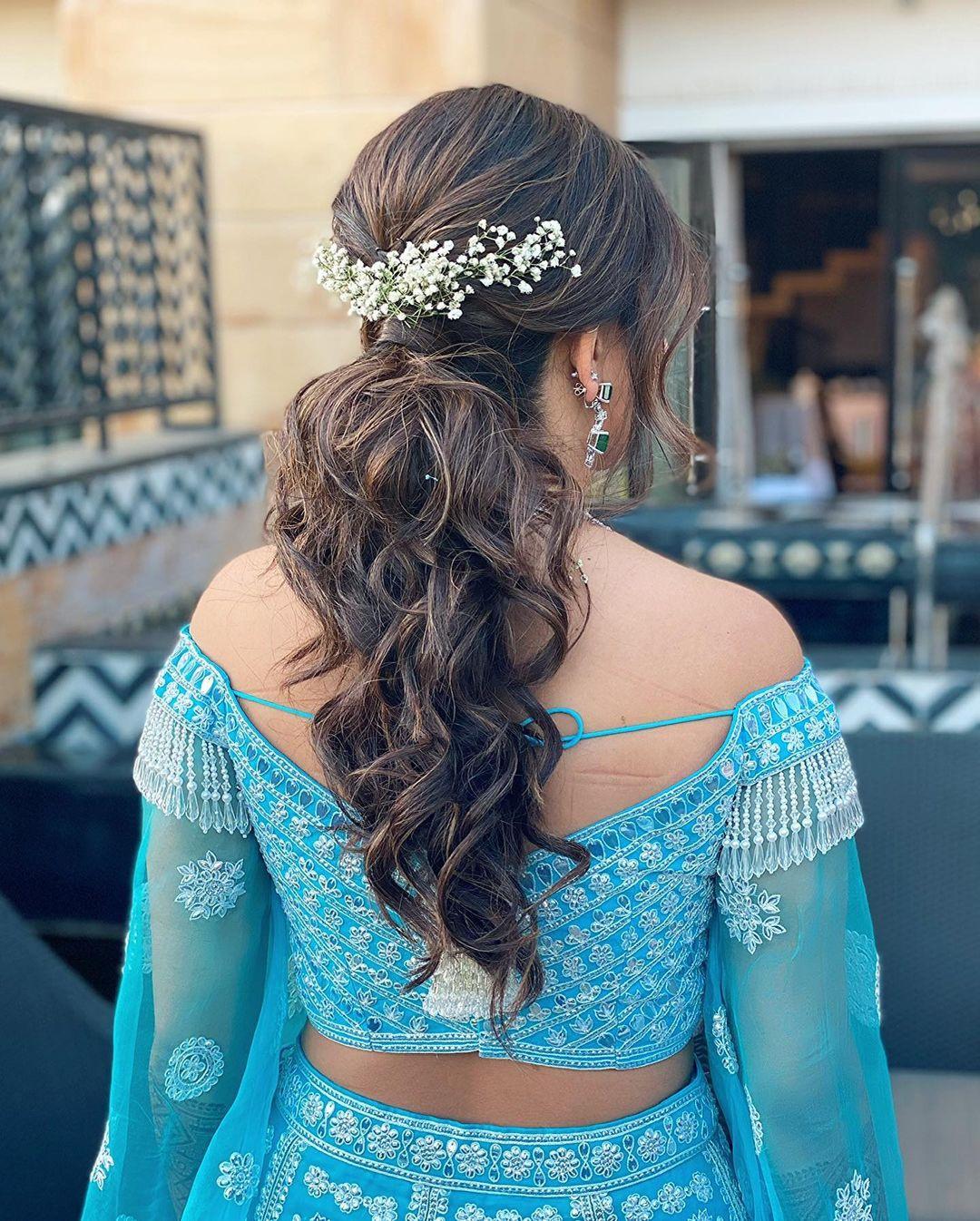 Crazy for Curls and Ponytail hairstyle? Why worry when you can avail these two styles together? This new hairstyle image is absolute perfection! The blend of the low ponytail with some soft curls looks pretty and elegant. If you are confused about which hairstyle to pick for pre-wedding and post-wedding functions, this is a hit choice. Baby breaths will help you steal the spotlight with ease. How many of you love this new hairstyle pic?
Perfect for: Cocktail night, sangeet night and reception function.
While all the new hairstyle images are unlike anything that we have seen so far, you need to choose something that goes well with your outfits. Are you that bride who loves everything vogue? If yes, then the above listed new hairstyle images are going to slay your day with elegance. Shortlist the best hairstyle image while you visualise your whole look with hair, makeup and outfit.
Which new hairstyle image did you admire the most? Let us know under the comment section below!