5 Beautiful Mehndi Jewellery to Make the Celebrations Better
Thinking floral jewellery for the Mehndi? Here is the essential explainer on the different types of Mehndi jewellery you can invest in.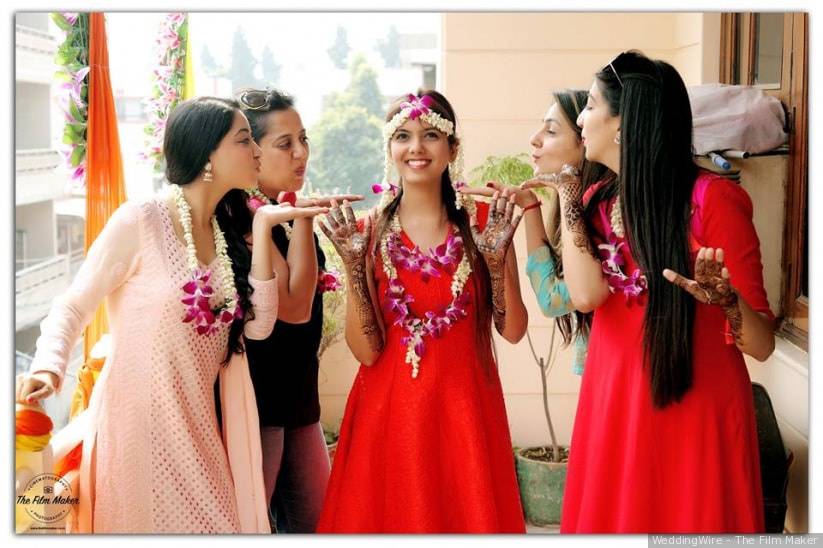 Think Mehndi and the automatic connotations you get are for a fun/ funky day where you can be yourself, with friends and family, while prepping for your big day. Gone are the days when you did that in old grubby clothes and barely-there jewellery. Colourful, trendy Mehndi attire is spot on, alongside statement pieces in bridal Mehndi jewellery.
Flowers and jewellery are elements that hold a lot of importance in a wedding ceremony and if you can combine the two, the results are not only beautiful but breathtaking. Floral jewellery has always been a part of the wedding traditions and the checklist of accessories to adorn you in will always have mehndi jewellery in the form of floral jewellery.
The bright coloured petals and flowers can be chosen according to the attire you choose to flaunt and you can also make sure that they go with the theme that has been decided for the Mehndi ceremony. Mehndi jewellery is almost always light and colourful owing to the day functions.
To ensure that you enjoy your wedding festivities and especially your Mehndi function with full fervour, we can curate a list of jewellery that you can incorporate in your overall attire that will surely enhance the way you would look for your event.
Here, we break down the biggest trends in jewellery for your Mehndi day and explain why they work - and where you can get them so that you can enjoy your functions without any hassle or hurdle!
Mehndi Jewellery: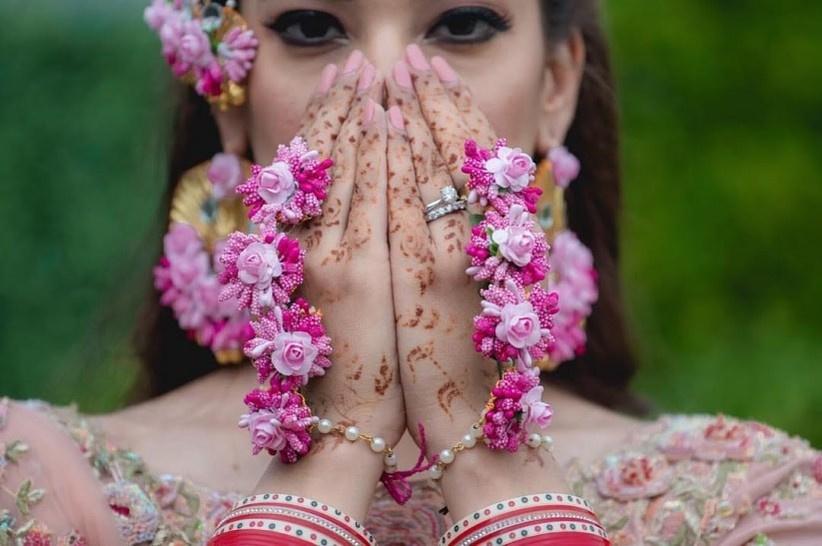 The Mehndi ceremony (often held on the sidelines of the traditional 'ladies sangeet') is often an easy, fun day in the midst of the emotionally charged wedding experience. It's an occasion to let your hair (and spirits!) flow and possibly shake a leg too, amidst your girls! And that's the sense which flows to Mehndi jewellery too. They can not only add definition but make you look ever so light and stylish at the same time.
Mehndi jewellery is all about being comfortable, splendid, colourful and quirky! In contrast to your heavy wedding jewellery, you shouldn't need to worry a lot about what happens to it. And that leaves you to work with unconventional pieces in floral jewellery, Gota and Resham jewellery. And then there's also Kundan and Pearl jewellery specially made for the ceremony.
Here is a heady explainer for the different types of Bridal mehndi jewellery you can opt for:
1. Colourful floral jewellery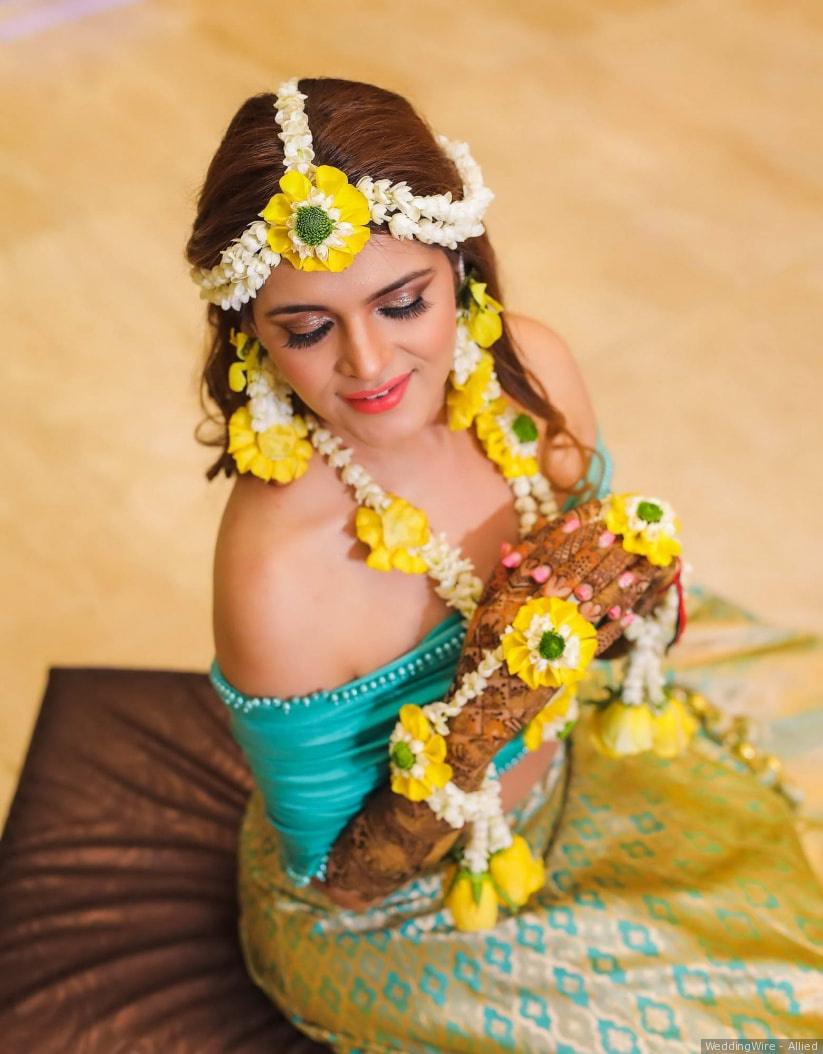 Although there are so many more options, floral jewellery is always the prettiest choice. Team up classic fresh white flowers with marigolds or roses to make it more colourful. Fresh floral mehndi jewellery can be used to create Bangles, Rings, Bajubandhs and Maang tikkas. And an extra tip? Pair these for the largely day event, with brights colours like orange, yellow or red. For a uber chic touch, you can wear a tiara of flowers and imbibe bohemian vibes to your traditional event.
Want an evergreen piece? Opt for floral jewellery in fabric, or faux flowers.
You can also lift up these pieces of jewellery with bright stones. Intertwine flowers and petals with bright stones and studs that match your mehndi day outfit will make sure that all the eyes are on you.
2. Gota Jewellery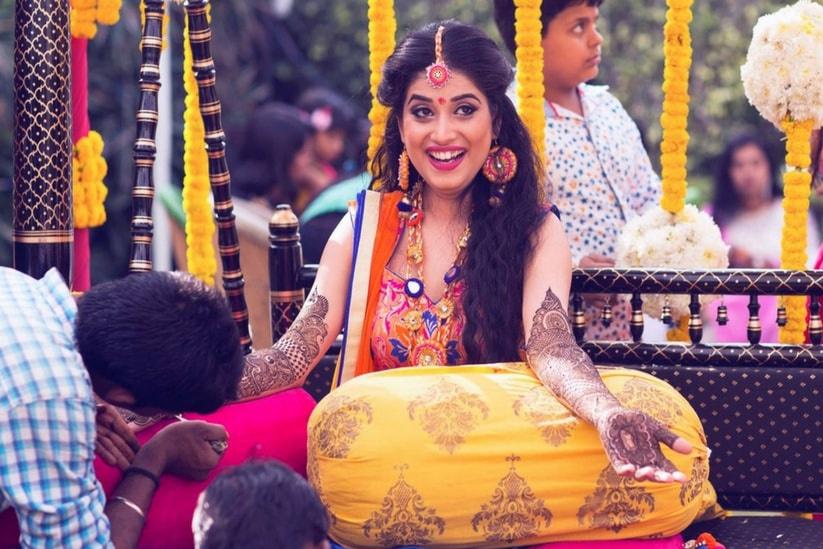 Why go for sparkly Gota Jewellery? It's light-weight, more reasonable than flowers and can be worn again. Gota is available in shades of golden, silver and copper making it very dynamic. It can be sewn to create beautiful Maang Tikkas, Earrings, Necklaces and other pieces of jewellery. And now that Gota jewellery has become a craze amid offbeat Mehndi jewellery, it's also being combined with pom poms, pearls and mirror work! Gota jewellery looks great since it has the dazzle of gold but it much more trendy in design.
Traditional wedding occasions like Mehndi ceremony or Haldi can never be complete without a piece of Gota Jewellery making you look modern yet traditional at the same time. With so many designs and options available, you can take your pick and align it with the style which you would be flaunting on your Mehndi ceremony.
3. Resham (silk thread) Jewellery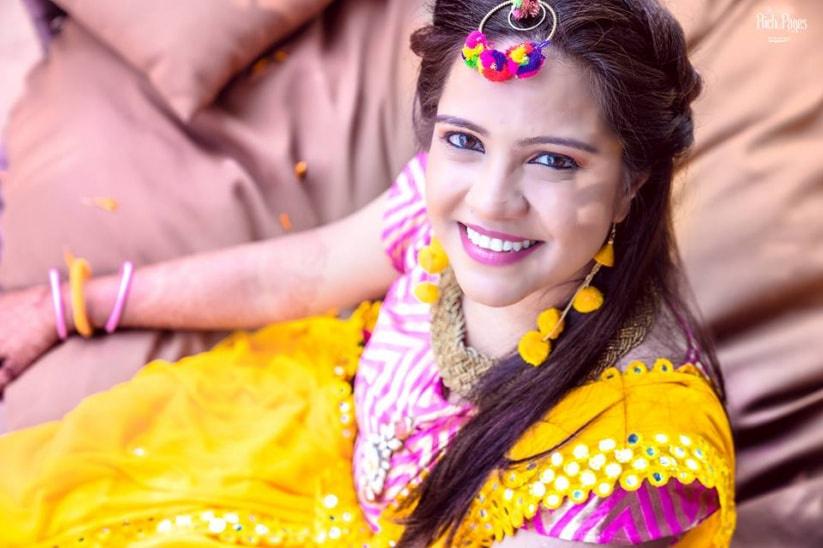 A great design, that looks DIY, hand-made and oh, so exquisite - Resham Jewellery combines the in-vogue trend for fashion thread jewellery, with pop colours. These designs are often woven on delicate wires or junk metal jewellery or converted into pom-poms which can be hung on as Earrings, Necklaces, Maang Tikkas, Arm Bands or other tassel motifs. We also see brides combine these craft details like organdy cloth flowers and studs.
This beautifully designed jewellery with silk threads will not only make you the talk of the town but all colours to your outfit to make you look one of a kind.
4. Stones, Studs and Pearls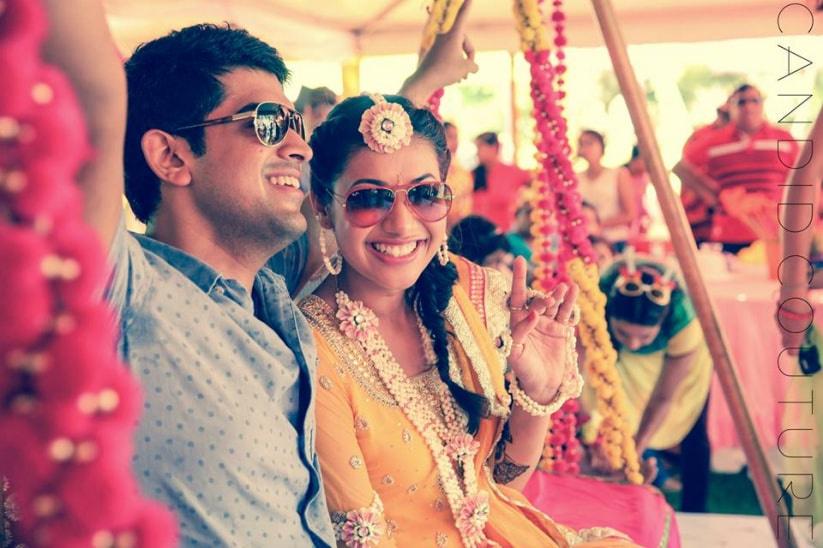 Opt for jewellery designed from colourful stones and match it with ease with your mehndi day outfit. These mehndi jewellery designs are both offbeat and easy to find. You can use stones that are similar to your outfit or in contrast and watch the whole look come together.
And if you want it to be a little more traditional, look for new and trendy designs, which combine pearls into your mehndi jewellery accessories, as Surbhi did in the picture above.
5. Conventional Kundan Jewellery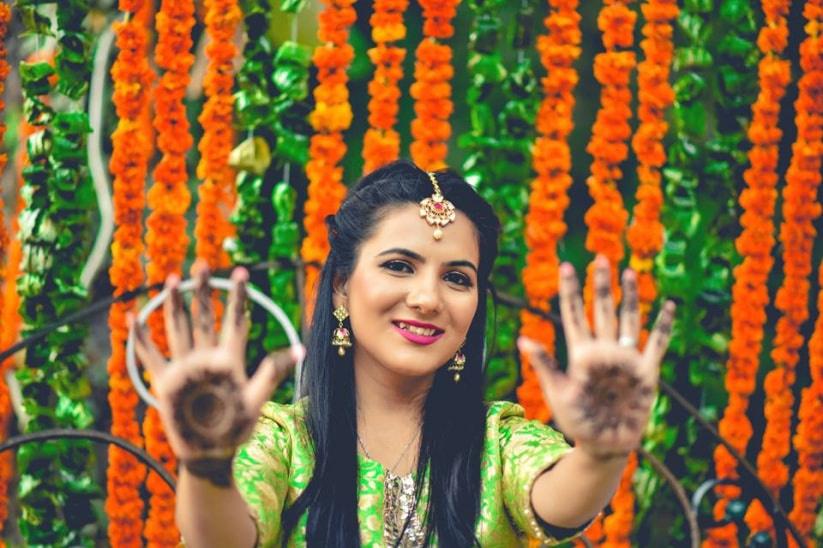 Kundan is a chic option for mehndi jewellery - timeless and elegant. A simple Maang Tikka paired with a heavy necklace can be your perfect combination. You can opt for inlaid stones (coloured and clear), pearls, exquisite motifs in gold. Depending on your mood, you can also look for bridal jewellery styles in modern Kundan, Kundan artificial jewellery, antique Kundan jewellery or Temple designs.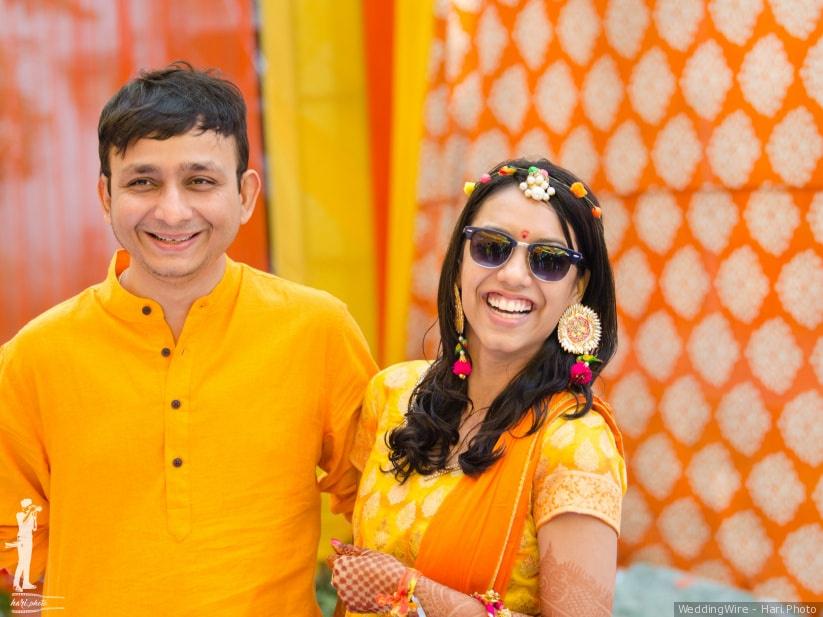 Remember! For your mehndi jewellery, you can experiment with a variety of design options and materials. It's a fun and relaxed function and the best way to showcase your style, your way. With a variety of options to choose from make sure you do some research and find exactly what you're looking for. And then?
For your Mehndi ceremony, you can opt for various types of jewellery options and believe it or not a few trends are raging when one even begins to think of mehndi jewellery. From Gota Patti to Kundan stonework, the options are unlimited and we have seen a surge in real brides opting for imitation and artistic jewellery instead of going for real metal ones. With multiple colour combinations available to choose from, get your hands of mehndi jewellery that sits best with your dress and personality now!
Which mehndi jewellery will you pick for your own function? Tell us through the comments!