Diamond Necklace Images For Some Wedding Shopping Goals
It is said that diamonds are a girl's best friend. Even if you didn't believe this till now, these beautiful diamond necklace images will make you!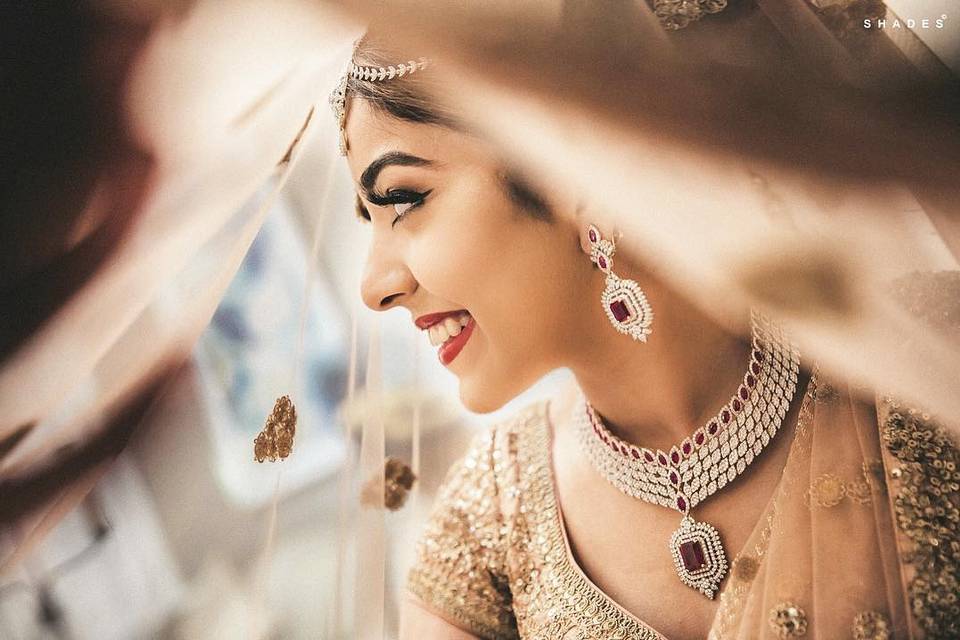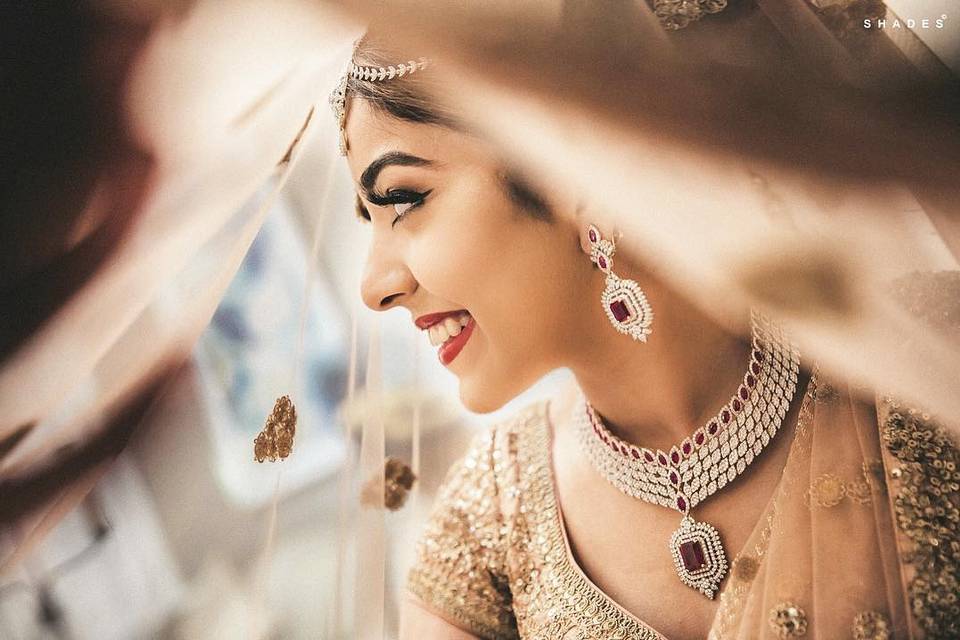 Image Courtesy: Shades Photography
It is said that diamonds are a girl's best friend. Even if you didn't believe this till now, these beautiful diamond necklace images will make you!
There are only a few things which always remain classic, and diamonds are without a doubt one of them. Diamonds are truly a girl's best friend. They never let her down, they always make her look her best and they go with everything, without any demands. You see where we are going with this, right? So, in all, we are just trying to prove to you that there is nothing like diamond jewellery. If we could, we'd say they are the best thing to happen to anyone, but well, we'll leave that choice to you.
Now that we have made that clear, we also know that these beauties come at a price. But that price is one which is totally justifiable. If you are going to be a bride soon, we are sure you must be busy shopping and researching for the best of everything. Google must definitely be your best friend right now, with you searching for everything from the latest lehenga designs to necklace images online, right?
Well, we say you are doing the right thing. Your wedding day and all the functions preceding it are going to be some of the most special days of your life and you need to look your best on these days. Therefore, it only makes sense for you to do your thorough research when deciding your looks for all the days.
Well, here's some good news! All your research and effort for finding the best necklace images have finally borne fruit because here we have just what you need. We were doing what we do every day and going through some gorgeous wedding pictures of real brides when we came across these stunners who wore some pretty diamond necklaces to their wedding functions and we just could not resist.
We had to put all these stunning diamond necklace images together for all our to-be brides to take inspiration from. Here are some beautiful diamond necklace images that we loved and are sure you will too. Check them out!
1. Intricate bling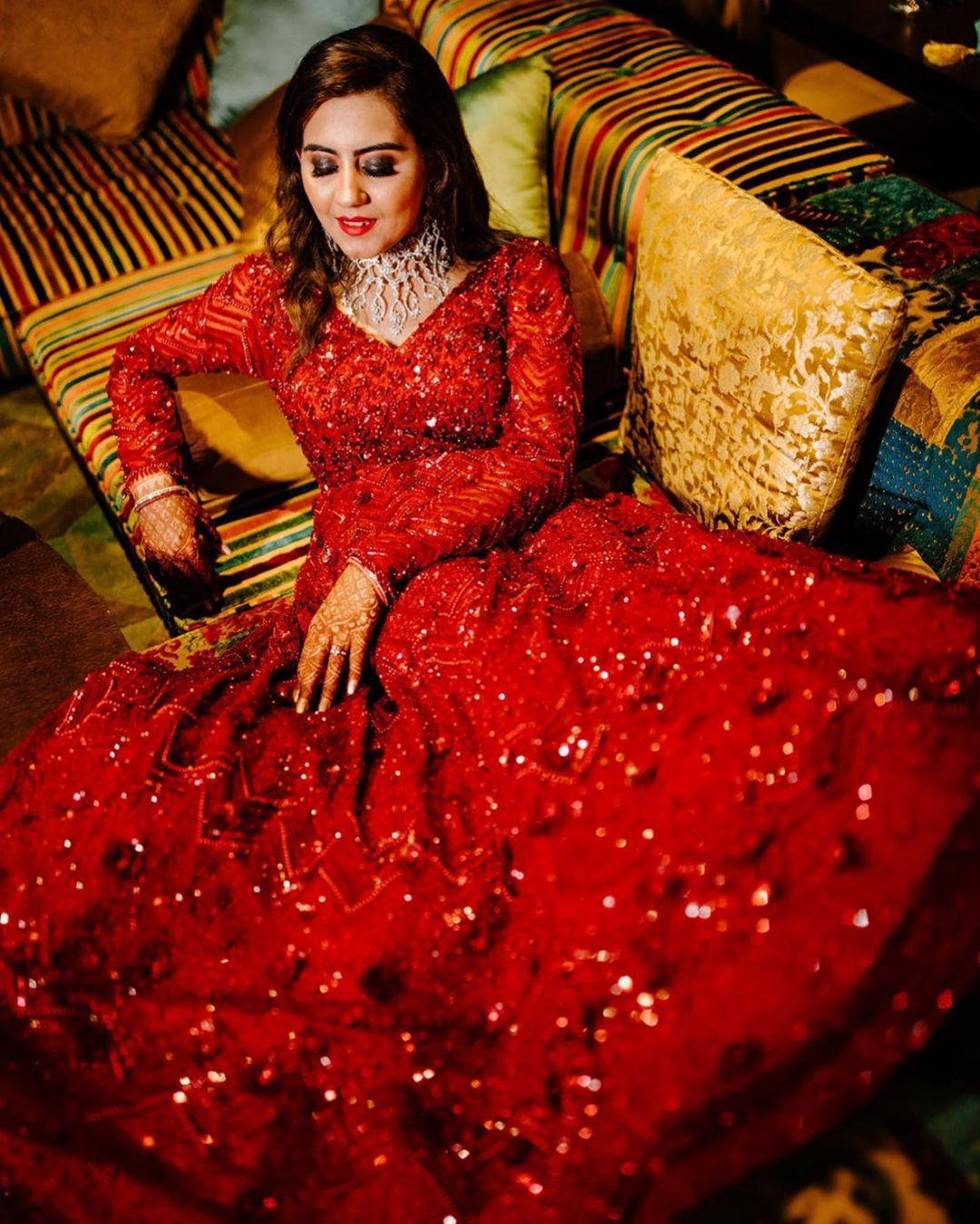 The first thing we noticed about this picture was obviously the stunning bride and her elaborate red gown. It is a gorgeous sequined and a heavily embellished piece which makes her look like a princess. But on closer inspection, we came across something even prettier than the dress.
Yep, you guessed it. The oh-so-grand diamond necklace. It is an interwoven pattern of diamonds and goes amazingly well with the elaborate dress. If you are a true lover of all things larger than life, then this attire and diamond necklace is perfect for you!
2. Dainty diamonds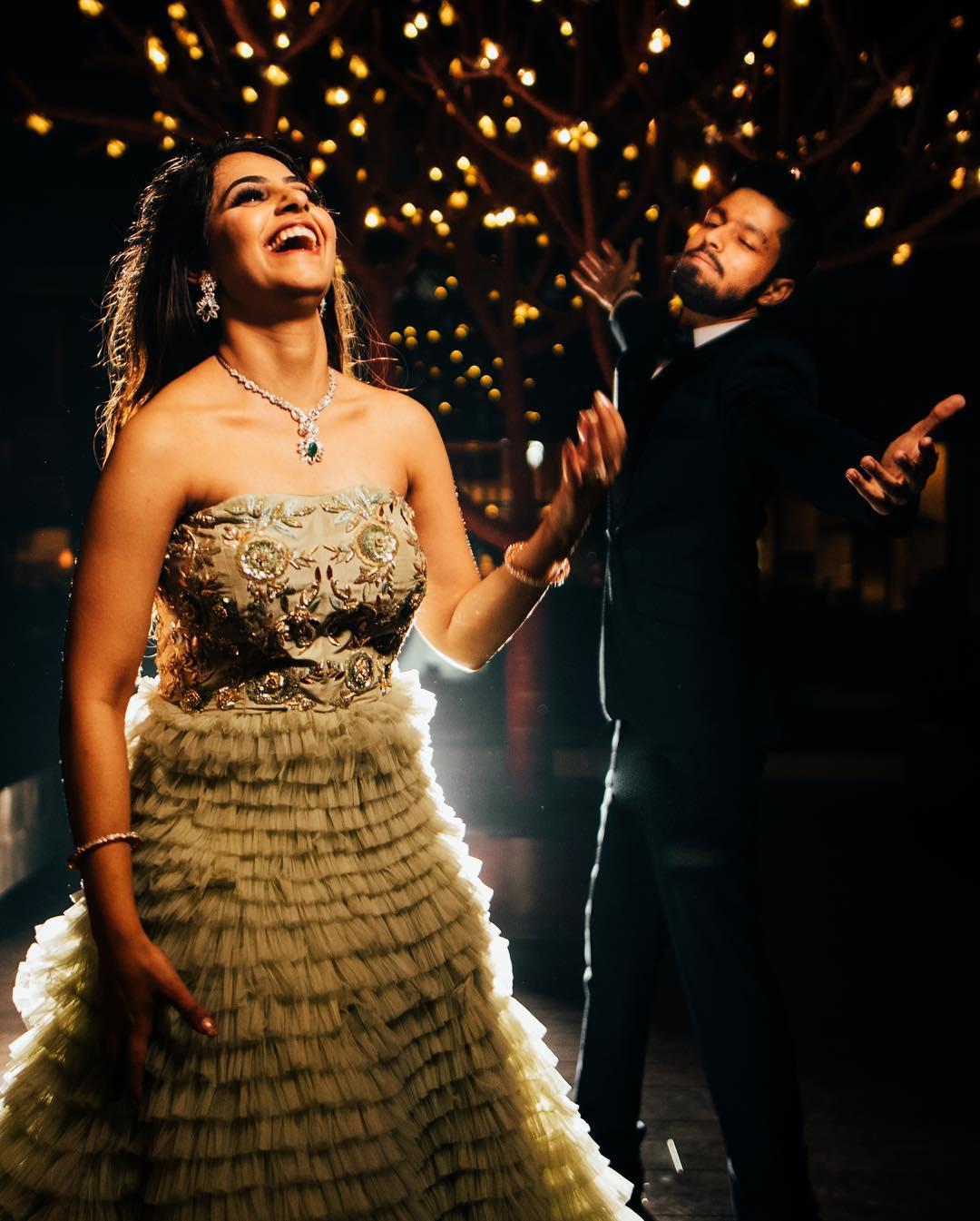 Next up, we saw this beauty in a sexy off-shoulder gown with those pretty ruffles. What an attire, right? Well, now shift your focus from the dress to what's on her neck - the stunning and dainty diamond necklace with an emerald as centre-piece.
When looking for necklace images, you sometimes have to dig a little deeper and see what real brides are wearing these days. You don't just have to surf through the websites and social media handles of various jewellers, but also see what is happening in the practical bridal world.
3. Simplicity is best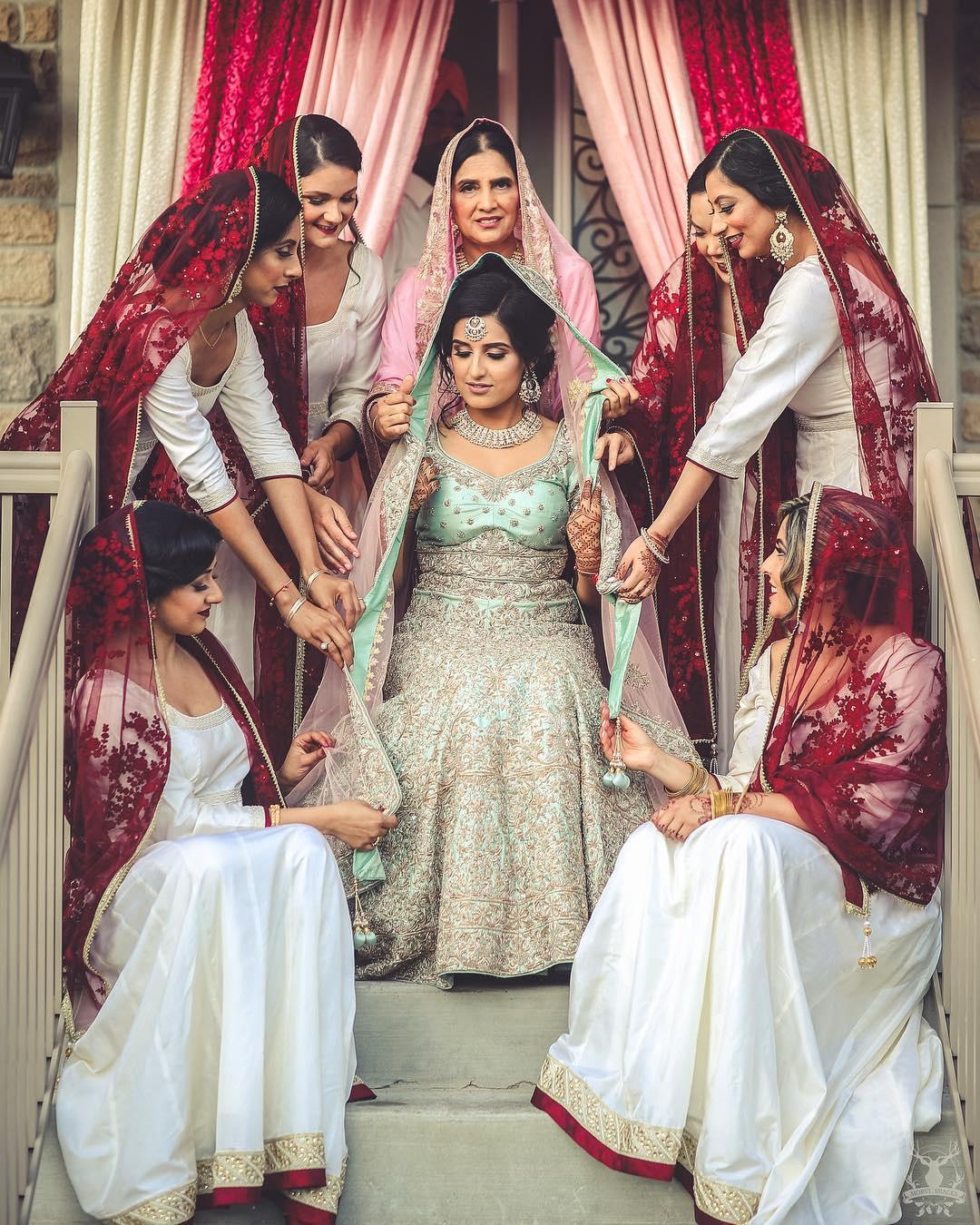 Image Courtesy: Morvi Images
The bridesmaids' coordinated outfits, the bride's understated yet stunning outfit and her gorgeous diamond necklace are the three things that made us stop and stare at this picture. As we said, necklace images can be found anywhere, if only you look carefully. This bride's grand looking diamond necklace and matching earrings have our heart.
She also has a very dainty diamond Maang Tikka on and all we can say is that she looks like she walked out of a dream and right into her wedding venue. Sometimes simple looks best, don't you think?
4. Hello princess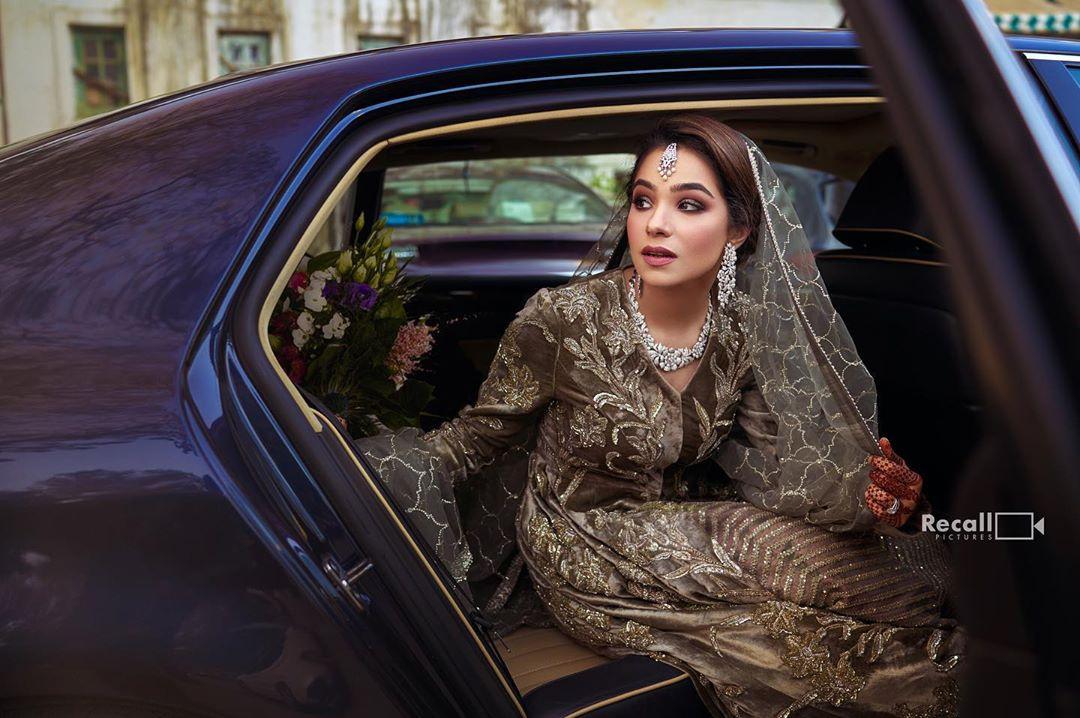 Oh. My. God. We saw so many necklace images but our first reaction to this pretty bride was OMG. She has the poise and grace of a real-life princess and we wouldn't be surprised if she did turn out to be one too. Just take a good long look at her embellished ensemble and the stunning floral diamond necklace she is adorned with.
Not to miss the matching earrings and Maang tikka. Another thing that we have noticed about most of the brides in these necklace images is that they chose to wore really light and subtle makeup with their outfits and jewellery.
5. Let it be red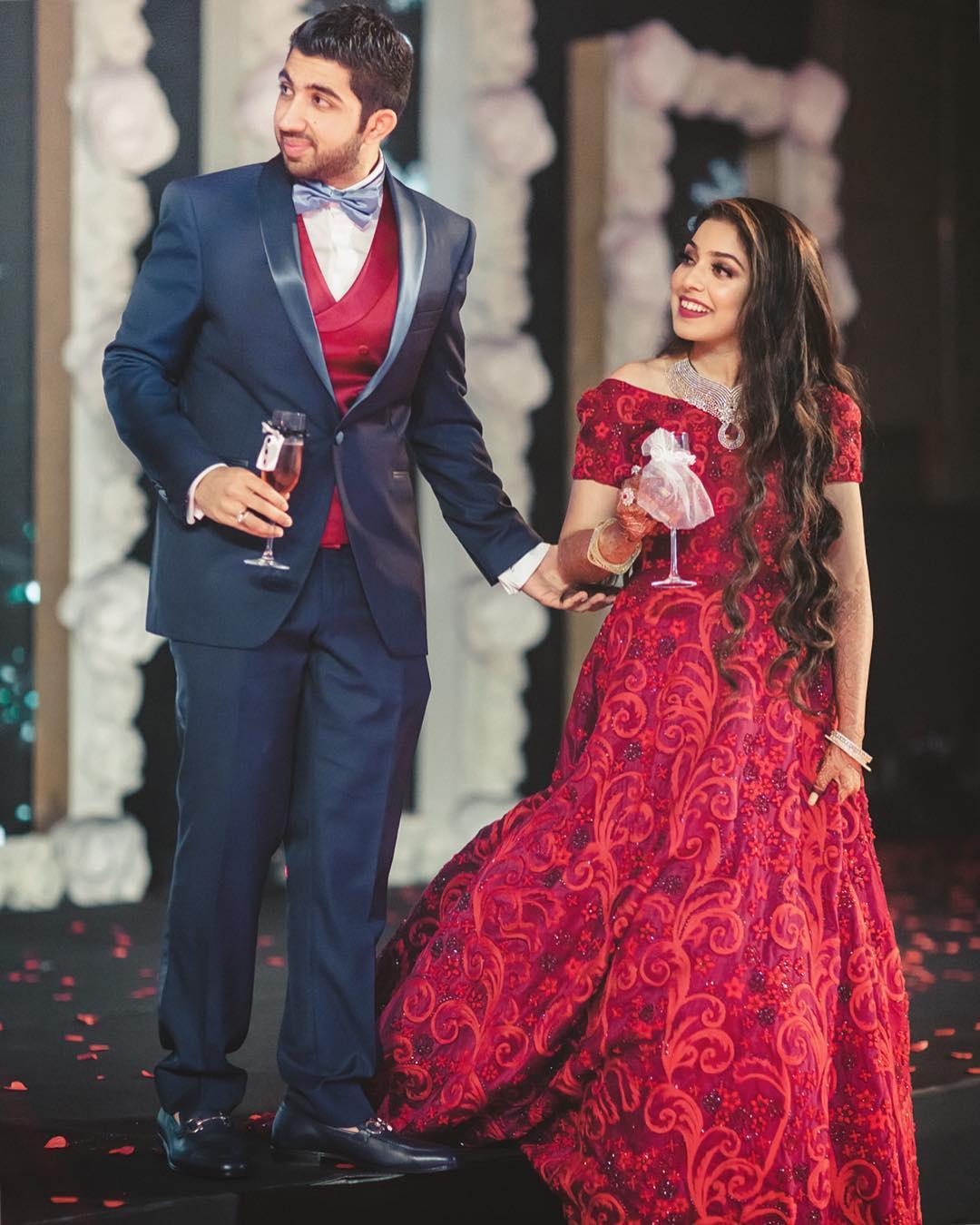 Image Courtesy: Shades Photography
Just like diamonds can never go out of fashion, we don't think that red can be replaced as the official colour of Indian weddings. Most brides we see opt for a red outfit on at least one of their wedding functions - be it their wedding, Sangeet or reception.
This stunning bride opted for a red off-shoulder gown with heavy embroidery and sequins, but what caught our attention most was her gorgeous diamond choker necklace with a huge ruby as the centrepiece. The ruby makes the jewellery absolutely colour coordinated with the outfit and we just love it this way. After all, nobody can go wrong with perfectly colour coordinated looks ever, right?
6. Laden in diamonds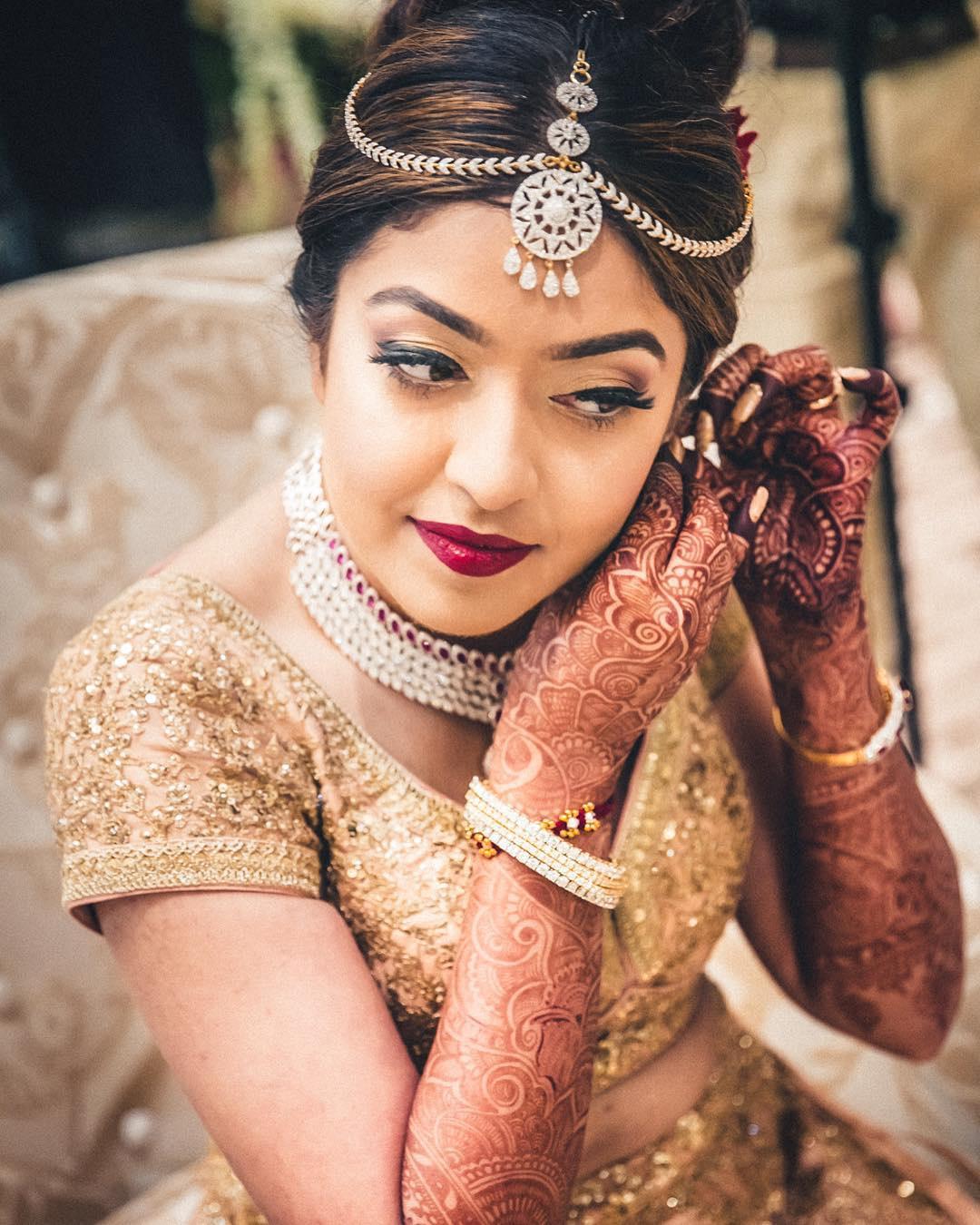 Image Courtesy: Shades Photography
Do we even need to justify the headline? No, right? This stunning bright wore not just a beautiful heavy diamond choker necklace but also opted for diamond bangles, Matha Patti and a bracelet. But we have to say, all that glitters might not be gold, but all that sparkles is most definitely diamonds.
Pay a little attention to detail to the tiny red rubies in the necklace. They give a hint of colour to the brides otherwise all-gold look and we are loving it. Paired with subtle makeup and bright red lipstick, the bride's outfit looks dream-like. As we said earlier, red cannot be replaced as the official colour of Indian weddings. There has to be a hint of it somewhere or the other.
7. Simple and elegant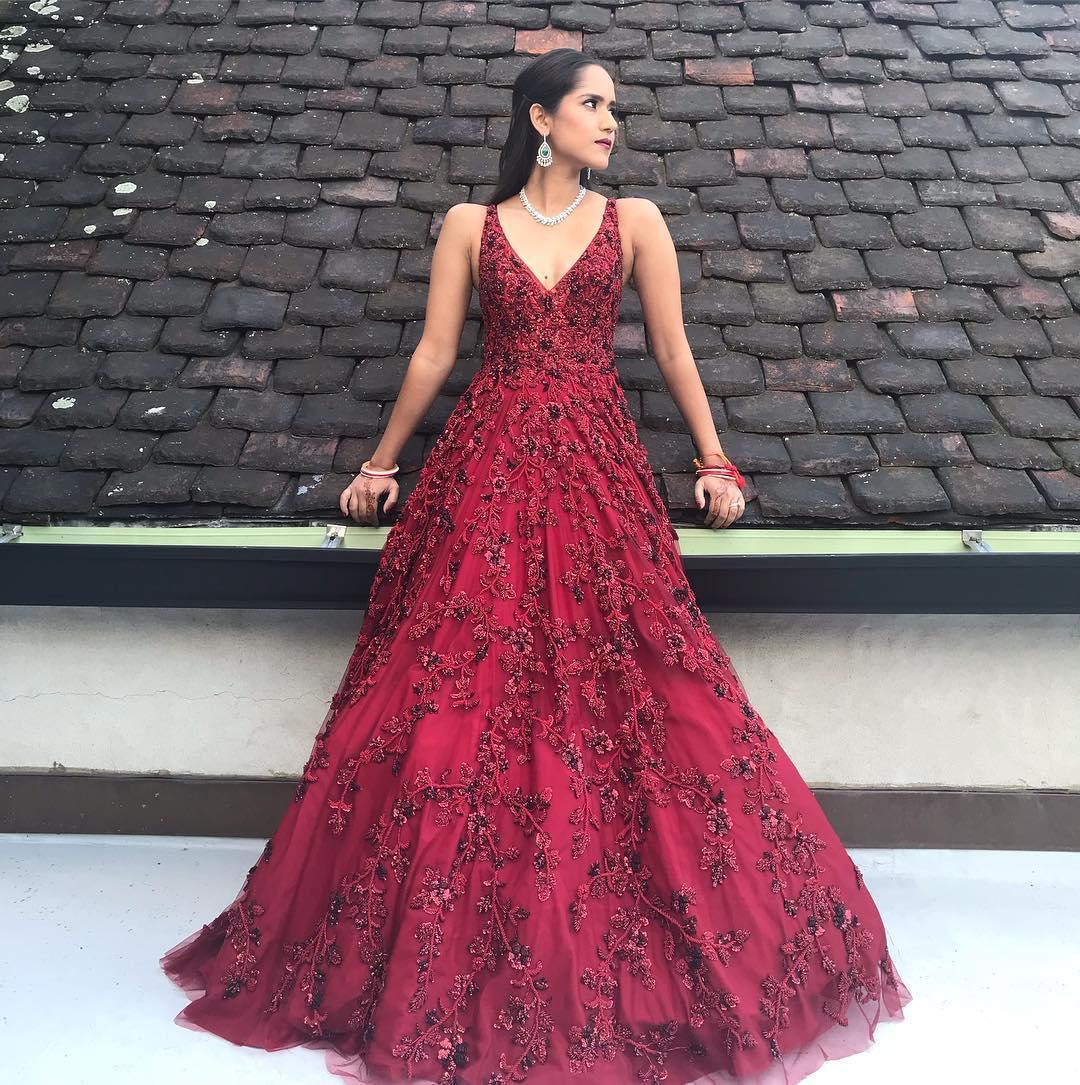 Image Courtesy: Style by Sushmita
And here comes the princess in her cascading gown and jewellery so elegant that it can mesmerise anyone who sets their eyes upon it. Sounds like it came out of a real fairytale, right? Well, this bride in one of our favourite necklace images looks like she just stepped out of a dream too, doesn't she? In her beautiful red gown and very delicate and simple diamond necklace, she looks so stunning that we are in a state of awe.
Do not miss the bright shining emerald shyly peeking out of the dangling earrings. Red and green - the most classic combination for an Indian bride and one that never disappoints!
8. The regal bride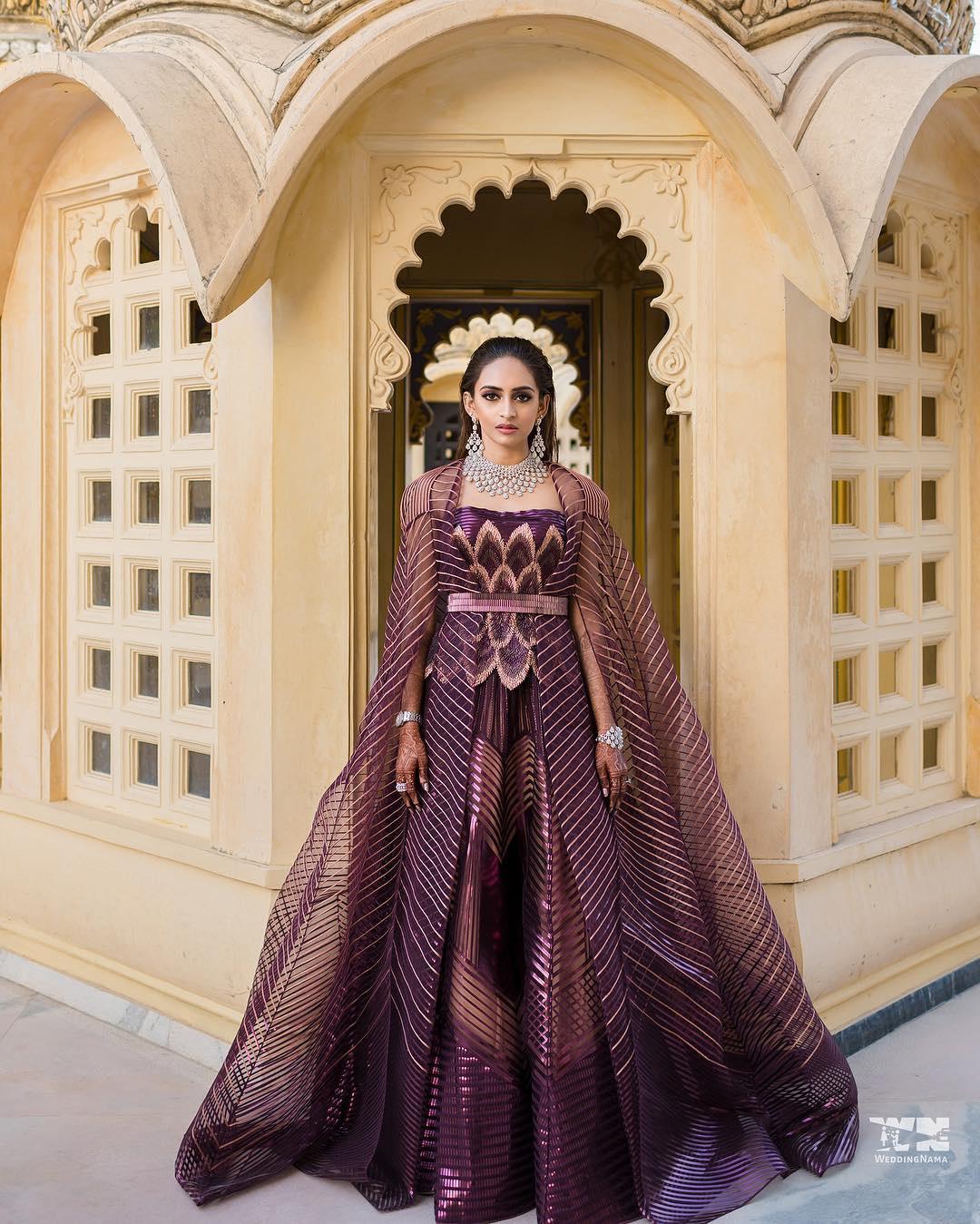 What can we say about this regal bride that her ensemble isn't saying already? Not only does she look super royal in that unique attire of hers and with the backdrop of a real palace, her grand diamond necklace just adds to that charm. Ah, so pretty!
After taking a look at all these necklace images, we are certain that anybody will believe what we had said in the beginning - diamonds truly are forever and also are a girl's best friend. So, now that you have seen all these stunning diamond necklace images, we hope you have enough jewellery inspiration for your big day and all the other functions leading up to it.
We just loved all these diamond necklace images and the brides in these pictures. Which one of these necklace images is your favourite? Do let us know in the comments section!