10 Gorgeous Indian Bridal Look Ideas to Take Inspiration From for Your Own Wedding
Explore the diverse culture of India and its ever-enchanting Indian bridal looks coming together to blow your mind. From Marathi brides to Telugu brides, let's explore the gorgeous women adorning the rich traditional drapery and accessories.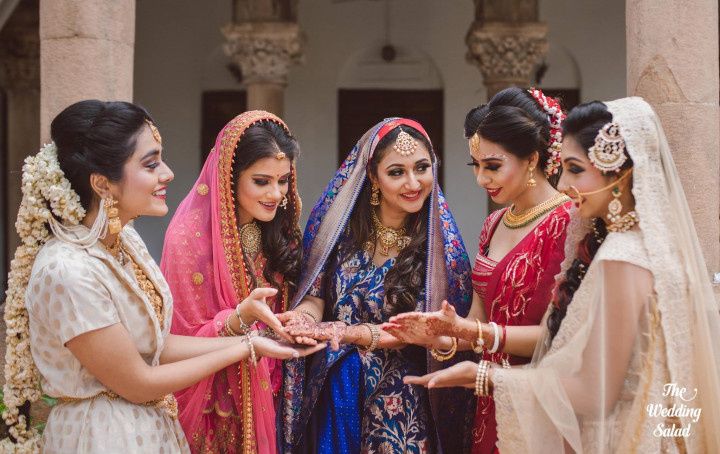 India is a diverse land of cultural heritage housing an array of different ethnic groups embracing their individual cultures to cumulatively stand together in unity. Indian weddings are a series of events before the nuptials and the cultural rituals, traditions vary from one state to another. So does the Indian bridal look featuring surreal jewellery and outfit variations that distinguish from a clan of Indian brides effortlessly. From Marathi brides to Telugu brides, Punjabi and Sindhi brides, let's explore the gorgeous women adorning the rich traditional drapery and accessories. With these fundamental changes, makeup is yet another integral factor that further differentiates brides all over. The entire coterie of guests and the close-knit families wait for a grand entry of a bride because she carries a fine a balance of culture and harmony together striking a perfect chord to the ethnicity she belongs to. Are you ready to lay your eyes at some of the mesmerising Indian bridal looks?
1. Sikh Bride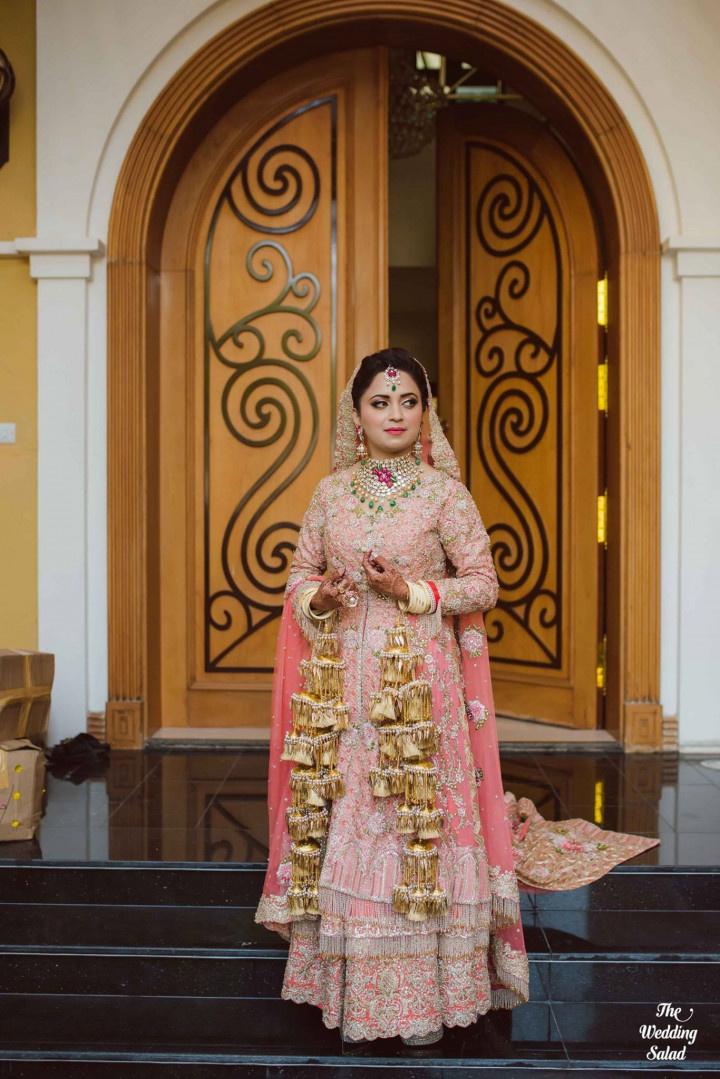 The quintessential North Indian bride like a Sikh bride adorns the traditional Solaah Shringar that comprises of the basic elements of every Indian married woman. Decked in bright and vibrant hued lehenga, anarkali suit or salwar kameez, a Sikh bride generally prefers to go for colours like red, pink, gold or orange. Heavily embellished couture further accentuated with her fine gold jewellery layered over her designer ensemble, she will be happily shrugging off her gold and silver trinkets also called as kalire on her bachelorette bridesmaids, as a part of the ritual. The veil of her dupatta will be worn over her head signifying respect and paying homage to her families. You may spot a Sikh or Punjabi bride with her signature Chura or bold red and white/red and gold bangles stacked on both her hands.
2. Sindhi Bride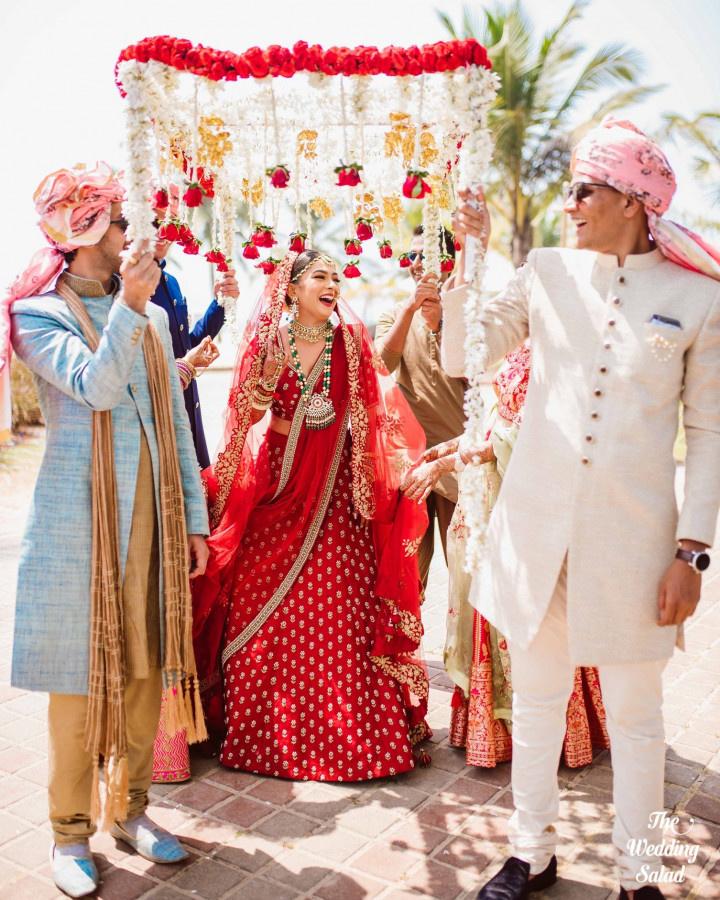 Remember Deepika Padukone's red attire during her wedding processions, well that's a traditional Sindhi bridal look. However, modern Indian brides do not go OTT with all the jazz. Decked in a classic red lehenga choli, a Sindhi bride is easily spotted in her decorative and extra jewellery drowned in pure gold or diamond, she will be layering a choker necklace, earrings, Haath Phool, Maang Tikka, bridal Nath, Chura and Kalire. Loud and dramatic makeup is mostly preferred. The Chunri is placed over the bride's head and the lehenga is draped like a saree.
3. Punjabi Bride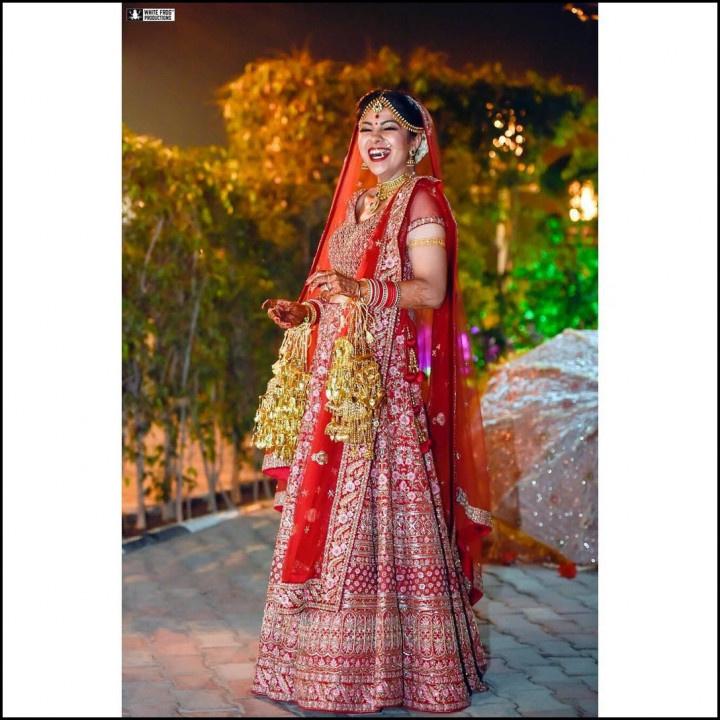 Our happy-go-lucky pretty North Indian bride somehow reflects the prosperous and richness of Punjabi bride. Dressed in red, pink or hues of gold lehenga or suit, a Punjabi bride wears her signature Chura gifted by the bride's mama as a symbol of harvest, prosperity and happiness abound. They are wrapped in a muslin cloth before the wedding and only unwrapped on the wedding day. It is said that the Chura should not be seen by the bride because of some age-old superstition. She also wears Kalire like a Sikh bride and graciously put forth a stunning look in fine ornaments and heavily embellished couture.
4. Tamilian Bride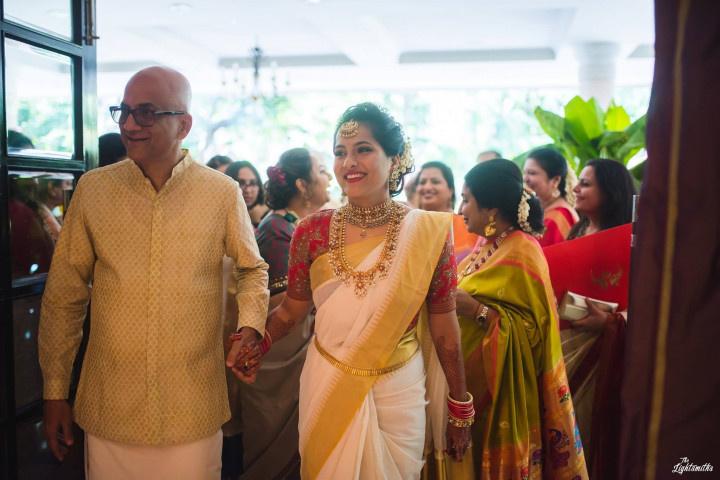 Soaked in pure gold head to toe, a Tamilian bride drapes a classic white and gold Kasavu saree considered to be pious and holy in the Tamil tradition for women. Modern brides pair their Kasavu sarees with designer embroidered blouses to pep up their Indian bridal look. They also wear Odiyannam, a pure gold waist belt over the nine yards. Alternatively, Tamilian brides may also wear a Kanjeevaram saree. Her forehead gleams in gold with a Nettichutty, a gold-dipped accessory covering a bride's forehead.
5. Kannada Bride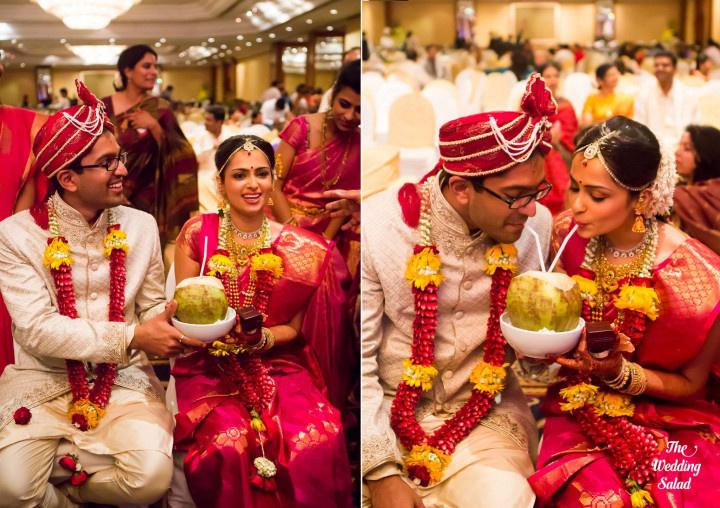 A Kannada bride dresses up similar to Telugu bride in a rich solid Kanjivaram sari with oodles of gold and Zari work. The jewellery remains similar to that of a North Indian bride, additionally, she adorns a Maang Tikka and Bajuband in gold or diamond. The wedding rituals are quite similar to that of a Hindu wedding, except for the bridal look.
6. Kashmiri Bride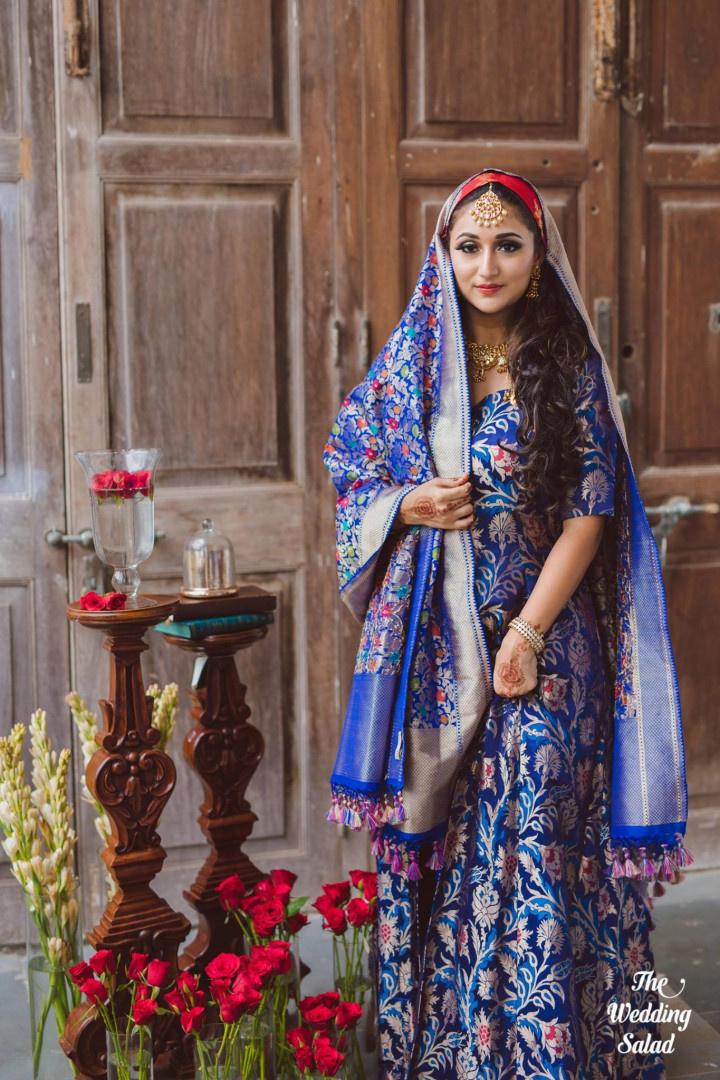 Kashmiri bride dressed in spectacular Pheran with finely embellished, embroidered or detailed floor-sweeping traditional dress of Kashmiri brides, she is an epitome of natural beauty and exudes charm like no other. Their traditional jewellery encompasses of a headgear worn by the brides over their head covered with layers of jewellery and further the veil of their dress to cover up the head in honour. She wears heavy necklaces, anklets and bangles, married Kashmiri women wear Dejharoo, similar to Mangalsutra in Hindu tradition.
7. Bengali Bride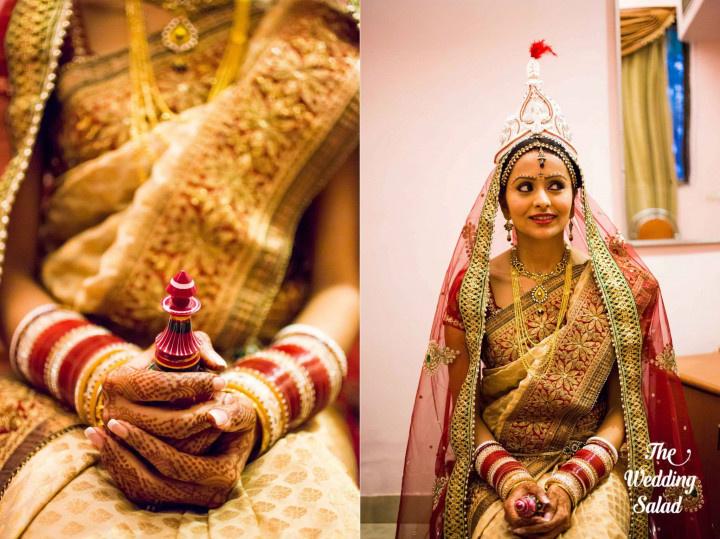 Bengali brides as they are usually referred by the millennials emanate a royal goddess-like vibe with heaps and bounds of exuberance and zeal reflected in her look. One of the most regal Indian bridal looks, she opts for a classic red silk sari worn unconventionally. The distinguishing element being her red large Bindi further decorated on both the sides with Kumkum and sandalwood paste as a beautiful design to adorn her petty forehead. Fancy gold necklaces, Maang Tikka, earrings and bangles are worn while her hands and feet are painted in Alta, a red pigmented substance considered auspicious for Indian brides and married women. She further wears a Mukut, a headgear and her eyes are specifically accentuated with strokes of kohl and red bold lips.
8. Marathi Bride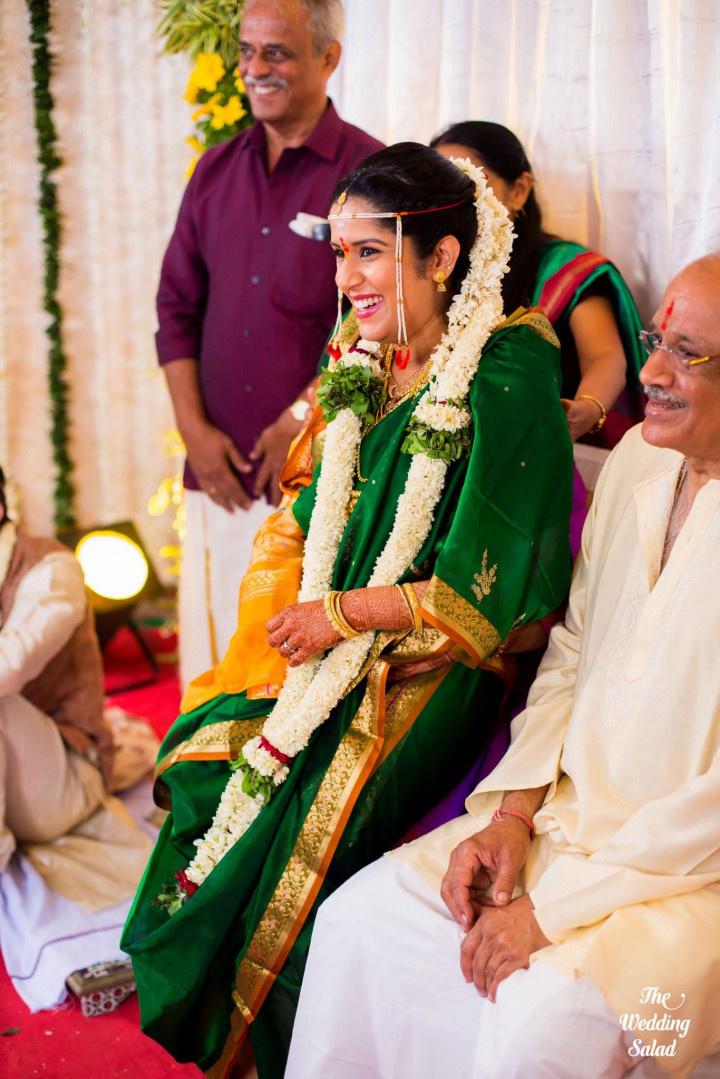 A Marathi Mulgi as they are commonly referred to in Maharashtra, are the most sophisticated yet simple Indian brides. Adorned in nine yards of traditional silk saree in purple, yellow, red, and green hues, she drapes it in a trouser style. Further to this, their minimal makeup and elaborate jewellery amplifies the Indian bridal look. She also dresses up in her signature headgear called Mudalvaya, a pearl and gold embellished accessory along with the nath which is a statement accessory for every Marathi bride.
9. Parsi Bride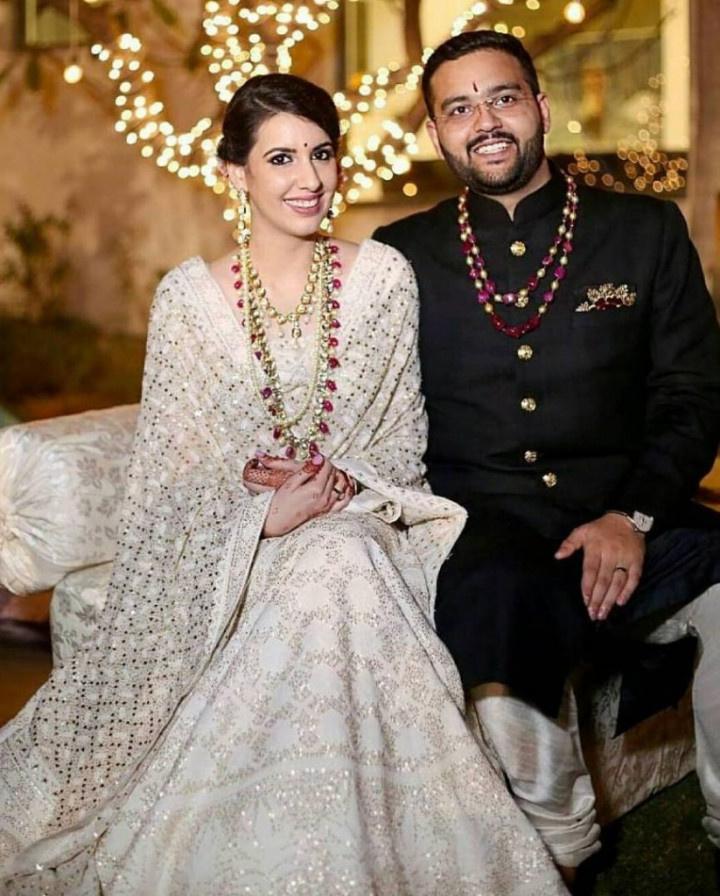 Image Courtesy: Bhumika Bhatia
Parsi brides are simple, minimalistic, and absolutely gorgeous dressed in white Parsi embroidered saree, lehenga choli or a gown. They accessorise in diamond, silver or platinum jewellery like traditional neckpiece, earrings, bracelet to complete their plush look.
10. Christian Bride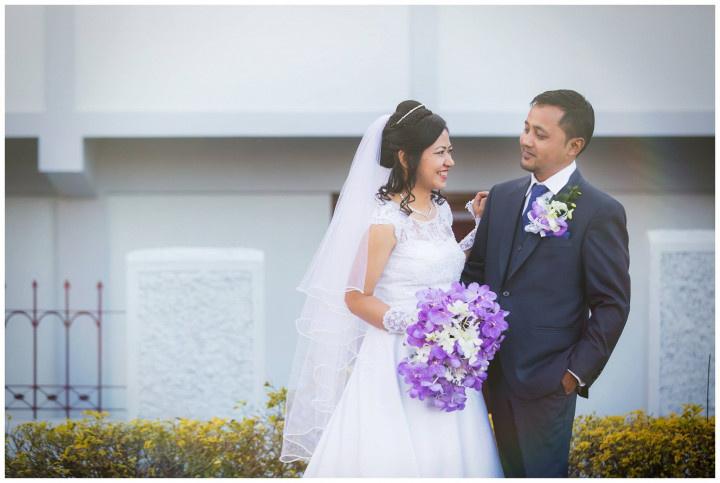 Christian bride India is a secular country and brides from North-East, Kerala follow Christianity as their faith. Adorning wonderful white gown with a long tail and a net veil, Christian brides carry a bouquet of flowers accompanied by their fathers to walk down the aisle. Alternatively, Christian brides may also wear a vibrant silks saree to stay true to their roots. Simply accessorised with pearls, diamonds or platinum jewellery, they makeup up for an angelic beauty. Now that you have learnt and discovered several trends in Indian bridal look covering the entire length and breadth of the sub-continent, which one did you like the most? Although a real bridal beauty is reflected in Sikh and Bengali brides endearing the truest forms of goddesses, however, minimalism is the newest trend in town and modern Indian brides are vouching for it.
Tell us in the comments below of your favourite Indian bridal look and why.