11 Telugu Bride Images That Left Us Amazed
Looking for Telugu Bride Images that are unique, beautiful, inspiring and stunning? We have curated a list of 11 Telugu brides who put their best foot forward and took wedding fashion to an all new level.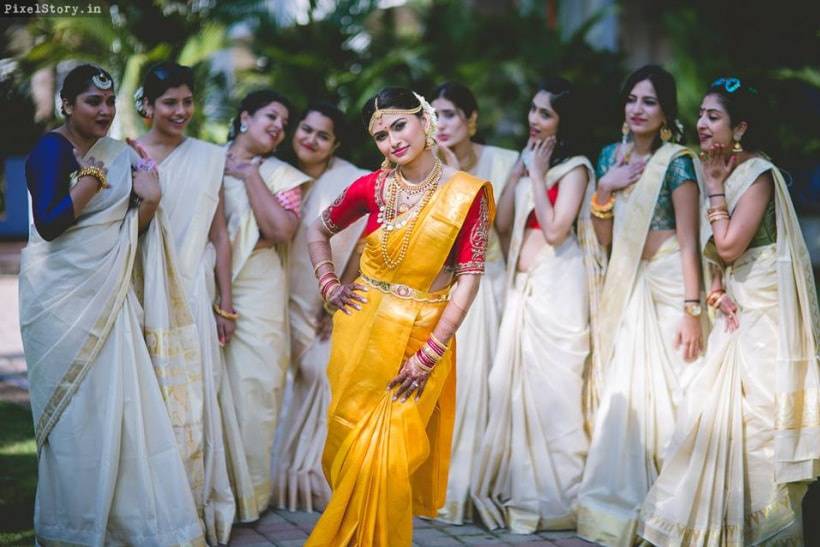 Telugu bride images are breathtaking; from the traditional bridal Sarees to the exquisite pieces of jewellery, there's something about these Telugu bride images that make you go "Wow!" Today, Telegu bride images are more than just the traditional aspects as modern-day brides add their own unique sense of fashion and personality to their overall look.
This could range from chic makeup trends, sexy blouse designs or just a dash of an unconventional bride colour that makes them look differently unique, yet stunning. So, keep to your seats and believe us when we say this, that these Telugu bride images will give you some major bride goals and keep you thinking of those million ways in which you can amp up your very own bridal avatar. We hope you are ready because we know we are!
We have curated a list of 11 Telugu bride images that showcase unique and stunning brides to inspire your own unique bridal look.
1. Sunshine Girl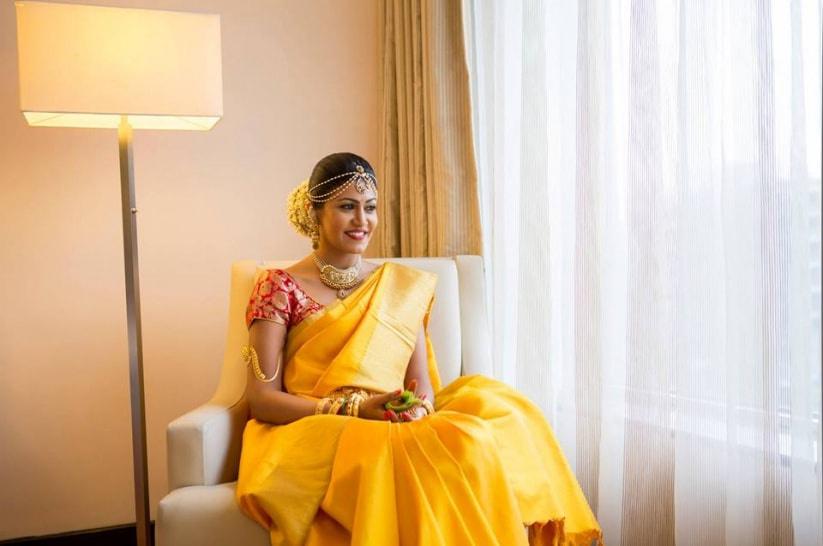 This bright and bold Telugu bride has our heart. The plain rich silk yellow Saree teamed up with a brocade red blouse is a simple yet stunning choice of attire. The traditional accessories like the Bajuband, flowers in the hair and gold jewellery add to this bride's striking look making it one of our top picks for inspiring Telugu bride images.
2. Traditionally Yours!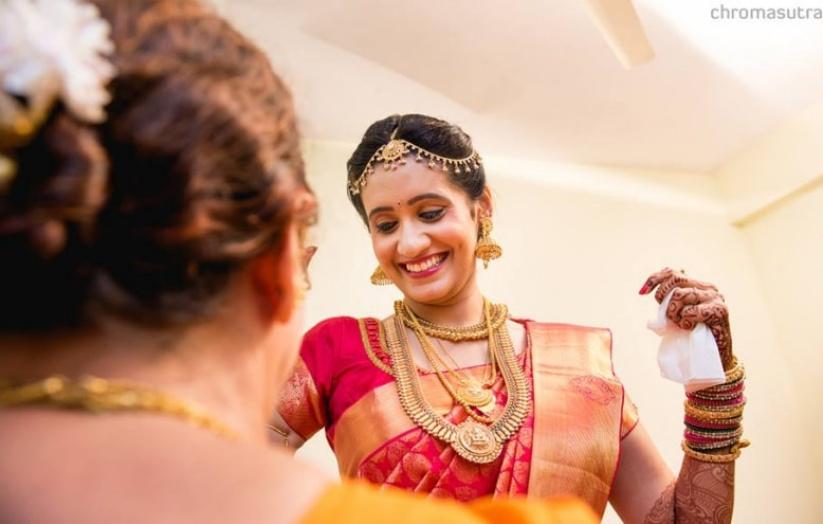 There is something so striking about a traditional bride in red and gold. This bride has beautifully combined all the traditional elements- a red and gold silk bridal Saree, Jhumka earrings, layered temple design neckpieces – making it a definite winner bridal look. You just can't go wrong with traditional elements. Are you vibing with this Telugu bride's image, we know we are!
3. Princess Vibes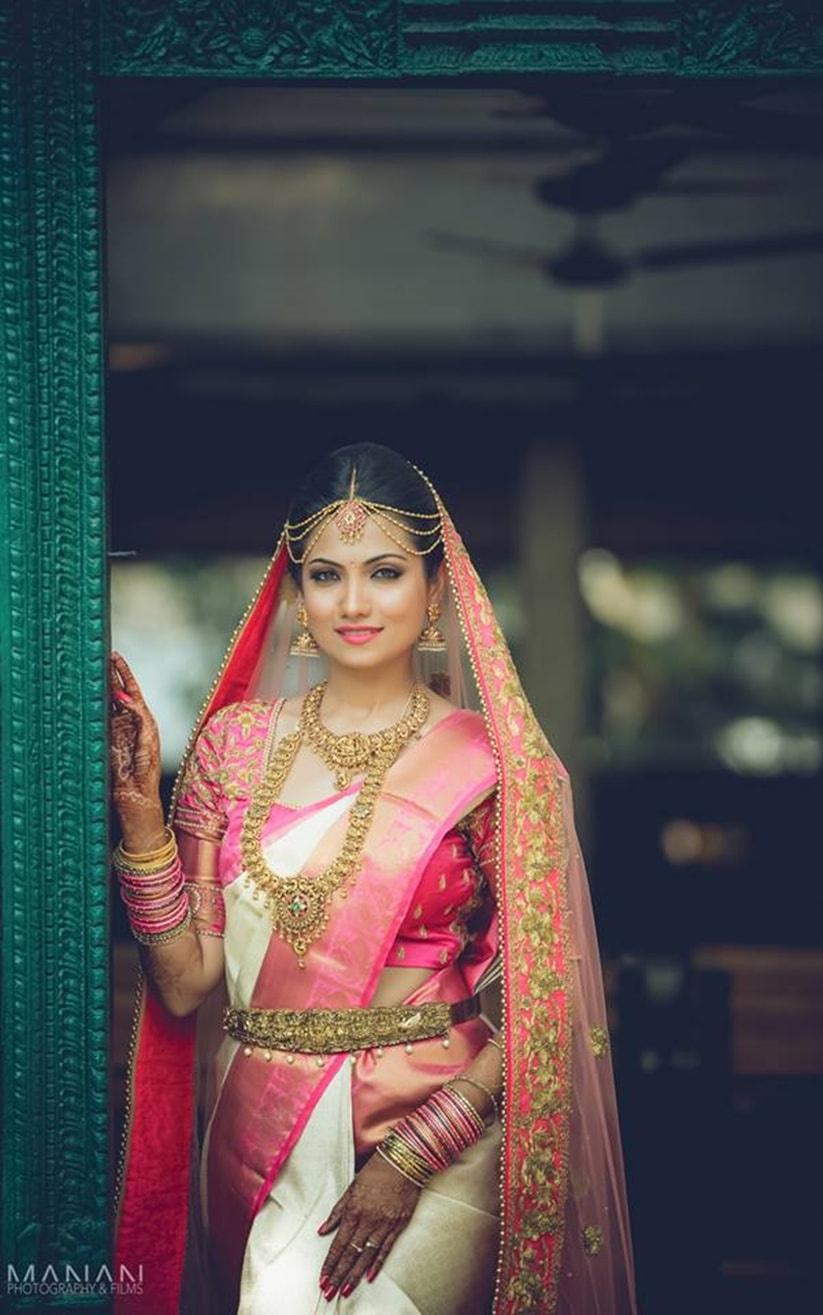 This bride looks straight out of a fairytale. The subtle pink and white combination, with the perfect touch of bling, is an ethereal look. The thick gold Kamarband, the half-covered head with a matching Dupatta and the multi-layered Matha Patti are some of the most striking elements of this bridal look.
4. Simply Stunning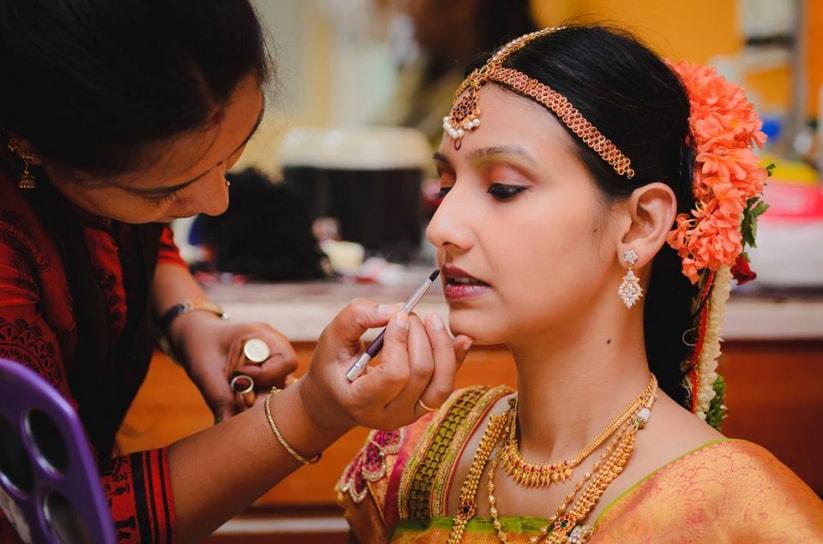 It's this bride's simplicity that makes her so stunning. We love how she has combined all the bright and bold bridal hues in her attire, along with traditional bridal jewellery like the Matha Patti and kept her makeup simple and subtle. This is one of those Telugu bride images that prove 'less is more'.
5. Blushing Bride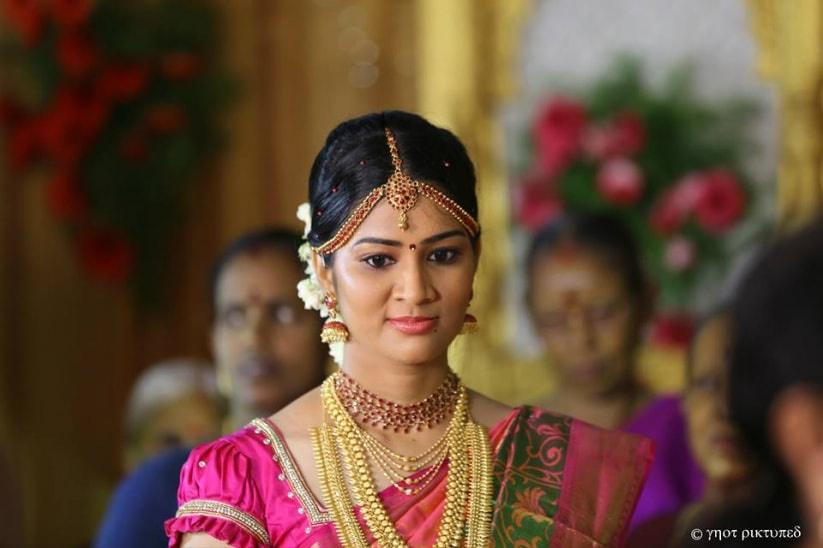 A bright pink and gold combination is a popular bridal combination that adds to the natural beauty of a blushing bride. This bride here chooses a bright pink Saree, heavy layered necklaces, a traditional Matha Patti design and Jhumka earrings to complete her traditional bridal look.
6. Standing Tall n' Pretty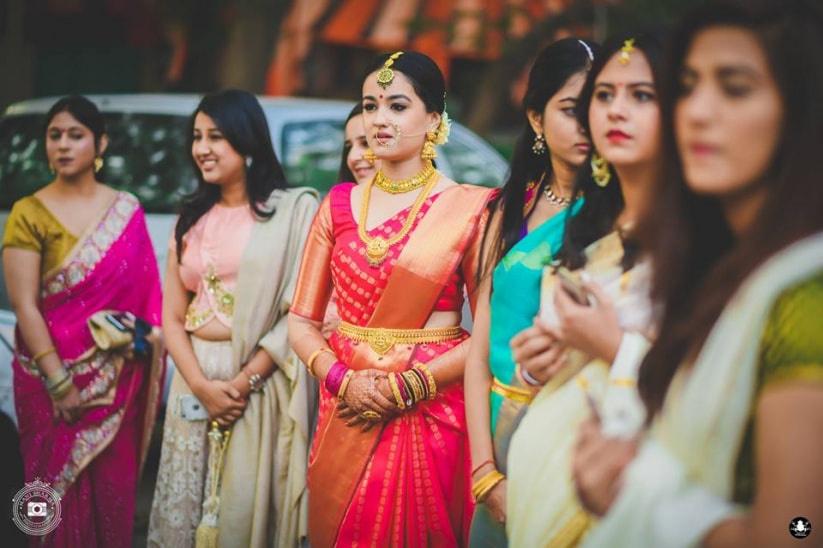 This ravishing bride in red has all the perfect elements that make for a stunning Telugu bride. The traditional bridal Saree and waistband have been beautifully accentuated with simple makeup, hair and a gorgeous bridal Nath.
7. Shy But Stylish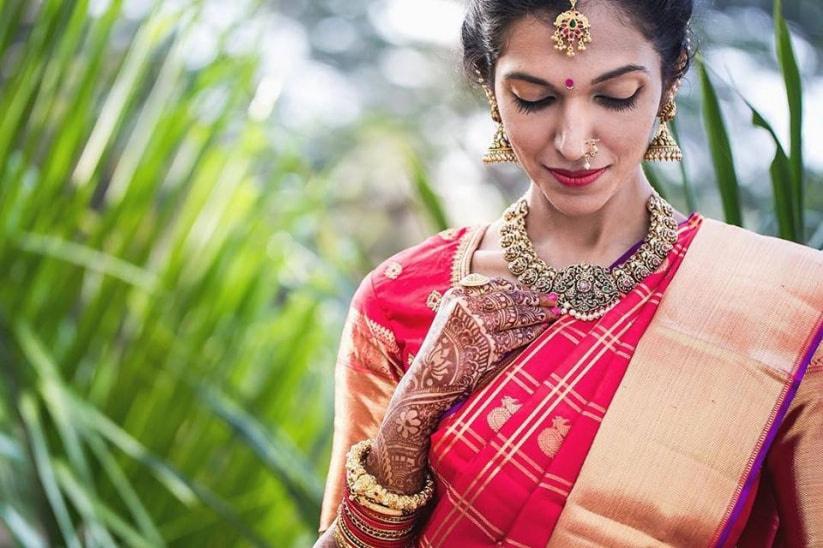 This shy bride makes a stunning one too! The very unique bridal Saree design matched perfectly with the burnt gold jewellery design. The traditional elements like the nose ring, the Jhumka earrings and a big red Bindi are the most attractive aspects of this bride's look.
8. Bold and Beautiful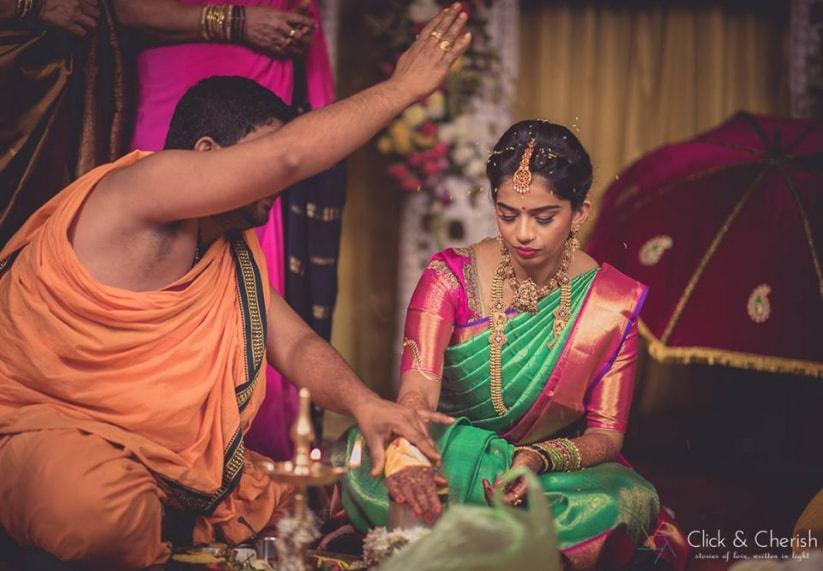 The bold bridal colours and the traditional hair accessories are the most unique features of this bridal look. A red and green combination, with a dash of gold, is one of the most stunning bridal combinations and this bride has nailed that look.
9. Colour Me Bright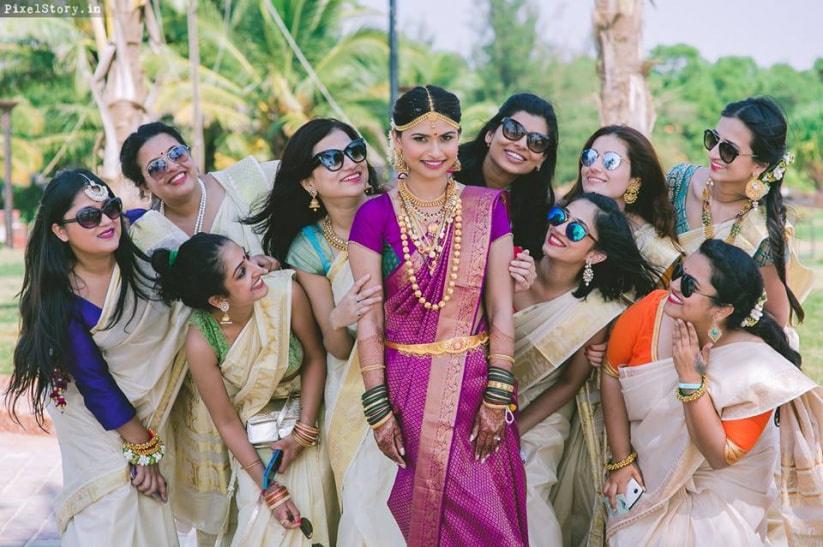 Telugu bride images are not just about the traditional elements but also about weaving these with new age fashion trends. This chic bride has chosen an unconventional purple as her bridal Saree colour, making her stand out and make a statement.
10. Selfie Ready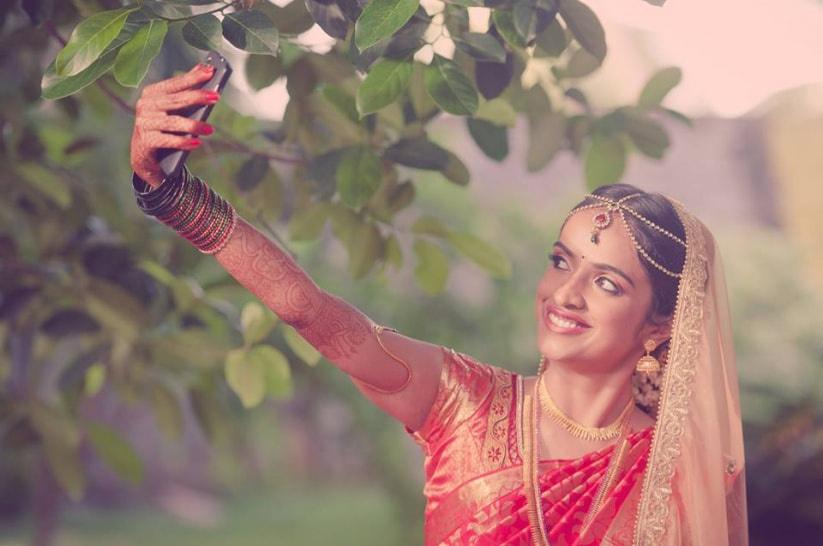 Bright red bridal Saree, simple gold jewellery and a beautiful smile are all you need to be Selfie ready. This simple but stunning bride shows us how traditions and simplicity are all you need to make a winning bridal choice.
11. Regal Affair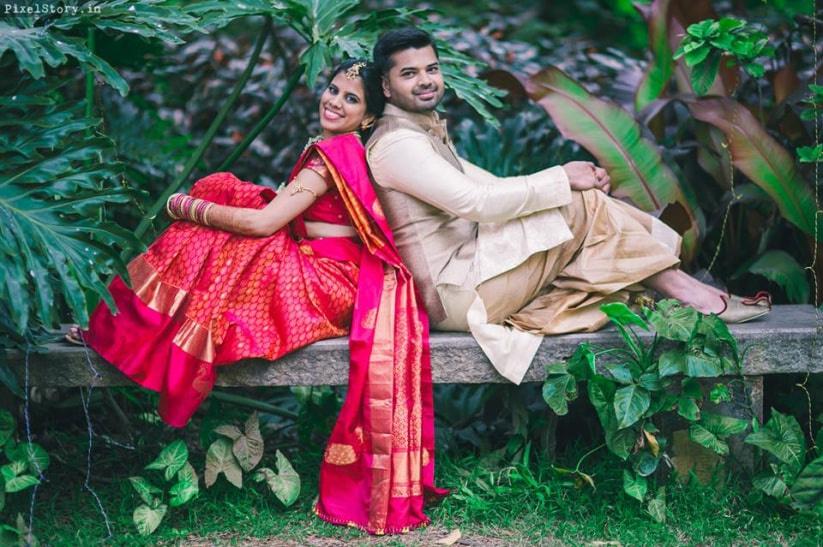 The opulence of the bridal Saree with very simple but stunning makeup, hair and jewellery are what makes this bride stand out. It's all about the balance and this bride has nailed it!
Some additional tips in terms of photography to ensure that every pose you strike is spot on!
We know how important some candid bridal shots are. in order to give you the album that is perfect, we have enlisted some expert tips which will help you get just that. Read on and start perfecting your poses now!
1. Listen to your wedding photographer. They know best (well almost )
2. Create a mood board. By doing so you will know what kind of photography you love best. Also, share it with your photographer as after all he will be clicking your photographs right?
3. Wear colourful clothes. The more the colours the more stunning the picture!
4. Pick some stunning locations for your photoshoot. You want a scenic photograph, yes? The get on and curate a list of plausible locations for your candid and not so candid photoshoot!
5. Use some props. We all want some drama in our lives and especially when it comes to our wedding photographs! Some props = a lot of drama!
6. Don't be reluctant from trying your wild side. Give in to your fancies as much as you please, you'll be surprised with the result you will get when you let go of your constraints!
Follow these diligently and be assured that your album is going to be as lit as your fairytale love story.
Aren't these Telugu bride images breathtakingly beautiful? It's amazing how each of these brides has put together a unique bridal look that balances traditions and trends. Here's hoping these stunning Telugu bride images have inspired you to curate your own unique bridal look. So which one of these Telugu bride images struck you the most? We couldn't choose just one!
Are you a soon-to-be Telugu bride looking for wedding inspiration? Tell us about your bridal look choices in the comments below.