Stylish Punjabi Chura Designs Worn By Real Brides For Their Wedding
Although the maternal uncle is supposed to pick Punjabi chura design for his niece, shouldn't the bride-to-be have a say in picking a design that suits her personality best? Let's find you your perfect chura-match. Shall we?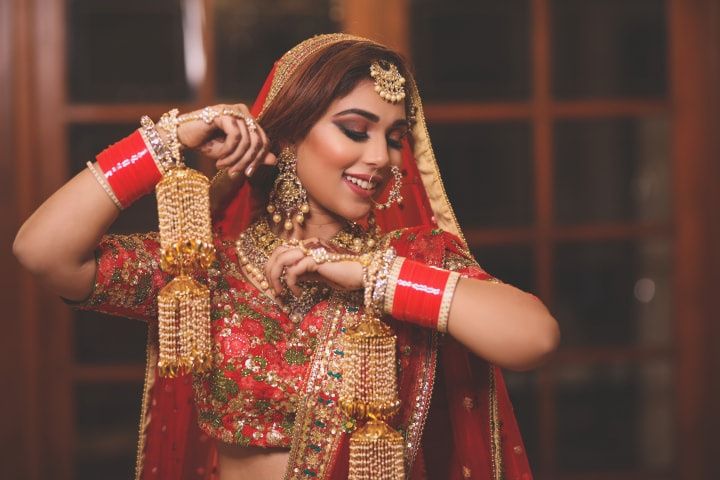 Punjabi Chura tradition is considered to be one of the most emotional functions of a bride's wedding ceremonies. The tradition consists of maternal uncles purchasing and gifting the bride-to-be a set of 21 churas in red and white colours. The custom states that the bangles should always be in odd numbers as it's considered auspicious in Indian traditions. The Punjabi chura is first soaked and washed in a concoction of milk and water, followed by the maternal uncles placing the chura on bride's wrists, while she has her head covered with a red chunni. The bride is not supposed to look at her churas before the wedding ceremonies begin, hence these are kept wrapped in cloth till the time she gets ready for her wedding eve.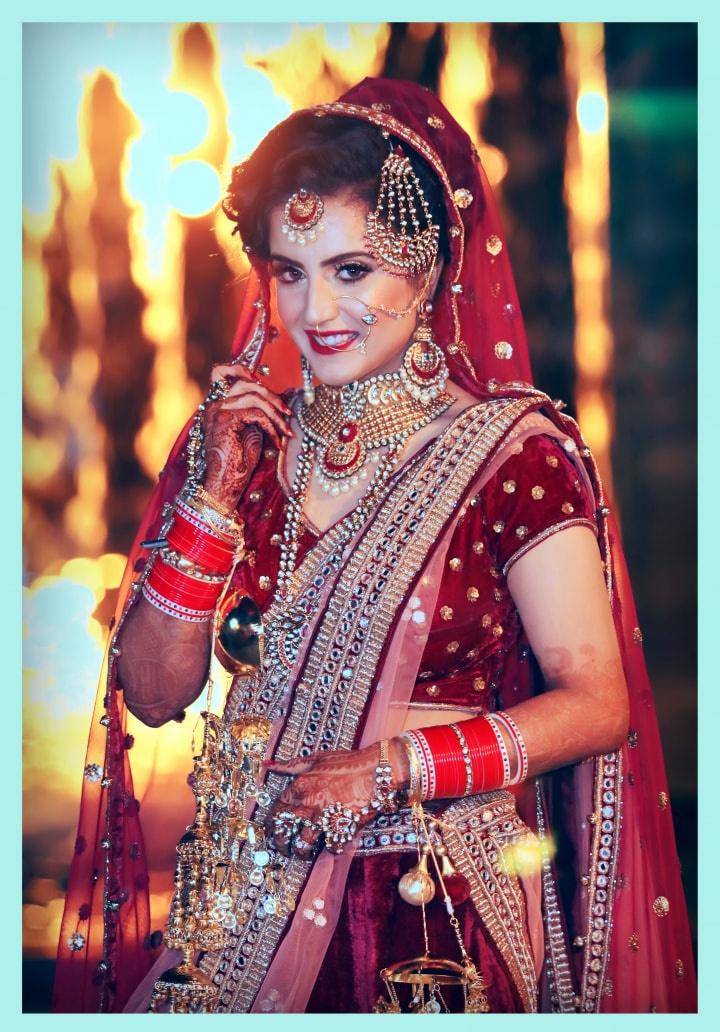 The chura signifies a bride's newlywed status as she gets to wear them for an entire year from the date of her marriage. Traditionally worn in a simple red set of bangles along with 2 ivory wedding bangles on each hand, the culture has changed with time. Depending on the bride's preference and her trousseau's style, the chura designs have now become quite a creative affair of aligning traditions with style culture. So now that you know the tradition that goes behind Punjabi Chura ceremony, we are giving you some customization options to pick from. Coming straight from the real brides and trend forecasts of 2019, check out our list of 4 Punjabi chura designs that will ante up your Punjabiness manifolds!
1. Replace The Ivory With Some Bling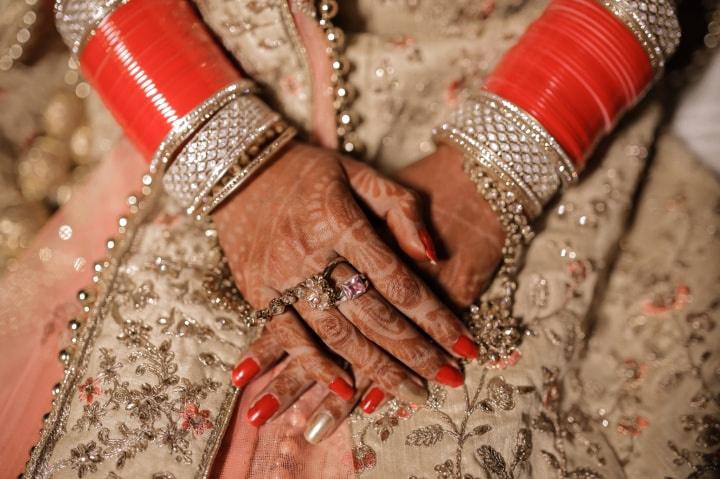 If you feel that the ivory and red bangles duo has become too clichéd, then don't fret from experimenting with the bling. Replace the ivory bangles with stone embellished kadhas or heirloom stone studded thick bangles that stand out in your arm party, yet compliment the red churas flawlessly. We suggest that you pick the metallic undertones of your wedding lehenga and match the shades with the studded bangles for the perfect alliance! If you plan on getting a wedding jewellery set, then look for 4 studded bangles that match the set, or look for a combo that already consists of studded bangles; to match your entire wedding look.
2. Change The Traditional Hues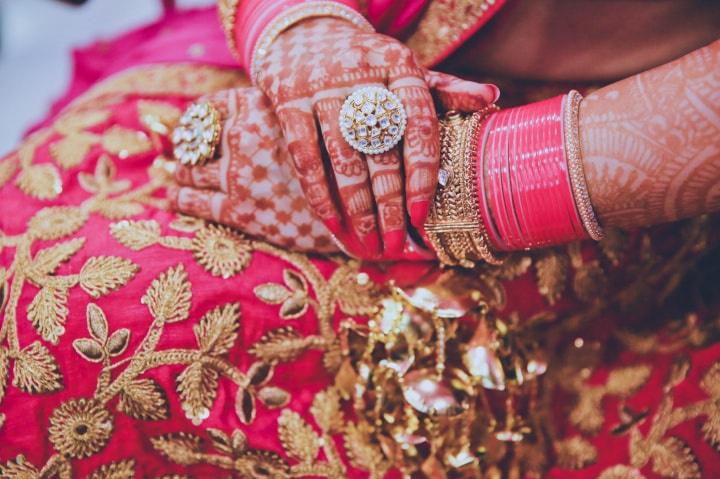 You plan on wearing a powder pink, fuchsia or a pearl white coloured lehenga for your wedding but the stark red and white chura combination doesn't go with your look at all? Well, the Indian wedding market is changing with trends and how! Apart from the regular red & white combinations, you can easily find chura sets in an array of colours and hues. Take along your bridal lehenga's dupatta to match the Punjabi chura colour perfectly.
3. Mix-Matched Arm Party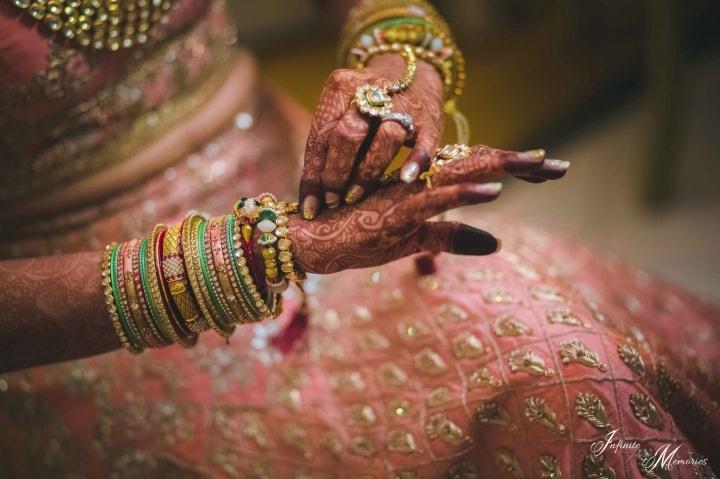 Being a trendsetter that you, all eyes will definitely be on you on your wedding day. Ditch the traditional chura designs and go ahead in helping your maternal uncle select multiple bangles, varying in thickness, but aligned in style to compliment your overall look. Rajasthani Lac bangles in a variety of embellished designs have become quite popular among the brides at the moment. But if you want to go for a long-lasting stack, then invest in precious metal kadhas and add on a few glass bangles for variety.
4. Bedazzled Traditional Chura Upgrade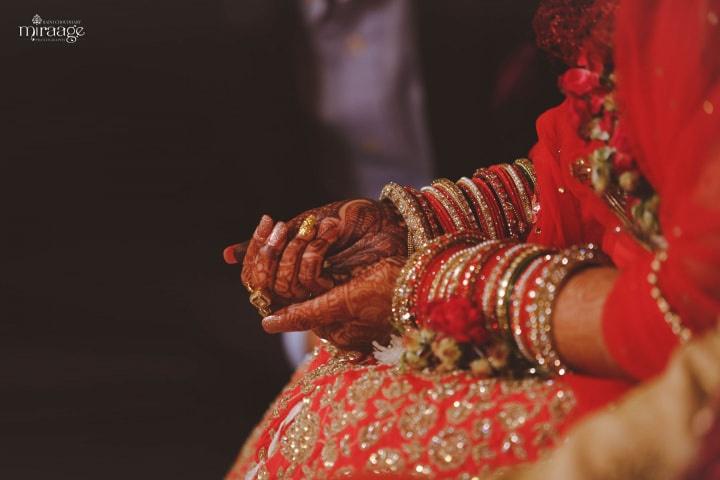 If adhering by the traditions yet amalgamating something new is your personal style, then we suggest this genius way of incorporating both. Just like this diva of a bride has done it, you too can go ahead and curate embellished bangles in red and white or silver and gold shades to stack up instead of the regular Punjabi chura design. The key is to maintain the traditional colours yet add sparkle to it. Remember to adjust the odd number of bangles you would want to wear, depending on how heavily embellished your trousseau is. You don't want the chura adornment to overshadow your overall look.
Your wedding is your big day when all ears and eyes are on you and you alone. Make it count as a statement that your bridesmaids take notes from. Be it your wedding trousseau or the traditional Punjabi chura style, let the world know that you've got a style for the couture runways! Stay traditional, experiment the traditions, upgrade the glamour quotient or create your own personal traditions; let your chura style speak for you. After all, you will be wearing it and flaunting it for a whole year, signifying your marriage. So live it up, as you please.
If you still are short of creative ideas on how to customize the Punjabi chura design that speaks your style, comment below and let us answer your queries!