Style Your Designer Kurtis for Wedding Functions in a Unique Manner to Be the Showstopper
If you get bored with your wardrobe easily and can't figure out what to wear at the next family wedding, then we're here to help. Get innovative with your existing wardrobe by only buying designer kurtis for wedding functions.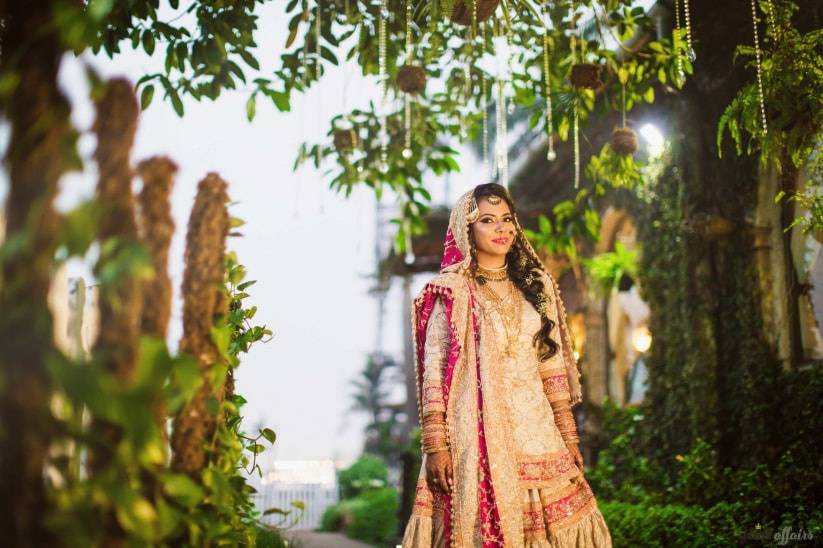 If your sibling or cousin is getting married soon, and you aren't sure of what to wear, we are here to help you. Since it's financially not feasible to buy brand new outfits for each and every one of your functions; it's best to mix and match. And so we talk about one of the two essential garments (the other is the designer dupatta) which can completely transform your look across outfits. Presenting designer kurtis for wedding outfits, which can really help with an endless set of looks. Finding designer kurtis for wedding could be a tricky thing to do, the simple reason being, it gets overwhelming to choose the perfect from the overwhelming lot that is available in the market. Another dilemma that always crosses the mind is what to pair our designer kurtis for wedding with? Pants, Salwar or Palazzo? Don't worry we are here and we will help you put your dilemma to ease by giving you some kickass combination to wear your designer kurtis for wedding and slay!
Designer Kurtis for Wedding Looks
A kurti is one such piece of clothing that suits all Indian women. Another advantage of owning a designer Kurti is that you can style it in a number of ways. Did you know you could pair your old Lehenga with a Kurti instead of a Choli and create a new outfit? You could also swap your heavy palazzo with a different Kurti to make a new outfit! To find out more tips and tricks, keep on reading.
1. Kurti and Palazzo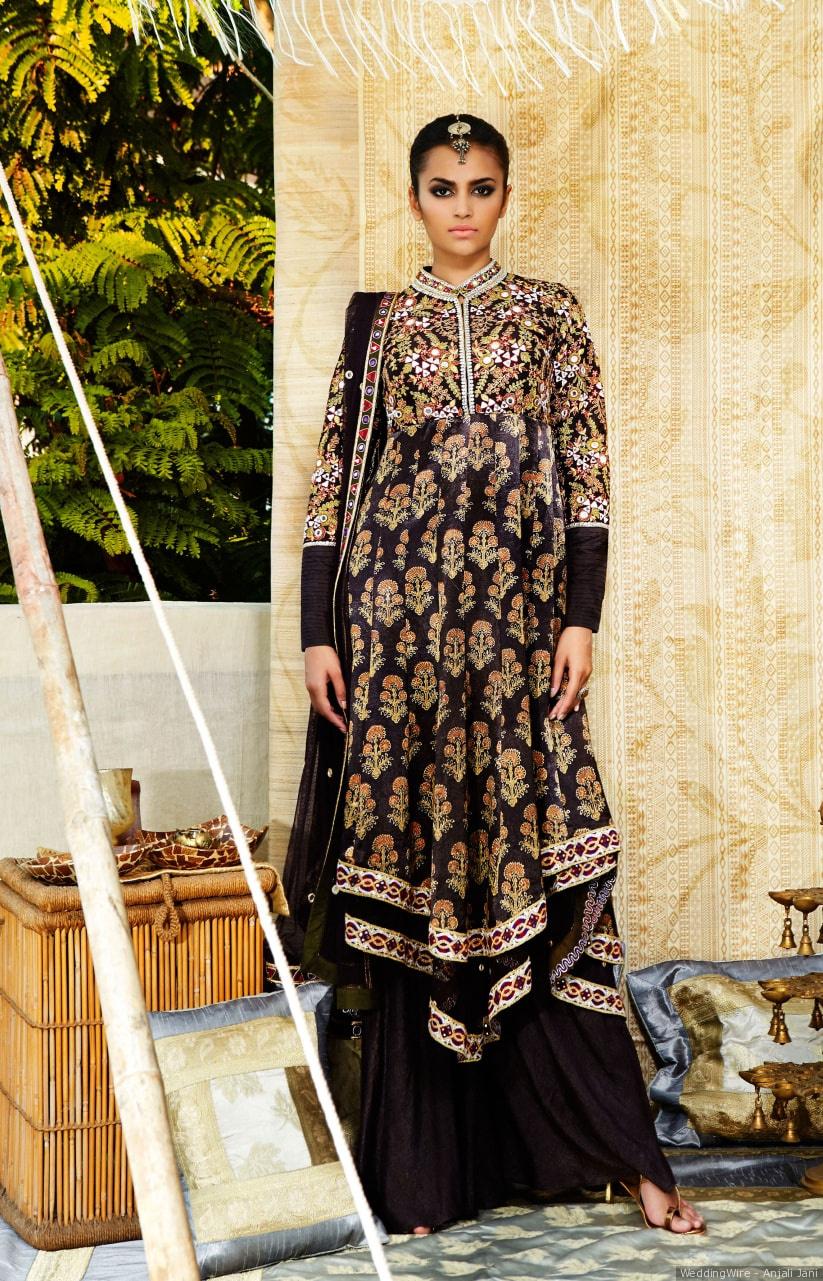 This style has been in fashion for a couple of years now and we are pretty sure you own a few pairs of palazzo pants yourself. If you have a wedding to attend and don't wish to spend too much money, you can easily pair a designer kurti with a contrast palazzo and a heavy dupatta to complete your look.
Tip: If you have a heavy Phulkari or brocade dupatta, try using that as an inspiration before you combine your outfit together. You can follow the same colour palette of the dupatta or keep the dupatta as your outfit's highlight, pairing it with a muted or neutral kurti and palazzo. You can also mix prints and create a fashionable look.
2. Kurti with a Lehenga/Skirt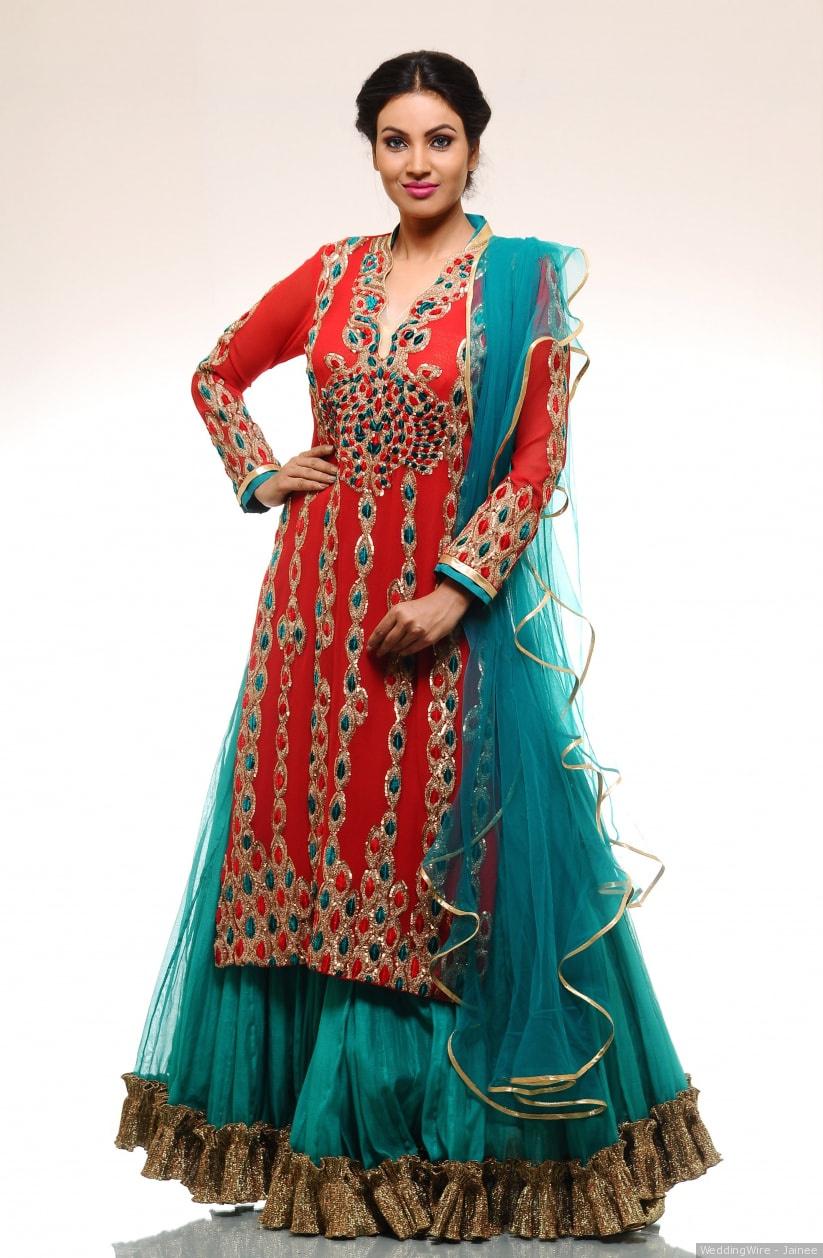 If you love trying new styles, then you can try pairing your designer kurti with a traditional skirt. For this, you can opt for a longer kurti and pair it with an old lehenga skirt or a traditional maxi skirt. Ditch the dupatta and you'll achieve a simple bohemian princess look. You can either opt for a plain kurti and a heavy skirt or the other way round. You can wear this combination for either a day wedding or a wedding reception.
Tip: Opt for richer fabrics like brocade, silk or satin for the lehenga or skirt. Ensure the kurti is a high neck one. Heavy earrings and an empty neck should do the trick.
4. Kurti with Shararas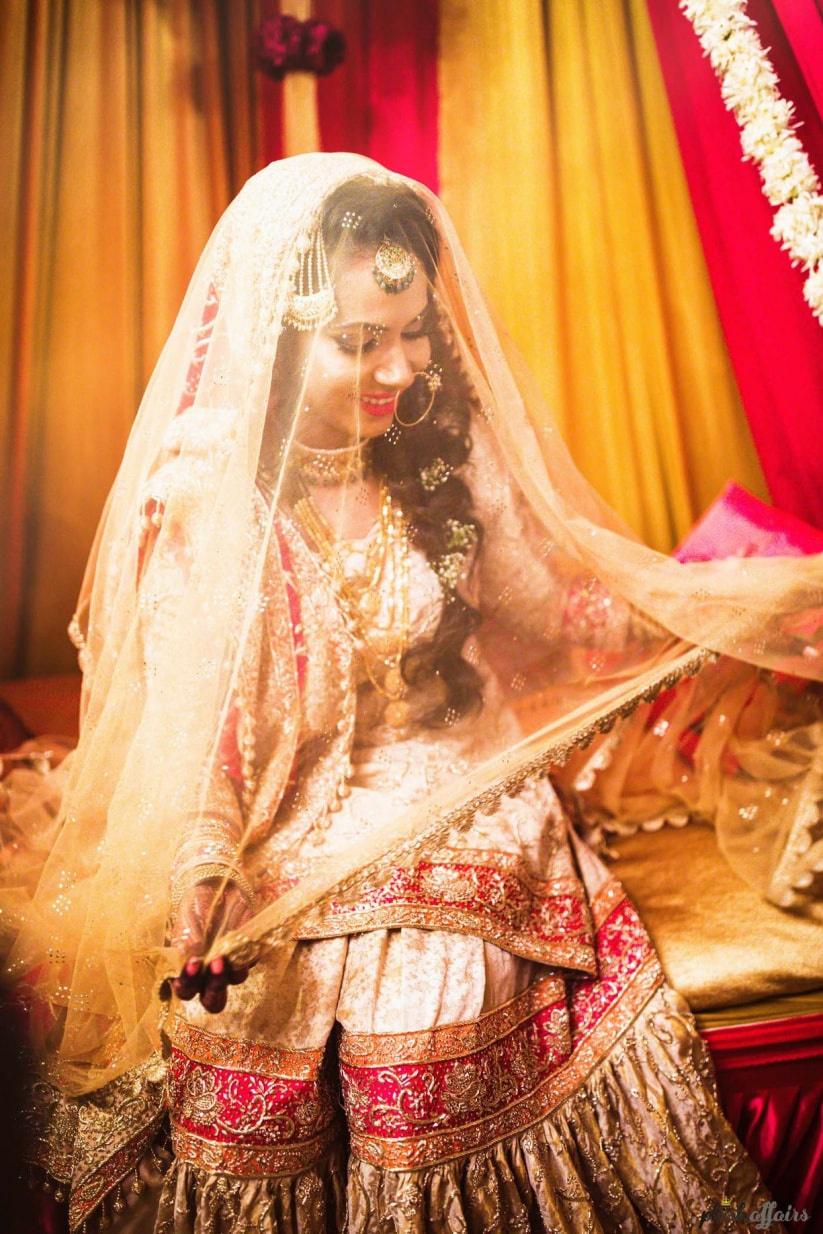 Wedding Shararas look super elegant when paired with a kurti. Although a staple for Islamic and even Lucknowi weddings, they are now holding their own against the lehenga and the saree. Just pair your designer kurti with a bright sharara to turn heads.
Tip: You can pair this look with a wrinkled dupatta. If you wish to keep the look fairly simple, then choose a contrast coloured kurta with the sharara. Passas and Maang Tikkas look best when paired with a sharara.
5. Kurti as a saree blouse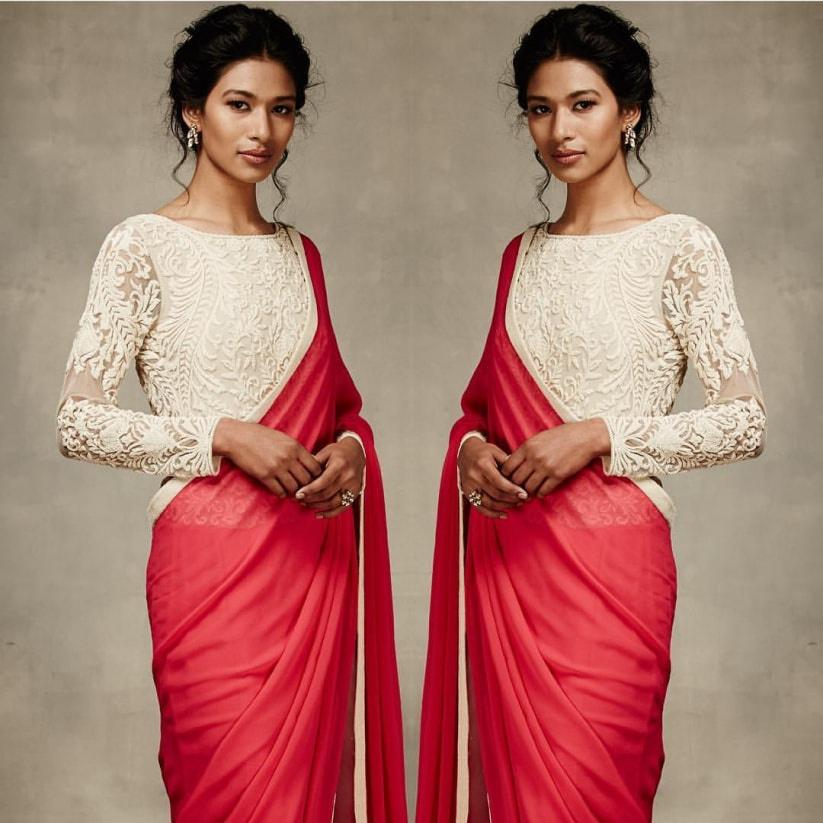 The next time you choose to drape a saree for a wedding function, switch the blouse and wear a kurti instead of a blouse. It's an experimental risk but if you can carry this look with confidence, we assure you that you'll turn many heads.
Tip: When you choose a saree, team a heavily embroidered saree with a plain kurti.
6. Kurti as a dress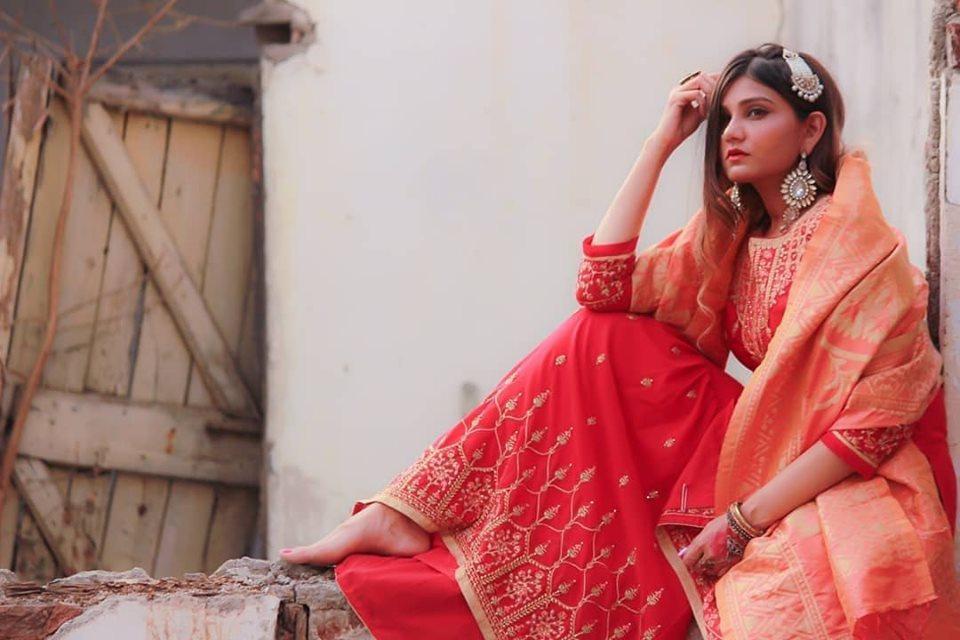 Kurti is one garment that can make you look elegant for any occasion that you choose to adorn it. Another style that you wear your favourite kurti is wearing it like a dress at any of your wedding functions where you can be assured that it would be a style statement in itself. If you are planning a Haldi ceremony or your Mehndi function especially in the day time, wearing a kurti as a dress would be a good option as it would offer you comfort, ease and style altogether. You would feel light and free to roam around and dance your heart out.
Tip: A great way to carry designer kurti for wedding would be to add statement jewellery like earrings and rings. You can even incorporate a Passa to give your look a royal touch. Always choose a kurti which is ankle length so that it can work as a dress.
Advantages of pairing a kurti with different outfits: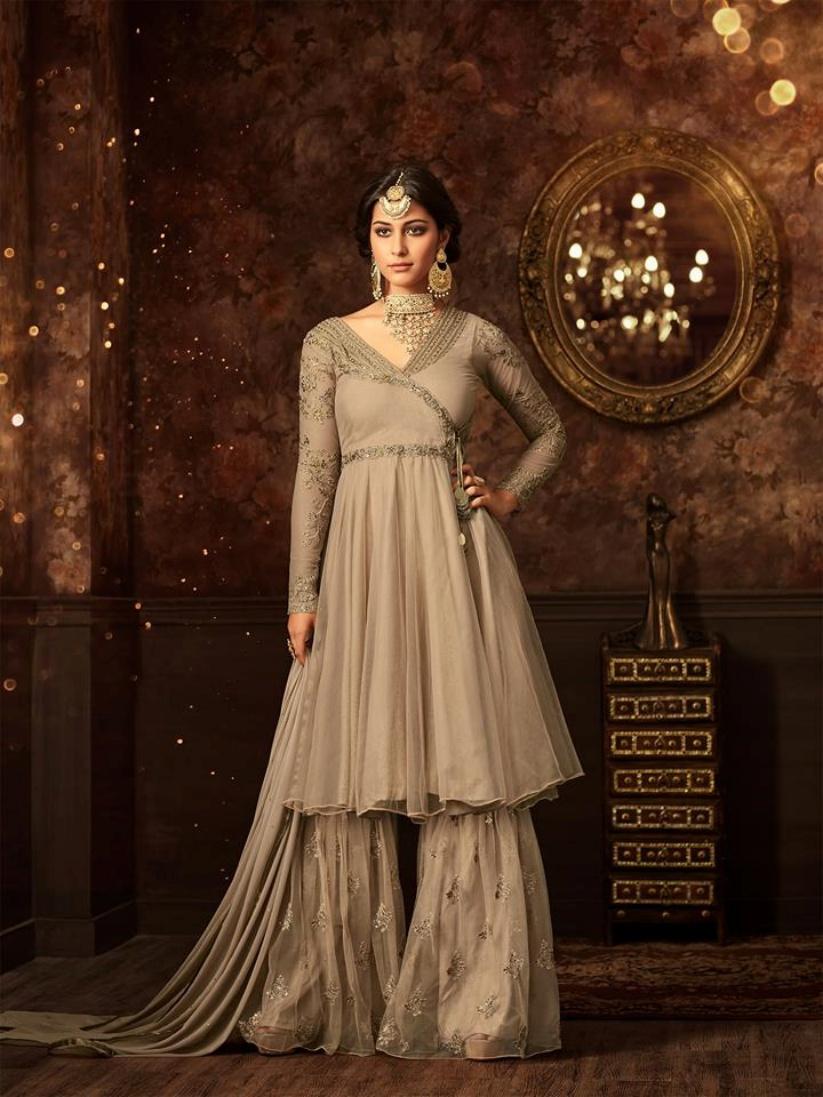 The biggest advantage of mixing and matching outfits is that it helps you create more outfits from a handful of options.
You are sorted for smaller functions like Ladies Sangeet, pooja, family dinners, and even Mehndi. You don't necessarily have to spend money on buying new outfits for these occasions.
You can stay within your budget by just buying a new dupatta or new accessories to pair with your new outfit.
Also, you can always wear your designer kurtis for wedding even later on. That is the real beauty of investing in a kurti rather than a full-fledged lehenga or saree, you can re-wear this same kurti which whatever you please and it will turn out to look different every single time
From jeans to leggings to jeggings, there is nothing that you cannot pair your kurti with. This humble attire goes well and jibes well in every possible combination
Choose your accessories carefully when pairing them up with a designer kurti for wedding. You can skip the necklace and go for statement jewellery that would give your entire look an edge.
You can also pair your kurti with a jacket or vest. It would add a pop of colour and a desi vibe to your entire outfit and makes it a perfect ensemble for a Haldi or Mehndi function.
What's more, you can leg designer Kurtis for wedding functions by pairing them with leggings, Patiala pants, Dhoti pants, Salwar or even Jeans! What matters is your smile and your confidence.
Liked our spread of ideas? Make them a reality, by connecting with these bridal stores.