Image courtesy: Henna by Divya
Since bridal mehndi is an age-old custom in Indian weddings, the bridal mehndi designs that adorn the bride's hands need a bit of makeover. Trending nowadays are these latest bridal mehndi designs that can be as elaborate as a bridal lehenga or wedding saree, or as simple as you need them to be. Explore our selection of these designs that have come up in recent years and are definitely here to stay and slay.
Being a bride-to-be, surf the internet to find newer designs and trends. Collate a list and then narrow it down as per your preferences. Mehndi is timeless, therefore spend some time in curating a design which speaks your name and mimics your style aesthetics. Take a cue from these trends and create a design for your own function.
1. The Jodha-Akbar Style
The Jodha-Akbar mehndi design has a prince and princess on each hand with a Palki drawn around them. These latest bridal mehndi designs have a Rajasthani royal look and have a lot of Jhanki designs. It is extremely intricate and is almost like an entire story drawn on your hand.
2. Gain the power of scriptures
Additional components like mantras written are also trending in the latest bridal mehndi designs. You can play with the space that you devote for these mantras from the scriptures - subtle wristbands to dominating prints alike.
3. Rajasthani prints
If you like a combination of traditional and contemporary bridal mehndi then this is a good design to go with. Consider the intricate Rajasthani mehndi elements here - from the Jaal to swirls, the bride and groom to minimal space breaks through it all.
4. The Radha - Krishna Style
The quintessential design when it comes to henna art. This one has been ruling the heart of brides since forever and for all the right reasons we must say. The intricate patterns, the bold technique and heartwarming colour, this definitely is one of the most trending designs of all times.
This design has Radha and Krishna drawn on each hand and the design is completed with peacocks and flowers.
2. Full hand latest bridal mehndi designs
Latest bridal mehndi designs such as this one are very traditional and are mainly floral. As is the case with most bridal mehndi designs for weddings, this too is very elaborate and can take many hours to complete.
3. Intricate patterns and designs
However, the final design is always a head turner and attracts many compliments.
4. The solo paisley style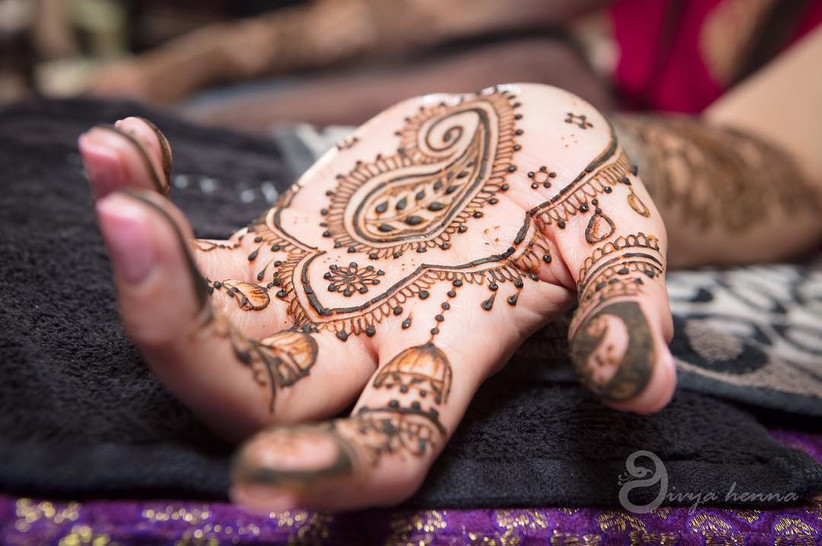 Image courtesy: Divya Henna
This style of mehndi gives the bride the option of extending or reducing the design as much as she wants. The paisley style is usually diagonal and runs along the palm down to the wrist. On either side of the paisley, the bride can either choose to have a smaller design or to leave it empty.
This way she is not restricted to putting an elaborate design and yet it looks bridal enough. The paisley design looks good with any kind of outfit and is always complementing with the overall look.
5. Filled in with paisley prints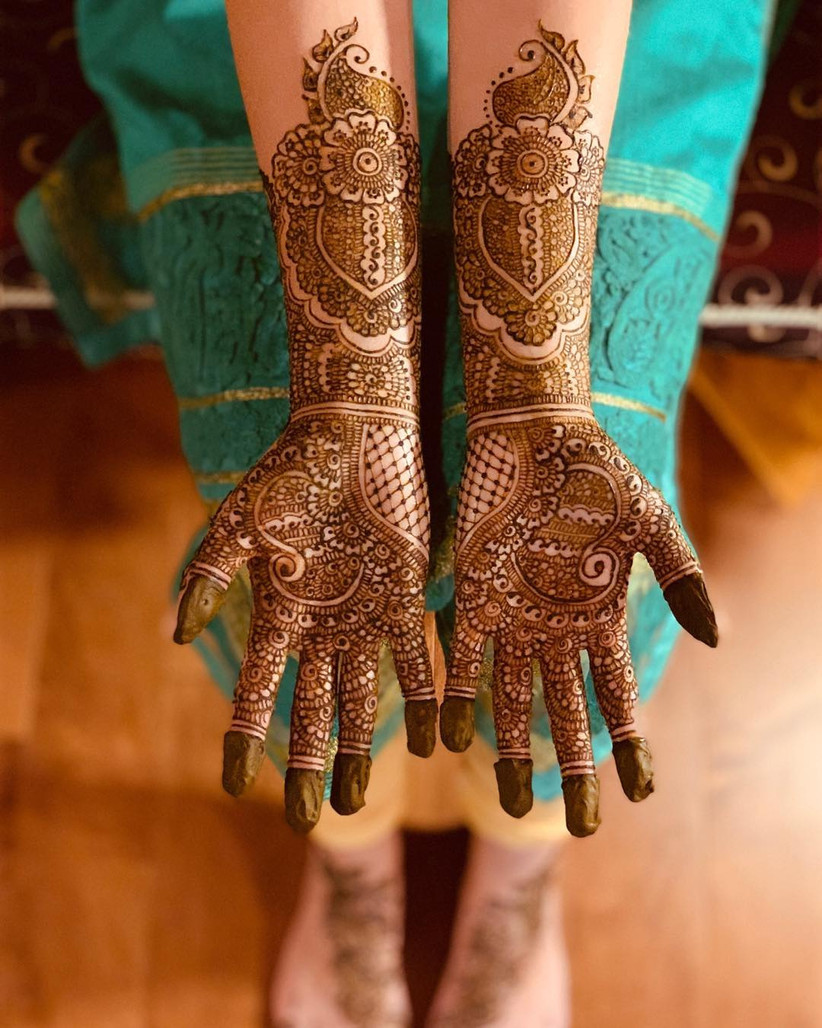 Image courtesy: Divya Henna
Paisley also works for those who're still a little traditional and like filled in hands. Case in point - this set of paisley across the hands and palms of this set of latest bridal mehndi designs - the big ambi motifs in the palm, thin comma-like paisley details on the arms and a large, ambi-like leaves in the crook of the arms.
6. The floral mandala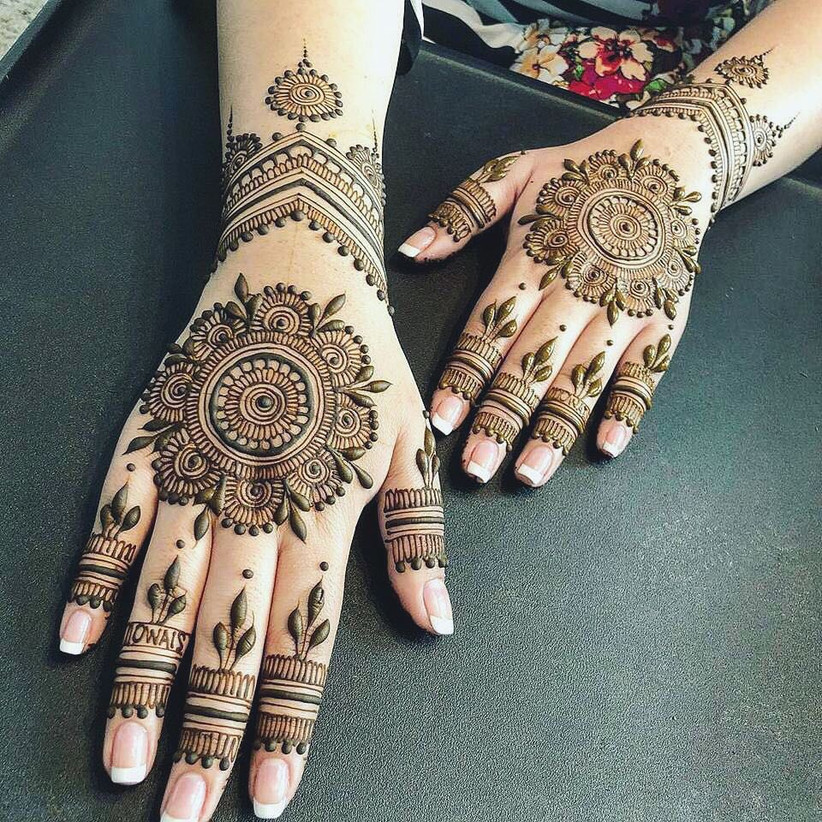 Image courtesy: Raida Henna
Traditional meets contemporary, this is the fitting example of a Mandala design. It is traditional as well as chic and modern at the same time. Not every bride likes detailed mehndi designs that take hours to complete. Some like a small design which is quick to put and then she is free to enjoy her mehndi songs.
7. Elephantine mandala for the grooms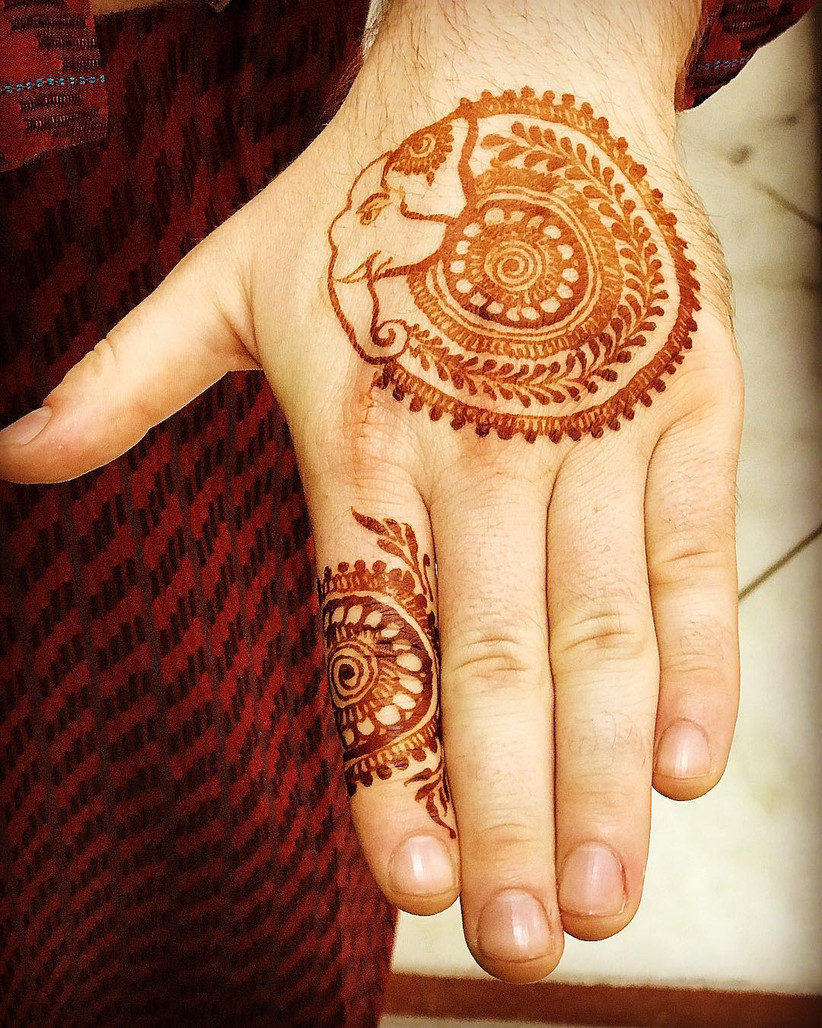 Image courtesy: Khush Clicks
The mandala design is a unisex print, working perfectly on the palms of brides and grooms alike. These latest bridal mehndi designs work with a central circle (either on the palm or the back of the hand and concentric designs within and without a circle. The fingers don't have mehndi all the way down but have a design that goes halfway.
Such latest bridal mehndi designs look traditional and also works for the bride if she does not want to be caught sitting in the same spot for hours.
8. The bride and groom
Let him know that you were thinking about him and the time you're bound to spend with each other with this set of latest bridal mehndi designs that show the happy couple together. You can also take it to the next level by asking your mehndi artist to match your likeness (via portraits) in the same mehndi pattern.
9. Stone embellishments
Why wait for the mehndi to flake off before you can show off your stellar mehndi design? Do it now, by setting it to max shine with a little bling. While we're still warming up to the idea of glitter mehndi, we're nearly convinced about adding sequins and stones to drier set of hennaed hands. The add-ons work with all kinds of latest bridal mehndi designs.
10. The Gloved approach
This is the newest addition to the latest bridal mehndi designs and a very contemporary one at that. The fully-encased glove allows for a lot of personalisation in the mehndi as is expected of bridal mehndi designs in 2019. This way the bride can incorporate a message that she shares only with her groom, the significance of which, only her closest friends will understand.
This makes the bridal mehndi very personal and one of a kind.
11. Geometric prints please
The geometric style also looks very chic and classy especially if you don't want to go on your honeymoon looking like a typical bride with mehndi up to your elbows. This prints quickly cover up a lot of armspace and yet ensure that the look does not break into an over-the-top variant of latest bridal mehndi designs.
12. Jewellery displays
For every bride mehndi is very important but, it's also important to have fun with your mehndi design and make it about you. Try to have a design that has something in common with your wedding invitations or match the design with your groom's sherwani. These little things make weddings all the more quirky and fun and most of all make it memorable for the bride and her groom.
The bride, for example, has held up her foot mehndi with a conventional round neck pendant. Simple, minimal and yet so well there.
13. Just the peacock, please
There are an 'n' number of designs for brides to choose from. The best thing about a henna design is nothing ever goes out of style. On each hand, each design turns out different and that is the real beauty of it.
Try to get this right by picking and going ahead with just one major motif - like this lady chose to do with a solitary peacock, then fill up your palm with a whole lot of prints.
14. Flowered magic across both of your palms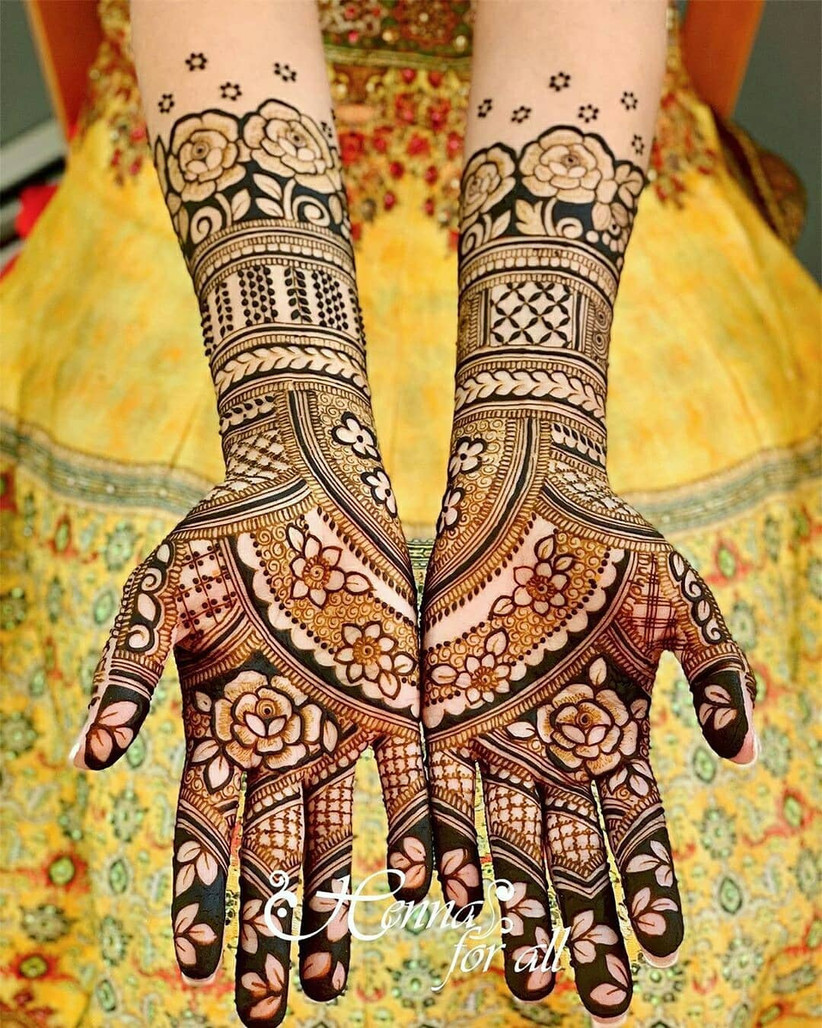 Image courtesy: Henna for all
Flowers, reverse mehndi prints and a completely mirrored set of hands - these latest bridal mehndi designs score high on all of these counts. The precision with which the artist has worked their craft make the print look like a readymade design that could be simply stuck onto your palms. We love it.
15. Get a pair of Chaandbalis for your hands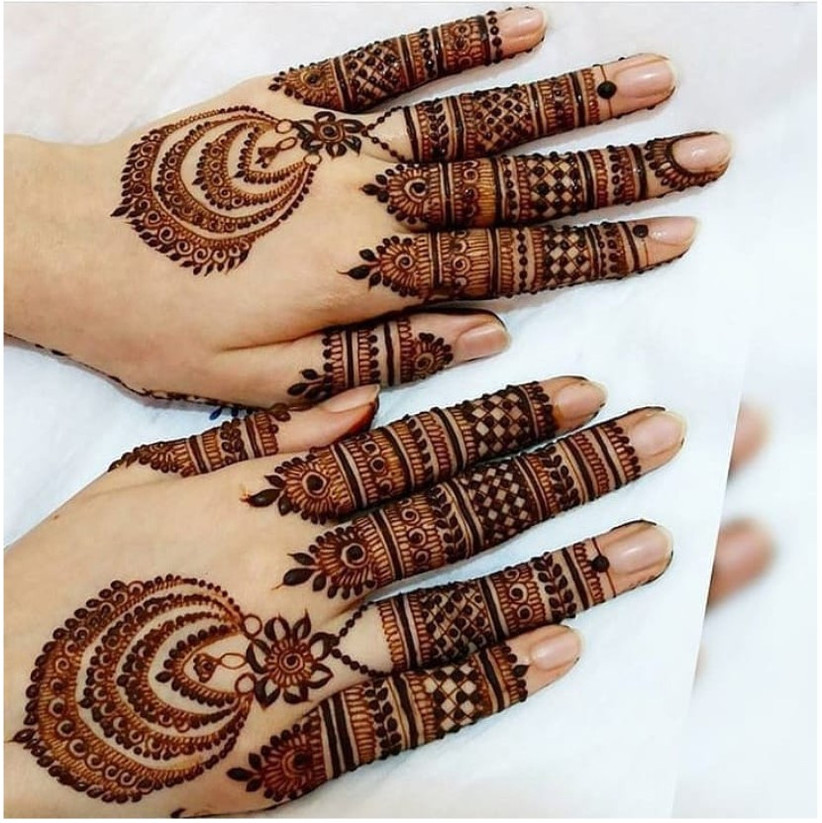 Image courtesy: Henna For All
Carrying on with the trend of jewellery mehndi designs, these back hands show the heavy Chandbaali danglers in painstaking detail. Get these latest bridal mehndi designs and sit back while everyone comes looking for a glimpse of the pretty baubles.
16. Mirrored magic for hands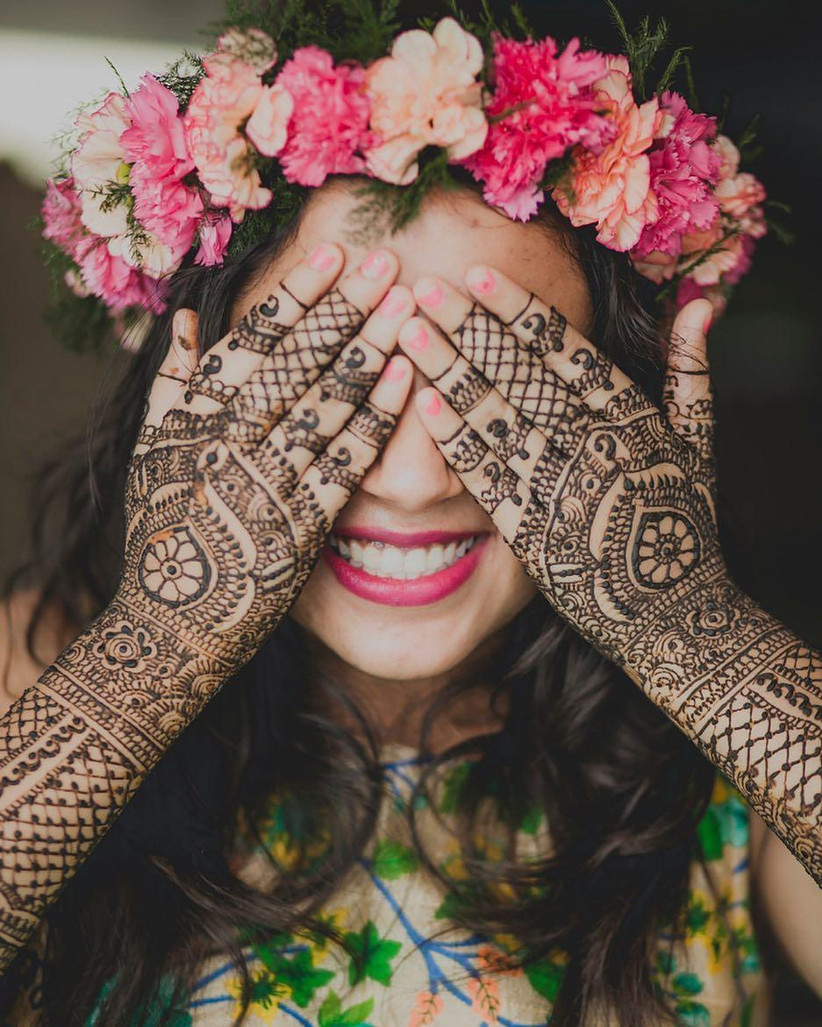 Image courtesy: Royal Affairs
No set of mirrored latest bridal mehndi designs are complete without a stellar Mehndi shot. Gain yours in this way.
To all brides-to-be, these little things can make a major difference so choose an artist whose style you love the most. You wouldn't want to mess up your latest bridal mehndi designs around your wedding. Would you?
Bonus Tips:
To make your mehndi design stand out, you can style your mehndi with glitter, embellishments and colourful inks. Rhinestones are quite popular as the latest bridal mehndi designs. And white mehndi surely catches everyone's attention. You can mix and match these elements for your ceremony.
The colour of your mehndi is rumoured to reflect the love of your beloved. The darker the mehndi, the more he loves you. Many tricks are used to achieve that because of this rumoured belief. You can apply mehndi oil beforehand. After the mehndi has dried, you can apply a mixture of sugar and lemon juice. Avoid contact with water until the mehndi has darkened to its peak.
Reverse mehndi is another one of the latest bridal mehndi designs technique. In this approach, all the intended designs are drawn and empty spaces are filled with mehndi rather than filling the design itself.
Ensure that your mehndi artist is using organic mehndi and hasn't mixed any chemical in it to help it darken. In many cases, the mixture reacts with the skin leading to a burning sensation. If you have sensitive skin, you will need to be extra careful with what mixture you apply on your hands and feet.
You can also get designs that mimic your bridal jewellery. This way, you will have a halo-like appearance to your jewellery on the big day. Wouldn't that look cool?
Write back to us about your henna inspiration and which style of mehndi you love the most.