These Brilliant Wedding Cake With Name Designs to Satiate Every Sweet Tooth Are Legit Amazing
Whether you're looking for a classic wedding cake with name or an embellished wedding cake, there's no way you're not cutting one. Let's read more on the glamorous and trending wedding cake with name here.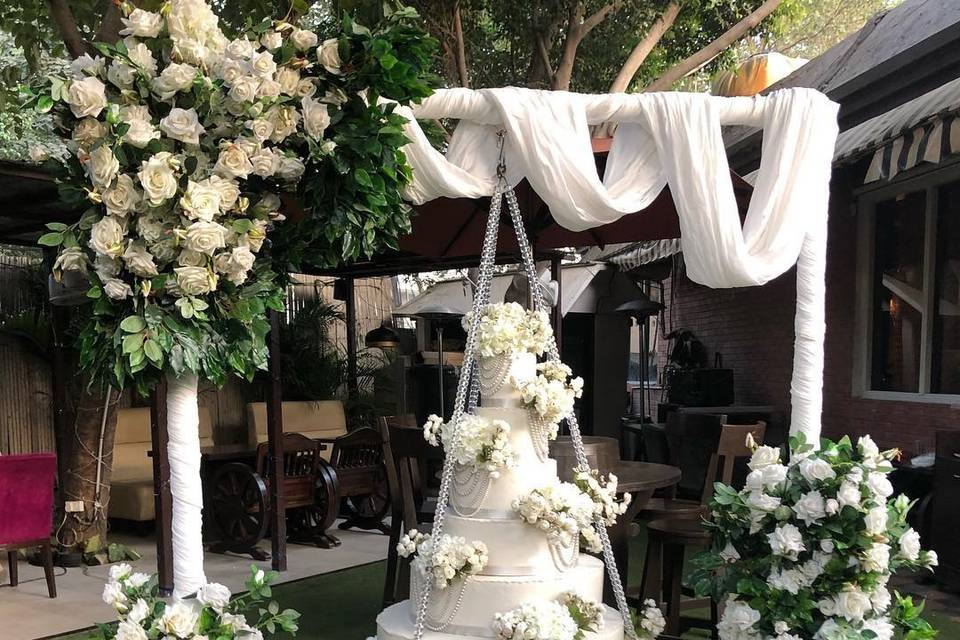 Mouth-watering, tantalising and finger-licking wedding cakes are hard to miss especially when they are designed exquisitely taking into consideration your wedding theme, ensembles, and the occasion. Many couples believe in a cake-cutting ritual during the engagement ceremony, while some proceed it during the weddings and others prefer to include this in their Reception party, whichever occasion you fall into, don't forget to dress your cake pretty like you do and seize the day with a show-stopping wedding cake.
Nowadays, wedding cake designers are crafting anti-newton cakes that defy gravity and fall topsy-turvy, embellished cakes with precious pearls and gold foliage, ombre cakes with glittery dressing or nude wedding cake with name are some of the latest trendy wedding cakes in the Indian wedding market. Here, we shall be focussing on the delicious yet drool-worthy wedding cake with name to get inspired:
1. Royal White & Gold Wedding Cake with Name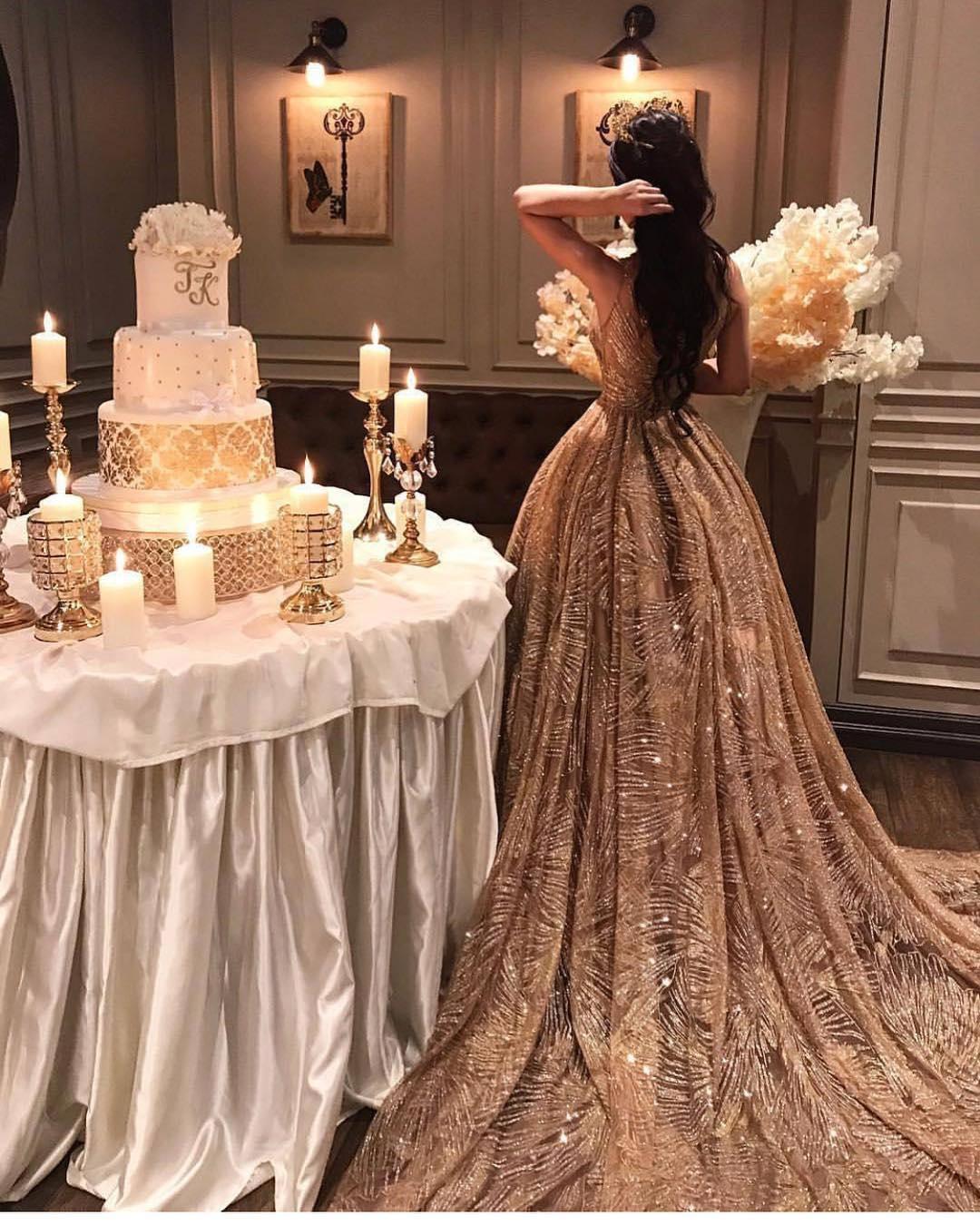 If you're getting married in the fall or winter, we bet this white and gold fondant wedding cake with name is the perfect steal for you. Flaunting the artistic strokes of brush with intricately detailed gold foliage design on the four-tier wedding cake.
Flamboyant, royal and highly plush, this white and gold wedding cake features a minimalistic garnishing of white flowers on the top tier and the initials of couple carved with a stylish font in gold hue. Such ecstatic details and structured wedding cakes are a huge trend in the recent wedding market. At first, this dramatic wedding cake with name might seem too edgy for you, but it is slightly toned down with the addition of white carnations and soft details inspired by Pinterest to make your wedding memories last longer.
2. Caricature Wedding Cake with Name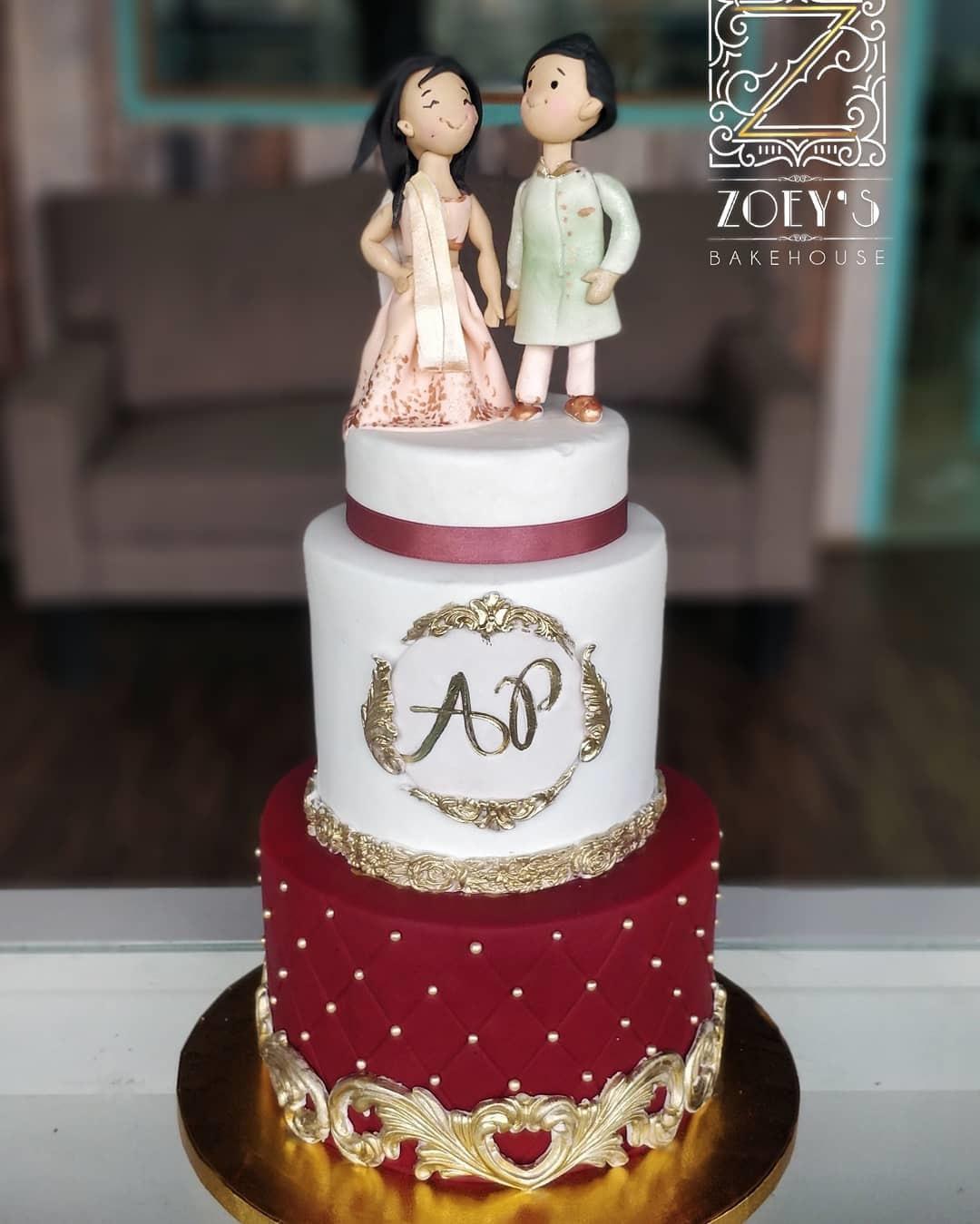 Got a thing for adorable caricatures with a mix of quirky details? Zoey's Bakehouse will be your brainchild, based out of Hyderabad, they are known for a marvellous wedding cake with name featuring doll creations for both the bride and bridegroom as cake poppers. Zoey's artistic streak lets him unleash his creative side as he would often play around with the characters' uniforms especially when the couple is fun and experimental.
For example, a lawyer couple, or a traveller couple poppers are quite attractive yet so cool. As the trend continues, the initials of the couple are etched on the top tier of the cake while the lower tier is beautifully decorated with gold and red details.
3. Lavender Floral Wedding Cake with Name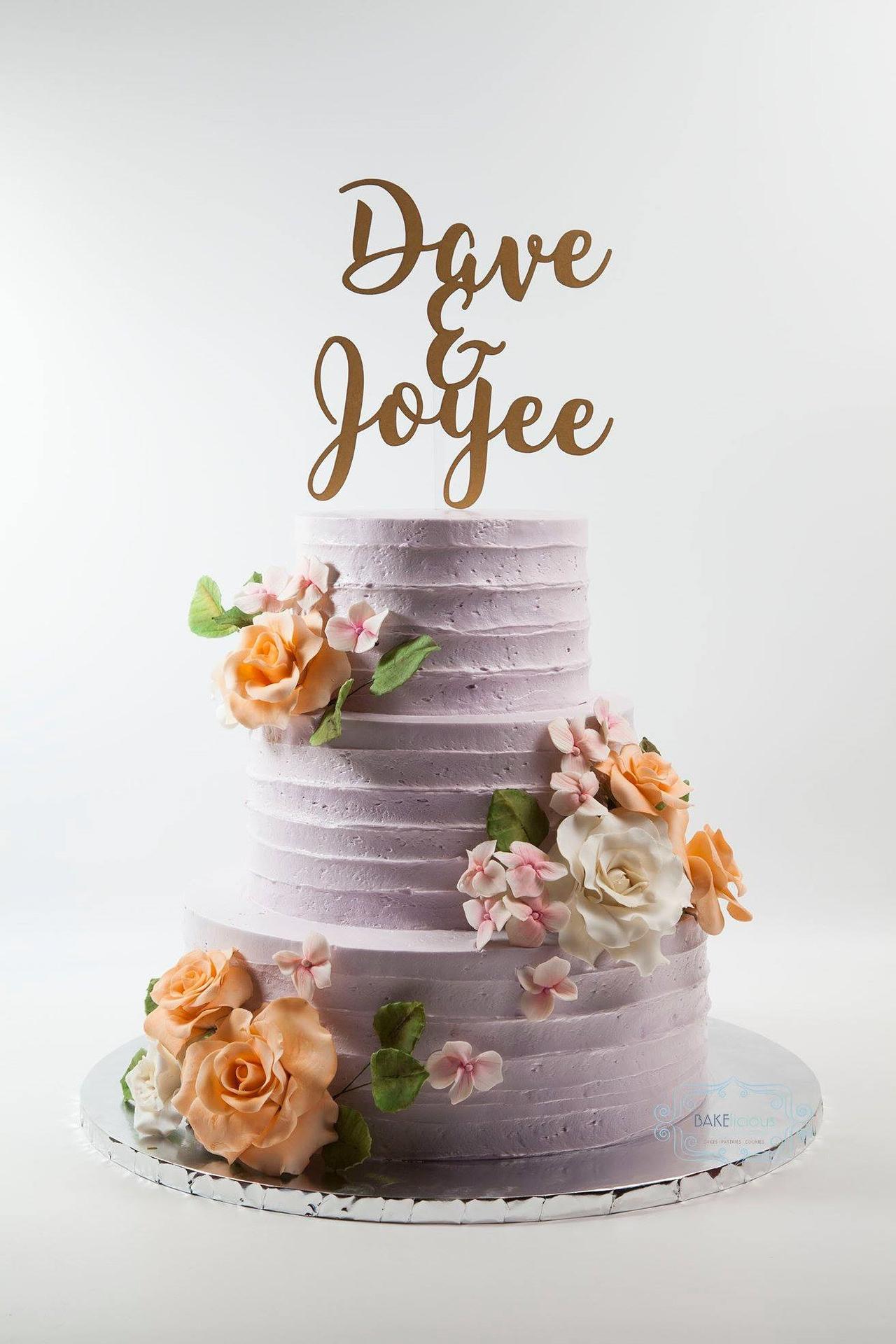 Yet another enticing cake trend introduces us to the classic monochromatic wedding cake with name. However, this lavender wedding cake is decorated with moulded and piped lacework stairs all throughout that remind us of the marble cake trend which is creating waves on Instagram lately. Garnished with formidable flowers all over, and the couple's name is used as the cake toppers, this lavender floral wedding cake with name has our heart for its simplicity, sophistication, and structure. The icing on the cake? Well, ask Dave & Joyee for their svelte wedding cake exudes an air of luxe vibes.
4. White Marble Floral Wedding Cake with Name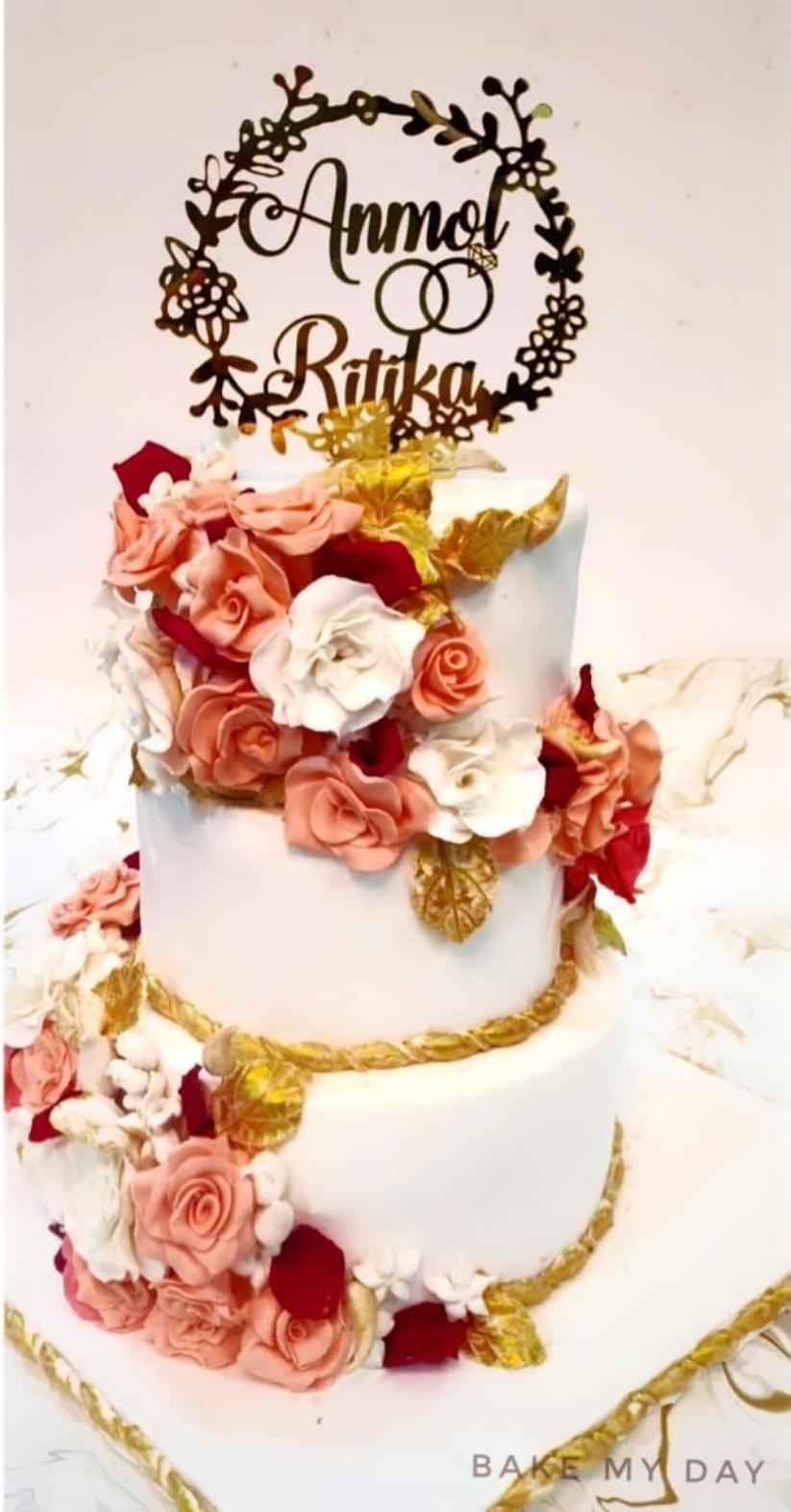 This gorgeous white marble floral wedding cake with name is such a show-stealer especially if you're planning to throw a ball of a wedding night. This will go perfectly with beach weddings, glamorous evening soiree, glitterati gala weddings et al. White marble floral cake decorated with gold details and stunning rose flowers in a three-tier wedding cake design gives us major wedding goals. The eye-grabbing feature is the popper that features the name of the couple and its unique design layout like a Christmas cheery accent.
5. Fancy Pastel Wedding Cake with Name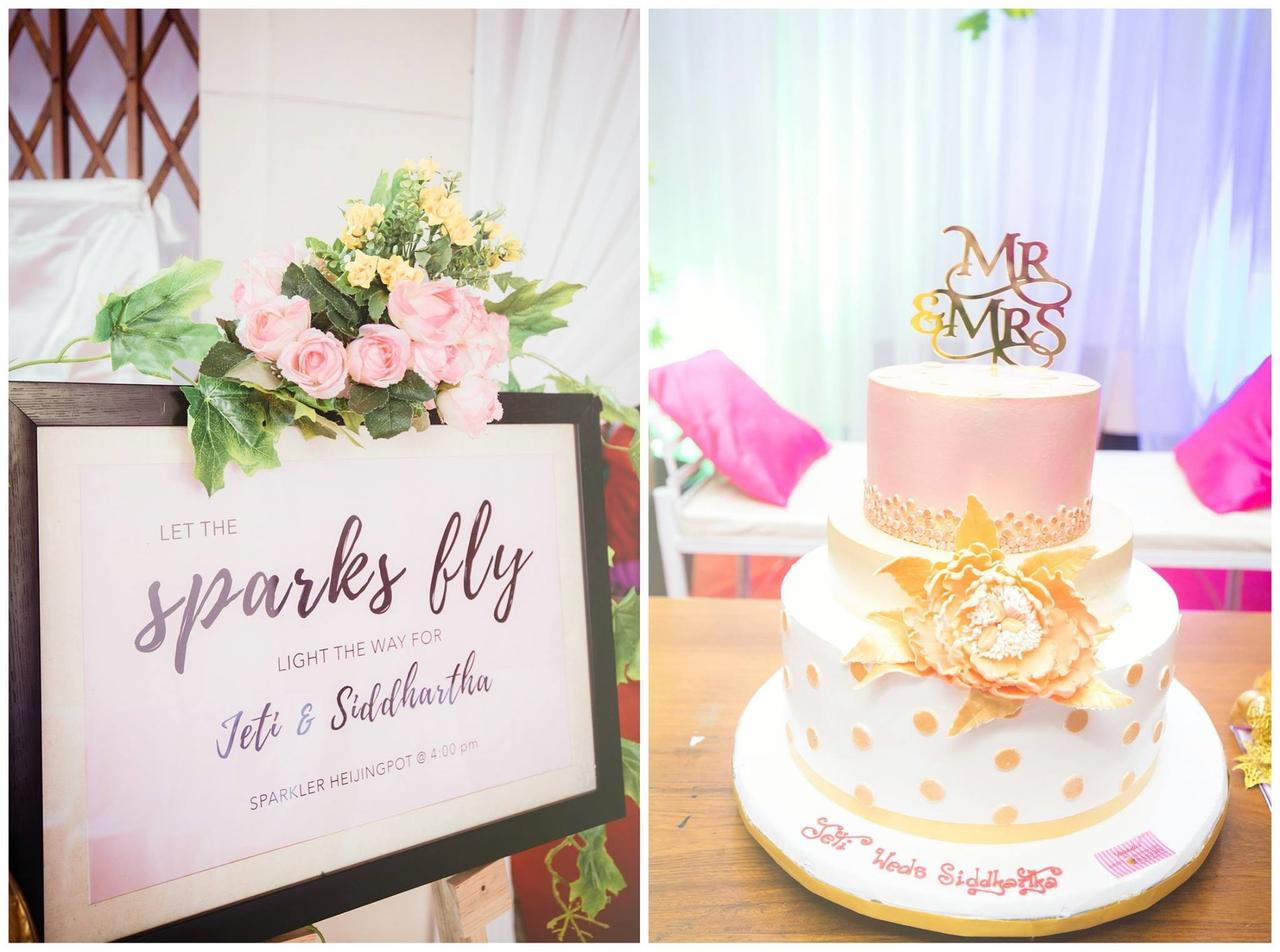 On weddings, we eat, treat and repeat. However, this fancy wedding cake with name curated for the sweet Indian couple is oh-so-creative yet adorable at the same time. Decorated with golden polka dots and laced with a huge gold rose flower, the rose-hued top tier gracefully adorns the tag for the couple as it says "Mr. & Mrs." A little, decorative piece of wedding cake on a happy occasion of Jeti& Siddhartha's wedding, this svelte cake personifies elegance at par.
6. A Pearly Affair Wedding cake with Name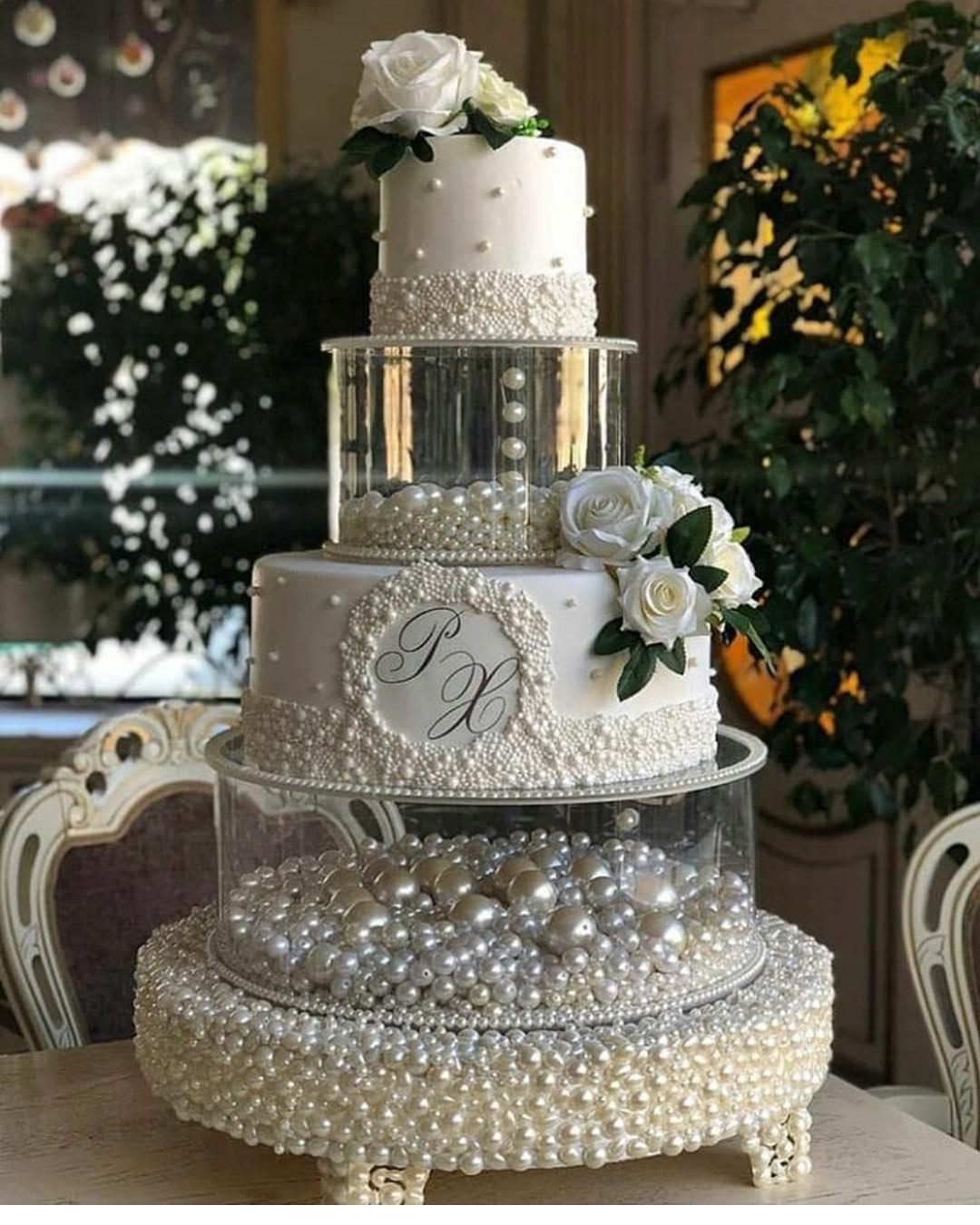 Image Courtesy: The Twisted Affair
Go Extra or go home because nothing screams blingy and avant-garde like this highbrow and extravagant pearly wedding cake with name meticulously baked with detail and attention. The structured 5-tier wedding cake features a pearl-embellished lower tier followed by a glass tier finely decorated with champagne grey pearls on the edges. Up next followed by a white structured tier decorated with intricately crafted details of pearls with fondant and the initials of couple etched there with a black fancy boundary.
A glass tier is followed up next and finally, a white tier with pearls embedded and carved on the tier so beautifully, it is a dream wedding cake which will surely become a conversation-starter and give them envious side glances.
Wedding cakes come in a variety of designs, hues, embellishments and fondants, however, these trends have become so popular yet our heart beats for the classic white structured cakes decorated and garnished with flowers reminding us of the pure soul-connection and a way to start the happy marriage.
What are your thoughts on this? Use the comments section to share your opinion with us.