Don The Phulkari Dupatta For Your 'Punjaban' Pre-Wedding Shoot
Need a dash of 'Pind Wala romance' for your pre-wedding snap story? Here's how you can crack the trend, with the aid of a Phulkari dupatta.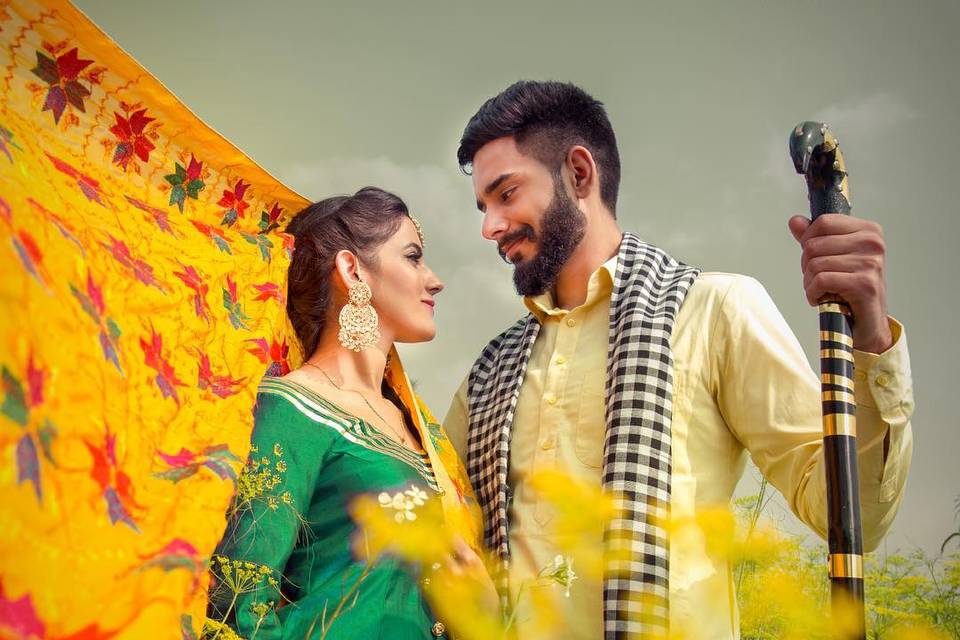 When it comes to a pre-wedding photo story, you can't beat a couple with a cause to celebrate. And when this cause is deeply etched into your cultural roots, it's double the reason to celebrate! So, we break down the latest pre-wedding shoot trend, one we've seen trending from Sada Canada to Bhatinda with equal aplomb. This is the Pind Punjabi pre-wedding photoshoot, made as authentic as Makke Ki Roti, with just a single addition - the Phulkari Dupatta.
The Phulkari Dupatta Story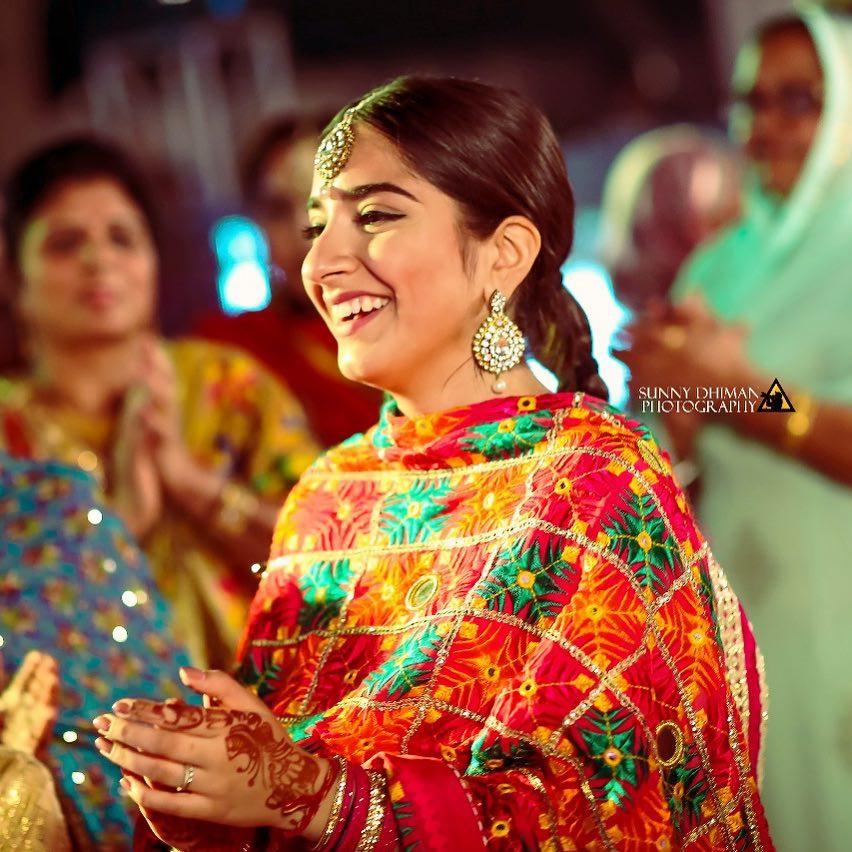 The Phulkari Dupatta has been part of a Punjaban's ethos from times immemorial - as old as the Pajeb, Jutti and Parandi themselves. Though the name itself refers to 'flower-like' or floral embroidery, the neat, geometric stitches that make a Phulkari pattern automatically set it as distinct from Kashidakari, Kashmiri floral embroidery, Kutchi mirror work or even Lucknowi Chikankari.
The flower or Butti here is more often than not, etched into a square or a square-shaped pattern, one with diagonal lines forming the basis of the design. A handmade piece of art, it's either pastel-coloured, silken thread on a bright cotton Khaddar or a bright set of skeins on a pastel base. The sparsely done embroidery work style was originally meant for daily wear, in contrast to a ceremonial 'Bagh' (or full embroidery) which is meant for weddings or the birth of a child. The second can be worn or given as a wedding gift- either add to the weight of the occasion!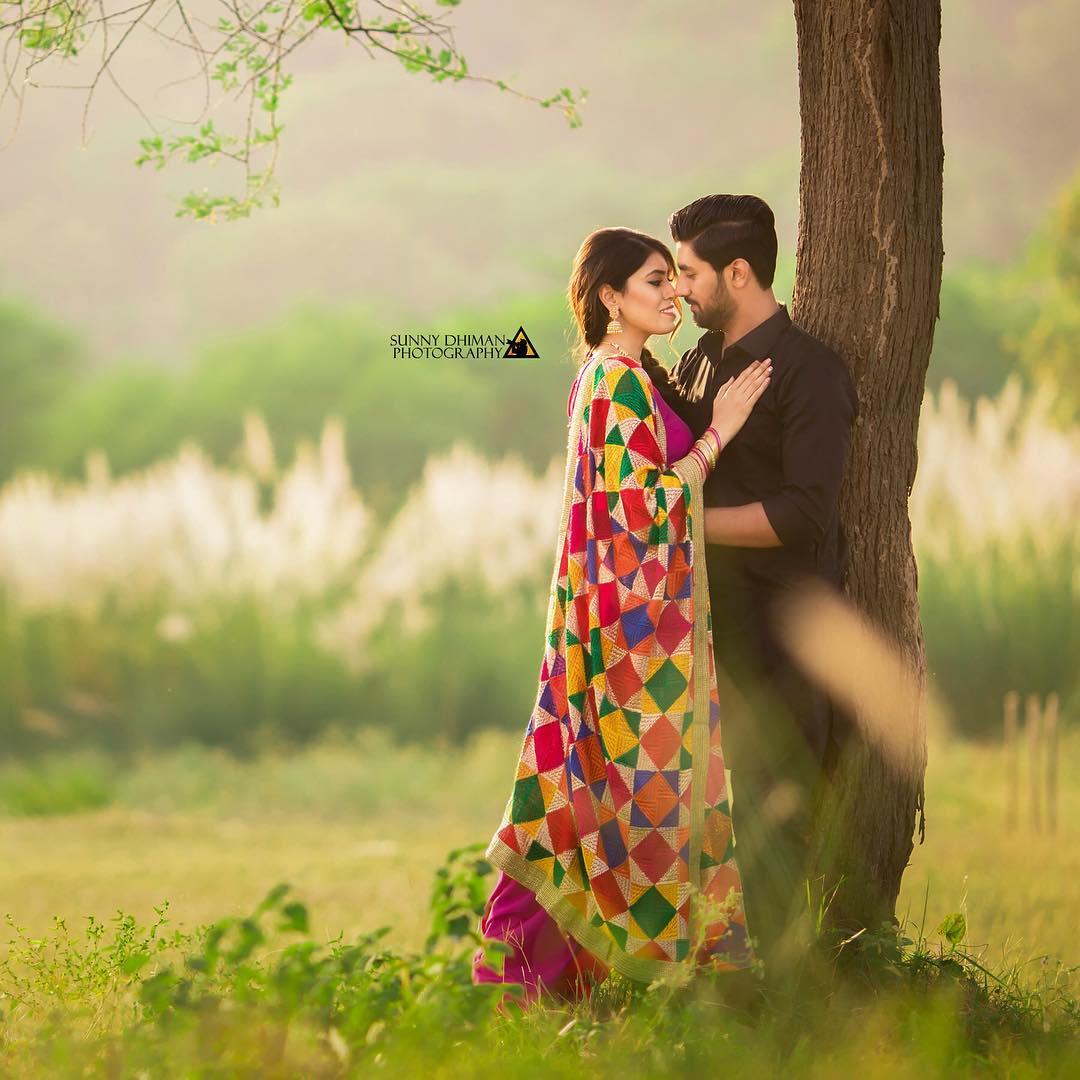 The Phulkari dupatta does not conventionally mean a fully embroidered fabric; it also has some regional deviations. However, the revival of the Phulkari dupatta has meant that many women are now choosing to opt for it, whether in its original form, as an Aadha Bagh or a full Bagh style. As the style has strong, traditional roots, looking for the latest designs in Phulkari dupattas is not really a fruitful journey, but what you choose to do with one, is.
For this piece, we are considering all forms of Phulkari - as our brides-to-be choose to do.
Getting Clicked in a Phulkari Dupatta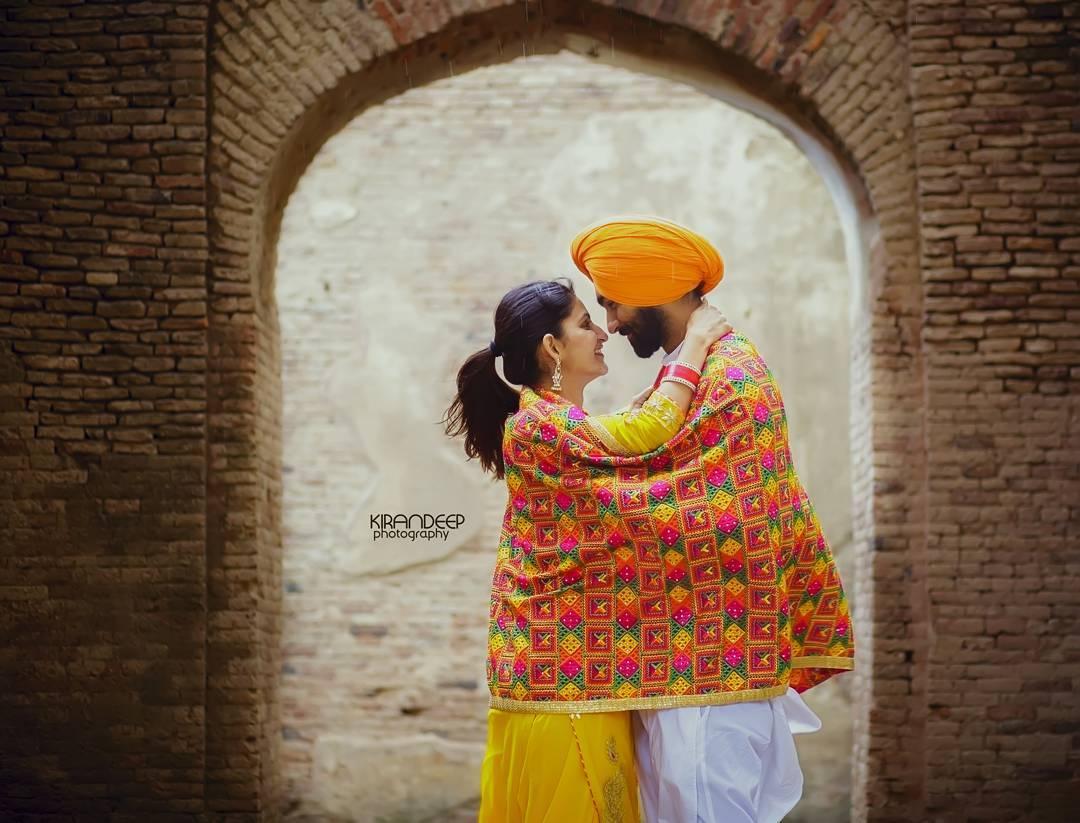 With many NRI couples choosing to rekindle their love for their roots (and each other) through their pre-wedding shoots, the Phulkari dupatta has gotten a new lease of life. There are also desi couples, who wish to opt away from Lamborgini dreams and go 'Thet Desi' for their pre-wedding stories. Both choose a Pind Punjabi look for these shoots, complete with 'Sarson Ke Khet', a Charpoy, Hukka, a stick, a Gabru in a Pathani suit and a dashing Punjabi Kudi, coy in her Phulkari dupatta.
Here are a few examples of how some brides-to-be chose to flaunt the style and look the part just right. Take notes peeps!
Khetan Di Khushboo Liye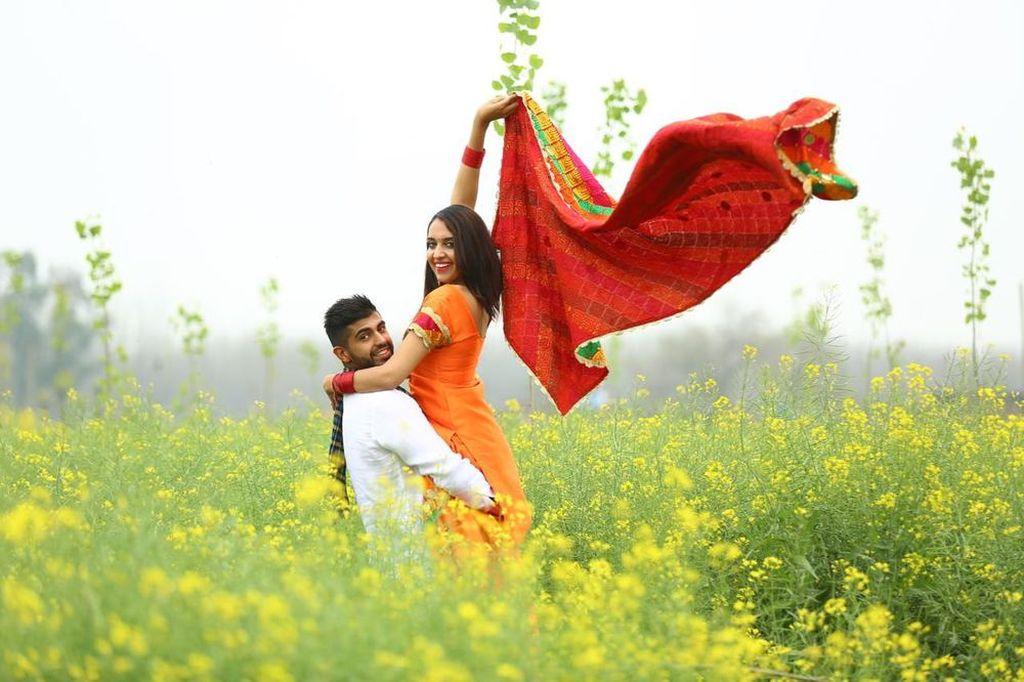 Image Courtesy: Mehar Photography
Fill up a dupatta (specifically a Phulkari dupatta) with the heady smell of Sarson from a mustard field, as you paint yourself as a dainty lass in the mustard fields, just like Raj and Simran.
To make it effortlessly so, let your dupatta be one with the wind while you either make a dash for each other's arms, rise up into the air or simply let time stop in each other's arms, preferably during a wist of the wind. Now, isn't that one for your wedding photo album?
Preet Di Odhni - From behind the shoulders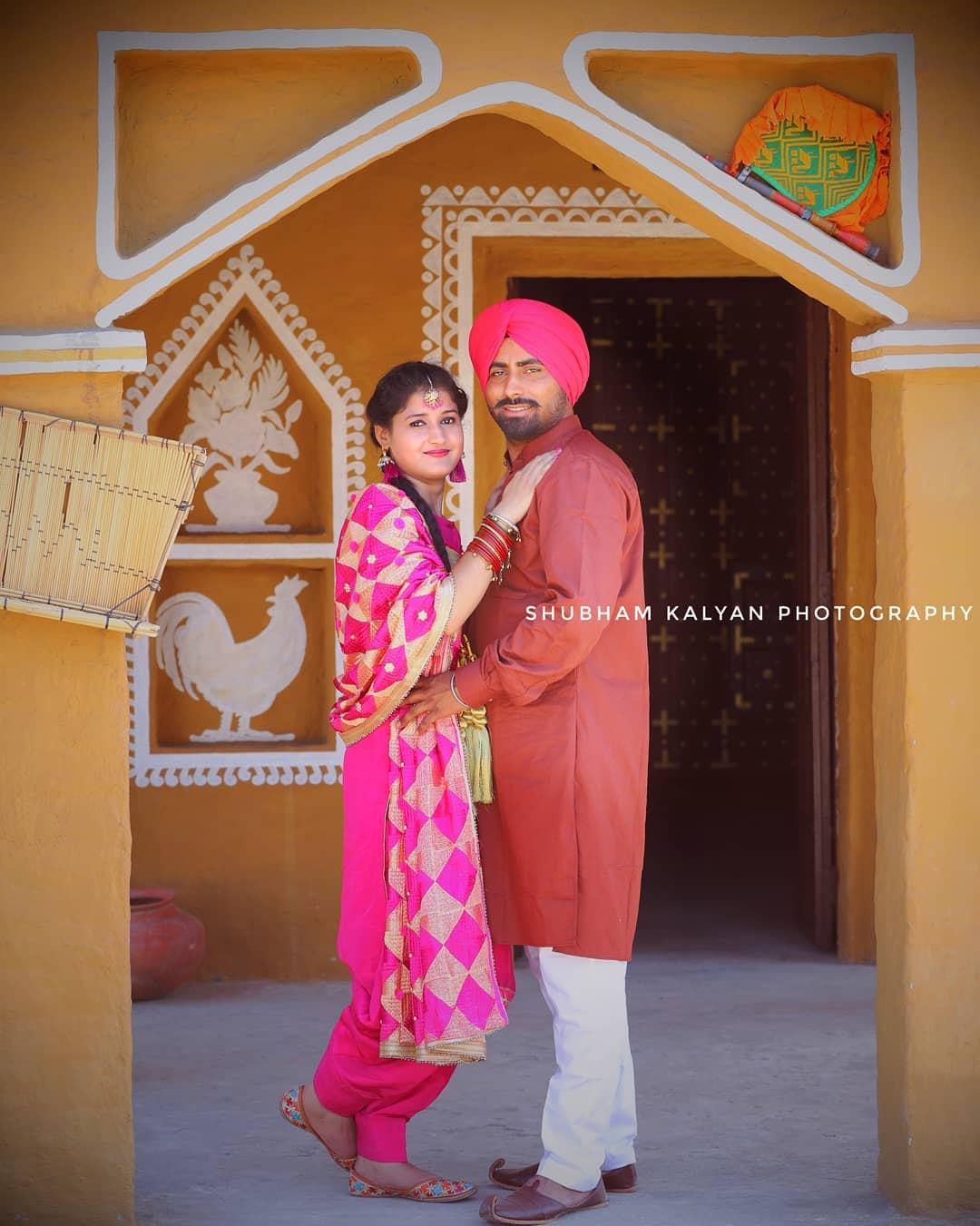 Image Courtesy: Shubham Kalyan Photography
Take your Punjabi rustic, pre-wedding shoot up a notch by wearing a warm hug, courtesy your Phulkari dupatta. The style is all about enveloping yourself within the comfort of the dupatta, whether in a touch-and-go style (imagine the drape loosely around your shoulders) or one filled with a lot of Preet (snuggly from your back to over your chest).
Make your choice and then choose how you would want to position yourself in the frame - on the stairs, standing against a Kothi, Chaukhat, Chaja or in the field.
Khandani Shaan Vakhri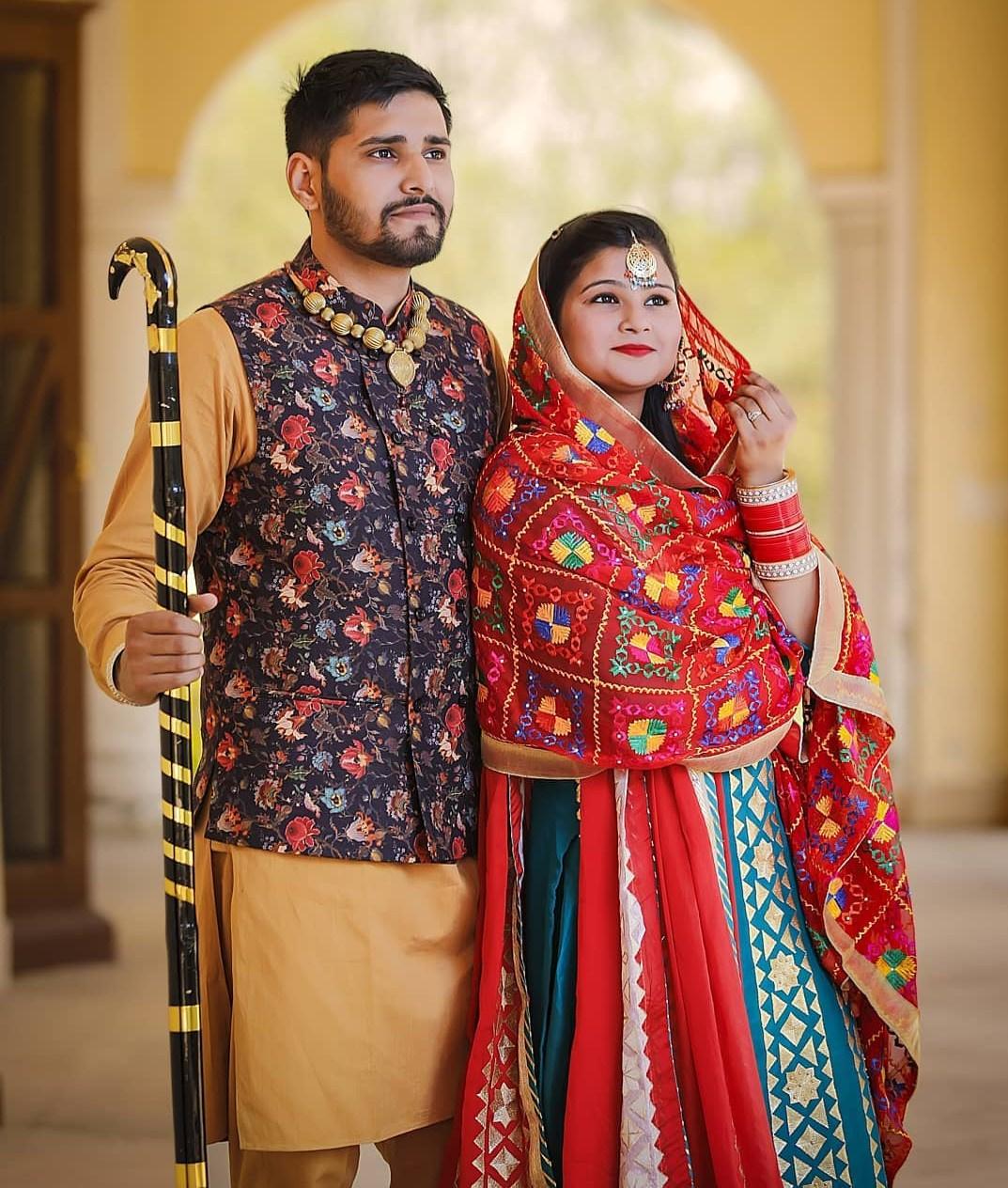 Image Courtesy: Harinder Photography
The conservative Pallu does more than convey a sense of shyness and femininity. If you're trying to opt for a classic Punjabi pre-wedding photoshoot, you may also use this style to showcase a sense of Punjabi pride and Khandani Shaan.
Drape your trusted Phulkari dupatta over the head and across your bosom and hold on to an edge of the Pallu just to add a little bit of Andaaz to your style statement. Can you do it better? Then let us know how!
Pind Di Jugni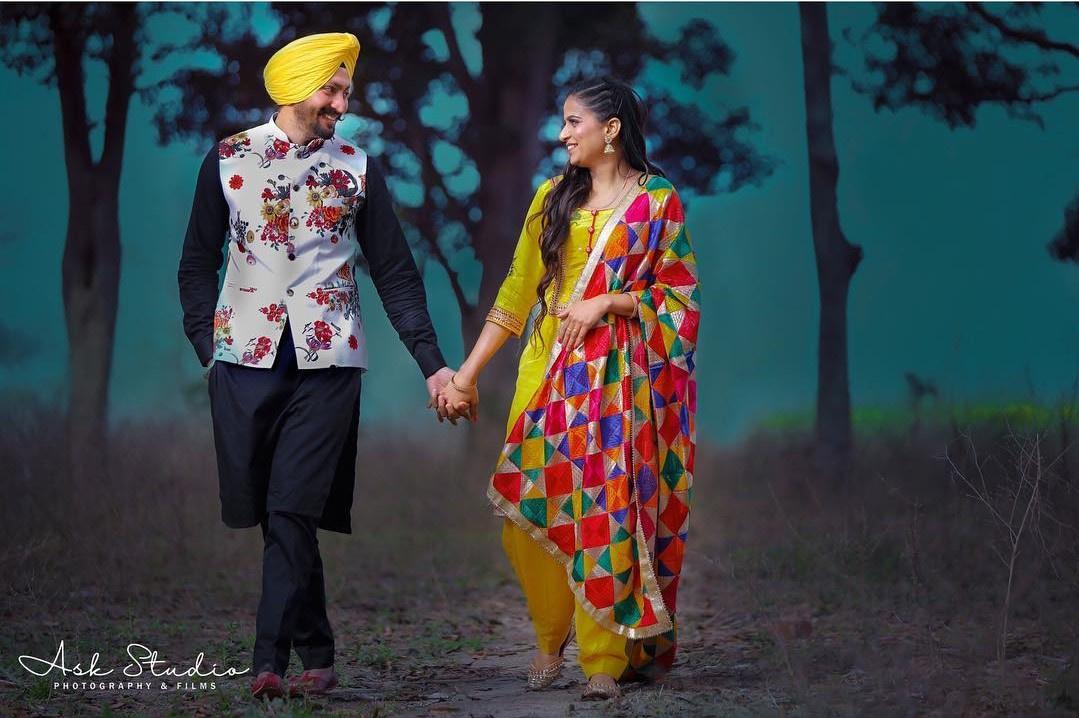 Image Courtesy: Ask Studio
Let your Phulkari dupatta add magic to your look as the accent it can be, rather than a cover or 'odh'. With the on-point Jugni look - open hair, Jhumkas, a bright Punjabi Patiala salwar suit and Punjabi Juttis in place, you can't go wrong with this look.
In fact, take it up a notch, by making it your pre-bridal photo solo. You know, that you (or your wedding photographer), will not need to give cues to your beau to look smitten if you choose to replicate this shot - he'll already be there!
Naam Mohabbat Hai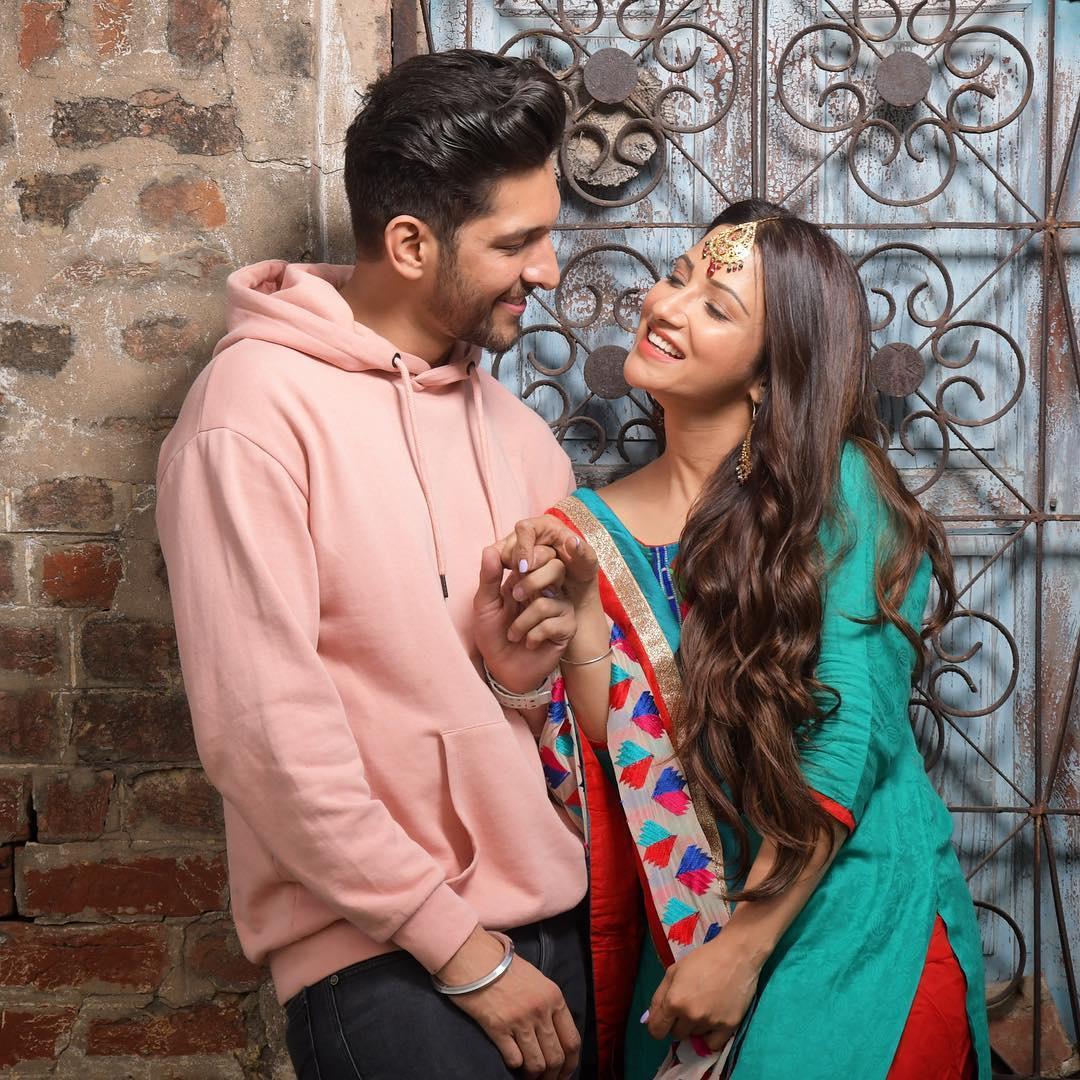 Image Courtesy: Manpreet Kamal
Here, we go back to the way your mum would have worn a Phulkari dupatta, with the embroidery neatly as a border or a panel on the side. Don the look over a plainer Punjabi suit combination and engage in a few, sweet-nothings), the way couples used to do, hiding from Zamane Ki Nazrein, under a Chajja or in a balcony. If your Ranjha has had to climb a few ledges to get to you, then even better!
Work the dainty Punjaban look on her daily route, either against an indoor shoot location or on a path, to get a stellar backdrop for these shots.
Swag Di Dastan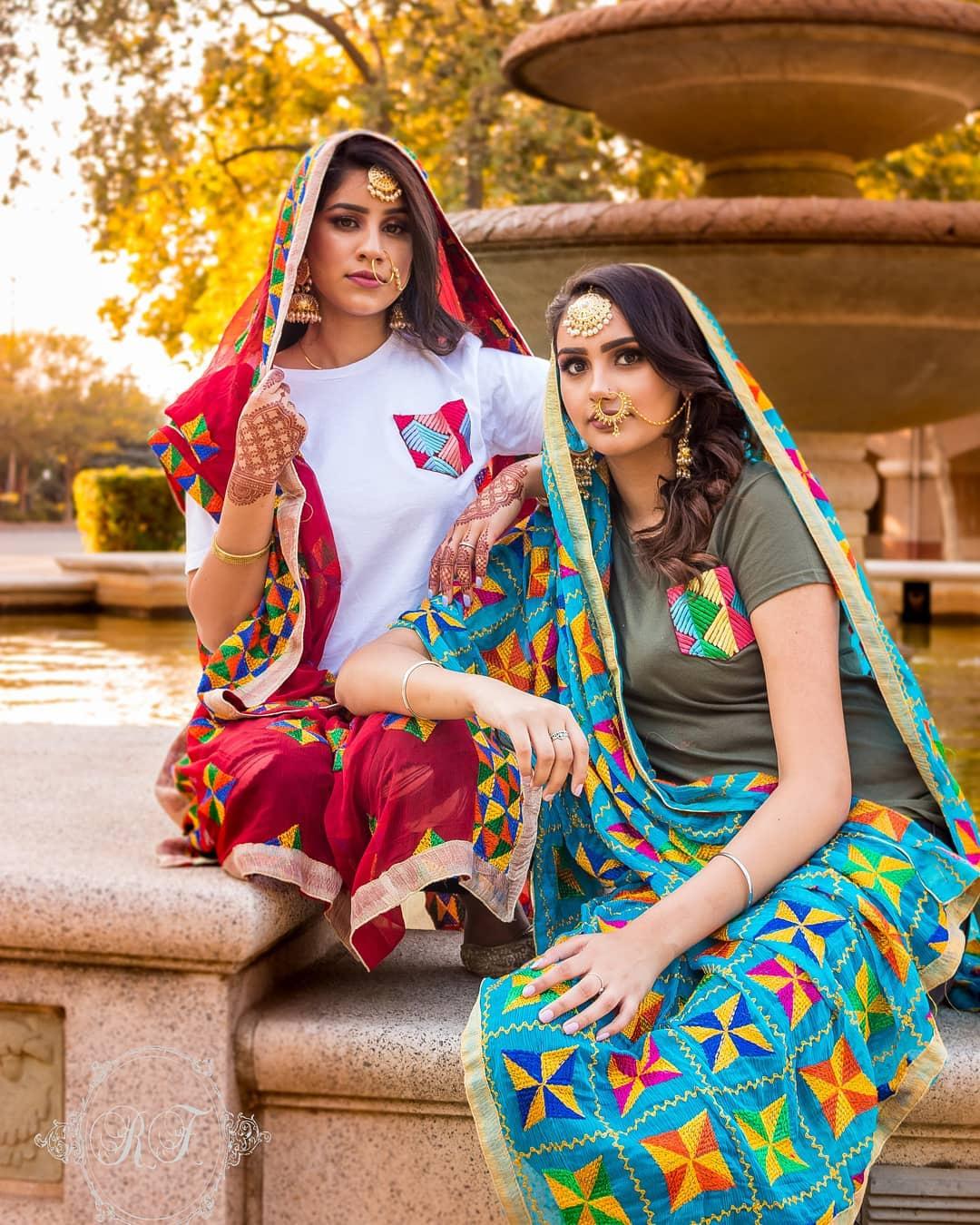 Image Courtesy: Co & Swag
Just because you're working the Punjaban look with a Phulkari dupatta does not mean that you can't do it your way. We recently came across a set of Phulkari designs for the urban women, detailed over sneakers, caps, overalls and jackets by the Phulkari Co and thought, well this looks like a swell idea indeed for a Punjabi on the block shoot!
Just like the rockstar lehenga look (think Sneakers, a biker jacket and sunnies with a traditional bridal lehenga), you can be the Jazzy Jassi, rocking the dupatta over her sweats and overalls while your rockstar adds his swag to the look too.
Behna Da Pyaar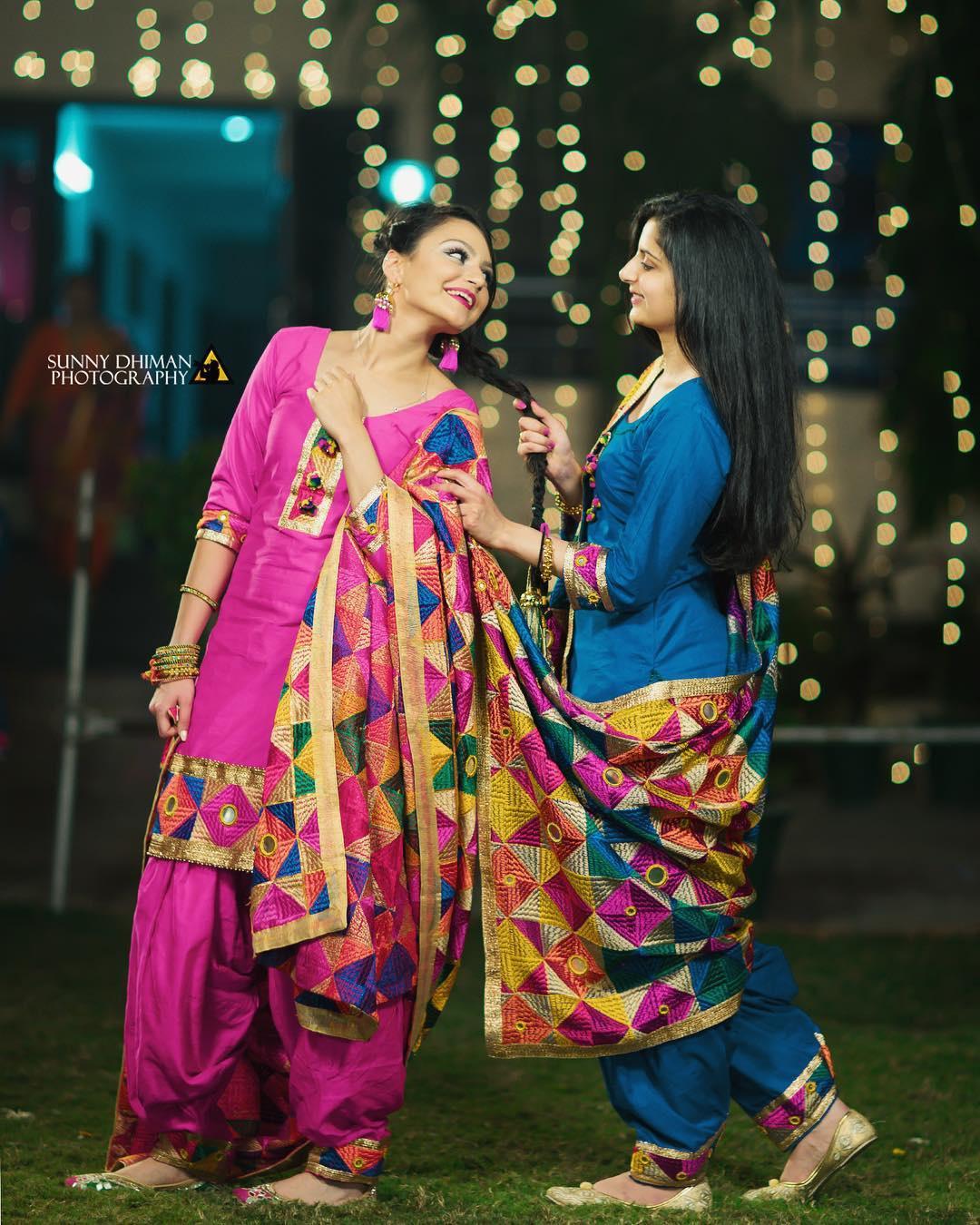 Just because it's your pre-wedding photoshoot does not mean that it should only be about together-forever looks and heartfelt glances with your mister. Add your sister (or soul sisters) to the mix and bring them into the fold of your experience - literally, by sharing a Phulkari dupatta drape with them.
You can even do a complete set of #SistersBeforeMisters as part of this shoot or add their riot-filled cheer in the backdrop of your romantic poses.
Loved how simple and elegant these looks are, simply because you either raided mum's drawer or went to the market to pick up a Phulkari dupatta. That's how easy it is! Now, create your own pre-wedding look with the aid of the humble dupatta and share it with us. Who knows, we can carry it forward into the next edition of this Phulkari dupatta edit.
Go ahead, girls! Type, type and share your love with us in the section below!