Check out Different Neck Designs Which Are Fashionable, Delicate and Suitable for Every Occasion
While planning an outfit, be it for a function, trousseau or even as a guest, one of the first things we look at are different neck designs which can make us stand out in the crowd. So, check out these inspiring designs we spotted on real brides!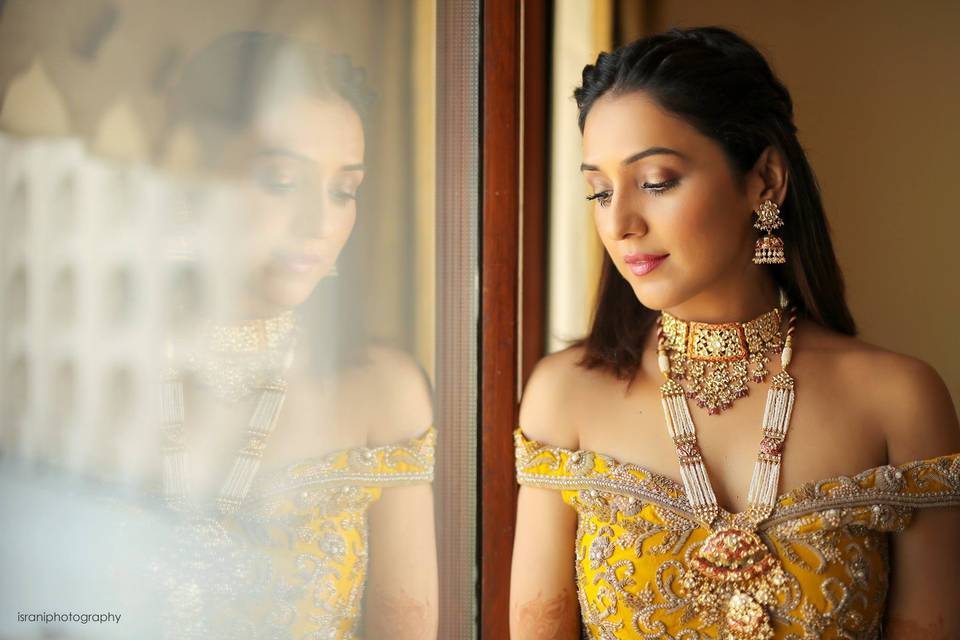 From blouses for sarees, lehengas, suits and even gowns the first thing we notice and appreciate are the different neck designs. And we all have our own favourite styles which could vary from a deep plunging neck or a simple round neck. These different designs flatter our bodies and accentuate our features with just a cut. There are so many different types of neck designs available, the variety might seem overwhelming. But most outfits revolve around a basic set of designs which is common across different outfits.
To make your mark, you must choose from some different neck designs based on your comfort and figure. It is important to know which designs work for you. Don't underestimate the importance of having a collection of different neck designs, as they can make all the difference in an outfit. So, let us jump into the world of different neck designs which may inspire your next outfit and help you understand the options available!
1. The sweetheart neckline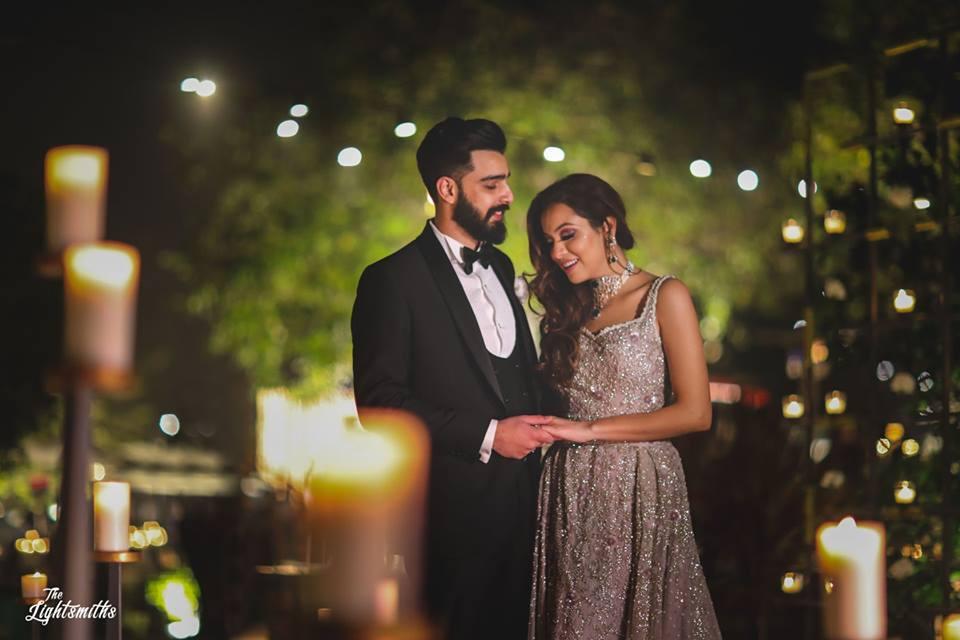 Last year Insta-famous blogger, Malvika Rallan got married to long-time beau Siddharth Nagpal in an intimate ceremony in Rajasthan. For her engagement ceremony, the fashion blogger chose to wear an embellished gown with spaghetti straps and a sweetheart neckline. This neckline and pattern is the perfect choice for a gown where you can even showcase your jewellery with much flair and pomp!
We often see this neckline delicately employed even in bridal blouses and absolutely love how well it works together. With so much focus on the neck region with the delicate work and intricate jewellery, choose an updo or side-parted hairstyle to highlight your outfit better!
2. The big round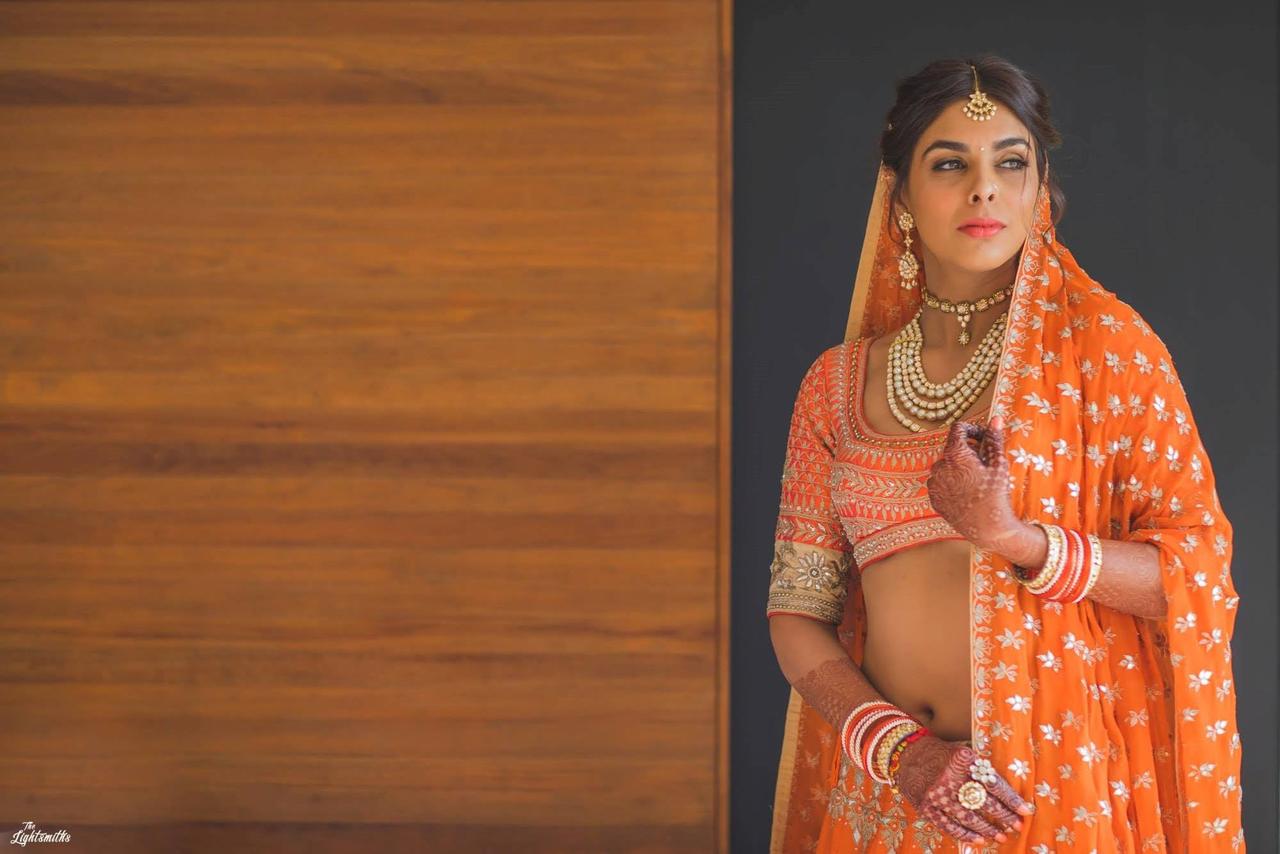 Celebrity stylist, Aastha Sharma wore an intricately embroidered Anita Dongre lehenga in burnt orange colour for her wedding ceremony and we could not help but take notes from her entire get-up. Starting with the dainty and pretty jewellery to the basic makeup there is nothing not to love about her look.
The blouse she donned has a deep-round neck which allows space for a layered or heavy statement neck piece. The embroidery in a symmetrical manner revolving around the different neck design accentuates the work all the more making it seem detailed and traditional with a touch of modernity.
3. Take the plunge!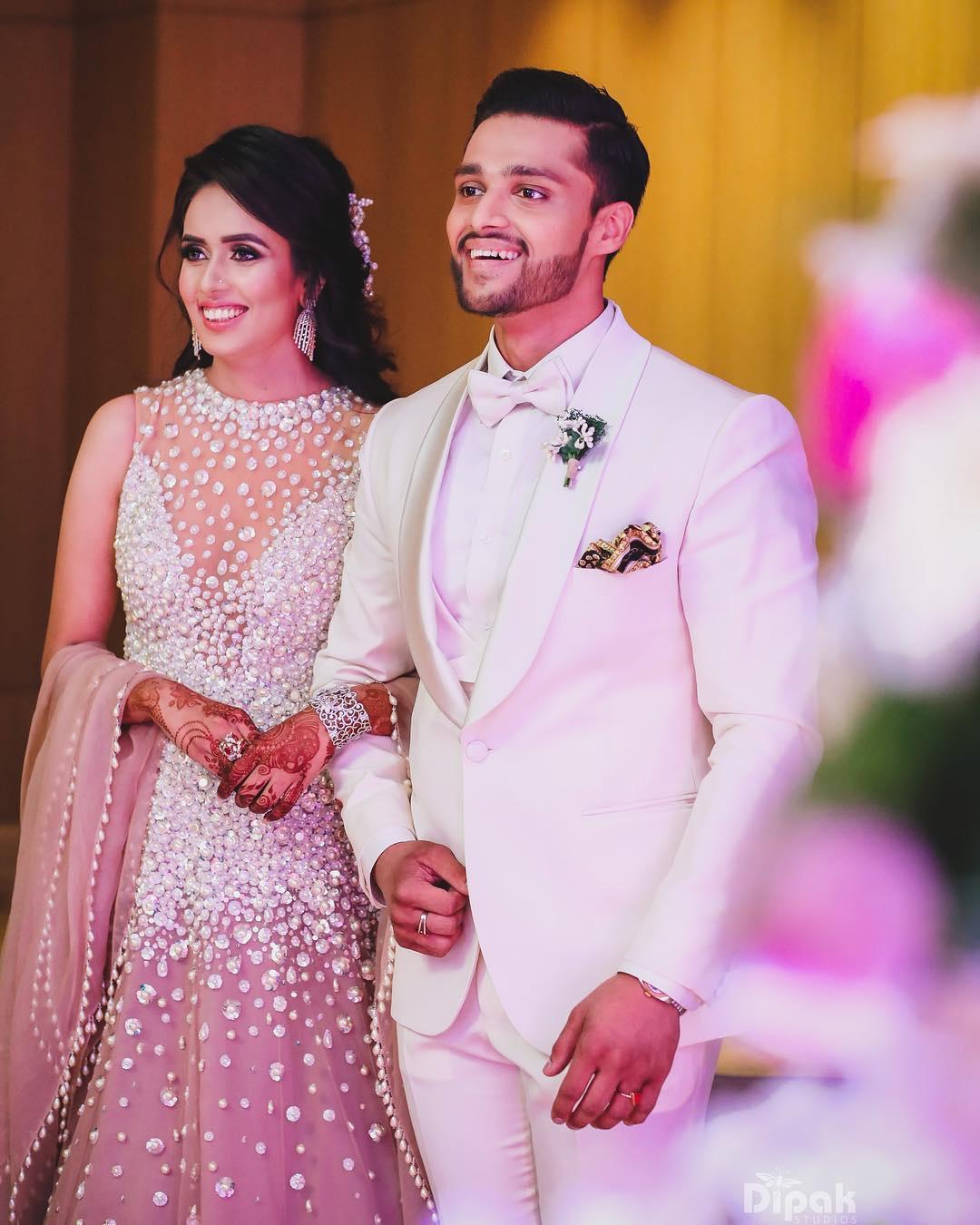 This bride is giving us major fashion goals as she glows in her fabulous Indo-western gown. This beige gown is what dreams are made of, with a hint of traditional elements running along the modern vibe. The deep plunging neck held together with a mesh full of embellishments and pearls all over.
This neck is the perfect choice for the modern bride who is willing to take a plunge with such a flattering and fashion-forward different neck design, and yet have the advantage of a modest look with the sheer mesh lining. Her statement diamond pieces and the chunni finish the look in a stunning manner. When it comes to different neck designs, there is always room for some interesting experimentations.
4. Closed neck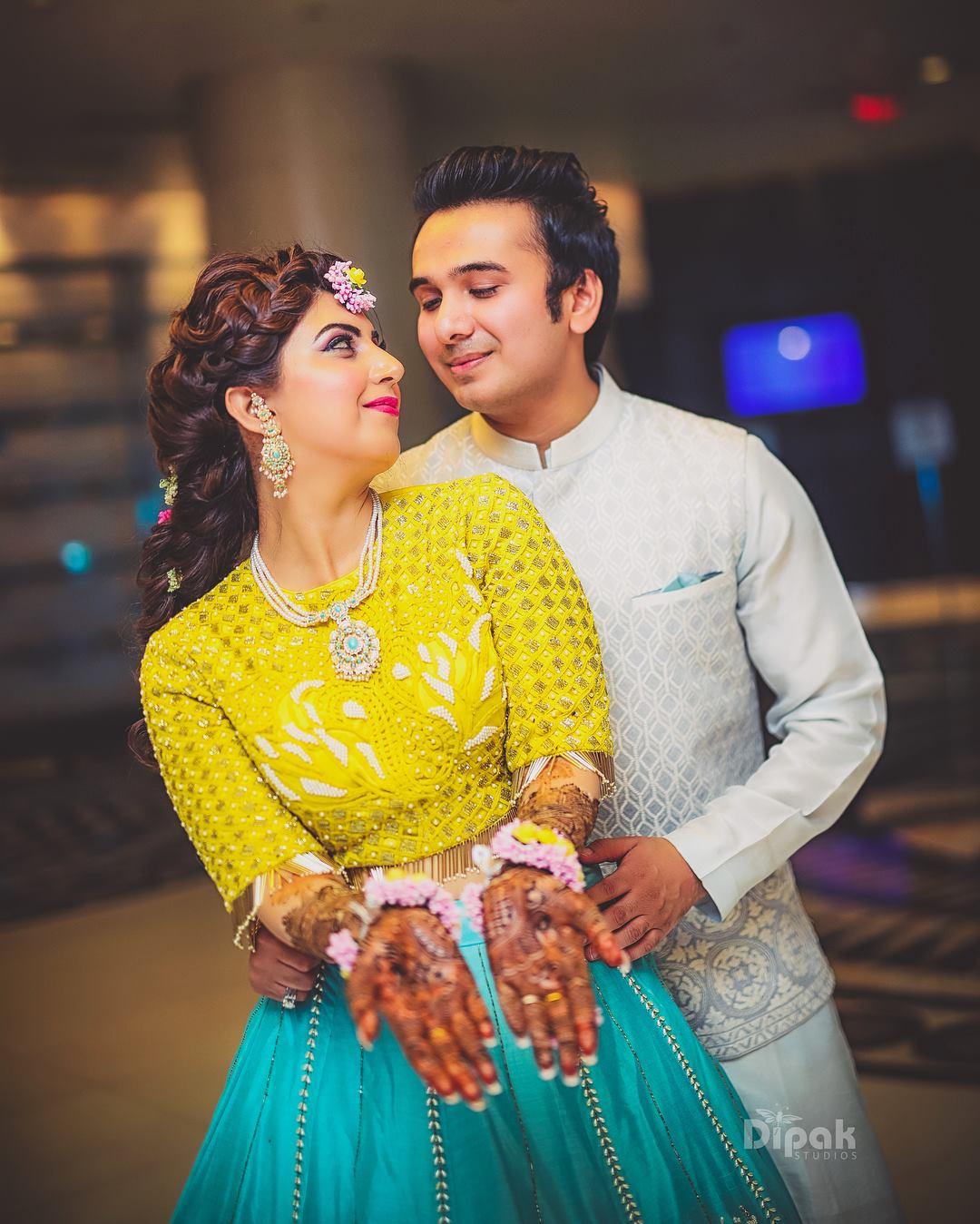 When it comes to closed neck we think it is unique and understated for its eloquent simplicity which allows space for a more detailed embroidery or back design. It works well with both, a heavy saree or lehenga. Closed neck designs are the way to go when you are opting for heavy work or even an open back.
While as a bride you have the choice of going all out on the designs, simplicity is the key to nailing an outfit! Just look at this bride, all happy in her bright lehenga set at her Mehndi ceremony, she is simply nailing her look effortlessly! The closed neck brings the focus to the delicate embroidery and pearl work which is all over her mustard blouse. We especially love the tassels accentuating the ends of her blouse.
5. Vivacious in a V-neck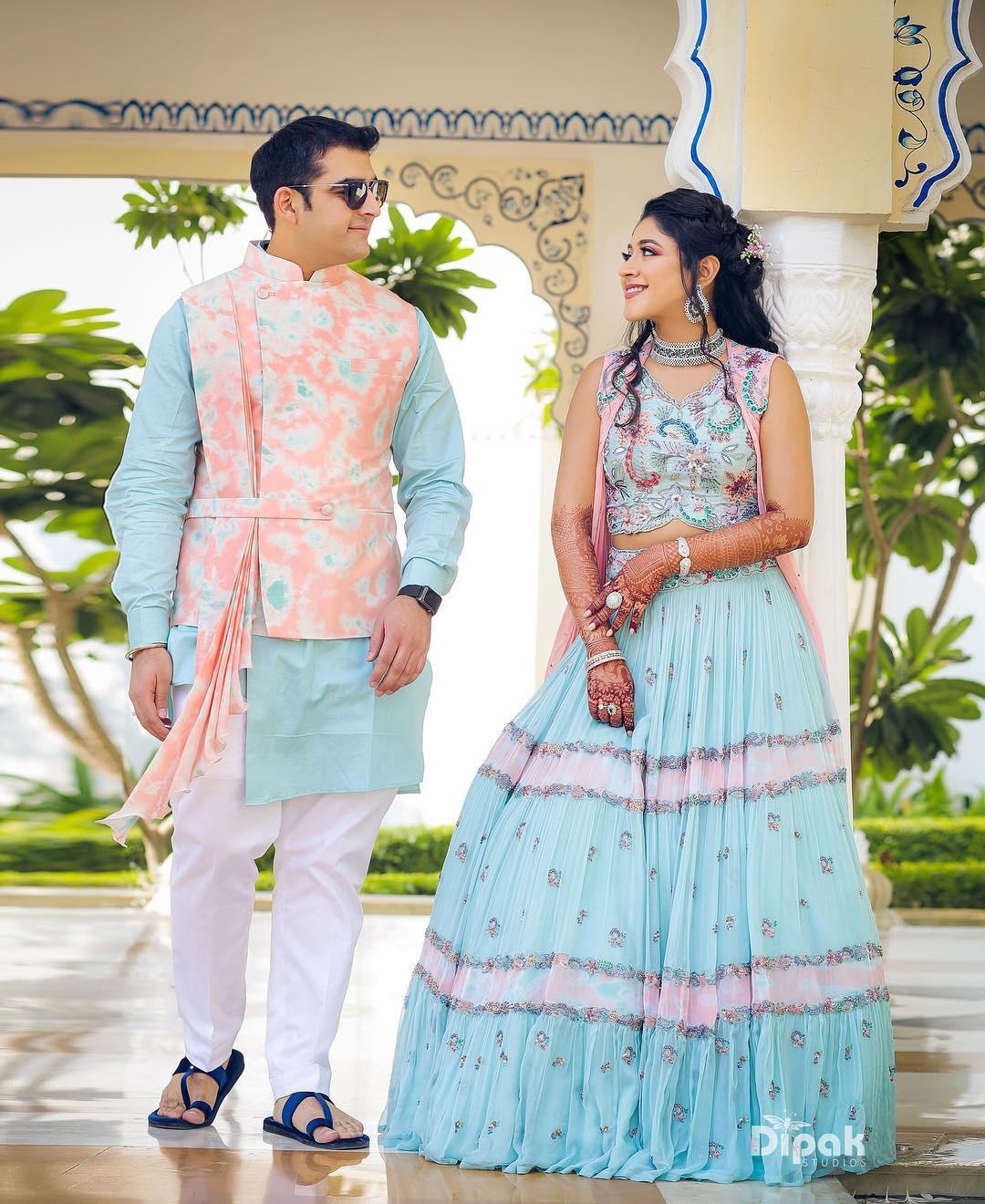 Everything about this couple's outfit yells fun and summer! Reminding us of the summer which is beginning to set in with the bright colours, pool parties and oodles of fun. The duos' outfit is all about the Mehndi function aesthetic and a fun vibe.
The bride's three-piece set keep the V-neck blouse in focus owing to the intricate work and detailing all over it. The V-neck itself is embellished in a delicate manner. The whole outfit is goals for the summer bride and we cannot stop raving about this blue-pink colour scheme.
Each of these brides has worn different kinds of outfits for different occasions. The most noticeable were the different neck designs which were the focus of each of their looks making space for the jewellery and bringing the look together seamlessly. Different neck designs are the less-spoken about yet most important aspect of an outfit. So before you go for outfit runs get a better idea of what neck designs flatter your body and you love the most before diving into the world of dresses. This will make the entire shopping experience better and leave you with a well-suited and modern outfit.
Sweetheart or round neck, which of these different neck designs did you like the most? Let us know in the comments below.