Navratan Jewellery Designs to Complete the Look for New Age Brides
Wondering why navratan jewellery is the biggest fad amongst modern brides these days? Well, here are some designs that'll tell you why.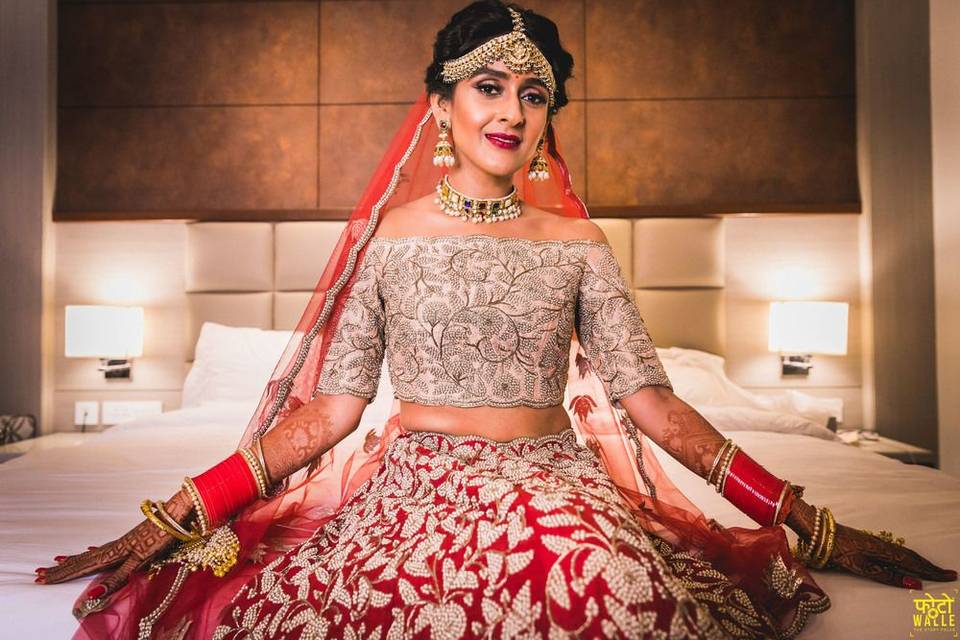 For the millennial brides-to-be, Navratna is a Sanskrit term for 'nine gems' that are known to be extremely powerful and auspicious across many religions including Jainism, Buddhism, Sikhism, Hinduism, and so on. Navratan jewellery is a traditional jewellery style that was extremely popular with the generation of our grandparents.
However, we feel like it has come back on-trend and found its way to the new age bride's must-have list of things. From Mira Rajput rocking it at her wedding day to all the big designers promoting it through their designs, Navratan jewellery has made a super comeback and how.
Therefore for our millennial brides getting married, we thought of shortlisting some of the best designs of Navratan jewellery that we have come across and handpicked for them.
So think no further, just scroll through to witness the magic of the powerful Navratna gems in these gorgeous jewellery designs.
Simple & Delicate Navratan Choker with Jhumkas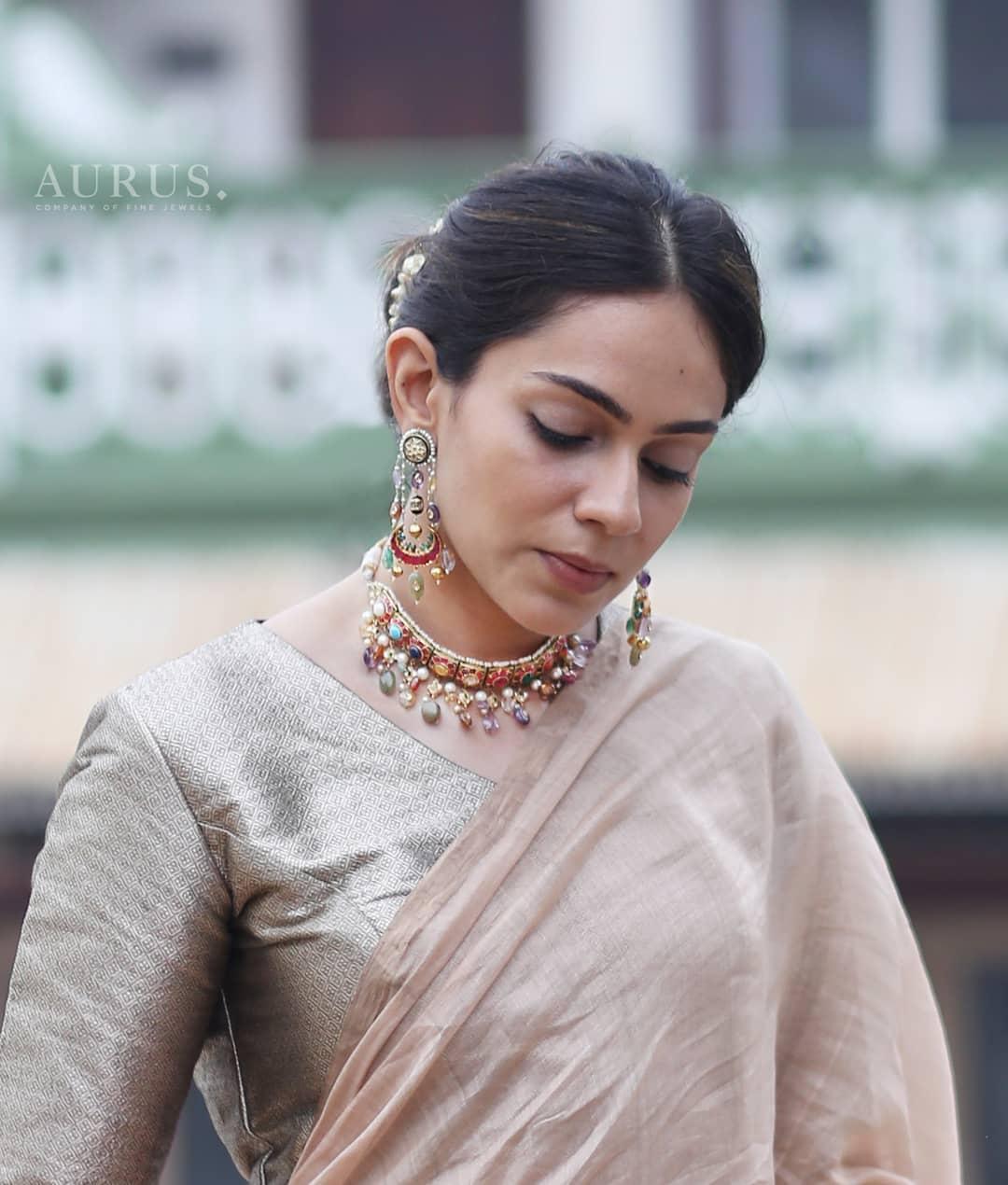 On the top of our list is one of the most beautiful yet simple Navratan jewellery design that is not just evergreen but also one that will be cherished and passed on to generations by the new age brides. The traditional choker necklace and Jhumka with crescent motifs make for a subtle addition to the bridal outfit while also putting in a lot of colour to it. However, the pearl droplets along with the Navratna gems look just as stunning while giving the new age touch to this traditional pattern.
Traditional & Heavy Navratan Kundan Necklace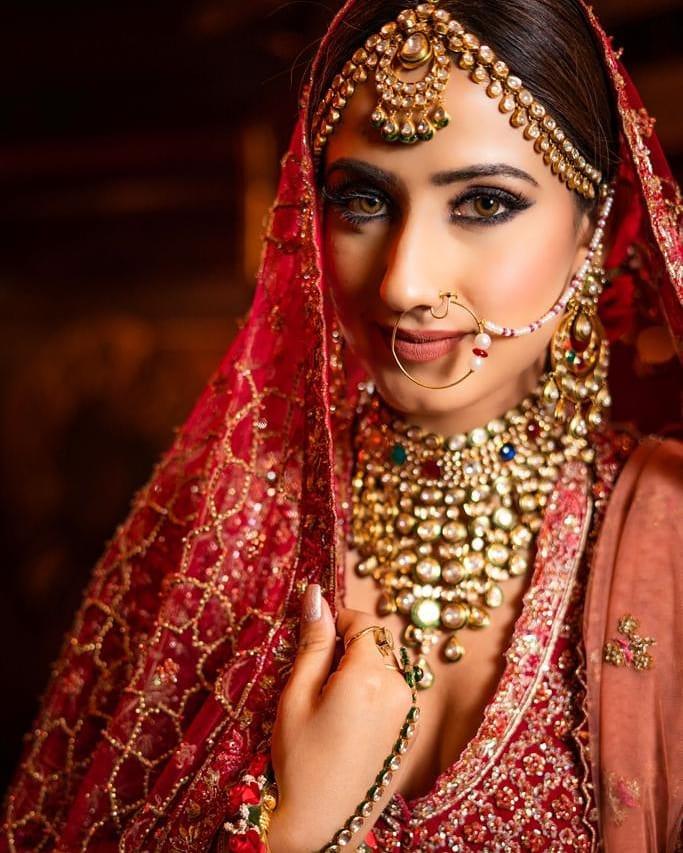 After a simple design, the next on our list is this beautiful Kundan jewellery set with Navratna gems that is extremely heavy and perfect for the new age brides that want their jewellery to be the perfection in the entire look. This Navratan jewellery does not just make for a glamorous choice but also one that looks substantial by itself for the big day.
Trendy Navratan Choker with Big Drops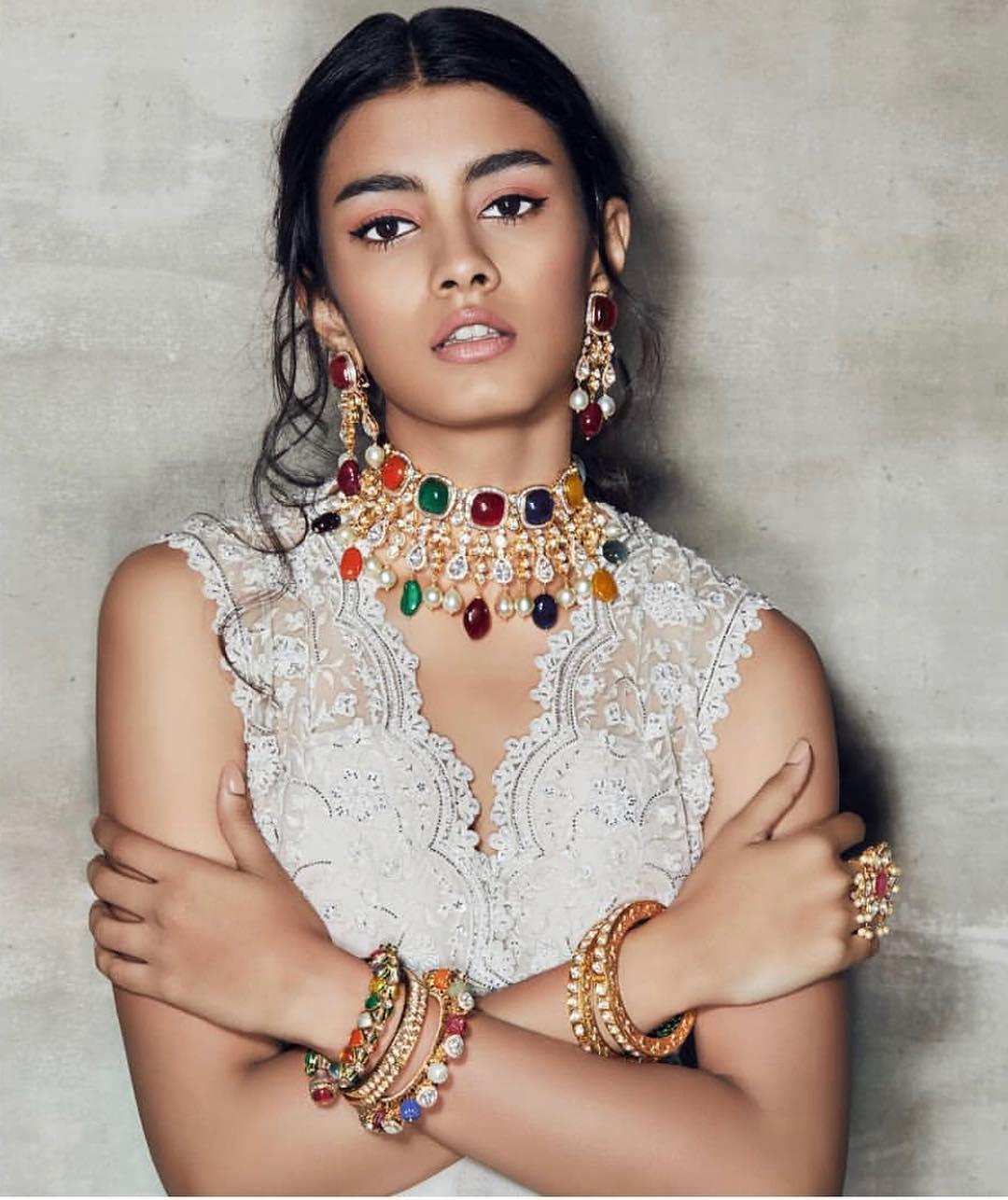 Image Courtesy: Sunita Shekhawat
This is another stunning Navratan jewellery design for brides who want their jewellery to have a lot of colour along with big drops of the Navratna gems. This simple yet trendy choker design makes for a fashionable pick that injects your look with understated glamour. From the fancy gowns to the sexy Indo-western outfits and even the elegant sarees, this trendy Navratan jewellery is sure to match anything and everything.
Bold & Beautiful Jadau Navratan Jewellery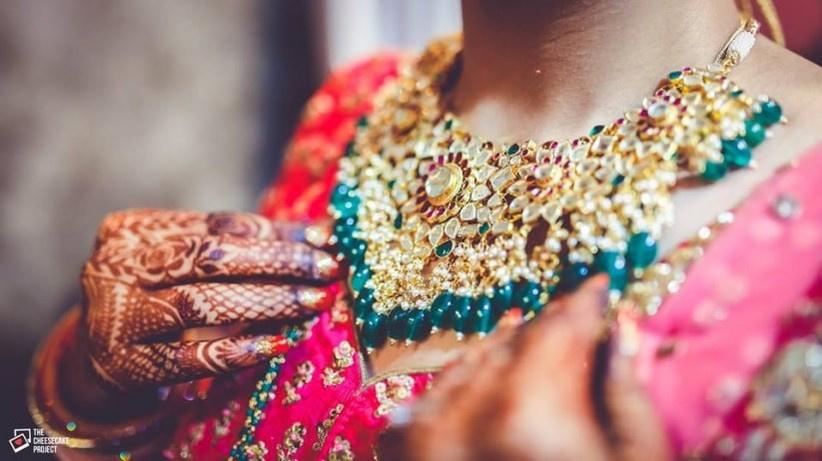 Now here's what we call the perfect bridal jewellery design that is sure to steal the show on your big day. This beautiful Jadau necklace with Navratna gems is something no bride can say no to. It is big and bold but more than that it is a traditional design that will perfectly compliment a bridal outfit while also adding a unique charm to it.
Royal & Regal Navratan Collar necklaces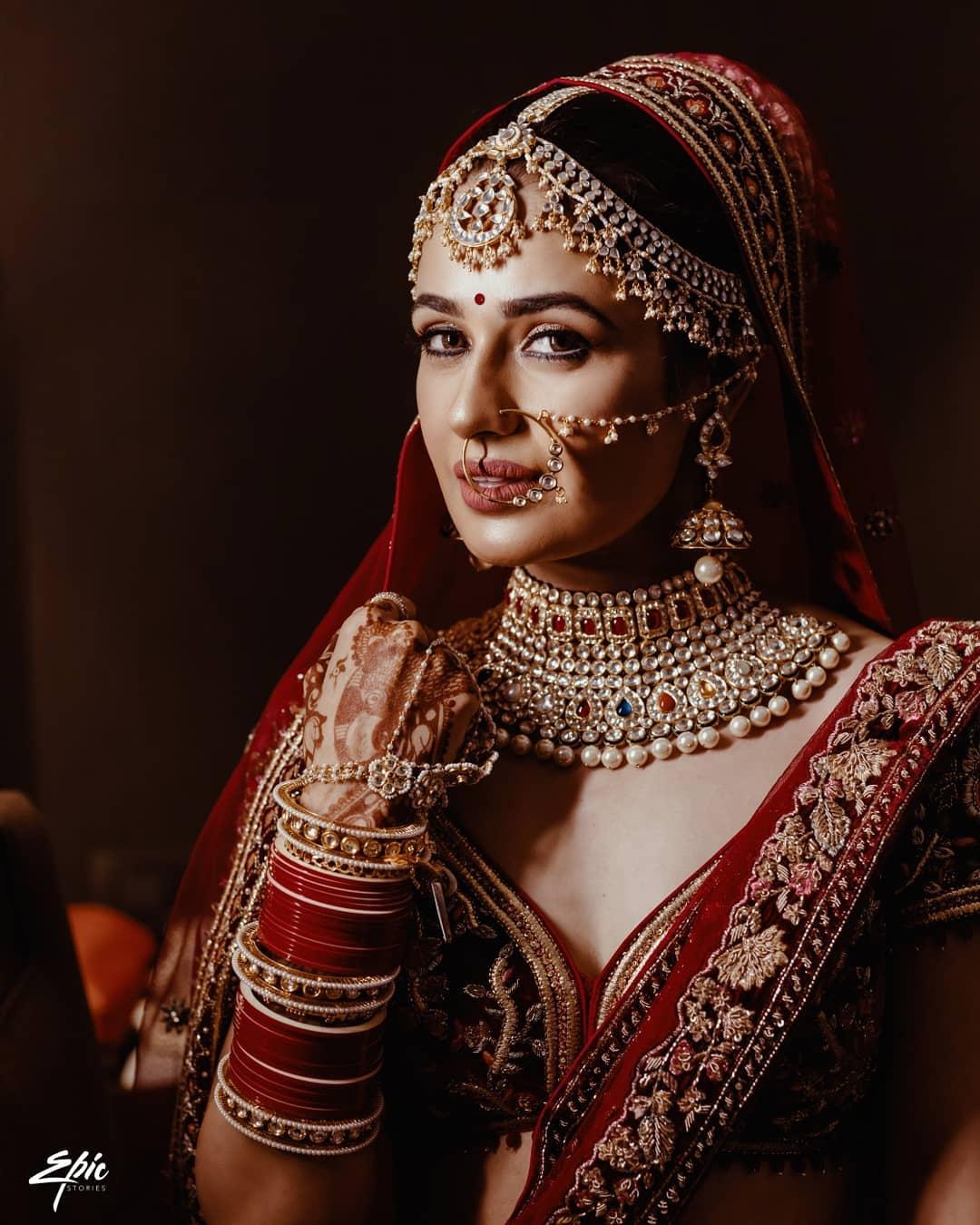 Image Courtesy: Epic Stories
While all these designs are extremely breathtaking, there is something about this Navratan jewellery that draws our attention immediately. The royal design of its necklace is perfect for the new age brides that want something majestic and yet very ethereal. The beautiful earrings are an unusual addition to the set making it appealing for brides who want their earrings to be light so that they can wear it more often later on.
Modern & Stylish Meenakari Navratan Jewellery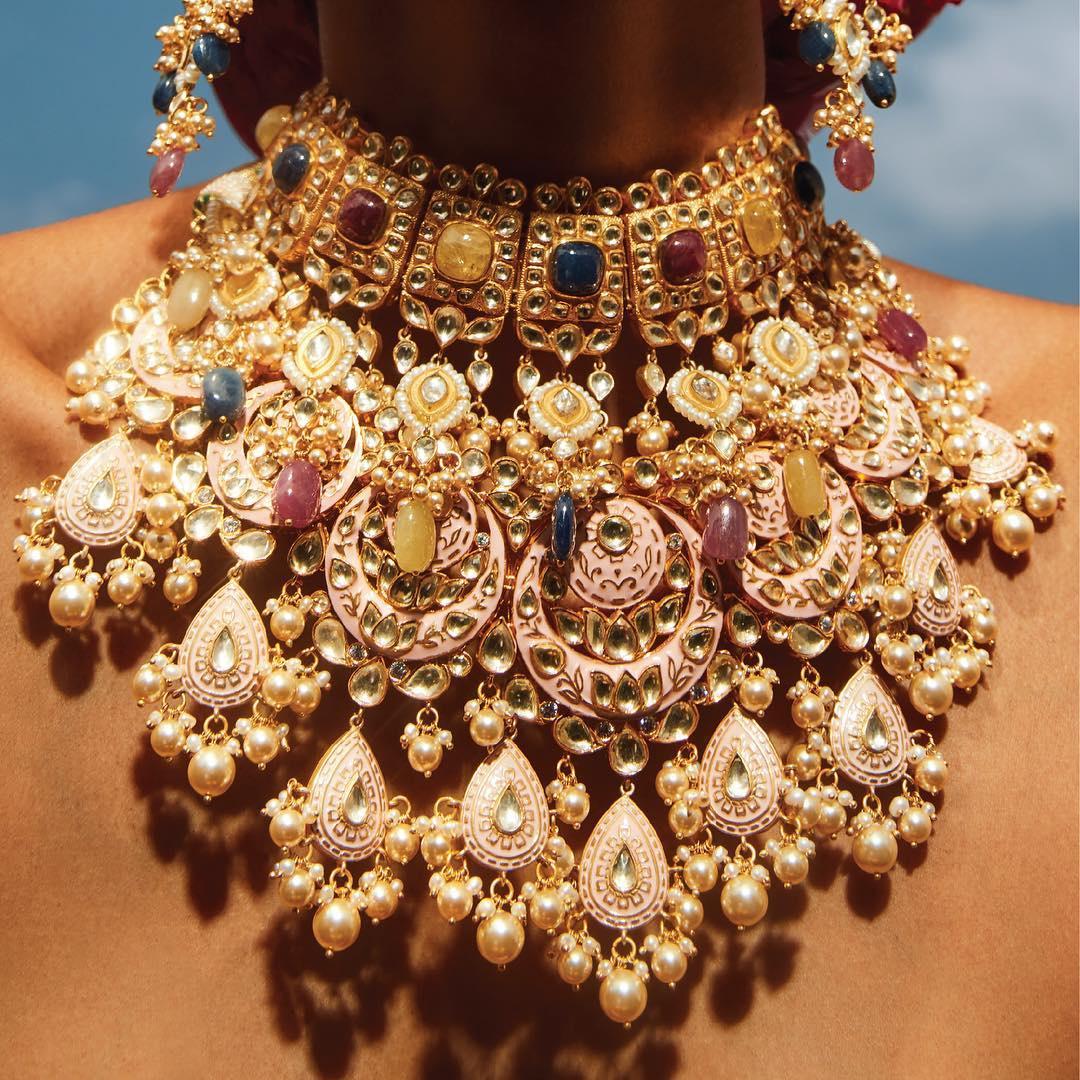 This gorgeous design is what you call as an updated version of the traditional Navratan jewellery. Unlike the old tradition, this one doesn't have rubies in the centre of the design and also beautifully combines the Rajasthani meenakari hangings to make this bridal necklace look more classy and unusual. For the modern brides with modern choices, this Navratan jewellery design is a must-have.
Geometrical Pattern In-Vogue Navratan Jewellery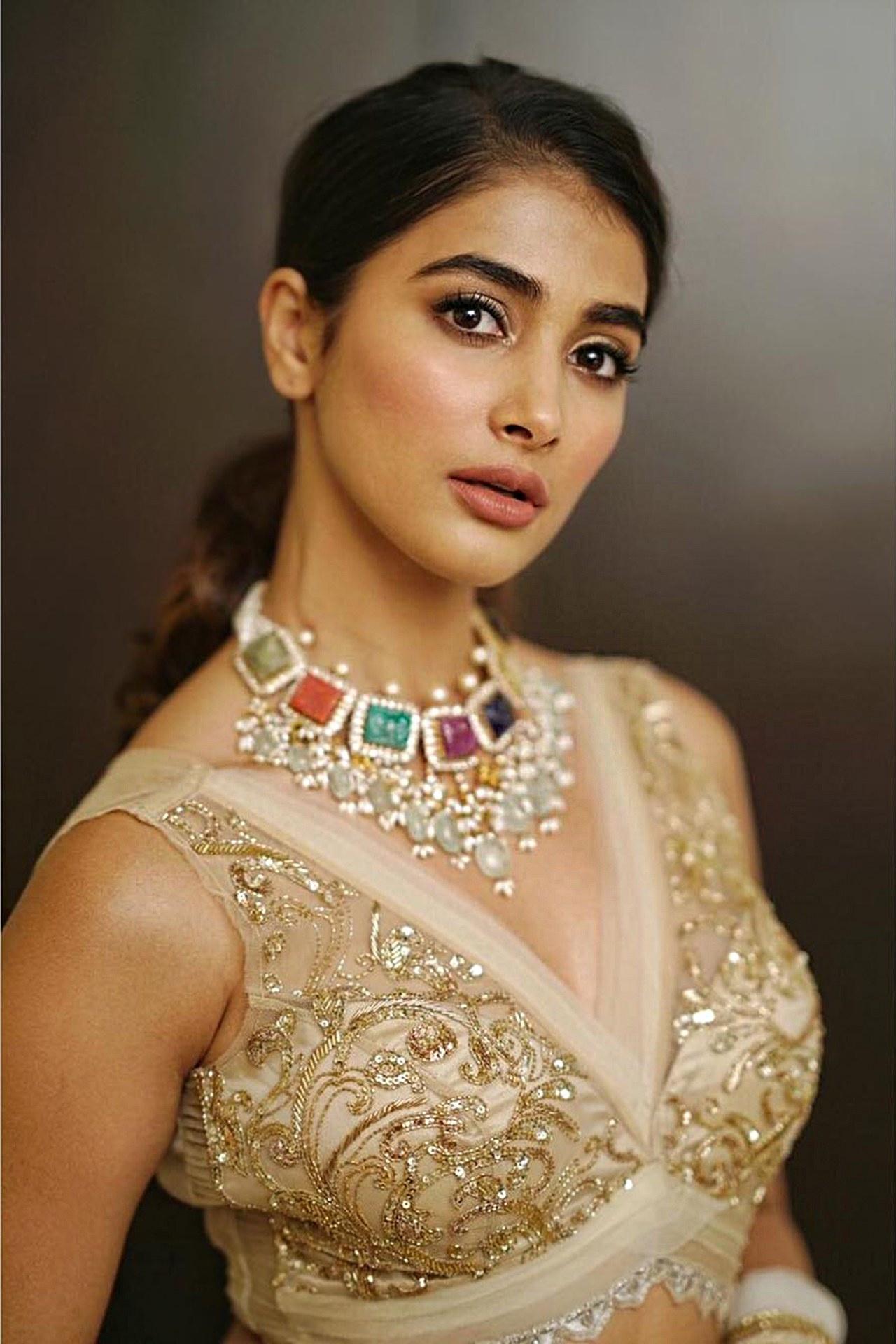 Image Courtesy: Vogue
Last but not the least on our list of Navratan jewellery is this modern geometrical pattern that uses big and bold pieces of the Navratna gems to be the focus of the design. The pearls and gemstones hanging at the bottom only add to this stylish design making it one that millennial brides would love to wear with slightly less traditional outfits. The big geometrical chunks of the Navratna gems, however, are what makes this one different from all the other designs listed above.
Have you fallen in love with Navratan jewellery after looking at these designs? Well, we are sure you have because apart from this list ranging from modern to traditional, they are also perfect for brides that have both minimalistic as well as elaborate jewellery taste. So don't get confused and pick a design that you're most likely to love wearing on your big day and cherish for the years to come.
Pick the Navratan jewellery that fascinates you the most and get in touch with the expert jewellers on board with us to design breathtaking jewellery designs.