Peach Colour Combinations For Your Wedding Décor To Create An Aesthetic Setting
Check out these peach colour combinations photographs and get inspired to design your own wedding. Draw inspiration from these fresh peach colour combinations for your wedding trousseau and decor for a dream-like wedding affair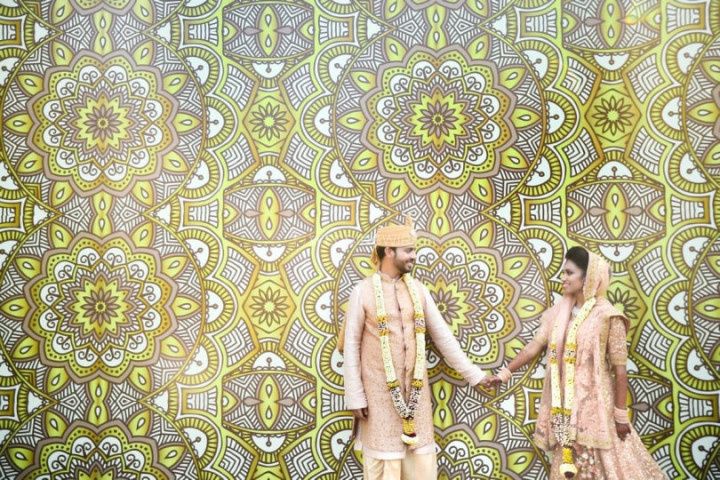 A wedding is a one-time affair and it ought to be grand. Gone are the days when wedding décor was all about floral decorations and putting a few drapes here and there. Now, weddings come out straight from their dreams! Whether it's the beach wedding amidst pristine white sands and gentle breeze or a scenic hill station wedding with clouds sprawling across you, make sure the setting is high on fashion and connects to your heart.
The first important step to ensure an amazing wedding décor is choosing the right colour palette. You can draw inspiration from the venue, season and the mood that you are trying to set for the wedding. The planned colour theme can set the mood of the entire day.
If you are going for a daytime wedding, chuck the bold, jarring reds and magentas and go for the new trend of peach. The colour is sweet, elegant, and is a perfect balance of warm and cool. The colour is sweet, elegant, and is a perfect balance of warm and cool. It gives off all the lush feels and if we browse the pages of history, peach has been an adored choice as peach coloured mirrors were installed in exclusive luxury homes and hotels back in the 1920s and 1930s. Therefore, not only the colour peach but peach colour combinations allow for a perfect charm within your wedding decors for a splendid finish.
Here are three ways in which you can use the peach colour combinations in your wedding scene. Take the guide:
1. Peach Colour Combinations For Garden & Sunlit Winter Weddings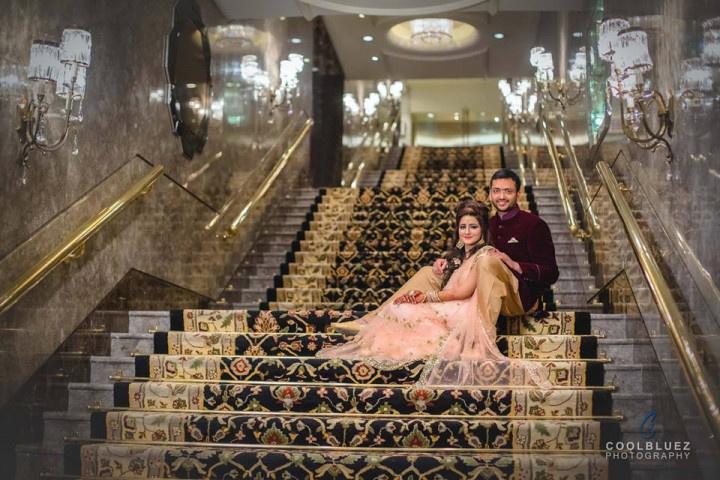 If you are planning for an outdoor garden wedding, you can take inspiration from the blooming trees and the fresh seasonal fruits. The amazing lights, nature-inspired lights and the peachy wave in the surroundings will add panache to your wedding.
Experiment with the shades of peach along with varied peach colour combinations, and you can enjoy the wedding décor of your dream. You can have peach coloured flowers, drapes, chair dressings and more in the shades of peach.
The best thing about peach is that it blends perfectly with the garden weddings. Imagine enjoying all the wedding rituals surrounded by the serene beauty and blissful colours of peach under the sun! The peachy shade actually pops out against the backdrop of natural greenery. You can use lush greens and perfectly plush peach roses, and keep the rest of the décor simple. Or you can keep the subtle peach effect and use other peach colour combinations like red oranges to highlight the décor. Another thing that you can try for your garden and sunlit winter weddings is adding the hints of gold for that royal elegance. Use metallic table runners and towering golden candlesticks and they will fuse aesthetically with the peach décor or other peach colour combinations you have gone for.
2. Peach Color Combinations For Wedding Trousseau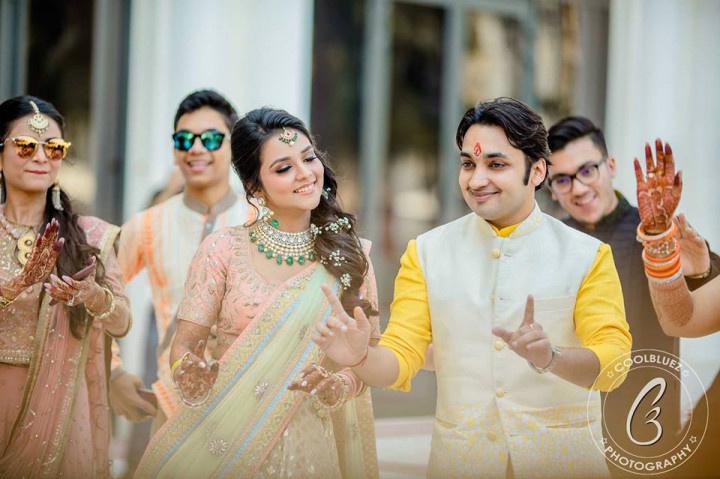 You can further incorporate the shades of peach in your trousseau too. Peach is very soft and pretty, and let's not forget the versatility factor of the colour. Picking on the shades of green, blue, gold and silver, you can create beautiful peach colour combinations. If you wish to come out as a bold bride, choose the shades of red or orange to go with the peach tint. You can also choose these peach colour combinations and match outfits with family, bridesmaid and groomsmen.
3. Shades Of Peach Color With Combinations: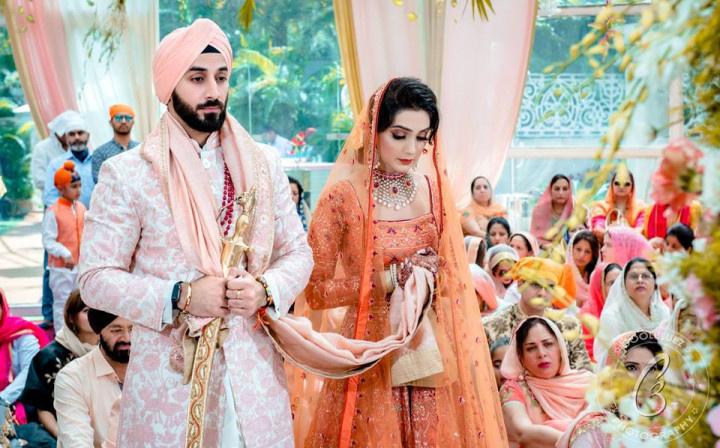 If you are a guest and thinking of how to style your shade of peach for the perfect look, here's an easy rundown on the shades of peach colour with combinations that will make your wedding look straight out of a Karan Johar movie. It can work just as well for the bride and groom too.
1. Peach With Ivory
Ivory is the colour of the season and peach goes very well with this colour. This is one of the peach colour combinations which will give an exuberant and natural look to your wedding outfits. The colour combination looks wonderful in wedding trousseau.
2. Peach With Sunshine Yellows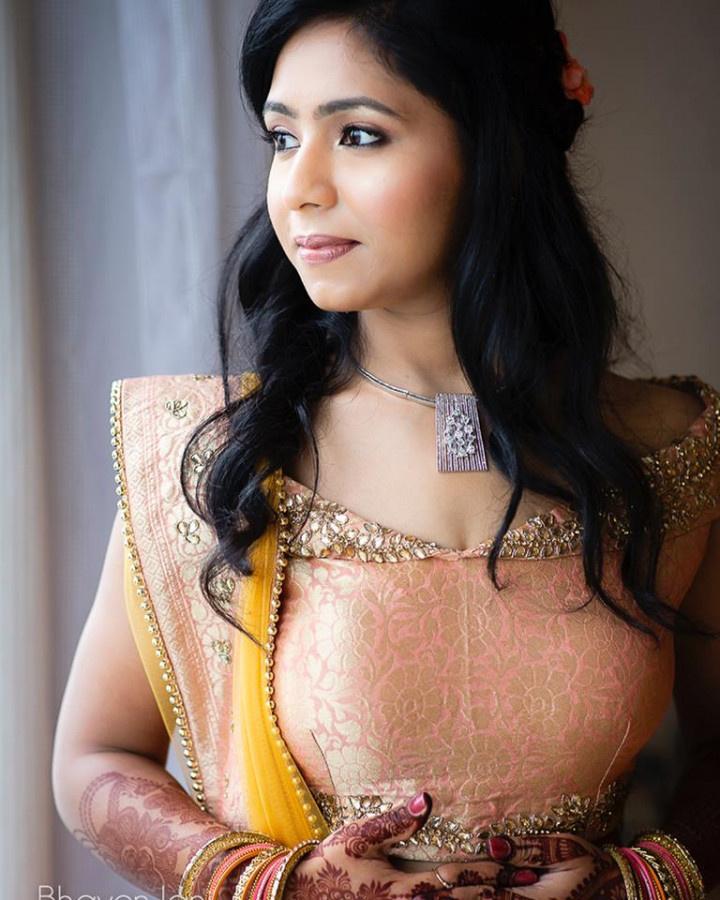 Though it is a very unique palette to use, it can help you stand out in the crowd. You can work this look of peach colour combinations, in a plain chiffon saree with border work and even skirt and lehenga looks with crystal or silver accessories. This can even work for a quirky wedding look for the groom.
3. Peach With Tangerine
A rare combination, right? But if want to become that experimental bride and ensure that you stand out of the crowd, opt for these shades together. These fresh colours will not only look good on the bride but on bridesmaid as well who are sure to look nothing less than the charming princesses. This will mostly look like you are playing with the light and dark shades of similar colours but will give off a very balanced and clean look. Pair it with a natural makeup look.
4. Peach With Lime Green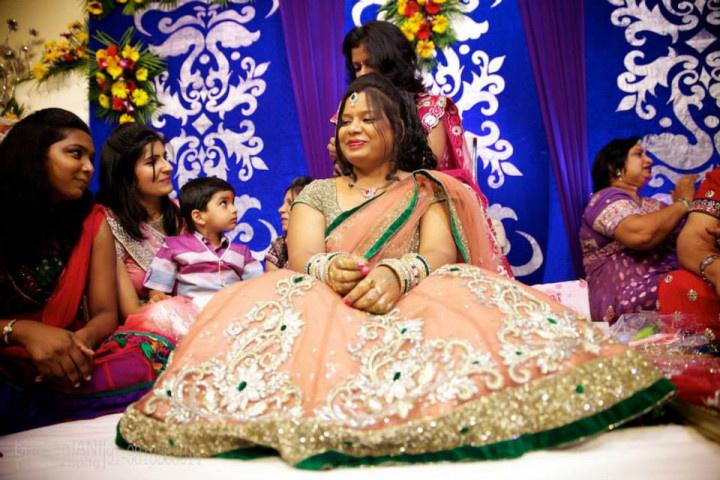 These might be two totally opposite colours in the colour palette, but together nothing can look more bespoke. This one in the list of peach color combinations has the advantage of being unique for not many opt for this subtly challenging look of putting together a light shade of green with peach. You can work this look with floral accessories in the hair and oxidised jewellery, minimal at best.
There is no limit to the options of peach colour combinations and other fusions that you can use for your wedding dresses. All it takes is creativity, willingness and a bit of inspiration. Choose the colours you relate to the most and oodles of charm to your wedding.
Are you ready for it? Tell us through the comments!