10 Colour Combination for Lehenga Choli You Must Look at Before You Buy Your Bridal Lehenga
It's time to bend the rules and move over the red Bridal Lehengas. Opt for unusual and quirky colour combinations for your wedding Lehenga Choli. We've compiled a list, just for you.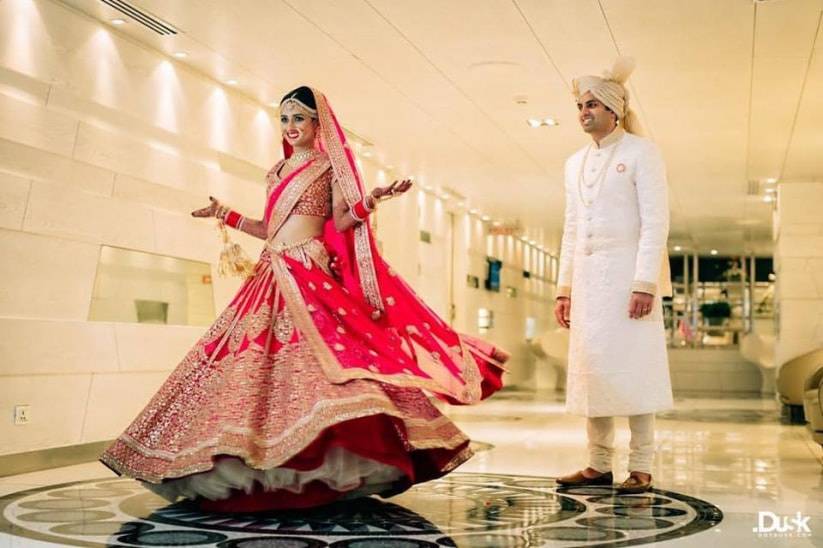 Wedding fashion in 2018 has become a whole lot colourful and experimental thanks to the ever-changing fashion industry and of course the influential Bollywood actors and actresses. Brides are not shying away from pairing bold or contrasting shades as a colour combination for Lehenga Choli they're wearing. We suggest you try these offbeat colour combinations and quirky prints for your Lehenga Choli and ace your wedding ensemble. Trust us, even we want people to admire and remember your outfit, and maybe follow the suit while they are at it.
Go through our list of stunning colour combination for Lehenga Choli to find your wedding outfit inspiration.
1. Contrasting dull gold with bright colours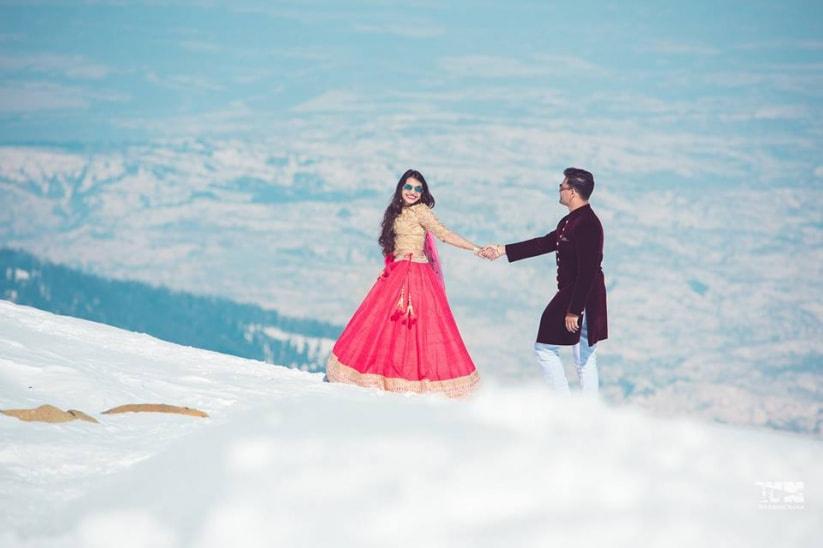 Pink is the second most favoured colour by the brides. Instead of pairing the bright coral pink Lehenga with a pink Choli, the bride opted for a dull gold Choli. This Choli not only breaks the monotony but also complements the bride's skin tone. This colour combination is ideal for every season and occasion and suits brides across all skin tones.
Pro Tip: Pairing neutral colours with bright colours breaks the monotony and adds character to the entire outfit and also does wonders to your overall personality and style aesthetics.
2. Pairing Bright Colours together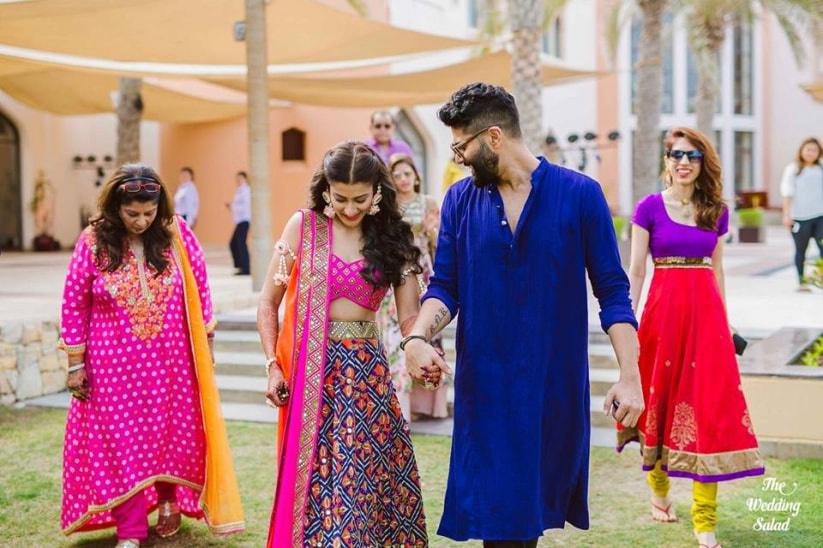 The bride totally rocks her bright pink Choli with her blue Lehenga. To top it all, the bright orange Dupatta works best with this bold colour combination. This outfit works best for a day Mehndi function. This particular colour combination for Lehenga Choli is going to grab a lot of attention and win you a dozen compliments!
Pro Tip: If you decide to rock a similar look, keep the look subtle and sorted by opting for minimal bridal jewellery and light bridal makeup. Let your outfit be the only thing your wedding guests talk about!
3. Pairing beige and powder blue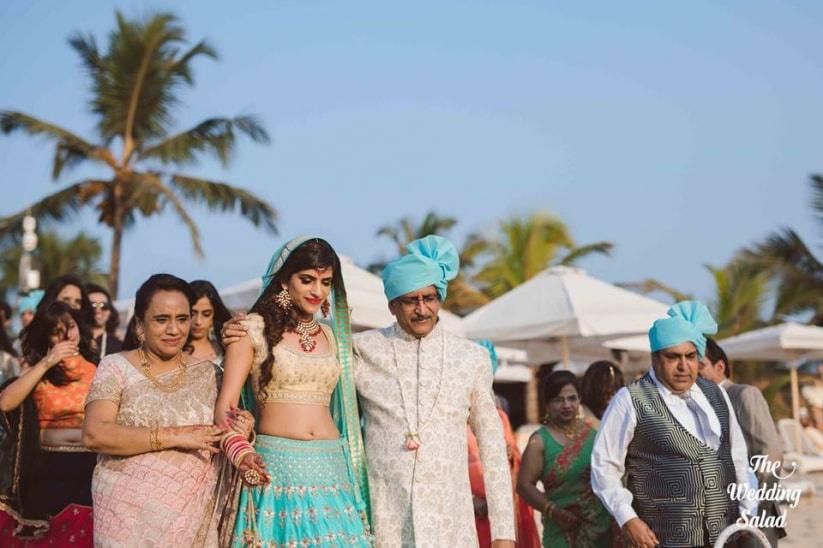 This bride opted for a powder blue lehenga for her beach wedding. She paired it with a beige blouse that had some gold detailing on it. This is an unusually pretty combination if you are planning to have a beach wedding. This is a stunning colour combination for Lehenga Choli to wear on your wedding festivities.
Pro Tip: While choosing bridal accessories, opt for lightweight, subtle designer jewellery that will help you highlight the natural charm of these two brilliant colours. This brilliant outfit deserves all the attention it can muster.
4. Royal blue Choli and golden Lehenga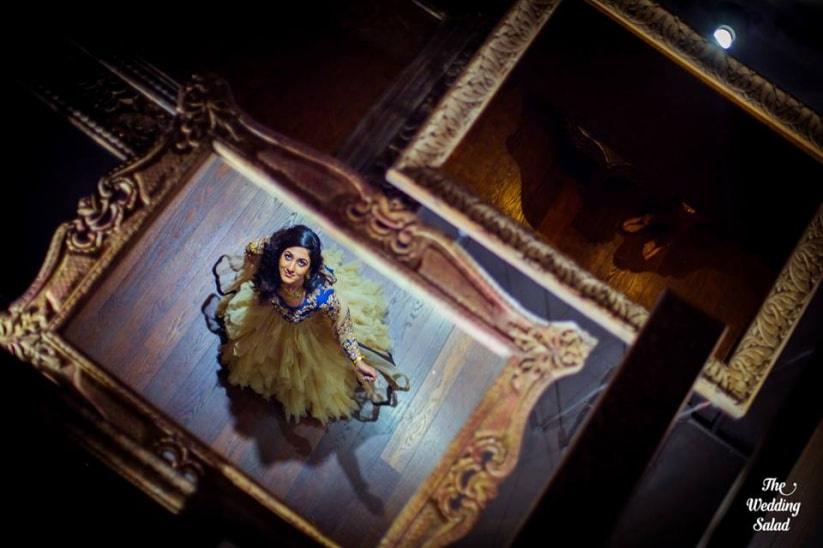 It's time to ditch the reds and pinks! Brides these days opt for quirky colour combinations for their wedding outfits. This bride has paired a heavy embellished royal blue Choli with a tutu skirt-inspired Lehenga. Outfits like these work well for Engagement, Sangeet or Reception.
Pro Tip: Don't feel shy of donning quirky prints. Designers like Masaba Gupta and Manish Arora are admired worldwide for their offbeat designs. If you think these designers are heavy on your pocket, you can try many designers in Shahpur Jat or Chandni Chowk.
5. Colour Blocking Lehengas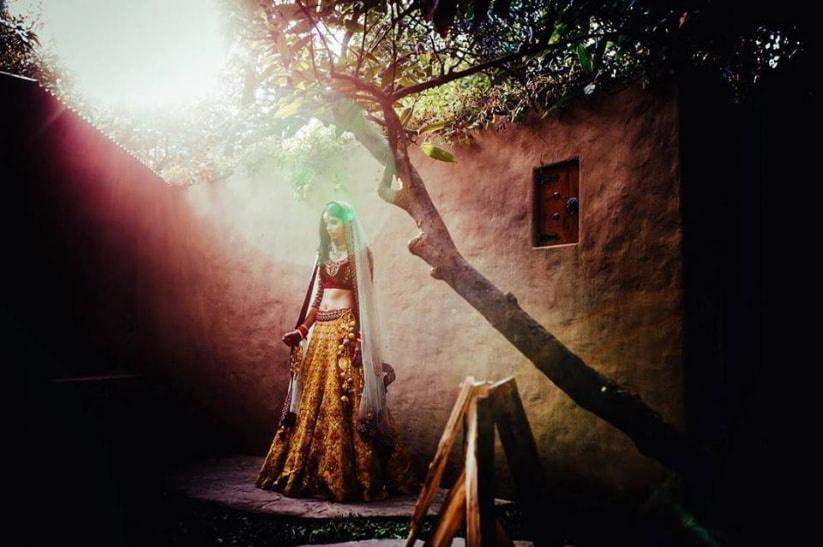 This bride took a bold risk by pairing bright mustard Lehenga with a dark maroon Choli. This risk definitely paid off as she looked radiant for her day destination wedding. Individually, these two colours elude serenity and charm, which every Indian bride loves to have during her wedding celebrations.
ProTip: While opting for colour blocking, opt for a complementary colour combination for Lehenga Choli and ensure that it compliments your skin tone as well.
6. Mint green and bright pink combo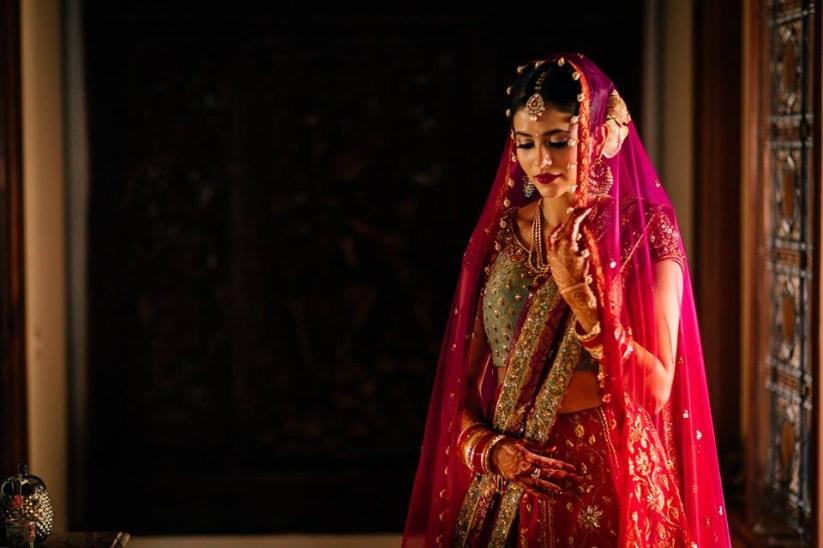 If you really wish to wear bridal colours like reds and pinks on your wedding day, you can raise the bar by teaming the pink Lehenga with a mint green Choli. This not only adds another colour to the palate but also looks soothing to the eyes, while being an all-time favourite choice of colour combination for Lehenga Choli.
Pro Tip: The colour combination looks splendid with classic gold jewellery. Trust us; it would not let you down at any moment or time of the day.
7. Blue and Gold Mehndi Outfit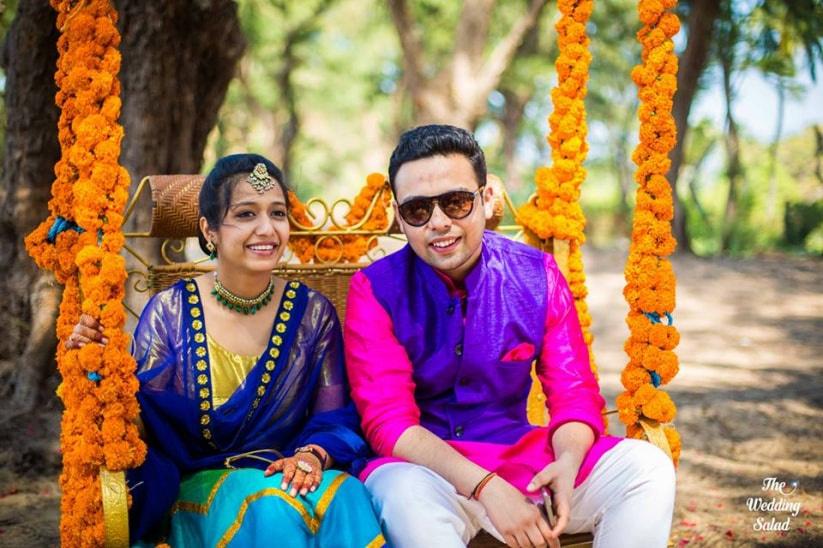 This bride opted for a blue-green Lehenga, plain gold Choli and navy blue Dupatta for her Mehndi ceremony. The Dupatta added the right amount of drama to the outfit. This colour combination for Lehenga Choli is extremely lively and refreshing. It can add shine to any gloomy day and make any woman look like a million bucks.
Pro Tip: Always remember to choose your makeup after discussing your outfit with your makeup artist. You don't want to over-do your makeup and look out of place.
8. Pool Party Lehenga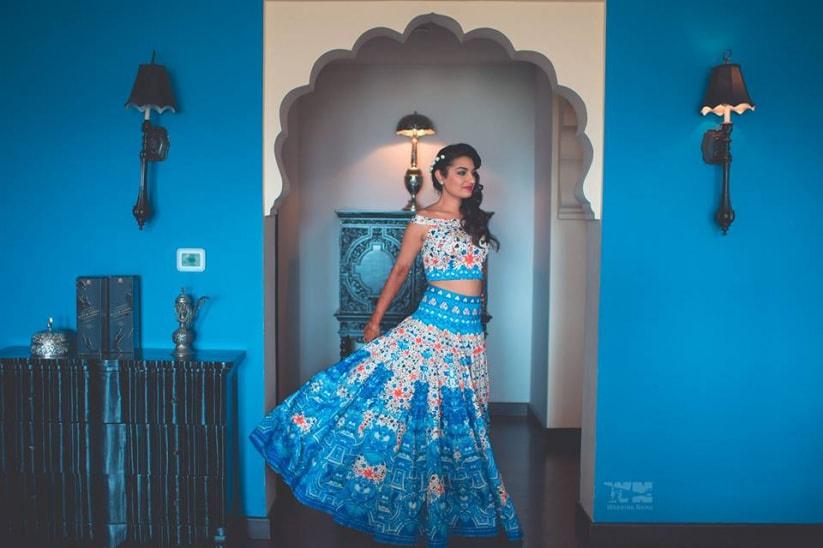 This bride wore a royal blue Lehenga for her Mehndi pool party. She looked divine, no less than a mermaid, dancing around in her quirky outfit. Choosing the colour blue is a great choice considering as this colour vibes with both daytimes as well as night time functions all the same.
Pro Tip: For pool-side pre-wedding functions, this bright shade of blue is a perfect choice.
9. White for weddings? Why not!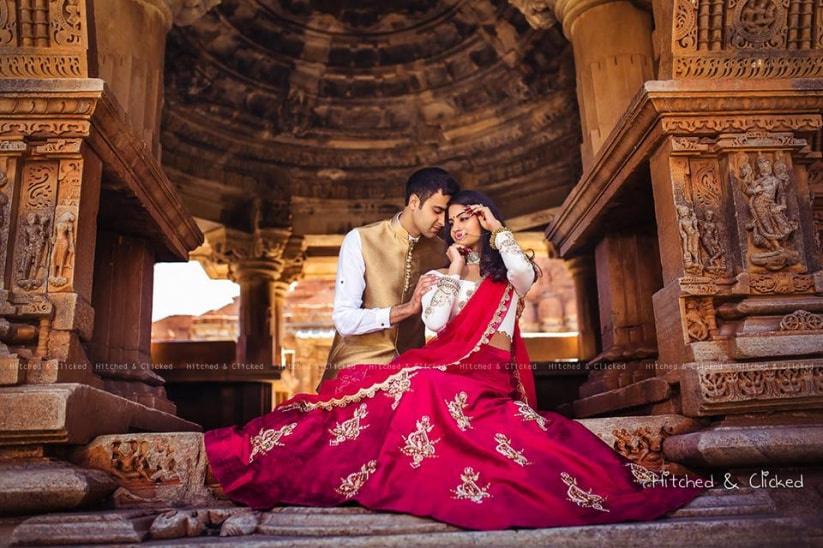 This bride teamed up a white Choli with a gorgeous maroon Lehenga and Dupatta. The silver work on the Lehenga complemented well with the white blouse and created a beautiful silhouette.
Pro Tip: Wearing white is definitely a bold step. Try pairing white with a colour that has silver or pearl work, instead of gold work.
10. Band of colours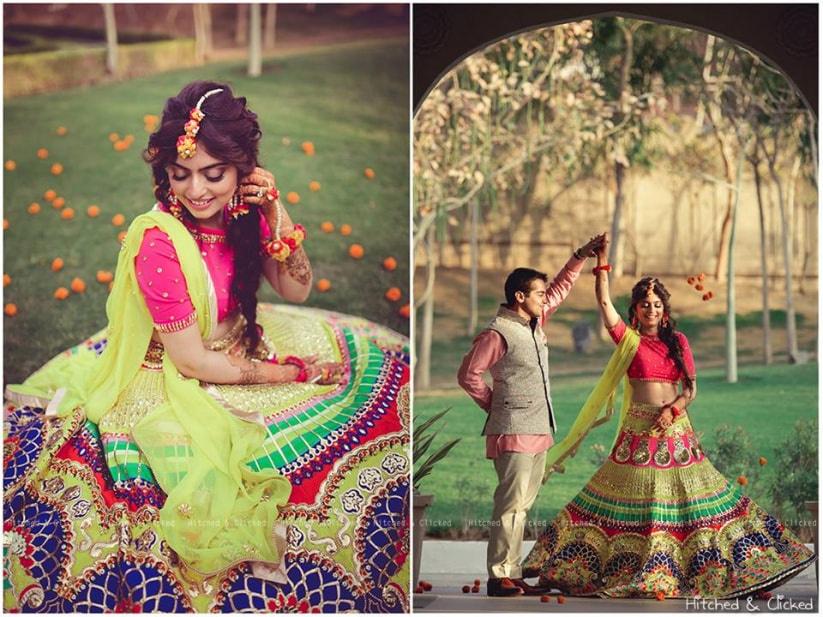 This bride wore a colourful lehenga on her Mehndi. She teamed it with a plain pink Choli and completed her look with a simple lemon yellow Dupatta. For a day Mehndi event, you can follow suit. The riot of colour combination suits every skin tone and body type.
Pro Tip: Avoid wearing too many colours for an evening or night event. Stick to day events for such combinations.
Tips and Tricks for the Bride-to-be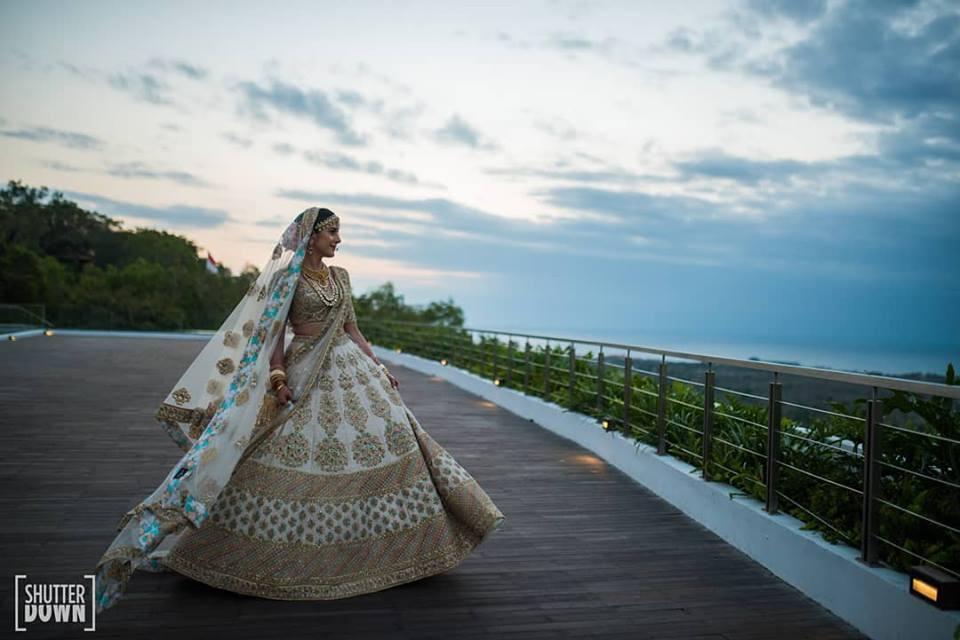 Keep these tips and tricks in mind before opting for a colour combination for Lehenga Choli for your D-day:
After red, pink is the most sought-after bridal colour. Choose the right shade of pink to suit your complexion. What suited your friend, may not suit you.
The trick towards wearing bright colours in your bridal lehenga is to have a subtle or muted colour in the mix to tone down the entire look.
White as a colour symbolises with purity, innocence, and peace, yet, there is still a taboo when it comes to associating the colour white with weddings. Well, now in 2018 you can include this colour in your outfit by mixing it with the right colours.
While picking

a colour combination for lehenga choli be mindful of the time of your functions. Pick colour combination for lehenga choli accordingly. What may look radiant during a daytime function may not have the same result in the evening or perhaps at night.

Once you've decided a colour combination for lehenga choli make sure you discuss the same with your makeup artist. Your makeup should complement your outfit as well.

Also, go for some trial runs. Wear multiple outfits to see which suits your personality the most. After all, you have to look like a bride no one was able to take their eyes off of.
Always remember, each colour has a different vibe, and not all colours combinations of Lehenga Choli are suitable for all skin tones. Before you choose your perfect bridal outfit, think of the overall look and feel of the outfit.
These were some of our favourite colour combination for Lehenga Choli. We at WeddingWire feel a wedding lehenga should be unique, beautiful and classy – all at the same time. If you have another colour combination in your mind, that is not on the list, please share it with us.
Go about your search for your perfect Lehenga Choli and start planning for the big day alongside.