Make Head-turning Statements With Quirky Midi Rings on Your D-Day
Rings give your fingers a whole new outlook. And if you're ready to add a little sass to your finger jewellery by stacking them up, take a look at some pretty midi rings for inspo!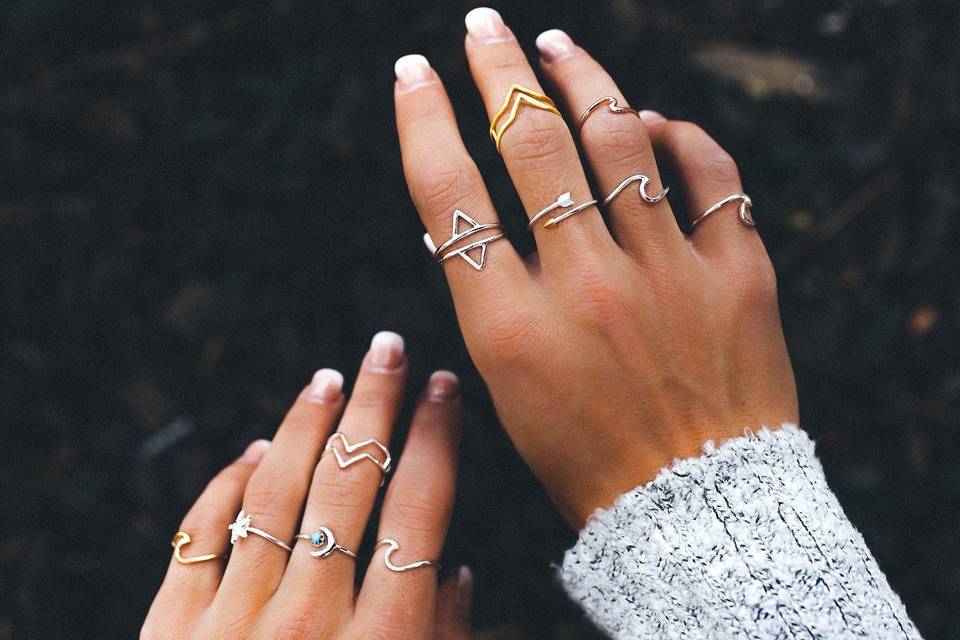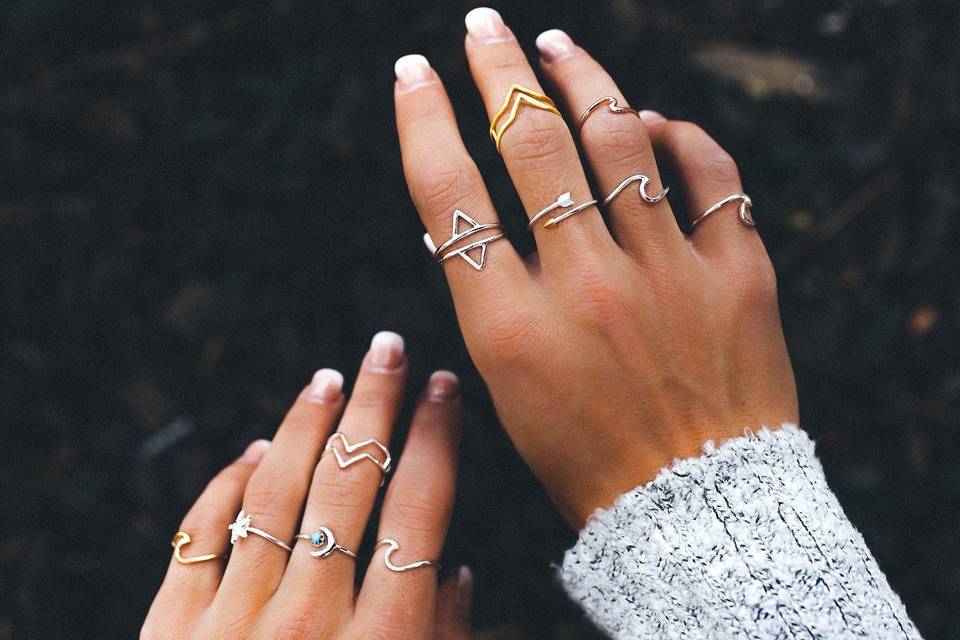 Image Courtesy: Shopify
Sporting unconventional ring styles with unique designs and patterns is a new-age bridal thing. Brides don't shy away from making unconventional fashion choices. From sassy statement necklaces to Boho earrings, they're going all the way to explore the less travelled alleys in wedding fashion.
And this trend stands true even in the finger jewellery area. It's not just restricted to beautiful gold rings or solitaire diamond rings anymore. Quirky designs, geometric shapes, Boho patterns and unconventional metals - brides are experimenting with possibilities.
So, here are some stunning images of midi rings that would simply take your breath away. Take a look and bookmark them for different occasions!
Gold Link Chain Midi Ring Design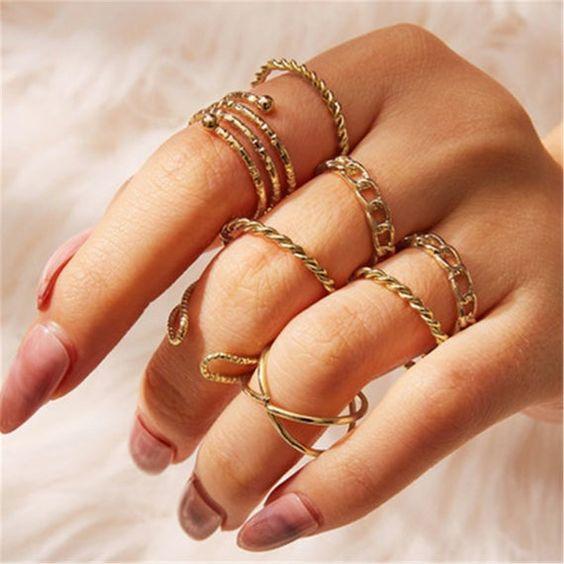 Image Courtesy: Etsy
Check out these gold link chain designed midi rings that is sure to up your fashion game. These minimal designs would go perfectly with a contemporary saree draping styles or if you are planning to flaunt a cropped top and lehenga for the ceremonies.
Vintage Oxidised Silver Midi Rings Set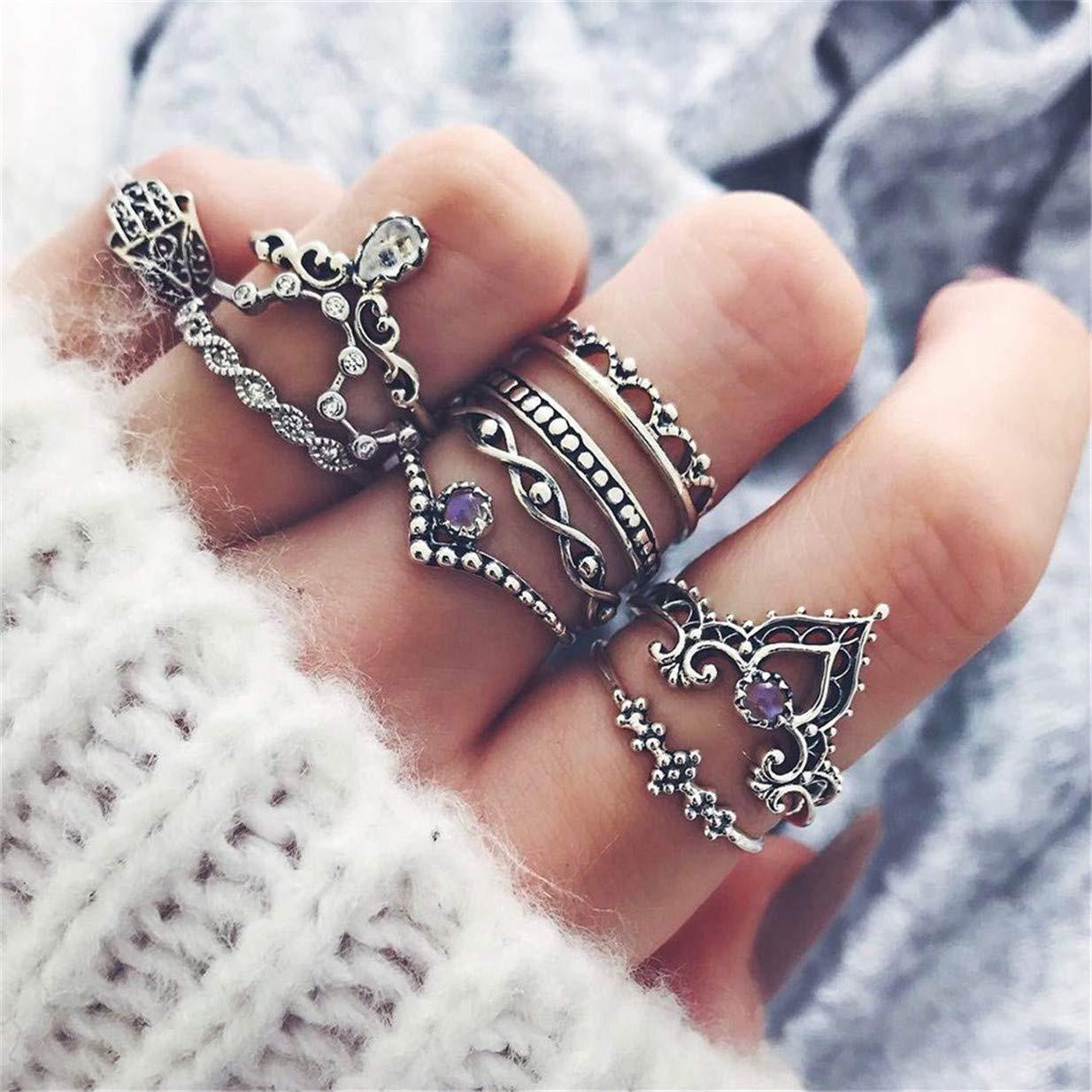 Image Courtesy: Amazon
If silver is your metal of choice, try these oxidised silver midi rings for a chic look. The aquamarine stones only add to the divine look of these vintage rings. Add these to your oxidised earrings collection to sport them with your Cocktail party dress ideas or unforgettable reception gala!
Aquamarine Stone-studded Junk Midi Rings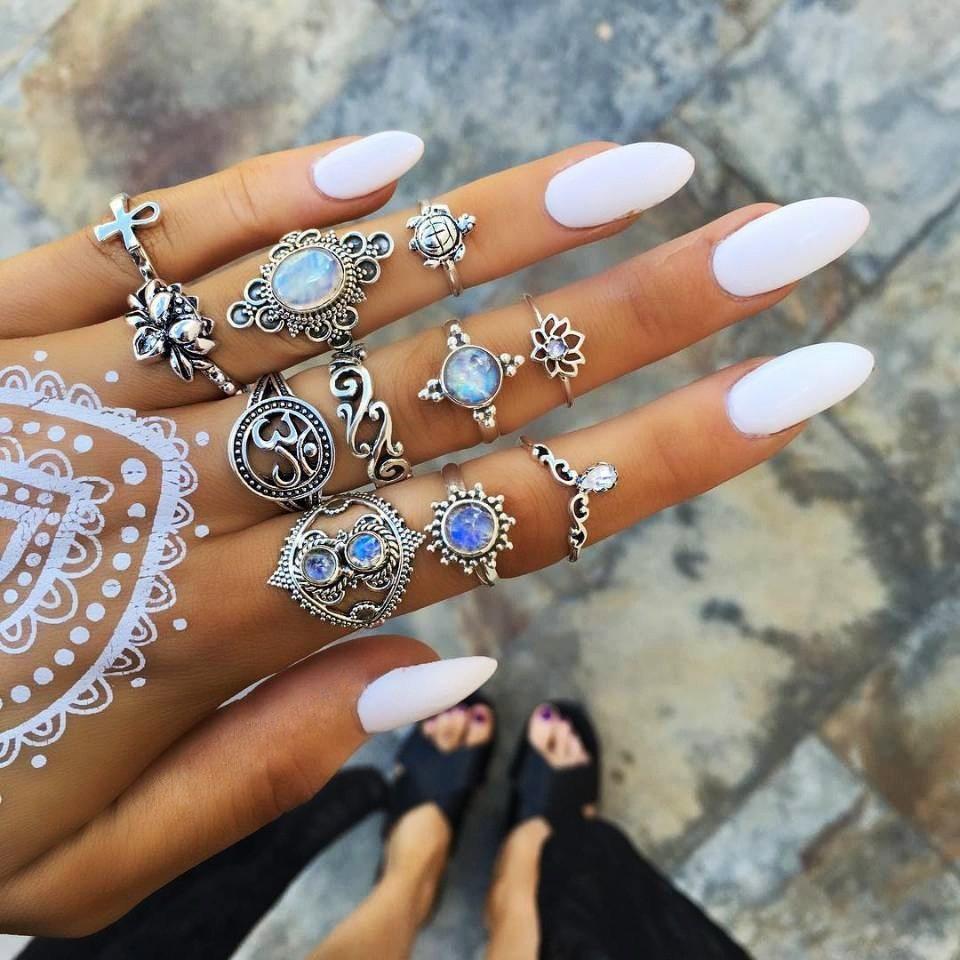 Image Courtesy: Diamond Mine Craft
Some girls like their stones big and bright! If you too are one of them, this gorgeous Boho looking midi ring design is just for you. The big aquamarine stones etched in silver rings would perfectly define your mystic personality. Pair these with some Indo-western attires like Dhoti pants or Dhoti saree to complete the look. If you are a fan of Junk jewellery, these are just right!
Diamond Studded Midi Ring bands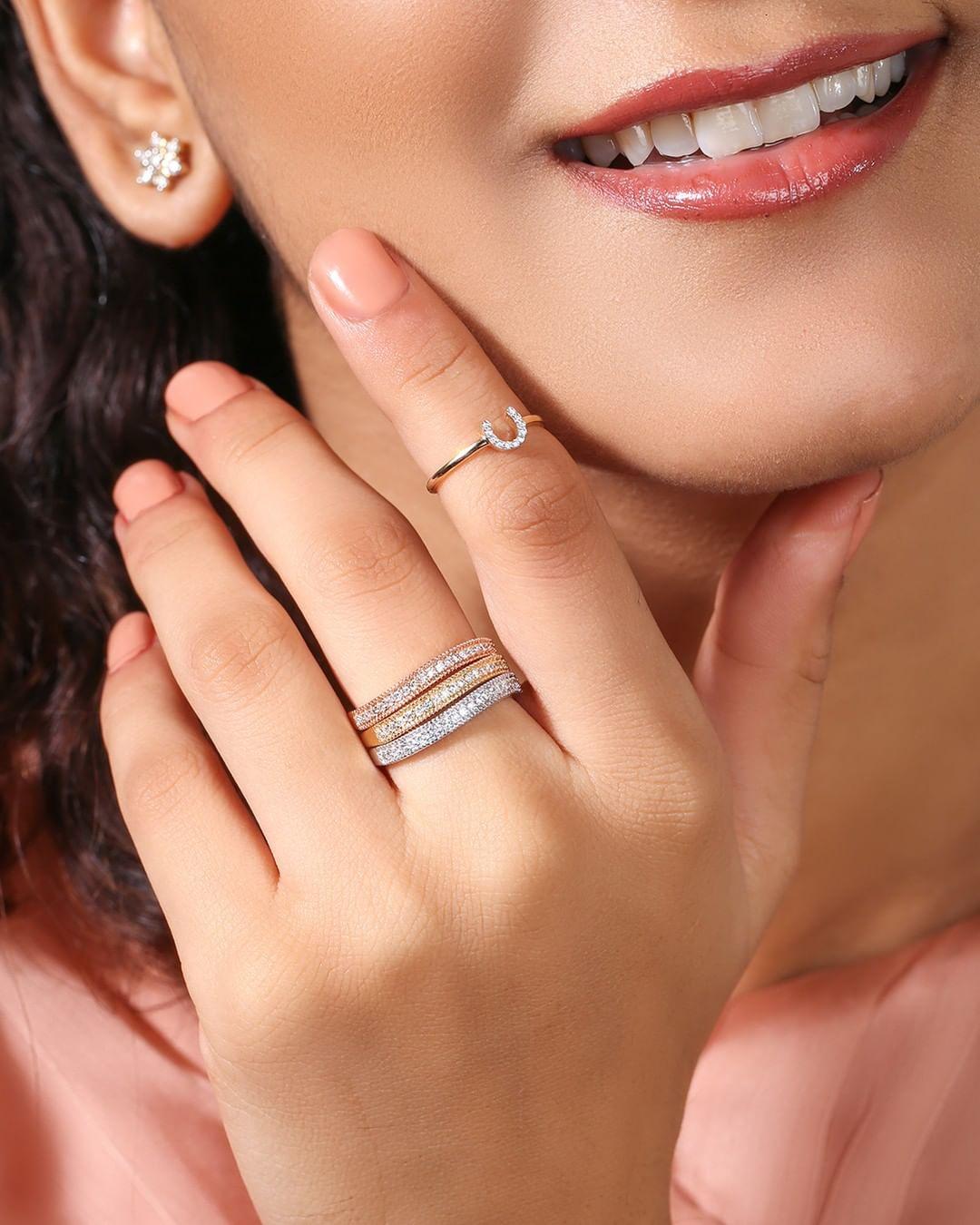 If you love gold rings with diamond studs on them, try these elegant midi rings for your wedding. These sleek gold bands designed by Caratlane studded with tiny diamonds are the perfect choice to go with any latest gown that you pick for your Reception. If you are flaunting a princess cut ring, these are the perfect balance to the bling.
Diamond & Ruby Studded Adjustable Midi Ring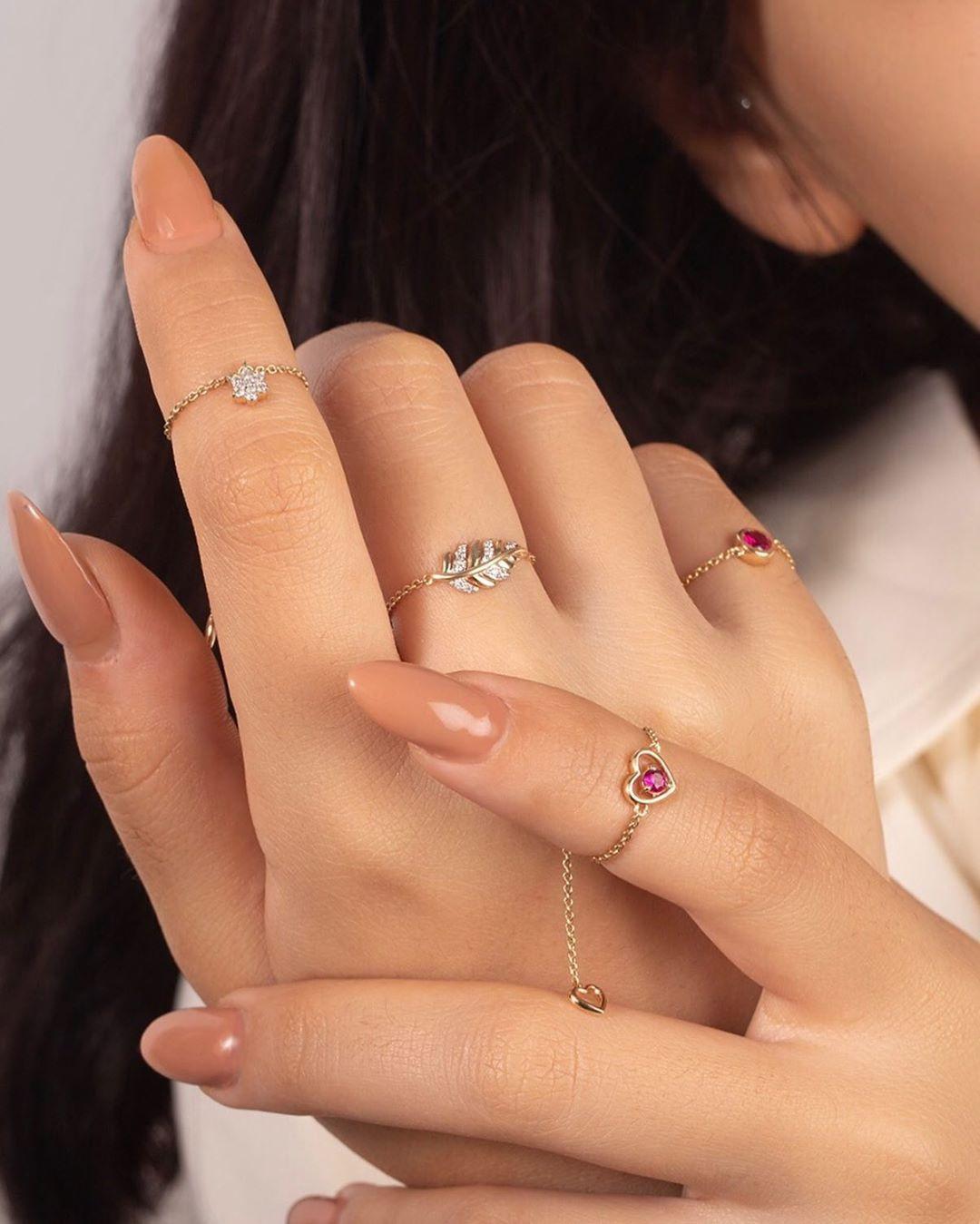 Add a little pop of colour to you diamond-studded midi rings. Sport tiny rubies along with diamonds etched on you gold based rings. Wear them either with Indian evening gowns on Reception or simple Salwar suit designs on Haldi.
Solid Bands & Evil-Eye Shapes Midi Rings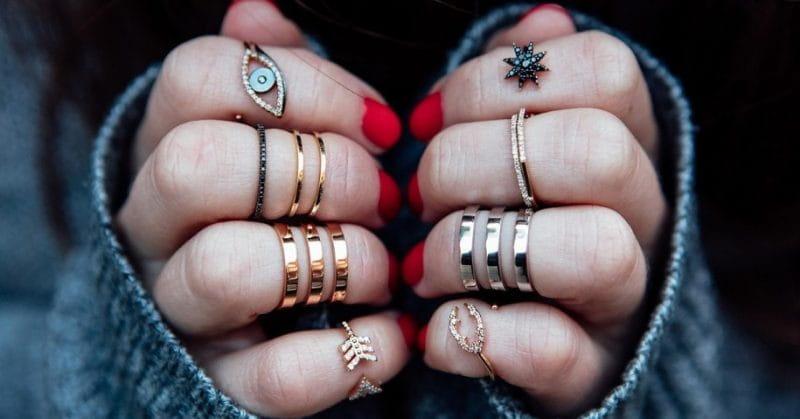 Image Courtesy: Pinterest
Mix your solid gold and silver bands along with some quirky shapes. Add an evil eye midi ring along with a star-shaped junk ring to dial up the attitude. The balance of the subtle precious metal bands and intricate stone-studded narrow rings, along with the quirky designs are just right for flaunting them on an epic Sangeet night that is planned perfectly.
Combination of Sleek Gold Midi Rings with Midi Bands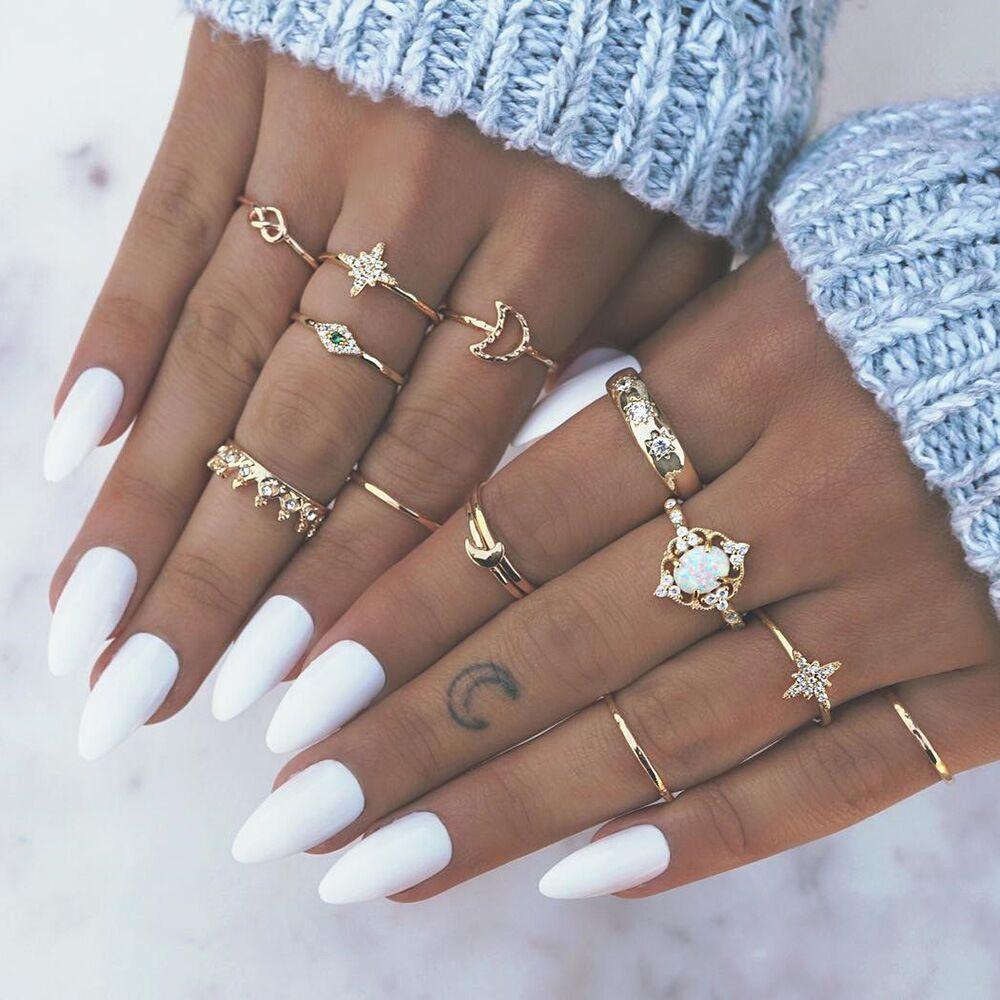 Image Courtesy: IMall
Keep them simple & sparkling. These sleek gold rings with tiny studs and one single big stone are ideal for pre-wedding ceremonies. Wear western dresses, contemporary sarees, or printed sarees to go with these rings.
Quirky Geometric Shaped Midi Rings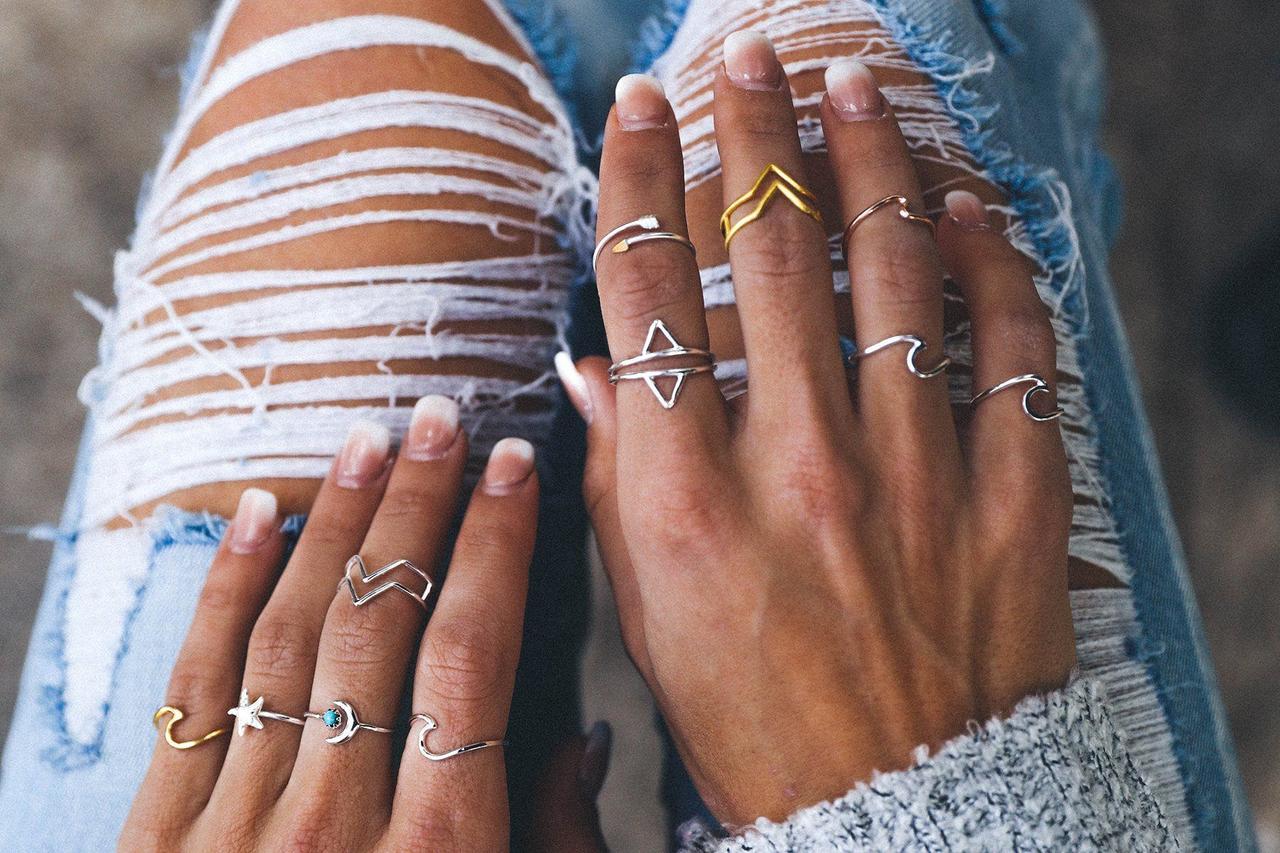 Image Courtesy: Pinterest
Heading for a beach wedding? Sport these quirky midi rings in beach-themed shapes like waves, starfish and so on to go with the vibe. Wear breezy sarongs, flowy skirts and floral palazzos to ace your pre-wedding shoot.
Faux Pearl Golden Midi Rings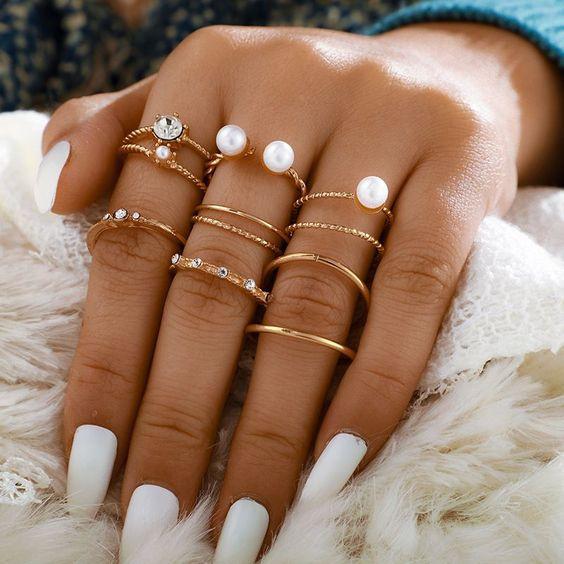 Image Courtesy: Pinterest
If you've always been fascinated with gleaming white pearls, why not show them off on your midi rings too? These faux pearl rings in different sizes and patterns are just perfect to go with any bridal outfits. Whether you're sporting Indo-western wear or going with a short lehenga, you can't go wrong with pearl rings!
Oxidised Silver Midi Rings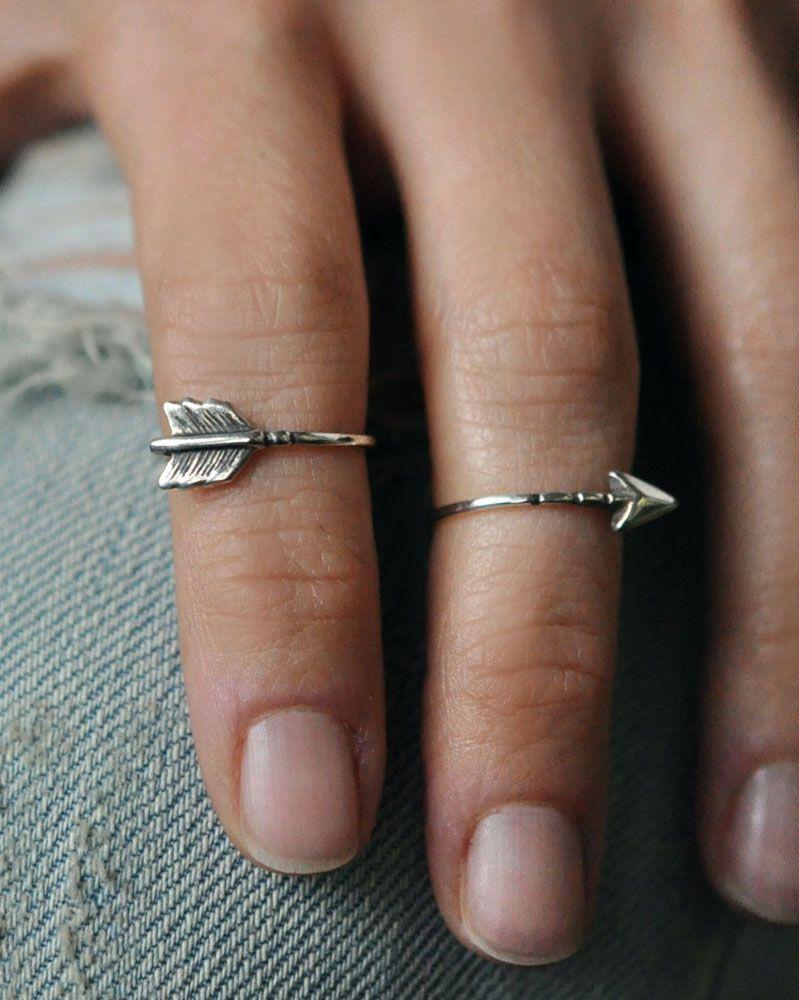 Image Courtesy: Pinterest
Want to make a statement with your midi ring designs? Try these arrow-shaped rings in oxidised silver or sterling silver. Complete your look by wearing other junk jewellery items like bracelet, sleek statement earrings and chokers and make a grand entrance like a boss!
Jarkan-Studded Midi Rings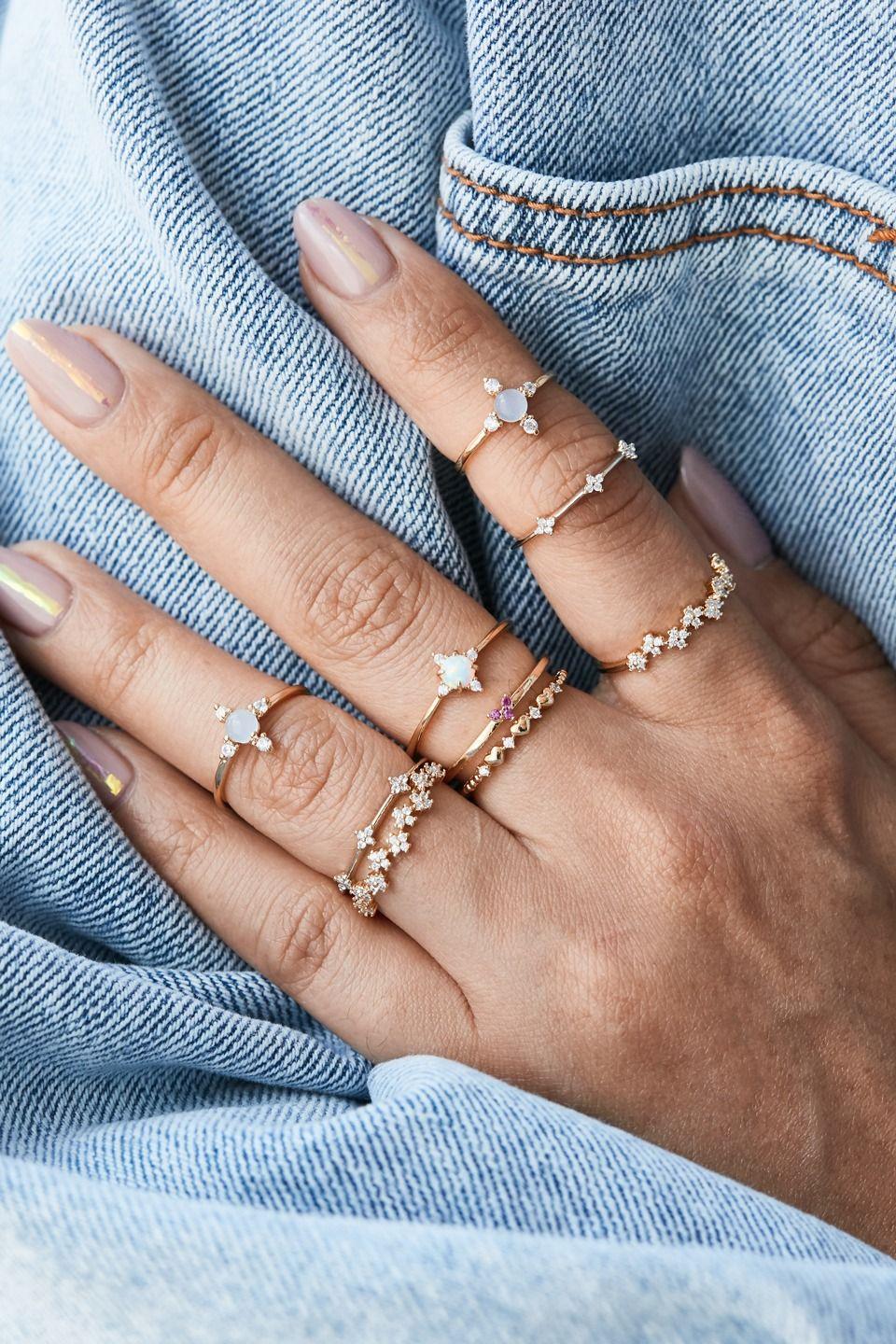 Image Courtesy: Pinterest
If you like to give your fingers a fuller look, try adorning them with stone sudden Zircon (or Jarkan) midi rings. Different shaped white stones like stars, sun, oval, accompanied by faux diamond studs will only add loads of chicness to your hand jewellery statement!
Stone-studded Midi Rings Set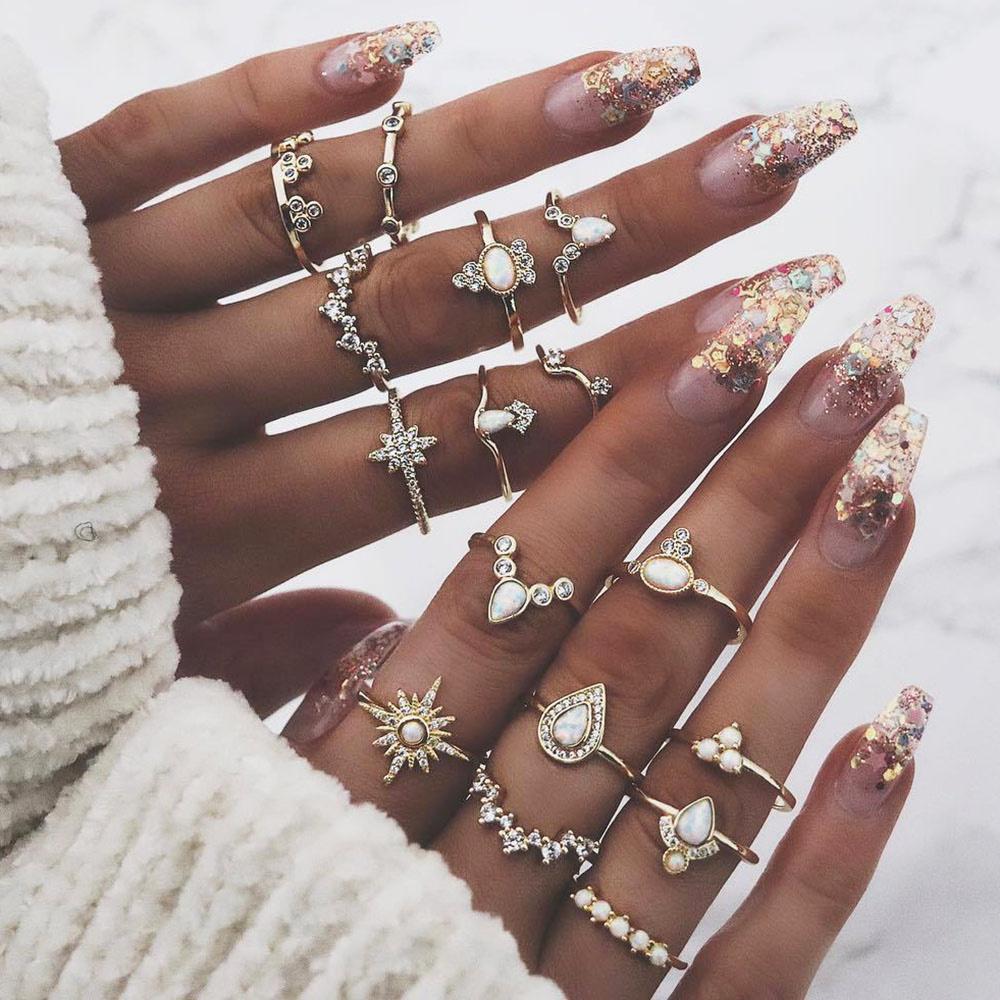 Image Courtesy: Simple & Dainty
For brides who believe in the "less is more" phrase, would simply adore these simple gold midi rings. Their simplicity is what makes them graceful. Add bigger studs in the middle and wear thin golden chains for your pre-wedding functions. No bling is too much hen it comes to midi rings.
Crown & Quartz Studded Gold Midi Rings Set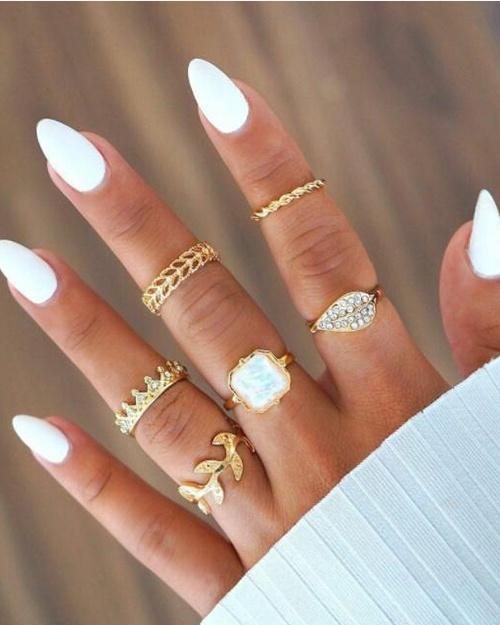 Image Courtesy: Regina Garde
Pair up your sleek gold rings with a bright quartz stone in the centre and intricately designed and cutout simple gold rings of different sizes. These stones exude elegance and would be perfect with a Chikankari lehenga or a pastel lehenga as well.
Simple Golden Midi Ring Bands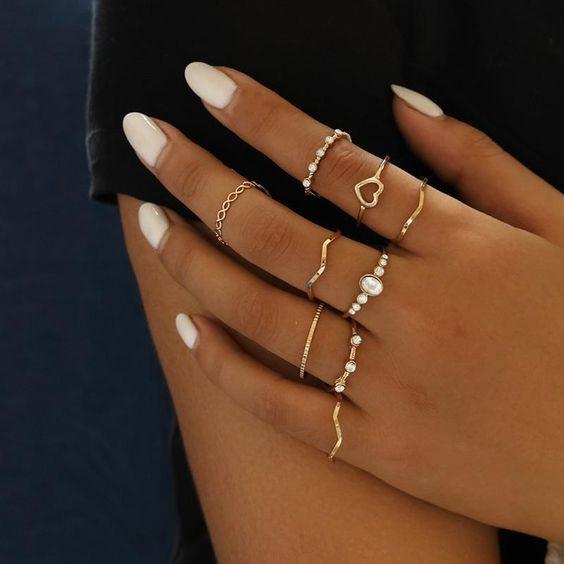 Image Courtesy: Pinterest
These wave-shaped dainty rings will give a whole new outlook to your hand accessories. Create a wavy illusion with these minimal yet dainty rings. You could throw in a tiny heart-shaped ring in the mix for some variation along with perfectly placed pearls in the bands!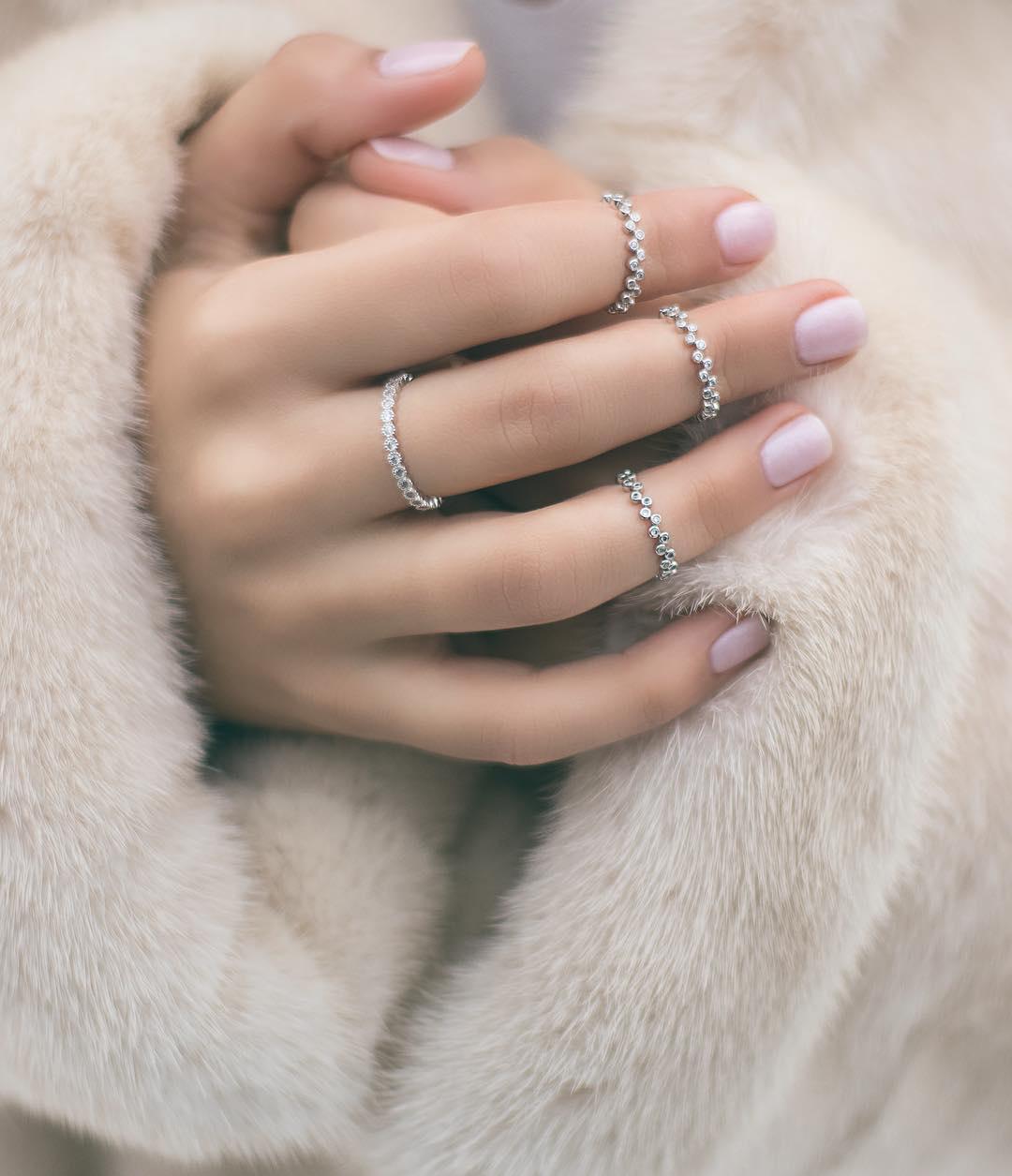 Image Courtesy: The Moment Jewelry
Choose the designs of your midi rings as per your own style statement. Go beyond the trends and make some of your own. And you don't necessarily have to go with the traditional gold, silver or platinum rings. Stack different midi rings up and make sure you turn some heads with your sense of fashion on the big day.
There is a wide range of designs and styles in the imitation jewellery world too. Try terracotta jewellery, thread jewellery, wooden rings, jute jewellery...just dive in the ocean of possibilities to redefine fashion right on your fingers!
Which one of these midi rings defines your style statement? Share your preferences with us in the comment section.