7 Breathtaking Platinum Love Bands That Scream "Class"!
Platinum is the millennial metal! If you too are a couple who'd prefer platinum love bands for your wedding, you must check out some classy designs for inspo!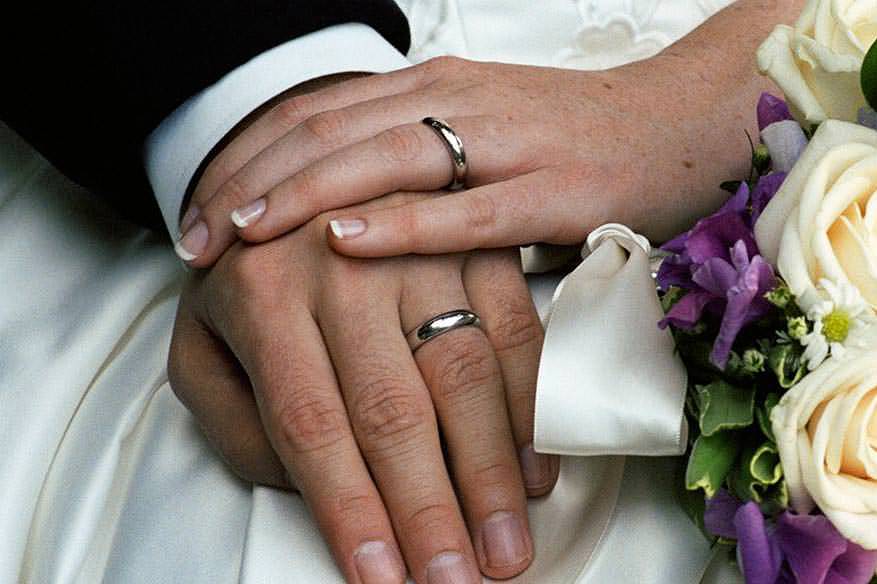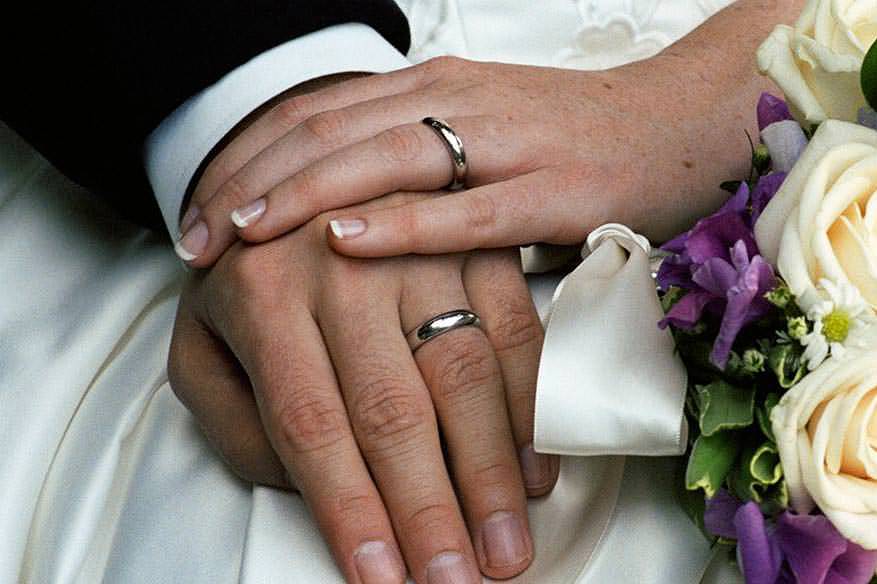 Image Courtesy: Jewelry Wise
Although a relatively new concept in India, more couples are opting for minimalist platinum wedding rings instead of gold these days. Sure it still has a long way to go in terms of replacing gold wedding rings, but it's getting there fast! Combining platinum with diamond rings is particularly a trend that's quite popular among couples. There is a wide range of styles and designs in wedding rings and bands that you too can explore in that area. So, if you're game to try some classy platinum love bands for you and your partner, check out some images with price for your research.
Engraved Platinum Love Bands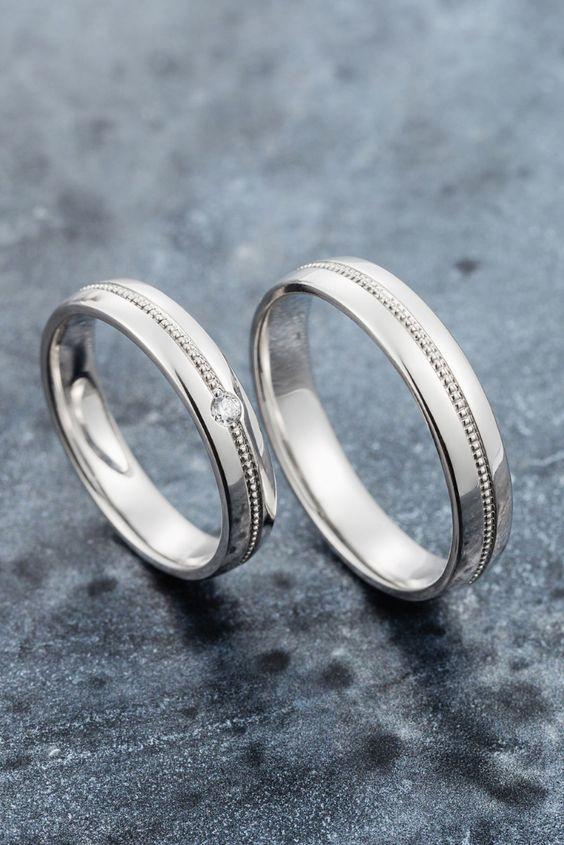 Image Courtesy: Etsy
Customise your platinum wedding rings by opting for engraved bands. You could get your names, love quotes or phrases that are significant to your personal love story etched inside your rings. Dial-up the glam factor a notch by personalising your eternal bands with words that define you and your partner.
Approximate price: ₹25,000 onwards.
Platinum Love Bands with Stones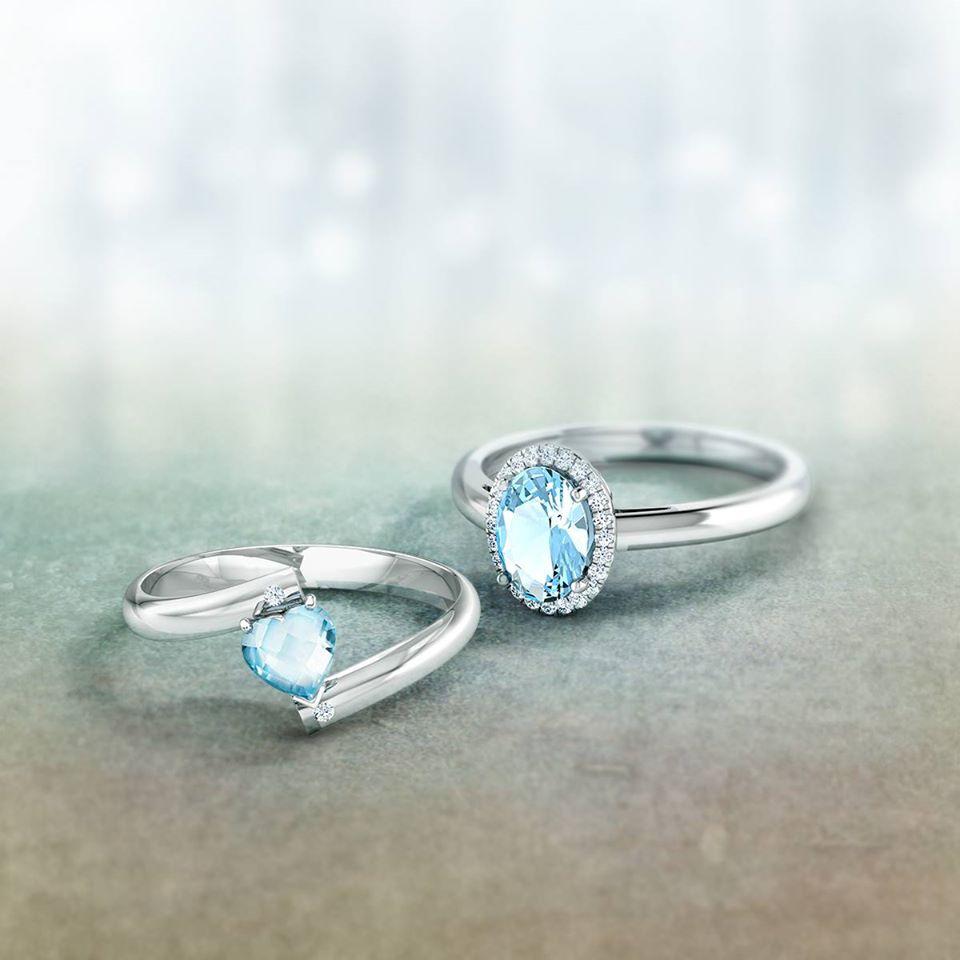 Want to add some colour to your platinum love bands? How about getting bright colour stones set at the centre of your bands? If you're open to using gemstones other than a diamond ring, there are a whole lot of options for you. Topaz, rubies, emeralds or sapphire, pick your birthstone or a colour that catches your fancy. In case you choose a ruby ring, you could go for a ruby necklace set on one of your wedding events to go with it!
Approximate price: ₹45,000 onwards.
His & Her - Band & Solitaire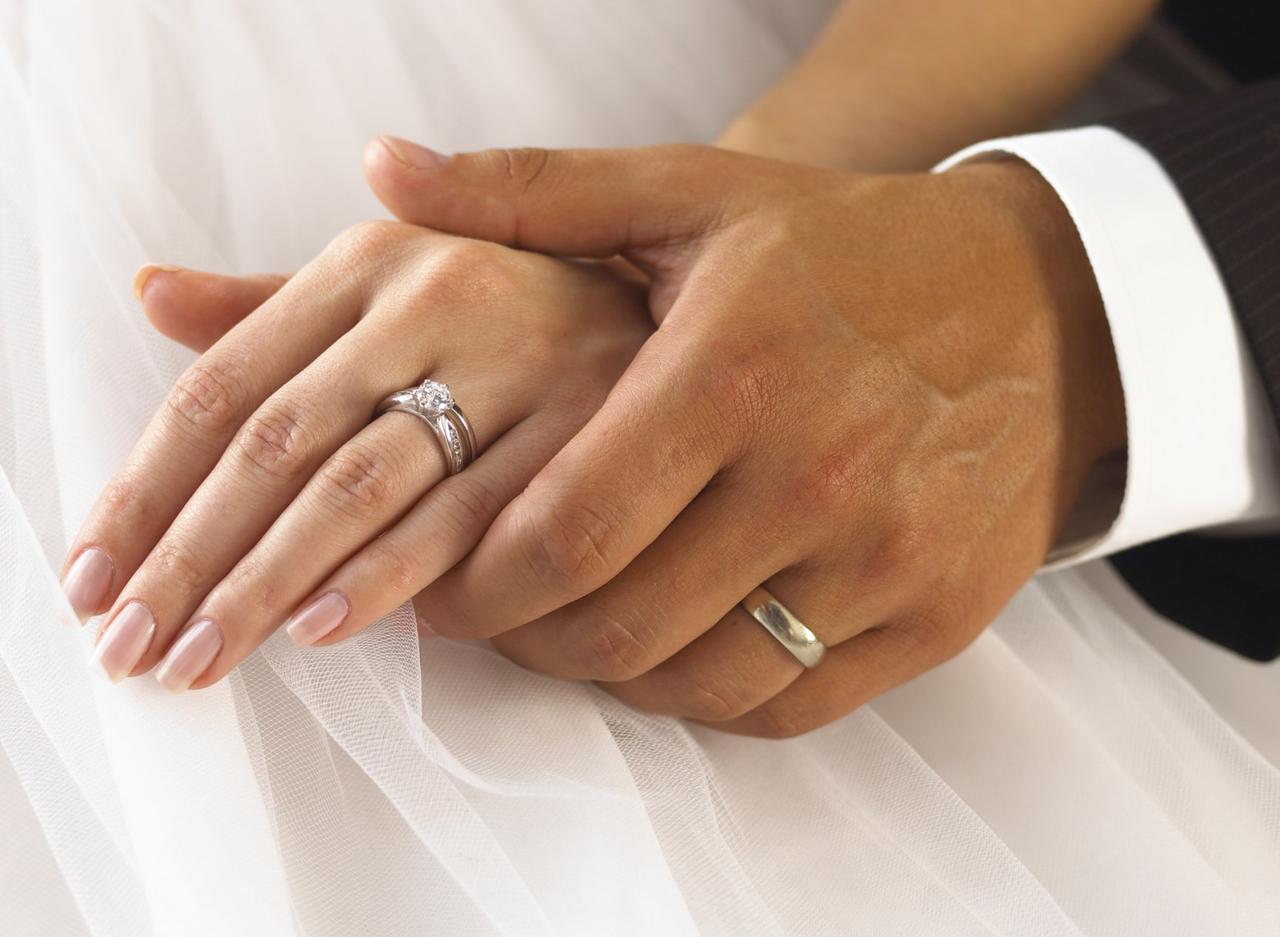 Image Courtesy: Easy Weddings
He likes a simple band. She likes solitaire. They both love platinum love bands! So why compromise? Choose your engagement rings or wedding bands in platinum just the way your heart wants it. A plain thick band for the groom and a sleek band with a solitaire ring for the bride! Whether you're having a white Christian wedding or a traditional Hindu wedding, these ring designs will go with almost any outfit!
Approximate price: ₹30,000 onwards (for the band) ₹45,000 onwards (for solitaire).
Platinum Love Bands & Solitaire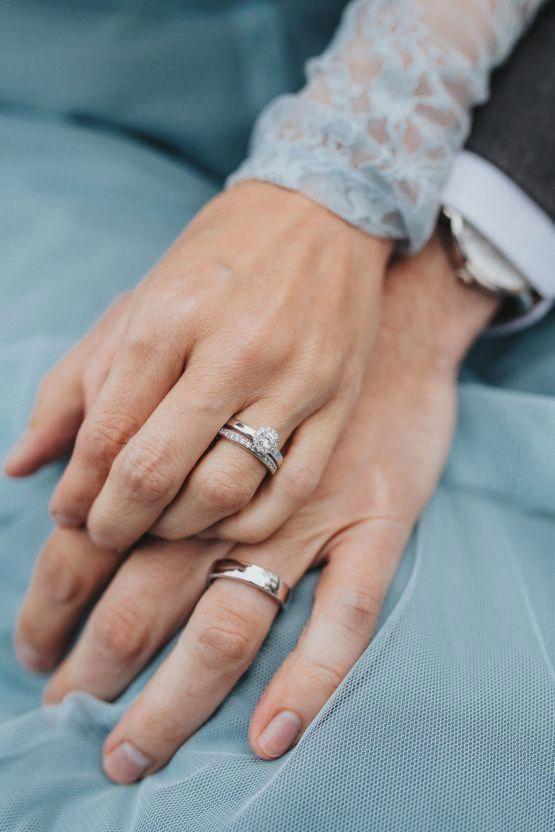 Image Courtesy: Etsy
Because sometimes, all you need is simplicity to express the most complex feelings! A simple love poem, a simple proposal, a simple gift or a simple gesture, couples who believe in expressing the deepest emotions with simple words would love these plain platinum bands without any designs or patterns. The sheer lustre of the metal tells a deep meaningful story of two hearts in love!
Approximate price: ₹14,500 onwards.
Matching Platinum Love Bands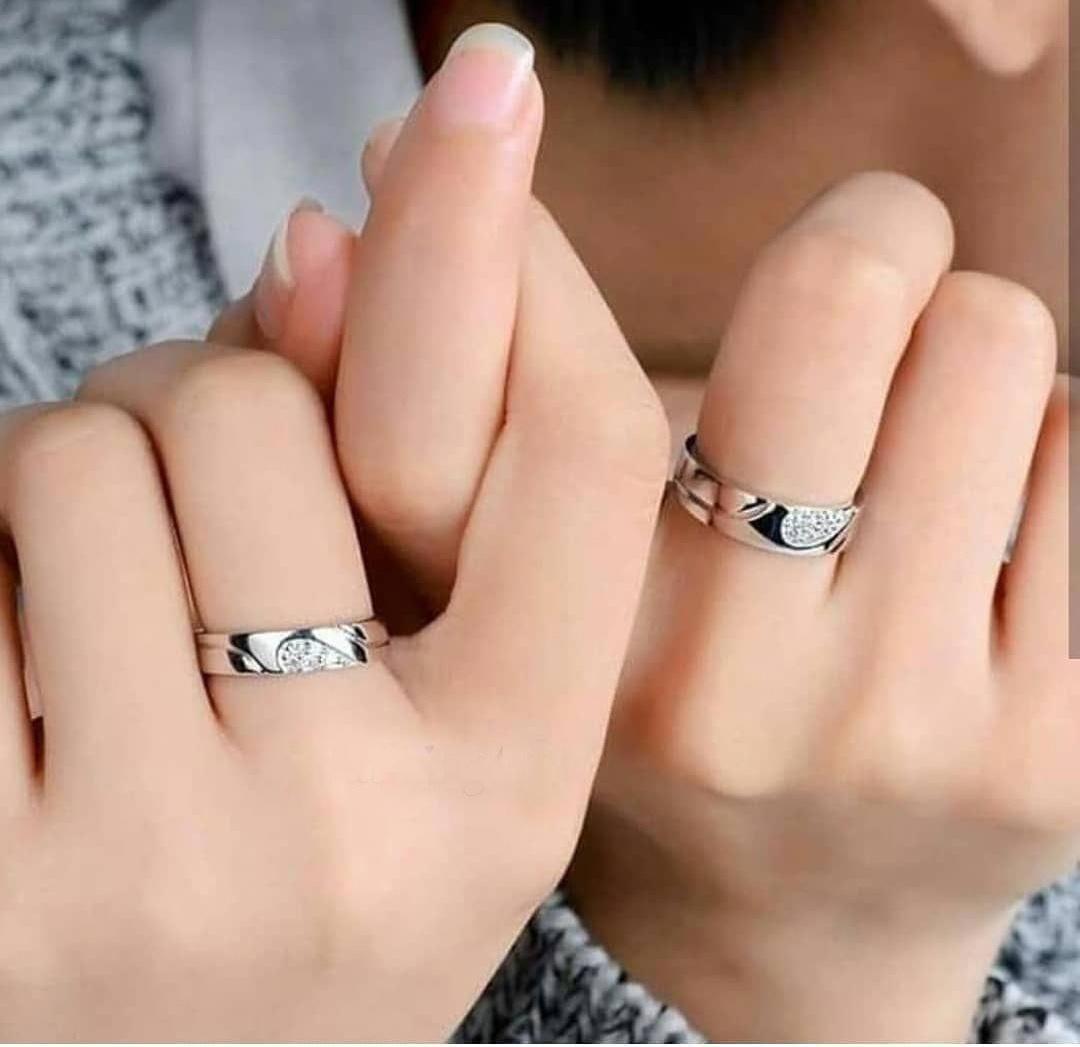 Image Courtesy: Pinterest
Are you a couple who loves to go "matching-matching"? Then why not for your wedding bands? Twinning on your platinum bands with the exact pattern and designs on them is one of the cutest couple trends. Exchanging rings is a way of expressing eternal love for each other. And along with coordinated clothes and colours, many couples go with coordinated wedding rings! Pick a design, pattern or get them engraved- whatever you do, make the rings look like a mirror image of each other!
Approximate price: ₹26,500 onwards.
Diamonds on Platinum Love Bands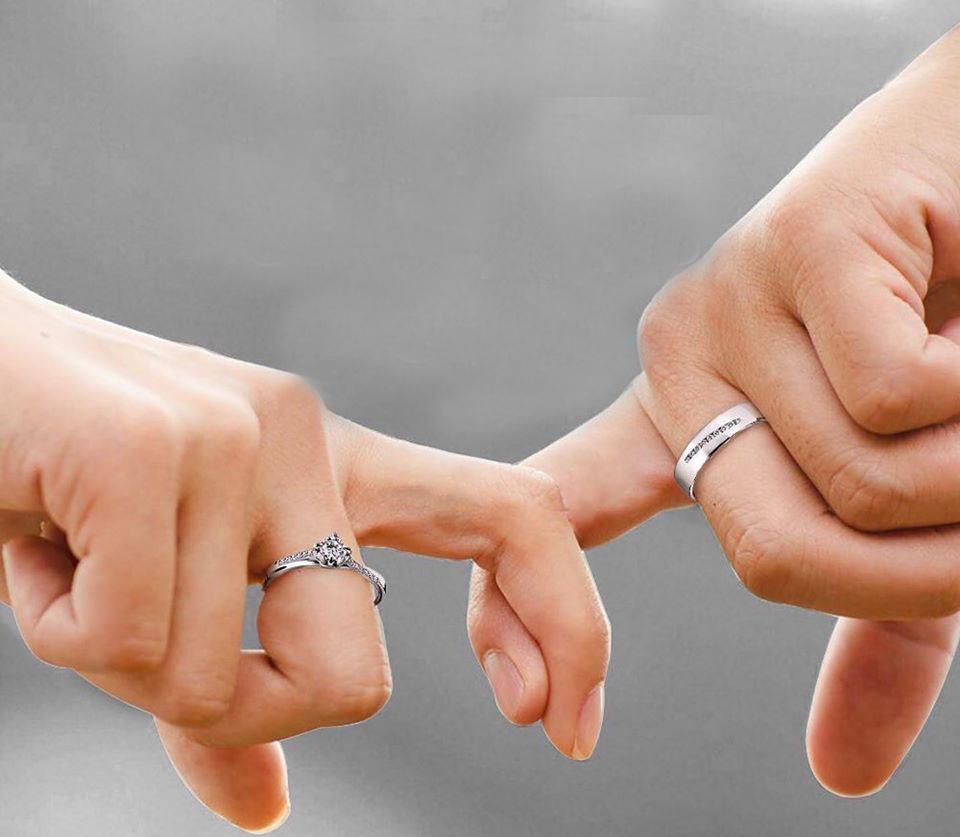 Image Courtesy: Jewelove
One of the best combinations for wedding rings is that of diamonds and platinum. If both of you love diamonds, you must consider platinum for your ring metal. Once you know about the 4Cs of your diamond, pick a design that you both like for your respective rings. The bride's diamond rings have fancier designs other than the single solitaire. Men too can choose from a wide range of patterns for a classy diamond ring set on a platinum band.
Approximate price: ₹31,000 onwards (for the groom) ₹15,000 onwards (for the bride).
Broad Platinum Love Bands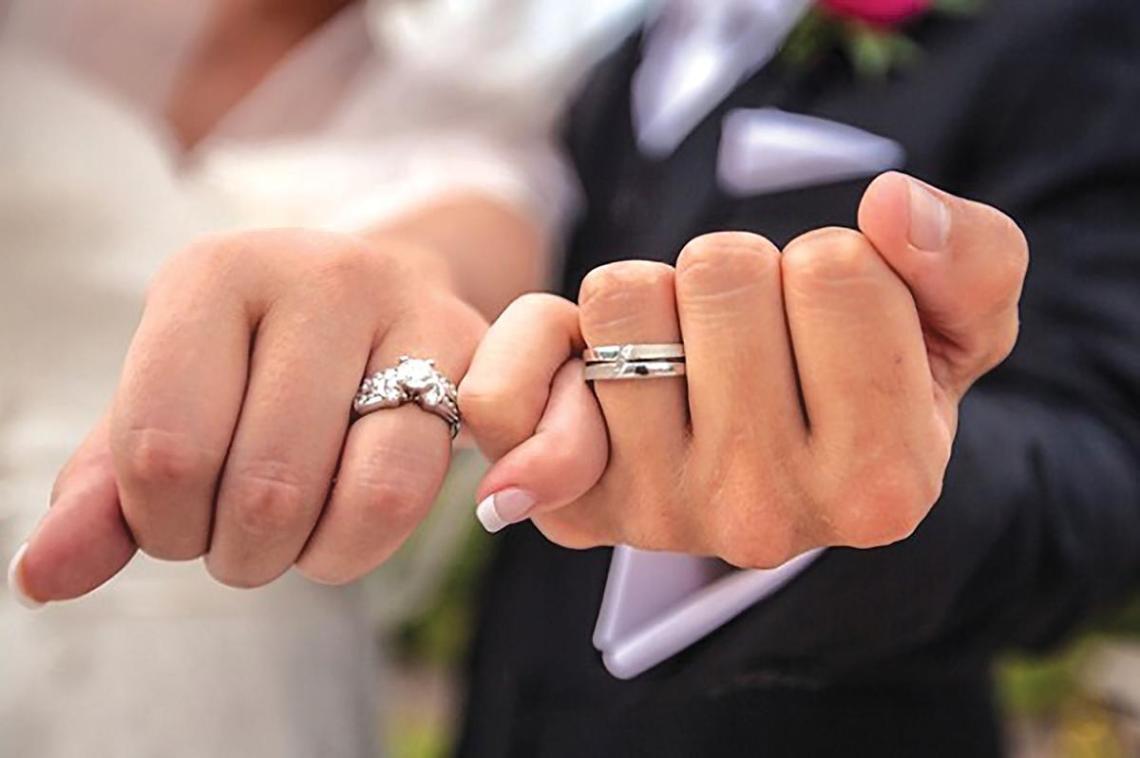 Image Courtesy: The Wedding Vow
If you're a fan of bold expressions of love, that must reflect on your wedding bands too, right? Bold broad platinum rings with diamond studs etched in them are the kind of wedding rings that are adored by couples who believe in "more the merrier" phrase! You could choose double layers on your band to give it a broader look. Or you could go for stones and carvings on them. Make sure you pick the stones that go well with your platinum colour.
Approximate price: ₹35,000 onwards (for the groom) ₹31,000 onwards (for the bride).
Think of some exciting proposal ideas before you pop the question with your engagement ring! If you're buying your platinum love bands together, look for a good number of options before finalising your ring. You must also check out some online jewellery stores for your wedding ring. Make sure you check the prices of diamond in India before buying. Don't make any hasty purchase. Do your research well to understand the details of the process that goes in making diamond jewellery. Pick your rock only when you're a hundred percent aware and satisfied!
Check out our wedding jewellers list if you haven't bought your diamond rings yet!