A List of 8 Gold Ring Photo Options for This Wedding Season
Looking for some unique gold ring designs for your wedding? We have curated this list of gold ring photos for you.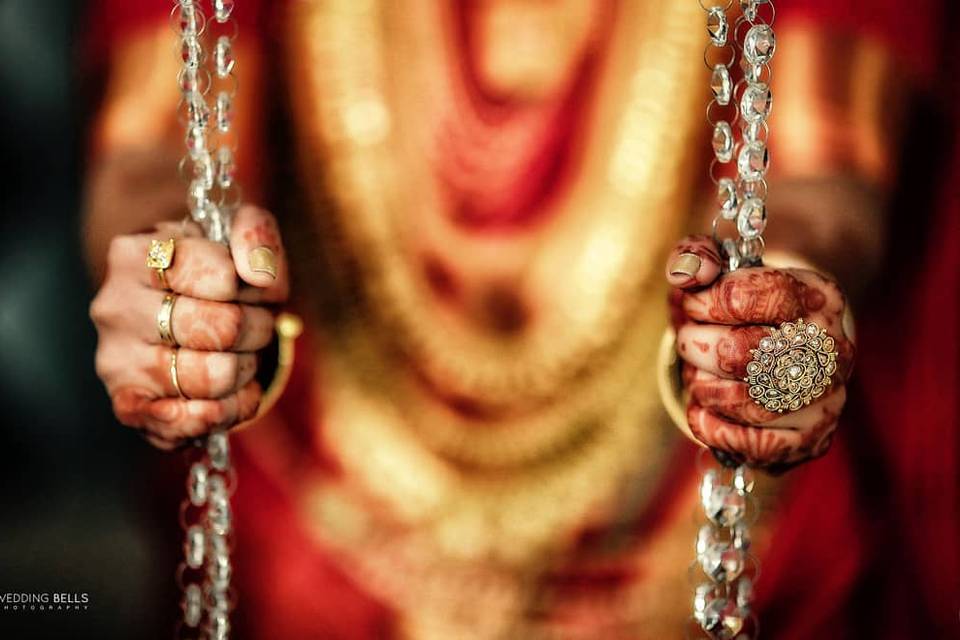 Weddings are one time where you get to wear the swankiest jewellery pieces with the most beautiful designs. The jewellery that you wear is as important as the outfits you wear and can make a huge impact on your complete look. Out of all the elements used for making jewellery pieces, gold is undisputedly the favourite amongst Indians. Its evergreen design and the fact that it's a safe monetary investment makes it so popular!
Wedding rings, in particular, carry a lot of meaning apart from adding to the visual beauty of a bride's hands. The wedding rings of the bride and groom are a symbol of their lifetime commitment to being husband and wife and spending the rest of their years with each other. So you would ideally want the ring to look visually attractive as well.
To help you get inspired with different gold ring designs, we have prepared the following list of gold ring photo options.
This Beautiful Gold Ring With an Imposing Diamond Rock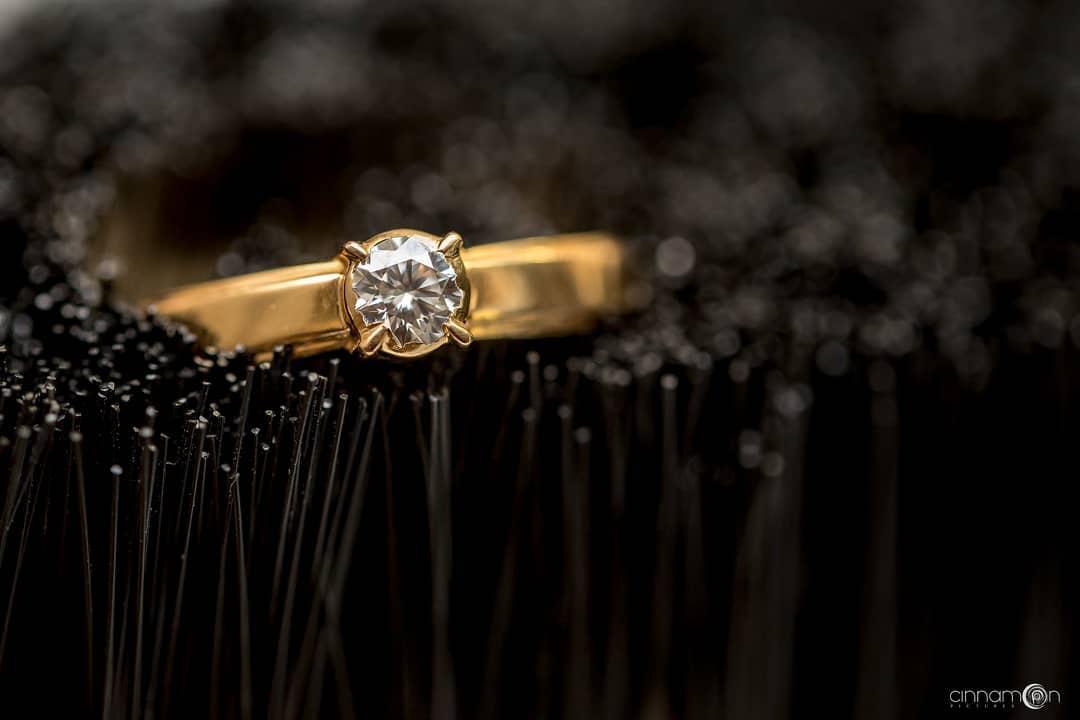 To start with this list of gold ring photo options, we have this photograph of a gold ring with a solid rock-like diamond which looks superimposing and makes for a big fashion statement on your wedding day. You can go for such gold rings if you are someone who loves the shine of a big diamond in all their jewellery. Here, the diamond is blended into the gold band of the ring very well and screams opulence and luxury.
This Simple Solid Gold Ring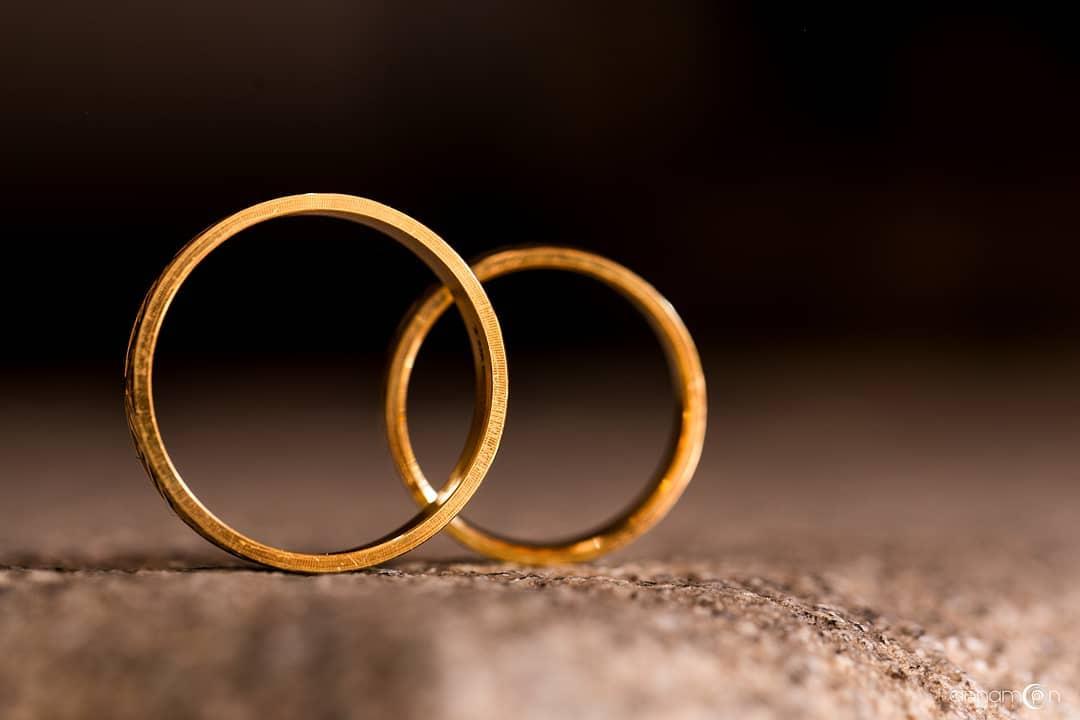 If you want to avoid wearing jewellery that is a bit too loud or attracts too much attention, then this gold ring photo can be a source of inspiration for you. The solid gold rings for the bride and groom celebrate the visual beauty of gold in its truest sense and look effortlessly beautiful as engagement rings.
Another perk of going for such rings is that their design is such that you can wear them to several occasions even after your wedding and they would blend in with all kinds of outfits.
Gold Ring Adorned With Precious Stones and an Attached Ring Chain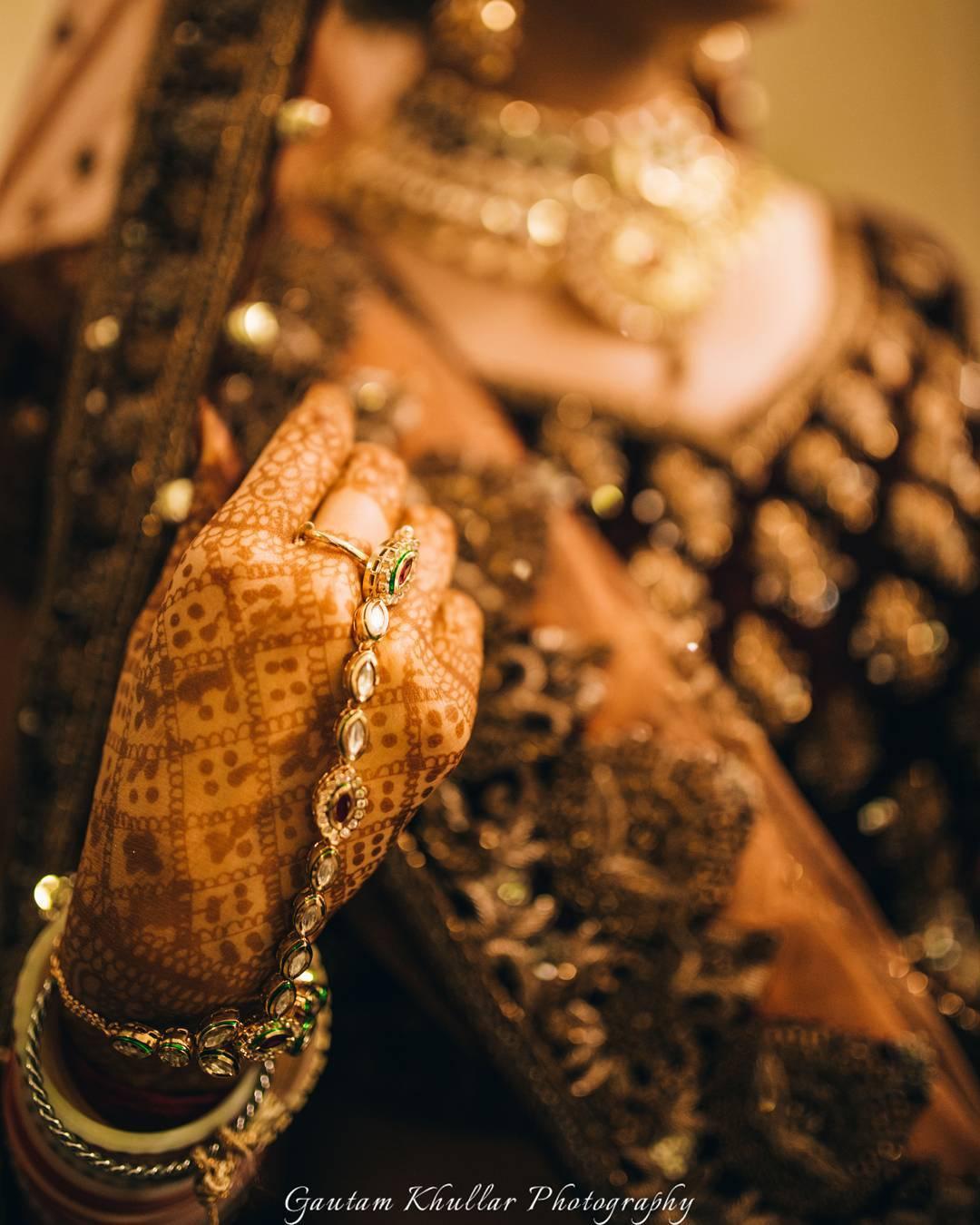 If you want your bridal jewellery to be extravagant and inspired from what medieval queens wore, you can choose to go with such a gold ring studded with various precious stones in different colours and an attached ring chain that goes up to the bangles. If you want to truly immerse yourself in the beauty of gold jewellery, this gold ring photo can be the right source of inspiration for you.
This Yellow Gold Ring With Green Emerald Stones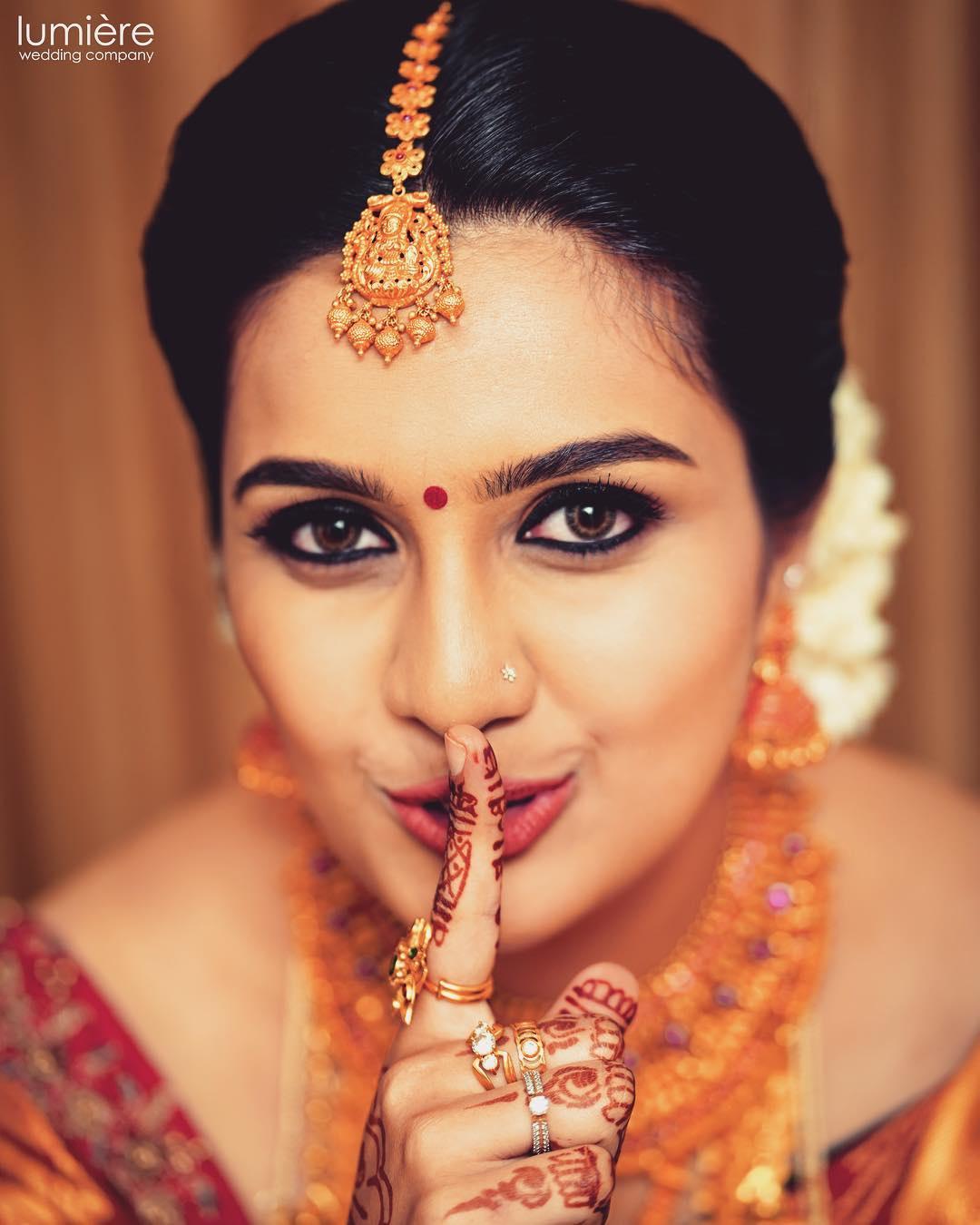 Precious stones like rubies and emeralds are very popularly used with solid gold jewellery; providing a great contrast of colour and adds to the overall aura of the design of the jewellery. In the above gold ring photo, we see the bride wearing a thick gold ring adorned with a few emerald stones that add to its beauty.
A Minimal Gold Ring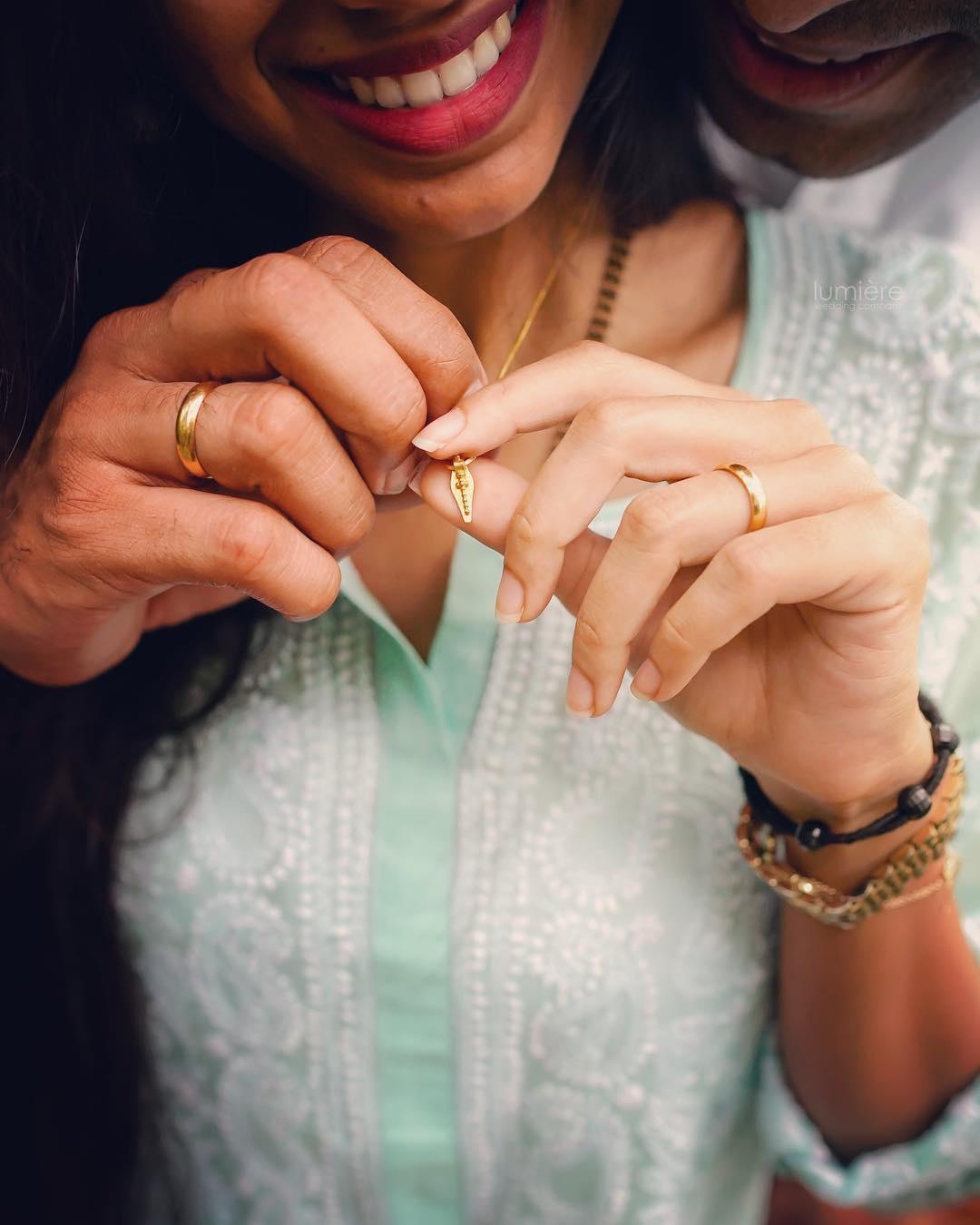 Next on this list of gold ring photo, we have another minimal gold ring design that is perfect if you want to keep things simple and not go for something that is too over the top. To make the ring feel more special to you, you can get your initials engraved into the ring that will definitely add more meaning to your wedding ring.
Gold Ring Studded With Several Diamonds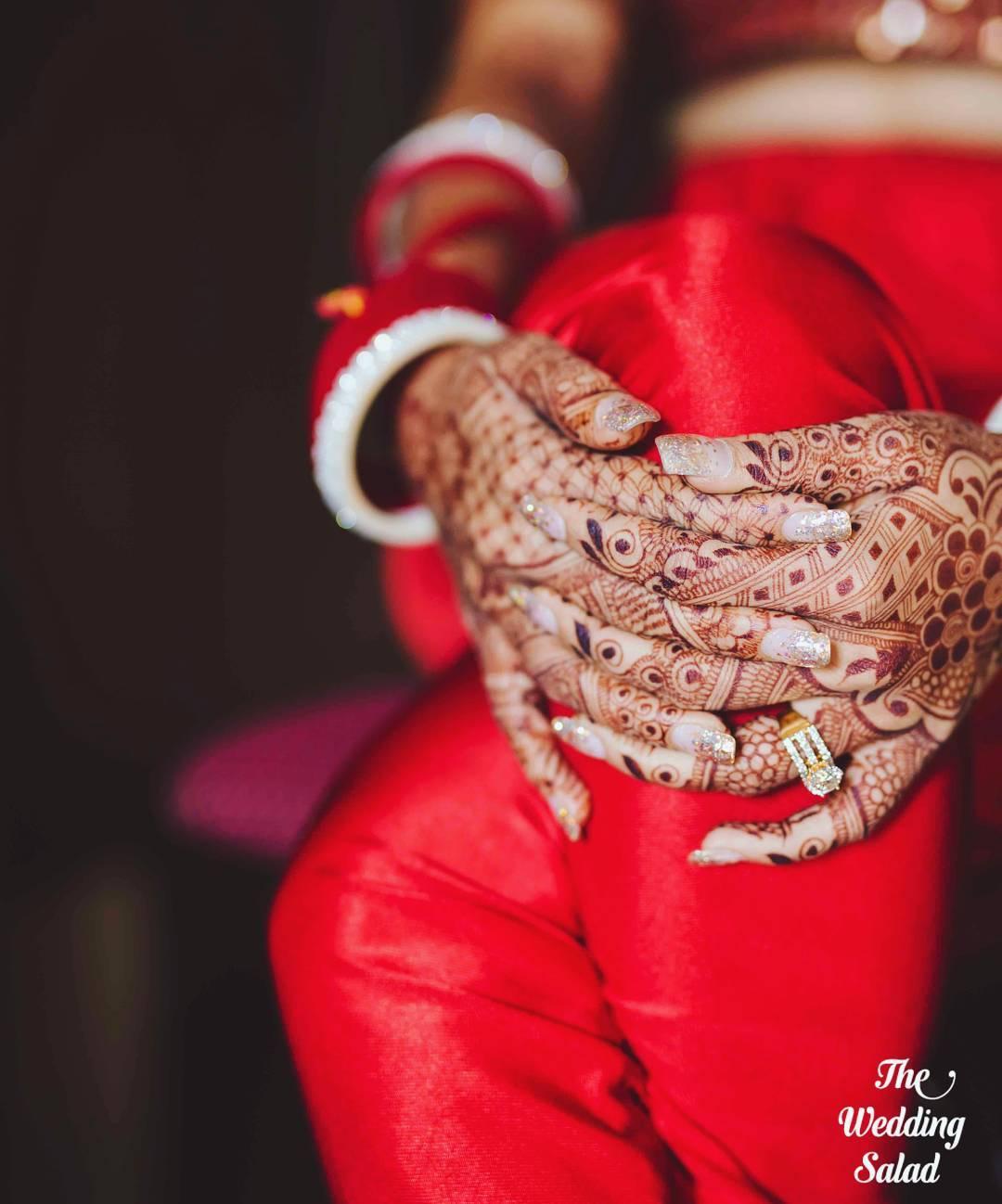 Another great gold ring design idea is getting a gold ring that is studded with several small diamonds that take the bling factor to another level. Diamonds are a favourite amongst brides for their jewellery and they look especially well with gold. You can take inspiration from this gold ring photo and get yourself a wedding ring adorned with small diamonds.
This Rock-like Diamond Gold Ring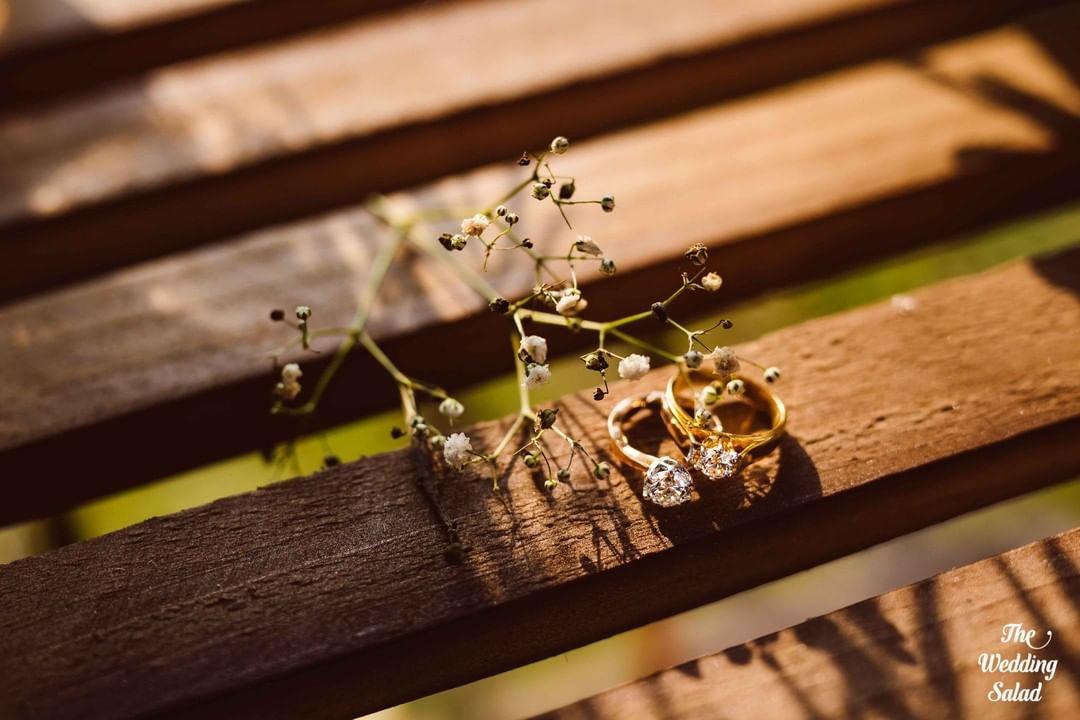 Here, we have another gold ring photo that has a big diamond that is sure to draw a lot of attention from your guests. The matching pair of rings are perfect if you want to embrace the beauty of a solid diamond for your wedding.
A Matte Finish Yellow Gold Ring With an Intricate Design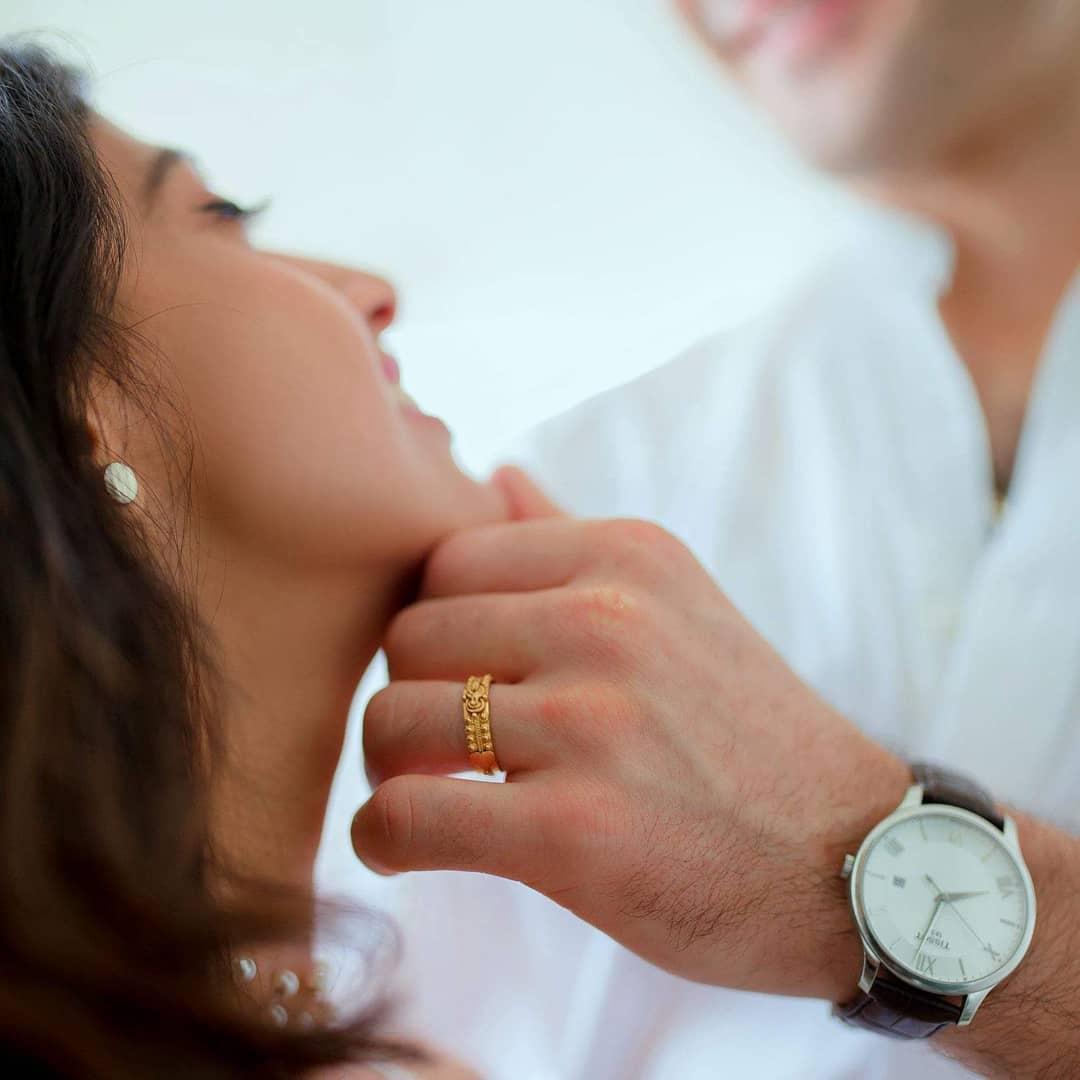 To conclude this list of gold ring photo, we have this subtle and understated gold ring that has a matte finish and an intricate engraving with traditional designs. You can get a design engraved that speaks to you and is something that has a deep meaning to your relationship with your partner. You can go for such designs if you want to keep things classy and go for a more personalised route.
This concludes our list of gold ring photo options. It is very hard to go wrong with gold jewellery, so just take things easy and go for something that feels right to you. We hope that this article helps you get inspired with unique gold jewellery designs.
Check out these bridal jewellery stores that are near you for the best gold ring options!