Browsing Through Wedding Ring Images? Keep In Mind These 8 Unspoken Rules That Can Make Your Shopping Simpler
Surprising your bride with a diamond wedding ring of her dreams? Well, we love the idea but are nervous for you to make the right choice. Hence, we've put together some shopping rules that apply while you're looking at wedding ring images for her.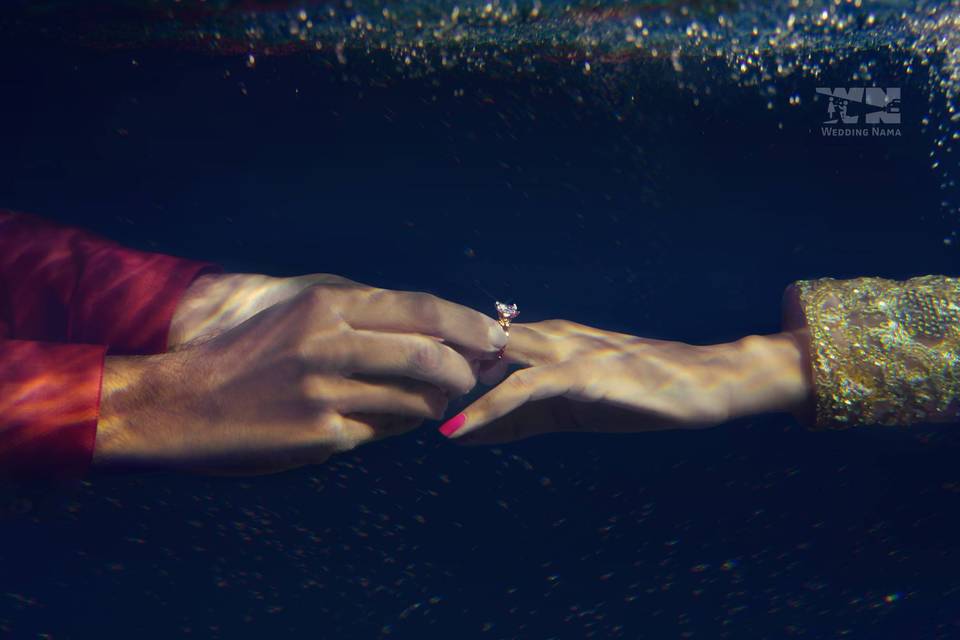 Amongst all the great things that you'll ever buy for your now fiancé, then the bride and later wife, there is a high chance that the wedding ring is going to be one of the biggest investments that you'll ever make. Therefore it is important that this decision has been made after going through a lot of wedding ring images and keeping in mind the basic shopping rules that apply to the procedure of buying a wedding ring.
Confused about the shopping rules that we are mentioning? Well, don't be, because we are going to take you through all these major shopping rules so that you are double sure while going through the wedding ring images and know which one is ideal for your partner.
Diamonds are a woman's best friends but when it comes to wedding rings, brides know exactly what they want and any other shape, cut, style or pattern will not impress them. As grooms, we also know that you do not understand how big a deal this is for your bride but after going through these shopping rules for looking at wedding ring images, you'll know exactly what we mean.
1. The Shape Is Everything for Her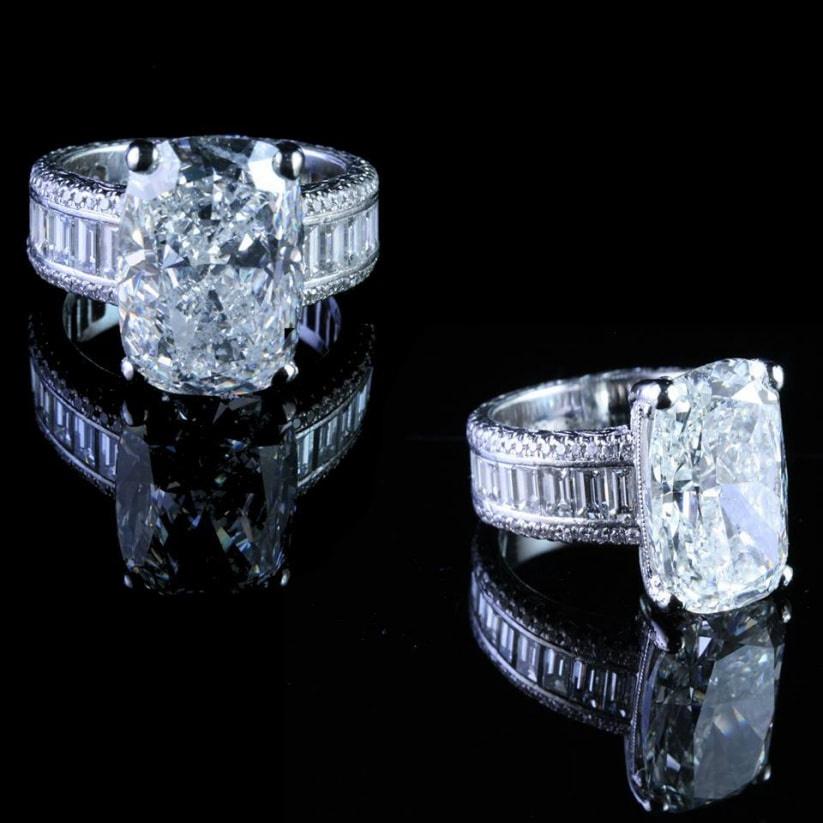 We read so much about the 4 C's of diamond that refers to its cut, colour, clarity, and carat but what grooms generally miss out on is the fact that the shape of the wedding ring images you are looking at is what matters the most. With women being absolutely crazy about diamonds since forever, there is a great chance that your bride has decided on what shape she'd like her wedding ring to have.
In this case, discussing wedding ring images or talking about diamond shapes, in general, can make you win half the battle already. Once you've figured the shape that you want to go for, filtering the options is much easier for you too.
2. Research On The 4C's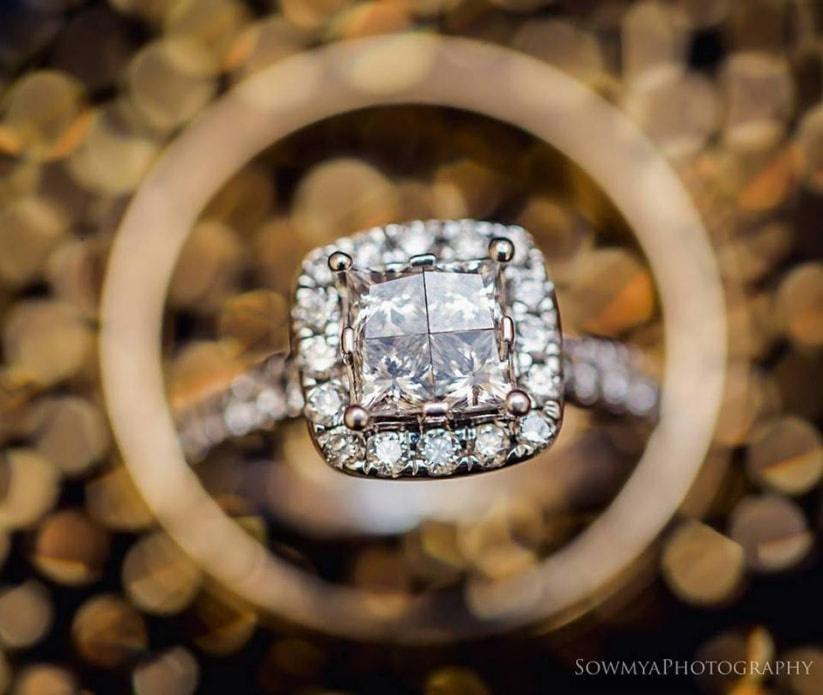 Image Courtesy: Sowmya Photography
After the shape, comes the second most important thing and that is the 4 C's of diamonds in your wedding ring images. The cut, colour, clarity, and carat weight are all extremely important for various different reasons. The cut of the diamond adds to its sparkle as a poorly cut diamond can look lifeless and dull. The colour of the diamond is inversely proportional to its grade. So lesser the colour, higher will be the grade of diamonds.
The clarity of diamonds is one of the least important factors in the 4C's as the tiny imperfections are microscopic and cannot be noticed with naked eyes. The weight of the diamond is known as its carat and a higher carat does not necessarily mean a bigger size of the diamond. Therefore, it is ideal to refer to a diamond carat size chart for picking the best diamond carat weight for your special one.
3. The Setting Makes the World of a Difference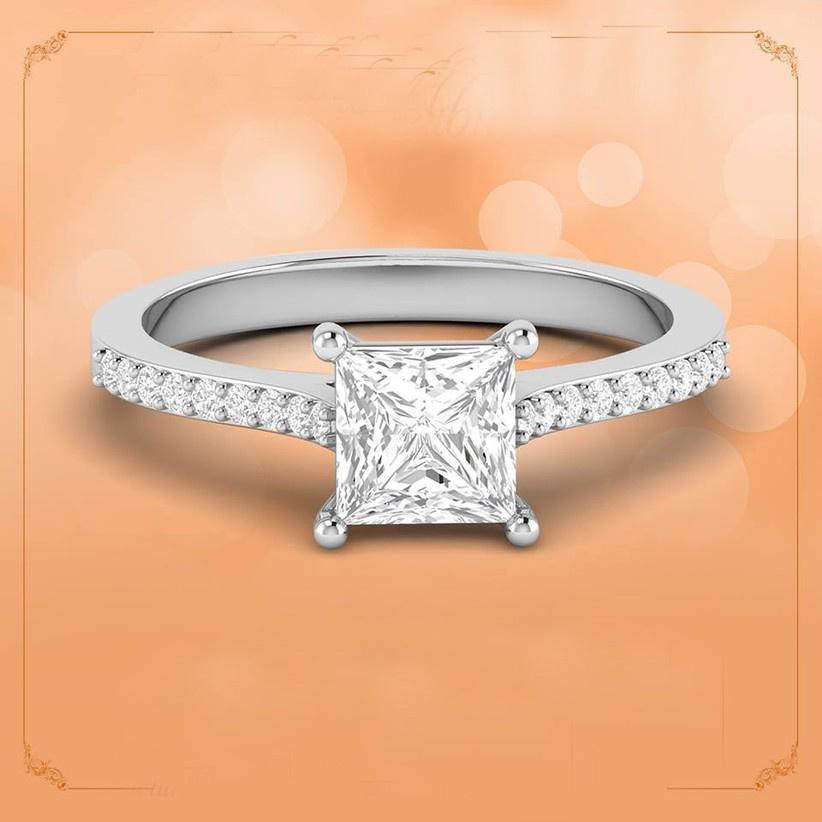 The diamond setting refers to the mounting of the stone which is an integral part of the overall designing of the wedding ring images that you're seeing. It gives more than just security to your wedding ring as it is not just an important feature to the look of wedding rings but the metal framework in which the diamond is mounted also helps set the tone of the wedding ring.
Therefore, be sure of a good setting for the wedding ring image that you see for your bride-to-be. The key is to strike the right balance between the perfect shape and the right setting in the wedding ring images that you are considering or shortlisted.
4. Be Careful with the Metal you Choose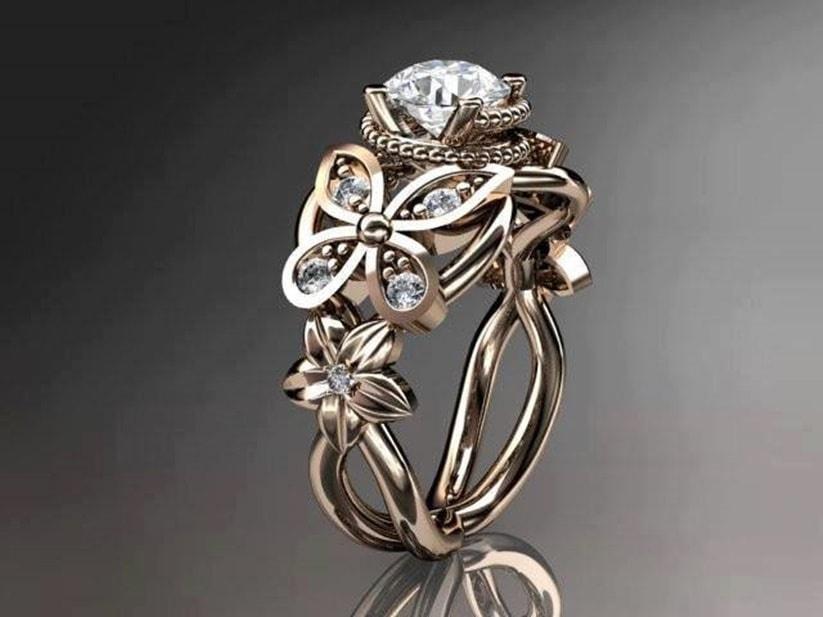 Just like the shape and the setting of the wedding ring images you are seeing, the metal you choose for the band also matters a lot. While the most common metals are gold and platinum, you must always see if that's what suits our bride while being pure and durable as well. Palladium is also another good choice if you do not wish to go for gold or platinum as it has a more grey hue to it than platinum.
You also have an option to choose mixed metal bland with a little platinum and a little gold. Therefore it is important for you to make a more informed choice keeping in mind the quality, purity as well as your overall wedding budget.
5. Know Your Budget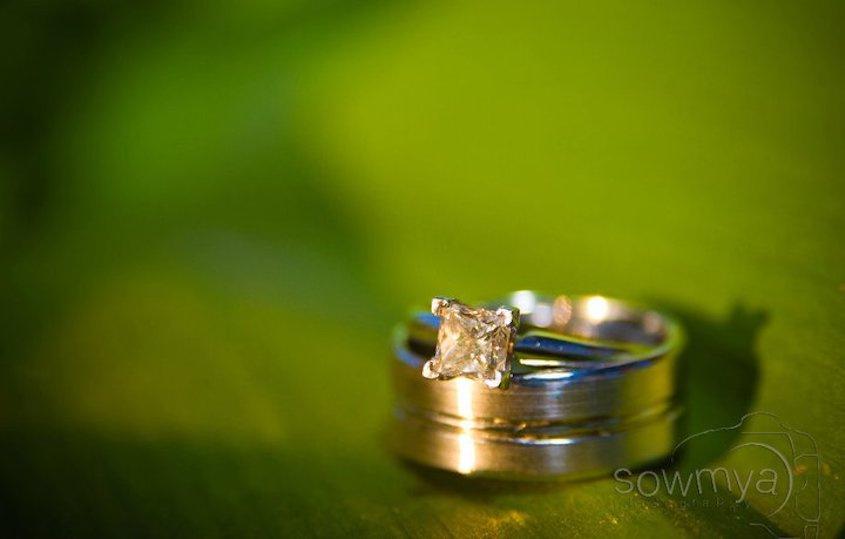 Image Courtesy: Sowmya Photography
Buying a wedding ring is one of those things that can easily go overboard. With the millions of choices that you have while looking at wedding ring images, it is extremely important for you to set out a budget before you start looking for the perfect ring. If you have been discussing It with your bride-to-be, then make sure you are on the same page as far as the wedding ring goes, but also do the math of what fits in the budget.
Sometimes having a fixed budget in mind helps you prioritise between the shapes of the wedding ring, the diamond setting, its 4C's as well as its metal brand better. So know what your bride-to-be wants and lock the most practical budget for it and do some research on the starting prices of diamond rings.
6. Add Her Style and Persona to Her Wedding Ring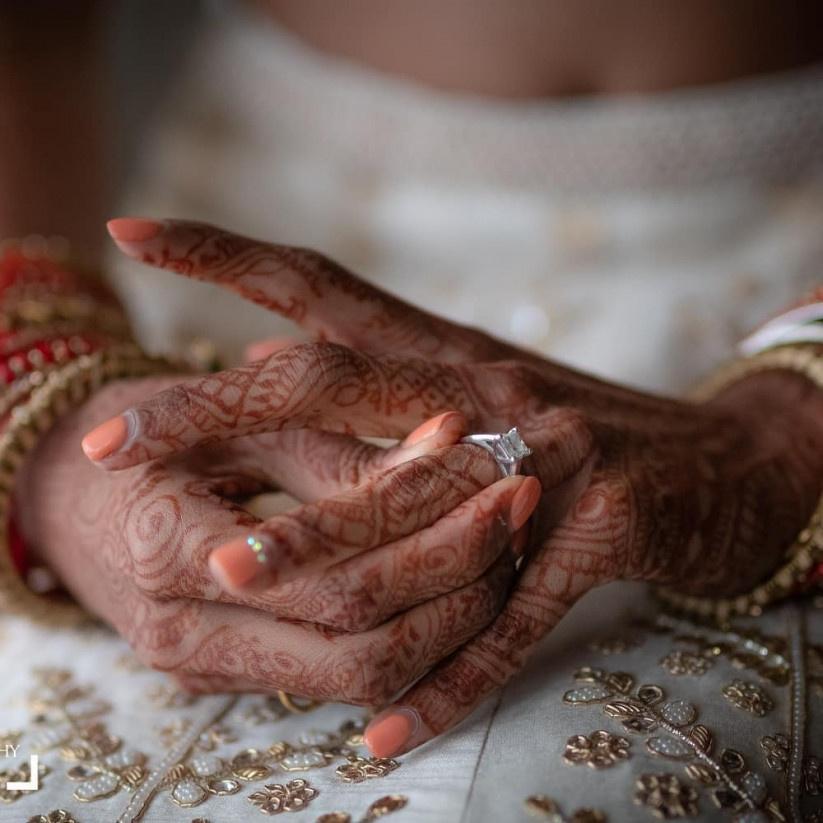 Are you still extremely confused about which of the wedding ring images you've seen is perfect for your special one? Well, there is one last way we can help you crack it. Discuss her style and preferences when it comes to jewellery. It is important for every bride to have a little bit of her personality in her wedding ring.
Whether she is someone who prefers the classic style and cut or the modern and edgy designs can hugely narrow down your choices and help you with this big decision. Talking to friends and family about her taste and what she might like can also prove to be a miraculous idea. Just know who to ring up.
7. Customise, If All Else Fails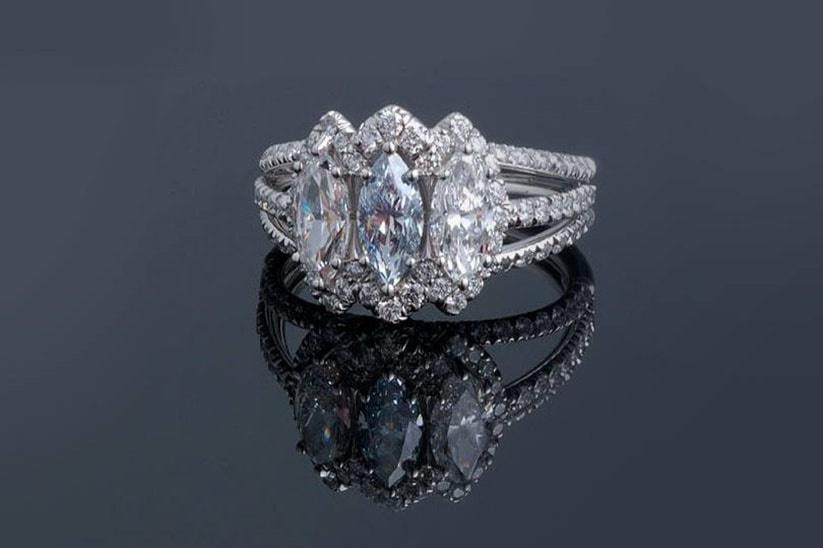 Finally figured the right wedding ring for your better half, but cannot find it anywhere. Many a time finding the right wedding ring is a huge task and we are sure you are bored looking at wedding ring images from around the world. Well, you should stop looking for the ideal wedding ring and go to a trusted bridal jewellery expert to get yours designed. This way all your checklists will be matched while making sure that your budget has been kept in mind too.
8. Get Everything in Writing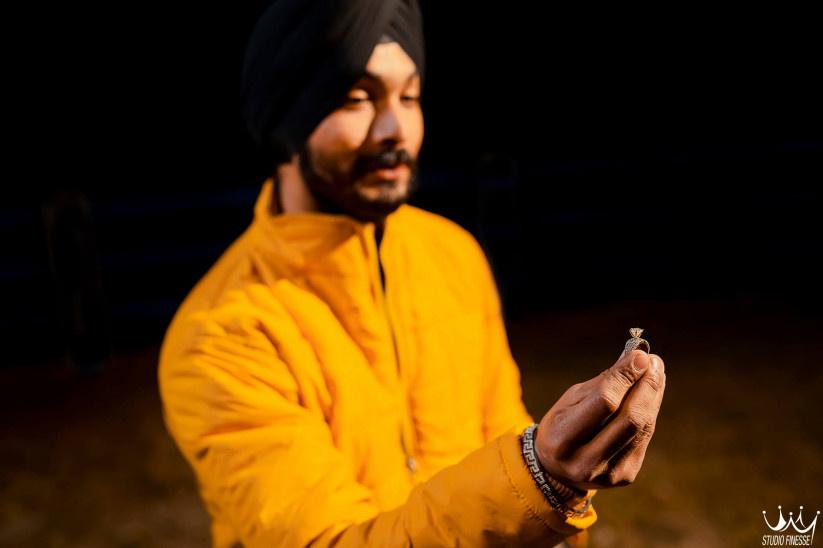 Wedding rings are a huge investment and for grooms looking at diamonds of 1 carat or more, a grading report for the same is extremely important. Your bill of sale must include all details about the 4 C's, shape, dimensions, and other cosmetic enhancements as well. If you are buying from a designer store then you must also ask other details that affect the value of the wedding ring, like - if it's an antique piece or a hand-made design as well.
We are sure that your bride-to-be wouldn't be anything less than pleasantly surprised at your presence of mind once she finds out you have it in writing.
While the shopping rules are rather simple, we know your brides will love you for the gesture anyway. So it's time you up your game and look at wedding ring images with a perfect plan of what you want in the back of your head.
Did our shopping rules help you find the perfect wedding ring for your better half? Tell us in comments about how many wedding ring images you had to see before finally finding the perfect one.