6 Classic Wedding Hairstyle Ideas That You Can Always Count On
Pick a different wedding hairstyle for each occasion that gives you a charming look and brings out all the shades of your beauty.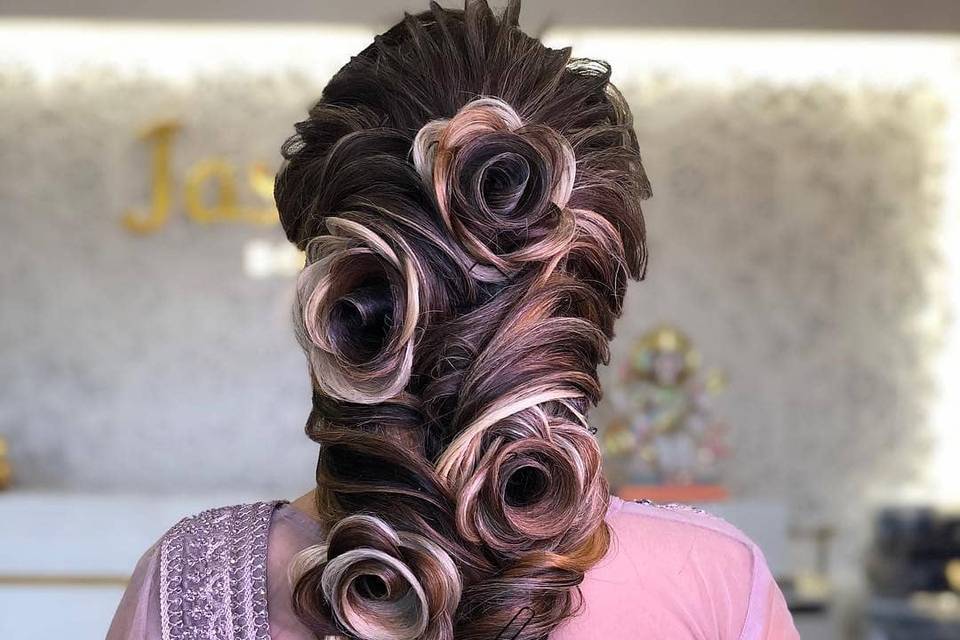 There is so much discussion about the bridal lehenga and wedding makeup that most soon-to-be brides often forget to think about the perfect wedding hairstyle. A complete bridal look is a combination of all aspects, equally well thought-out and planned. A last-minute decision for any factor can create disappointments, confusion and chaos! In fact, bridal makeup is incomplete without the perfect wedding hairstyle accentuating it and creating a frame for your picture-perfect smile.
When it comes to choosing a wedding hairstyle you can pick different looks for different occasions. Choose something that suits your face type and frames your face well. Following trends blindly is never a good option, especially not on your wedding day!
So, here are 6 classic hairstyles that can be a saving grace for any bride when she finds herself in a dud of confusion.
1. The Classic Bun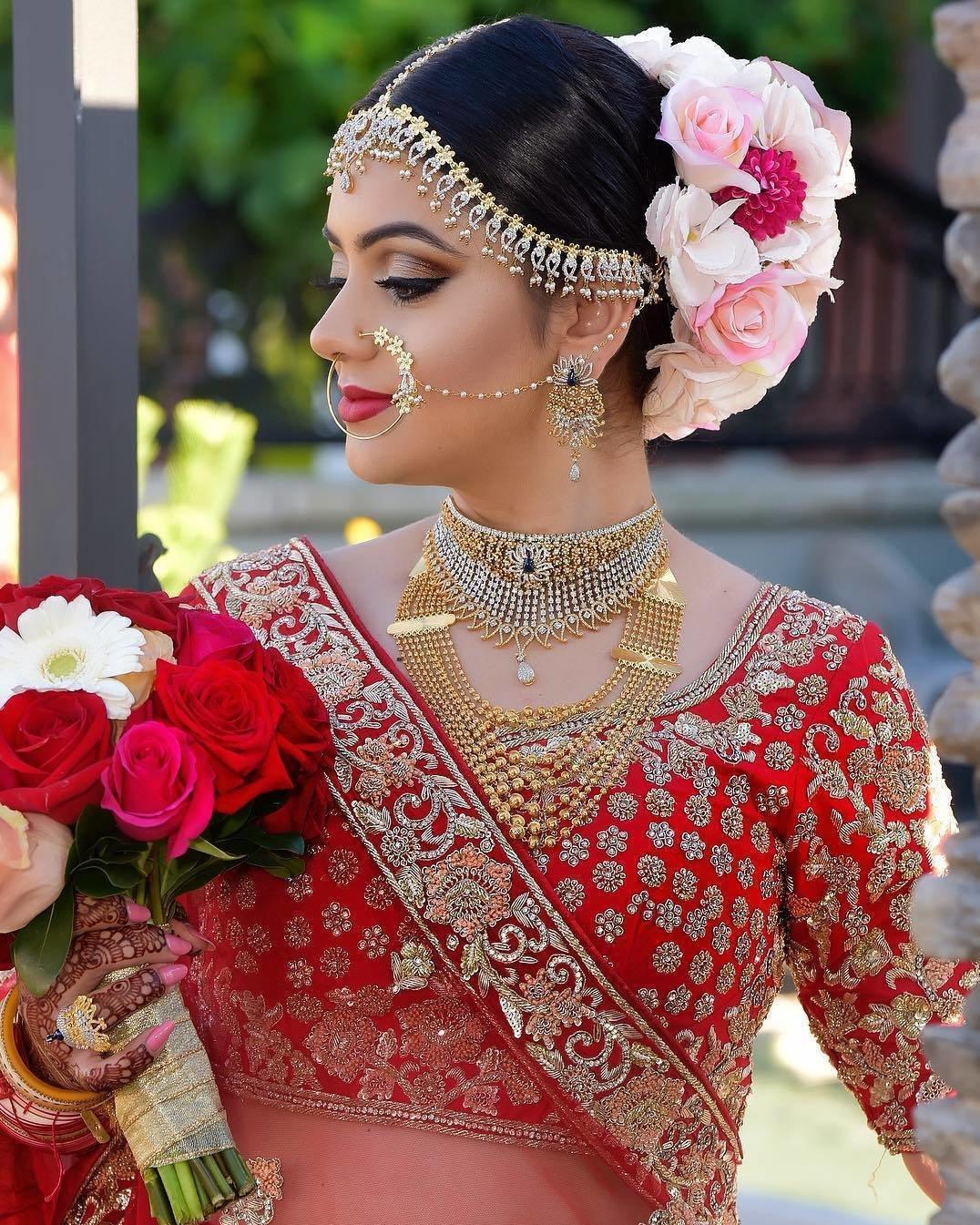 Image courtesy: Minimalist
Putting your hair up in a bun is classy, traditional, retro yet stylish! You can bring in many unique elements like adding hair accessories, twirling the hair, creating a puff, keeping it slick back, add Gajras to the hair, the options are endless! While a high bun with flowers around it is the most popular wedding hairstyle especially when the bride is wearing a bridal lehenga with the Dupatta over the head. The bun secures the Dupatta in place and looks very graceful.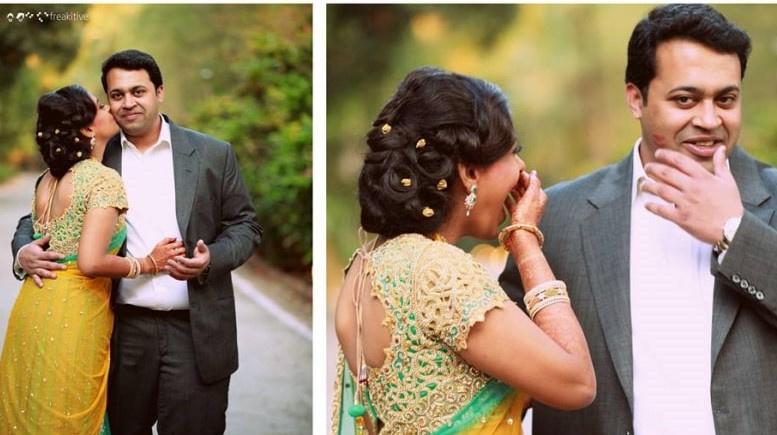 You can also opt for a hair bun on the wedding reception with a bridal gown. You can add Swarovski hair accessories, and bejewelled pins or just add a little hair sparkle. The best part of this wedding hairstyle is that it can be customised to suit any face shape. You can flaunt a high bun, a side bun, a low bun or the classic one. Style it up with pins, clips, fresh flowers or tassels - the choices are endless.
2. Open Curls - Soft and Wild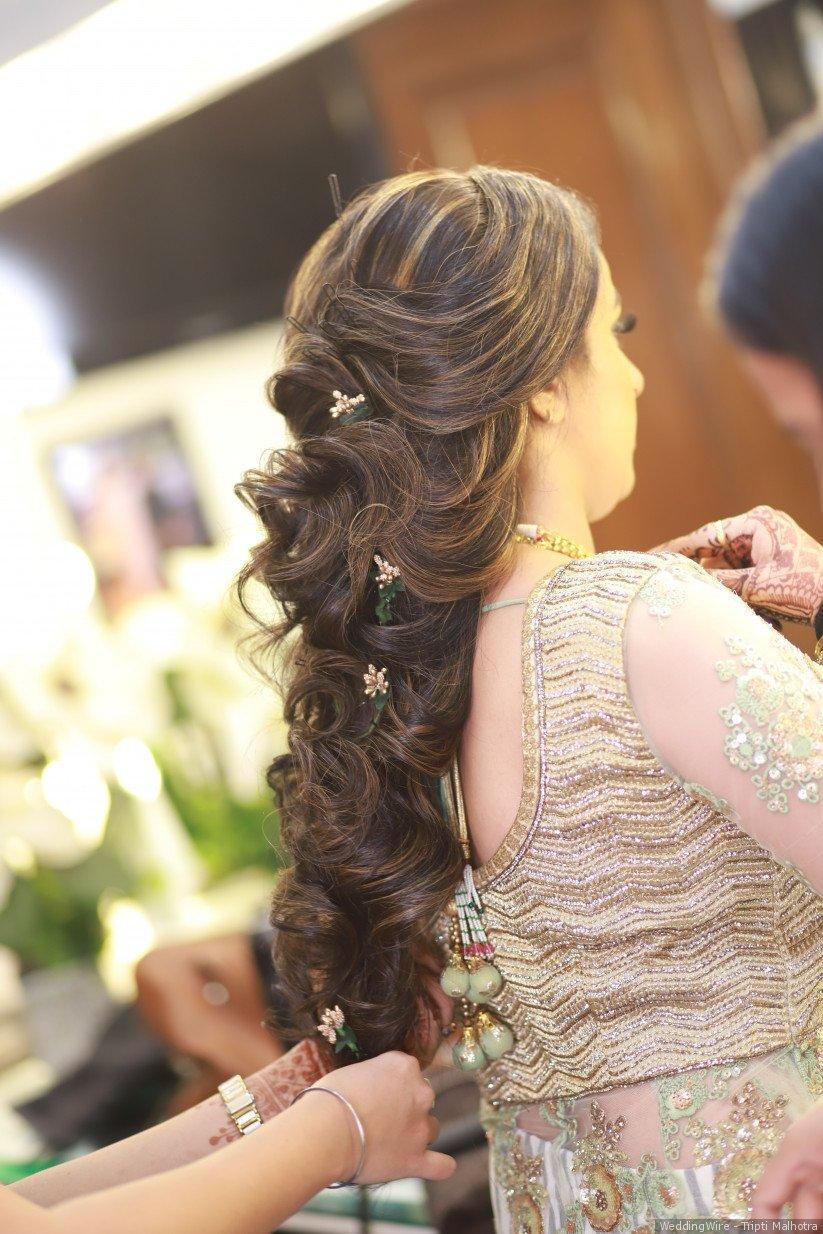 A lot of modern day brides are letting their hair down. If you plan to dance at your wedding, and even the thought of a tightly pulled back bun is uncomfortable, let your hair open. If you have naturally wavy hair, perfect or else just add soft curls to your hair and let them open to one side. You can add a delicate hair accessory loosely wrapped around the hair or just add some fresh flowers pinned up to one side. This is a great bridal hairstyle for reception as well.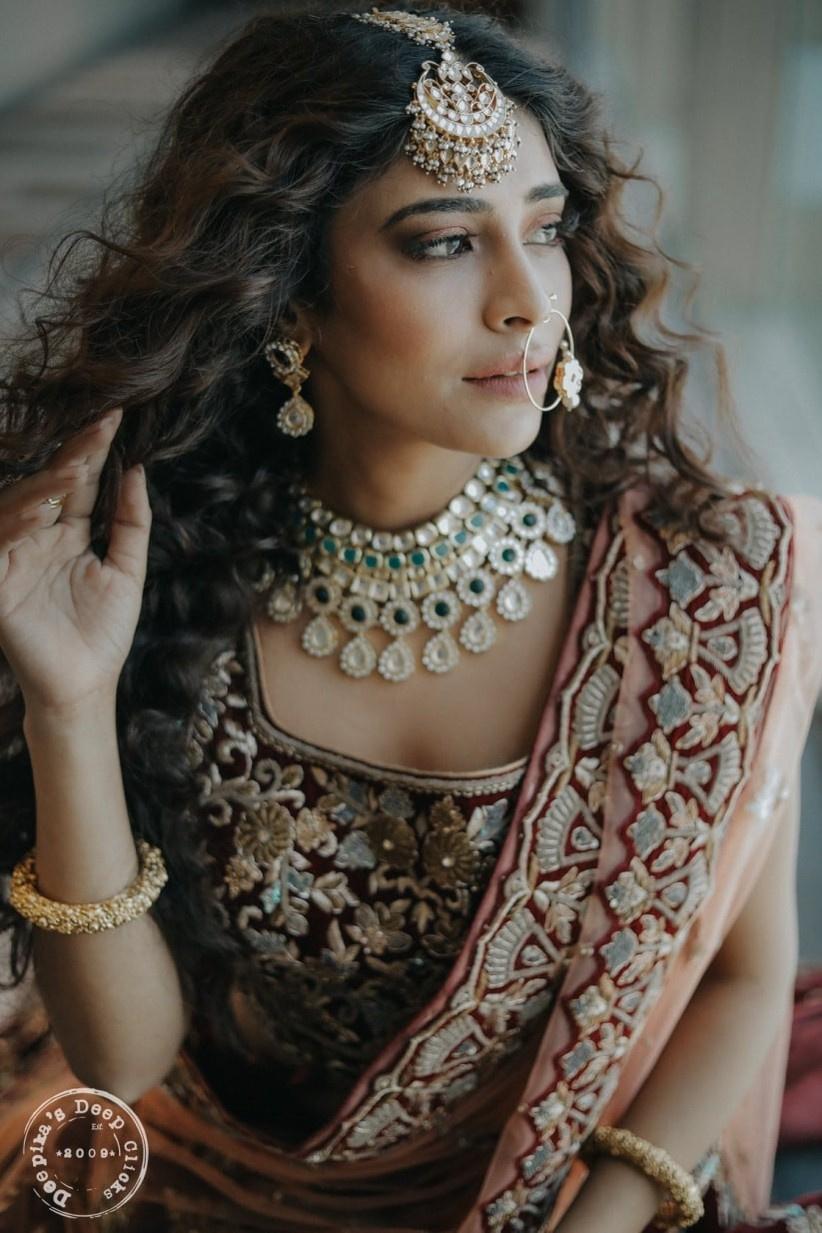 Meanwhile, the other extreme is the wild child look, with open curls. You will surely have the power to make many hearts fail with this hairstyle. Amp it up a notch by pairing statement jewellery with it. You can choose OTT earrings or a tantalising Maang Tikka. Even a statement hair accessory would do the job.
3. The South Indian Siren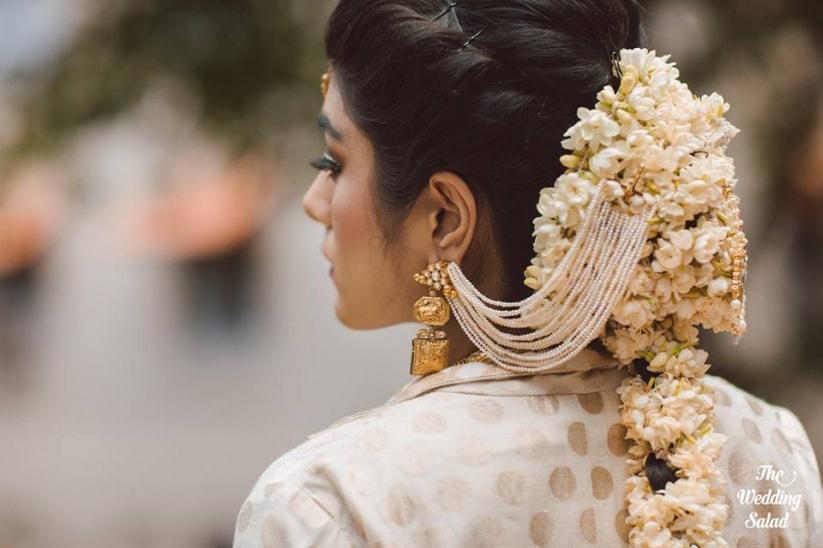 South Indian brides tie up their hair in long braids with a lot of flowers or gold hair accessories running all the way down. Even with this, you have the option to keep it completely traditional with a neat flower braid running down your back or you may choose to add volume with a thick bunch of flowers at the top and a sparsely flowery braid below. Even though it is a South Indian bridal hairstyle, any bride can sport this dreamy-flowery wedding hairstyle. This is a great wedding hairstyle that you can also sport at your wedding reception.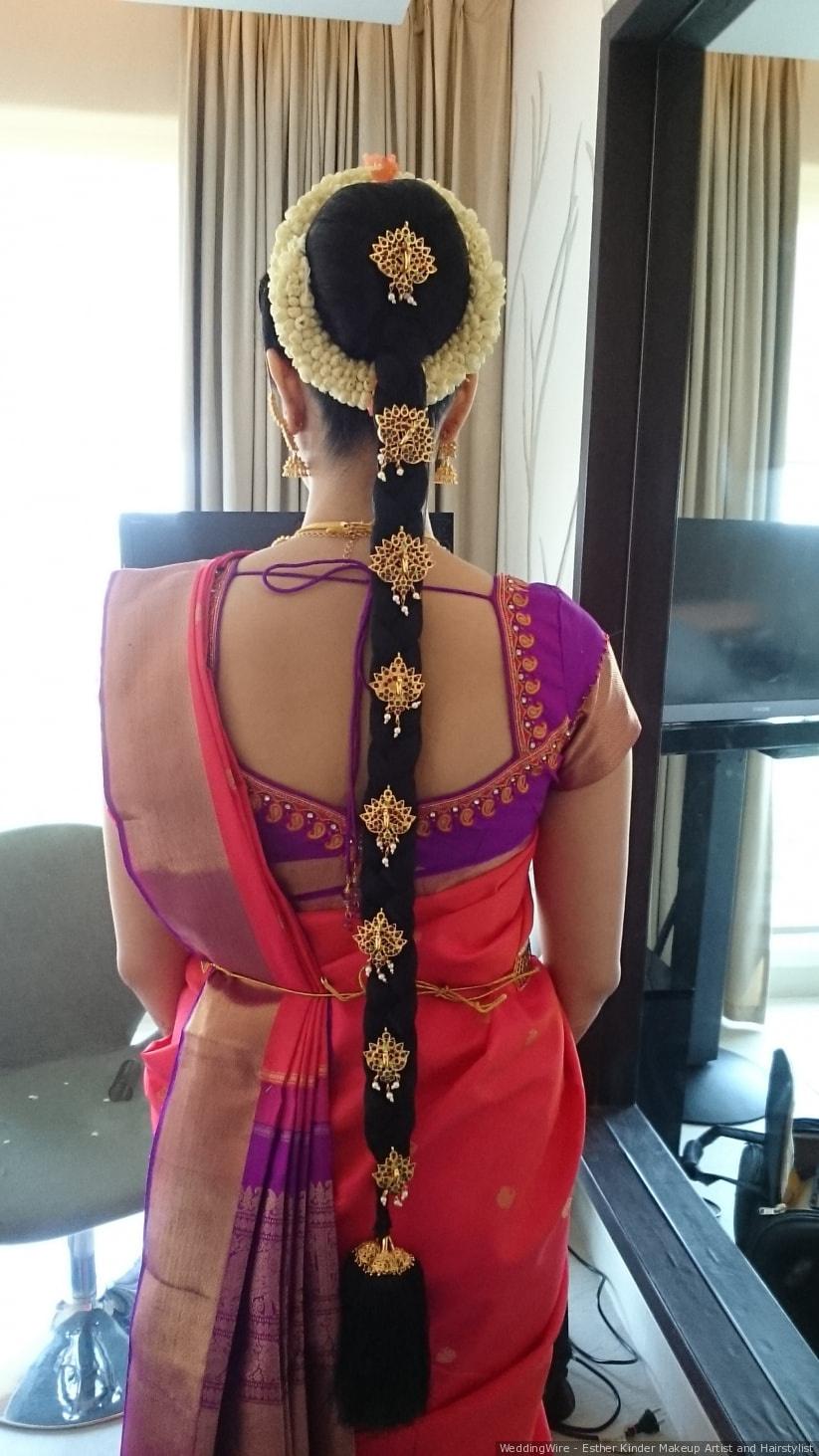 Adorn your braid with a combo of Indian hair accessories like Poola Jada from South India and Paranda from the North. Both of these accessories are used to accentuate the beauty of your braid. So flaunt your style factor with pride.
4. Fishtail Braid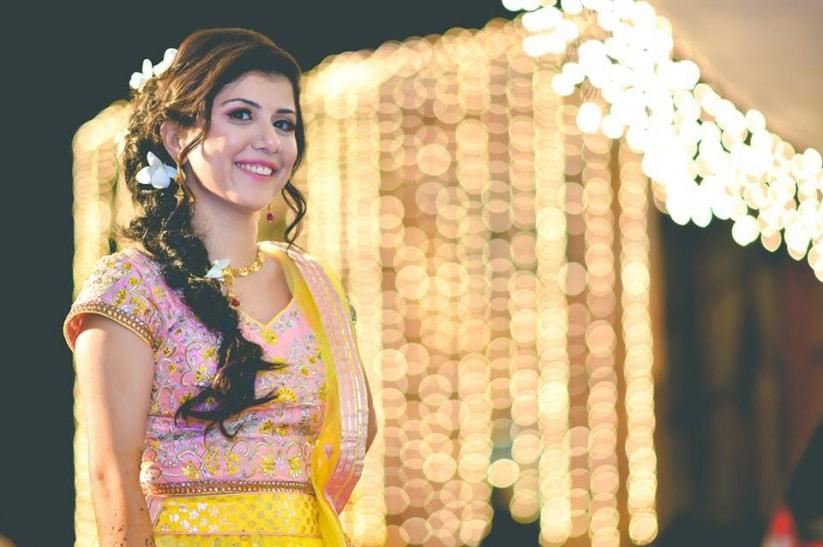 A fishtail braid is an easy-peasy and stylish look to carry. This is the perfect wedding hairstyle for Mehndi and Sangeet functions when you want your hair off your face and look while still give the perfect wedding poses. It's an easy-to-do hairstyle that stays in place for long hours, even when you are busy dancing!
Style it with fancy Juda pins or fresh flower wisps called the baby's breath. Wearing a fishtail to your wedding ceremonies will surely be a refreshing take on wedding hairstyles.
5. Accessorised braid - Thick and Thin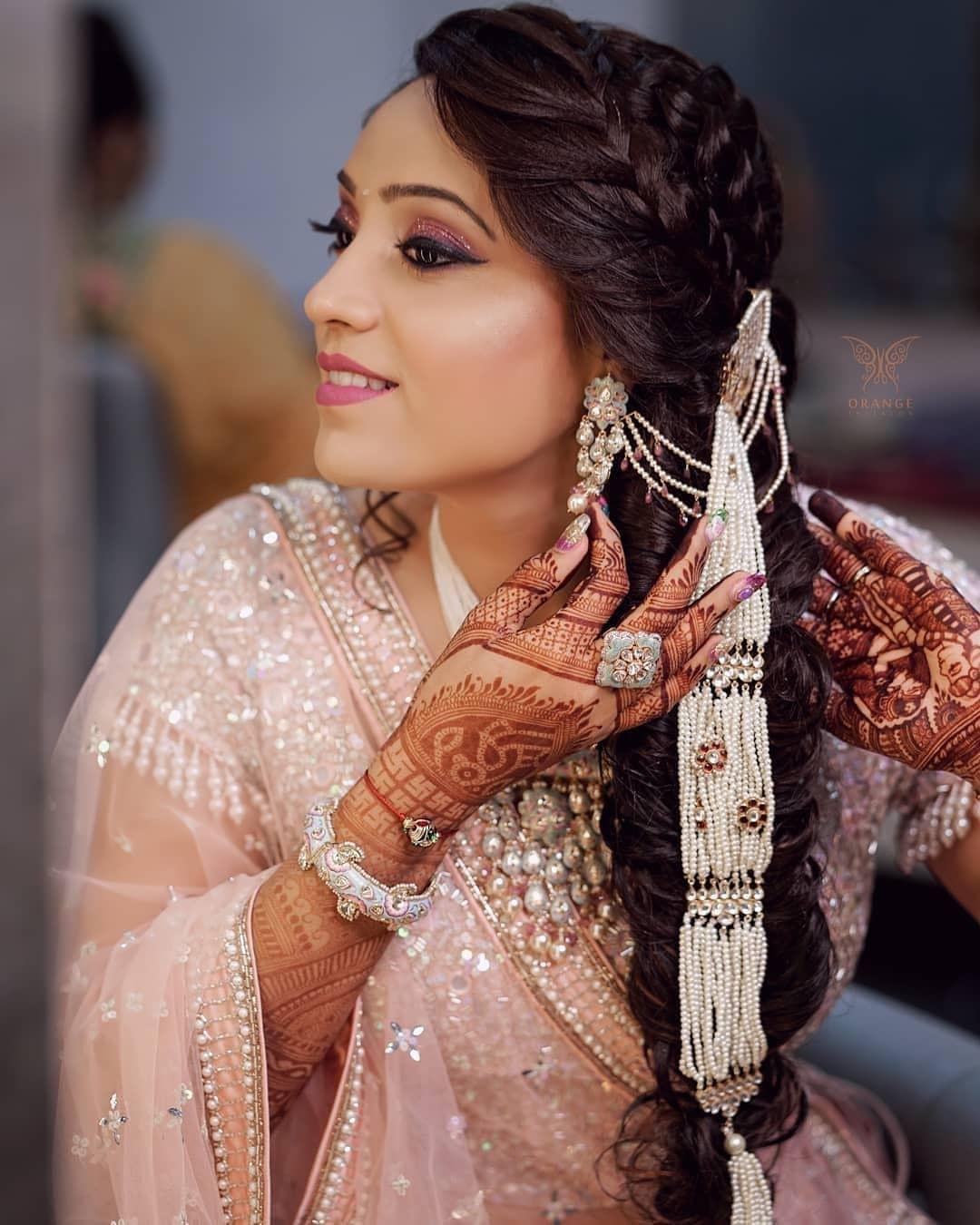 Image courtesy: Aanal Savaliya
Get ready for a two-tier approach with your braided tresses - first in the way you choose to twist and reign them in - from a thin or thick regular chotti to an elegant fishtail or pulled wide with each step. And then go for the accessory that will add the ultimate topper to your wedding hairstyle. It could be pearl ornament, embellished pins and clips, a traditional (or modern) Nagai Chetti and a Poola Jada.
This wedding hairstyle will in all ways look absolutely like the real deal.
6. Half and Half look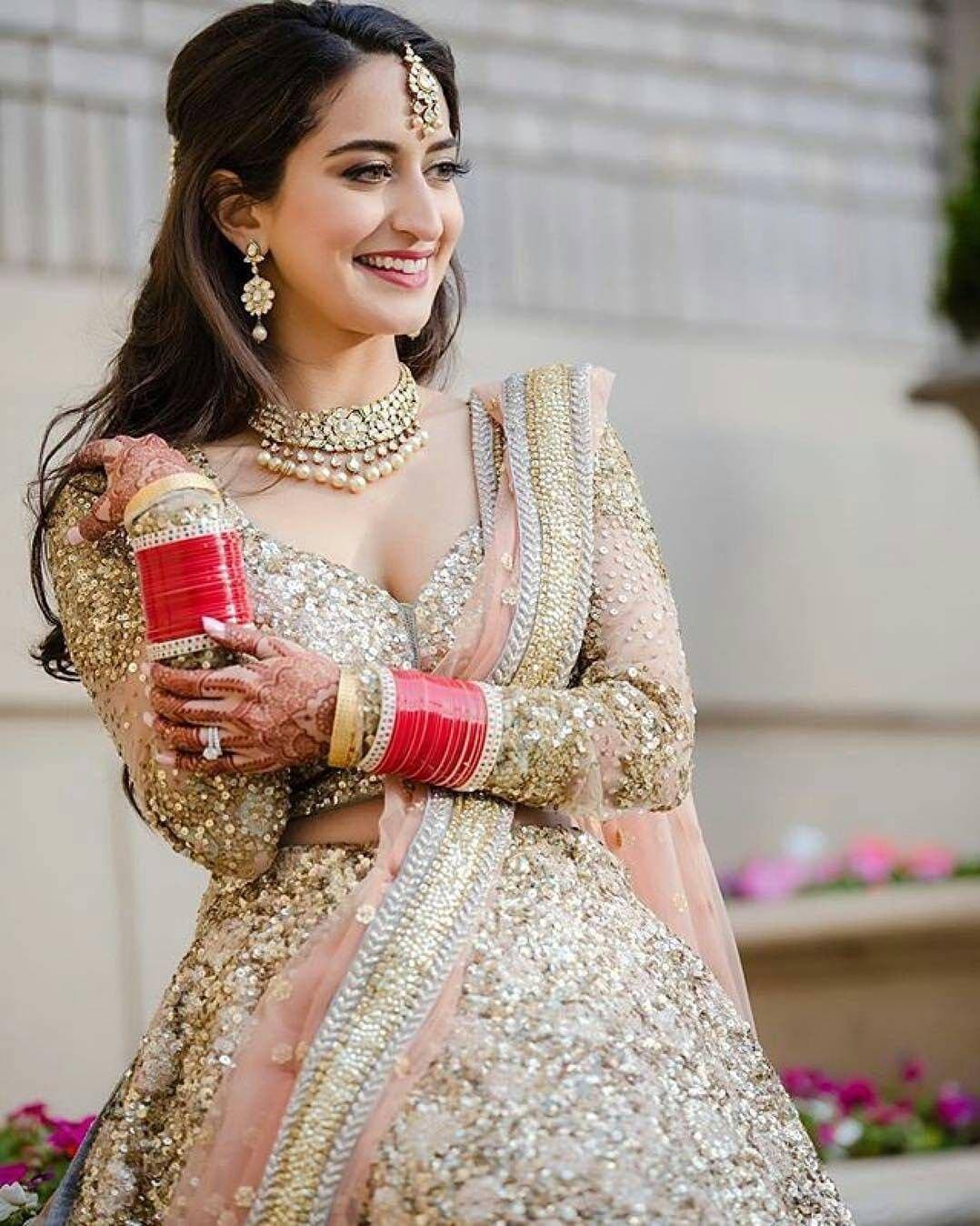 Image courtesy: Wedding Documentary
And then, we come down the absolute basic - the half open and half closed (often clipped at the top of the head) wedding hairstyle, which works with all hair lengths and all hair types - the flat thin hair to bouncy manes, wild curls to mixed textures. It's also good for short, medium and long hair - think of how Mandira Bedi, Preity Zinta and Tabu have all used this as their go-to daily look.
For a bridal twist, add bling as a hair clip, band or accessory at one stage and a traditional approach - like a Maang Tikka, Matha Patti or even a Jhoomar or Passa on the other.
To achieve the look you have in mind, start prepping your hair at least 6 months prior to the wedding with a full-fledged regime. Only then will your hair achieve that glossy look that will shine through all your wedding photographs and maybe even dazzle more than your engagement ring on your D-day. Are you prepared for all that and more?
When selecting the wedding hairstyle, do keep the neck of your outfit in mind and remember to choose hairstyles that would complement your ensemble beautifully.
Which wedding hairstyle would you choose? Tell us in the comments below.