Lehenga Dress Design Ideas To Dial-up The Glam At Your Sangeet
Whether you're into darker hues or saturated shades, there's a lehenga dress design out there to suit your style aesthetic. Here are the biggest trends of the season!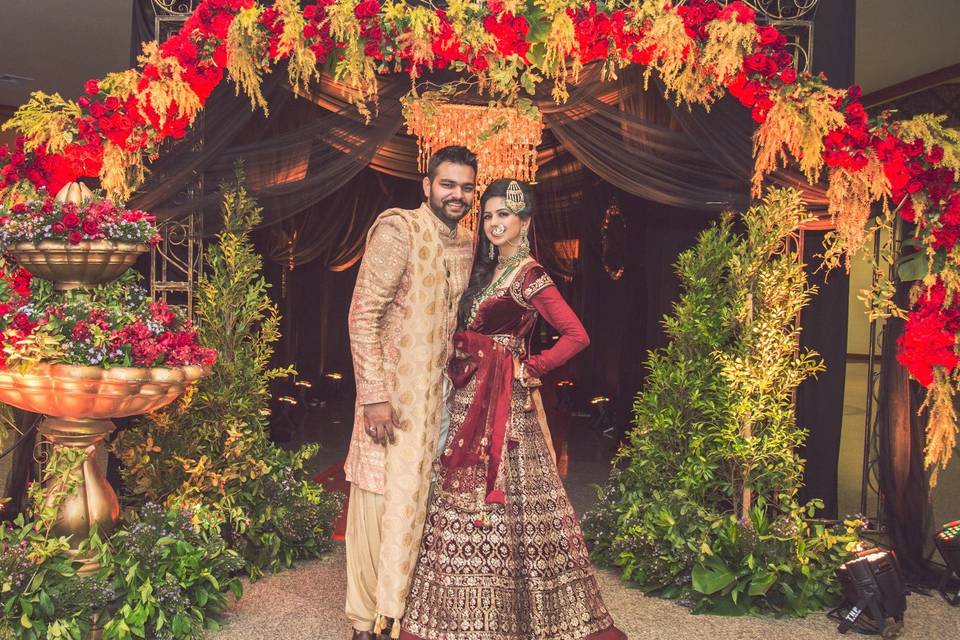 A Big Fat Indian Wedding entails a week-long of festivities but one event that ranks above the others is the Sangeet. Not only is it the best part of the wedding but it also gives the bride an opportunity to get experimental with her outfits.
From a mermaid lehenga to a traditional red one, the sky is your limit when it comes to choosing what you want to wear. You can opt for bold colours with fancy silhouettes or go all out with your outfit with some ruffles or fringe details. If a lehenga is your choice of outfit for the big night, check out our carefully curated list of lehenga dress design styles that are perfect for traditional and contemporary brides.
Magnificent Maroon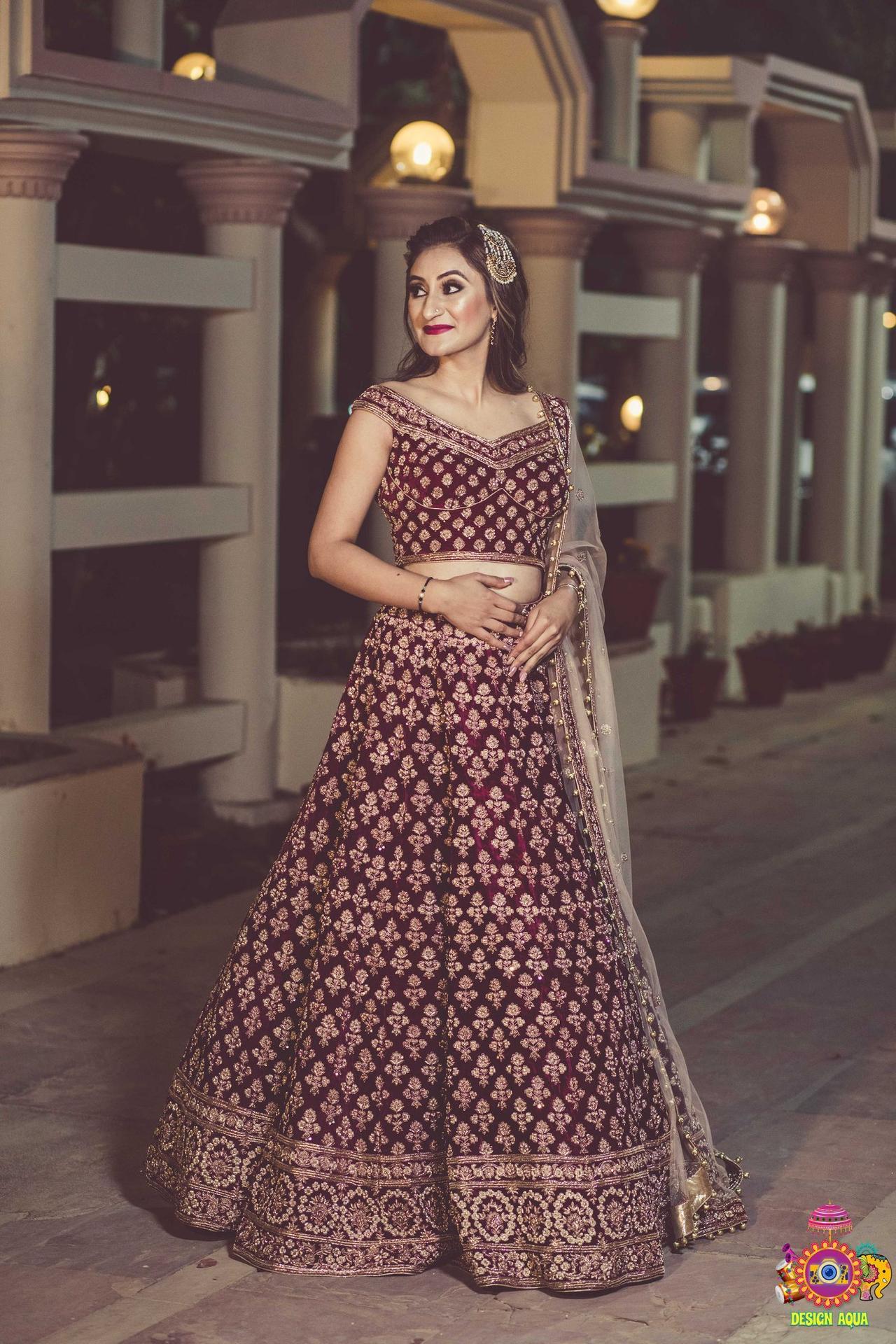 While you want your outfit to look amazing, it's important to consider your comfort levels as well. The Sangeet includes a lot of dancing and mingling with the guests so you want your outfit to allow for mobility. This bride's A-line lehenga provides just this. The outfit is made from a deep maroon velvet material that gives the outfit a grand appeal. It is intricately embellished with a traditional gold motif across the skirt and blouse.
While the designs on the outfit are fairly traditional, it's the style and cut of the lehenga dress design that gives it a modern touch. The off-shoulder blouse comes with a wide V-neckline and is paired with a simple A-line skirt and a white net dupatta for the finishing touch.
Pink Satin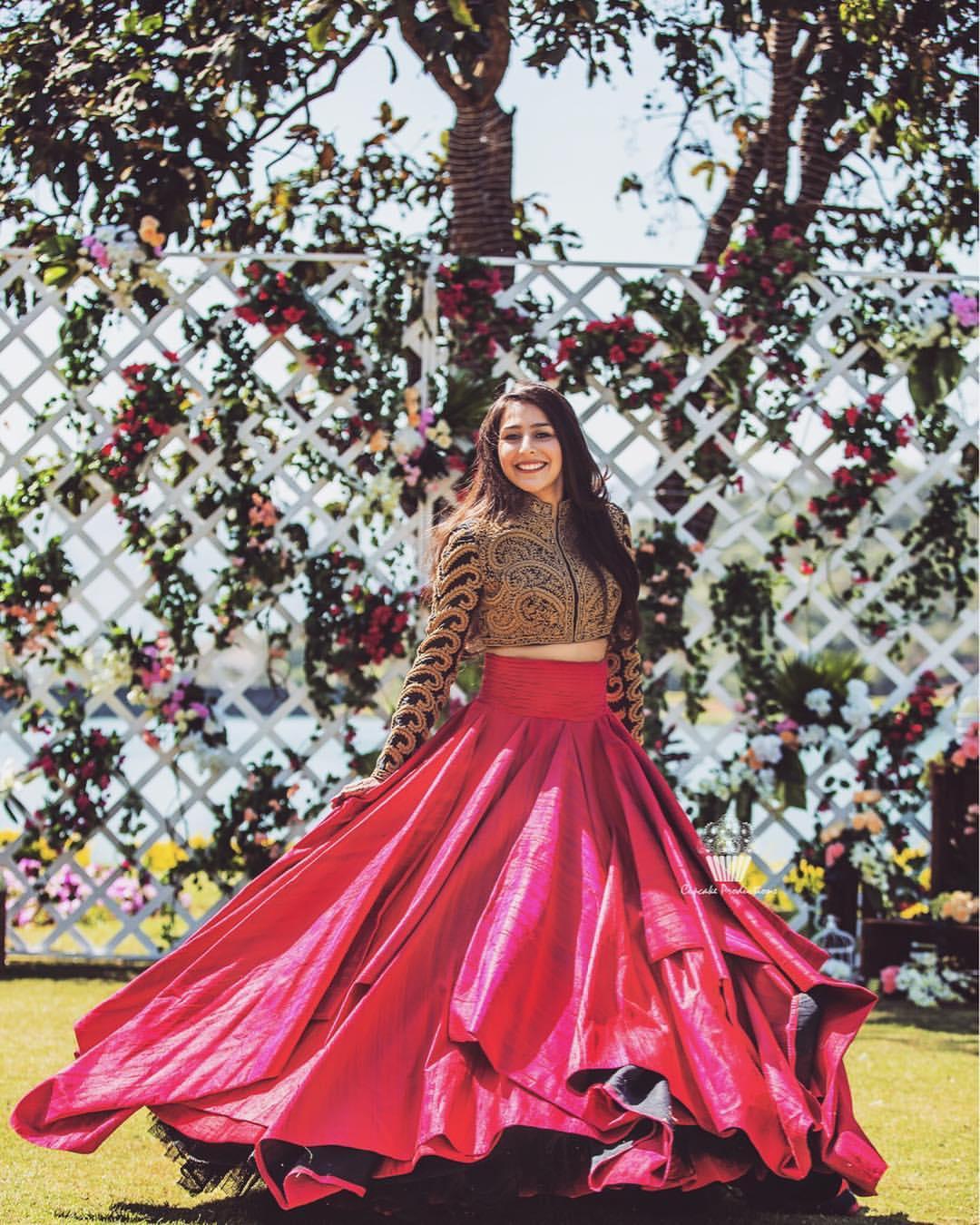 This year we're all about the unique lehenga silhouettes that give your attire a voice of its own. These outfits aim to break away from the traditional mould that has defined lehengas for many centuries. This bride satin pink lehenga is a perfect example of this. The lehenga dress design comes with a full-sleeve blouse that is embellished with gold embroidery work.
It is designed like a jacket, making it perfect for cooler temperatures. However, it's the pink skirt that offers a striking contrast and takes the outfit to another level. Enhanced with tulle for that ball-gown effect, this bright colour of the skirt can make your outfit pop in the night lights. Simple yet striking, this lehenga dress design is perfect for the bride who wants to make a statement.
Rosy Red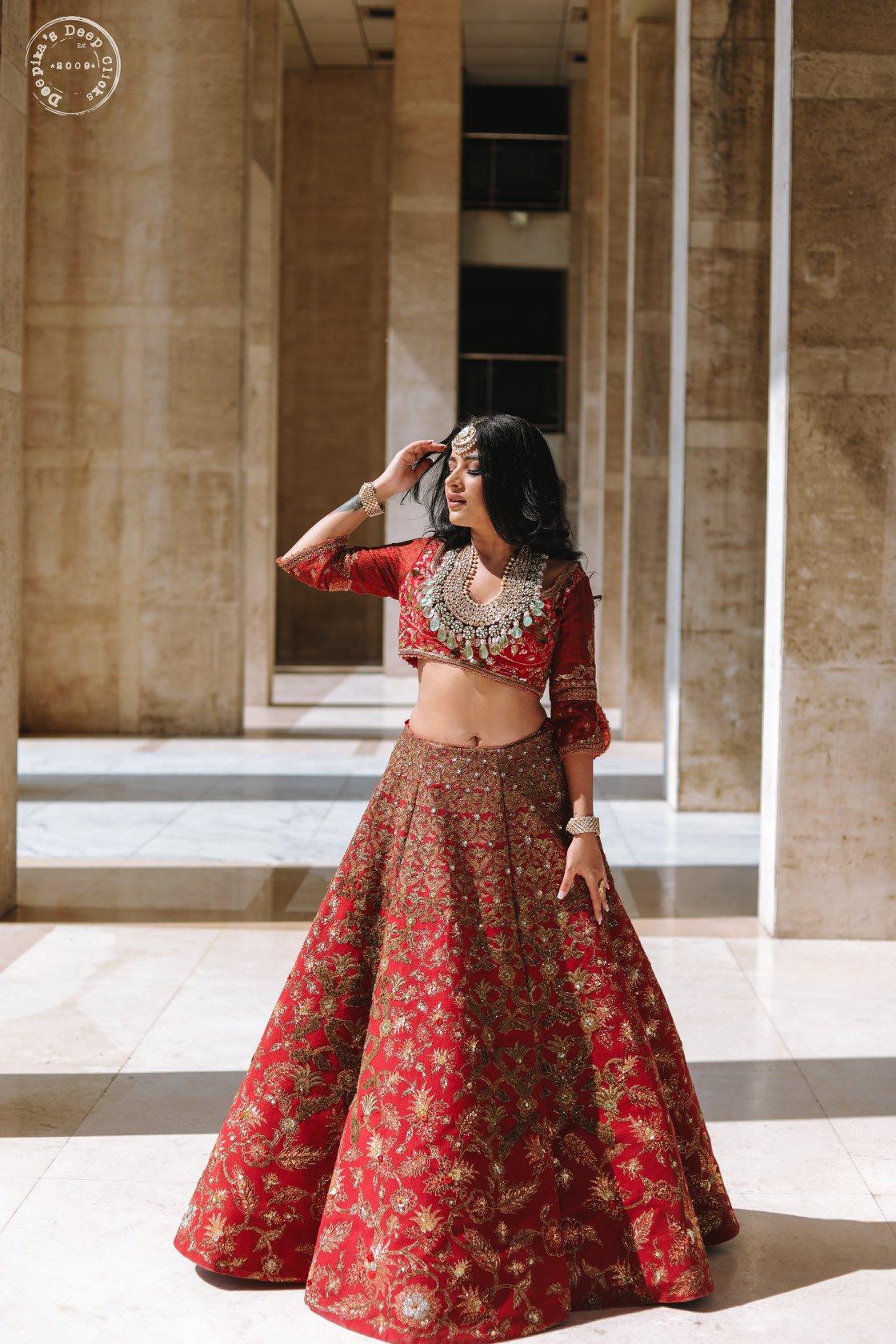 The modern-day bride is all about wearing her unique personality and not just following the trends of the season. This ideal has paved the way for numerous lehengas that are totally unique and chic. While a red lehenga is a wedding wardrobe staple, this bride has put a modern spin on the traditional lehenga dress design with a stylish silhouette and pattern.
The skirt features an A-line lehenga that is embellished with intricate florals that flow across the skirt in a vine-like pattern. It is paired with a short crop top that comes with sleeves that fall to the shoulders and mimics the motifs on the blouse. The look is enhanced with a chunky necklace and a Maang Tikka.
Moss Green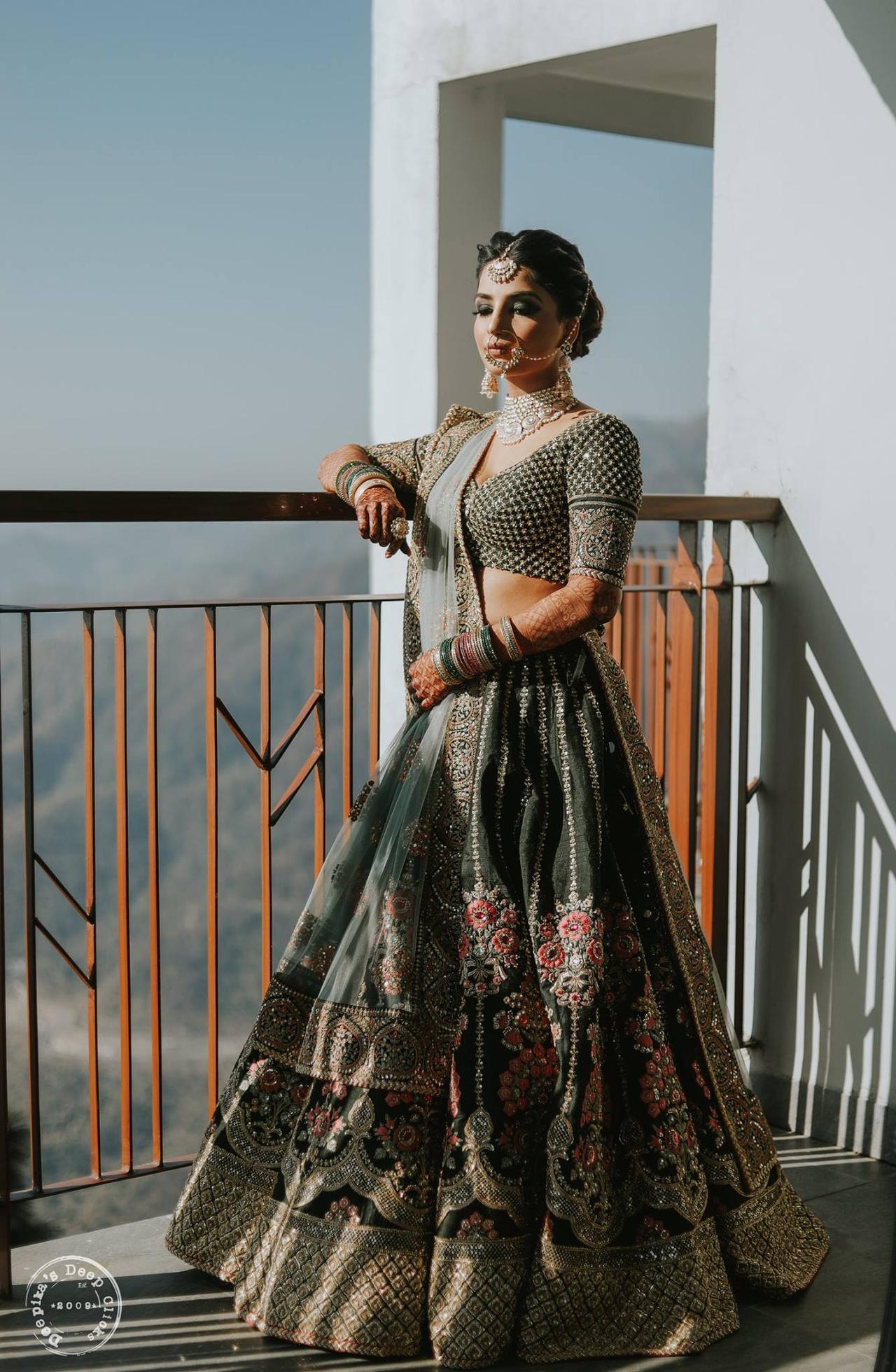 Red lehengas will always remain the dominant choice in bridal wardrobes but in recent years, this trend has taken a dramatic shift as brides opt for muted tones and pastel shades. If you are a bride looking to stray from the norm, check out this chic moss green lehenga dress design.
The skirt features heavy embroidery with pink florals carefully etched on the body of the skirt. Paired with the gold sequins work, this outfit is nothing short of grand. The blouse comes with a criss-cross motif that further enhances this bridal look and matching net green dupatta adds the finishing touch. This outfit is ideal for brides who want to give their outfit a fresh appeal while staying true to their roots.
Royal Blue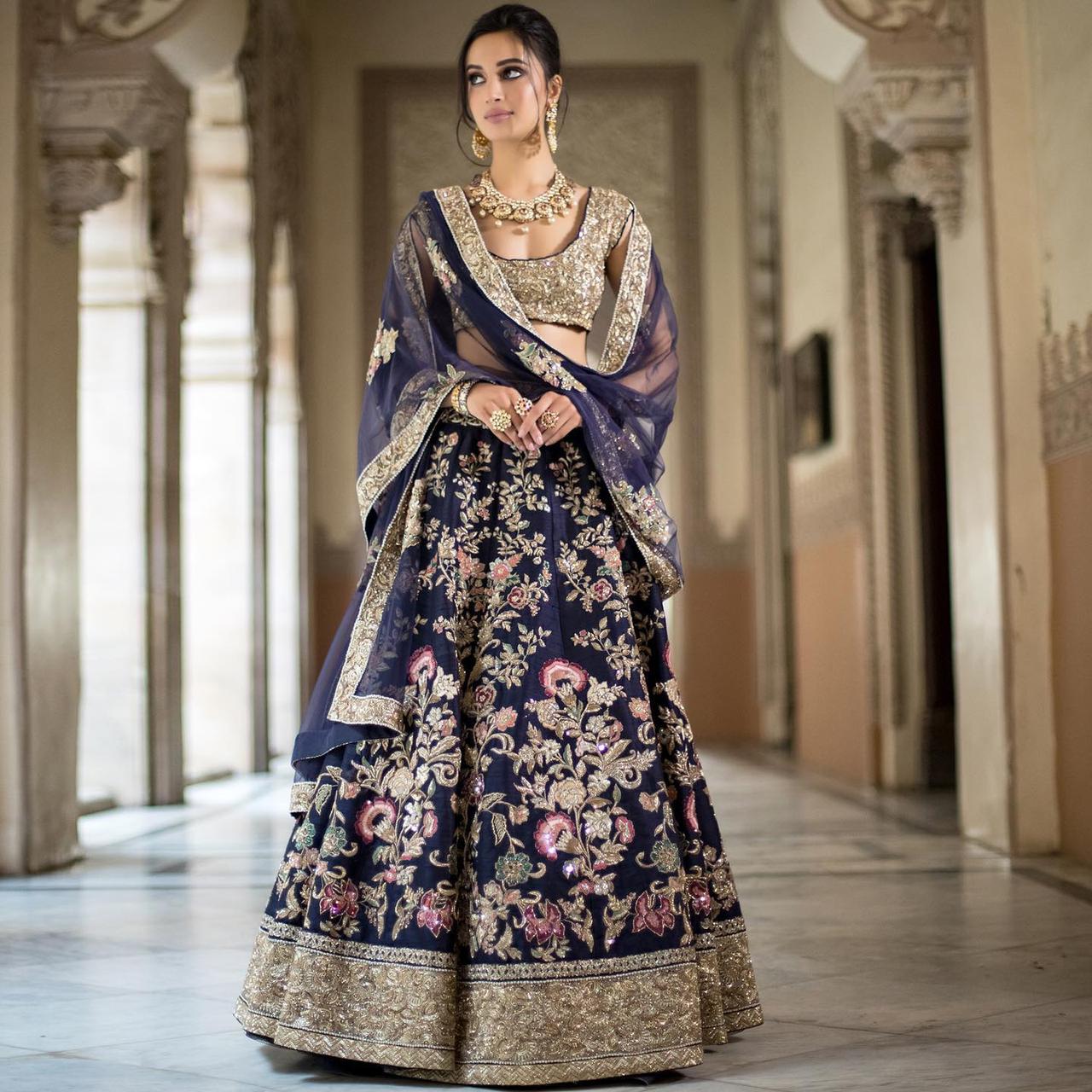 Wedding attire today is all about its functionality and brides prefer versatile outfits that can be worn more than once. Many designers have taken this into consideration and created lehengas that are less dramatic but can still make a fashion statement. This bride's is wearing a navy blue satin skirt that is embedded with a bold floral pattern across the body.
It is paired with a short crop blouse that is covered in sequins to compliment the skirt. The unique colour combination makes this outfit totally elegant and chic. Moreover, a lehenga dress design like this one can be worn to an evening cocktail or a big party long after the wedding.
Multicolour Striped Pattern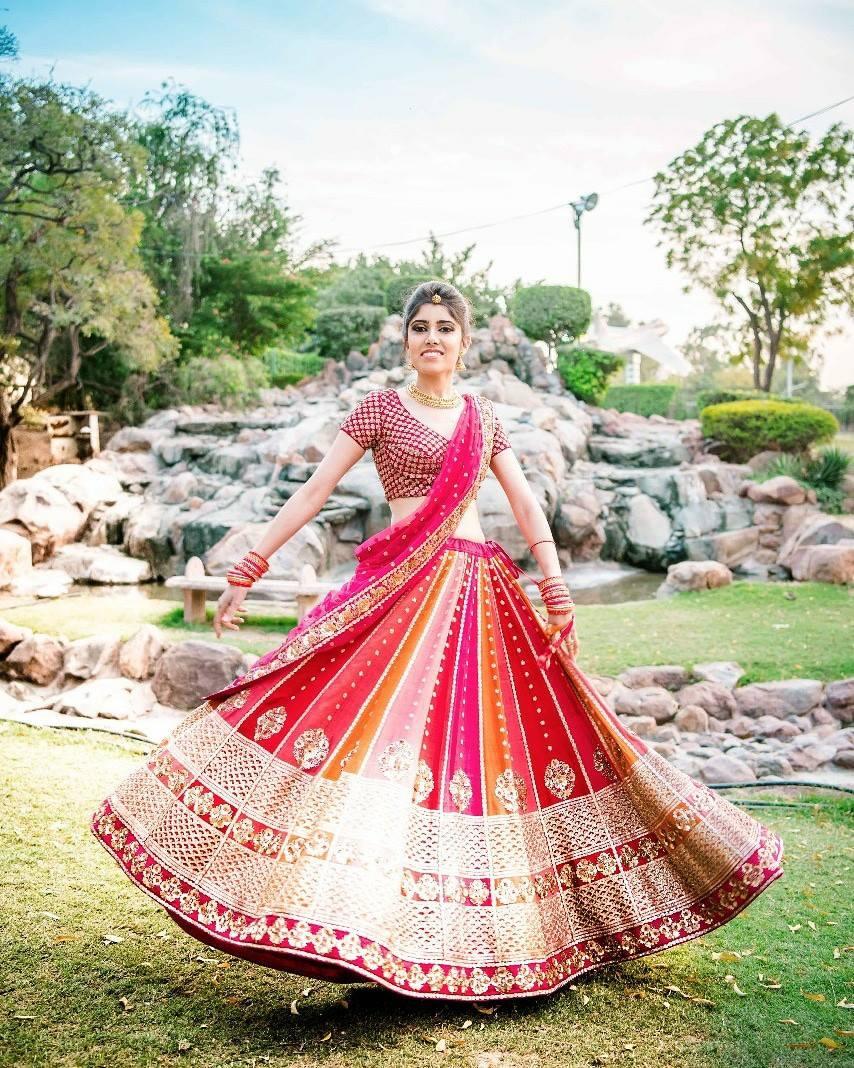 One trend that's making a major comeback is lehengas in vibrant shades. Many celebrities have graced the red carpet this year in high-octane and fluorescent shades and this look has been channelled by many brides on their wedding day. If you're not into pastel shades then opt for an outfit with bold hues.
This bride is adorned in a lehenga that comes with a pink, red and orange striped pattern. The base of the skirt featured a broad gold border that gives the outfit its festive vibe. It is paired with a maroon brocade blouse to highlight the colours on the skirt. A simple gold necklace and some Jhumka earrings complete this lehenga dress design.
Black And Gold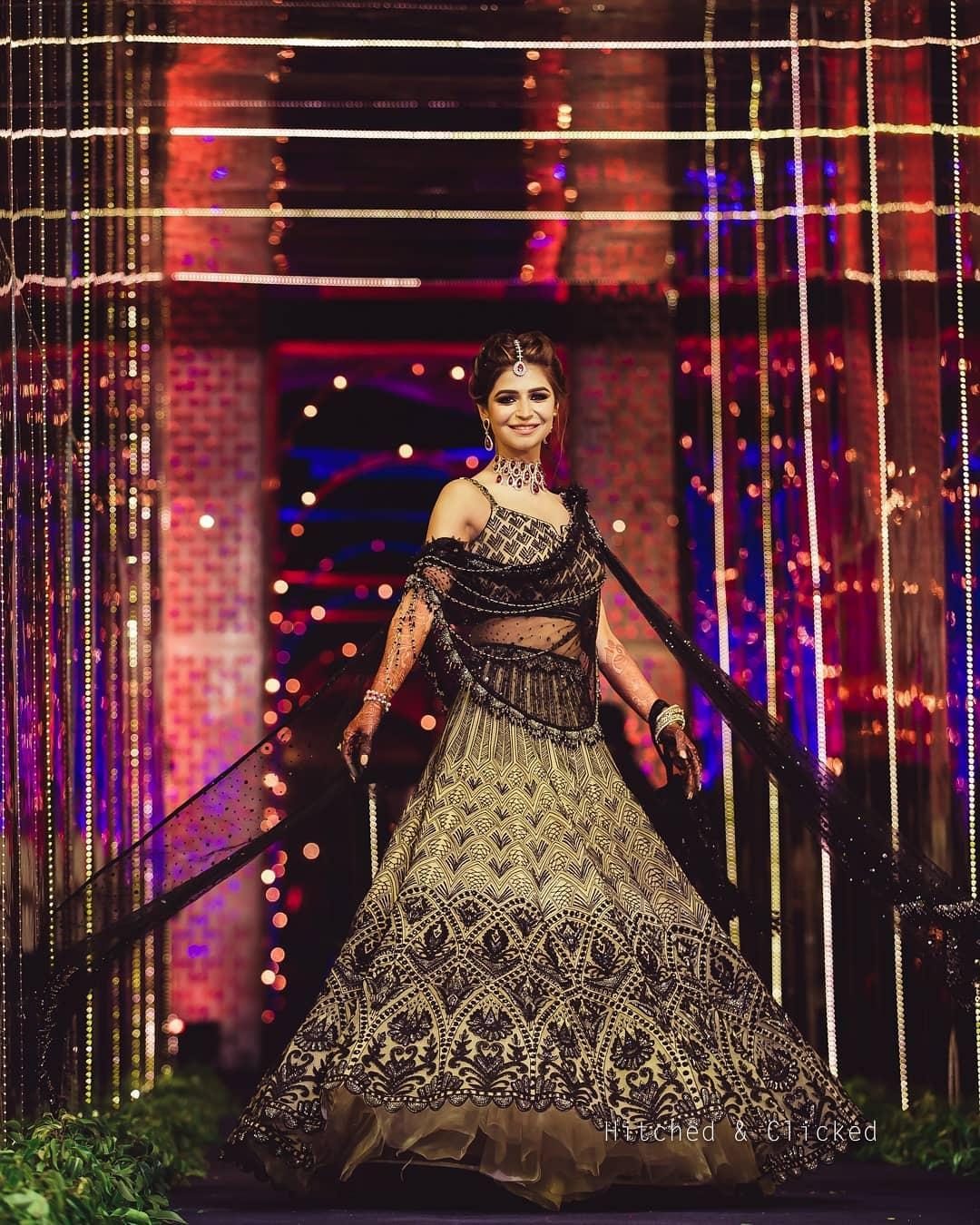 The Sangeet gives you the liberty to get experimental with your outfits so you can ditch the bright colours for an edgier look. Darker shades like black and brown are not your usual wedding colours but in recent years many brides are looking to make a dramatic statement with these subtle tones.
This bride is wearing a stunning black and gold lehenga that's embedded with Zardosi embroidery across the body of the skirt. It is paired with a matching strap blouse and slim net dupatta. If you're a bride who prefers to wear her personality and make a dramatic statement, this lehenga dress design is perfect!
A stunning lehenga is always an Indian ethnic favourite and many brides turn to this outfit to see them through multiple wedding festivities. As you gear up for the Sangeet, opt for a lehenga that showcases your personality in a unique way. This can be through different colours, silhouettes or even designs. The modern-day bride is the perfect combination of traditional and edgy so your wedding outfit should draw from this aesthetic. We hope these lehenga dress design ideas help you pick the perfect outfit for your Sangeet!
Are you looking for the perfect lehenga dress design for your Sangeet? Get in touch with our bridal lehenga vendors to find the perfect attire!