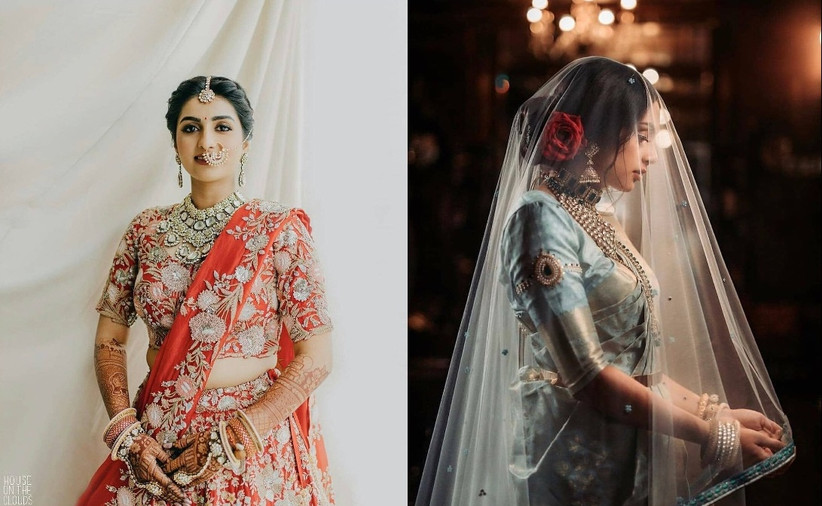 Image Courtesy: House On The Clouds (L), Black Magic Creations (R)
WeddingWire India's Instagram page is a one-stop destination when you are looking for inspiration for your big day. Right from the latest mehndi designs to the bridal outfits that are sure to steal hearts - our Instagram account is a grand celebration of one of the biggest celebrations in your lives, The Wedding.
While every picture must have touched a chord in your heart to make an unforgettable impression, there are some pictures that became very popular and were the most liked or shared pictures from our platform.
Be it a portrait photograph of a blushing bride in her red lehenga or one of the happy bride showing off her swag on the magical mehndi ceremony - we have curated all your favourite 2020 bridal looks from our Instagram page.
Keep scrolling for a beautiful walk down the memory lane for inspiration!
The Velvet Lehenga Look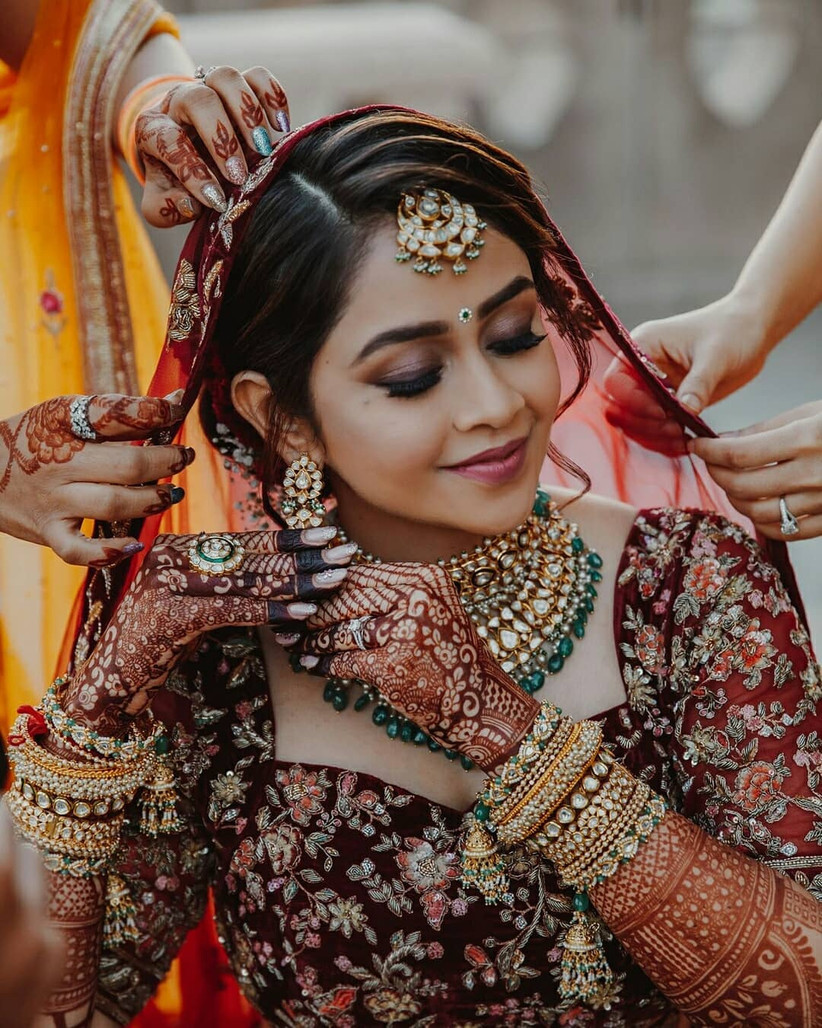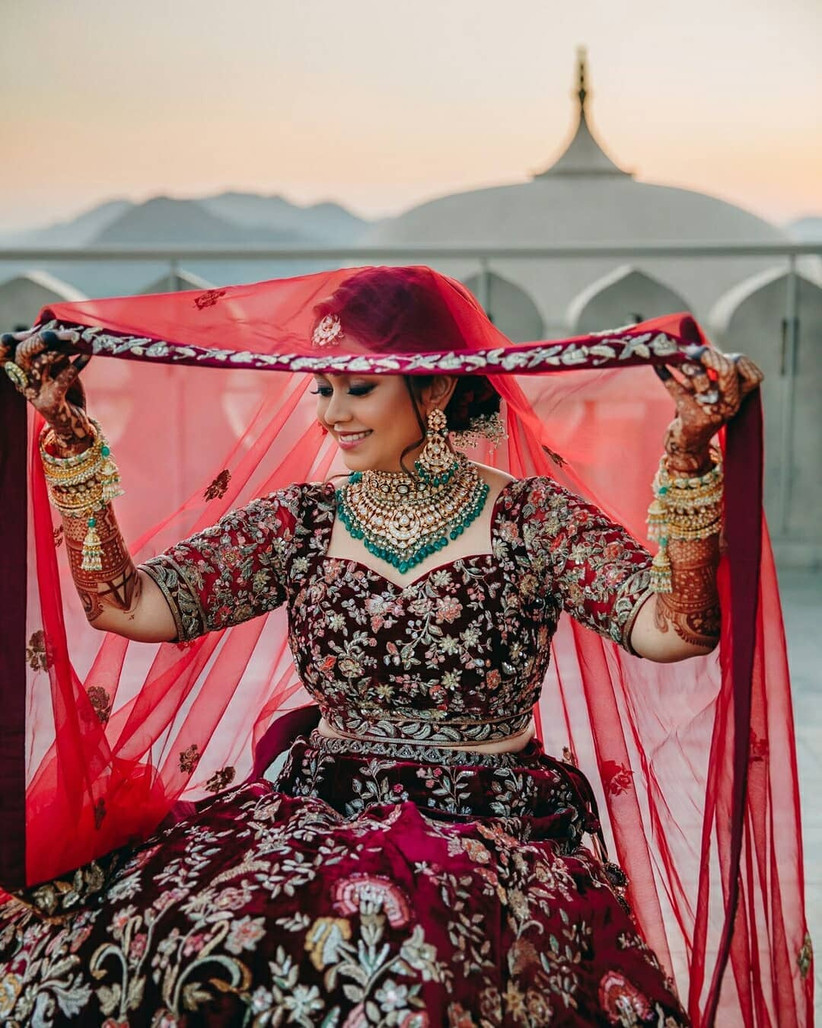 Image Courtesy: Shades Photography India
Velvet lehengas are an absolute favourite, especially for winter weddings. This bridal look includes a gorgeous as ever maroon lehenga in velvet by Shyamal & Bhumika. The bride's makeup is done by Hriya Marfatia and her hair has been beautifully styled by celebrity hairstylist Latika Jathar. If you are in love with the mehndi design and want it for your D-day, the woman behind this beautiful art is Aksha Shah Mehendi Designer.

The Classic Silk Saree & Veil Look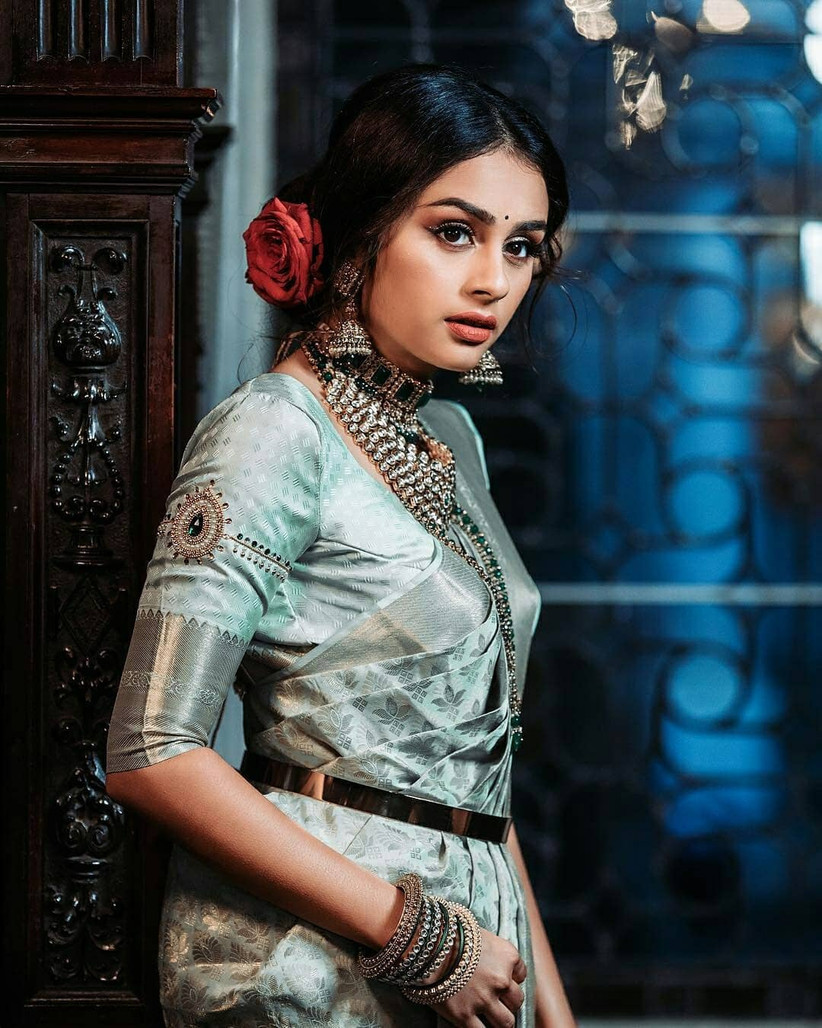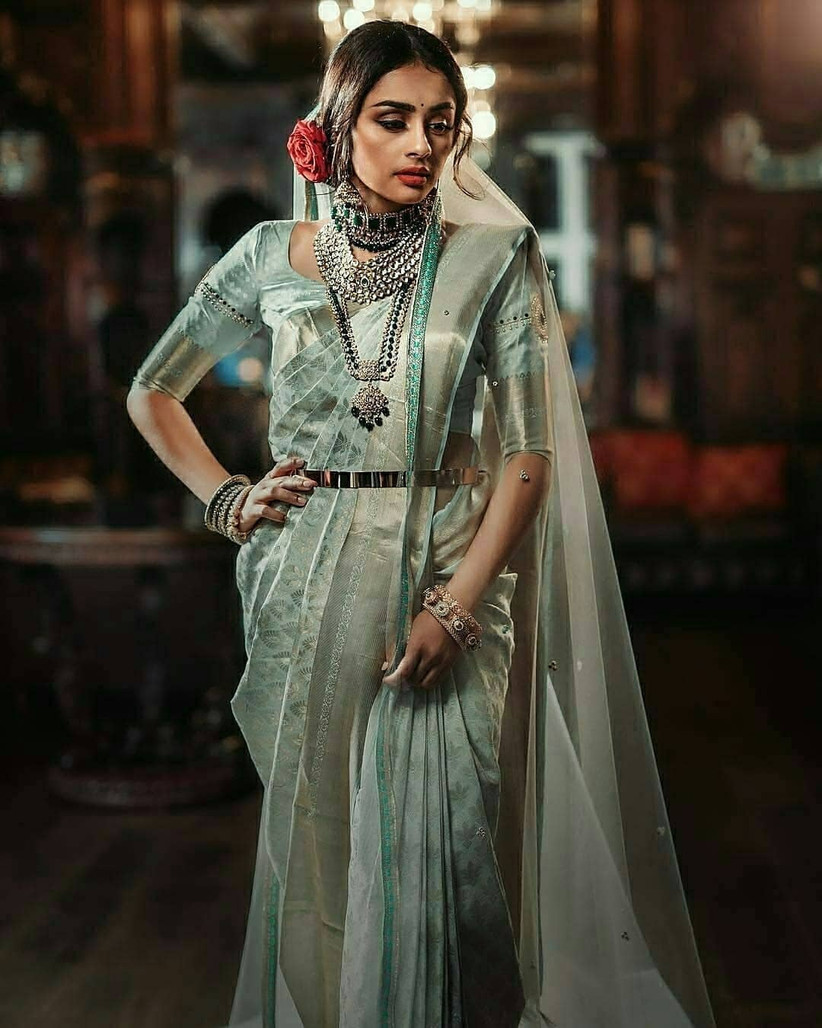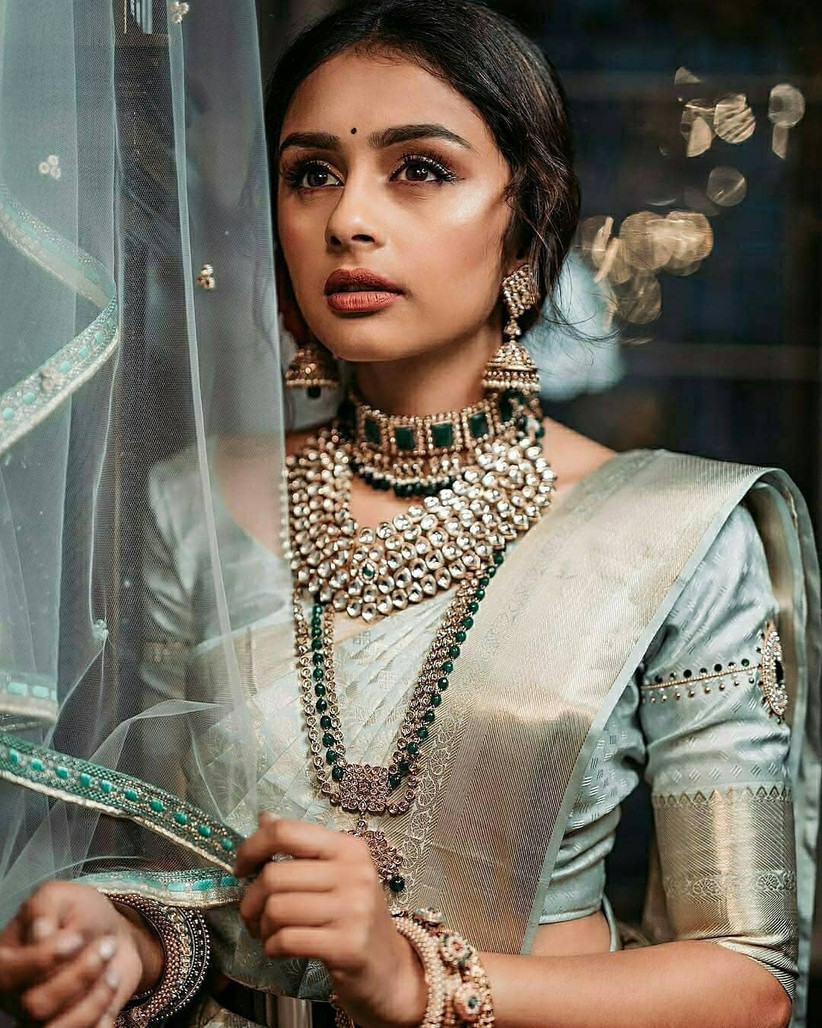 Image Courtesy: Black Magic Creations
South Indian Christian weddings are a mesmerising amalgamation of culture and beauty. Bringing together a traditional silk saree and pairing it with a dainty veil, this bride looks straight out of the classic movies. The Paris Makeup gave her a vintage look with the loose curls and a rose tucked in her bun hairstyle. The beautiful silk saree is from Casipillai Designer Collection and the blouse has been designed and stitched by Revathy Tailoring with the veil from Couture by Rani topping it off.
If you are looking for lash extensions or fake lashes to add to your glam, this bride's lashes are fro The Lash Baruk and her jewellery is from AKN Jewellery. The metallic belt is adding to the beauty of her silk silhouette and we are in love with the look!
Impeccable Beauty of The Royal Rajput Poshak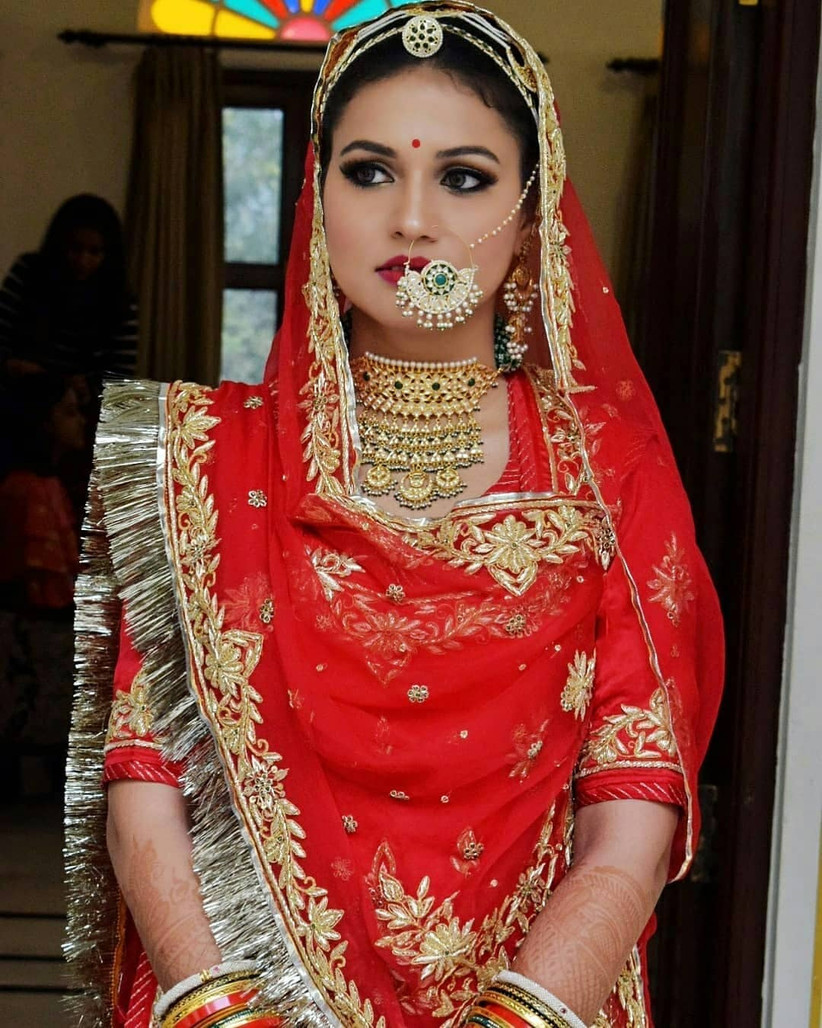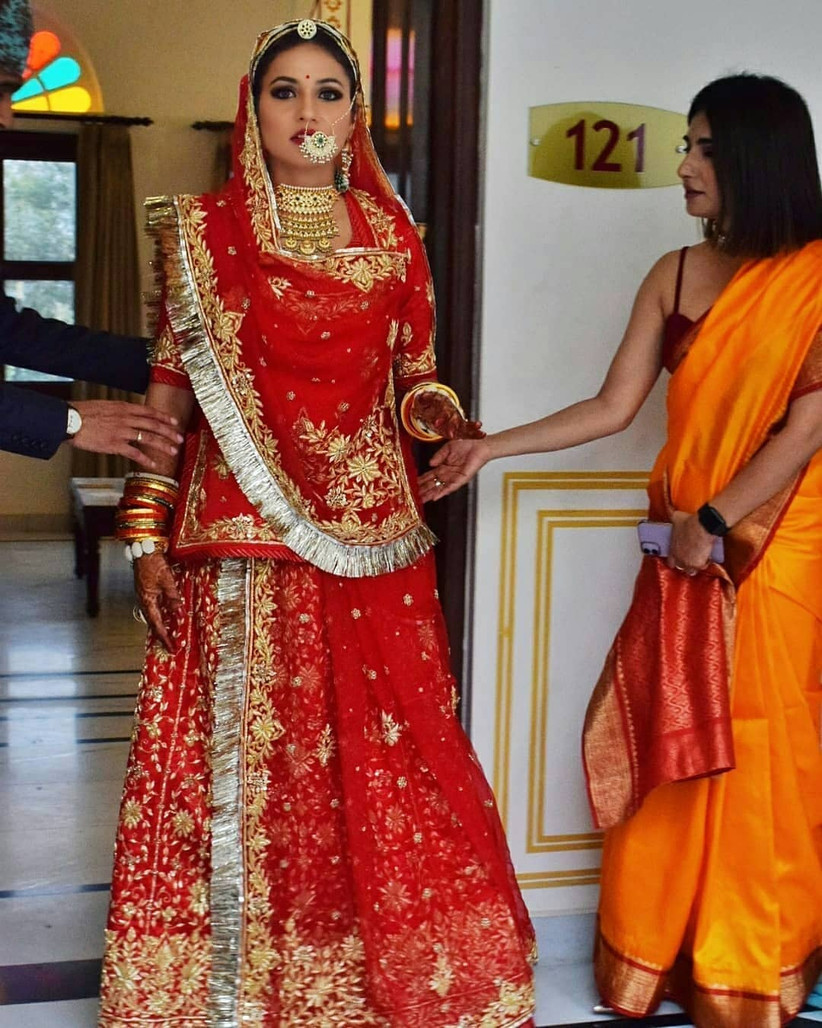 Image Courtesy: Aayushi Singh
Rajput weddings are a royal celebration without a doubt. Right from the Tilak ceremony to Mahira Dastoor and the Jhoomar at Mehfil; you know it's a Rajputana wedding when you see it is full of Diyas, an uber grand baraat with camels and even elephants, lot of colours and that royal vibrancy you cannot miss. This bride flaunts a Rajputana Poshak by Yuvti by Bhupendra Singh and the beautiful dewy makeup with bold Kohl look done by Makeover by Indu.
The Aad necklace and the Borla uphold the glorious traditions of the Rajputs and we are in love with the way this bride looks in these photographs, obviously making it one of your favourite 2020 bridal looks on our Instagram page.
Heavy Floral Lehenga Look for Mehndi
Mehndi ceremony is that OTT celebration where you get to experiment and go all out with your outfit selections! From a bright floral lehenga design to floral jewellery - it is indeed a celebration to remember! This absolutely stunning bride is seen flaunting a sea green lehenga with heavy floral print on it. This lehenga by Nomi Ansari comes with a peach fancy blouse design and contrasting net dupatta.
Keeping it bright and happy for her mehndi, the bride has accessorised the look with a heavy Polki Maang tikka and matching earrings. We cannot stop swooning over this look and no wonder it is one of your favourite 2020 bridal looks from our Instagram page!

The Regal Bride in Her Red Lehenga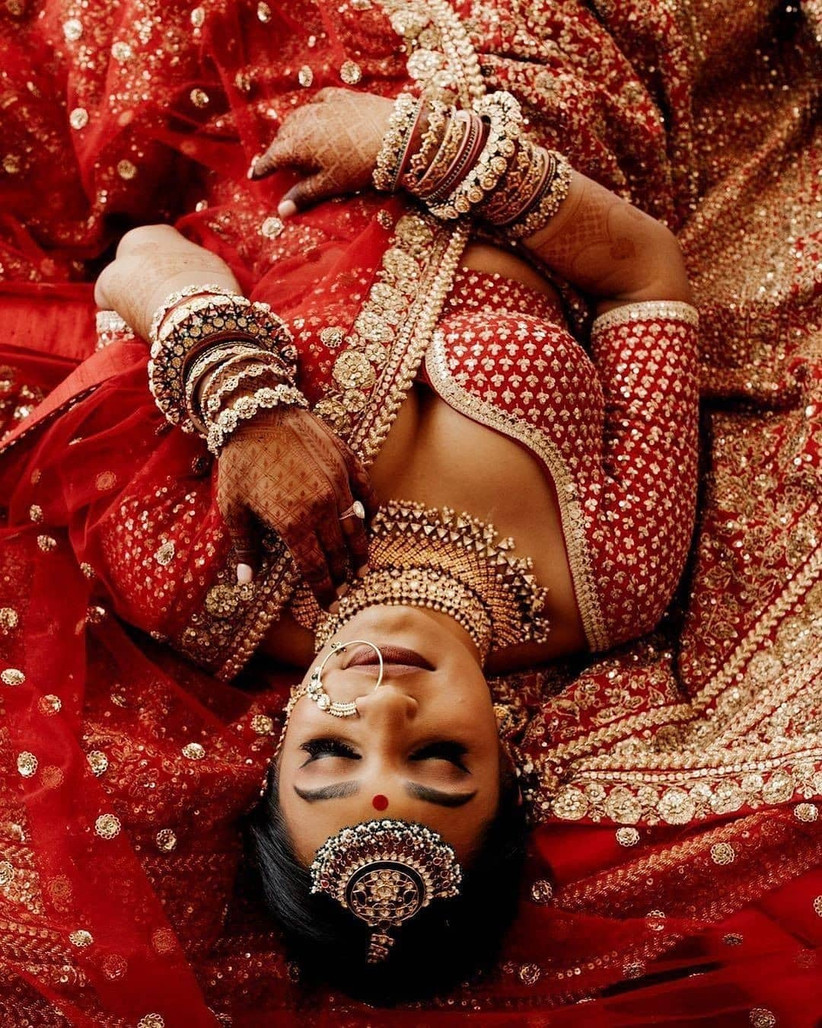 Image Courtesy: Madi Robinson
This picture of the bride in her Sabyasachi red lehenga has done its fair share of rounds on the internet and we know why! The outfit picked by this bride is traditional to the T. Don't we all just fall in love at first sight of the blouse neck design? The breathtaking look of the bride is done by Heather Van Houten & Artists and it is indeed wonderful how each of her baubles complements the overall look so beautiful!
Chhapka with Magenta Lehenga Look
Chhapkas or Passas are also known as Jhoomars in the subcontinent and they are a huge hit among the brides. Seen mostly in Muslim marriages on the Muslim brides, Chhapkas have become a timeless statement when it comes to picking bridal jewellery. The pretty magenta and purple shaded lehenga choli with the gorgeous dupatta that flaunts a heavy border make this look even more enchanting.
Patel Lehenga & Red Lips Please
Pastel lehengas are without a doubt a raging trend and how! Paired with heavy Kundan jewellery set, layered necklaces and a matching Maang Tikka from Aren Jewellers, this bride makes our hearts melt. The dewy makeup is perfect for a day wedding and the quintessential red lips that add to the charm of this look is a beauty created by Tania Makeup Artist.
The bride is flaunting a gorgeous lehenga with intricate embroidery from Poshak, Chandigarh and can we just take a moment to appreciate the curls that frame her face so beautifully to add to her charm? We definitely can!
The Dainty Bride Twirl
Brides twirling in red lehenga is a quintessential picture and a must-have at weddings. While red lehengas are never out of fashion, this bride flaunting a maroon lehenga with heavy sequin work on it while pairing it with gold Kaleeras, a gorgeous gold choker necklace and a breathtaking gold Matha Patti is what makes this an eye-catcher!
With her makeup on fleek, she sure made to your favourite 2020 bridal looks on our Instagram page!
This Bride's Tie & Dye Look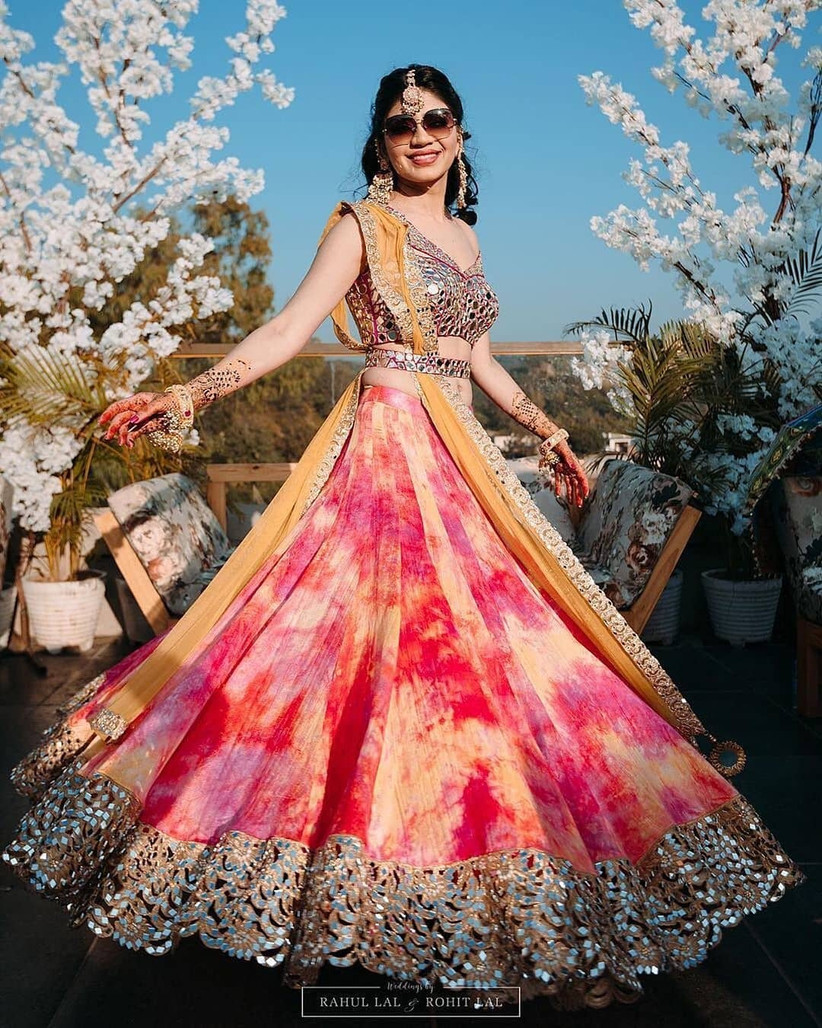 Image Courtesy: Weddings By Rahul Lal & Rohit Lal
While green lehengas, pink lehengas, white lehengas and yellow lehengas are always asked for when you go out wedding shopping, this tie and dye print pink and yellow lehenga with heavy and intricate mirror work on the hem brings in a blast of freshness into your wedding wardrobe. The matching mirror work blouse design makes this belted lehenga a hoot.
This bride flaunting a twirl in her impeccable swag glasses on her mehndi is an inspiration without a doubt!
Green Co-ord Suit & Swag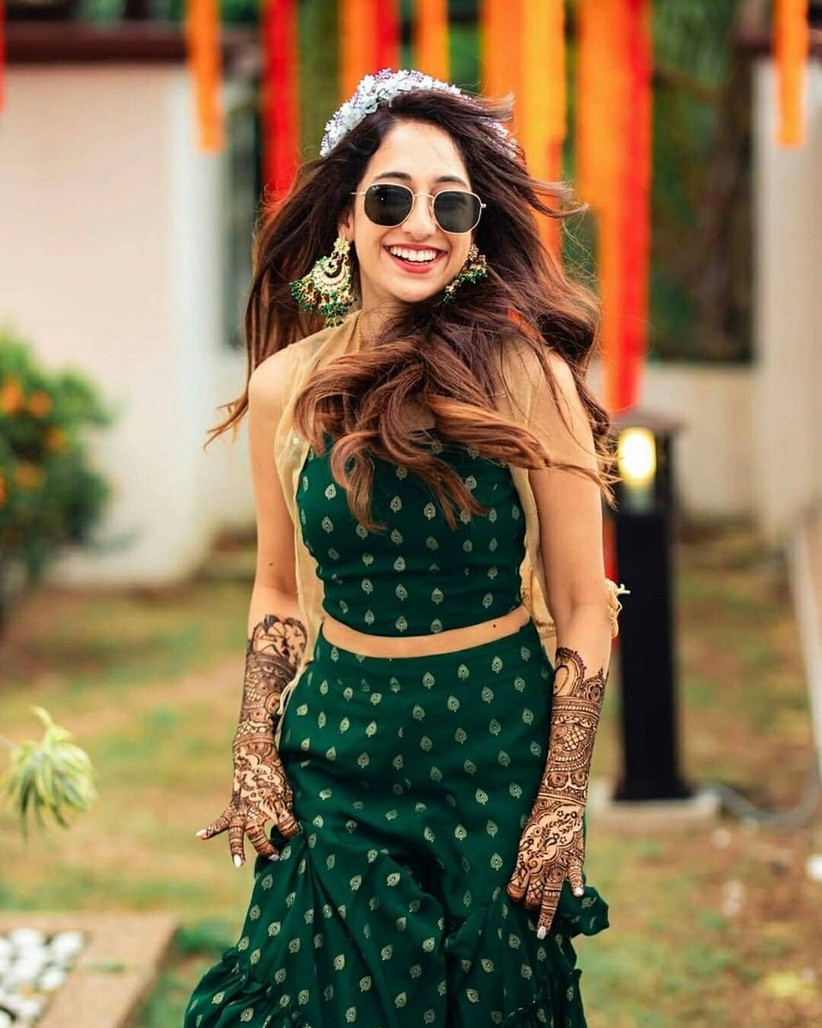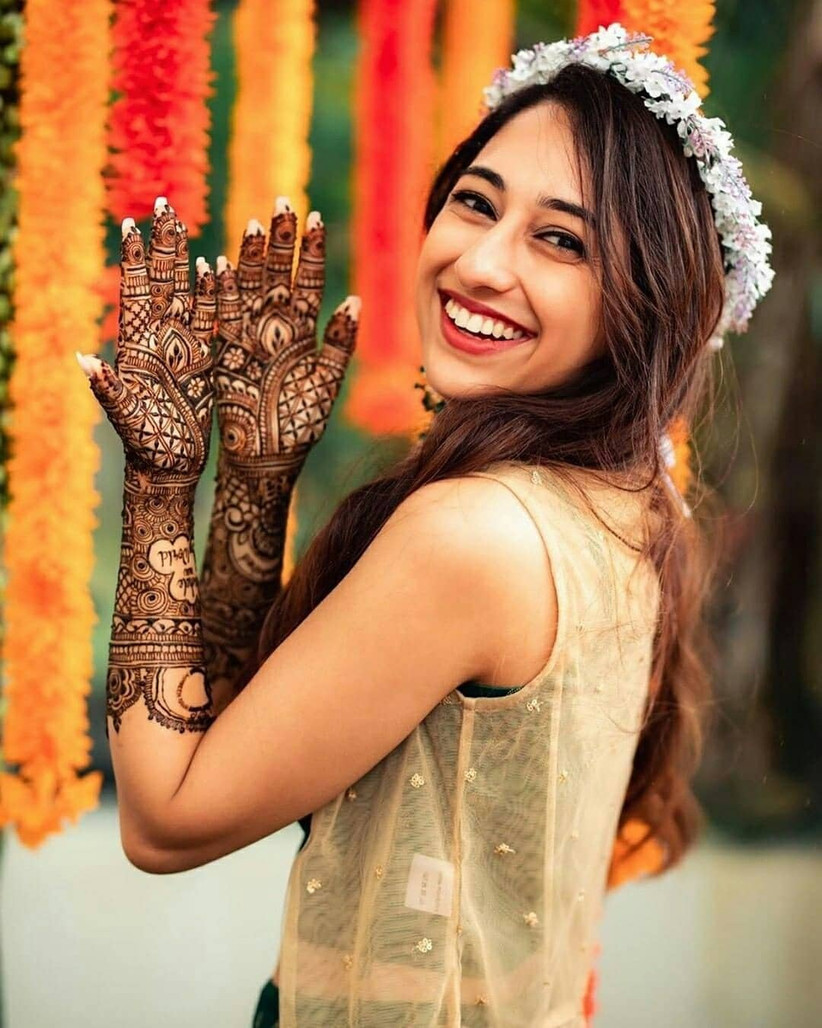 Image Courtesy: JD Arts Photography
We have by now established how mehndi ceremony is the perfect occasion to go all out with your wardrobe. This happy go lucky bride in her green co-ord set layered with a golden net shrug looks like an absolute stunner. The floral tiara makes up for the traditional mehndi ceremony look with matching green jhumkas and of course, her infectious smile is sure for the win!
The exemplary full-hand mehndi design is done by Vasu Henna Diary and we all are on the same page when it comes to a beautiful henna design for the big day.
Pastel Pink Lehenga With Contrasting Haar
Remember how almost all the Bollywood brides wore pastel for their wedding - Anushka Sharma, Neha Dhupia and so on. Keeping up with the trends, this bride in her pastel pink lehenga and a matching pink floral Jaimala is looking enchanting. What adds to her perfect bridal look is the long green Haar that adds a pop of contrasting colour to the subtle look. The diamond choker necklace makes her look oh-so-beautiful!
The bold kohl eye makeup that highlights her gorgeous features is done by Makeover by Indu Singh and adds to the beautiful pastel look is just perfect!
The Pistachio Green Bridal Look
Image Courtesy: Morvi Images
Adding to the pastel joys, yet another of your favourite 2020 bridal looks on our Instagram page is this bride in her pistachio green lehenga. The matching necklace with a tinge of pink stones, the minimal round nose ring along with the matching earrings and Matha Patti make this bride look ethereal. The entire soothing outlook created by this outfit is topped by dark eyes and a dewy pink lipstick shade that is just fit for Indian skin.
The Marathi Bride in Dark Blue Nauvari Saree
Marathi weddings are a fun-filled and happening occasion to be a part of. This Marathi bride in her blue Nauvari Saree stole hearts on our Instagram page and how! The blouse with intricate embroidery on the sleeves is a stunning one. The bride here is seen flaunting layers of silver jewellery to accessories her bridal look. The gorgeous makeup with the dainty Nath on her nose makes her the dreamy bride of a Maharashtrian wedding and we love the look!
Her outfit is from Syuta Bespoke and the stunning makeup is done by Mahendra Dhanwade.
The Simple Bridal Makeup Look With Red Lips & Bindi
A simple bridal makeup look is exactly this. Be it for the reception or an intimate ceremony, this alluring makeup look has been created by Makeovers by Triptii Rastogi. The bride with her bold Kohled eyes, red bindi and red lipstick looks charming as ever. The minimal jewellery and contagious smile makes this one of your favourite 2020 bridal looks on our Instagram page!
Green Lehenga & Tiara Outfit for Mehndi
Can we just take a minute to appreciate how candidly happy the bride looks in this picture? To add to the fun and charm of the Mehndi ceremony, this bride's green lehenga is just perfect. A larger than life experience, an infectiously loving sundowner ceremony and lots of memories is what this picture speaks of and we love hoe the tiara makes her look like the queen she is!
The Stunning Red Saree Bridal Look
Red sarees on brides are a hoot. This Kanjeevaram silk saree in red has been complemented in the best ways with the Kundan Haar that layers the Kundan choker necklace and of course the matching Haathphool, earrings and Maang Tikka. The subtle makeup that the bride flaunts, makes her a perfect inspiration for all the minimalist brides-to-be out there and we are digging the look!
Red Lehenga & Polki Jewellery for The Win
Another bride donning her ever gorgeous Payal Keyal red lehenga with intricate embroidery and Chikankari work made to the list of your favourite 2020 bridal looks on our Instagram. A bride in her red lehenga is regal and the look is breathtaking always. This bride added a traditional touch to her modern wedding lehenga by choosing to complete her look with a statement gold Haar and matching baubles. We are absolutely sold at her classic look!
If you are looking for the deets behind this stellar look, then Sarbani Sethi Makeup Artist is your woman behind creating this glittery smokey eye makeup.
The Bengali Bridal Look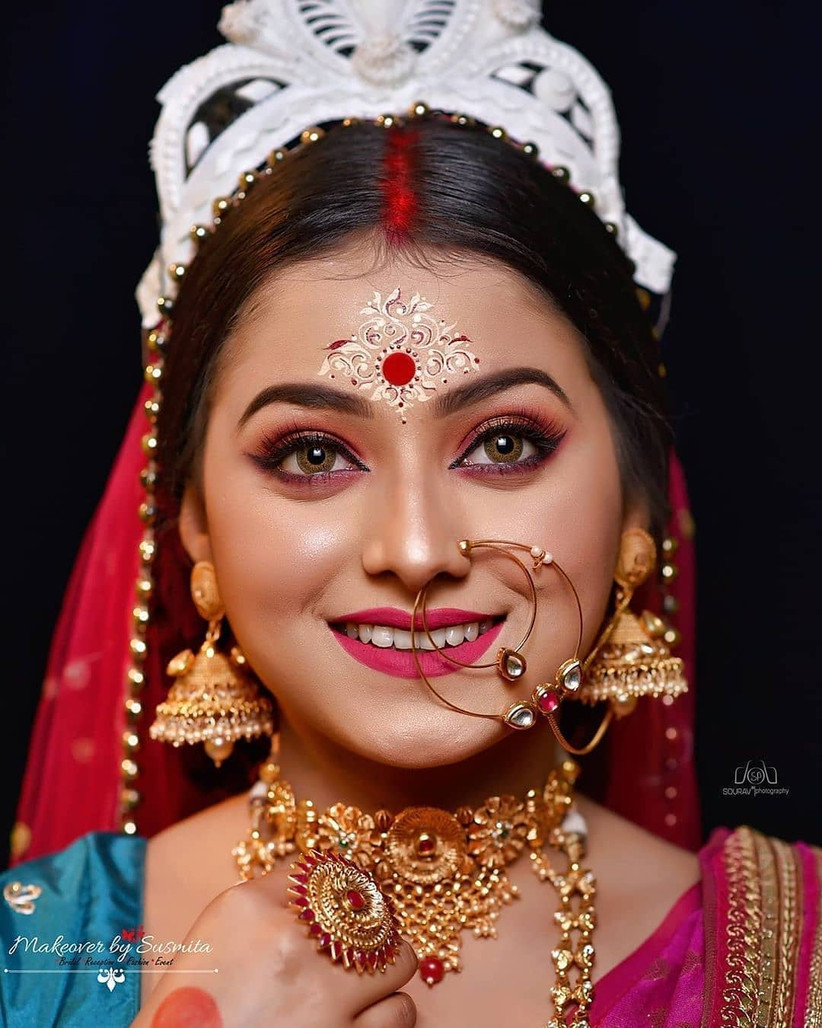 Image Courtesy: Sourav Paul
Bengali brides are an absolute beauty. We cannot stop swooning over the Bongness in this picture. Right from her Bengali bindi design to her beautiful Bengali bridal jewellery and the breathtaking makeup - this photo makes for an absolute inspiration for the aspiring Bengali brides-to-be for their Bengali marriage.
Makeover by Susmita added to the bride's overall charm with the enchanting eye makeup matching her outfit and the quintessential Topor on her head making her look ethereal is just the cherry on top!
Green Pattu Saree with Temple Jewellery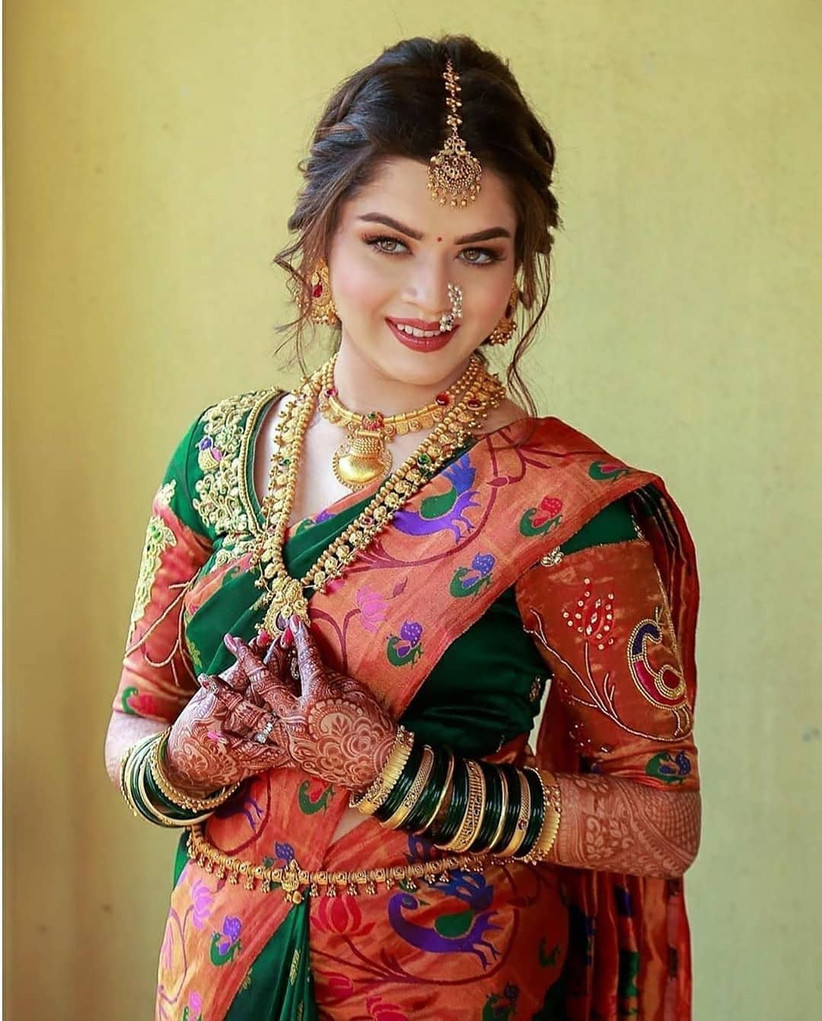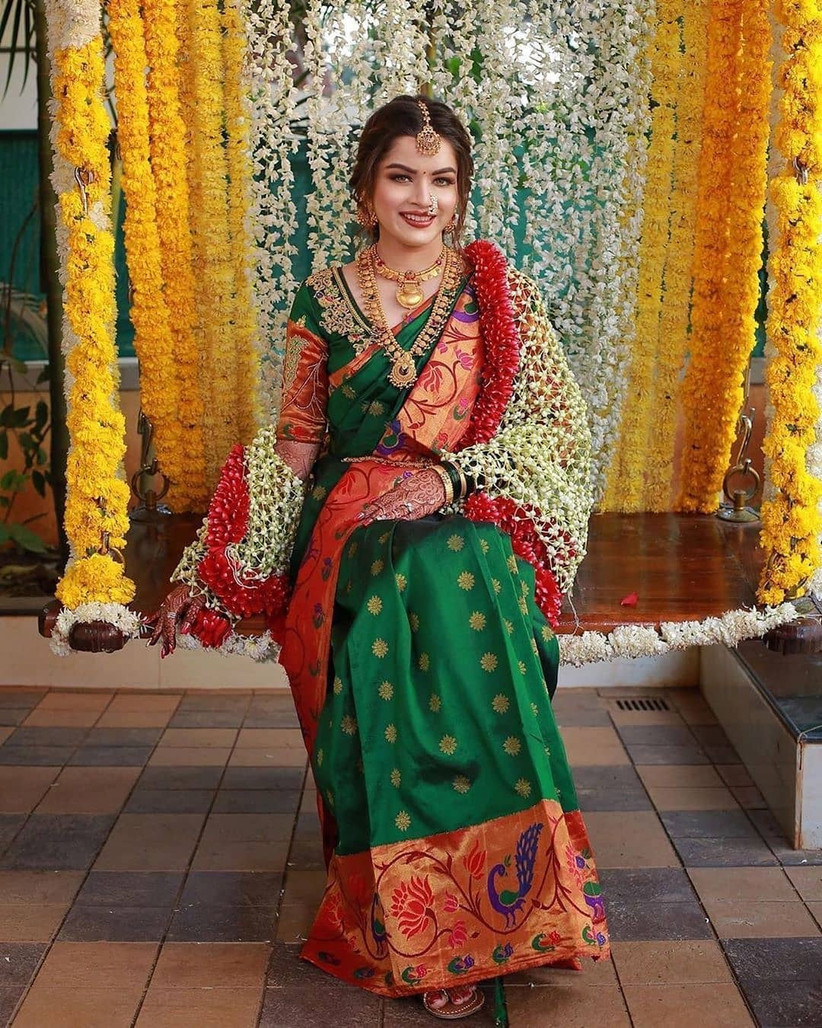 Image Courtesy: Parimal Yawatkar Photography
Pattu sarees are an absolute favourite for the brides. The subtle sheen of the silk saree makes for a perfect bridal outfit for the big day. Paired with Temple jewellery, this bride looks captivating in her green Pattu saree with a broad orange border and the peacock motifs make the saree just perfect to grab all the eyeballs. The blushing bridal makeup on this Marathi bride by Sapna Sherry is worth mentioning.
The floral chaadar that she has wrapped around her in the next picture makes her look divine.
Pink Lehenga With Layered Rani Haar Look
Image Courtesy: Piccatch Media
How many necklaces are too many when it comes to layering the jewellery for your big day? There is no answer to that and the more the better. The beautiful bride in her pink lehenga looks ethereal in her heavy gold Rani Haar layered with Lada necklace with the oversized gold pendant and of course the stone-studded choker necklace on top.
The golden mini Kalire tied to her bangles add to her bridal beauty and we are in absolute love with this bridal portrait pose too!
The Sprakling Outfit for Sangeet Look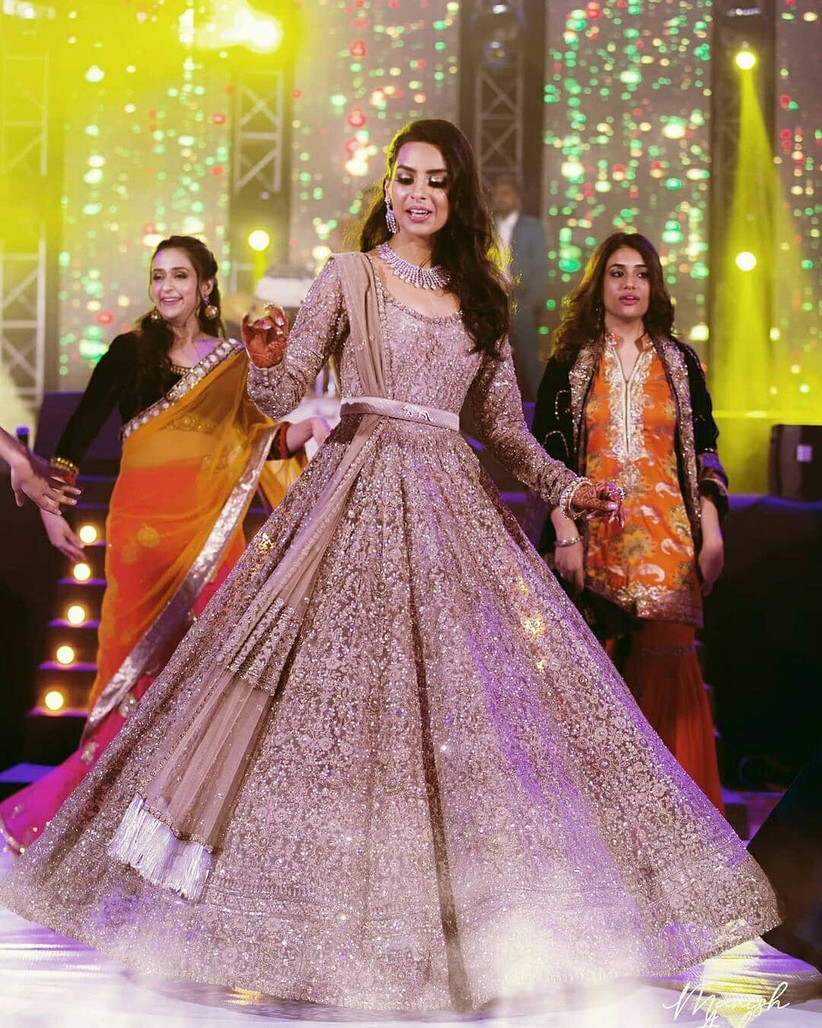 Image Courtesy: Manish Andra Photography
Wearing an elegant Sabyasachi gown for her Sangeet function, this bride is having the time of her life and how! Makeup By Rishab Khanna has created a great look with the sparkling eyeshadow and bright yet nude lip shade. The iconic Sabyasachi belt not only holds the dupatta in place as she shows off her thumkas on her fun Sangeet ceremony but also adds to her mesmerising silhouette. The loose curls and the candid smile is sure to steal hearts!
The Moss Green Lehenga Look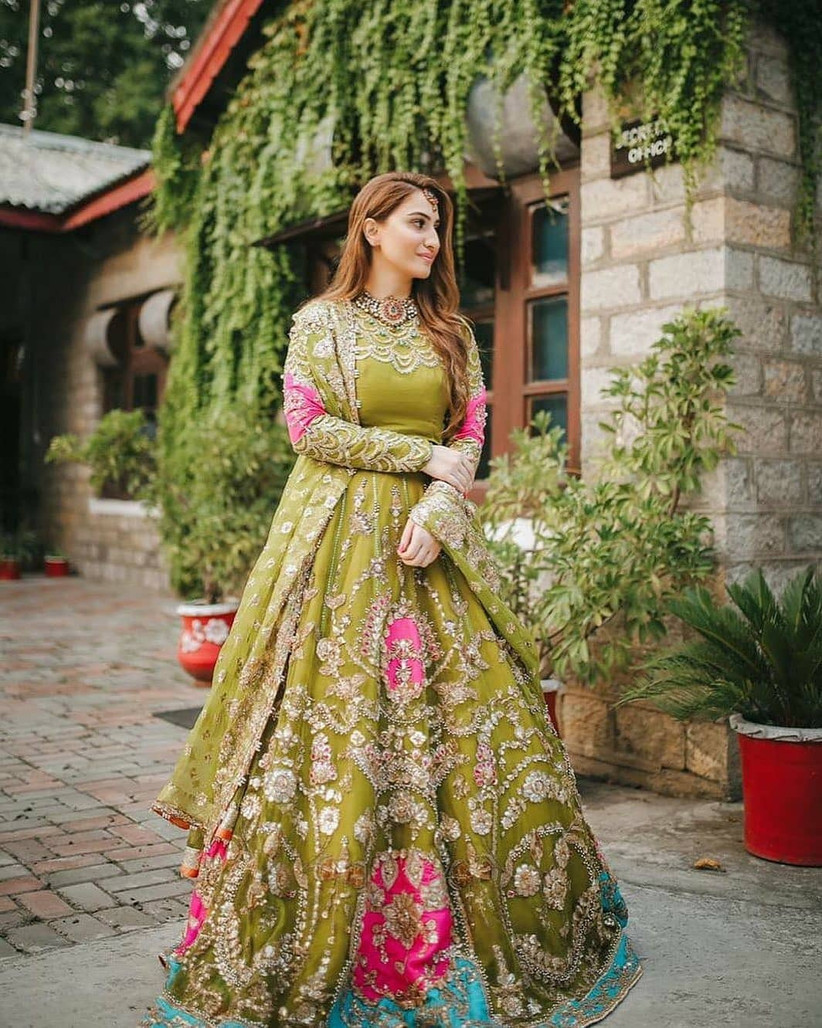 Image Courtesy: Wedding Shadding By Daniyalch
While green lehenga might look like the most off-beat colour pick for the wedding ceremony but in many Muslim marriages, green is the colour of piety that is picked by the brides. This bride in her moss green lehenga with the rain pink patches of colour adding to the pop makes her look stunning. The intricate embroidery work and sequin and stonework on the lehenga add to the glamour of this lehenga design by Ali Xeeshan not to forget the soothing edges created by the blue hem.
This heavy lehenga design with full sleeve blouse is a beaut but the bride's minimal jewellery picks while accessorising the looks make it perfect!
The Perfect Bohemian Look for Mehndi
With a fresh burst of bright and happy colours, this boho-chic multi-coloured lehenga from Frontier Bazarr is a hoot. The 3D embroidery work on the blouse with an extended cold-shoulder and a mirror work belt look perfect for the bride who loves it OTT for mehndi ceremony. The ultimate favourite footwear of brides for mehndi has been Punjabi Juttis and the bride has picked her perfect pair for the outfit.
Wamika Bajaj has highlighted the bride's beautiful features with the stroke of her wand (Read: Brush) and Aarti Kashyap Hairstylist has made her beautiful tresses look even better.
Have we told you about our love for personalisation yet? The bride's personalised latkan on her waist just takes the outfit to a whole different level and no wonder this had to be one of your favourite 2020 bridal look on our Instagram page.