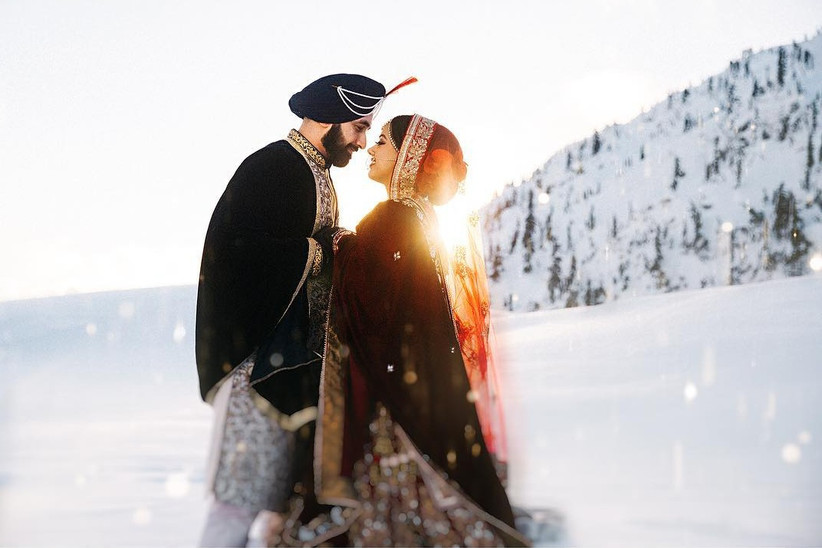 Image Credits - Amrit Photography
Here comes December - a month of long, cheerful holidays, cute, fuzzy and warm clothes, hot chocolates, cups of kahwa, roses in full bloom, and most importantly - plenty of saaya dates for wedding celebrations and new beginnings for blessed couples. 2020 might not have been the iconic beginning of a decade that we were all looking forward to, but the almost 'end' of 2020 was inaugurated with multiple weddings of remarkable names in the Indian entertainment industry.
Sensational singer - Neha Kakkar, prominent South Indian Actor - Kajal Aggarwal, Actor turned Entrepreneur - Sana Khan, Singer and Anchor - Aditya Narayan have all embraced the year for the biggest celebration of their lives. Is it your turn now? If you are planning a 2020-2021 wedding in any part of India that witnesses the winter chills, here are some expert recommended Wedding Decoration ideas from Trrishant Sidhwaani, Director of DreamzKrraft and Shweta Acharya, Founder of Baraati Inc, that can turn your wedding venue to a winter wedding dream.
Intimate Winter Weddings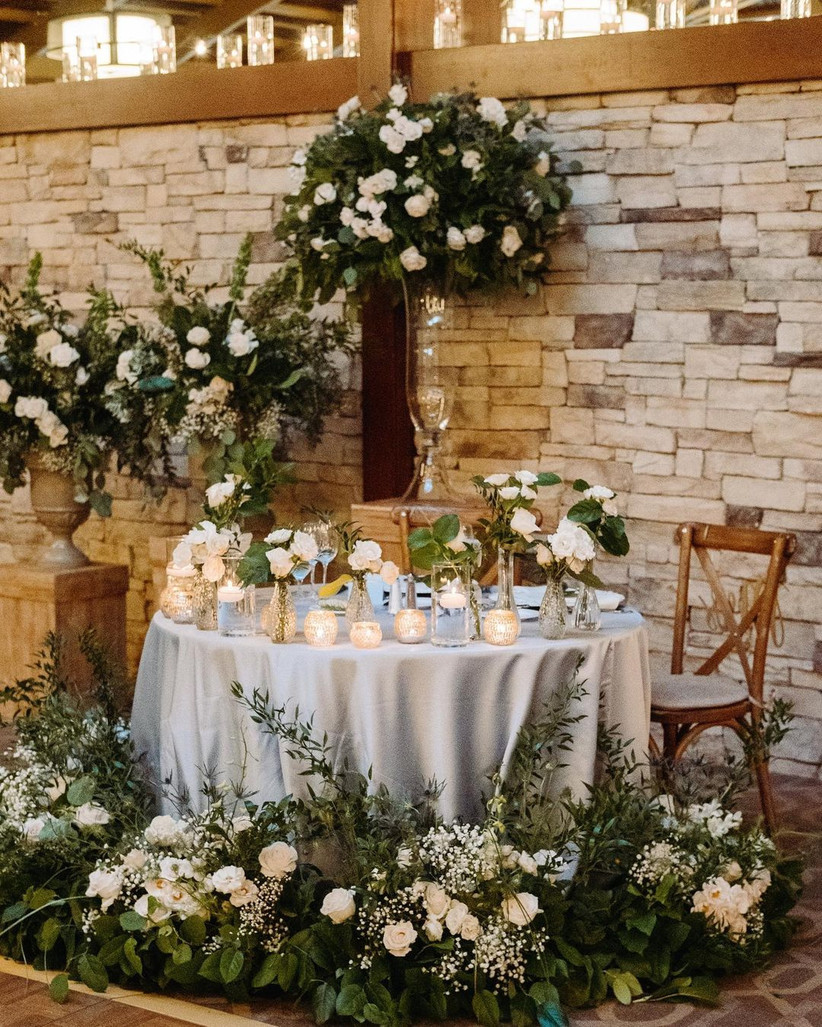 Image Credits - FlowersbyEdgar
Small Weddings are not synonymous to Simple Weddings. An Intimate wedding with ostentatious or minimal but unique decoration have long harnessed the ability to create ground breaking trends. From the theme of the wedding to the decoration items at the venue, beauty lies in the intricate details.

Venue Decoration Themes
Make it an Indoor celebration with a quirky theme. We are thinking 'Bollywood' - with the venue washed in dramatic lighting, Bollywood inspired cushion covers, posters of the 80s Bollywood kings and dream girls, and bright lounges.
For your day soiree, design a garden dream at your wedding venue with bespoke garden nooks amping up the floral finesse of the venue.
Farm to table – Sidhwaani shares, "This concept incorporates locally sourced fabrics, artisans, food, flowers and more into the event. We research and use local flowers, speciality food items, freshly produced cheese, local fruits grown in the area and items made from them keeping in mind the freshness of the food for a gourmet food experience."
Sidhwaani also shares, "Fresh flowers have and always will be a favourite in wedding décor. Turning these into mulch, incense, etc. as a way to organically dispose them is a trend on the rise nowadays. Using plants like Tulsi and Lemongrass which are natural immunity boosters and air purifiers are also being used as part of the décor greens. Couples are favouring Indian colour palettes and flowers like roses, marigolds etc for a home wedding feel.
He also suggests, "Mixing the right palette is important. We are not sticking to a particular trend but try to concoct new assortments. Deep eclectic colours exotics mixed for a mehendi or sangeet, liliums, baby chrysanthemums, roses, carnations, hydrangeas, peonies for this. Use of greens and big Indian tropical green leaves with spray of florals for a nice evening set up or even pheras, fragrant Rajnigandha strings, pastel roses, taggar, tube roses, and lillies for a beautiful soft Indian traditional set up."
Acharya suggests a rustic winter wedding theme. "Baraati Inc. loves creating something with an old school charm: wooden rustic furniture, marigolds all over and brass pots in various sizes just give intimate weddings that traditional and charming feel. The marigolds add that pop of colour and the furniture doubles up as seating and photo spots."
Minimal Winter Wedding Colour Palette
Image Credits - Crain + Co. Events
Wondering what the colours of the season are? While the fervour of bright and beautiful shades never go out of style, this winter you can swing in the unconventional rhythm. Acharya confabs, "the current trend is of purple, burnt orange and a whole lot of green and white. A mix of colours is always a good idea; some décor elements can pop while other remain subtle and add to that winter charm."
Sidhwani also votes for the lighter look and feel. "People are moving away from overpowering themes and going for more airy feels with backyard themes. Lighter colours with strong featured elements for an intimate gathering with fewer guests than there would be pre-covid. With out of the world unique elements and pastels for weddings, clients are feeling more open to experimentation."
Decoration Ideas for a Day Ceremony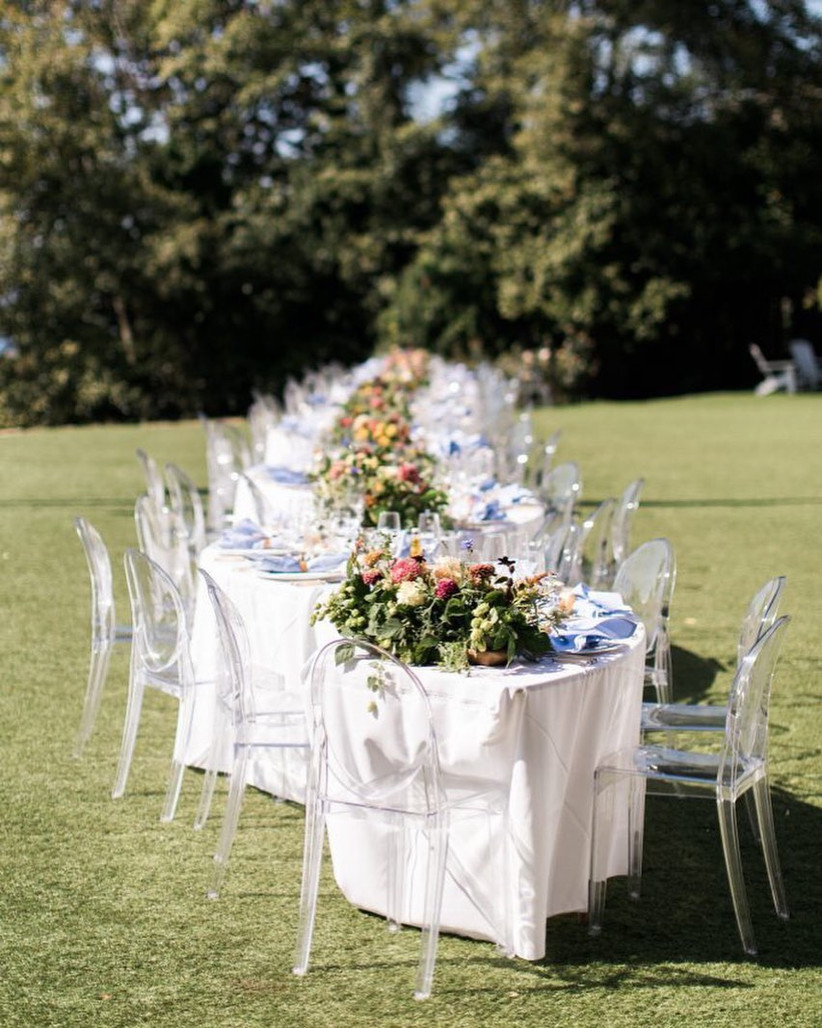 Image Credits - Valley and Co.
Sidhwani shares, "Amphitheater style pheras – Aesthetic Benares ghat or multiple tiered temple set ups exude a rich refinement for a serene and graceful wedding ambiance. Adding special touches for each guest with regard to seating and personalised sit-down dinners is a trend that we can see coming up."
He also suggests the Restaurant style – "Restaurant style settings created outdoors, to add variety in the menu and dining style. Restaurants can be hired to curate their signature dishes for the wedding."
For the minimalist lovers, we suggest take the 'White Winter Wedding' route because nothing says minimalism at its best and classiest, quite like the ethereal vibe of white. Wrap your wedding venue in the charm of white fabrics and florals, and taking soft hints from the season, you could also compliment the decor with highlights from a soft palette of blue.
Garden and open outdoor spaces are also perfect for day wedding ceremonies, you can beautify the wedding venue with perfect bespoke garden nooks.
Eco Friendly Decoration Ideas
Here's the experts' guide to plan an eco friendly wedding decoration for your winter wedding -
Try using more locally found florals and in-season flowers, you can dry them or donate them to companies that use them to make incense sticks, manure.
You can also source dried florals and grass that very much in trend at wedding venues right now.
Artificial and reusable fabric florals make the set up look good, without causing pollution and can be sanitised before use.
Try using pre existing structures and venues: a farm for a mehendi, a lake side for pheras, do up your/ relative's backyard, country home or cottage house for an intimate set up.
Use reusable print ideas and signages instead of unnecessary printing on flex.
Select more organic items like greens, bamboos etc, edible arrangements that are great conversation points.
Opt for e-invites, e-itineraries, e-reminders on a guest group.
You can opt for led bulbs where necessary and candle lit set ups.
You can repurpose what you already own including old furniture to set up a photo booth or in seating areas.
You can use DIY wine bottles with lights or foliage for that eccentric look.
Your signage can be on chalkboard or handwritten on mirrors, pick fabric décor over plastic.
You can even take things one step further and your wedding gifts can be seeds, potted plants or local coffee/tea/ honey.
Winter Weddings with 100 guests
Winter Wedding Themes for a Grand Wedding Soiree
Acharya shares, "A Tuscany theme wedding is always a great idea: lots of foliage, lights, gold and candles. These are perfect for those who'd like an outdoor celebration with some old world charm. An infinity theme is another winter favourite: bulbs, candles and mirror prisms all around."
If you are a royal bride at heart, opt for the Indian classical - rose and gold combination that is undoubtedly never going out of style. You could plan a fort wedding with gold painted structures, the seasonal favourite red roses draping the stairwells, the edge of accent furnitures, colossal drapes.
Safe Seating Ideas for 100 Guests
If you are planning a 100 guests wedding in Rajasthan or Punjab, planning the seating arrangement at your wedding is one of the most responsible decisions to take for your wedding planning. The Dreamzkrraft team suggests -
Spaced out seating on bigger (6 ft diameter ) round tables for not more than 5 guests.
Open and distant comfortable lounges - try to do thematic lounges and seating corners for different age groups, low seating interactive corners for young crowds, elders to be in specific zones, bigger 3/4 seaters used and only occupied by 2.
Pre sanitisation of all furniture.
Separate dining seating and separate areas as a pre-dining experience.
Long tables / round tables with numbers and named seating with immediate families / names.
Amphitheater seating can be designed for pheras and Sangeet with spacing in between 2 people. Stepped amphitheaters allow the same.
Download the WeddingWire India app and start planning your dream Winter Wedding today!