These New Saree Photos Are Perfect to Inspire the Brides for D-day
The saree is a must-have in every Indian bride's wardrobe. If you are looking for some traditional saree inspiration, check out our new saree photo ideas!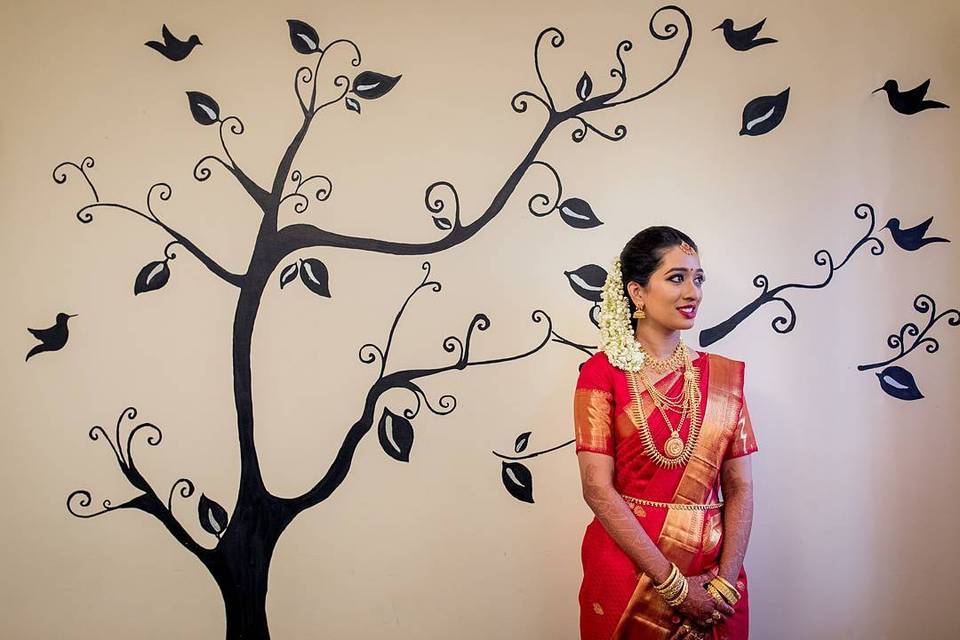 When it comes to planning a wedding, one of the most important items on your to-do list is the outfit. Indian bridal attire is defined by its bright colours and unique silhouettes and if there's one outfit that's the reigning champion of your wardrobe it's the saree.
This classic drape has been a timeless part of the Indian culture thanks to its charm and beauty. The outfit also allows you to get super creative with your style taking inspiration from the melting pot of cultures in India.
If you are a bride on the hunt for her ethnic attire, check out these new saree photo ideas for some inspiration.
Colour Blocking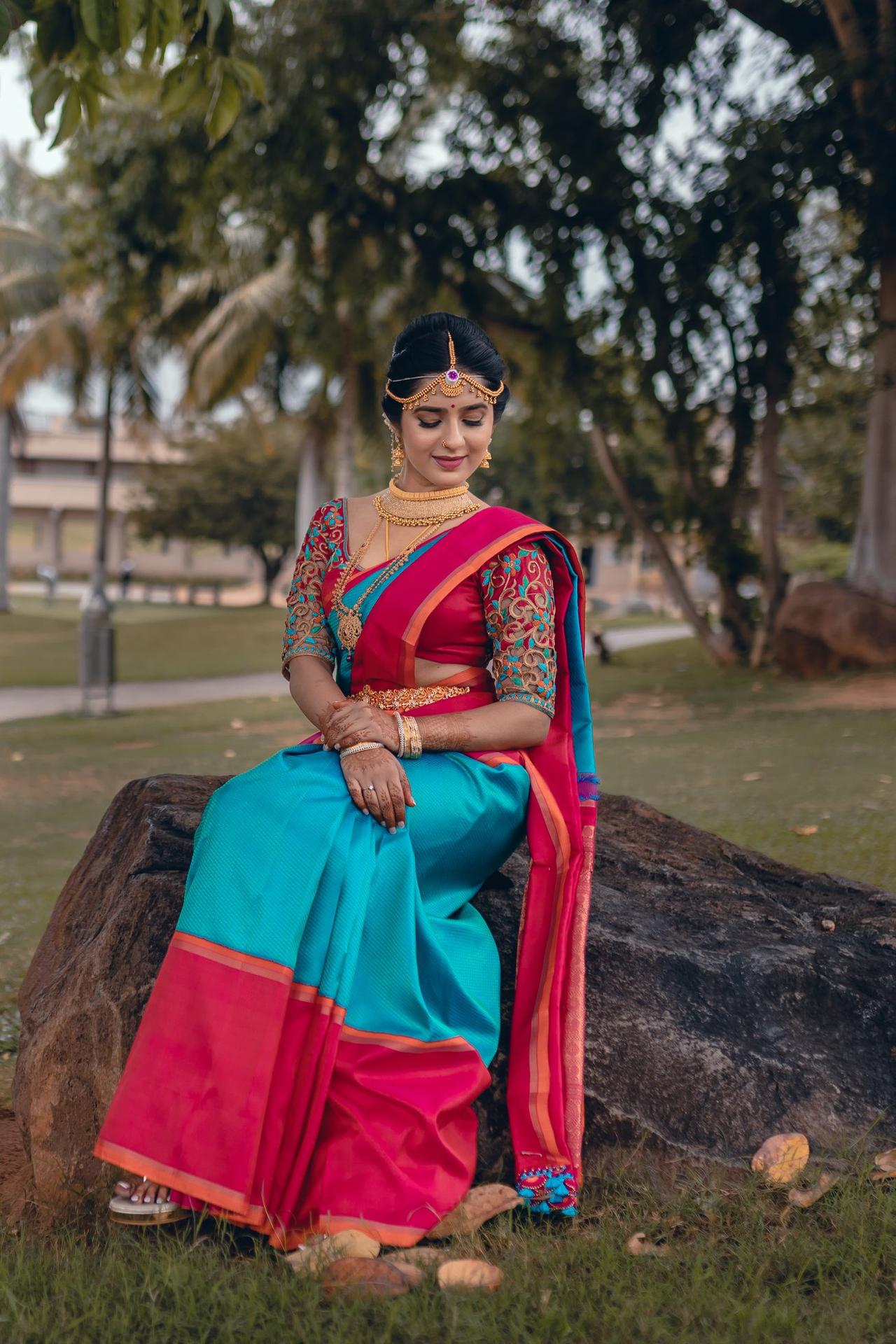 Classic saree drapes come in bright shades that complement each other. However, modern sarees are all about getting creative with styles and patterns. This saree incorporates bright blue and pink colours that allude to the colour blocking style.
The main body of the drape features a sky blue colour and is bordered in bright pink. It features no design elements in order to highlight the embroidery on the blouse. This saree blouse also has a mix of blue and pink colours and a netted pattern that is embedded with flowers.
The bride in this new saree photo has paired her look with some traditional Temple jewellery.
Orange Tones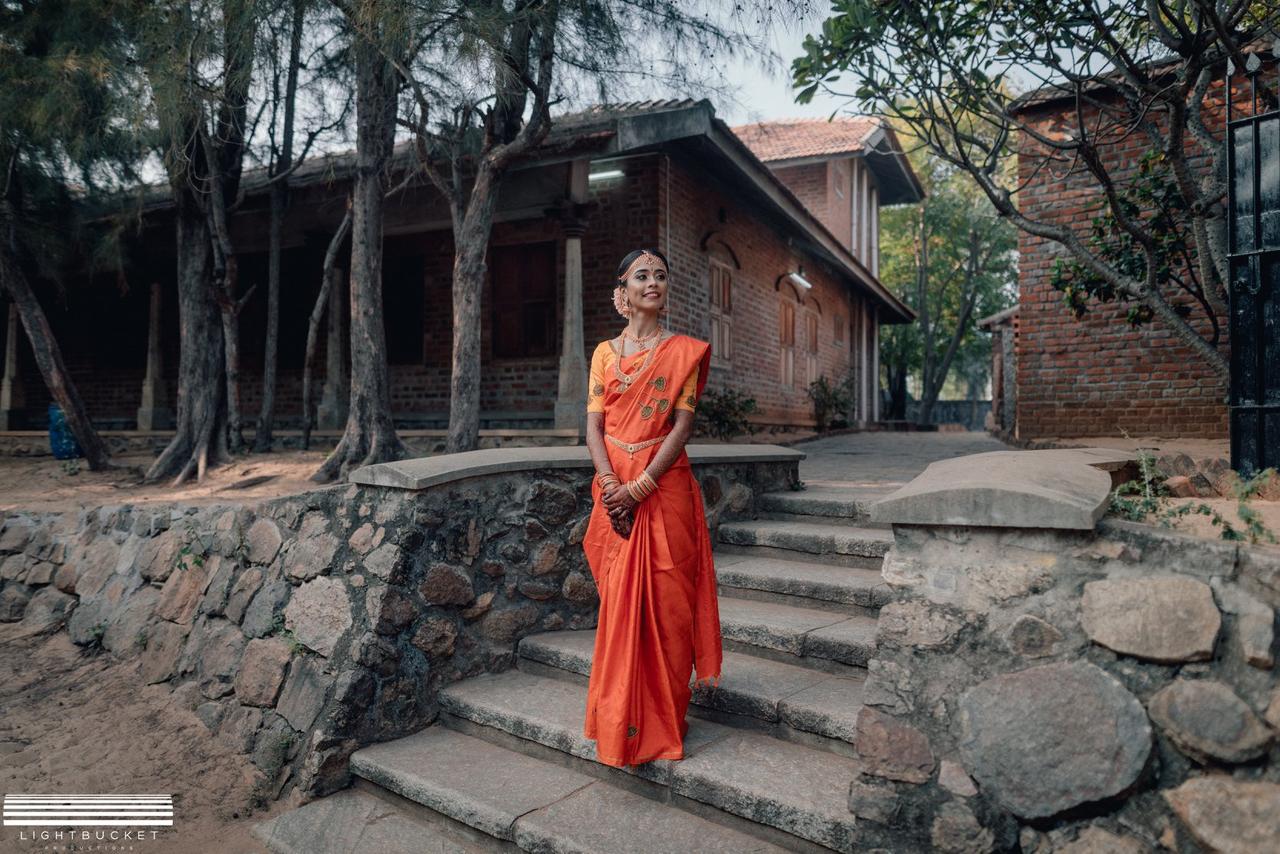 Your saree should be a reflection of your personality and style, be it minimalist or maximalist. This bride is adorned in simple orange saree that showcases her simple yet unique style aesthetic. Although the design elements on the saree are fairly minimal, the bride has made an impact with a unique palette of colours. The drape comes in a bright orange tone that is enhanced with some gold embroidery work. It is paired with a lighter-toned blouse of the same shade. The bride in this new saree photo has added the finishing touch with a golden Kamarband and matching orange bangles.
Deep Purple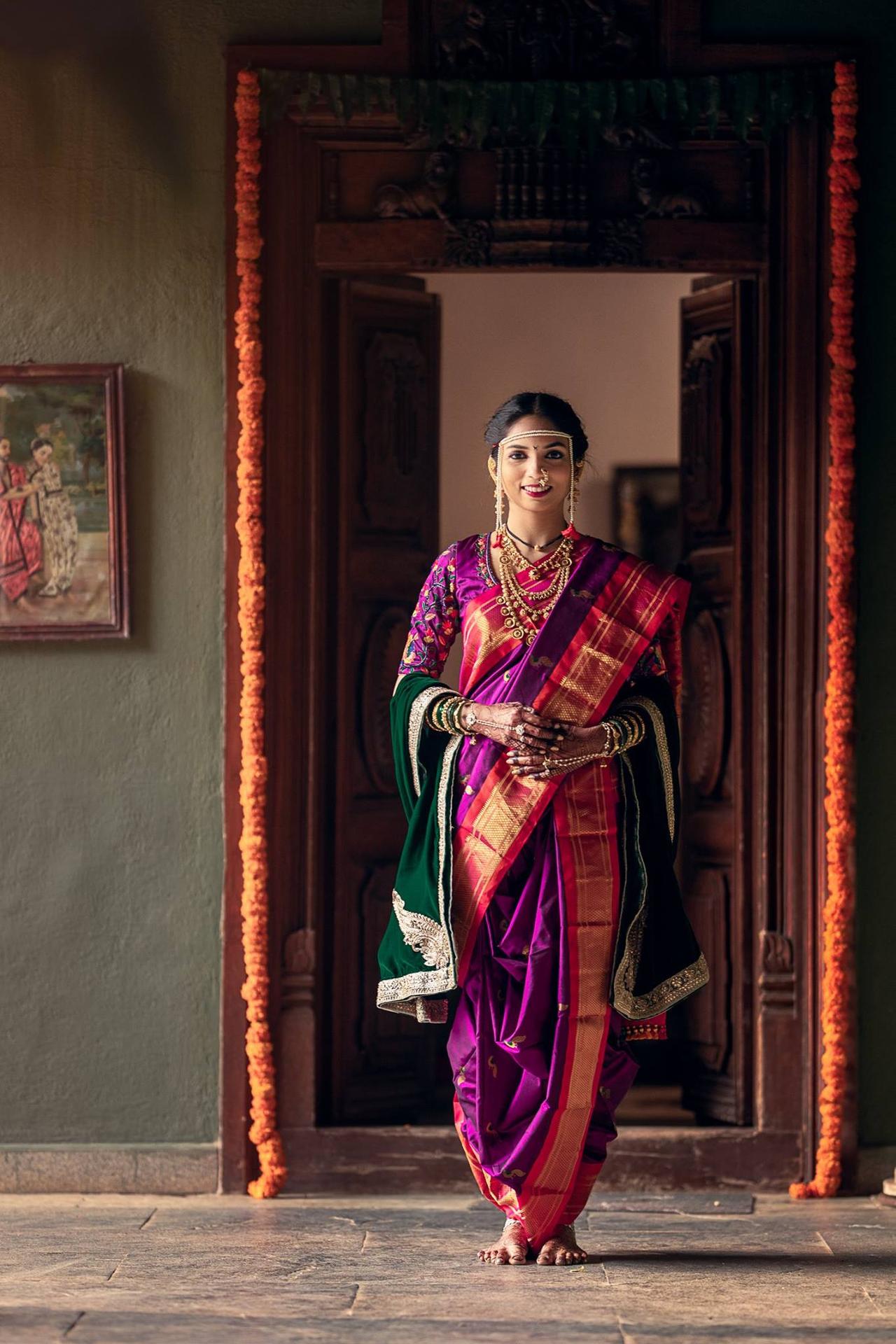 While there are many new ways to style a saree, nothing beats the beauty and charm of a traditional drape. This Marathi bride is adorned in a stunning Nauvari saree that comes in deep purple shade. The saree is worn in a Dhoti style and features a thick red border. The highlight of the saree lies in the blouse that is embroidered with various stunning motifs that give this outfit a modern touch. It is paired with a green shawl and a layered necklace.
Sea Green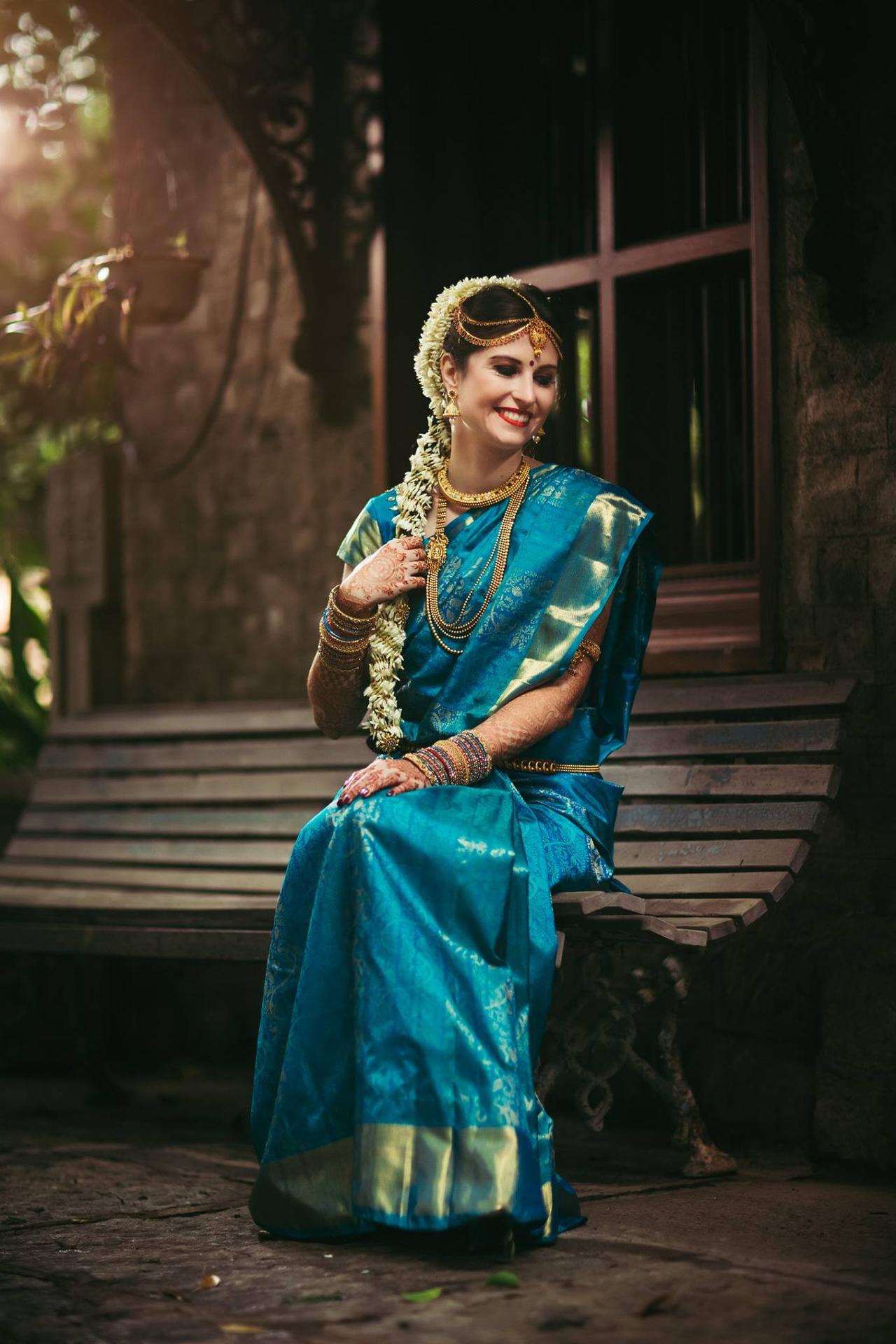 If you are looking to make a statement with a unique colour palette, take a page out of this new saree photo look. This bride is wearing a traditional saree in a beautiful sea-green shade. It is made of silk and features a classic gold border on the drape and sleeves. The simple outfit is accentuated with some statement necklaces and a Mang Tikka and the bride has her hair styled with Jasmine flowers.
Pink and Purple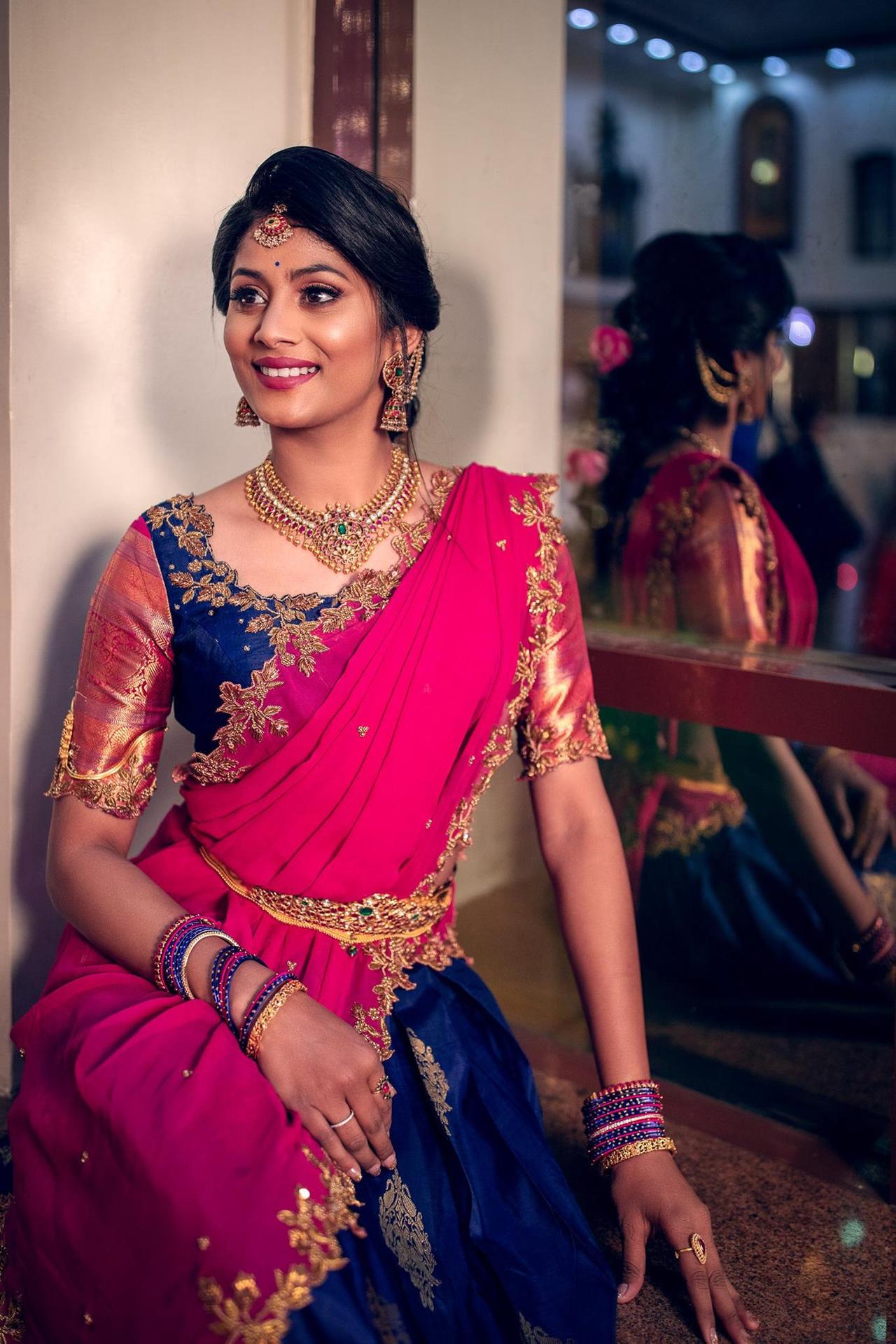 The traditional saree has evolved with the modern bride to meet her style and comfort needs. For instance, this bride is adorned in a traditional saree drape but it's the design elements that make this saree stand out. The saree skirt is a deep purple colour that is accented with traditional golden prints. The drape is a bright pink colour that is patterned with gold floral embroidery that takes its shape at the border. It is paired with a purple blouse with pink sleeves. The bride in this new saree photo has paired her look with a statement necklace and some Jhumkas.
Classic Red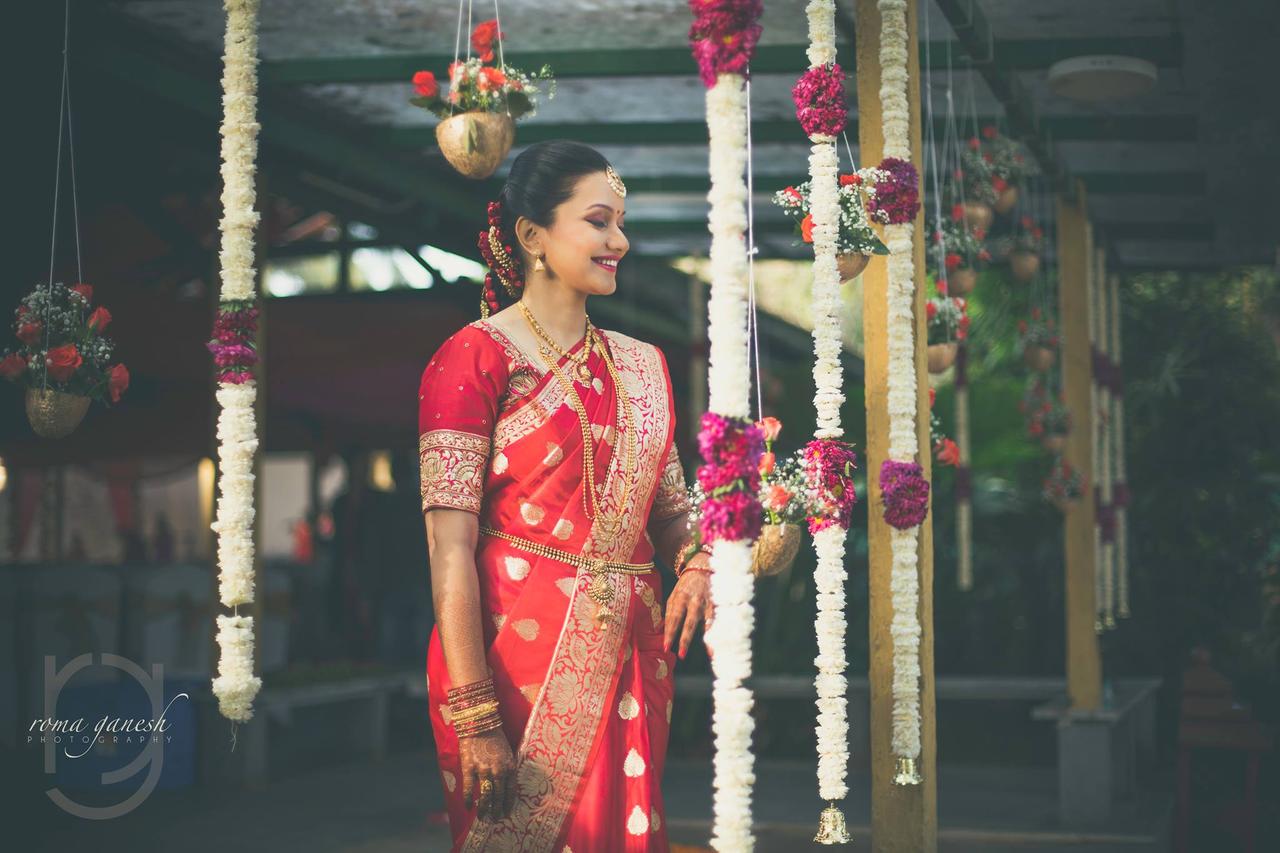 No saree style list is complete without the classic red drape. Red is a staple wedding colour and a must-have in every ethnic wardrobe. This bride is the image of the quintessential Indian bride in her red saree. It is accented with a gold paisley pattern and bordered with floral embroidery. The traditional saree is accessorised with a slim Kamarband and a long chain. If your style aesthetic is simple and traditional, the attire in this new saree photo is perfect.
Maroon and Grey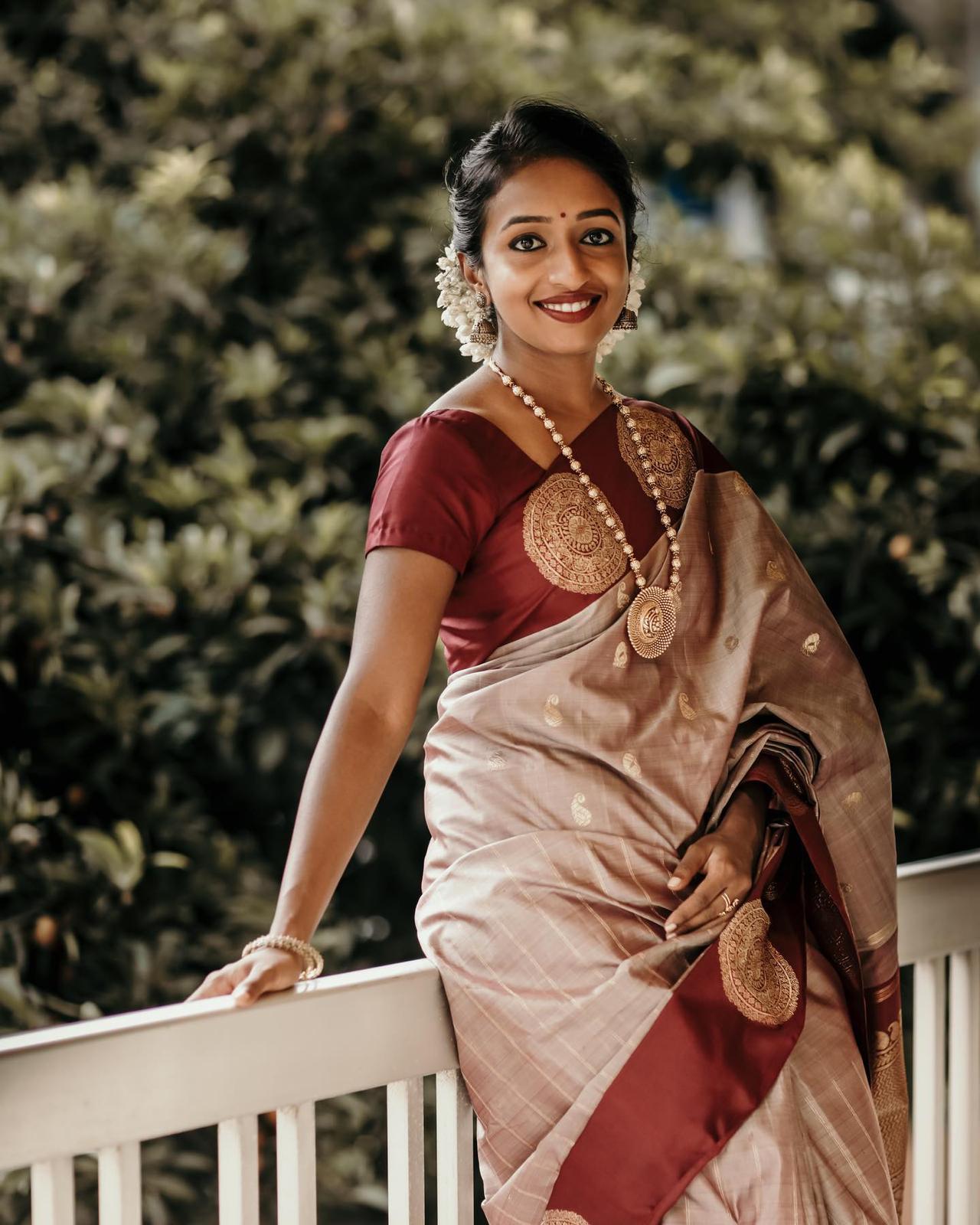 Image Courtesy: John Photography
While we're on the topic of colour palettes, you don't always need bright colours to make a statement. Sometimes, sober tones like cream and grey can be just as impactful. The bride in this new saree photo is wearing a light grey saree that is accentuated with some gold paisley patterns. It has a deep maroon border with a statement gold print giving this saree a festive look. This simple yet stunning attire is paired with a long beaded necklace and some Jhumkas.
Bright Pink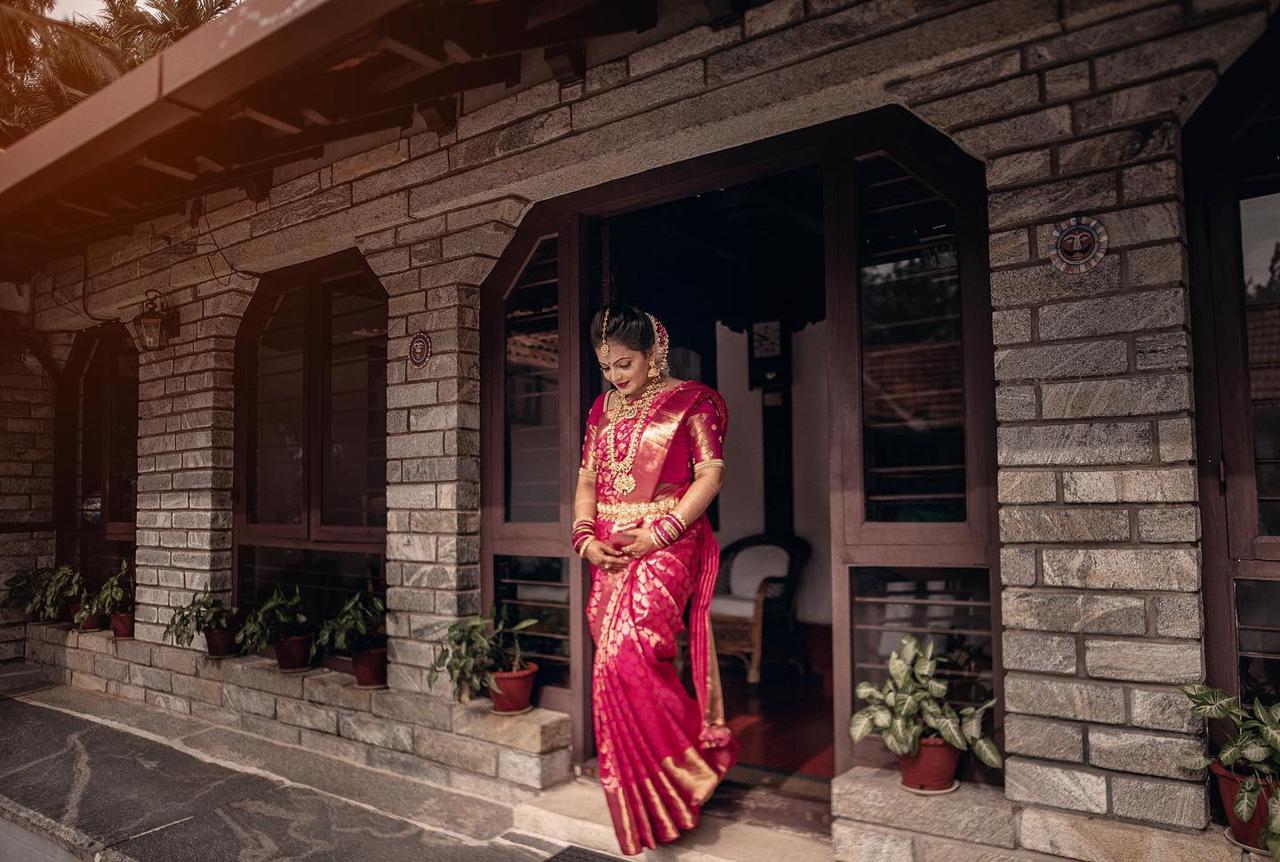 This bride in this new saree photo has gone with a full traditional saree look. She is wearing in a bright pink drape that features a circle gold pattern across the body and thick pallu border. This is paired with a matching pink blouse with sequinned flowers on the sleeves. The classic bridal look is enhanced with some traditional jewellery like the Kamarband, a long gold necklace and Jhumkas. If you are looking for a classic drape, this pink saree is a perfect choice!
Orange and Gold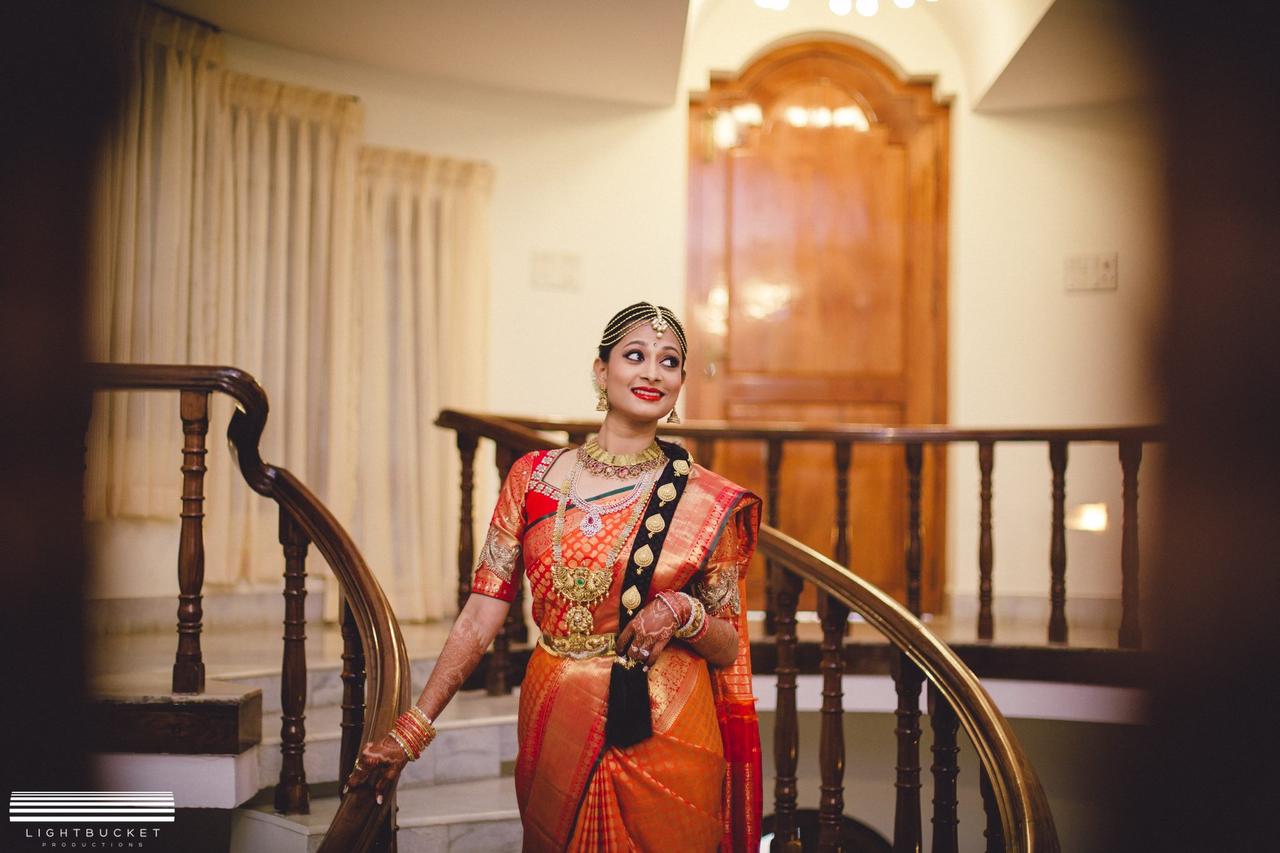 Like red, orange is also a favourite among brides when it comes to traditional attire. This bride has opted for a classic orange and gold drape. The orange saree is accented with a circle print and bordered in gold. It is paired with a matching saree blouse that has a matching blouse that has a sequinned pattern on the sleeves.
The traditional gold jewellery completes the look in this new saree photo. The saree is a classic ethnic outfit that is a must-have in every bridal wardrobe. This drape allows you to get creative with the colour palettes and patterns based on your unique style.
As a millennial bride, there are numerous ways to re-invent this classic saree- either with a new blouse design or some accessories. We hope these new saree photo ideas help you pick the perfect outfit for your big day!
Have any more new saree photo ideas? Let us know in the comments below!