In Indian tradition, mehndi or henna is not just an imprint on your hands, but on your heart as well. It's an emotion. The moment it appears on your hand you feel something positive. And as a bride, it is the beginning of your fun-filled wedding festivities with that little giggly feeling that reflects in your mehndi.
So is something ordinary capable of owning the day? Absolutely not! You should be spoilt for choices and we will make sure you are. So here are some assorted hand mehndi ideas dying to be on your palms and enhance your bridal look.
P.S- Choose some designs for your friends and family too!
1. Mandala Hand Mehndi
Mandala hand mehndi designs are traditional and classic designs being applied since the time of the Moghuls (and who knows before that too). A rangoli style statement design is drawn in the middle of the palm with pretty designs on the fingers.
Though the traditional version is pretty simple, contemporary designs are now being mingled with the idea of mandalas. While the palm is kept classy with mandalas, intricate designs are drawn in the rest of the wrist and hand part. You can try that too.
2. Finger Detailed Mehndi
Finger detailed mehndi is an art of hand mehndi designing where the focus is on the fingers. Pretty and detailed designs are applied on just the fingers while dotted or no designs are selected for the rest of the hands. The design is popular among bridesmaids and other family members who would like to keep it subtle.
3. Minimalist Mehndi
Are you that minimalist bride who likes it precise? Well, then minimalist hand mehndi is your type. It doesn't cover your entire hands but just draws some pretty motifs here and there which conclusively make a beautiful design. Minimal designs are also suitable for friends and family.
4. Intricate Motif Mehndi
Just look at the elaborate design! Doesn't it look mindblowing? In this design, the peacock motif is kept as the primary motif while other motifs like Shehnai and Tabla (unique marriage motifs), Shlokas, and others are included to enhance the design. If you love such intricate pieces of art, get yourself a similar design for your wedding too.
5. Bride & Groom Motif Mehndi
Bride and Groom motif is a popular hand mehndi design among brides in India. But you can do your own additions to the traditional design just like this bride did for her big day. Get hashtags, your wedding date, or other cool things included in your mehndi to make it a unique piece!
6. Full Hand Mehndi
Are you a mehndi lover who never gets enough of it? Then this is a golden opportunity for you as a bride to apply it all over your hands. The benefit of getting full hand mehndi is that you can add as many motifs and even a theme to your mehndi design, which just adds to the beauty of it.
7. Filmy Mehndi
And how could we forget the total filmy bride? From your conversation to your dressing, everything reflects your Bollywood love, then why not your bridal mehndi? Here's one of our filmy brides with a Jodha Akbar themed bridal mehndi. You can totally be even more creative for bridesmaid mehndi designs.
8. Wedding Theme Mehndi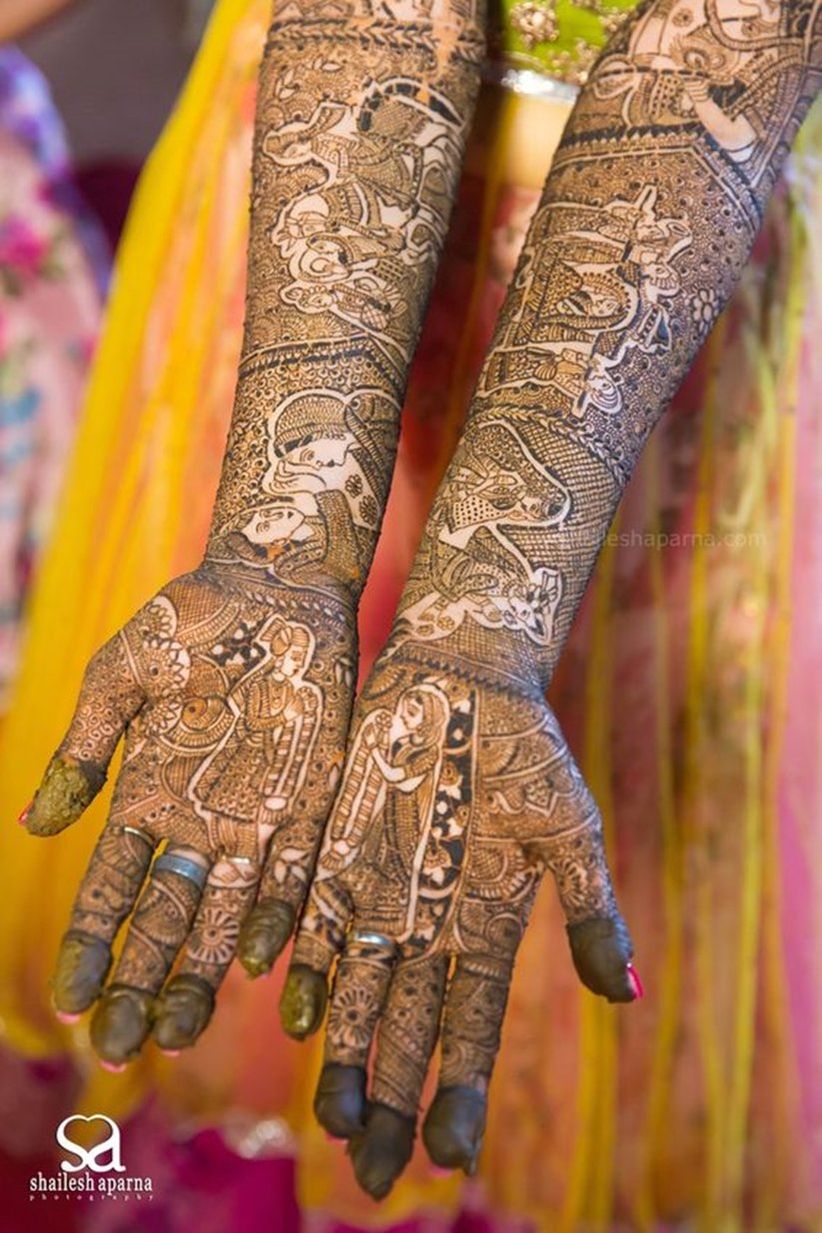 Photo Courtesy: Shailesh Aparna Photography
We were just talking of themed mehndi, and here's a beautiful example of it. The wedding theme is diligently drawn in form of artistic mehndi. It is time taking and challenging to create the design but look at it, isn't it totally worth it?
9. Simple Back Hand Mehndi
Backhand mehndi looks best with a simple design because it enhances the beauty of all the jewellery you are going to adorn on your big day. The picture above is just a glimpse of what we are saying!
10. Spacious Mehndi
Don't like it covering your entire hand? Try out this spacious hand mehndi design which manages to cover your hand and yet leave the breathing space you want.
11. Arabic Mehndi
Arabic mehndi is one of the most subtle yet one of the most gorgeous mehndi designing techniques. It is quicker to apply and hence makes a great idea for your Mehndi guests. You can also choose one of the more intricately designed Arabic hand mehndi designs for yourself.
So did we keep our promise of introducing you to a wide array of mehndi choices?
Let us know which one managed to take your heart away in the comments section.