Gold Mangalsutra Designs Photos For Some Bridal Jewellery Goals!
Are you the bride tired of scrolling through gold Mangalsutra designs photos? Here are some of the most thoughtful ones chosen exclusively for you! Have a look.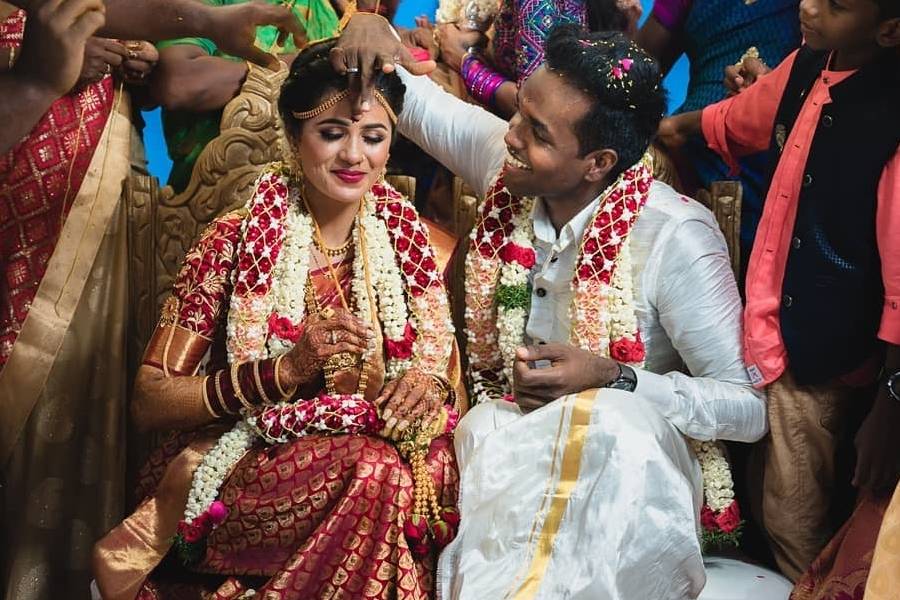 Writing about gold Mangalsutra designs photos, I think, most of us would agree to the thought that no matter how Hatke shaadi you plan for yourself, buying the traditional Mangalsutra will always be one of the most exciting parts of planning a wedding. I wouldn't be exaggerating is I go on to say that a woman literally comes to believe that it is actually happening, only once she selects her Mangalsutra.
Traditionally, the Ladkewalas used to get the Mangalsutra for the bride. However, considering the changing tastes and styles of the sassy modern brides of today, it is often bought together now (just like the engagement rings).
Let us together make the process of buying the delicate traditional beauty a little easy for you by going through some of the most alluring gold Mangalsutra designs photos. These are some of the most trendy and minimal Mangalsutra pieces to help you choose your tiny gold partner for life.
Plain Petals to Die for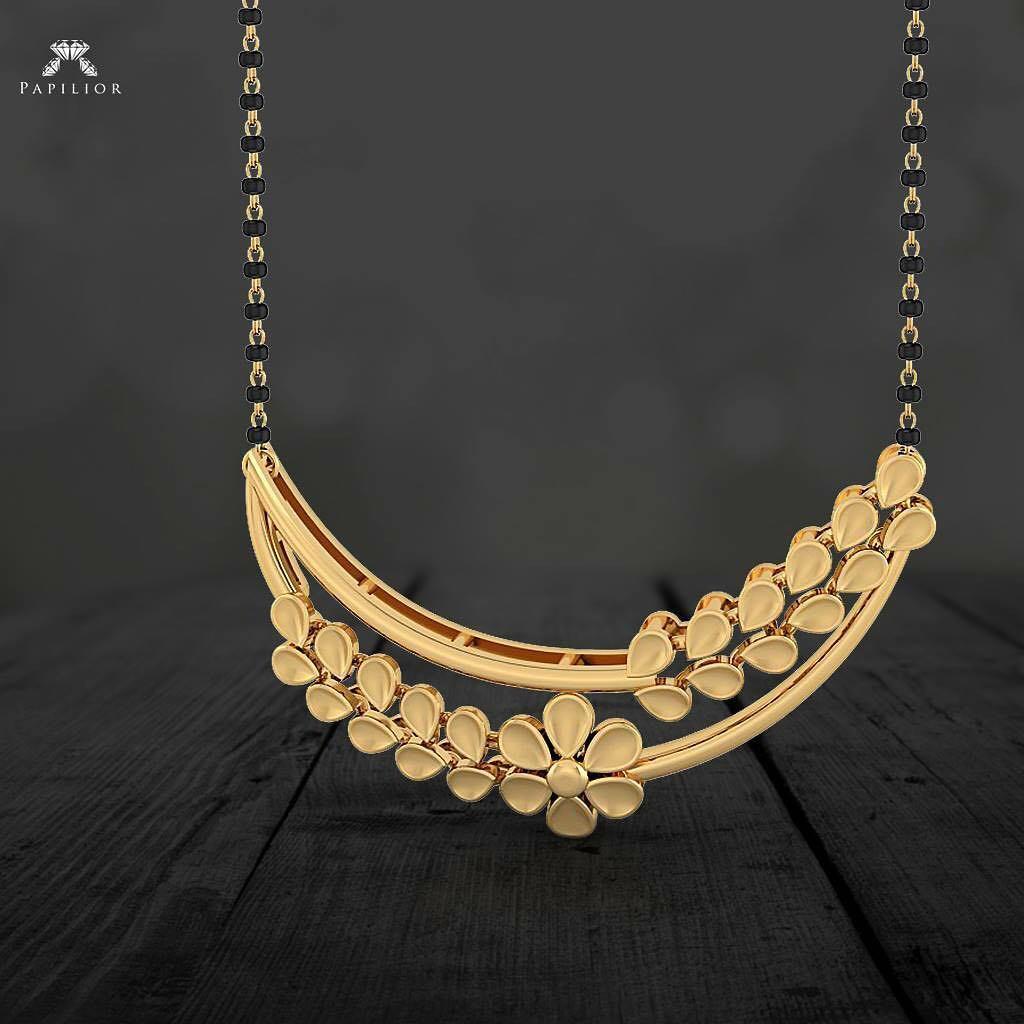 Image Courtesy: Papilior
Isn't this a gorgeous Mangalsutra design for a modern bride looking forward to a traditional Indian wedding? This wonderful piece deserves to be the debut of this list of gold Mangalsutra designs photos because of the very different yet appealing choice of leaf and petal detailing in gold. With such gold Mangalsutra designs photos in mind, you must remember that no matter how unusual the design is, as far as it is neat in its formation, it will look elegant.
This Mangalsutra Design is Best for Whom?
Such gold designs without even a hint of pearls or diamonds are ideal for women who love gold jewellery over anything else. Mostly, traditional brides like gold over diamonds or platinum. However, one must consider the fact that even though gold is a great traditional choice, it can always be modernised by playing with different elements.
Two prime ways of giving a subtle modern touch to your inner traditional bride are one, by playing with the design of the Mangalsutra and two, by the outer gold polish of it. The intricate design of old petals, leaves, flowers or even moon would look breathtaking, don't you think so? Try going for a matte gold polish like this one as against the regular shiny and raw one.
Diamond Studded Graceful Design in Gold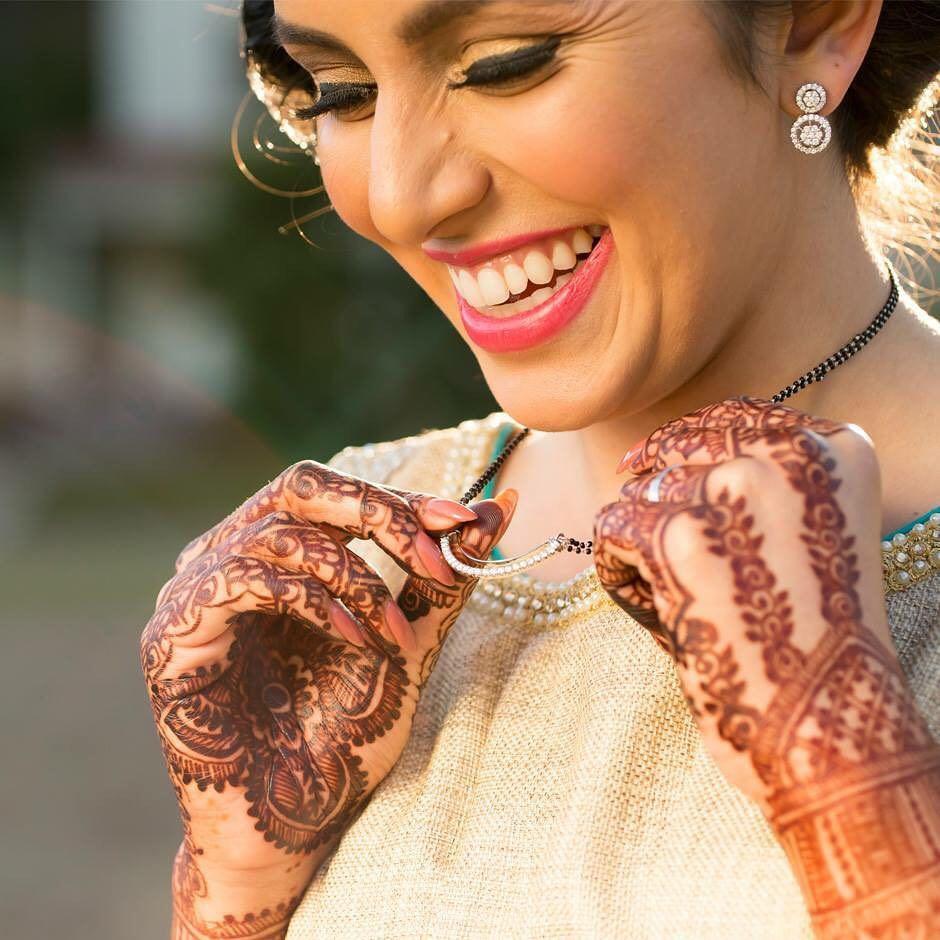 Even though we are discussing gold Mangalsutra designs photos here, yet diamonds are something which cannot be missed whenever we talk about gold Mangalsutras. With the hottest marriages that the Bollywood town has witnessed lately, minimal Deepika Padukone's style and the traditional Priyanka Chopra style adorned with diamonds just cannot be missed. The very base used to hold the solitaire is gold here which makes gold and diamonds the most compatible couple.
How Can You Experiment With Diamonds?
Getting a single solitaire or a string of big diamonds is something we have already seen before. You can go a little over the top if you want a big heavy pendant (like celebrity comedian Bharti Singh for reference). Apart from normal designs, rectangular shape of the pendant is also quite trending (see Ginni Sharma (wife of comedian Kapil Sharma) for reference). Apart from this, you can always go for a tiny heart shape or moon shape depending upon your go-to symbol. Ah! I cannot wait to see the customised beauty that you end up deciding!
For the Experimental Maharashtrian Bride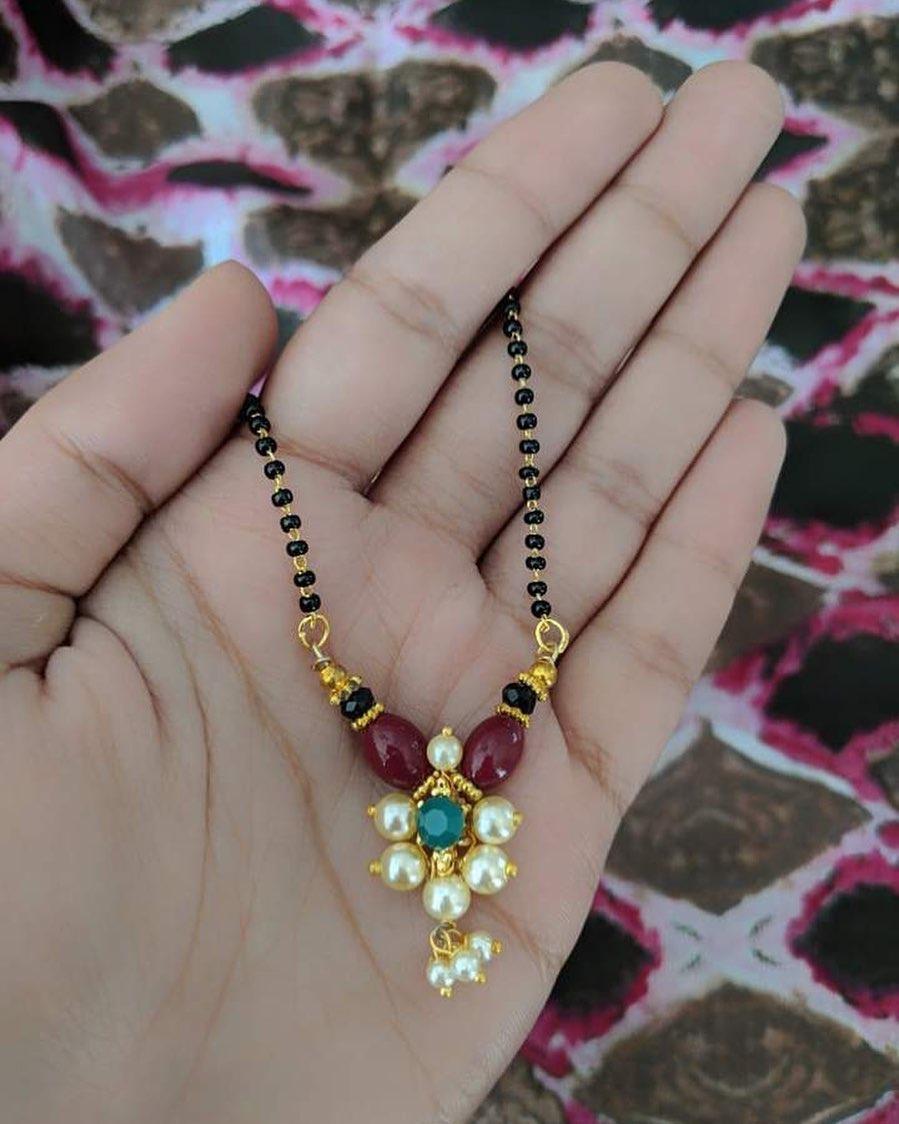 Image Courtesy: Digital Dress Room
When talking about authentic Maharashtrian gold Mangalsutra designs photos, the regular two attached round shells design is pretty much the only style that comes to one's mind. Don't you agree? Now, this lovely gold design, on the other hand, is unconventional, speaks volumes about your personality, is definitely different (in a good way) and it is surely worth giving a try.
I personally feel that your wedding must be an experience for you, a highly customised experience. Every tiny detail must have some meaning behind it, some aspect of your personality or any symbolic value when it comes to your relationship with your partner.
How Can We Get Such a Mangalsutra Customised Enough to Be Memorable?
Talking about Maharashtrian gold Mangalsutra designs photos, this beauty has a lot of room to experiment. All of us have that one piece of jewellery from Maa's Pitaara that is a reminder of our mother's blessings. Why not extract beads, pearls or stones from say a traditional Maharashtrian Nath and get the gorgeous piece made with love and blessings of your mother. If your partner feels left out, take some from his/her mother's Nath as well! Wouldn't that be a lovely idea? Go for it!
Fooling Everyone for Your Love of Diamonds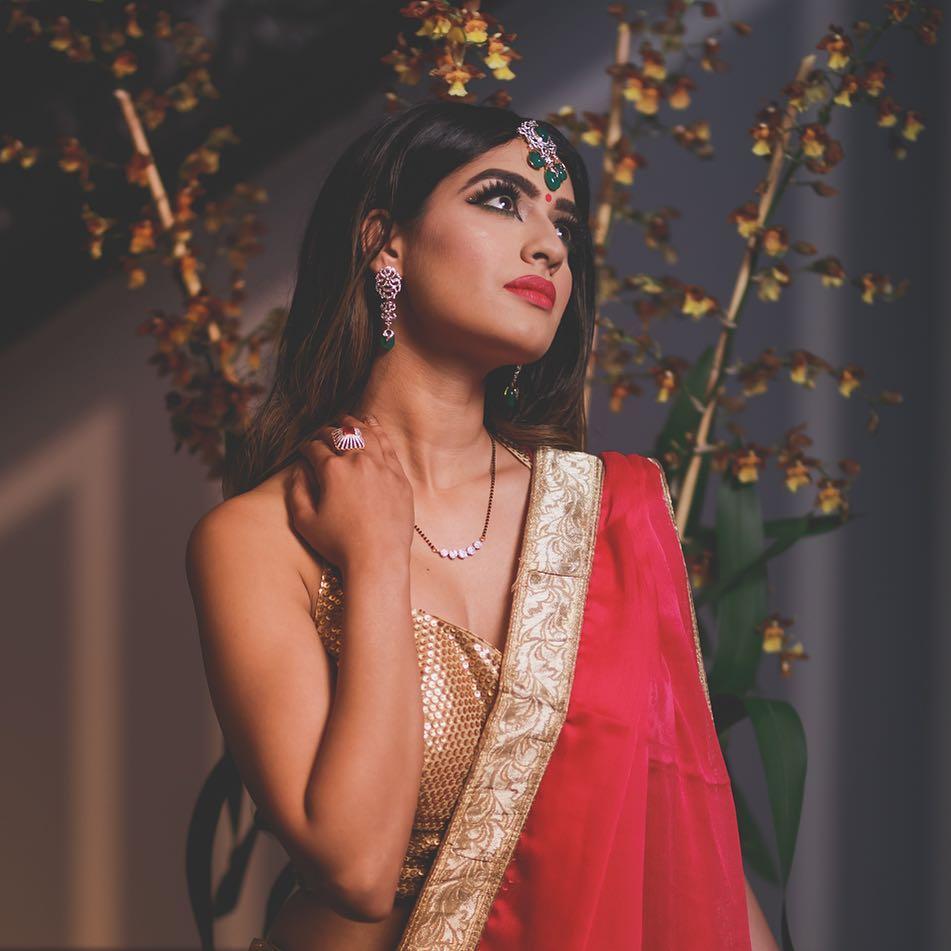 Another one under gold Mangalsutra designs photos which take you back to the celebrity-style Mangalsutras. Unlike Deepika Padukone, this one has a combined string of little (not so little as far as burning a hole in your wallet is concerned) diamonds. It looks effortless on both traditional and western wear. Even if you are a corporate worker, you wouldn't even have to keep tucking it behind your shirt despite being so rich expensive) and classy it still looks subtle.
What Makes Such Gold Mangalsutras Styled With Diamonds So Different?
The best thing that comes as an advantage with such gold Mangalsutra designs photos is that they help you understand how Mangalsutras can look decent, elegant, delicate and minimal even if they are not made with the thinnest gold leaf. Even if the string wreathing the sacred black beads and solitaires are of gold (considering its strength and durability), the tiny beads with the black ones are in gold yet the entire piece looks more like a diamond Mangalsutra. This is the basic roadmap to fooling your hubby or father to buy a diamond dominating design under the guise of buying gold jewellery.
The Intricate Design With Stonework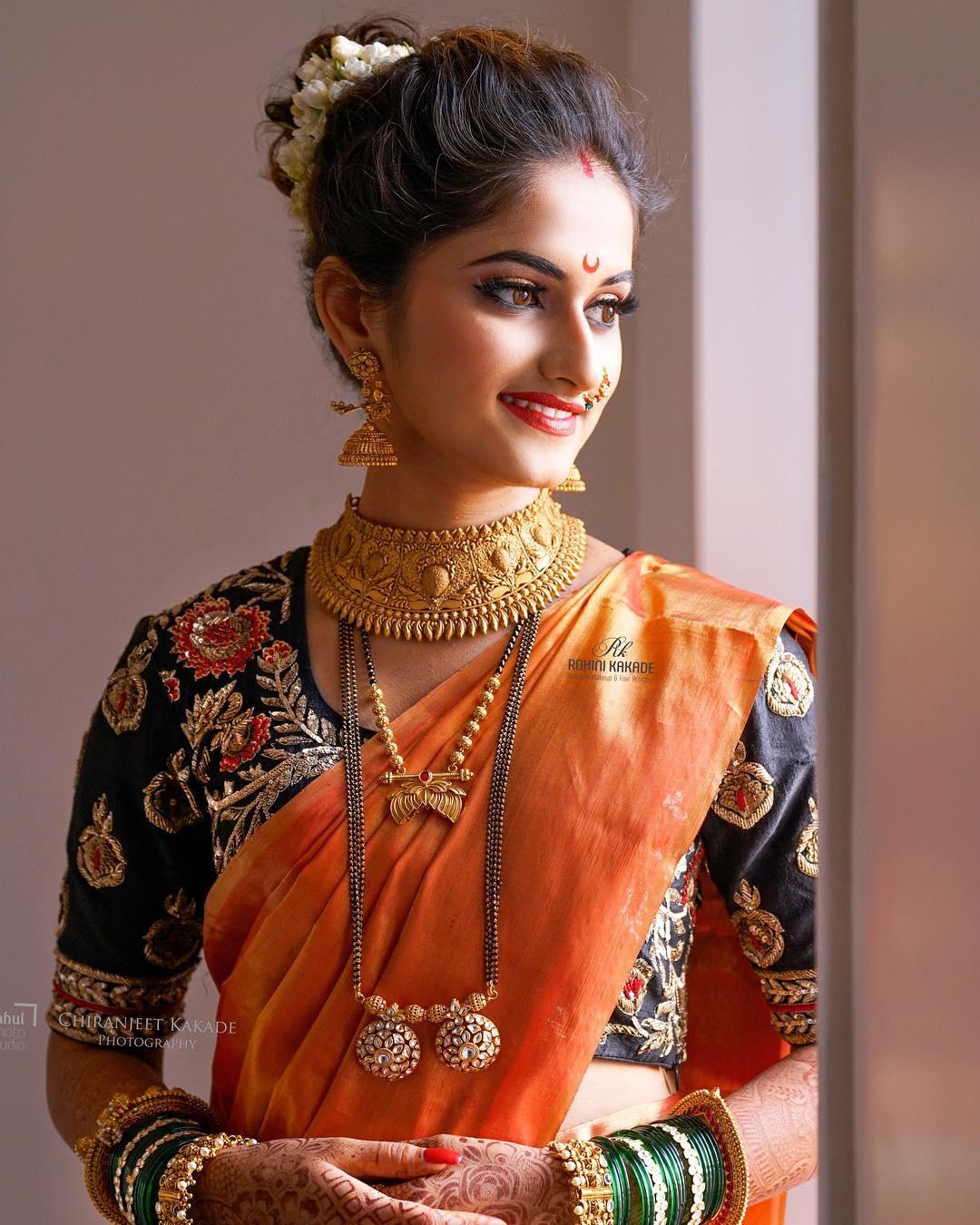 Image Courtesy: Chiranjeet Kakade's Photography
Isn't this one of the most breathtaking gold Mangalsutra designs photos? Another wonderful design for the Maharashtrian bride. Talking of the two-shelled Maharashtrian style, this is the latest Kundan variant of the black beaded beauty. The best part is that such big pendants with thick Kundan cuts are that it removes the need for wearing any other jewellery item. Just team heavy Kundan Jhumkas with your bridal look and you will be a trendsetting bride! Wouldn't that be lovely?
This Mangalsutra Design is Ideal for?
Such gold Mangalsutra designs photos are ideal for brides looking for inspirations for a Mangalsutra which is a statement piece for her wedding look. Kundan is one of the most ethnic choices when it comes to bridal jewellery. If you are a bride who doesn't want to go for the heavy gold or artificial bridal sets and challenge the regular bridal looks, this is the one for you. Wearing a Mangalsutra like this will keep the bridal feel intact in your look even after the marriage day. If you are planning to go totally traditional with thick sindoor and sarees or suits in order to enjoy that newlywed charm, this Mangalsutra has to be your best choice.
The Beauty of Customised Designs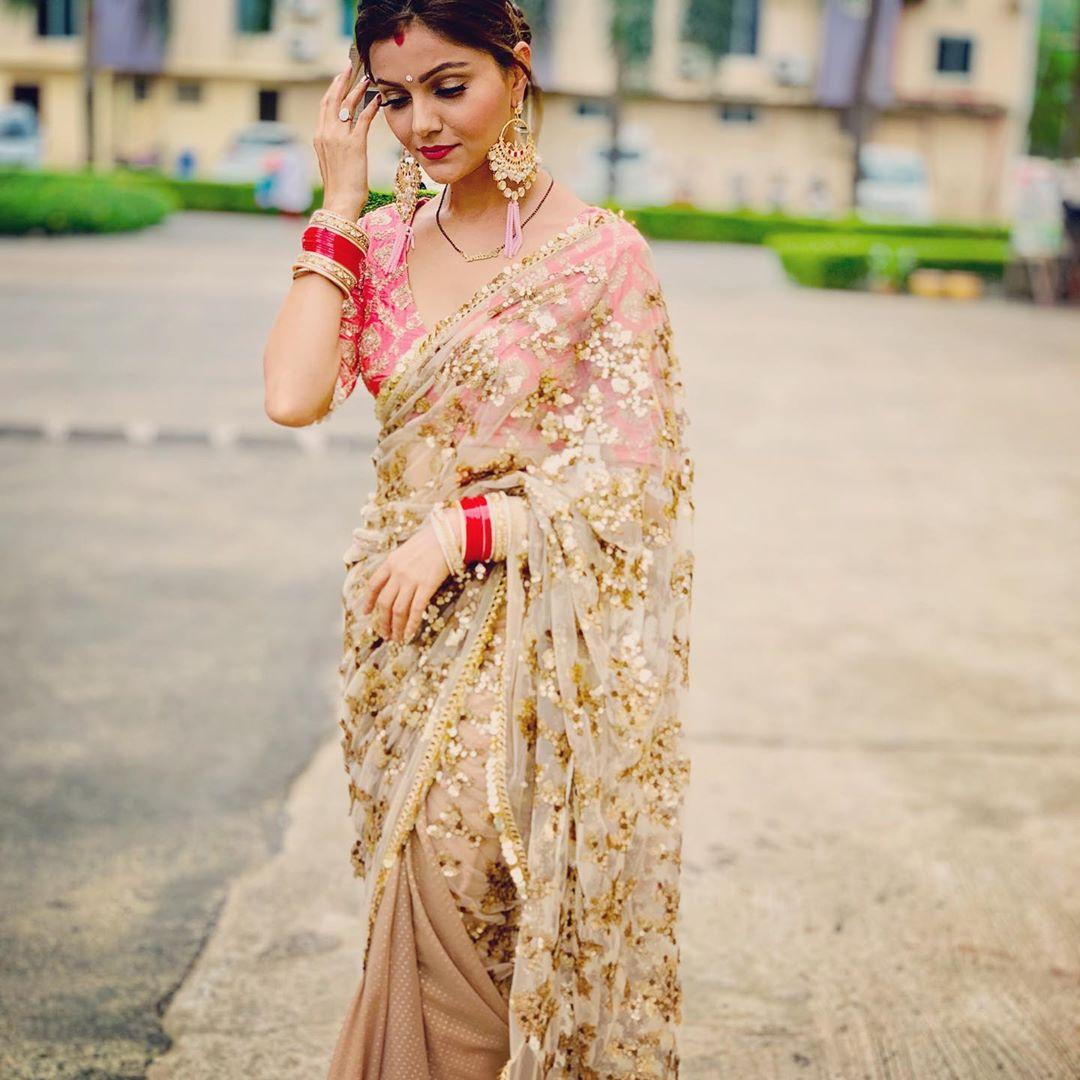 Image Courtesy: Rubina Dilaik's Instagram
This is one of the latest additions to gold Mangalsutra designs photos. You might well have to zoom in to see the name pendant wreathed in the black-beaded Mangalsutra. You can always get a highly customised name charm added to your Mangalsutra in the name of your husband or get a design created which takes in either both names of the couple or that wedding tag like 'DeepVeer' or 'Virushka'. Wouldn't that make an absolutely adorable choice for you as a bride? Try playing with a heart shape or an infinity sign joining the two names.
Why Are Such Gold Mangalsutra Designs Photos So Special?
What makes such Mangalsutra variants so special is the fact that they are so thoughtful. The very thought behind this ritual is that it marks the togetherness of the couple, the divinity of the bond. Keeping this wonderful concept in mind, getting a name engraved on the pendant or getting a one made customised for yourself and your hubby (or wifey) can be a Mangalsutra worth everything. What do you think? I would just say that you must be as experimental as you want to. It is your wedding, you have to be unapologetic! Ask yourself, does your wedding not deserve it?
Dainty Design With Charms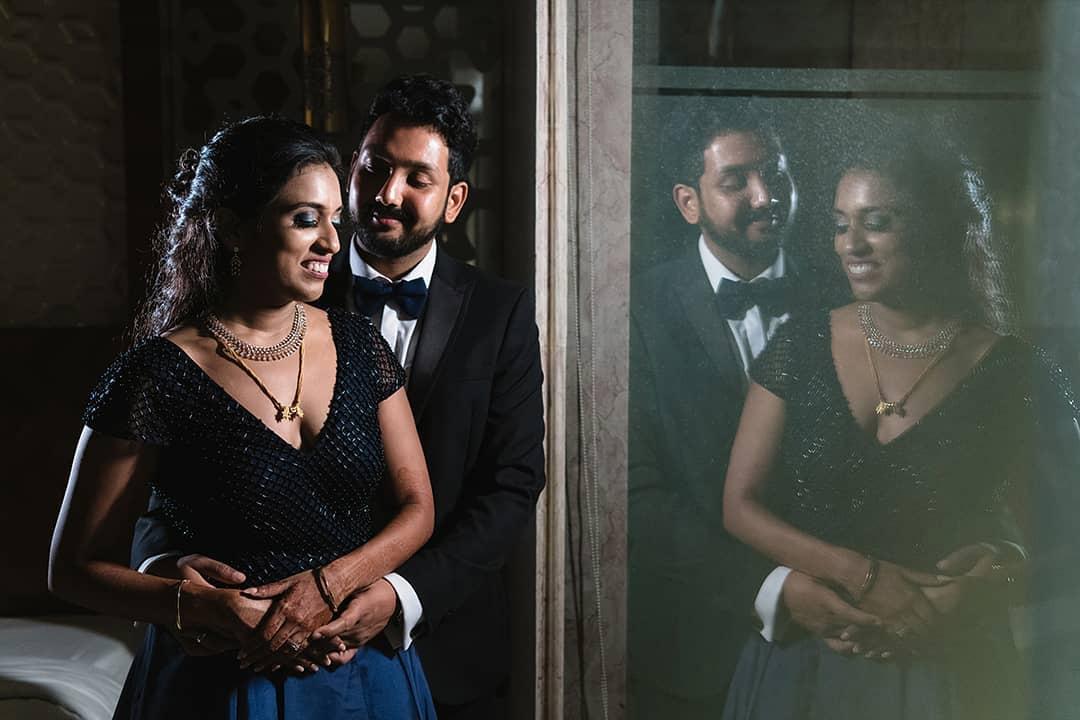 Talking about gold Mangalsutra designs photos, such designs look absolutely unique as rarely do Mangalsutras come with such charming designs. Once you zoom in, you will see that a string of charms hanging on to the golden Mangalsutra chain which looks absolutely amazing. It is a great choice among gold Mangalsutra designs photos for the modern bride looking forward to adorning a nice sleek Mangalsutra piece on her wedding.
Will It Work on Modern Outfits as Well?
Planning a dreamy honeymoon with breathtaking western outfits? Worried about how to carry your Chura and Mangalsutra with your western outlook? This is the perfect one to go for among the other gold Mangalsutra designs photos as it has a neo charm to itself. You can always choose tiny pendant charms like that of a star, a moon, a heart or even the initials of the couple and wreath them up in a gold chain with black and golden beads. You can always choose the vintage gold polish for it, if not the regular one. Wouldn't that be awesome?
With all these dreamy gold Mangalsutra designs photos, you are officially sorted for the big day, don't you agree? Stock up all these gold Mangalsutra designs photos full of traditional Mangalsutra variants, minimal Mangalsutra designs, pure gold Mangalsutras without even a hint of diamonds or the majorly diamond-studded ones. You never know which one do you end up with because buying a Mangalsutra is not casual shopping, it is an experience, one of the several moods for the lovely bride marrying in the Indian style.
Pro Tips
Consider keeping the length of the black-beaded chain a little longer because it can be cut short later if you like.
Do not keep the chain length too short and sticking to the neck if the pendant isn't one of the minimal variants of the Mangalsutra. Summers might change your idea of always wearing the 'Suhaag ki Nishaani'.
Do not restrict yourself from experimenting with Mangalsutra styles. Go for a traditional one or the one in rose gold, go for a hand Mangalsutra if you like. It is your wedding, your Mangalsutra which you have to preserve as a symbol of your marriage for the rest of your life. You deserve to make all the choices.
We would love to know more about your taste about Mangalsutras, in the comments below.