Rock Your Mehndi Dance By Checking These 5 Essential Event Details Before You Hit The Floor
It's your most awaited Mehndi dance night and you want it to be just perfect! The moves, the outfits, makeup, hairstyles and interesting ideas to include all your loved ones in your special event. Read on to know in details to ace your Mehndi!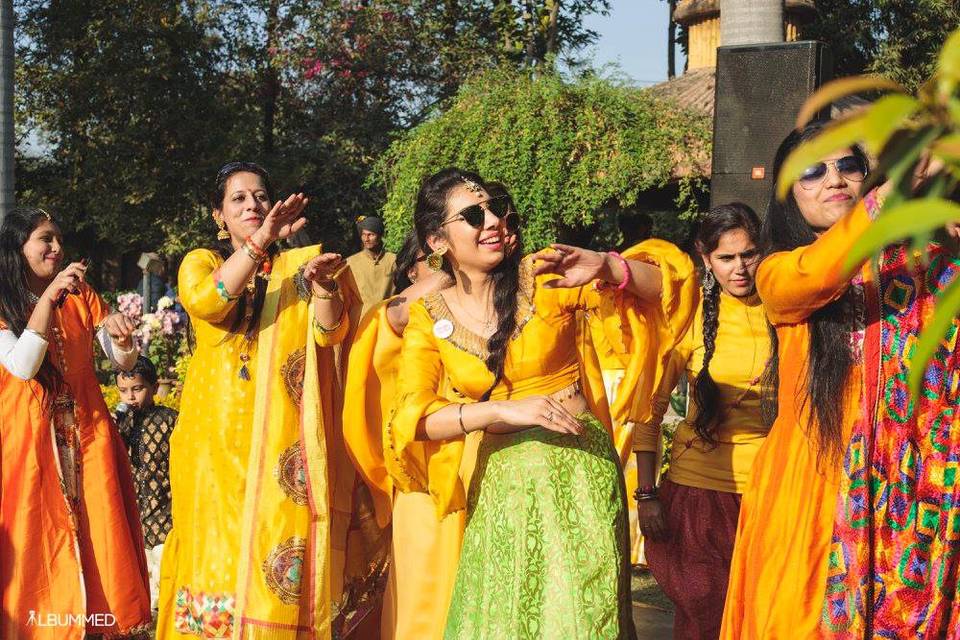 A Mehndi ceremony is so much more than getting your hands and feet painted with beautiful henna designs. It's also about having your friends, siblings, family and all close ones by your side, and turning it into a big gala of music, fun and playfulness. And a huge part of this Mehndi ceremony involves a lot of dancing! Because, how can you even imagine any Indian wedding celebration without the Dhol beats and Thumkas?
So without much further ado, let's get down to the best part already! We have prepared an extensive list of guidelines you might need to have a super rocking Mehndi Dance event. From your Mehndi dress to the must-add songs on your playlist-we've got it all covered! Keep reading to know more!
1. The Mehndi Outfit

Let's start with the most tricky question every girl has to face: "What should I wear"? Whether you're having a poolside event during the day, or an evening ceremony at the open gardens, your Mehndi dance outfit must be chosen on the basis of the following factors:
2. The Mehndi Makeup & Hair

Now that you've won over your "what to wear" hurdle, let's take a look at the makeup tips and hairstyles for your Mehndi dance! So what's your style? Open tresses, fishtail braids or side bun? You can choose whatever hairstyle or makeup you want, just keep these points in mind:
3. The Mehndi Music

Let the fun part begin! One of your major tasks while organising the Mehndi Dance event is choosing the song playlist. You could take a look at some of the popular Mehndi songs that are raging this season. Or you can come up with your own list. Here are a few tips while choosing your Mehndi music:
4. The Mehndi Games

Whether it's a homey Antakshari, a glam Karaoke contest or some Pani Puri competition...playing games is the best way to bring every guest together on your Mehndi dance ceremony! After all, there is no such thing as too much fun! Here are a few things to remember:
5. The Mehndi Menu

Finally the sip & bite part! Arranging for the right kind of food and beverages on your Mehndi dance function is quite important. Based on the guest list and your budget, choose your menu keeping these things in mind:
If you're aiming to give a smashing performance on your Mehndi dance night, you must rehearse well. Coordinate with your wedding choreographer and practice your moves. And not just you, make sure all your family members are not skipping their rehearsals! Weddings are fun only because of these ceremonies and hundreds of moments attached to them. Enjoy every second of your pre-wedding prep sessions! The outfit trials, the dance steps, the Mehndi song selection, the food tastings...have fun experiencing all of that. After all, these golden moments are the ones that will make your wedding album an asset you'd treasure!
Have you booked your Mehndi artist yet? Take a look at our vendors list and give them a call!