The Spectacular Kolangal Rangoli Designs You Need to See to Make Your Wedding as Colourful as Possible
Making a Kolangal rangoli on a wedding day is a very old south Indian tradition. It signifies happiness and keeps your spirit high too. These vibrant geometric patterns can be made using 7 colours only!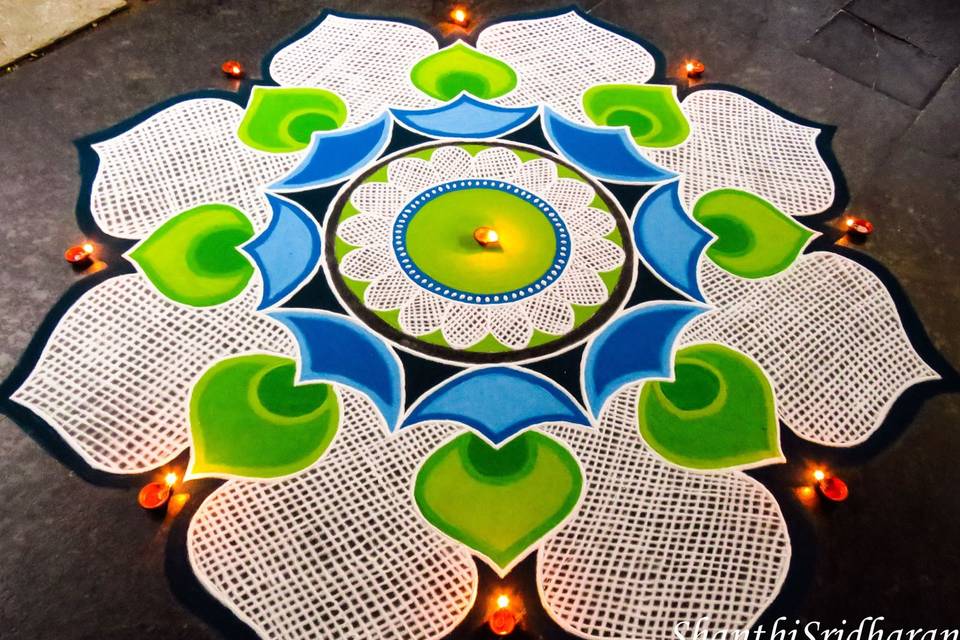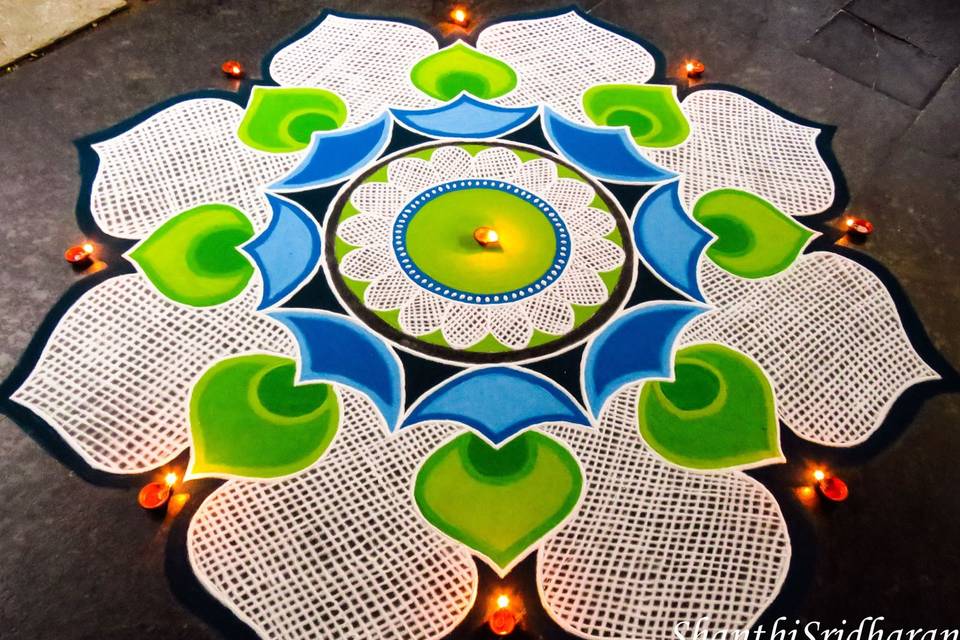 Image Courtesy: Shanthi Sridharan Kolam
A Kolangal rangoli is a geometrical pattern drawn on a flat surface, generally a floor. It is called by different names in different parts of the country. In northern India, it is only called rangoli while it's known as Kolam in the south of India. Kolam rangoli is only made of rice powder on the entrance of a house. Kolangal rangoli is the colourful take on a kolam. It is the perfect fusion of the traditional kolam made with only rice powder and the colourful northern rangoli.
Kolangal rangoli is one of the most rigorously followed south Indian traditions to date. Its significance can only be understood by the most traditional south Indian families. The older women of the family come out really early in the mornings and make on it on the threshold of their homes. However, these rangolis also feature in traditional weddings, as they are believed to signify the meeting of personal and social lives. You may have noticed them if you have ever been to a south Indian wedding. They are a colourful addition and lifts up the décor ten folds!
You only need very basic colours to make a beautiful kolangal rangoli. Pick out the most vibrant and brightest colours of your choice and start making them at the wedding venue. In this article, we're talking about basic rangolis that only need the rainbow shades!
In case you don't know, the 7 colours of the rainbow are violet, indigo, blue, green, yellow, orange and red. Also, add a black sketch pen to your list as it can be really useful while making a kolangal rangoli.
Here are different kolangal rangoli designs you can make using 7 colours, rice powder and a black sketch pen! Use these to decorate your home before marriage and also outside your wedding venue to add a Southern charm!
1. The circle of life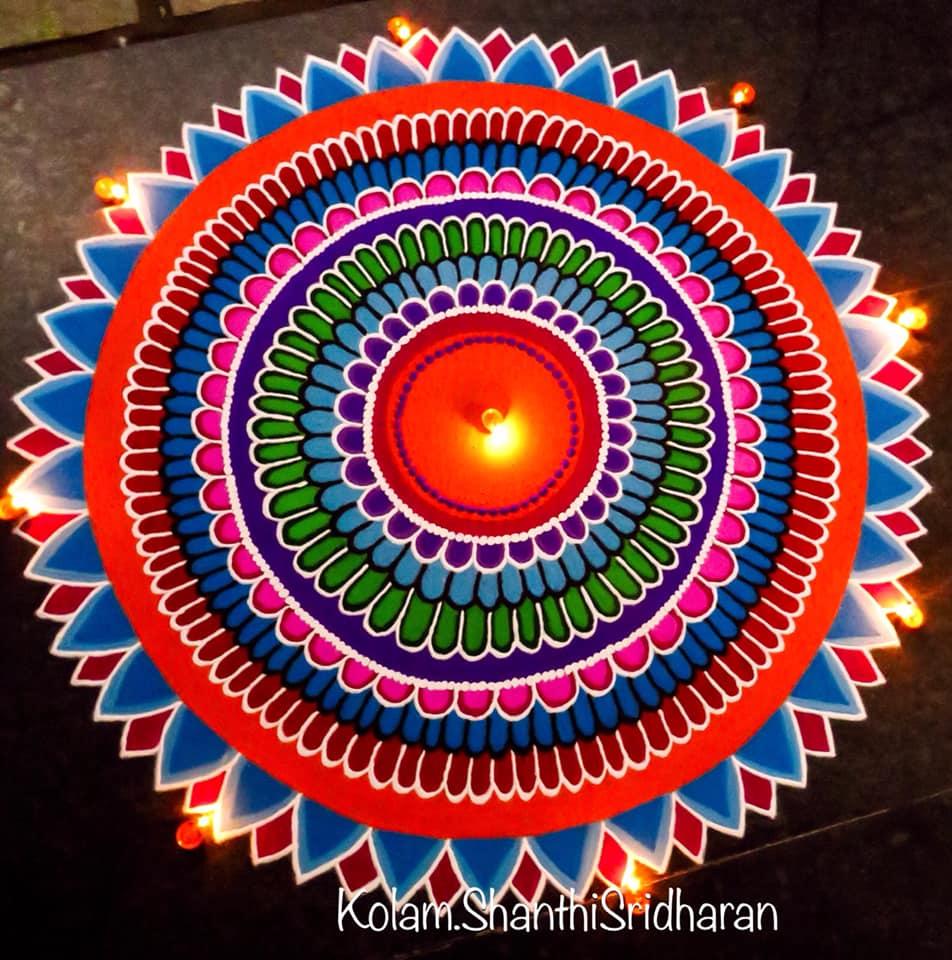 It is the most basic kolangal design that you can make at your wedding venue. It has different sizes of circles and different patterns around each one of them. You can make as many circles as you want using your most favourite colours. Play with different colours as everything will work in this kolangal rangoli design.
2. Swan shaped kolangal rangoli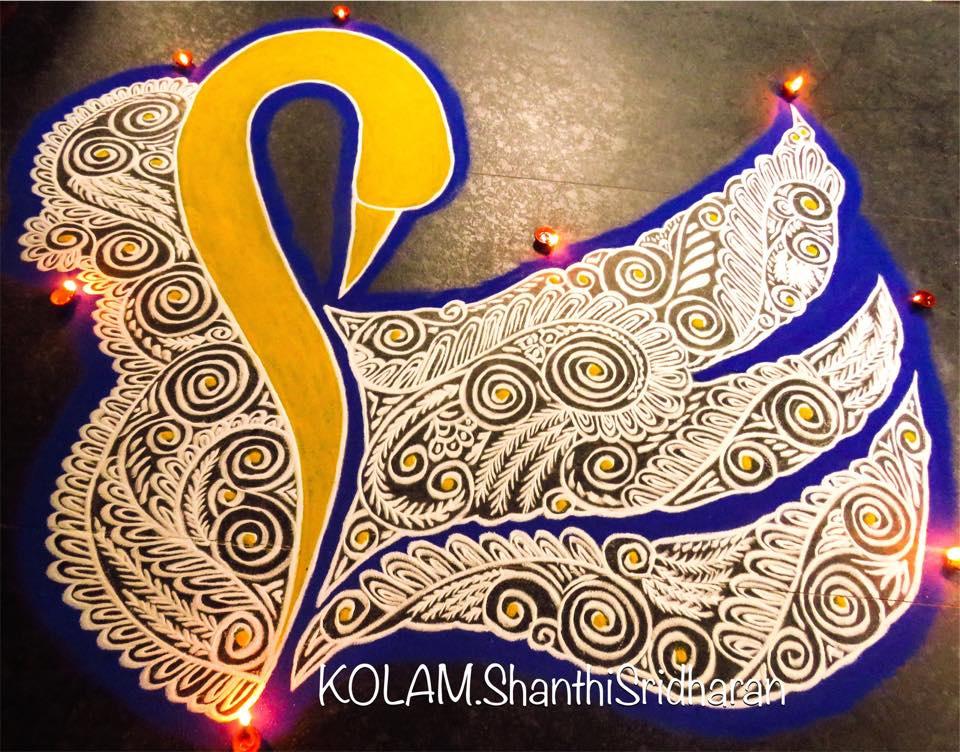 This swan-shaped kolangal rangoli is very distinct and is only made using 3 colours. The intricate patterns in this make it a suitable choice for your wedding, and the swan can symbolise how much you've grown!
3. The coconut rangoli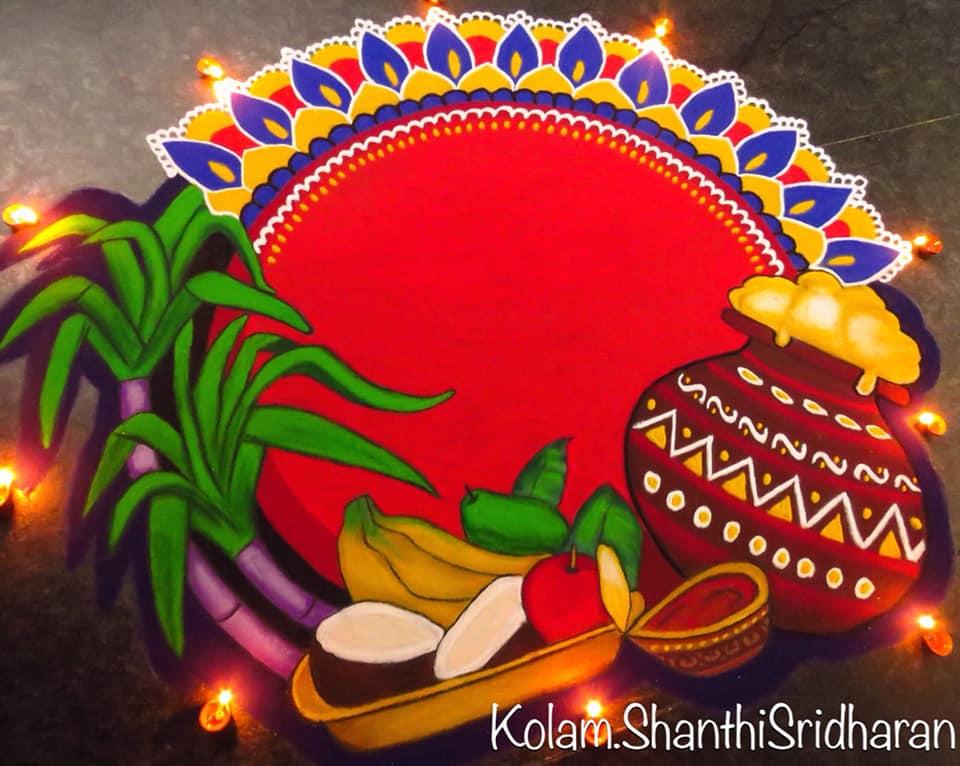 This kolangal rangoli is super traditional and out of the box at the same time. The fruit basket, Matka, Diya and coconut tree are the perfect combination and define a south Indian wedding perfectly!
4. The blue matka design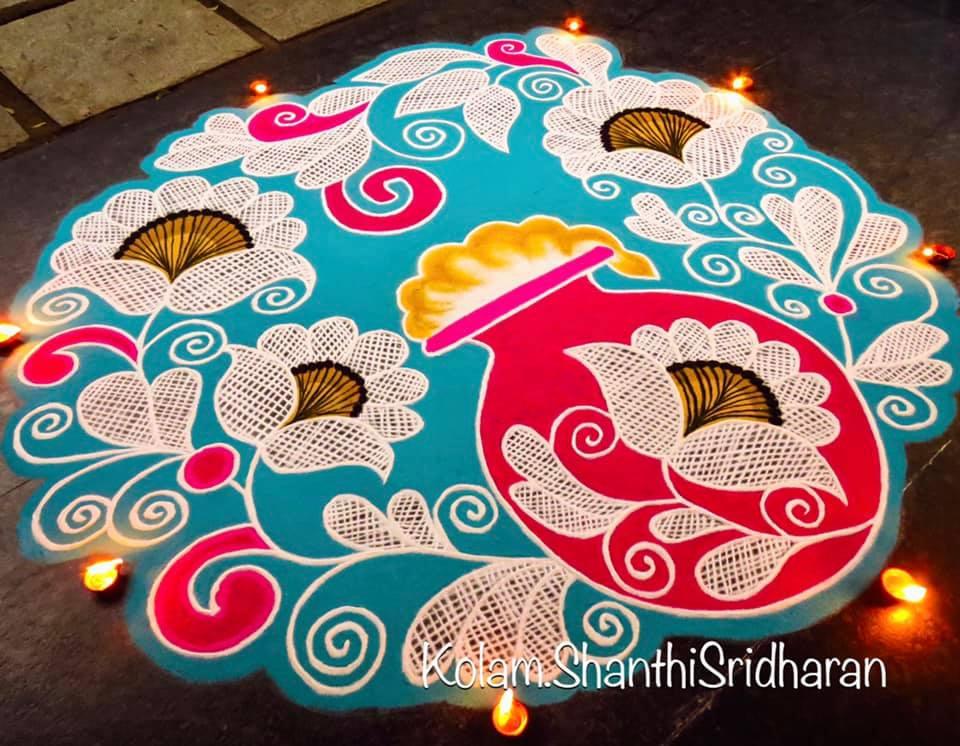 The colour palate and the criss-cross patterns on this kolangal rangoli make it the perfect option for a day wedding and to match your modern personality!
5. The heart rangoli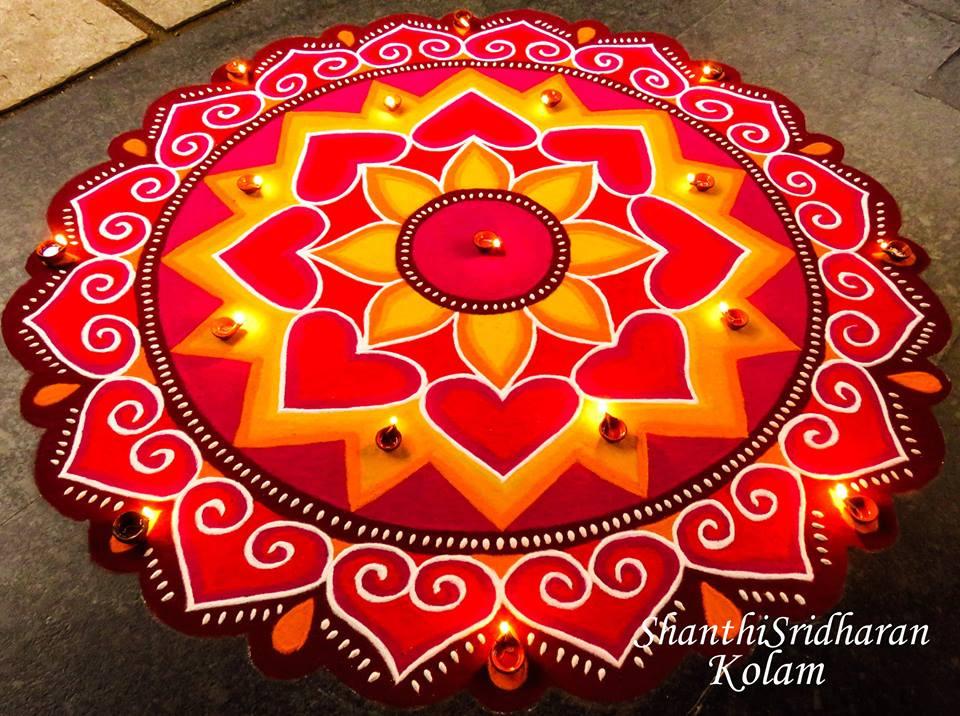 A beautiful kolangal rangoli with shades of red and yellow signifies love and happiness. This rangoli is a magnificent design for any wedding theme. Add Diyas and candles to increase its beauty!
6. Red kolangal rangoli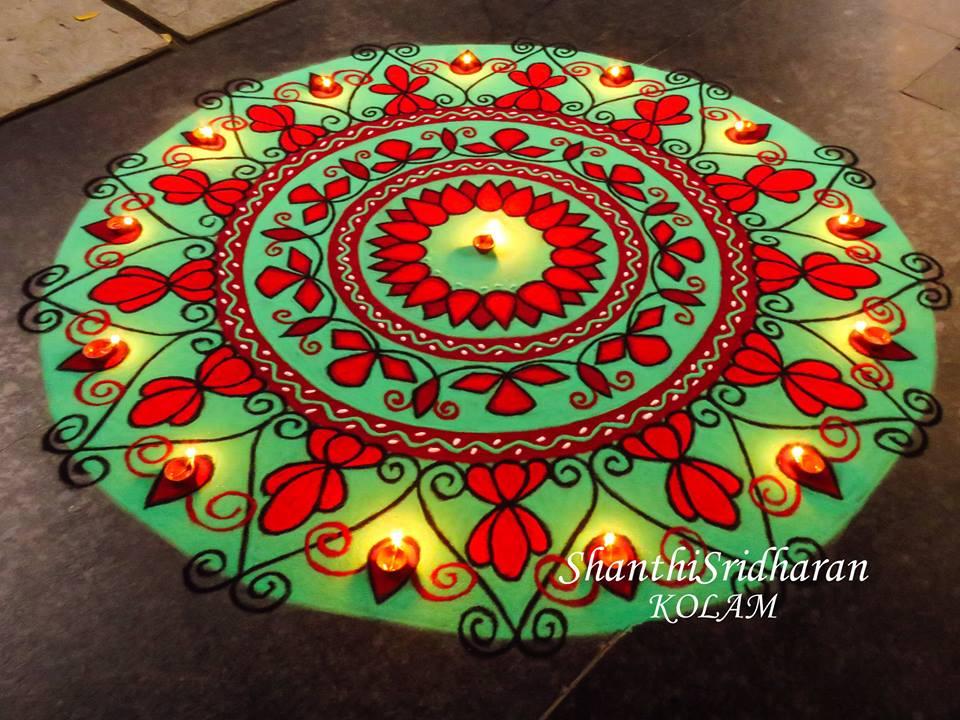 This beautiful and complex kolangal rangoli is perfect for someone who is an expert in making rangoli. Change the mint green colour for a bright yellow to make it more vibrant. Use the black sketch pen to make the outline for the rangoli before filling it with colours to make it more defined!
7. The blue rose rangoli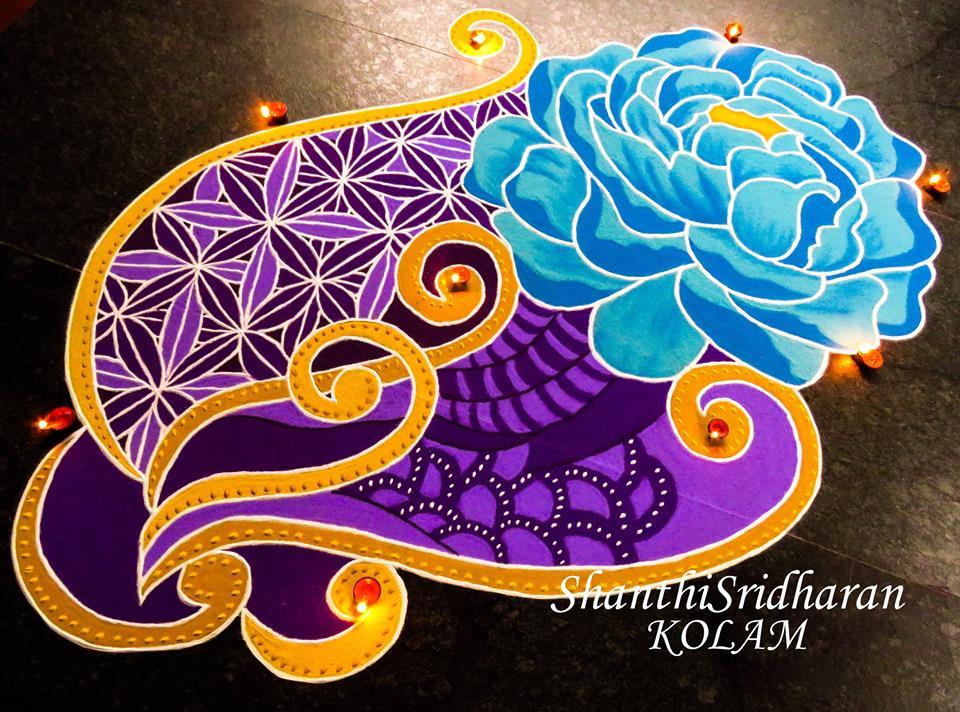 If you like roses and blue is your favourite colour, this kolangal rangoli is your best option. You can even change the blue for any of your favourite shade; it will look beautiful no matter what!
8. Kolangal rangoli with a Hindu goddess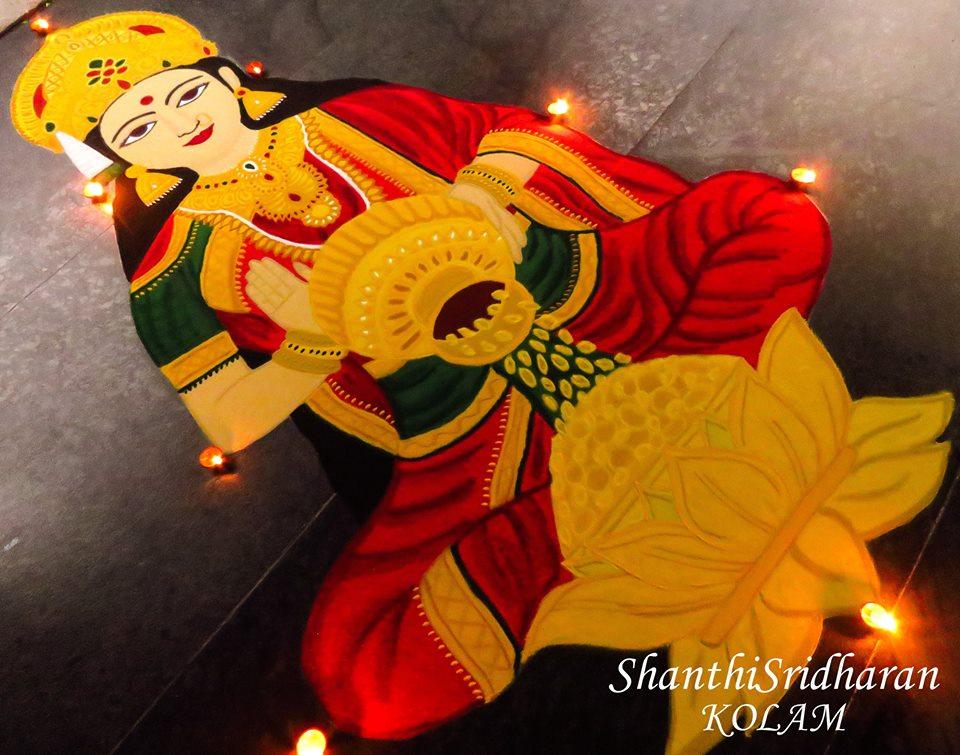 If you are a TamBrahm and are getting married, this rangoli with Goddess Laxmi is the most traditional choice that you can make for your rangoli design. Made with only 3 colours and rice powder, this will easily be in the limelight at your wedding.
9. Teal green rangoli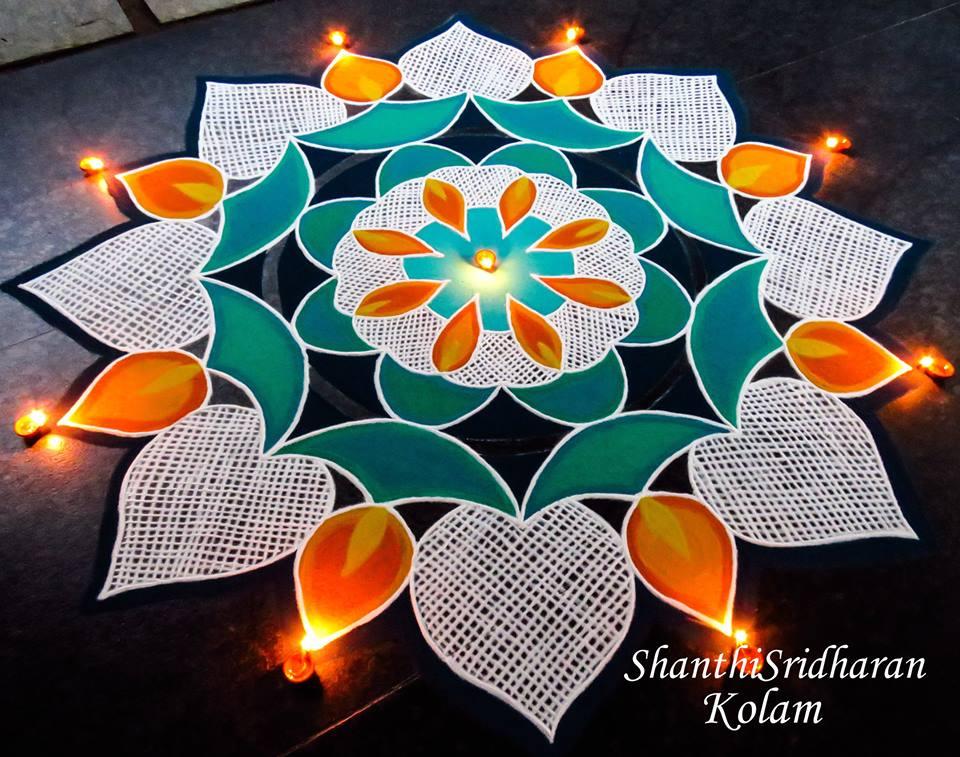 Chic is the perfect word to describe this kolangal rangoli, as it looks so clean and aesthetically pleasing. If you can find a usual colour like teal green, this simple design will look like a thousand bucks. It will look just as modern if you use any of the VIBGYOR colours also!
Kolangal rangoli is very important in a south Indian wedding and choosing the ideal rangoli that suits you and your venue is imperative! You can also make these lovely designs in your home on the days when you are hosting home events such as pujas or lunches
We hope you liked our picks and choose one of them to be at your wedding! Tell us in the comments below!
Don't know how to ace your wedding venue décor? Get in touch with our brilliant wedding planners!
Note - All images are from the page of Shanthi Sridharan Kolam