Brides have the most extensive and exhausting, yet exciting wedding prep to do before their big day arrives. From finding a hair stylist to the most beautiful bridal outfit she surely has a lot to deal with. Mehndi designs for wedding is yet another thing you need to pick. The good part is you only need to pick it once and not change it for every function. There are brides who like their mehndi design to run all the way up to the elbows or beyond, while some like to keep it simpler till the forearm. Similarly, mehndi designs for the legs can run all the way up to the base of the knee or be sitting pretty on the ankles depending on how you want to flaunt it in your bridal lehenga.
With mehndi being such an important traditional ritual for most Indian marriages and also being an intricate art form, it has spread its wings to all parts of the world. You can now choose different styles like Pakistani bridal mehndi designs, simple Arabic mehndi designs and many more. So here are a few things you need to consider for mehndi designs for wedding. Book these mehndi designs for wedding and get going!
1. Organic
Ensure that the mehndi is chemical free. A lot of brides have suffered because of using chemical based mehndi that may give a beautiful rich colour but soon starts peeling the skin off or even lead to rashes. Nowadays, we have seen that the brides are paying a lot of attention towards the origin of the mehndi that the artist uses to create soulful henna patterns and the black mehndi trend is one of the newest trends that is raiding the market nowadays.
Take a patch test a few weeks before the wedding, to make sure it causes no reactions or irritation. Also, you can ask your mehndi artist to bring along a couple of samples beforehand to try and test them out to see which one suits your skin type the best.
2. Ascertain the length
How elaborate do you want your bridal mehndi to be? You can extend it as high or low as you want to, there are no rules here but knowing that beforehand can help you pick the perfect design. Some brides like to go all out on their henna design - from getting a design that covers the entire length of their arm to the brides who believe that minimalism is the next big thing and prefer sticking with simpler forms of henna patterns. No matter which from these two - any bridal mehndi pattern will be the most beautiful representation of your love story, we promise.
A simple Arabic mehndi design is the most minimal yet graceful look, whereas a traditional Dulha Dulhan mehndi design for a wedding is more elaborate and long. These mehndi designs for wedding are some of the hottest designs we came across our social media feeds this wedding season.
3. Style
As mentioned above, there are specific mehndi styles to choose from, each beautiful and attractive in its own way like the evergreen mehndi songs. Pakistani bridal mehndi designs are very intricate and bring in specific designs like the Chaadar design, floral motifs etc.

There are some renowned mehndi artists who have their own unique designs. It's best to choose the same style for both arms and legs to create a flow. Rajasthani bridal mehndi designs or Mughal mehndi designs are also very popular for the rich and intricate look they offer.
4. Accessories
The bridal accessories you are planning to wear like Haath Phools and wedding ring must also be kept in mind when choosing a simple mehndi design for wedding. An elaborate anklet that extends over the feet or rings with chains attached to the bracelet will hide most of the mehndi design.
If you are wearing such elaborate accessories choose a design like a chaadar design so it creates a beautiful base and further accentuates your accessories.
5. Traditional Motifs
If you are not sure about the whole design you can just ask your mehndi artist to include traditional motifs like Dulha Dulhan, peacocks, paisleys, dholak or elephants. Minimalistic magic which is perfect for the bridesmaids and family of the bride as it is simple but still pretty spectacular.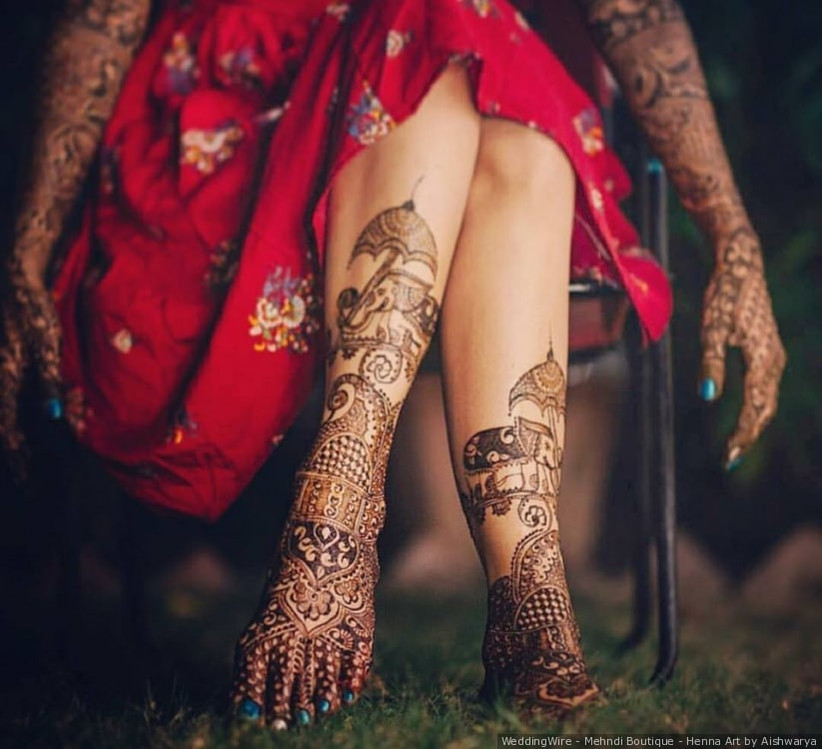 These small but significant motifs stand out and are very beautiful. We cannot get over the delicate design and patterns that trace her shin and feet - sheer perfection if you ask us and one of the prettiest mehndi designs for wedding.
6. Trust the Artist!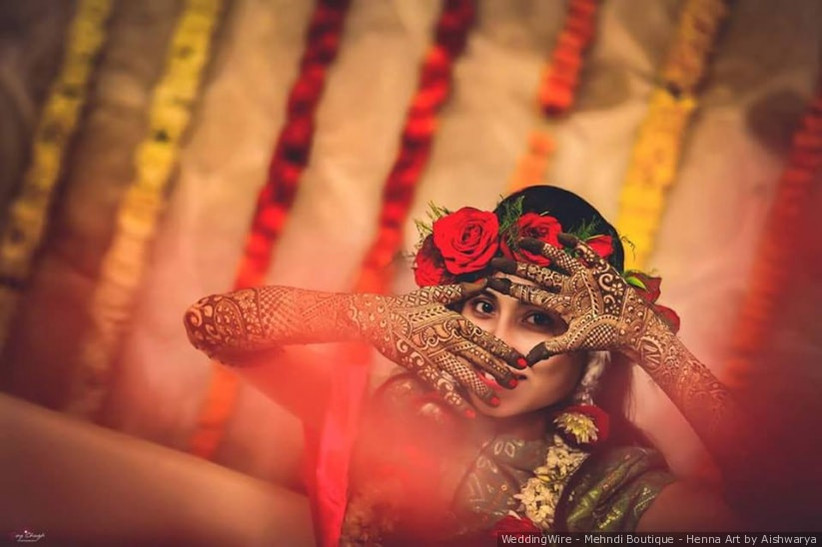 Mehndi is an art form, and like all art forms creativity lies in uniqueness. If you don't want to take up the hassle of going through designs just trust your mehndi artist to do a good job! Just go through the artist's profile of previous work and ascertain their skill based on that.
With these tips, your search for the perfect mehndi designs for a wedding will surely become easier. Imagine how beautifully your engagement ring would dazzle on your mehndi-laden hands all throughout your wedding events and even past your honeymoon. So make sure you're completely satisfied with the design you choose.
We hope you found some mehndi designs for wedding to get for your own wedding or that of your BFF. Search the internet for some more mehndi designs for wedding and get in touch with your mehndi artist now. These are some of the best mehndi designs for wedding both for brides-to-be and their bridesmaids. From Paisley to Arabic to minimalistic to white mehndi - you can opt for a trend that sits with your personality and style quotient the best!
Now that you have gone through these absolutely stunning mehndi designs for wedding we will help you get that darkest hue of red when your henna dries and comes off!
1. Use clove, cloves are your new best friends. Put them on a stove and run your hands through the fumes and you will wake up with a mesmerising shade of red henna
2. Apply any balm before going to bed at night. the heat that is in a balm helps bring out the colour of henna better
3. Let your mehndi stay put overnight. The longer it stays the darker will the colour be
4. Dab lemon and sugar mixture on your mehndi a couple of times through the night and you will be amazed by the results. Apply it at least 4-5 times for best results
So which one of these mehndi designs for wedding did you love best? Drop to us in the comment if you would choose one of these mehndi designs for wedding for your own wedding!