10 Romantic Wedding Songs and the Key to Breathe Romance Into Your Lives While Swaying Your Way to a Happily Ever After
Set the mood right with the right wedding songs that bring in the romance and express the inexpressible!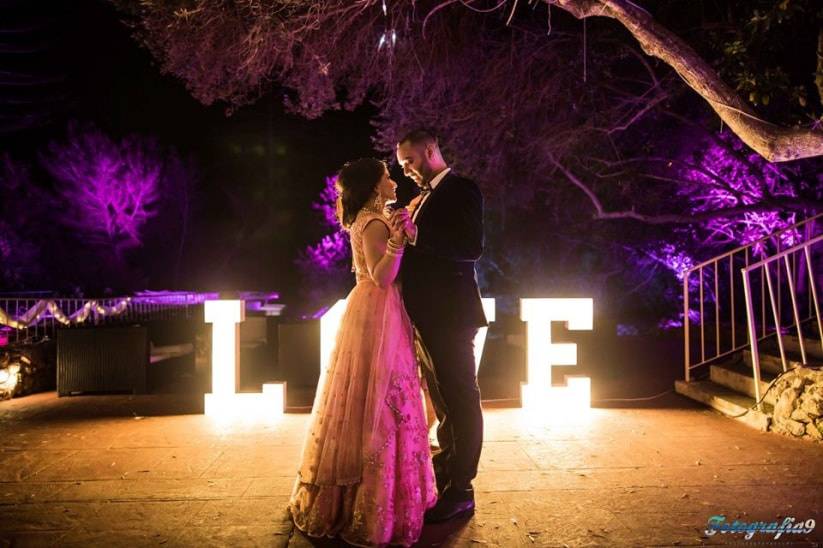 Indian weddings are all about the fun and festivity! One of their quintessential parts are the romantic wedding songs that turn them into a party of absolute fun, frolic, dance and Masti. From the Sangeet and Mehndi to the cocktail, reception, Baraat, everything is about seizing the moment, just as your wedding photographer does, and dancing to the joyous beats of music, embraced by the feeling of pure joy.
While Bollywood rules any and every dance floor, there are some beautiful English romantic wedding songs that you may want to add to that wedding playlist for a couple dance! Here are some great English romantic wedding songs you can sway to:
1. Perfect by Ed Sheeran
Perfect for a bridal entry, whether on your engagement or the D-day itself. This song traps you in its soulful music and soothing voice of Ed Sheeran will deliver your love to your spouse-to-be. Also, a couple dance on one of these soulful romantic wedding songs is a great idea too. You can have your first dance as a couple on this slow song and your wedding guests won't be able to stop themselves from shedding a tear or two due to the overflow of your affection and love. This sing will also keep the crowds engaged because it is literally the most trending number that is the mantra of the celebrations and people have it by heart.
2. Young and Beautiful by Lana Del Ray
Ditch the cliché 'Din Shagana Da' track and add a special charm to the bridal entry with this absolutely beautiful song! It's meaningful, mellow and definitely one of the perfect romantic wedding songs to welcome the bride. Or, create a mashup of these two tracks and add some electrifying vibes to your bridal entry. If you were looking for some courage to walk up to the aisle then this is it, ladies!
3. A Thousand Years by Christina Perry
One among the genre of beautiful romantic wedding songs to dance with your partner for life! The first dance or the couple dance at the Sangeet function; this is the song to sway to. Also, you can dedicate this song to your better half. There is nothing more romantic than telling your partner how much you love them and appreciate their presence better than a song dedication. This number is a classy and glamorous one that will help you express exactly how you feel about your better half and make this day a little more unforgettable than it already was.
4. Marry Me by Train
Well, we know that's exactly what's happening but just listen to the ultimate romantic wedding songs! You can dance to this number on your engagement day and make it a bit mushier and special. This definitely should be used as you get down on the knee and pop the most important question of both your lives. A little courage in the form of a song will do you good. Believe us!
5. All of Me by John Legend
A classic song that is truly the perfect wedding song! Twirl around in your glittery wedding gown to this meaningful and soulful number that is one of the top chartbusters among other romantic wedding songs. A little love from you to your partner on your big day when she is torn about having to say bye to her parents. Comfort her with this song and promise how she will always have you no matter what. A little reassurance will do the trick!
6. You and Me by Lifehouse
This song brings you to that time of the night where it's just both of you who matter. When played as one of the most romantic wedding songs, you can feel the magic in the ambience. It's meaningful and beautiful and has a lovely melody that you can dance to with your soulmate.
7. Chasing Cars by Snow Patrol
If you know this song, you know why it had to be on the list! It truly is a great 'first dance' song. It's fun and beautiful at the same time, what more could you ask for? If your playlist still has an extra slot for the romantic wedding songs to sway to, this is it!
8. Can't Help Falling in Love by Elvis Presley
This classic takes you to a romantic place just like all other romantic wedding songs on the list, making it a perfect selection for a couple dance. With dim lighting, the groom can even give a lip-dub performance. The slow pace of the song gives the couple their own time and the background score to look into each other's eyes in appreciation of the big step that they have decided to take together for their happily ever after.
9. Rewrite The Stars by Anne Marie and James Arthur
Starcrossed lovers? Rewrite your love story with this romantic song and remind each other why you chose each other in the first place.
10. Every Night In My Dreams by Celine
This is the quintessential romantic song that every couple must dance on. So, obviously, you need to add this to your romantic wedding playlist, because no matter how many times we watch it to cry when Jack drowns in the deep blue ocean, we will still agree that this was one of the most memorable romantic films of all times and this song by Celine Deon has been in our hearts for more than a decade now.
Making your own list of romantic wedding songs playlist gives you the chance to add those 'special' songs that may hold significance for you or those that convey your feelings. Some of their lyrics should fit perfectly into your wedding invitations next to the bridal lehenga and sherwani images. If you are tired of all the 'desi item numbers' dance to your choice of English romantic wedding songs.
Which one of these songs describe your story the best? Tell us through comments!