Preserving Memories for a Lifetime: Book the Best Wedding Photographers in Kerala This Season of Love
Explore some of the best wedding photographers in Kerala who have captured the beauty and essence of Kerala weddings through their lenses.
Wedding Photography: Lightbucket Productions
Wedding photography is an essential part of any wedding celebration, as it captures the precious moments and memories that will last a lifetime. In the picturesque state of Kerala, the demand for skilled and creative wedding photographers is on the rise. Whether it's capturing the traditional rituals, the heartfelt emotions, or the candid moments, the best wedding photographers in Kerala have a unique talent for making every picture tell a story while giving you some of the best couple photo ideas to add to your wedding album. From breathtaking landscapes to vibrant cultures, Kerala offers a plethora of stunning backdrops for wedding photography.
Find the Best Wedding Photographers Near You
Oaks Wedding
With a talented team of professional photographers, Oaks captures your wedding ceremonies with utmost precision and with a detailed eye. Their services range from pre-wedding and wedding to post-wedding functions, and the quality of their pictures and professionalism has been unwavering since the year 2015. With their base in the city of Kozhikode, they can travel anywhere within the city as well as outside to provide their services and ensure that your wedding, as well as its related events, are captured perfectly.
Price Per Day - INR 1,20,000/- onwards
Happy Weddings
Based out of Kozhikode, they are one of the premium wedding photographers in Kerala. They have a wide clientele and ample years of experience. They specialise in wedding photography and videography services and give their best shot at capturing your special day to be savoured for a lifetime. They work with a unique vision and believe in creating unique stories for your wedding theme. You can count on them to offer quality service and taste.
Price Per Day - INR 50,000/- onwards
Wedding Tale Films
Gautham, the mastermind behind this wedding photography service in Kerala, founded the studio in 2017. They have covered more than 150 weddings in India till date and specialise in finding the small details of love. Creating something other than the usual is what they focus on during the wedding. If you are on the lookout for your wedding photographs to be able to tell the story behind them, Wedding Tale Films is the name we suggest.
Price Per Day - INR 1,00,000/- onwards
Magic Wand Productions
A wedding photography and videography company based in the city of Kochi, they create magic with their wand in the form of a camera. Offering top-notch services along with a beautiful touch of innovative colours is what they do best. They work in the direction of making your wedding day remarkable through their lens and guaranteeing that they capture all the fleeting emotions that you can remember and relive through your wedding album.
Price Per Day - INR 62,000/- onwards
The Backwater Wedding Co.
They enhance the beauty of your wedding photographs with their talent, aiming at bringing out all the tears and smiles that you go through in your pictures. They make sure to provide the best services to their clients. If you are searching for the best quality photographers in Kerala to chronicle the most fantastic day and joyful memories, then they will be with you at all times so that they do not miss out on your happy and vibrant wedding moments.
Price Per Day - INR 1,45,000/- onwards
Wedding Scripts By Varun Vijayaprasad
Photos that tell a tale, this wedding photography service located in multiple cities of India, including Kerala, is an excellent way of making sure that you have lots of fun and relieve all the special memories of your big day. A company that offers you a perfect collection of memories, they offer services like traditional, candid, and cinematographic photography, along with photobooths, live screening and drone shots. It is a one-stop shop for all your photography requirements, and they even cater to your demands of a destination wedding photographer.
Price Per Day - INR 2,00,000/- onwards
Spphotography & Films
In the city of Kannur, the Spphotography & Films team does a great job at providing an unmatched level of quality services pan India. Led enthusiastically by its leaders, who are celebrated photographers and videographers, they ensure that the quality of their service is not compromised. Their excellent standards and composition of aptitude have earned them many loyal clients. They use the latest equipment and techniques to give you the finest quality possible and are the best you could hire.
Price Per Day - INR 70,000 /- onwards
Chennai Frames Wedding Company
Kochi, an ever-beautiful destination to get wed, has expert photographers needed to conduct a grand and hearty wedding ceremony. The photographs that need to be perceived in a classic and candid way, are reflected well by them so that it is cherished for a lifetime. If you are looking for a business that offers you a bunch of comfort for all your festivities, then you can book them.
Price Per Day - INR Price per day- INR 60,000/- onwards
Blooms & Co
To have a pile of wonderful pictures from the most significant day of your life is now achievable. You can trust the proficient team at Blooms Company for all your wedding functions, and they will seize all your memories and moments with sheer supremacy. Located in Kannur, they specialise in both candid and traditional photography. Their team shoots with high-efficiency equipment and targets to produce fashionable images that you can treasure for a lifetime. They do travel outstation with you at your own cost.
Price Per Day - INR 1,25,000/- onwards
Wonderwheels
Discover them in Ernakulam. Having been in the wedding business for a long time, they click the trendiest images out there and contribute to the endless dreams of couples and their families. Having a group of gifted picture-takers and videographers, this organisation has been the hand behind constant smiles. Their special wedding albums for the customers are valuable minutes that are caught beautifully and transformed into an attractive recollection. They promptly travel to outstation areas as well.
Price Per Day - INR ₹70,000/- onwards
Destino Wedding Co
Aiming at exceeding all expectations, Destino Wedding Co is a photography service located in Kozhikode. These wedding photographers in Kerala attempt to give every bridal couple the time and dedication required to seize the true essence of their special event. They always aim to exceed all expectations; their primary objective is to leave each bridal couple with a collection of photographs that transports them back to their unforgettable wedding ceremony.
Price Per Day - INR ₹1,00,000/- onwards
RK Studio
A leading company composed of gifted photographers and videographers, RK Studio Services is the best in Kozhikode if you are thinking of tying the knot. A perfect choice, as they deliver great content and colourful or black and white pictures, as per your choice. RK Studio has extensive experience catering to all types of weddings and is completely capable of creating a great collection of stunning pictures and engaging videos of your special event.
Price Per Day - INR ₹71,000/- onwards
Themes Weddings By Rashed
Based in the city of Ernakulam, they cater to all types of ceremonies, from your wedding vows to the bidaai. They can do it all for you easily. All the little details need to be captured very nicely with utmost perfection, and they do a brilliant job at that. For years, they have been capturing all the beautiful ceremonies of several clients in the most perfect way, and yours could be the next!
Price Per Day - INR 70,000/- onwards
Eyebrow Weddings
Ensuring that you have a wonderful memory book for your coffee table, Eyebrow Weddings is a photography and videography service provider located in Kochi, that successfully arrests the plenty of things which take place in a grand wedding ceremony. They believe that the one thing which makes a forever remembrance in the hearts of the couple is a bundle of pictures and videos. If you are looking for a good and creative photography company for your nuptial ceremonies, then this is your go-to choice.
Price Per Day - INR 1,30,000 /- onwards
Reminiscence Photography, Kochi
A wholesome solution to the wonderful amalgamation of feelings and festivity, they are one of the good teams located in Kochi. To guarantee that not even a single one of your wedding moments is missed and a great deal in the wedding excitement, they offer you a complete range of services. Their ideas, equipment, and skills will be with you at all times of your wedding like a guarding angel and will be captured in the most excellent way so you can treasure them forever.
Price Per Day - INR 1,00,000/- onwards
Mirrorlight Weddings
If you are searching for somebody who can capture and narrate your wedding journey in the most delightful way, then Mirrorlight Wedding is the answer to your prayers. A wedding photography and videography service provider based in the city of Kozhikode, they perfectly capture your dream day. With their help, you can feel all the feelings and emotions with a similar intensity as you did on your big day.
Price Per Day - INR 50,000/- onwards
Arun Mohan Photography
Arun Mohan Photography is a wedding photography and videography company based out in the city of Kochi. They are a team of photography and filmmaking experts in capturing each and every single moment of your special day in a very unique and simple manner. They cover an array of functions and are up to cover destination weddings as well. No matter where you plan to tie the knot in the country, they can fly to your place and capture the best highlights of your wedding night.
Price Per Day - INR 70,000/- onwards
Vishnu Aami
The passion for portraits drove Vishnu Radhakrishnan toward the vivid journey of wedding photography. His style of observing candid moments and the flow of events led him to capture all the drama, colours and emotions of an Indian wedding. Each picture of his is proof of their creative lighting eye for unusual and extraordinary backgrounds. They have more than 700 happy clients from across India to date.
Price Per Day - INR 85,000/- onwards
Colours Wedding Photography by Fijoy Joseph
A wedding photography service in Kochi, they understand the most valuable occasion of your life and do their best to cover all the details of the traditions flawlessly. Since 2004, they have been capturing beautiful moments for every couple and have made their functions last forever. So if you are looking for a team of wedding professionals, they will give you a lifetime of memories.
Price Per Day - INR 94,000/- onwards
Royera Weddings
The highly experienced and professional team at Royera Weddings, situated in Ernakulam, has been providing couples with high-quality and professionally produced photographs for numerous years. The friendly and young team pride themselves on working incredibly hard to achieve photos that you will be able to look back on for years to come. They want you to enjoy your special day while behind-the-scenes they capture all of the magic.
Price Per Day - INR 80,000/- onwards
What A Wedding Photography
Located in Kochi, they can provide you with an assortment of photography and videography services that will capture your festivities into glorious photos that you can cherish for the years to come. If you are searching for an experienced team that can offer you the best in class services, then your search can end here. They will be with you every step of the way to chronicle your wonderful wedding moment in the most precise manner.
Price Per Day - INR 90,000/- onwards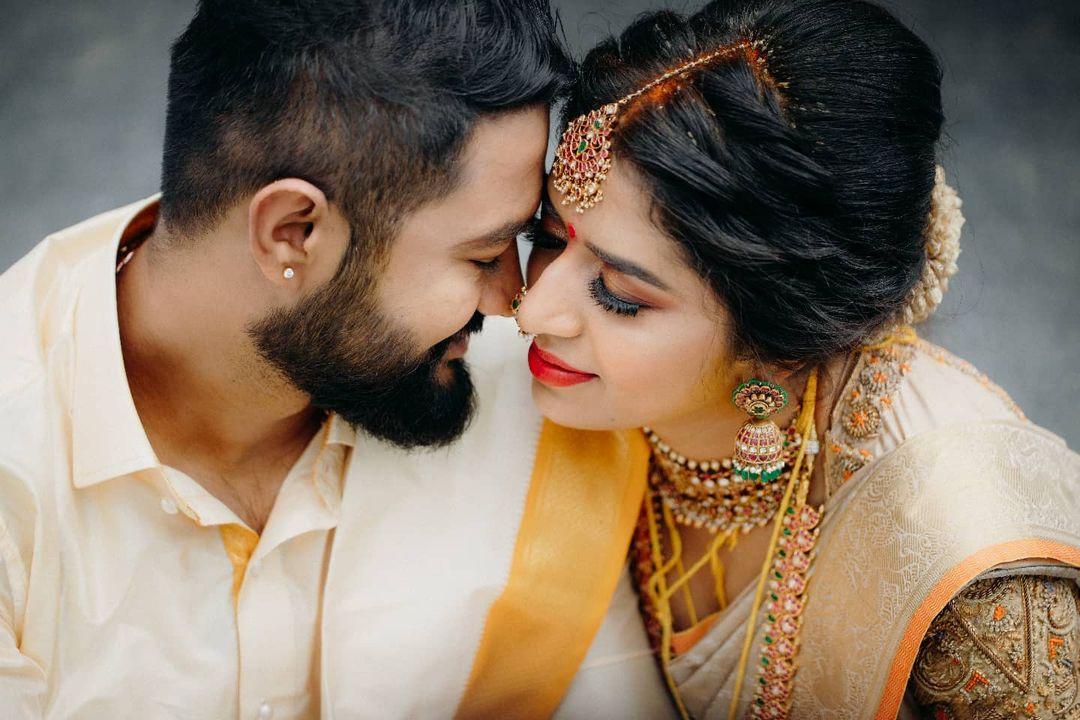 Wedding Photography: Aashish Photography
Choosing the right wedding photographer is essential to ensure that the memories of your special day are captured in the most beautiful and creative way possible. The best wedding photographers in Kerala bring a unique blend of technical expertise and artistic vision to their work, capturing the moments that matter most in a way that is both stunning and meaningful. From the serene backwaters to the lush green landscapes, Kerala provides a perfect setting for a dream wedding, and the talented photographers in the state are adept at bringing that dream to life. Whether you're looking for traditional, candid, or contemporary wedding photography, Kerala has some of the most skilled and experienced photographers in the industry who can transform your special day into an unforgettable experience.
Which one of these wedding photographers in Kerala will you choose for your wedding day? Do let us know in the comments below.
With words by Priyanka Kathuria
Top Blogs on WeddingWire India