Try These Bengali Wedding Makeup Tips To Rock All Your Biye Like a True Bong Diva!
From Ai Buro Bhat to reception, you need different makeup with different outfits for all your wedding ceremonies. So here we are, with some helpful Bengali Wedding Makeup tips that you can try on each event. Give it a read!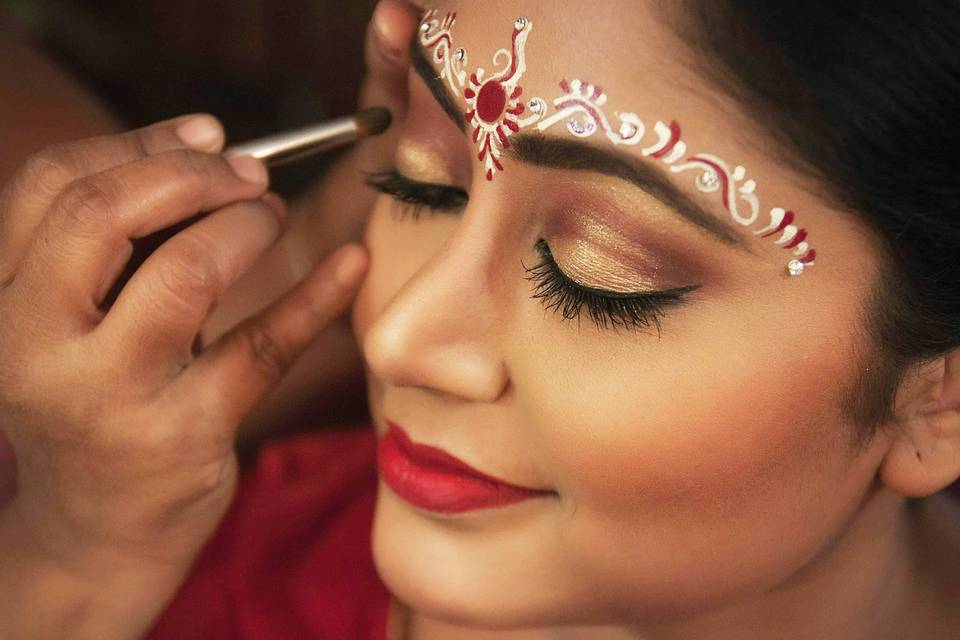 Guess what's the first distinguishing element that defines each Indian wedding tradition? It's the bridal look! Sure, the rituals and customs are different for each wedding. But the way a bride is decked up is what catches everyone's eye! We can identify a Mulgi when we see her draped in a Paithani saree with a large pearl Nath.
We can't swoon enough over the Manga Mala and breathtaking Kanjeevaram silk sarees on a typical south Indian bride! Similarly, a Bengali bride has her own share of style mantra when it comes to outfits, hairstyle and makeup. For each Biye ceremony, there is a different vibe. So, let's give you some major Bengali Wedding Makeup tips this time for every function to help bring out the inner diva in you!
1. Ai-Buro Bhat

Ai Buro Bhaat is a food-oriented Bengali wedding tradition as it involves feeding the bride her last bachelor meal. It's a homey affair and therefore, you can opt for light Bengali wedding makeup on this occasion. Since it's usually a lunch event, you could drape a soft colour Tant cotton saree, any chiffon or silk saree in light shades. Here are a few makeup tips:
A. Face
Go easy on the foundation. You may skip the primer and simply apply concealer on the needed areas. Use a pale shaded blush to go with your saree. Like a dull amber or pink depending on the colour of your dress. If it's a dinner, you can apply a little bronzer just to highlight your contours.
B. Eyes
Just about a hint of eye shadow, finely drawn eyeliner and kajal would do for this function.
C. Lips
It's a meal event! So whatever shade of lipstick you choose, make sure it's smudge free. You can also replace a lipstick with a lip-strain or a lip-gloss in light shades.
2. Gaye Holud

The 'Gaye Holud' or Haldi ceremony takes place on the wedding day when all the married women apply turmeric paste on the bride and then pour water on her. So you can imagine, the Bengali wedding makeup for this event has to be minimal! Here are a few tips:
A. Face
There will be a lot of Haldi dabbing on your face (and body). So apply a good moisturiser or coconut oil to avoid your skin from getting dry. Also, you can totally skip the foundation and face powder on this event as they'll wash away.
B. Eyes
The word is "Waterproof"! Eyeliner, mascara or Kajal, everything has to be waterproof. Otherwise, you can simply pick a smudge-free Kajal from your Lakme makeup kit box and you're sorted.
C. Lips
Go for matte red lips with your cotton yellow saree on Gaye Holud.
3. Ashirbad

Ashirbad or engagement is the first big wedding ceremony where both families celebrate together. Therefore, your Bengali wedding makeup has to be special just like your outfit.
You can choose a Kanjeevaram silk saree or a Baluchari silk in your favourite colour and try an authentic Bengali hairstyle. As for the makeup, here are some tips:
A. Face
Go with the full bridal makeup procedure...primer, foundation, concealer, compact, bronzer. However, choose your shades carefully and don't go overboard. Your blush should look natural. Also, go easy with the bronzer.
B. Eyes
Match your eye shadow with the colour of your saree. Know the perfect shade for your eyes that's in sync with your overall makeup. Nude, shimmery, metallic or smokey- pick the kind of eye shade that suits you the most. Finish off with eyeliner and mascara.
C. Lips
If you're going for a heavy eye-makeup, use a nude shade for your lips. You can also go for shimmery lip-gloss in softer shades.
3. Biye

Now comes the Big Biye! Traditionally you can spot a bride at a Bengali wedding, by her red Banarasi saree, white Mukut and traditional Bengali gold jewellery. And if you want some tips on Bengali wedding makeup for a perfect bridal look, here we go:
A. Face
Other than the whole primer, concealer, foundation, compact and bronzer routine, one major distinguishing feature of Bengali makeup is the Chandan art on the forehead. Some brides get Chandan designs done on their cheeks as well. Finish off with red or maroon blush and a big red Bindi.
B. Eyes
Dark kohl eyes with dramatically stretched eyeliner and smoky eye shadow- these are characteristic features of a Bong bride's eye makeup!
C. Lips
To match with your red Banarasi saree, go with blood red lips. If not that, a maroon or burnt rose shade is also quite popular lipstick shade choices among Bengali brides. Make sure your lips shade matches with your saree shade.
4. Bhaat Kapod

This is a post-wedding tradition where the groom gifts his newly-wed wife with saree and jewellery and promises to provide for her food and clothes forever. This turns out to be quite a fun tradition where everyone gathers around the new bride and cheers her up to ask for more demands! Let's take a look at some Bengali wedding makeup tips for this particular day:
A. Face
Since it's just a homey affair, there is no need to go for a heavy foundation. Simple concealer, compact and a little blush would just be perfect. Always keep your red Bindi on!
B. Eyes
You could ditch heavy mascara and simply go with eyeliner and dark kajal. Apply a light eye shadow matching with the colour of your saree.
C. Lips
Again match your lip colour with your saree. You can also go for contrasts. Like if you're wearing a navy blue saree, you can choose the colour of your embroidery as your lipstick shade.
5. Reception

Following the 'Bou Bhaat' comes the reception night where the proud groom flaunts and introduces his beautiful new bride to the world. You could go for a Banarasi or Baluchari silk saree in turquoise, pink or fuchsia draped with back pleats. Or you can also sport the Bengali drape with a light dupatta or veil to cover the head. As for the Bengali wedding makeup, here are a few ideas:
A. Face
You can either go for the full bridal makeup or opt for a more subtle light makeup. Some brides like to get the Chandan art on reception night too, while some prefer a more contemporary bridal makeup. Match your blush shade with your outfit.
B. Eyes
Apply thick mascara and eyeliner. Go for dewy eye makeup and pick some shimmery eye shadow in a contrasting shade to your saree.
C. Lips
Choose your lip colour according to your saree. In case you're draping something in pink, magenta or fuchsia, that's exactly what your lip colour should be. Consult with an MUA if you're not too sure about your bridal makeup.
Every Bengali wedding ceremony has its own flavour. And so should your bridal look! Now that you've got some Bengali wedding makeup tips to get going, look for makeup artists who understand your requirements well. Always go for a dry run before the real event.
And when you're getting a full-fledged Bengali bridal look, don't forget to ask your MUA about their experience in Chandon art. Look for their reviews and feedback and choose your vendor wisely.
Drape the Aatpoure, sport a Saatnali haar & Chur and just rock every Bengali wedding ceremony like a star!