Bong Romance! Get Inspired From These Adorable Bengali Couple Photos and Add a Dose of Bong Love to Your Own
Sweetness. Expressions. Grace. That's what you see when you look at a Bengali couple. So how about drawing some inspirations from these beautiful Bong couple photos and add the romance to your own pre-wedding shoot?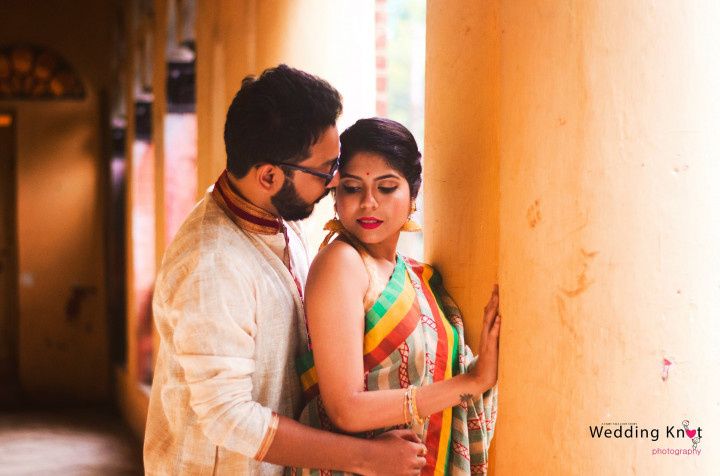 There is only one common sentiment in every couple photo-shoot around the globe- love. However, the ways of expressing that love, the language of eyes, smiles and body language is what makes every couple unique. So when you hear words like music, poetry and art, you're most likely looking at a Bengali couple!
"Beauty is truth's smile when she beholds her own face in a perfect mirror"- Tagore.
So how is a Bong couple different from any other couple? Why don't you check it out for yourself! Also, take cues from some stylish Bengali saree drapes while you look at the couple photographs.
1. Colour me Red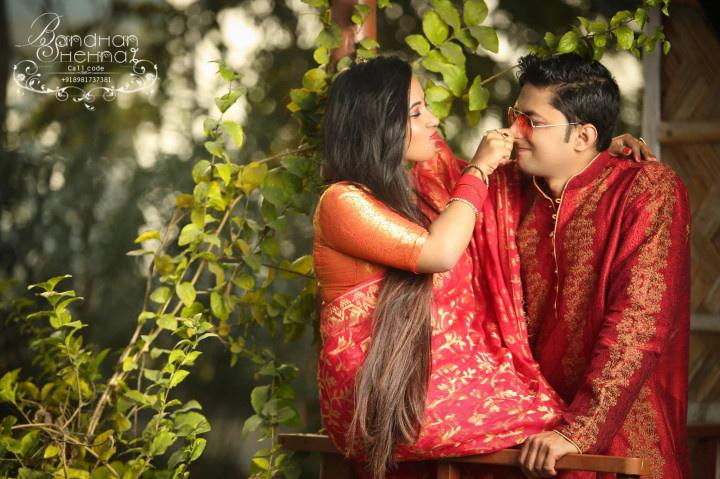 A colour coordinated outfit is almost mandatory when it comes to romantic pre-wedding photo-shoot. This Bengali couple aced the colour red on their photo shoot keeping it ethnic. Brides can opt for a red Banarasi saree or any other silk saree with a contrasting golden or fiery orange blouse. Grooms-to-be can go for a plain silk kurta in red or with embroidery.
Pro tip: Accessorise with red bangles and red tinted sunglasses to complete the vibe.
2. Florals and Whites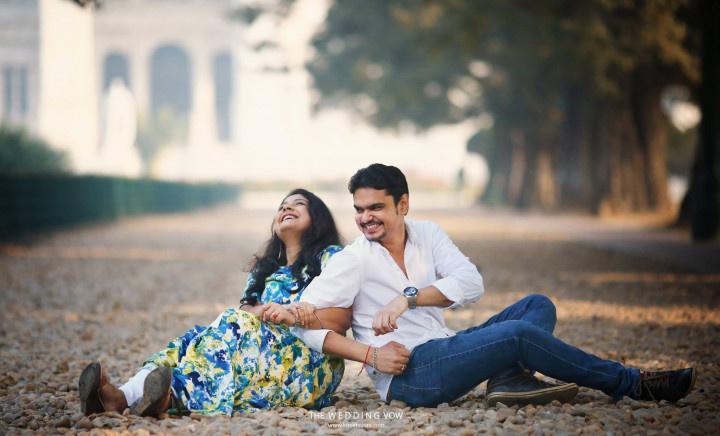 You can never go wrong with white. Sport a classic white linen shirt on a summer morning like this groom to keep it light and easy. Don't forget to wear your smile though! Brides can go for a floral printed long kurta in white and blue paired with white leggings. Take inspiration from this Bengali couple for fun, comfy and candid photography.
Pro tip: Share old jokes and forget the camera completely to obtain natural expressions like this couple.
3. Classic Red & Black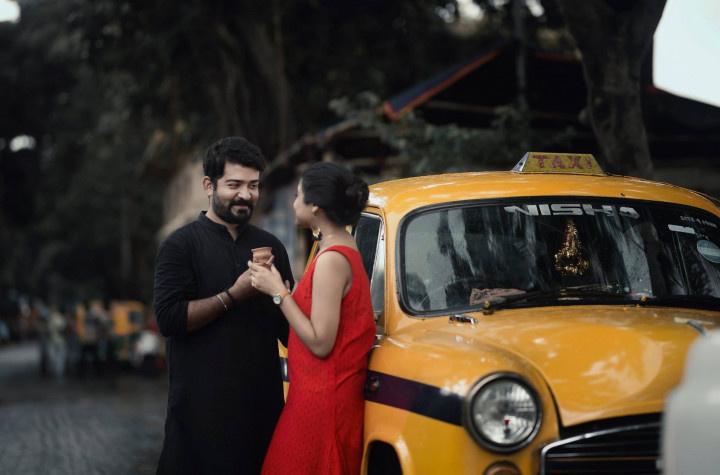 Groom in an all black Kurta pyjama, the bride in a soft red kurti and a yellow taxi at the backdrop- that's a sure-shot recipe for a brilliant photograph! Take advantage of being in the city of joy by using the extremely photogenic taxis and use them as your props. Just like this Bengali couple did on their photo-shoot. Buy your artificial jewellery, accessories and bags from the street shops in Kolkata for those extra doses of rustic vibes to your look!
Pro tip: Share a cuppa in those classic earthen Kullads for a nostalgic moment.
4. Old Kolkata charms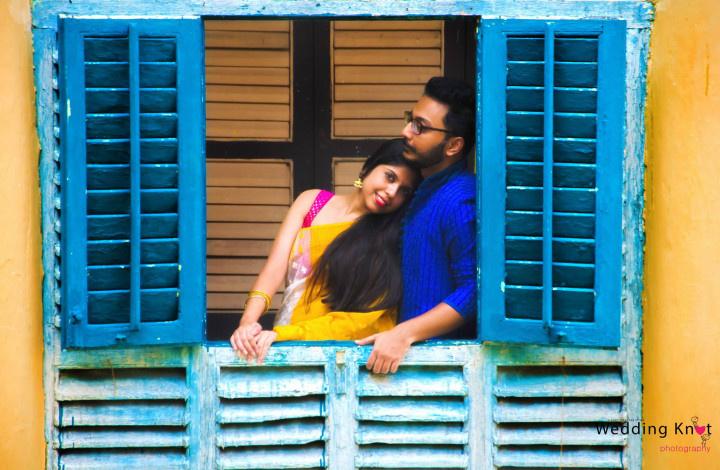 If you're in the city, you cannot miss the old world charm of Kolkata. So why not use that in your pre-wedding photoshoot. Every Bengali couple who lives in the city or is visiting just loves to get clicked around the old buildings of North Kolkata with colonial architecture. Sport some bright coloured outfits contrasting with the typical wooden blue and green windows with blinds of old houses. Make your couple shoot look like one of the scenes from Satyajit Ray's films!
Pro tip: Don't over accessorise, keep your hair loose and go for a simple pose to bring out the feel of the 50's era in your photo.
5. Casual Coordination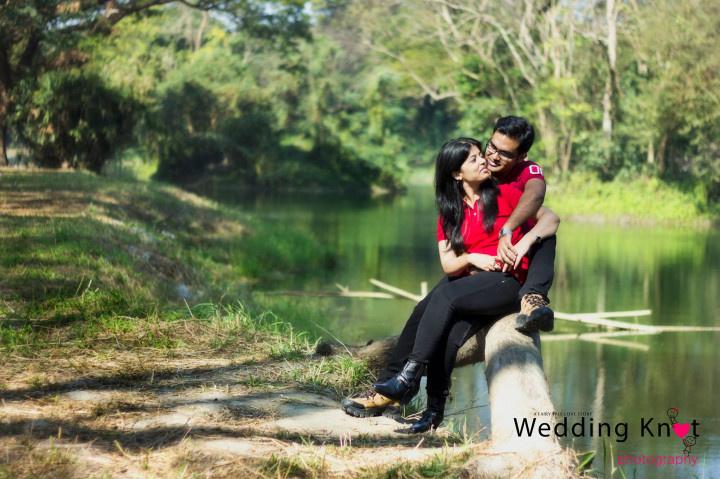 So you're a Bengali couple who likes to keep things casual. How about that's exactly what you reflect on your pre-wedding album? If you two have been friends forever and now suddenly you're going to be life partners, it must be difficult for you both to get into a mushy-shy-romantic mode. So don't! Sport a casual t-shirt, a pair of jeans and boots. Just coordinate the colours.
Pro tip: Try getting clicked by a lake or park for some shades of nature!
6. Magnificent Monochrome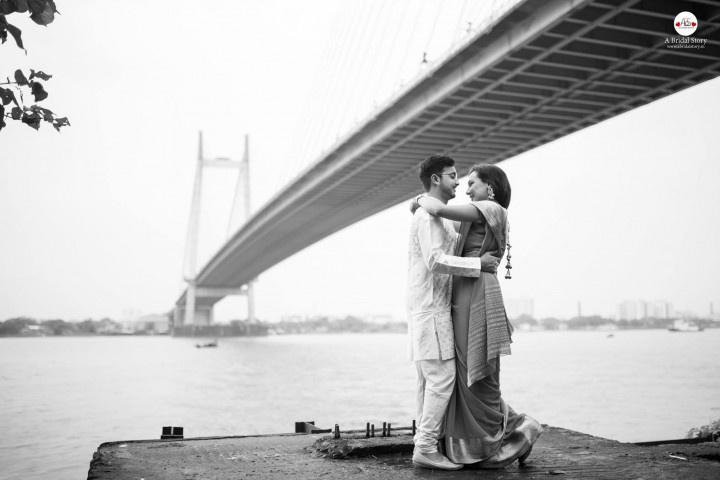 If you want to get your photoshoot in a typical Bengali couple style, a black & white photo will only enhance the beauty of your entire album. Wear a saree in Bengali drape and the groom can don a simple white kurta-pyjama. Pose in front of a famous monument and get your shot in monochromatic hues.
Pro tip: Look in each other's eyes while shooting and let your expressions do all the talking.
7. Serene Sunset Silhouette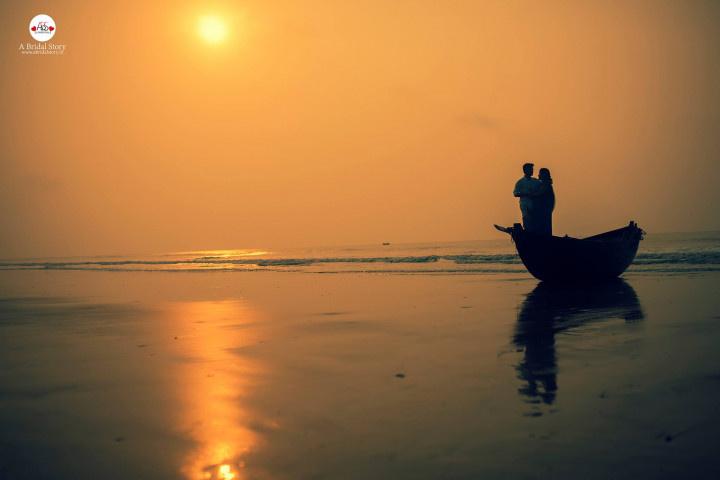 Nothing beats the romanticism of a silhouette picture of a couple by the beach with the sun setting at the backdrop. Make your Bengali couple photo-shoot an epic example by bathing in the golden dusk in each other's arms. This is one kind of photograph where your pre-wedding shoot outfits or jewellery don't matter. All that matters is your passion.
Pro tip: Use a boat as a prop and pose by standing on it. If you can do some hand postures or leaning, they look gorgeous in silhouette.
A Bengali couple photo-shoot can be much more than just Bengali sarees or Bengali jewellery and accessories. You have the option to utilise your surroundings, your history and chemistry with each other. Recite poems, sing or simply talk about your special moments. Whatever comes naturally to you, just do it. And most importantly, have loads of fun. Because more fun you have, more stunning your pictures are going to look! That's the secret sauce of a perfect photo-shoot.
What did you think of these ideas? Tell us through the comments!