Dial-up the Classy & Sassy With These Groomsmen Photos
Your best buddy getting married soon? It's time for you to upgrade your fashion! Check out some trendy Groomsmen Photos in every style and get inspired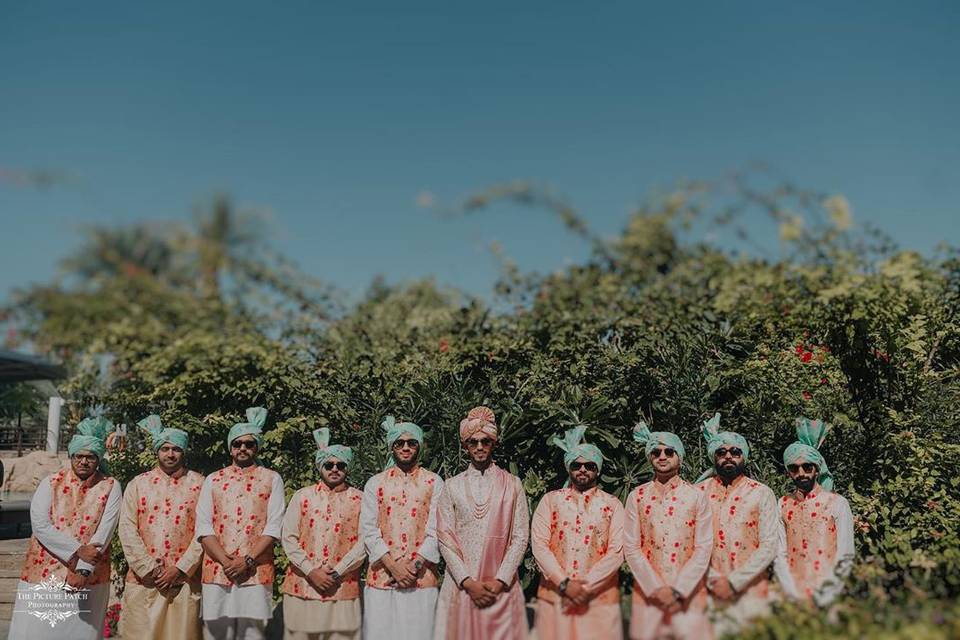 Colourful floral jackets with kurta, stylish tuxedos, swanky sherwanis or quirky T-shirts with shorts- if you're a part of the groom squad, it's time for you to redefine your wedding wardrobe! Whether it's for a Sangeet dance-off with the bridesmaids, your crazy Bachelor party, or the big wedding day, you need to pay attention to each and every event in terms of your outfits. Because fashion and styling is not just a girl's thing anymore!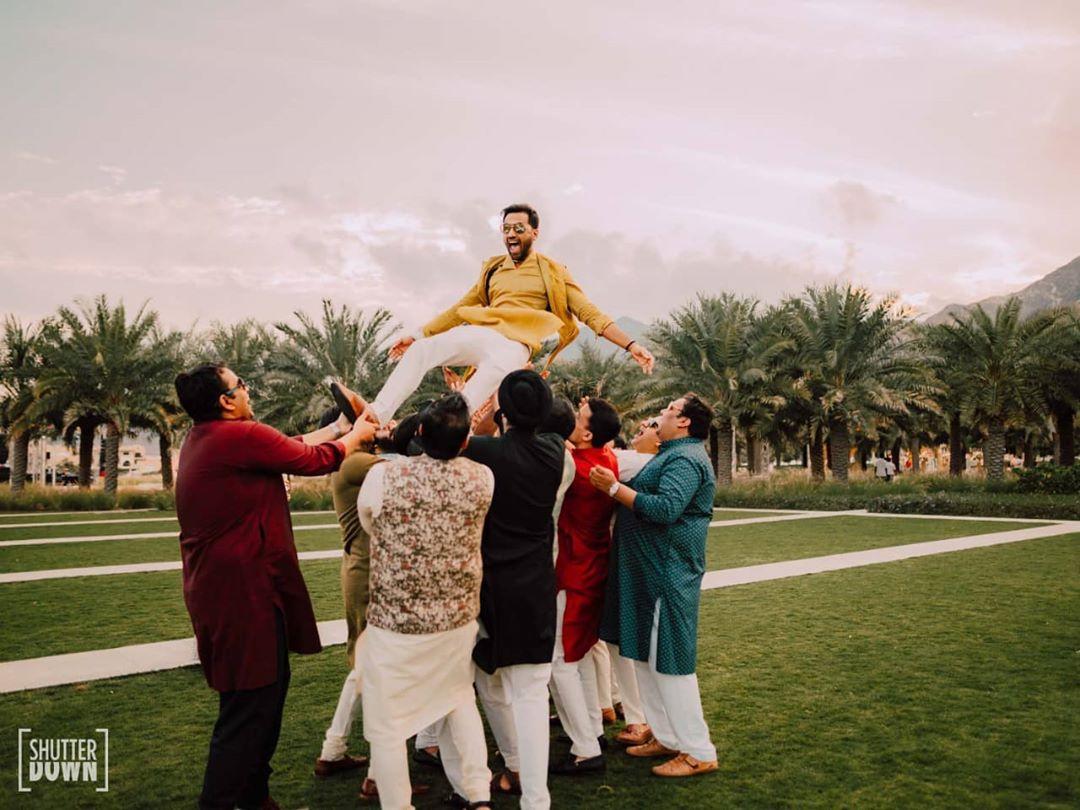 So buck up and groom well! Take some inspiration from these dapper Groomsmen Photos to bring out the debonair best in you! Also, take cues for some fun poses!
Latest Groomsmen Photos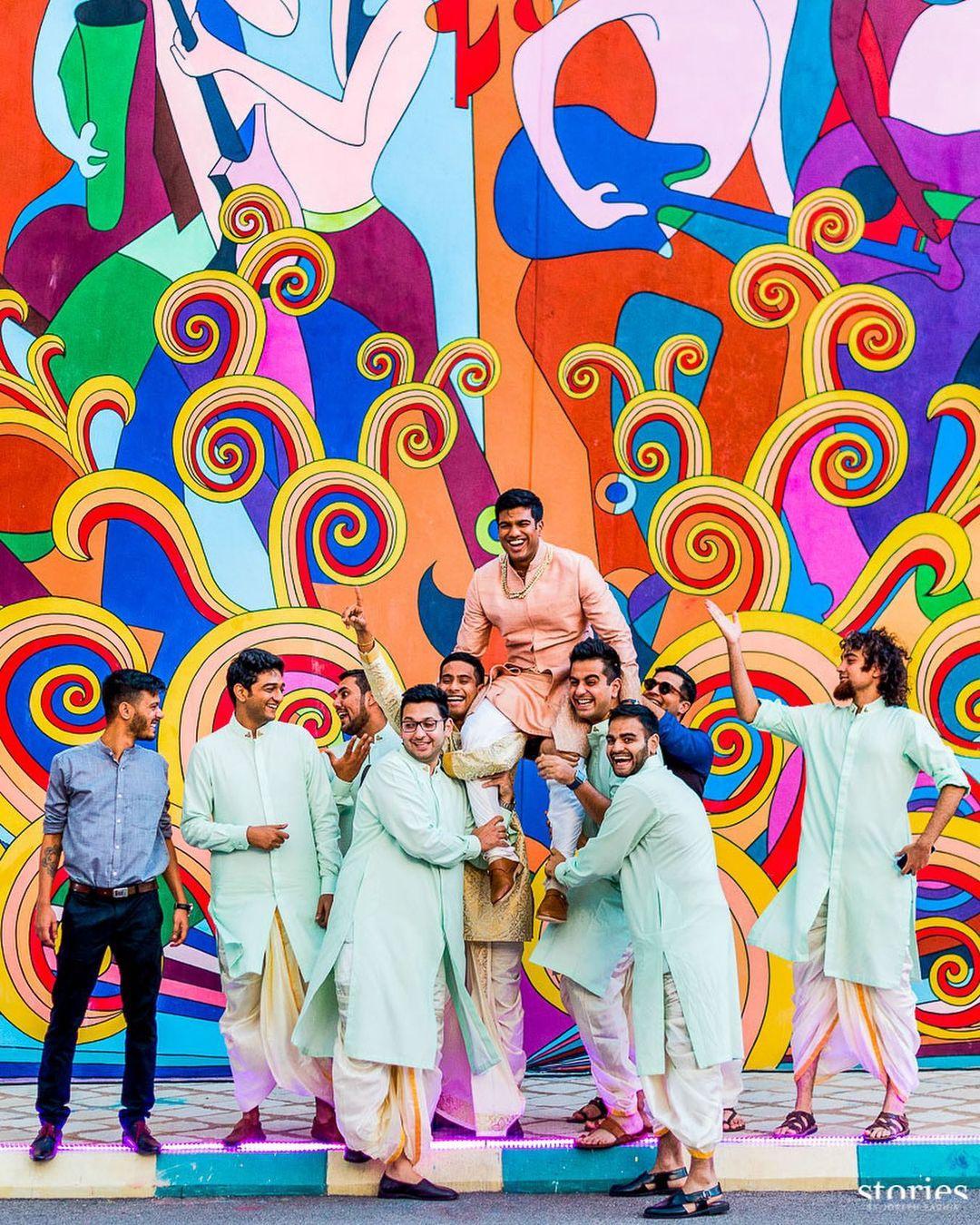 Image Credits - Stories by Joseph Radhik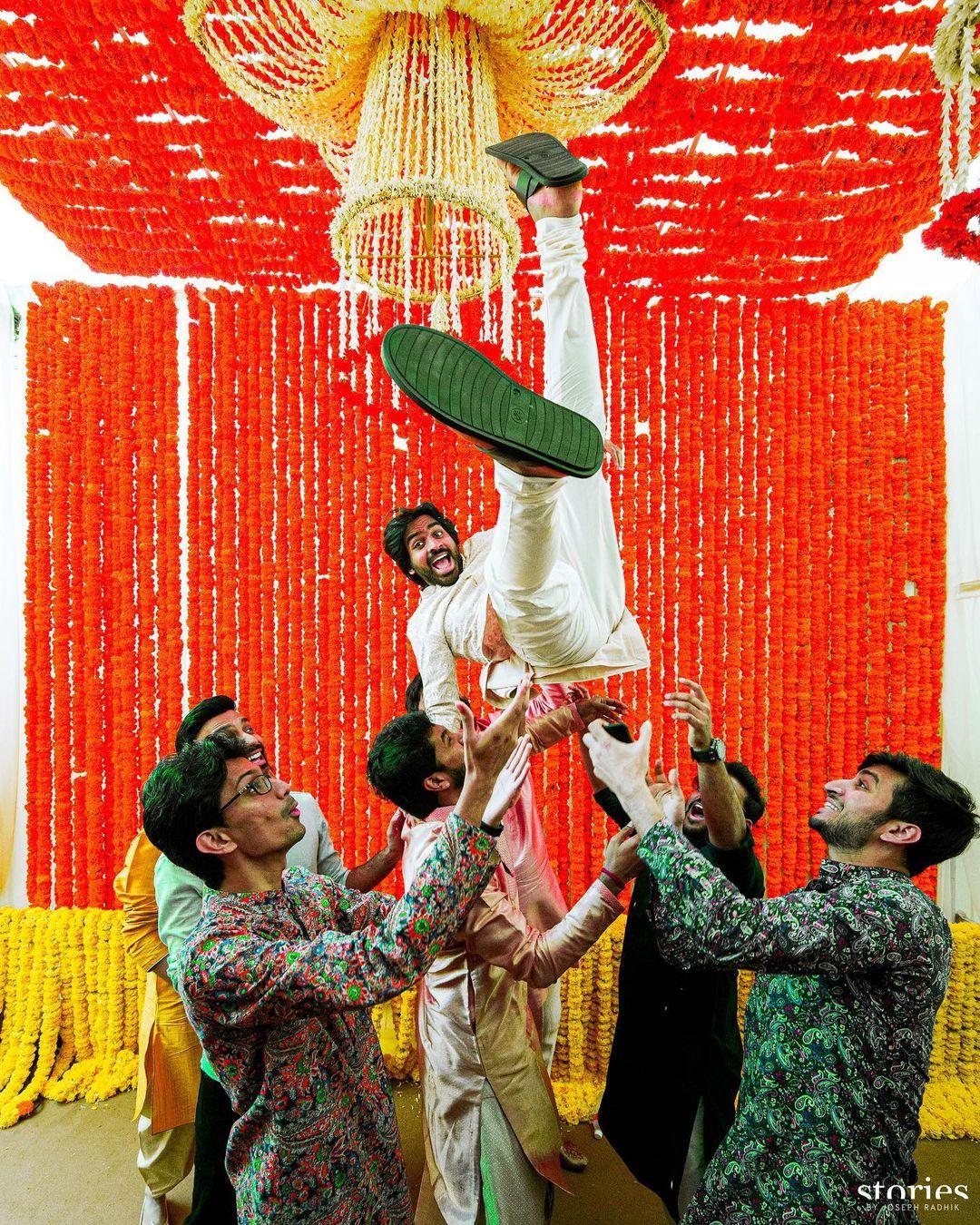 Image Credits - Stories by Joseph Radhik
Have a gala time with your squad while shooting in a fun manner. This groomsmen photos captured by Joseph Radhik is definitely worth bookmarking.
Groomsmen Photo In Black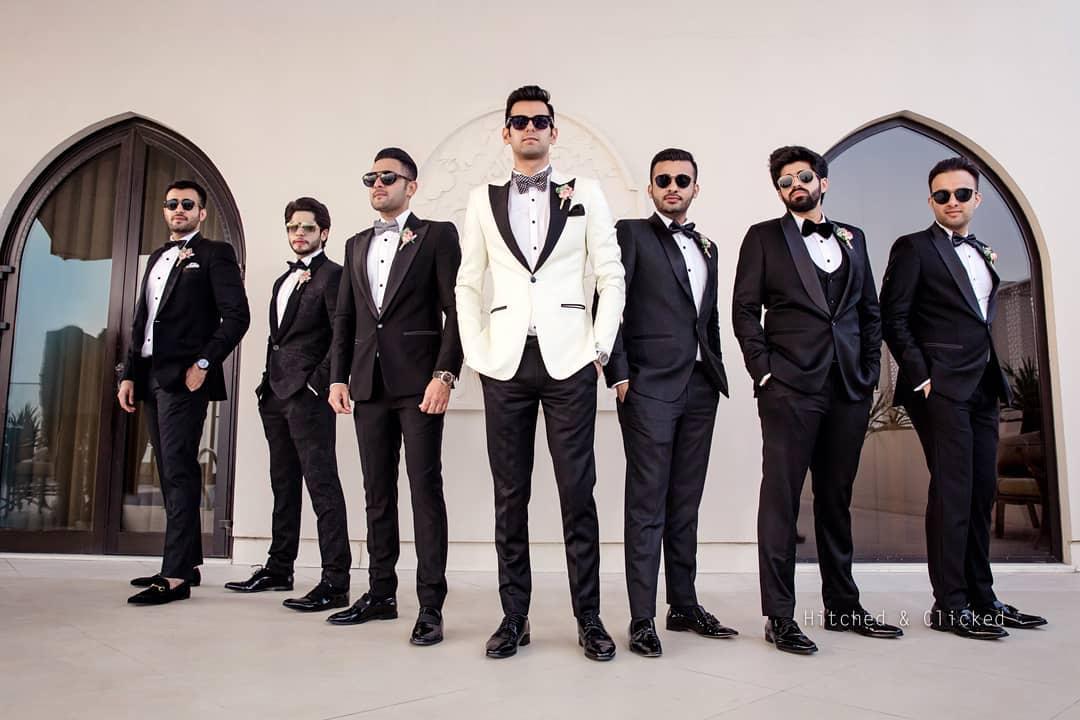 Always a classic choice, all groomsmen dress up in black tuxedos and the groom stands out in white, this is one of the most popular groomsmen photos that can never go wrong. Suit up in style and don't forget to sport those swanky black sunglasses too!
Colourful Scarves & A Car!

Shine in cream kurta pajamas with vibrant scarves and Uttariyas wrapped in style around the necks. Accompany the groom with his grand entry in a luxe car making goofy poses. Wear black Nagrai Juttis or loafer shoes to go with the attire.
Superheroes Dil Se!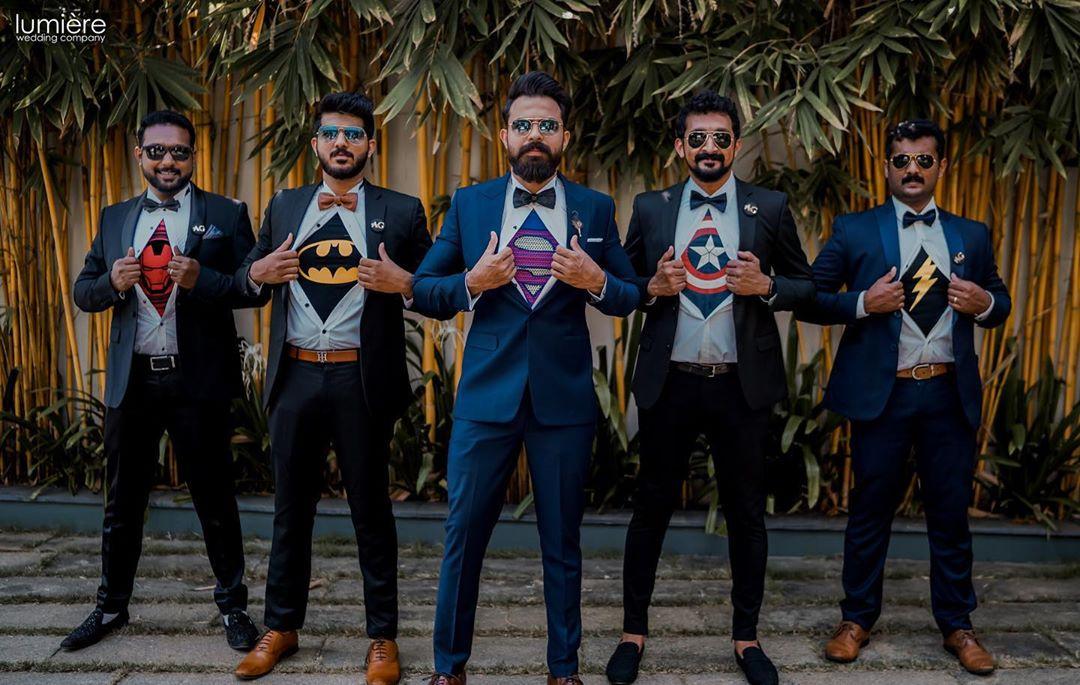 This has to be one of the quirkiest groomsmen photos you see today! Because deep inside, every man desires to be a secret superhero! Flaunt your favourite superhero t-shirt beneath white shirts paired up with dark suits & trousers. This photo signifies the child in every man that refuses to grow up, ever!
Touch of Ethnicity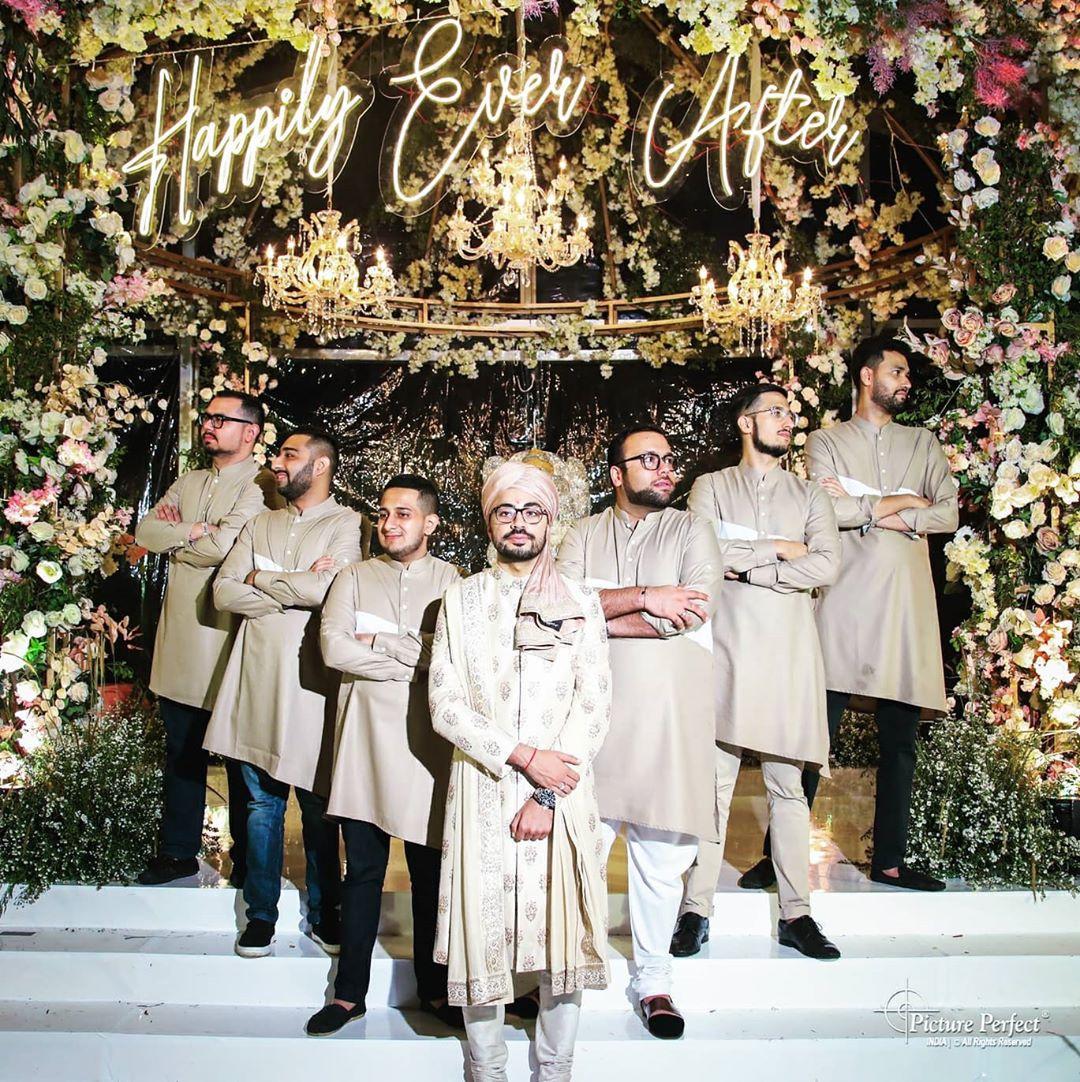 A traditional outfit can never go out of style in Indian weddings. Sport some fusion fashion and add a touch of ethnicity to your groomsmen photos. Pair up your coordinated asymmetrical kurtas in grey with a pair of denim jeans for a rocking Sangeet!
Men in Blue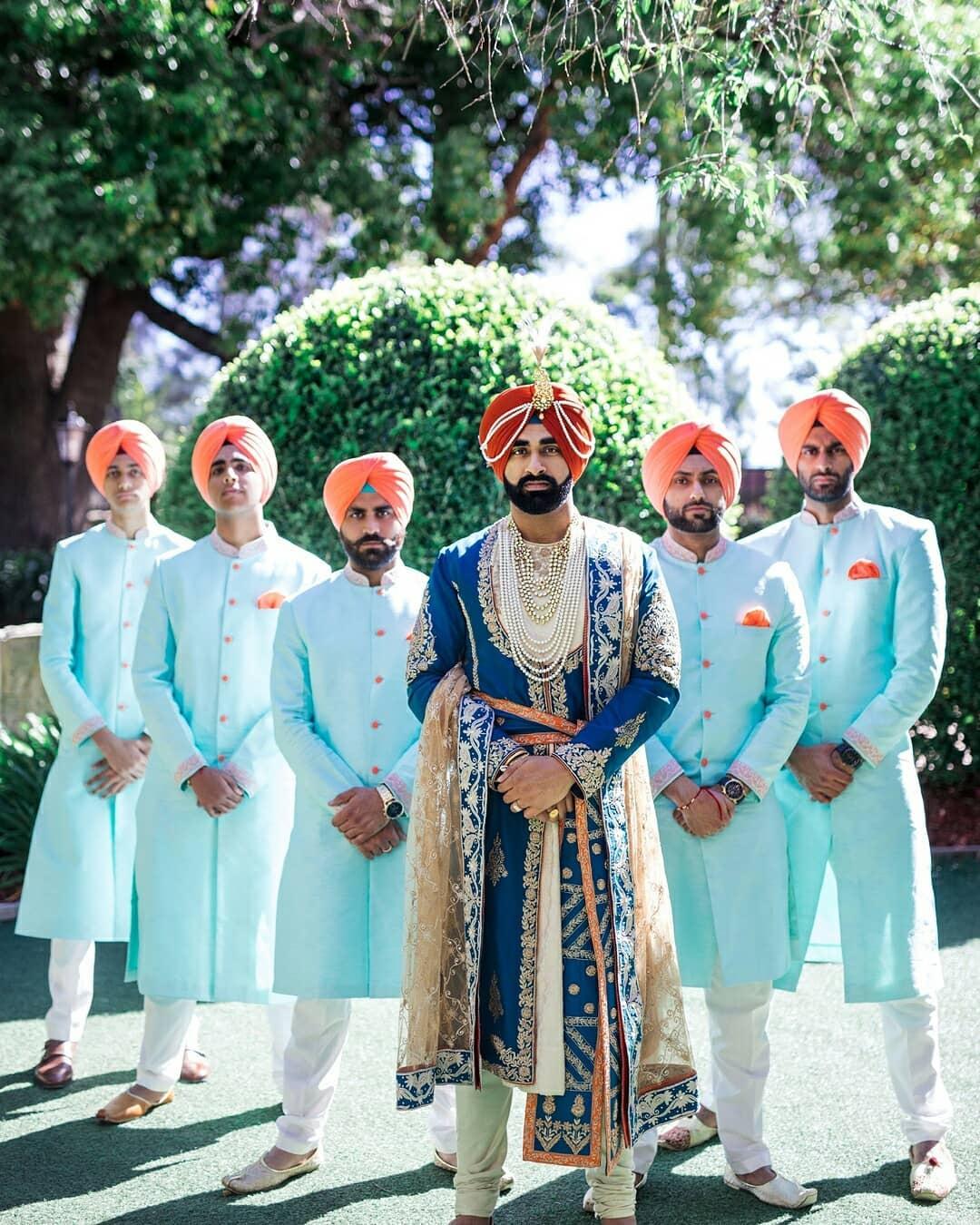 While browsing for groomsmen photos, we stumbled upon this sheer display of elegance. The coordinated sky blue kurtas with white pyjamas, orange wedding Safa, matching pocket squares, and white Nagrai Jootis- everything about this picture screams of royal yet subtle charm!
The Saawariya Towel Swag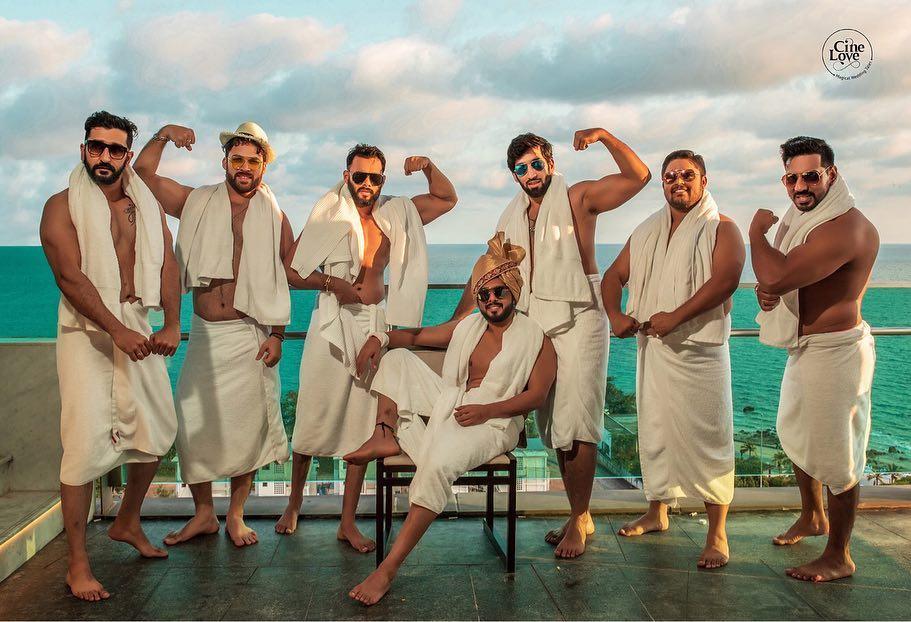 One of the coolest groomsmen photos, the Kerala men's wedding dress style wrap is always a winner! You can go with white towels to wrap them around as Mundus and on the shoulders. Flaunt some abs, show off your biceps and you get the perfect swag-laden click!
Prep the Groom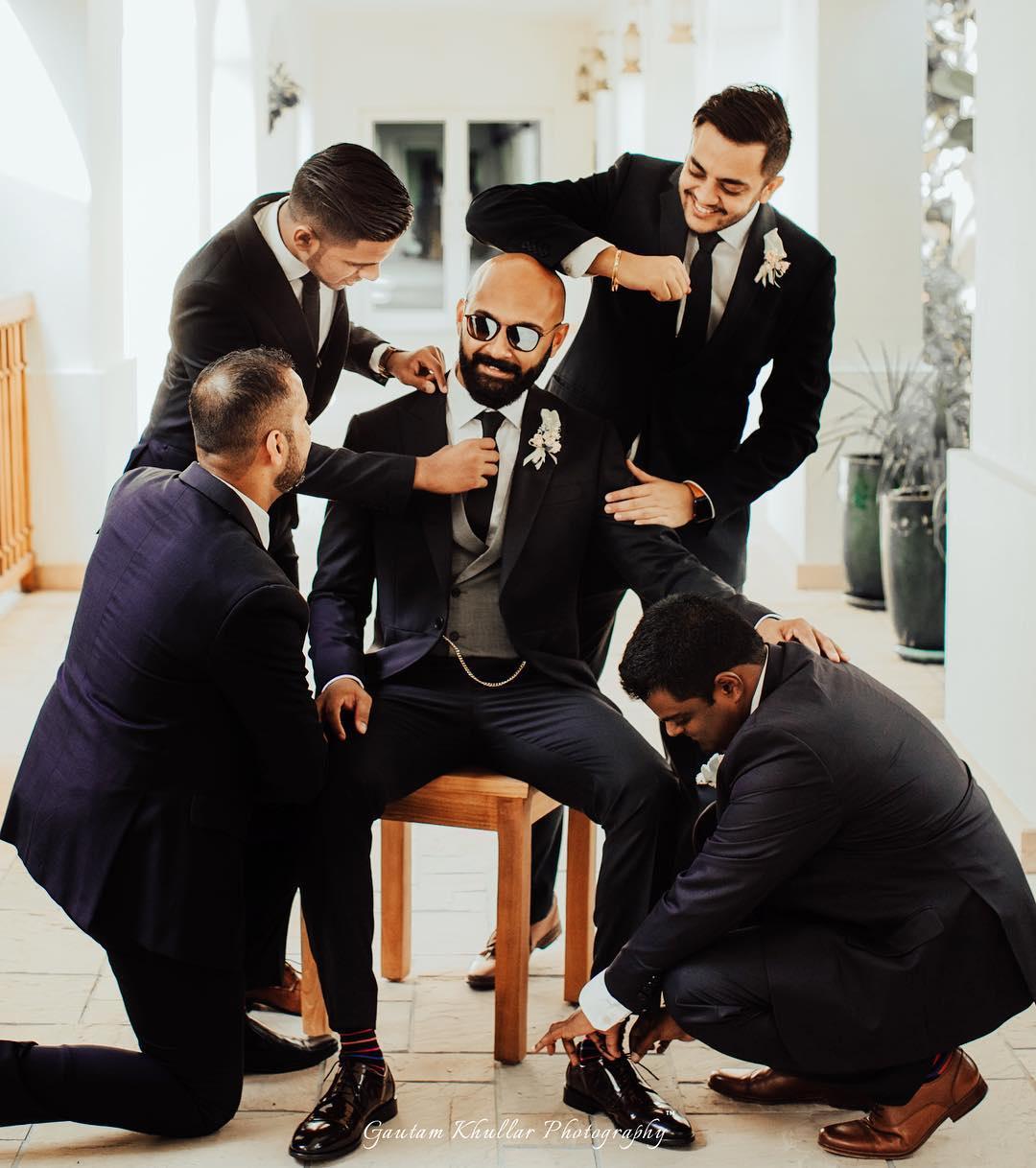 Taking care of the last minute bits, the groomsmen prepping the groom for his big moment is one of the sweetest groomsmen photos. The natural expressions of excitement and the sharp dark suits naturally make this picture frame-worthy!
When Boys Have All The Fun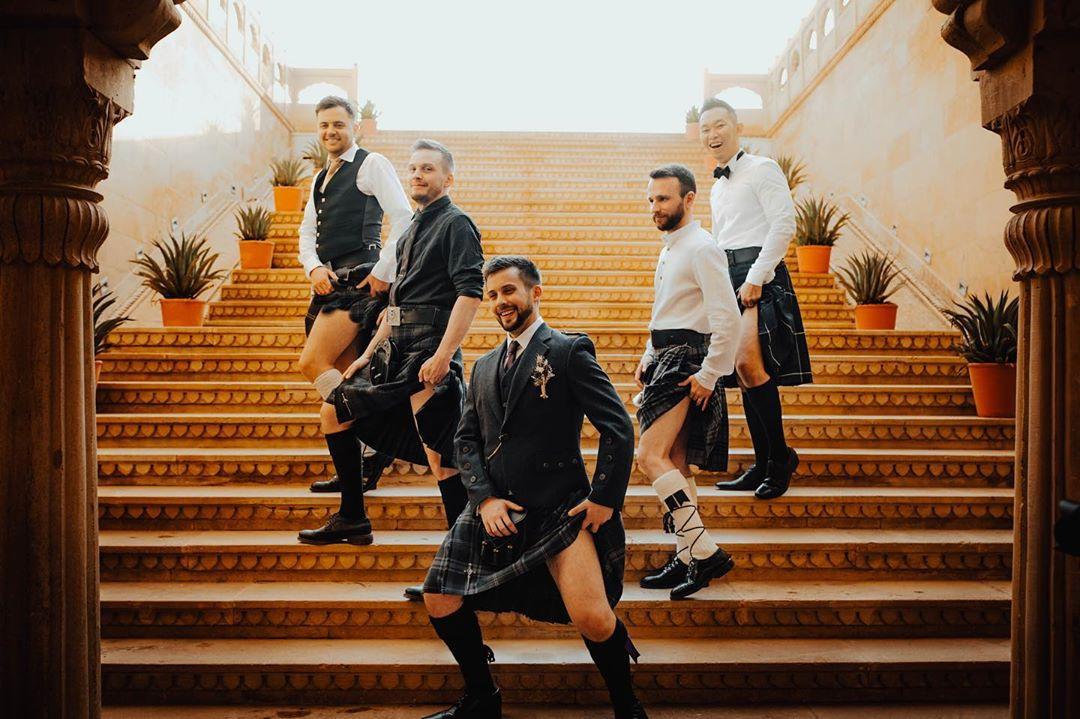 The coordinated dark tweed skirts like the Scottish and the quirky pose makes this a hilarious groomsmen photo. Make some epic pre-wedding or Bachelor's party memories by bringing out your quirkiest side!
Floral Touch & The Lift Up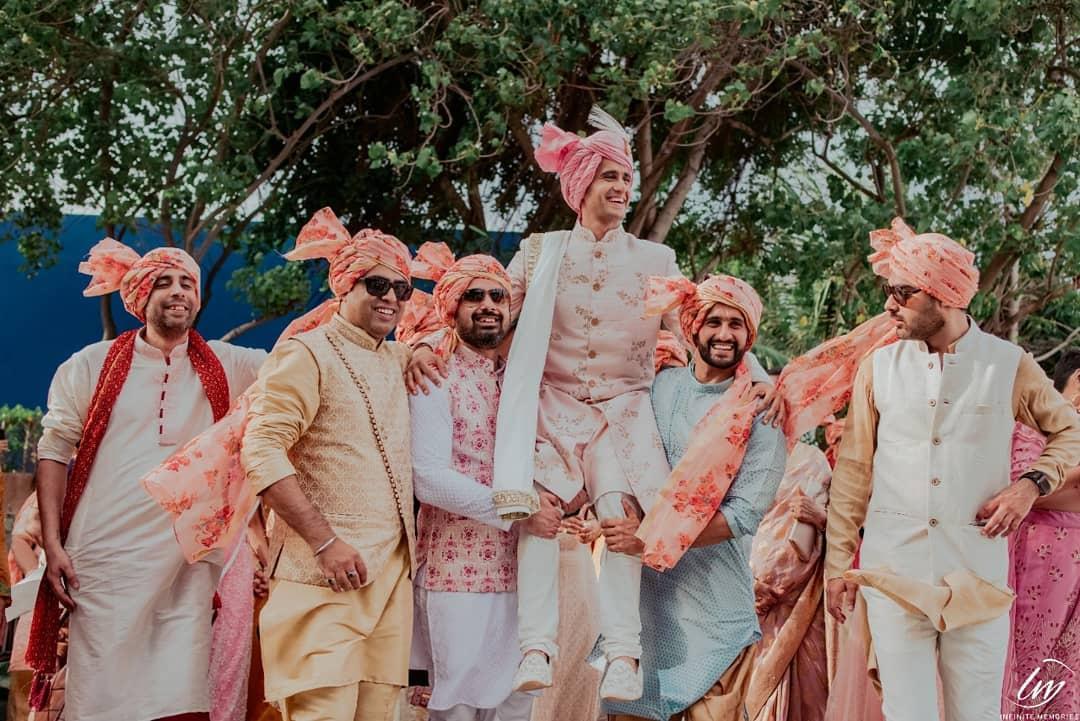 One of the most loved groomsmen photos is the one when all the men lift up the groom before his grand entry. Sport coordinated floral printed Safas to accentuate the breeziness of the picture.
Pool Party Special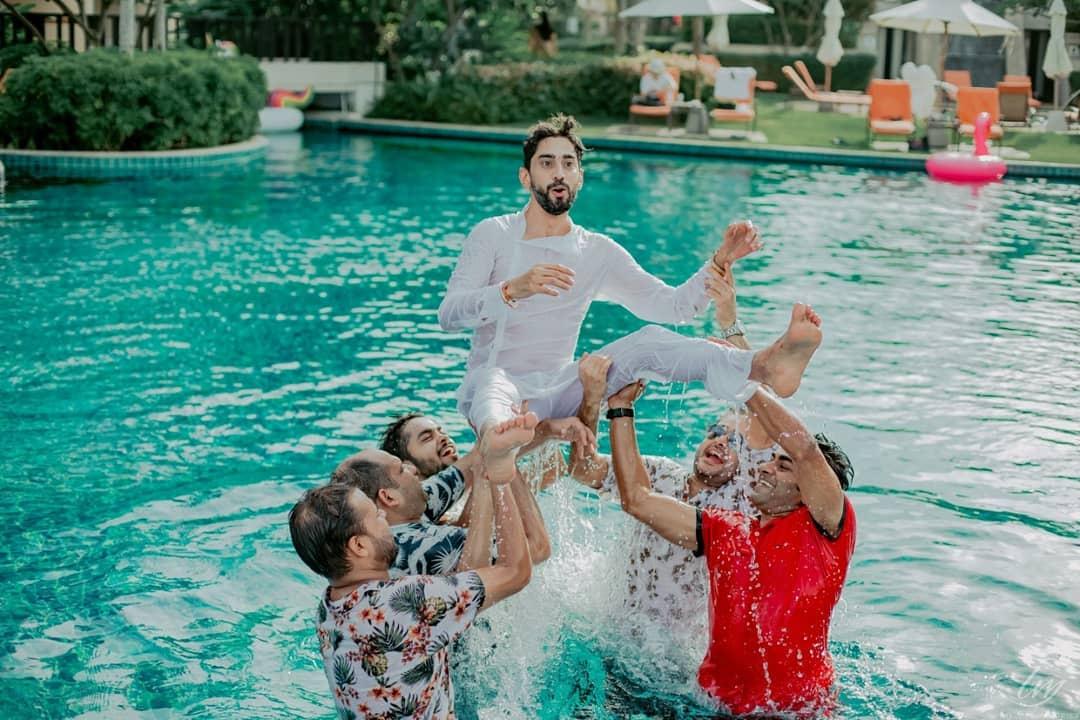 For your crazy pool parties, you don't need to think much about outfits and simply submit to fun! That's exactly what this particular groomsmen photo showcases!
The Enthu Jumpers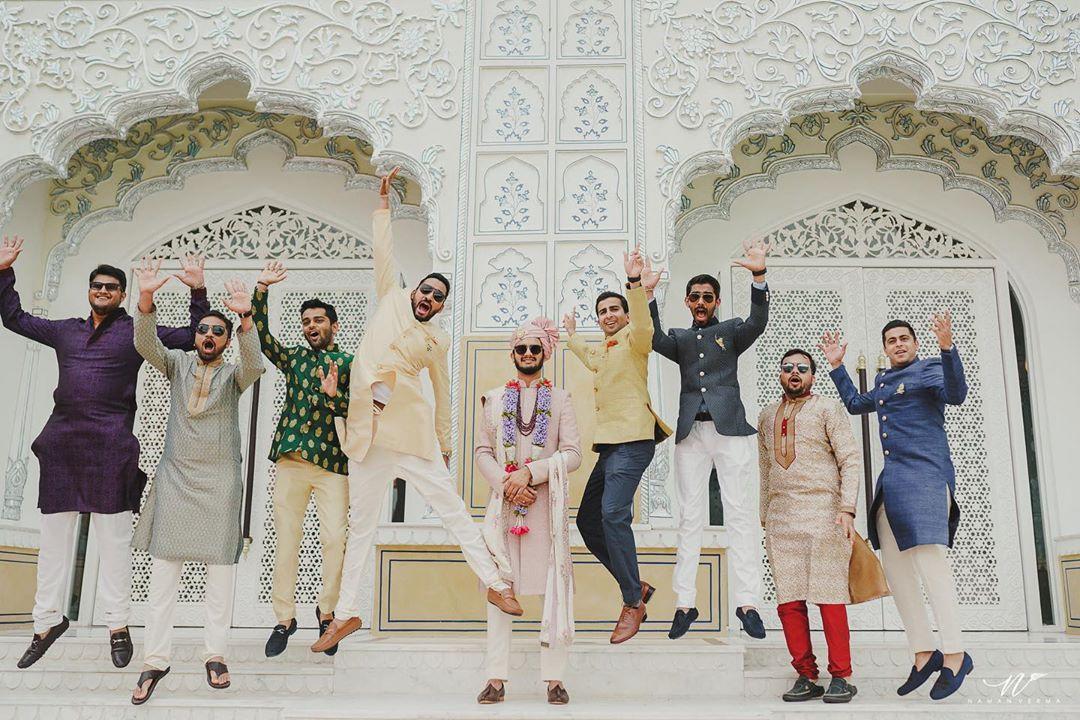 Scream in your topmost voices, LOL, or jump! If you too want one of such energy-charged groomsmen photos, dress up in some chic kurta pyjamas and let yourselves free!
The Saucy Posers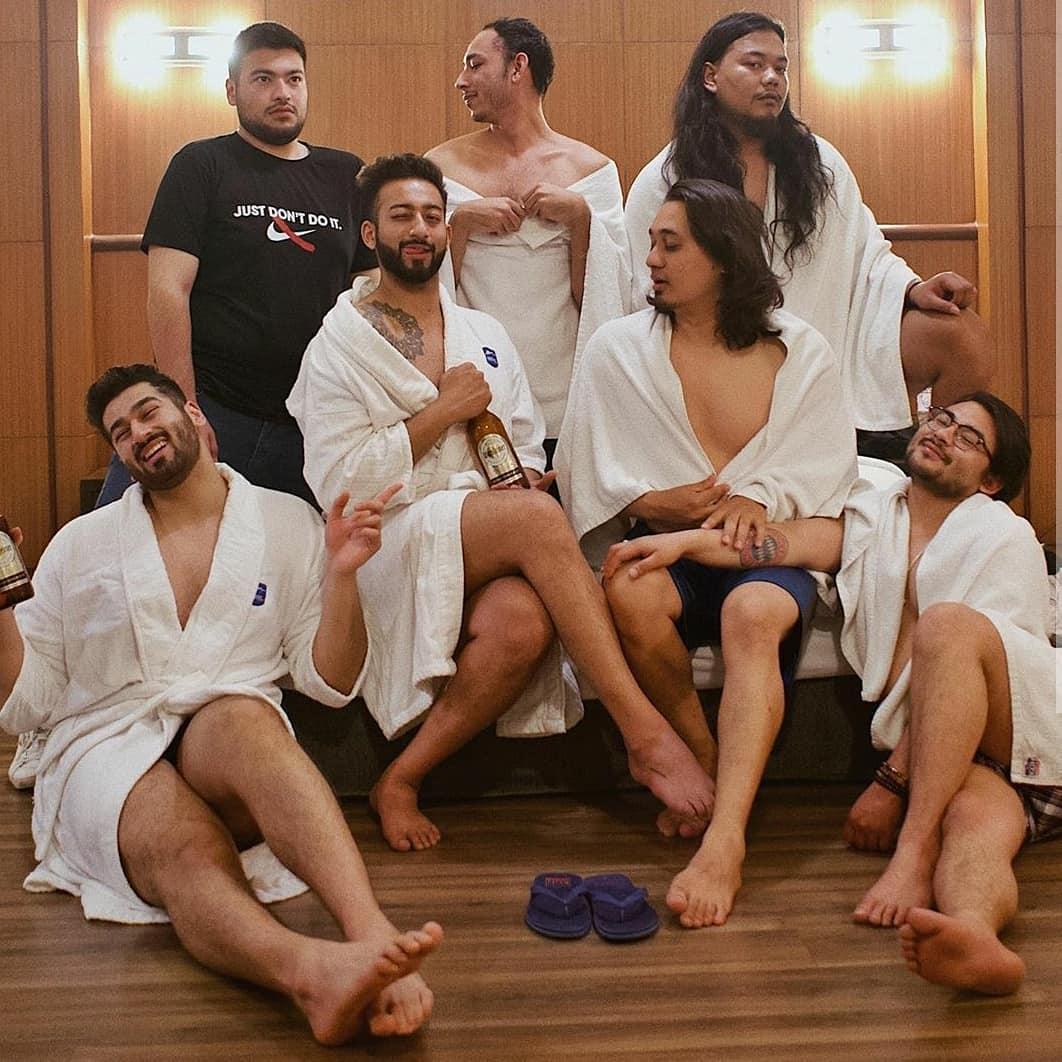 Image Courtesy: Bishwas Fotography
What happens when men decide to shed any "front of the camera" inhibitions? They break the internet. They get super funny and the result sometimes is saucy groomsmen photos! Like in this one, the groomsmen simply chose to copy what the brides and her bride's squad had done and that worked so well!
The "Save the Groom" Groomsmen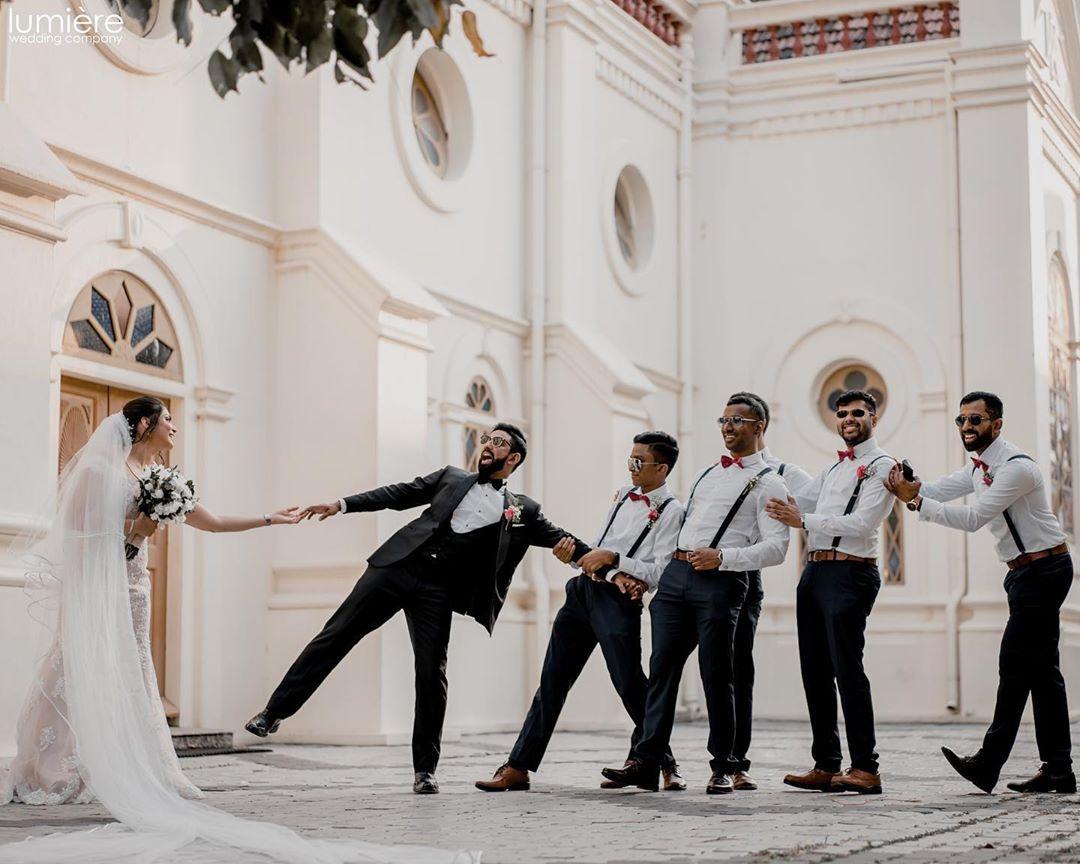 The classic "let's save our friend from the knot" pose is all-time favourite groomsmen pose. All the men dressed in bowties trying to pull the groom away from his bride always ends up with bursts of laughter!
The Dhoti Swag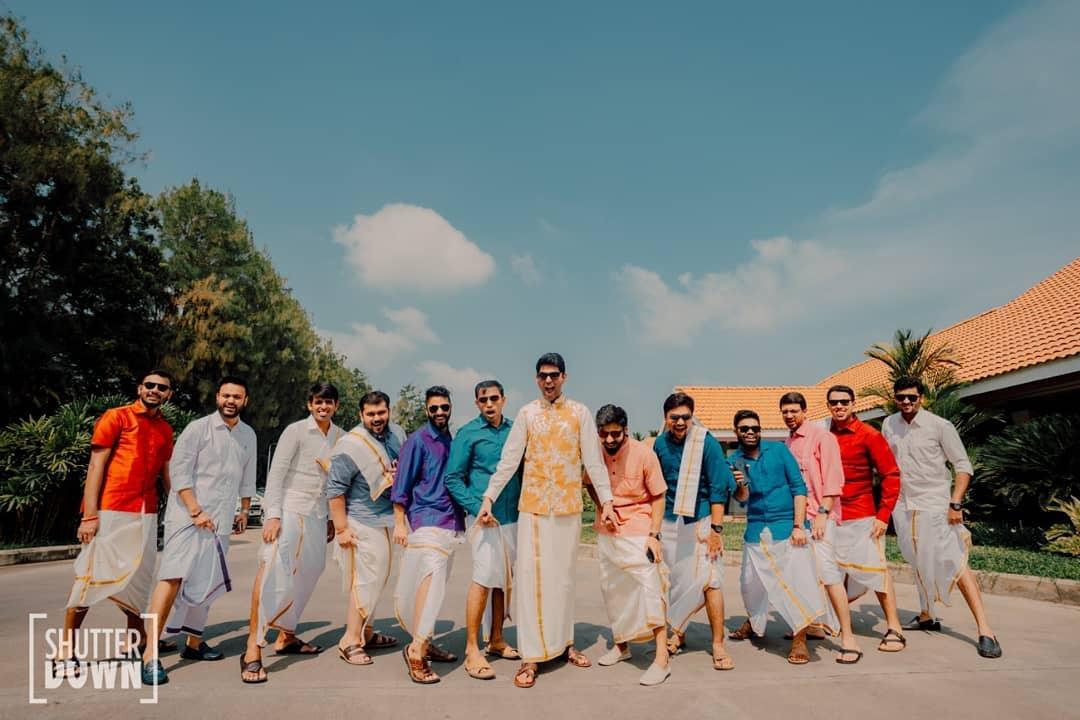 Rock those stylish white dhotis or Mundus with colourful long kurtas with some Bindaas poses. The colour contrasts of the summer wedding dress for men and the fun element would make this one of the funkiest groomsmen photos!
Men in Gym Pose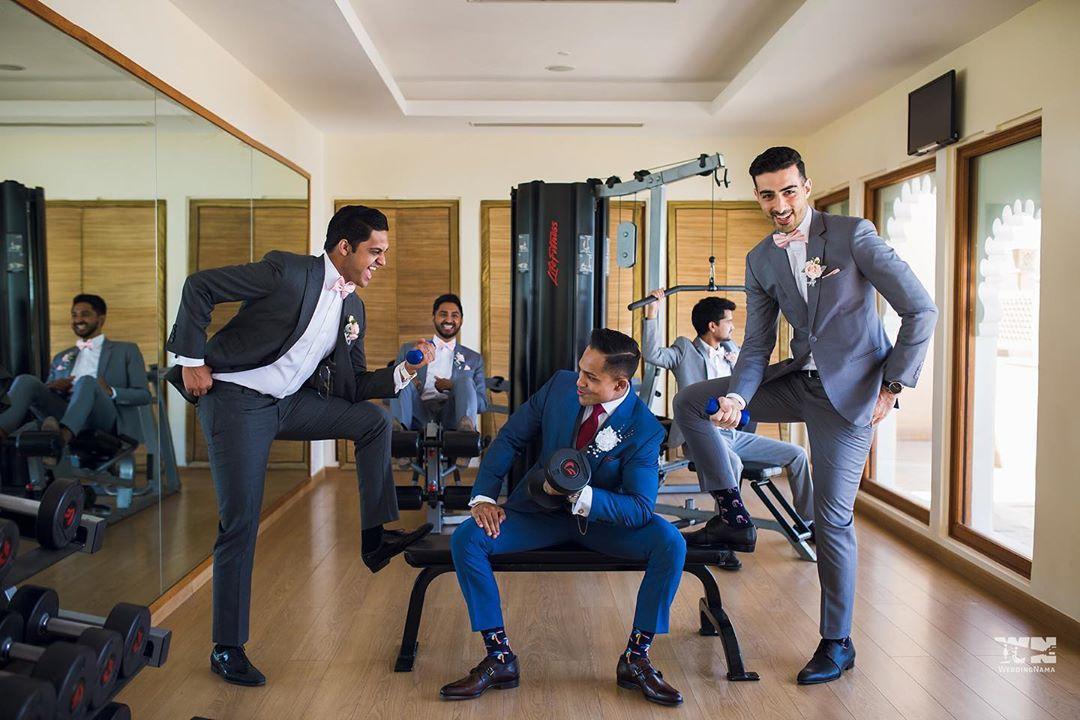 Show off your workouts in a gym while dressed up in the sharp suits! This one can easily be a fool-proof groomsmen picture!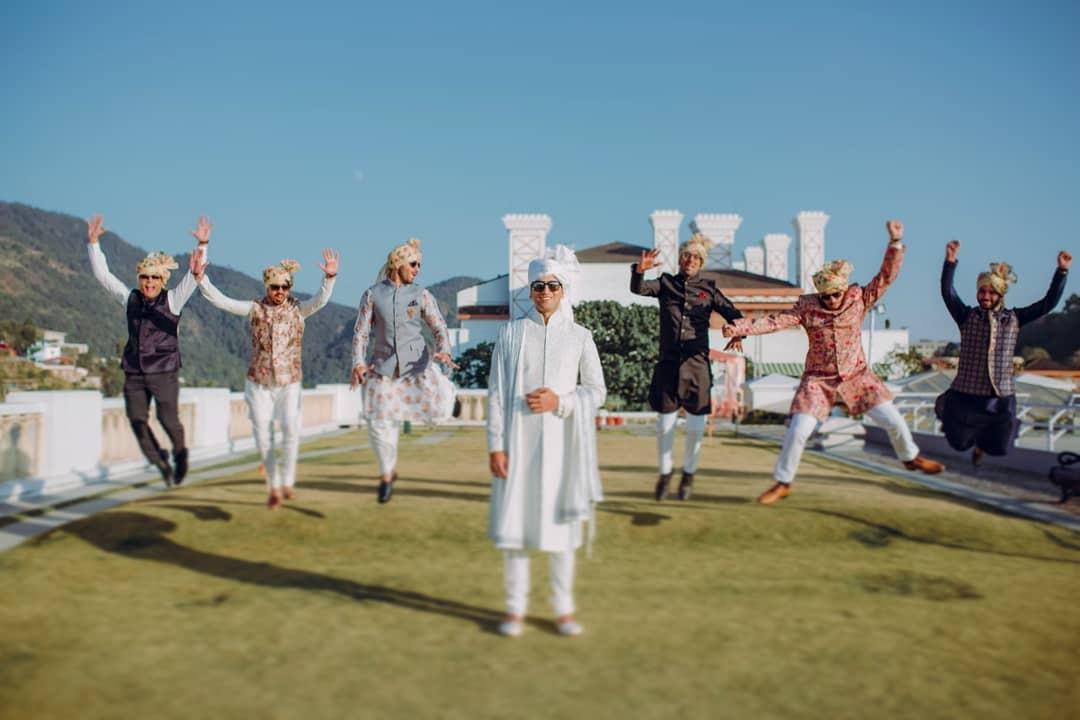 Take ideas from these groomsmen photos and you can create your own poses with little creativity. Speak to your photographer about options. Go for coordinated outfits in different styles like traditional, western wear and fusion to add variety to your photos. Sport stylish accessories like tie-pins, lapel pins, pocket squares or watches with each outfit. It's your special friend's wedding after all, and you totally need to make sure everything looks just spot-on!
Have you booked your wedding photographer yet? If not, take a look at our vendors' list for great deals.
With words by Meha Khera