Here Are the Different Kinds of Traditional Indian Groom Dresses from Different Cultures
While Indian brides from different states have some unique attributes in their bridal looks, our Indian grooms aren't far behind too. Here are some traditional Indian groom dresses from different states and cultures.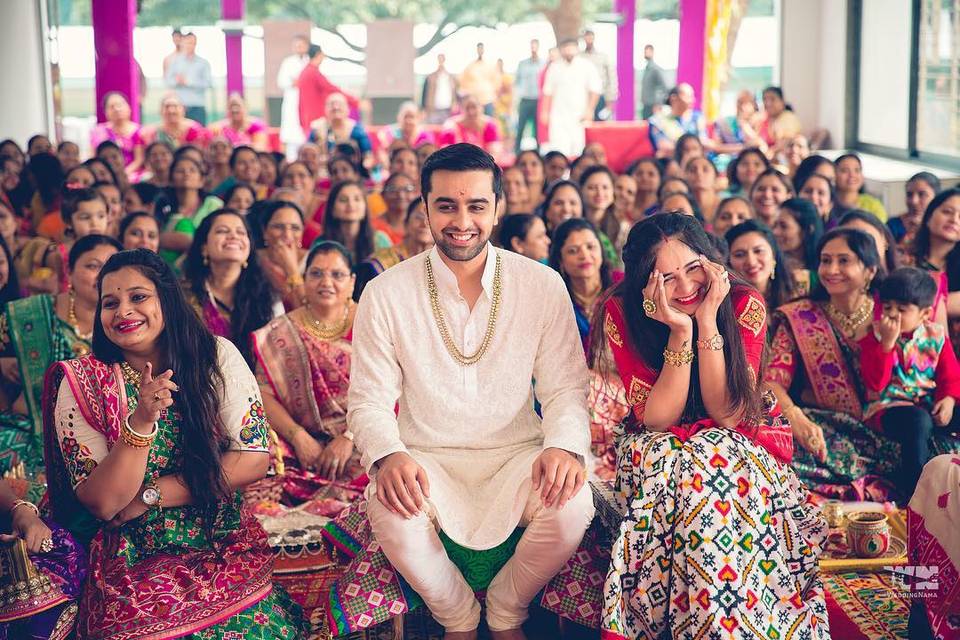 It's funny that in all the hullabaloo around the bride in any wedding, we tend to forget that there is another person in the party who is equally important for the festivities - the groom. It usually seems like everything that happens at an Indian wedding is about the bride. Her shopping takes time, the best makeup artists are hired for her and she is the centre of attention. Even the photographers focus on the bride more than anyone else, even the groom. This is true of all weddings across India. Be it any state, culture or religion, the poor grooms are given much less importance than their better halves.
So, here's one for our Indian grooms. While most of us are still aware of the traditional dresses for brides from different states and cultures in India, here we have some of the traditional Indian groom dresses from different parts of the country. Most things have evolved and have been modernised by millennials when it comes to Indian weddings, especially the wedding attire of the bride and groom, but there are some traditional aspects in the outfits that are still and will always be a very important part of them. So, without any further ado, let's take a look at these dapper traditional Indian groom dresses. Check out these stunning Indian groom dress until you find the one for yourself!
1. Sikh groom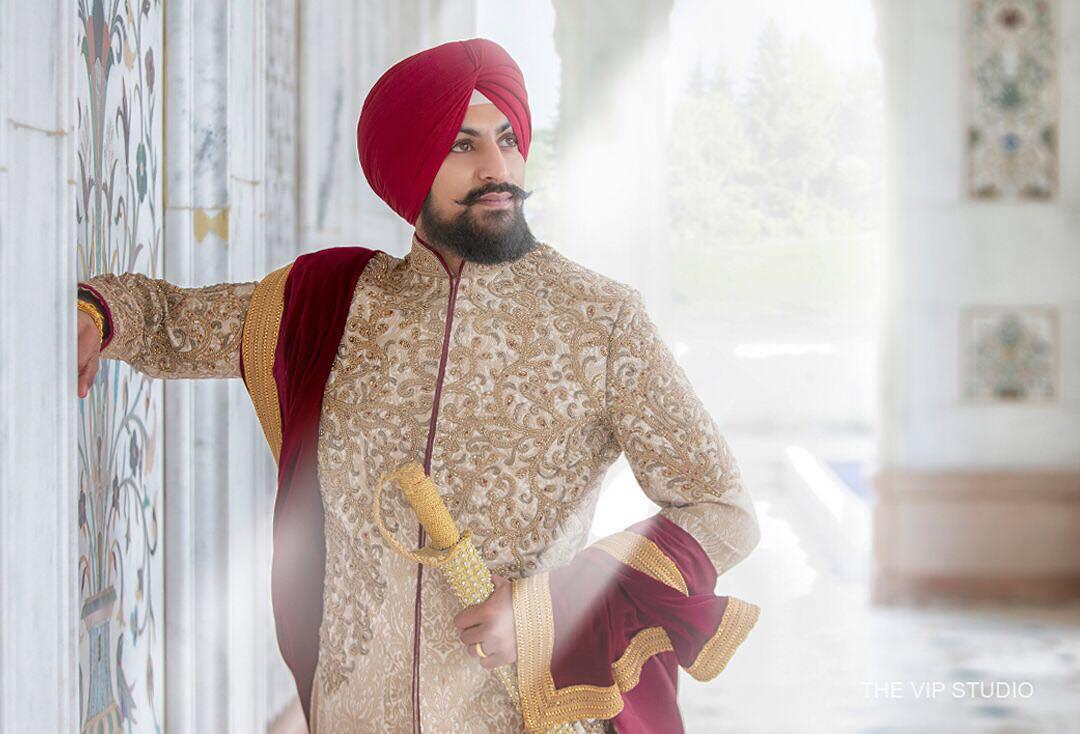 Image Courtesy: The VIP Studio
Sikh and Punjabi grooms usually wear a Sherwani with a Dupatta. While most Sikh men have a turban already, the ones who don't also tie one on their wedding day. They also carry a sword called Kirpan with them which has a lot of significance in Sikhism.
2. Marwari groom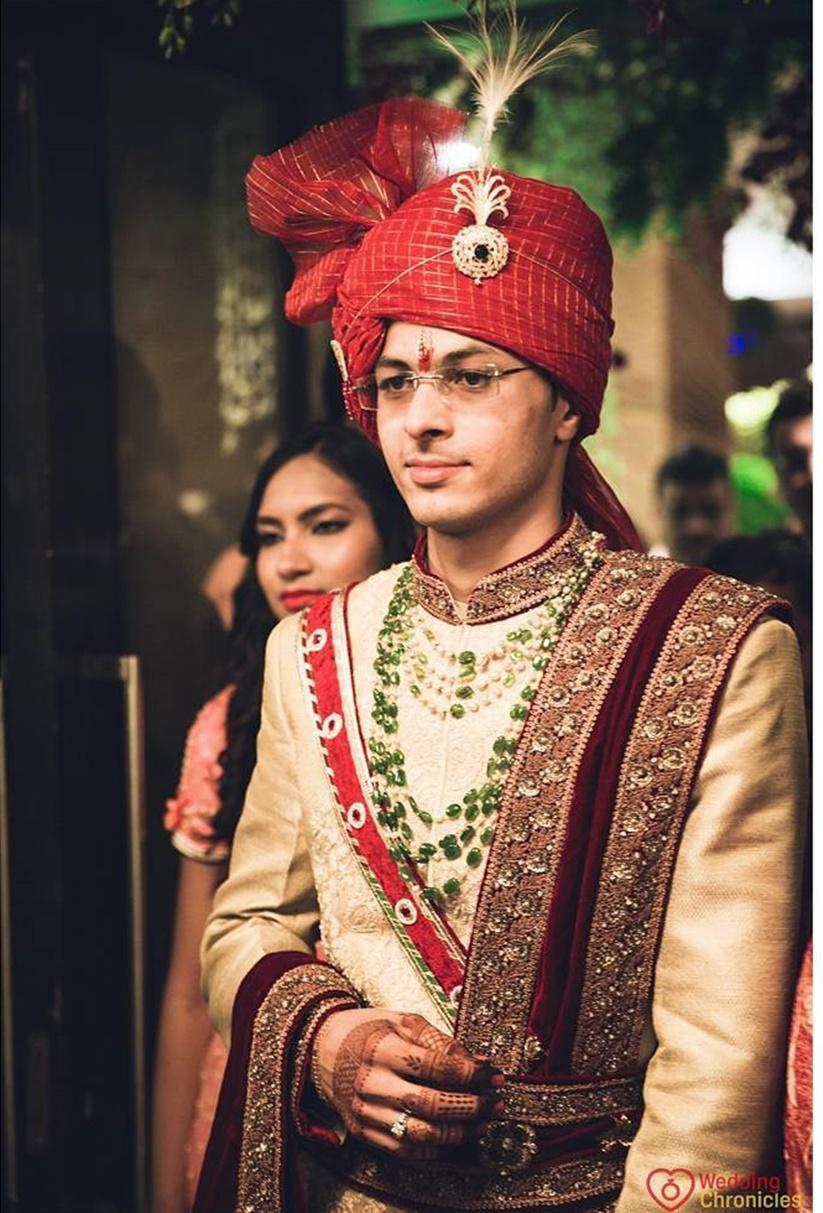 Marwari grooms are without a doubt the most royal looking of all. They either wear a heavy Sherwani or an Achkan paired with Churidaar Pyjama Bottoms. A red Bandhani print turban is held together with a traditional ornament called Sarpech which enhances the royal look. They also wear a red Bandhani Dupatta like a waistband sometimes. Marwari grooms are also adorned with a layered pearl necklace.
3. Maharashtrian groom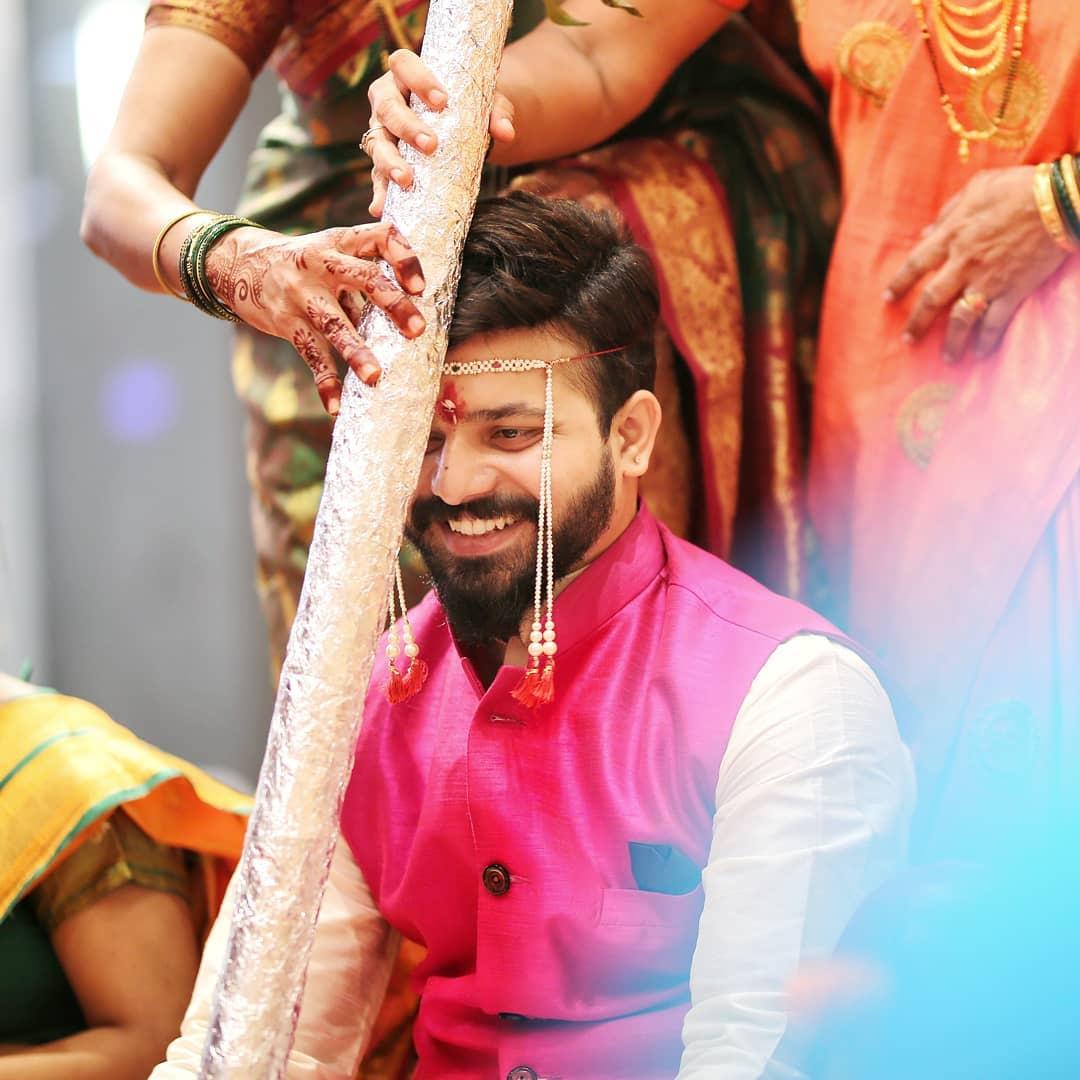 Image Courtesy: Vignesh Surve
Marathi people are known for their rich culture and deep-rooted customs, therefore Marathi grooms are very traditionally dressed at their wedding. Their attire is very simple and non-fussy, just like the wedding. Marathi grooms wear a simple Kurta with a Dhoti. The one accessory that is very striking about a Marathi groom is the red and white beaded Mundavalya. It is tied around the forehead of both the bride and the groom during the wedding ceremony and it looks very charming.
4. Bengali groom

The Babus of Kolkata sure know how to look dapper on their wedding day and that is probably the reason why Bengali grooms always stand out from the crowd. They wear a traditional white silk Kurta and Dhoti, sometimes paired with a white Dupatta. The most attractive thing about their attire is the humungous white headgear that Bengali grooms sport called the Topor. It makes them look very handsome and mighty if we say so!
5. Telugu groom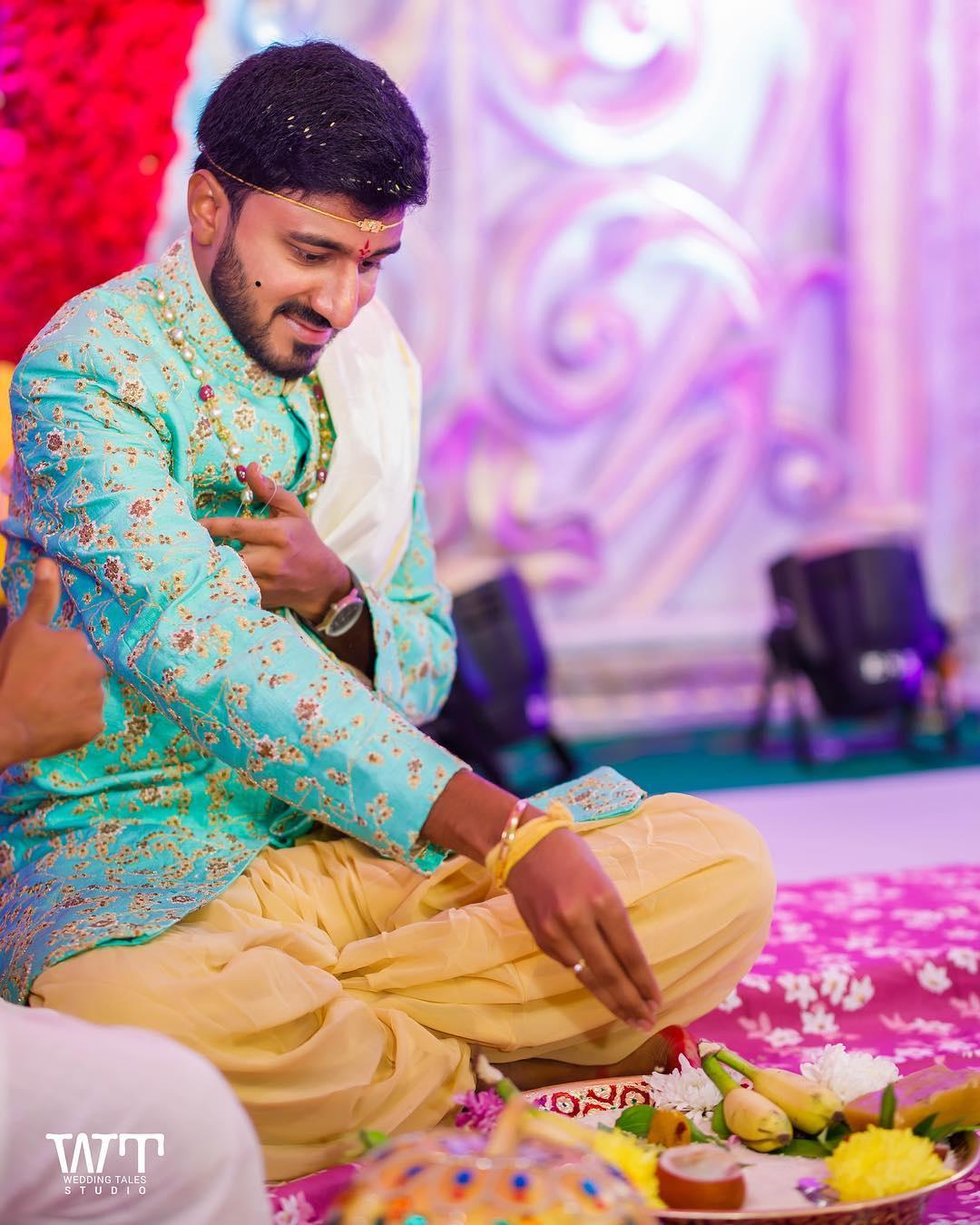 Image Courtesy: Wedding Tales Studio
Telugu grooms usually wear a Kurta and Dhoti with a turban. The most distinctive feature of their attire is a gold amulet tied around their forehead with a yellow thread. Even the brides wear this amulet on their forehead. Apart from that, Telugu grooms also put a very unique red vermilion Teeka on their foreheads before the wedding ceremony begins.
6. Tamilian groom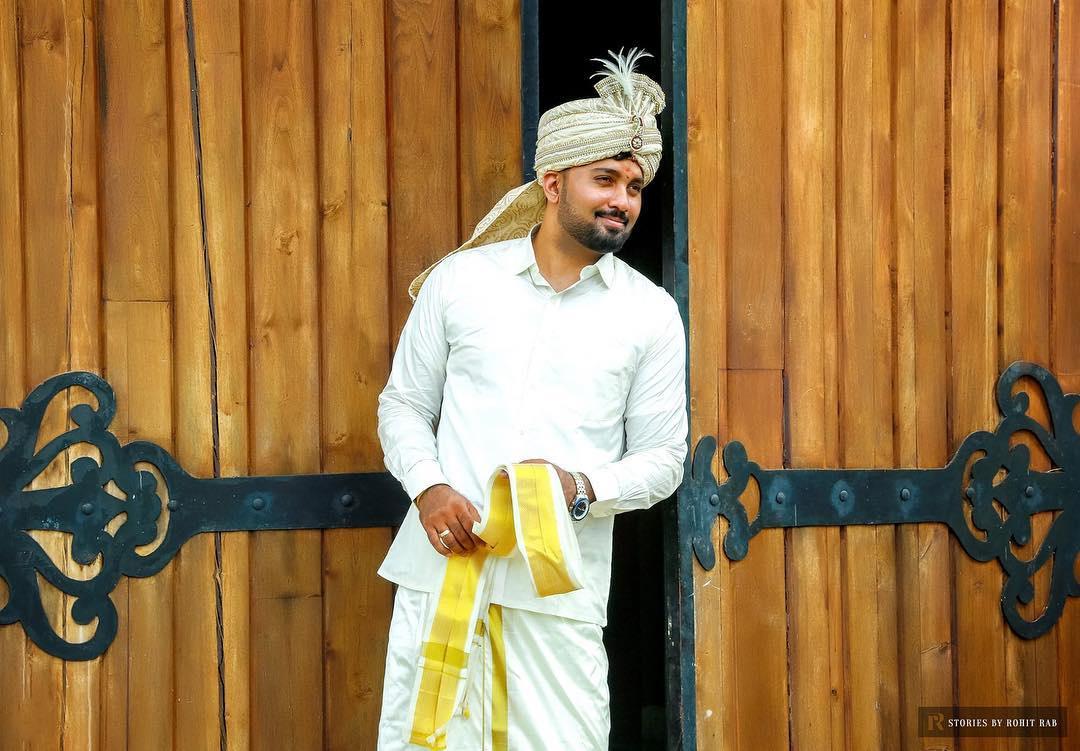 Image Courtesy: Stories by Rohit Rab
Tamilian weddings are very famous for being culturally rich and very simple. The ceremony is very simple and takes place early in the morning. Just like the wedding ceremony, the dress of the Tamilian groom is very understated too. They wear a white Dhoti with a golden border, traditionally called a Veshti. The Veshti is either paired with a plain white shirt or a Kurta.
7. Assamese groom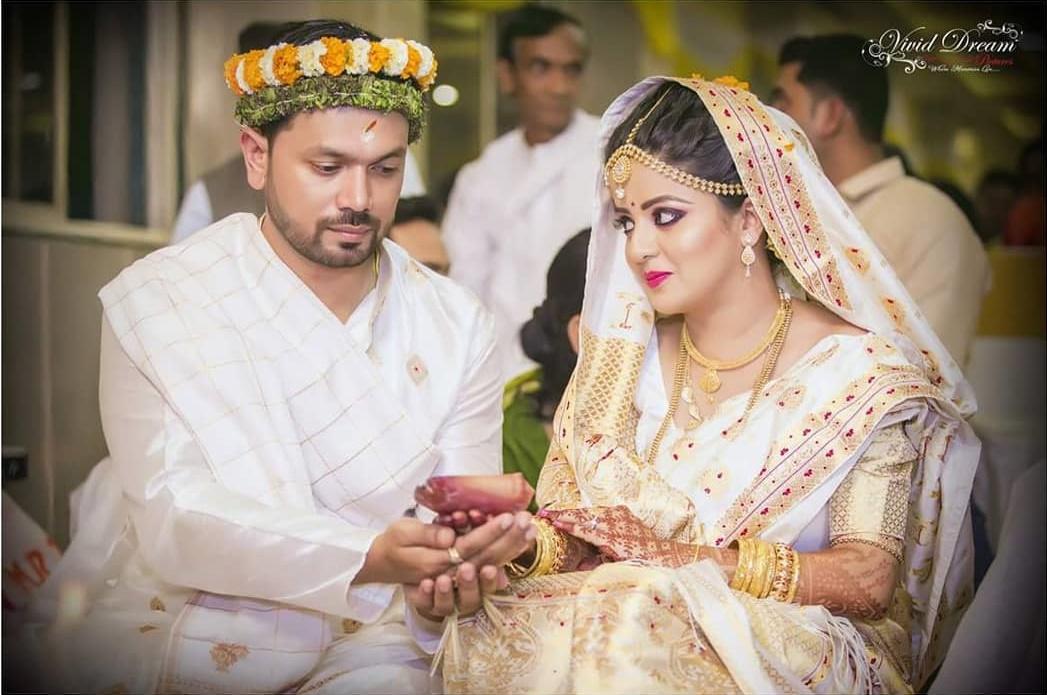 Image Courtesy: Vivid Dreams Photography
Assamese weddings are also very simple and subtle in nature. The Assamese groom wears a traditional white Dhoti, Kurta and an Assamese shawl called Cheleng, gifted to him by the bride's family. The groom's forehead is adorned with tiara-like garlands made of flowers and Tulsi.
8. Himachali groom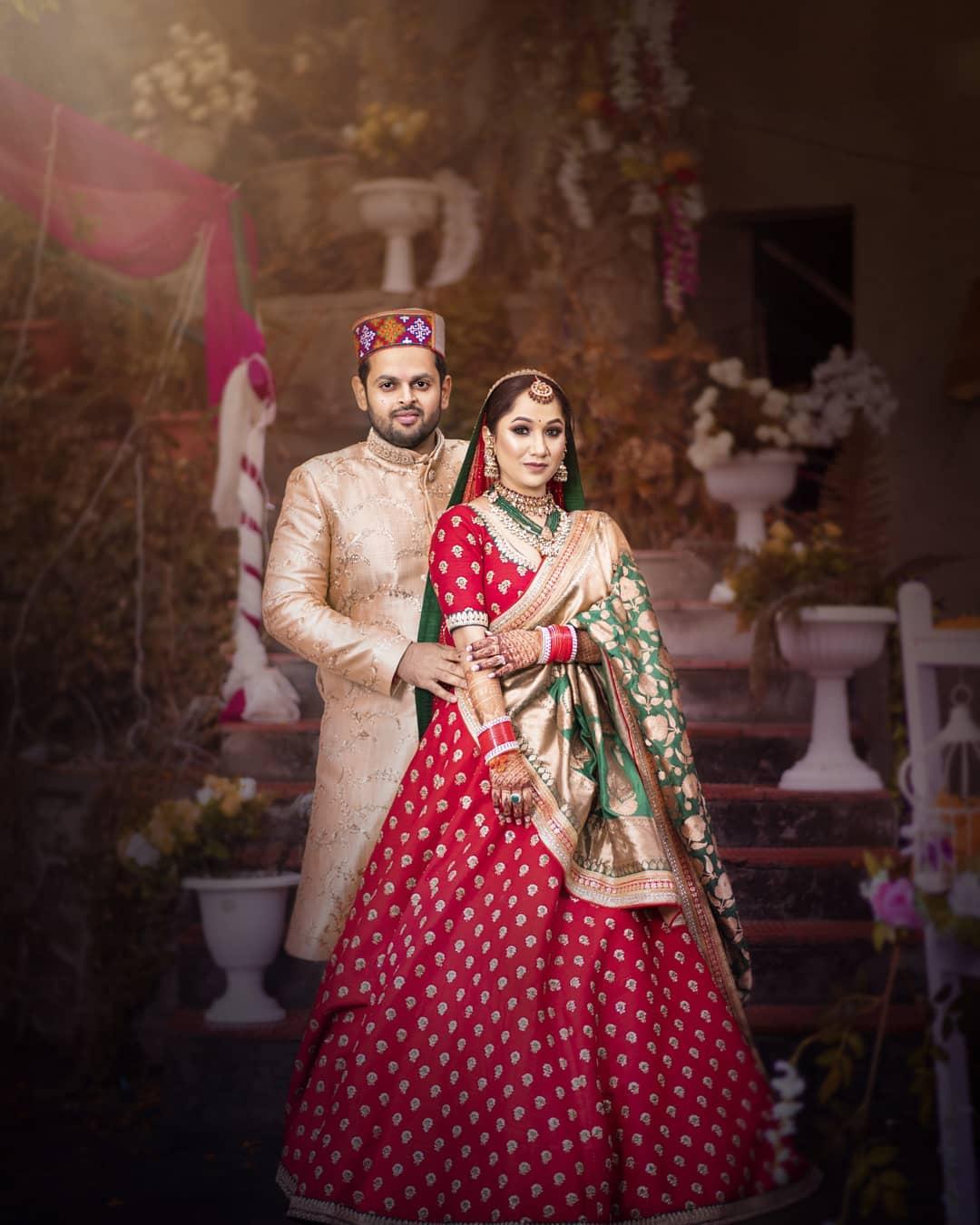 Out of all the different Indian groom dresses we have seen till date, the Himachali grooms' attires take the cake for being the most unique. While they wear all kinds of outfits ranging from suits to Sherwani for the wedding ceremony, what makes them stand apart is their colourful woollen Himachali cap. It is a very significant part of their culture and is thus worn by all Himachali grooms on their big day. Beautiful, isn't it?
Scrolling through all the pictures of the different Indian groom dresses from various states and cultures just made us think one thing - ours is such a diverse and colourful country! Well, now that you have seen a lot of different types of Indian groom dresses, did you pick any favourites?
Did we miss anything in this story? Let us know if you have any questions or suggestions in the comments section and do tell us which one of these Indian groom dress did you like the most!