Your wedding might be a very grand affair, but it will only last for four to five days. So, what will stay with you forever? Your wedding photographs. Your wedding album would be the time machine that will take you back in the golden period. So, now you know how important it is to have a gorgeous wedding album. To make your album gorgeous, we bring for you the best Indian wedding couple images. Have a look at them and take an insight.
Best Indian Wedding Couple Images Revealed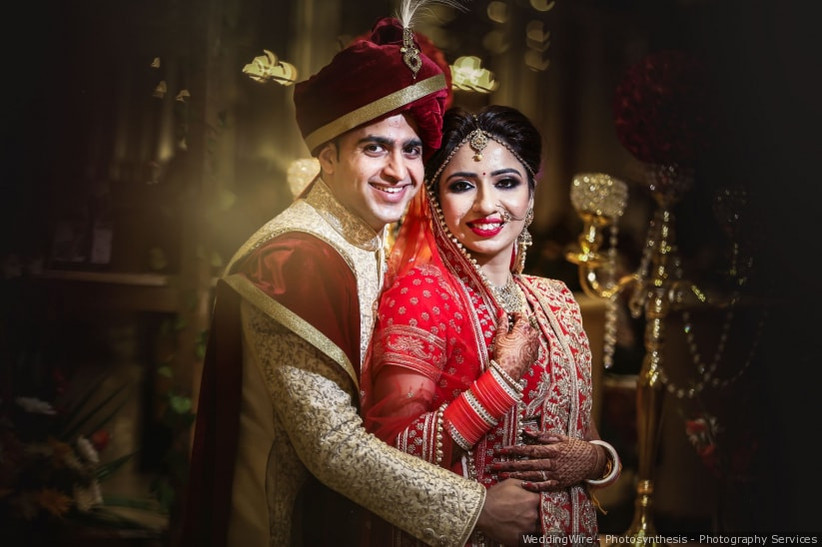 Every couple wants the best wedding album, but no single couple in the world considers preparing for wedding photographs.
Take a look at yourself, we are very sure that other essential preparations are keeping you busy leaving no time to even think about your wedding album. But, least you can do is to invest 5 minutes in reading this piece of information. We are very sure that by the end of this article, you would definitely learn some of the most phenomenal poses for your wedding album.
Here, we have shared with you some of the best Indian wedding couple images to derive inspiration and some of the best portrait styles for your wedding photographs.
Read further to know about creating portrait-style Indian wedding couple images:
How to create Portrait-Style Indian Wedding Couple Images?
The responsibility of creating the best portrait-style Indian wedding image lies on both, the photographer, as well as the couple. It is a two-way process. Both the parties need to pay a lot of attention on every minute detail.
The first step is to be comfortable with each other. You must know your photographer well to be at comfort with him. The same goes for the photographer. Establishing a comfort level helps in getting the best Indian wedding couple images.
You need not worry about the lights and setting, as this responsibility lies entirely on the shoulders of the wedding photographer. You just need to stay calm and relaxed while the shoot goes on. Maintain a smile on your lips and keep your expressions relaxed. Try to have fun in the process even if you are tired because even the slightest hint of discomfort on your face or body language will ruin the portrait.
Different Styles for Indian Wedding Couple Images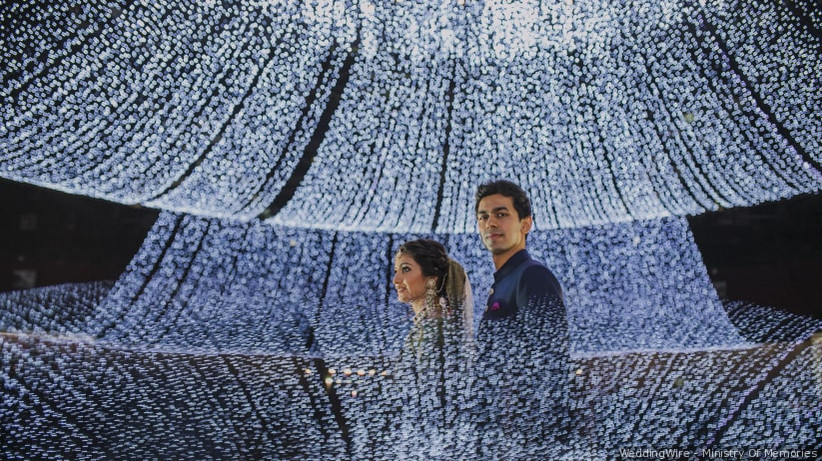 There are many different styles of Indian wedding couple images. Your wedding photo album can be a blend of all the different styles. Discuss it with your photographer beforehand.
The traditional Indian photography style has a very classic appeal. It incorporates classic wedding poses and stage portraits. It involves standard shooting angles.
The candid photography style is more soulful and genuine. It derives the real essence of the moments in real time. This style really takes you back in time and highlights the unadulterated and raw emotions.
The artistic photography style focuses on every detail and captures the shots in the most surreal way. Focusing on the décor, jewellery, drapes, and flowers is a part of this style of capturing Indian wedding couple images.
The quirky Indian photography style has an unconventional approach. Whether it's the image of the bride riding her soon-to-be husband's bike in her wedding attire or the groom holding his bride's handbag; these pictures have a fun element.
Best Portrait Styles
Create the best wedding album with these superlative portrait styles. Take an incentive from them and rock your wedding album.
1. Laugh your heart out
Happiest brides are the prettiest. Generally, the brides tend to give a faint smile to their photographers. But, you don't need to do so. Laugh your heart out and let the world know that you are the happiest person on the earth.
2. Use props
Props inject a fun in the regular Indian wedding couple images. Give your portraits a dose of fun and quirk with the use of props like flowers, umbrella, etc.
3. Wedding attire
Ask your photographer to grab some wedding pictures focusing on your extravagant wedding attires while also, highlighting the chemistry between you two.
4. Swirl and twirl
Radiant bride twirling and swirling around her groom is one of the most romantic ideas of a wedding couple portrait.
5. Fun and playful pictures
Be very playful around the camera. Do not shy away from making fun poses. Just have fun in front of the camera.
6. A fancy backdrop
A beautiful backdrop enhances the Indian wedding couple images by leaps and bounds. Create a backdrop of flowers, colourful drapes, or fairy lights to create the best couple portrait.
7. A blushing bride
A blushing bride is a classic pose but has an extraordinary appeal.
8. Some intimate moments
Intimate moments like kissing and hugging qualify as the best Indian wedding couple images.
A wedding album is the documentation of memories and so, it has to be beautiful. Now, that you know all the different styles and poses, select the best portrait style for your wedding album.
And if you're still looking for the right photographer, browse through our list of the best ones near you.