Every Indian wedding has a distinct flavour of its own. And when it comes to the bride and her Shringaar we can't help but swoon over bride's images from every region of the country. Whether it's the Manga Mala images adorned by angelic brides from the south, to an exotic Assamese bridal look; breathtaking Rajasthani lehenga images or a complete guide on a typical Bengali bridal makeup- let's admit it. We love watching bridal images. Wondering what do we have here today? Well, hold your breath for some stunning hairdo from the land of Bengal. Check out some Bengali bridal hairstyle images and draw inspiration for your own wedding events!
1. Curls on the Side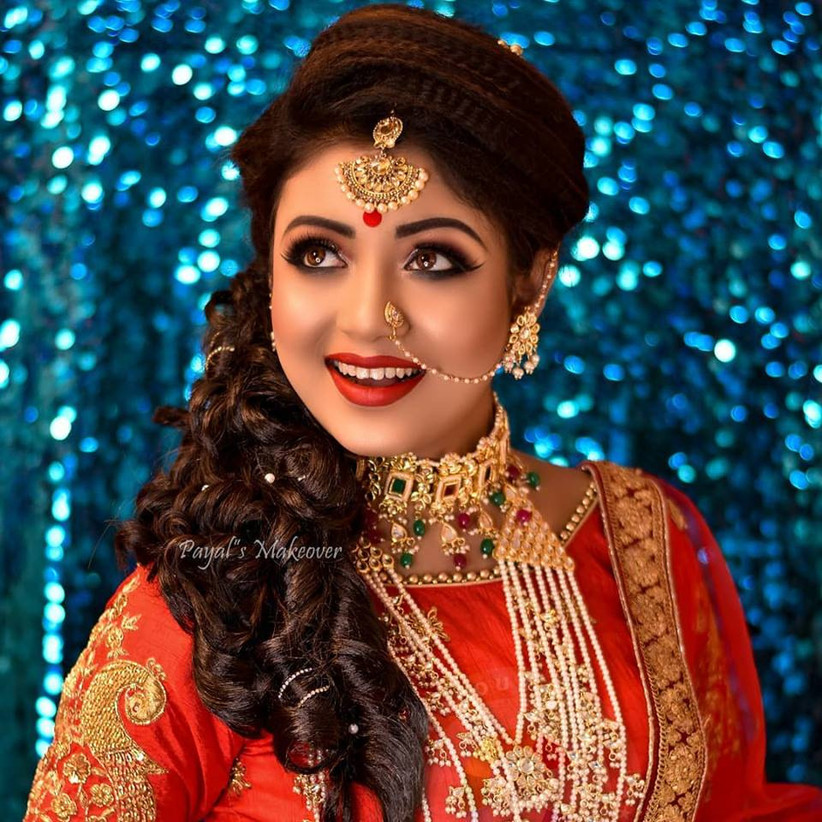 Take cues from this beautiful Bengali bride who just aced the curls. This is a popular Bengali bridal hairstyle where there are two kinds of curling used. The hair on the top has fine curls and parted on one side. The lower part of your hair have thick solid curls and they fall over one of your shoulders.
Ideal occasion: Ashirbad or engagement and reception.
Accessories: Just wear a subtle Maang tikka as your jewellery. You can wear little beads to highlight your curls but not too many.
2. Neat Bun with mid-parting
A conventional neatly tied bun with a mid parting is always a classic. It's not only highly adored Bengali bridal hairstyle but is loved by brides across the country. For a little variation, you can puff up your hair a little, but not too much to get a voluminous look for your hair.
Ideal occasion: Ashirbad or engagement, wedding and reception.
Accessories: Sport a heavy Matha Patti and wrap your bun with Gajra. You can go for Jasmine or any white floral Gajra. In case you're allergic to certain flower smell, you can opt for synthetic Gajras too.
3. Messy beach curls
This 'carefully careless' Bengali bridal hairstyle looks super chic on brides with long hair. Let your hair loose with subtle beach curls to give it a little messy look. Don't over-curl so that it looks natural and not made-up. Make sure you use conditioner and serum before doing your tresses for that perfect set.
Ideal occasion: Pre-wedding photoshoot or Haldi.
Accessories: Very light jewellery like terracotta earrings and bangles. Complete your look with a pair of coloured sunglasses to add a dash of spunk.
4. Twisted side bun
Casually twist all your hair from one side and make a loose side bun. That's one Bengali bridal hairstyle that every bride must try as it would go with almost all kinds of outfits. Make sure you use enough bobby pins and to keep your bun from falling apart.
Ideal occasion: Pre-wedding shoot, Gaye holud (Haldi), Cocktail, engagement and reception.
Accessories: Go for large dangling earrings like Chaand Baalis or Jhumka earrings. You could tuck a few tiny floral beads sparsely in between your side bun.
5. Central Flower Bun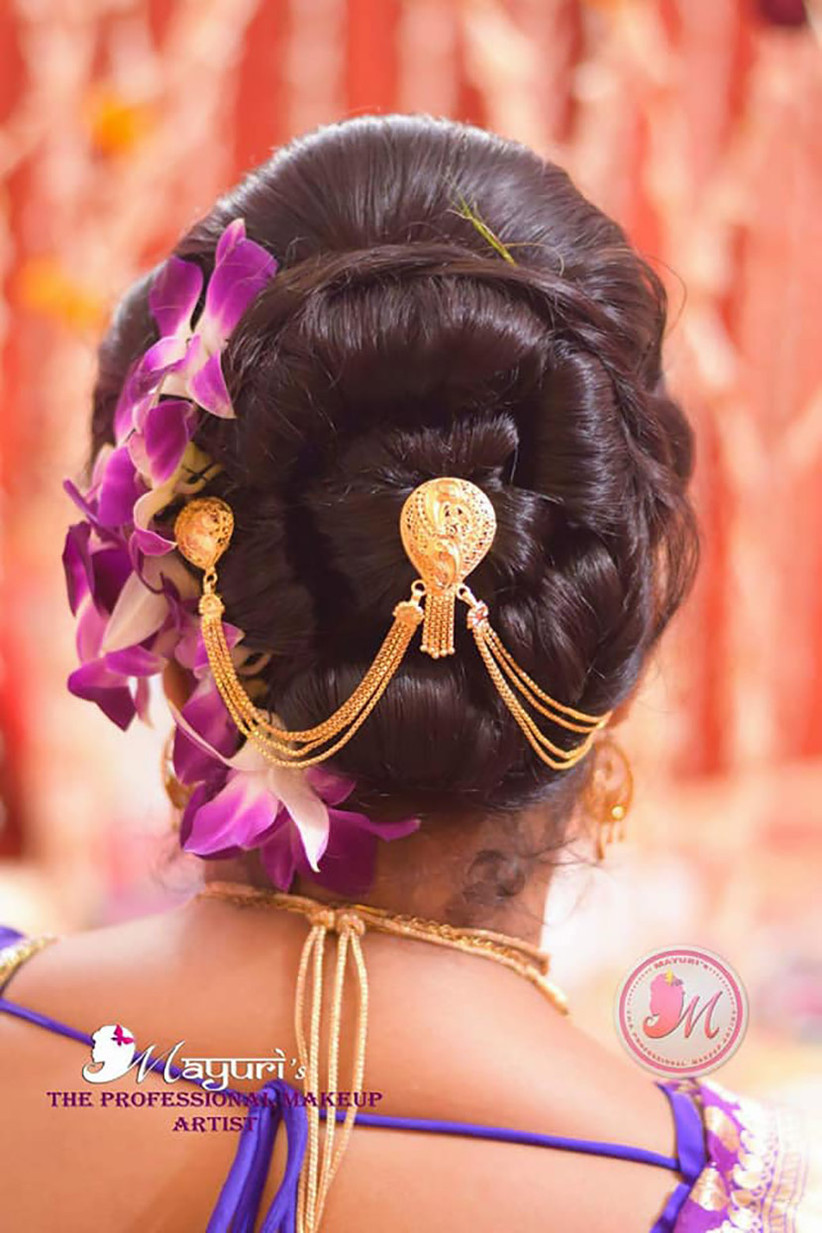 A Bengali bridal hairstyle that looks simple and elegant but needs quite some skills to create, is the central flower bun. Talented hair experts roll up different ropes of hair in a circular pattern And finally combine all those rolls into one big flower like a bouquet. If you're draping a red Banarasi saree on your Biye, you must try this hairstyle for a perfect Bodhu look.
Ideal occasion: Wedding and reception.
Accessories: Use orchids, Gajra or a string of stones covering just one side of your bun, you can also sport a Shonar Mukut, a brooch or other hair adornments.
6. Side Braid-Bun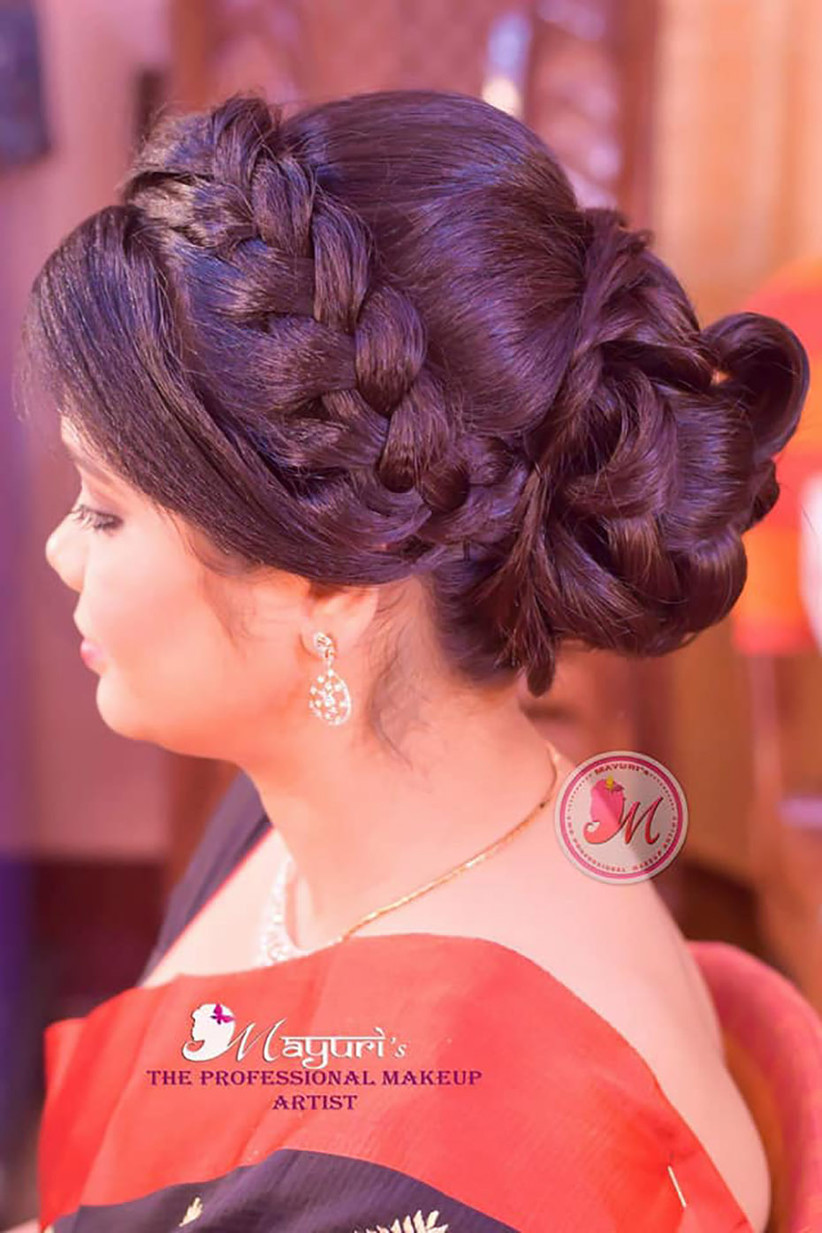 A side braided bun is two beautiful hairstyles in one! Neatly braid your hair from one side of your head and roll it up into a bun combined with multiple little rolls. Intricate craft and finesse is needed to achieve this particular Bengali bridal hairstyle.
Ideal occasion: Wedding, Engagement and Reception.
Accessories: You can wear small floral beads or a brooch to adorn your side braided bun.
7. Twisted Fish Braids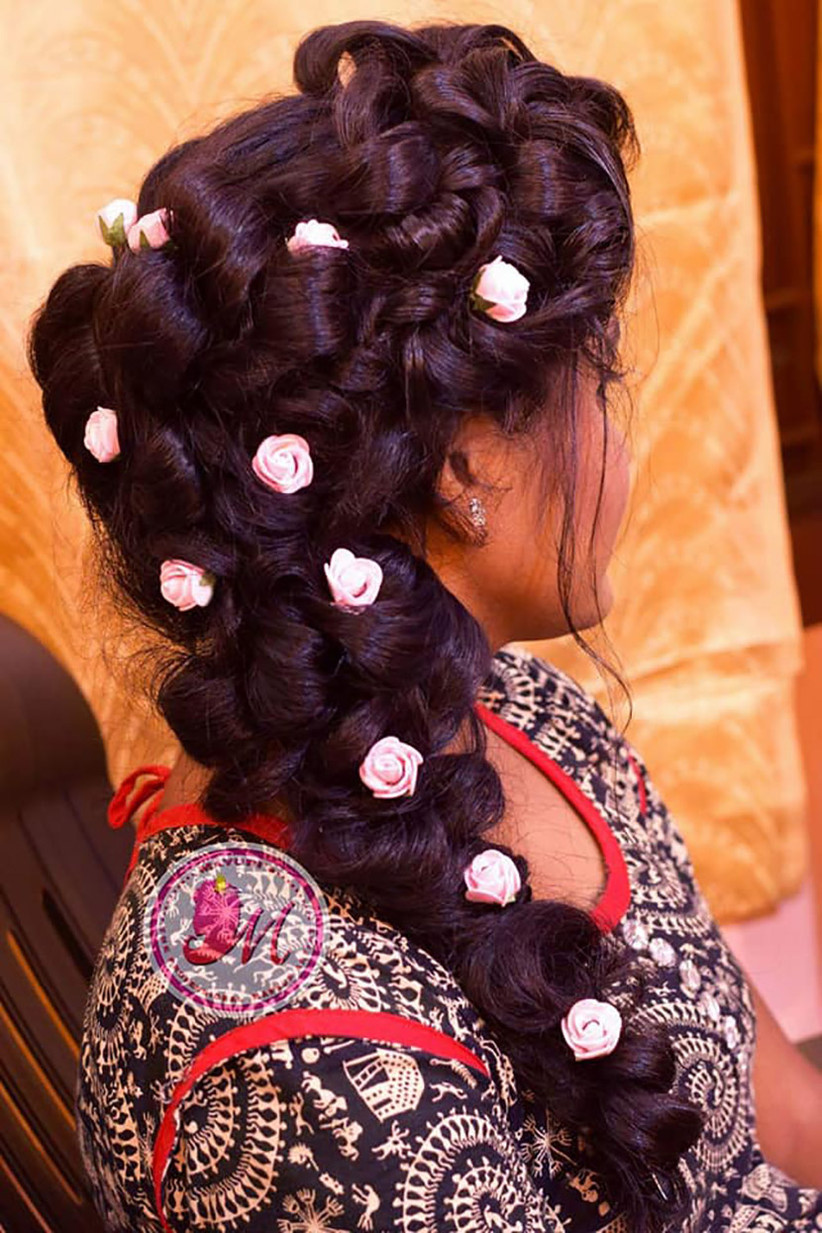 Another Bengali bridal hairstyle that is actually popular among brides almost everywhere around the globe. A fishtail braid can be sported with any kind of outfit, medium or long hair and it suits every occasion.
Ideal occasion: Wedding, Engagement, Cocktail, Haldi and Reception.
Accessories: Decorate your fishtail braid with tiny flowers, beads, Gajra or ferns.
8. Twisted Open locks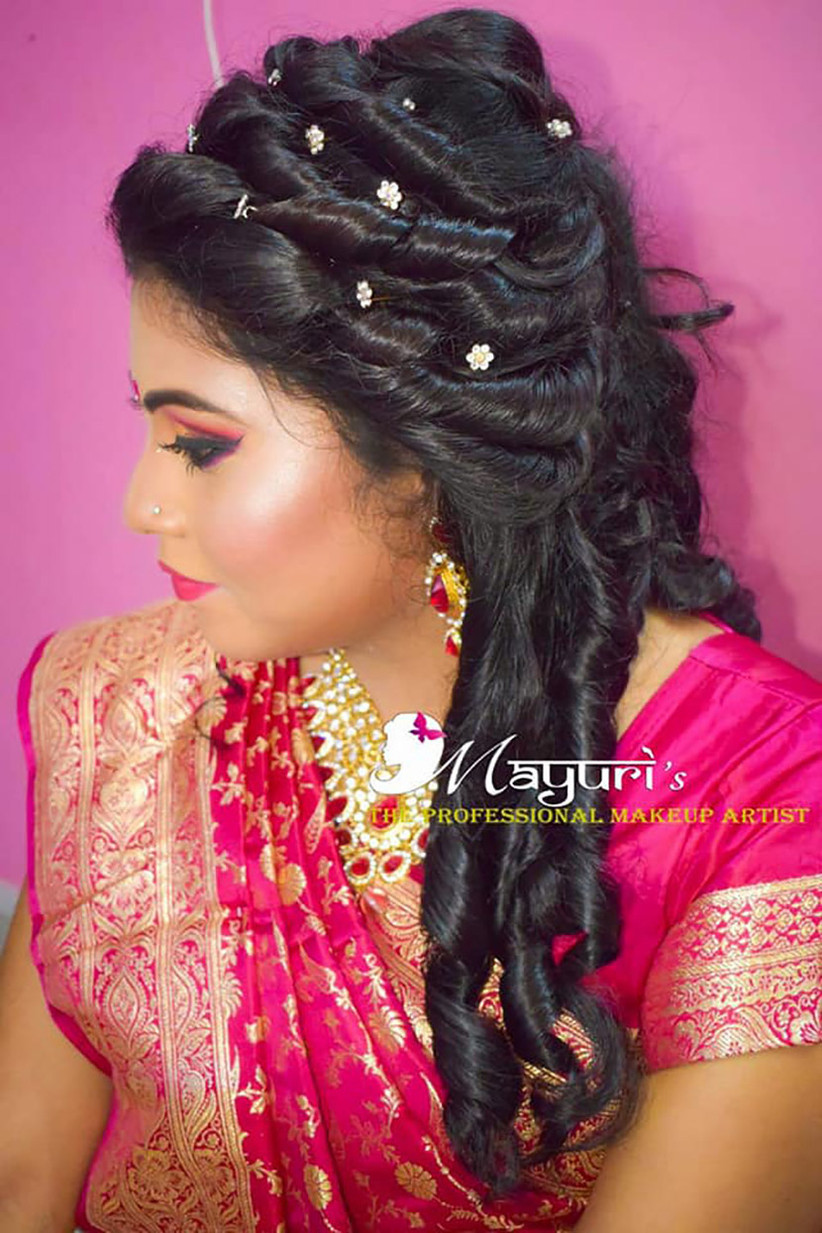 One of the easiest Bengali bridal hairstyle ideas is to get this particular open hairdo. Make equal ropes of your hair and twist them up. Roll up a section of those twisted locks and pun them up in style at the side front. Leave the rest of your twisted locks open. You can puff up a little bit of your hair above your head.
Ideal occasion: Engagement, Cocktail and Reception.
Accessories: Decorate only the upper part of your head with tiny flowers or beads.
Achieving a perfect hairstyle that matches with your bridal outfit, your kind of hair and your face is the ideal dream of every bride. And you can totally make that dream true. Choose any of the Bengali bridal hairstyle ideas we just mentioned and ask your hair stylist to replicate the one you love most. Make sure you know which hairstyle would suit your face the best. Get a trial run before the main event to avoid any hiccups. And get your bridal makeup done right to go perfectly with your stunning hairstyle.
Do you have any favourite among these hairstyles? Let us know through the comment section below.