Looking for the Perfect Wedding Lehenga With Price? We've Got You Covered!
Every bride wants to look her gorgeous best on her wedding day and for that to happen she needs to find the perfect outfit. If you are going to be a bride soon, then your search for the perfect wedding Lehenga with price ends here.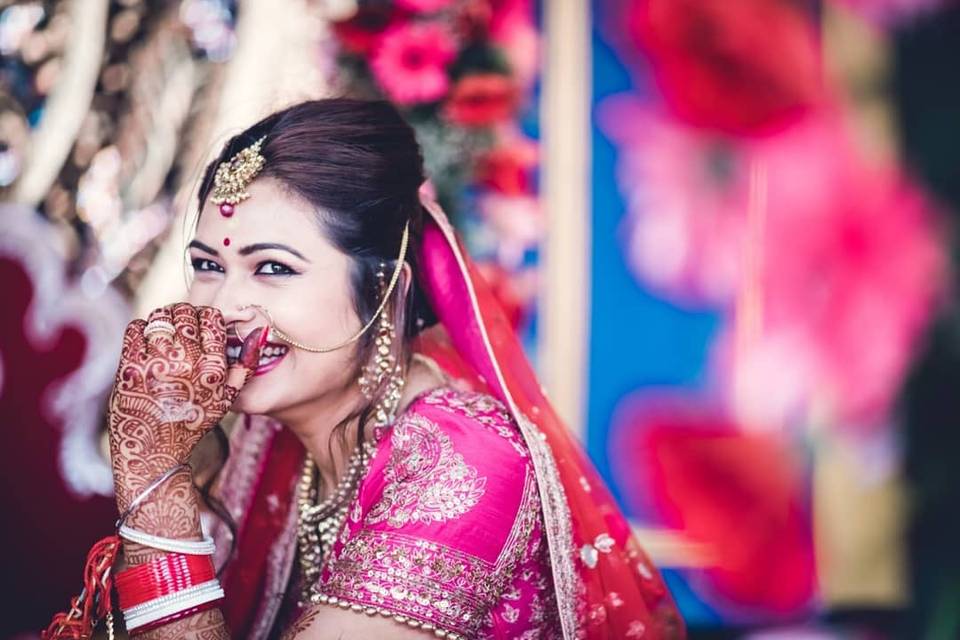 Most of us, if not all, might remember that iconic Alia Bhatt dialogue from Humpty Sharma Ki Dulhania where she tells her family, "Main shaadi karungi toh Kareena wala designer lehenga pehenkar..." Well, while most brides out there might not be so specific and such Bollywood fanatics when deciding their wedding outfit, one thing that remains the same throughout all brides is their excitement for their wedding Lehenga.
Ever since we are little girls, we look at brides in reel and real life and try to draw some inspiration from their looks for our big day. There are things we like and other things that we completely want to steer clear off, and all these years of thoughts and planning go into picking just the right outfit for our wedding day. If you are going to get married soon, then we are sure you can understand what we are talking about. Your Google search history must be full of searches like 'wedding Lehenga designs' and 'wedding Lehenga with price', right?
Searching for wedding Lehenga with price is super easy, but actually picking the perfect wedding Lehenga is no easy task. It's difficult to decide on a budget, firstly. Then when that is done, you have to narrow down to designers and stores you want to visit and after that becomes the actual task of visiting the stores and beginning the search for your most special outfit. Since we know what a task this can be, we decided to make it a little simple for you.
Here we have a list of some Lehenga designs with their prices which will help you in making a decision. If you are looking for wedding Lehenga with price then well, look no further. Your perfect wedding Lehenga with price might be in this list itself. If not, it will definitely give you a fair idea of the prices and designs of wedding Lehengas available in the market these days and maybe some inspiration too. So, here goes.
1. Sabyasachi Mukherjee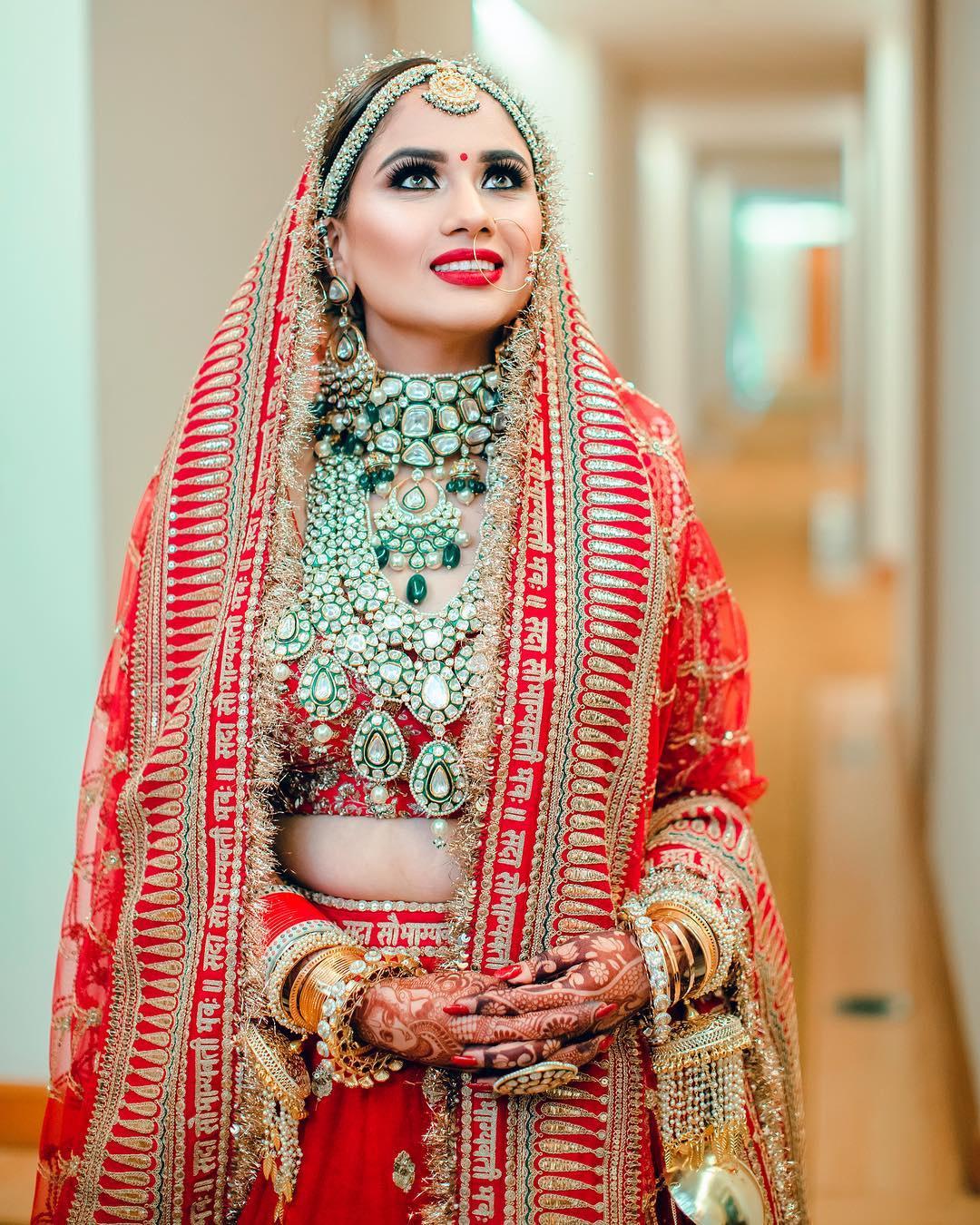 He is the master of the Art when it comes to designing gorgeously breath-taking wedding Lehengas - Sabyasachi Mukherjee or Sabya as he is more commonly known as. His designs are loved even by celebrity brides and most Bollywood actresses including Anushka Sharma and Deepika Padukone wore his designs on their big day. This gorgeous red Lehenga was worn by Deepika Padukone during her Sindhi wedding with Ranveer Singh. It has intricate embroidery and heavy embellishments on it and is totally fit for a royal bride.
Price: ₹12,00,000
2. Anita Dongre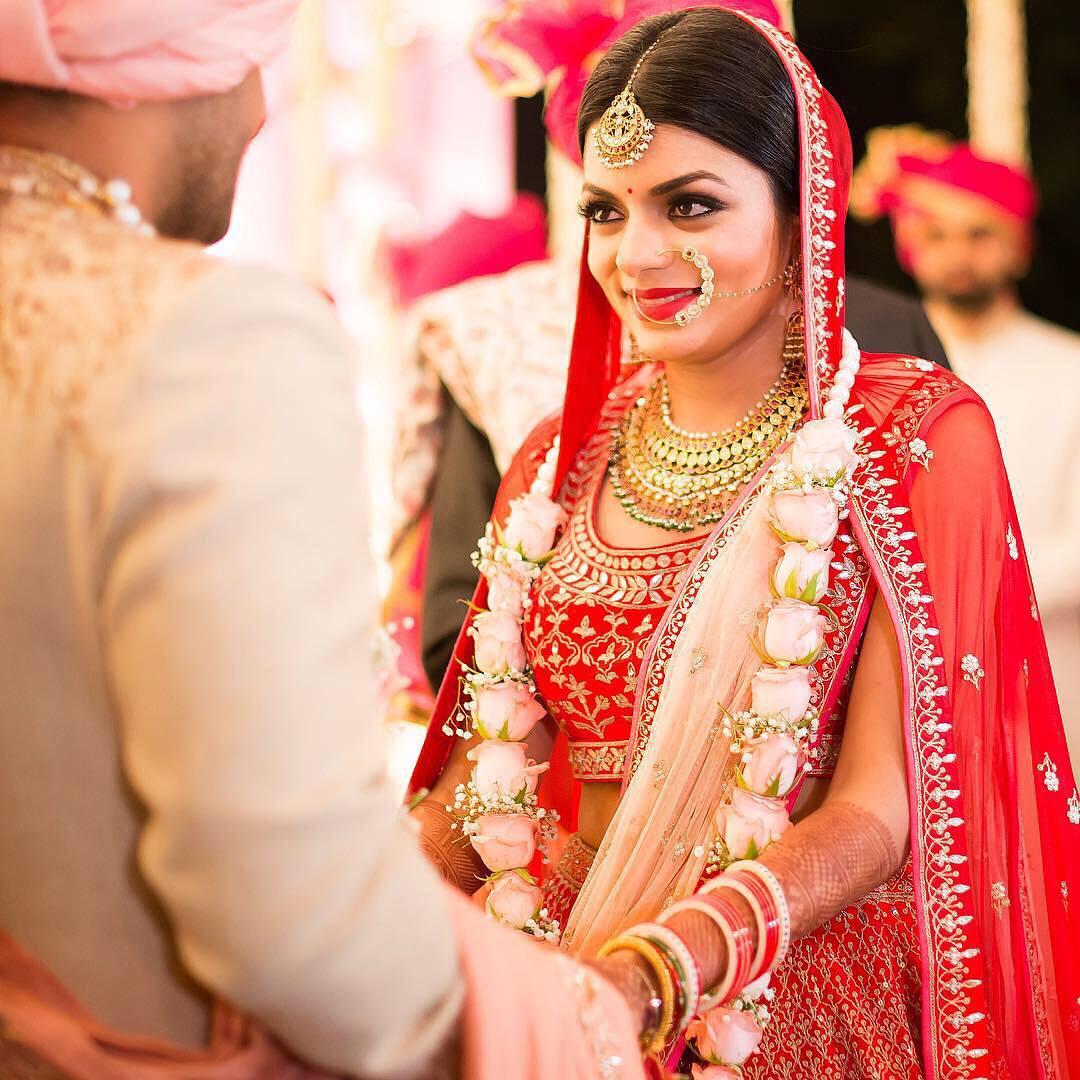 Anita Dongre is another pro designer who knows how to capture the essence of a bride into an outfit. Her designs are not at all over-the-top, but they are still intricate and classy. She works with embroidery and embellishments and her Lehenga designs are a treat to the eyes. We have wedding Lehenga with price for you here, worn by a real bride who looks like a doll. Red really is the traditional colour of Indian weddings, isn't it!
Price: ₹2,85,000
3. Tarun Tahiliani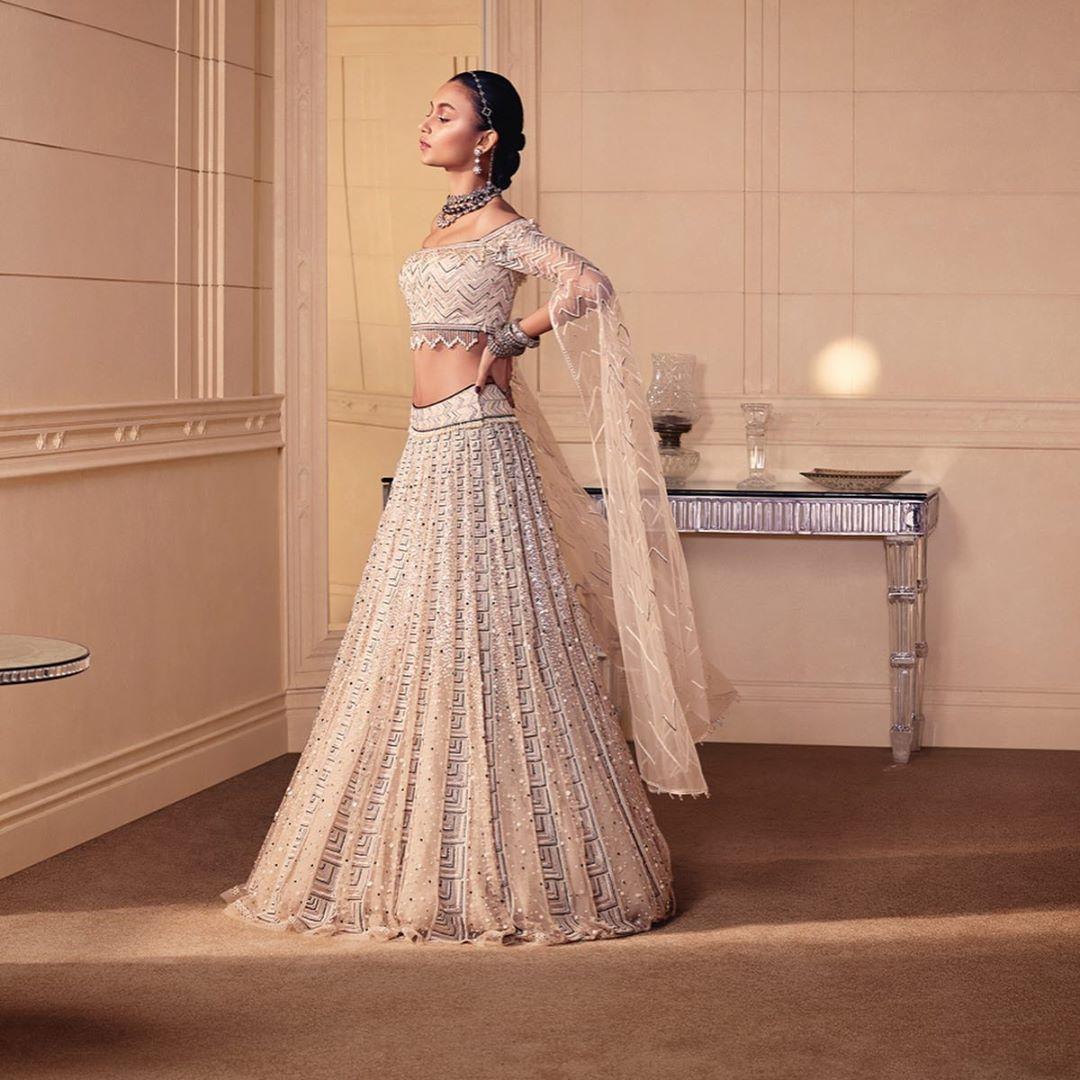 Tarun Tahiliani's designs have a certain edge to them. They are not your typical floral motifs and paisley patterns. They are unique and stunning in a very different way. So if you are a quirky bride who wants to pick something totally unique for her big day, then you must check out this wedding Lehenga with price. It has a pretty checkered design and will look awesome with that sexy off-shoulder blouse.
Price: ₹2,49,000
4. Anushree Reddy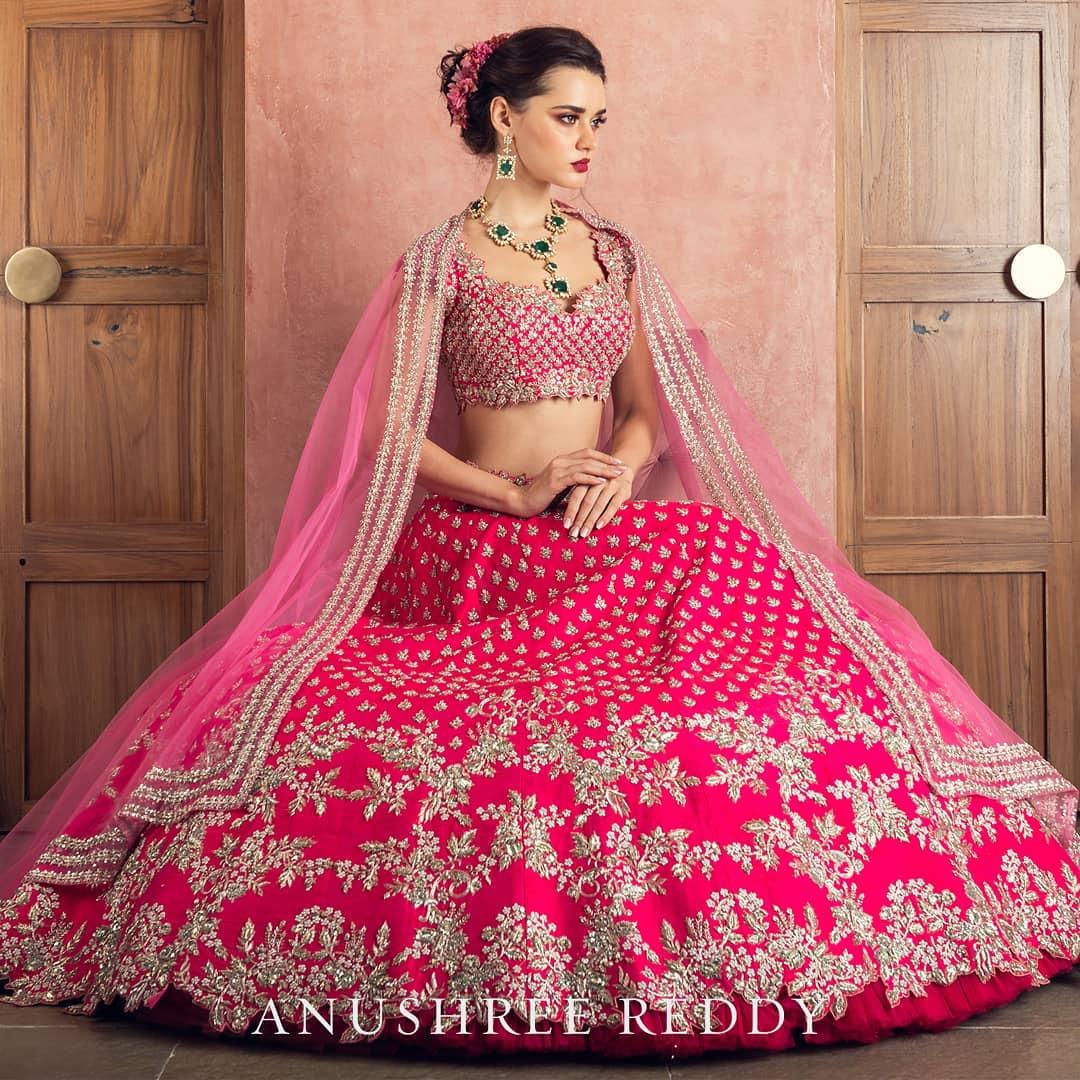 Anushree Reddy is known for her bright and beautiful Lehenga designs and this wedding Lehenga with price is a perfect example of that. If you do not want to wear a red Lehenga on your big day but still stick to that family of colours then this pretty Lehenga is what you should go for. It is heavily embellished and has a very pretty flare.
Price: ₹2,59,000
5. Astha Narang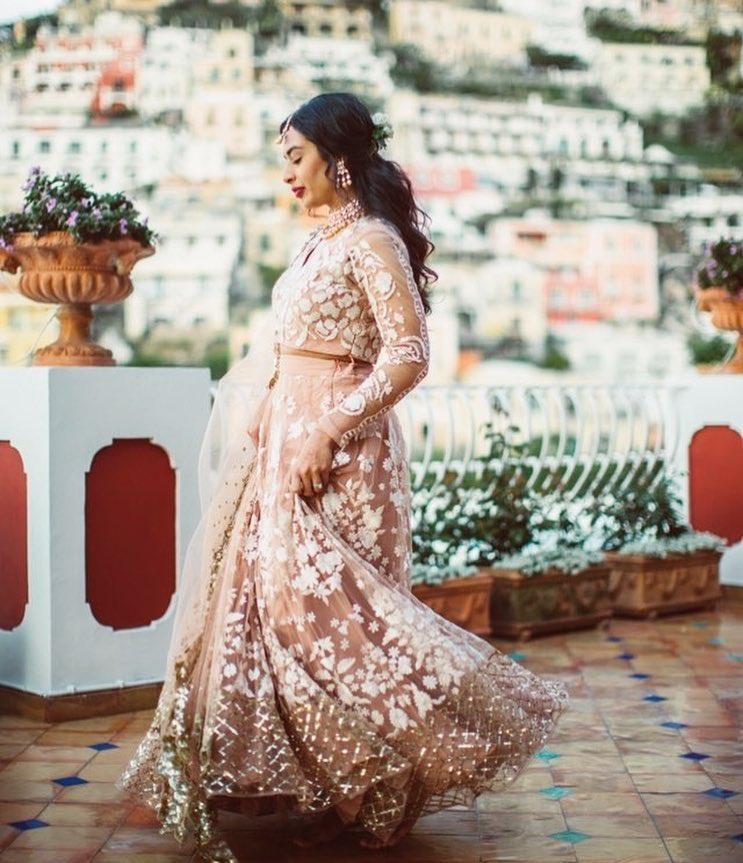 Astha Narang is an up and coming designer who has some really fresh and unique designs in her kitty. In Astha's collection, you will find some regular designs and some very unique designs like this wedding Lehenga with price we have here. It is stunning ivory coloured Lehenga with floral detailing and a stunning Jaal pattern.
Price: ₹48,000
P.S. All the prices mentioned above are subject to change according to your customisations. These were a few wedding Lehenga with price options that we found. They cover almost all budget groups but if you want to check out some more stores that you can visit, then read on.
Some more stores to check out in Delhi
Delhi is a hub for wedding shopping and this is no secret. Markets like Chandni Chowk and Lajpat Nagar are regularly raided by brides-to-be looking for their perfect wedding outfits. While there are a number of stores all over Delhi where you can find that dream wedding Lehenga of yours, these stores in Chandni Chowk are a must visit.
6. Om Prakash Jawahar Lal aka OPJL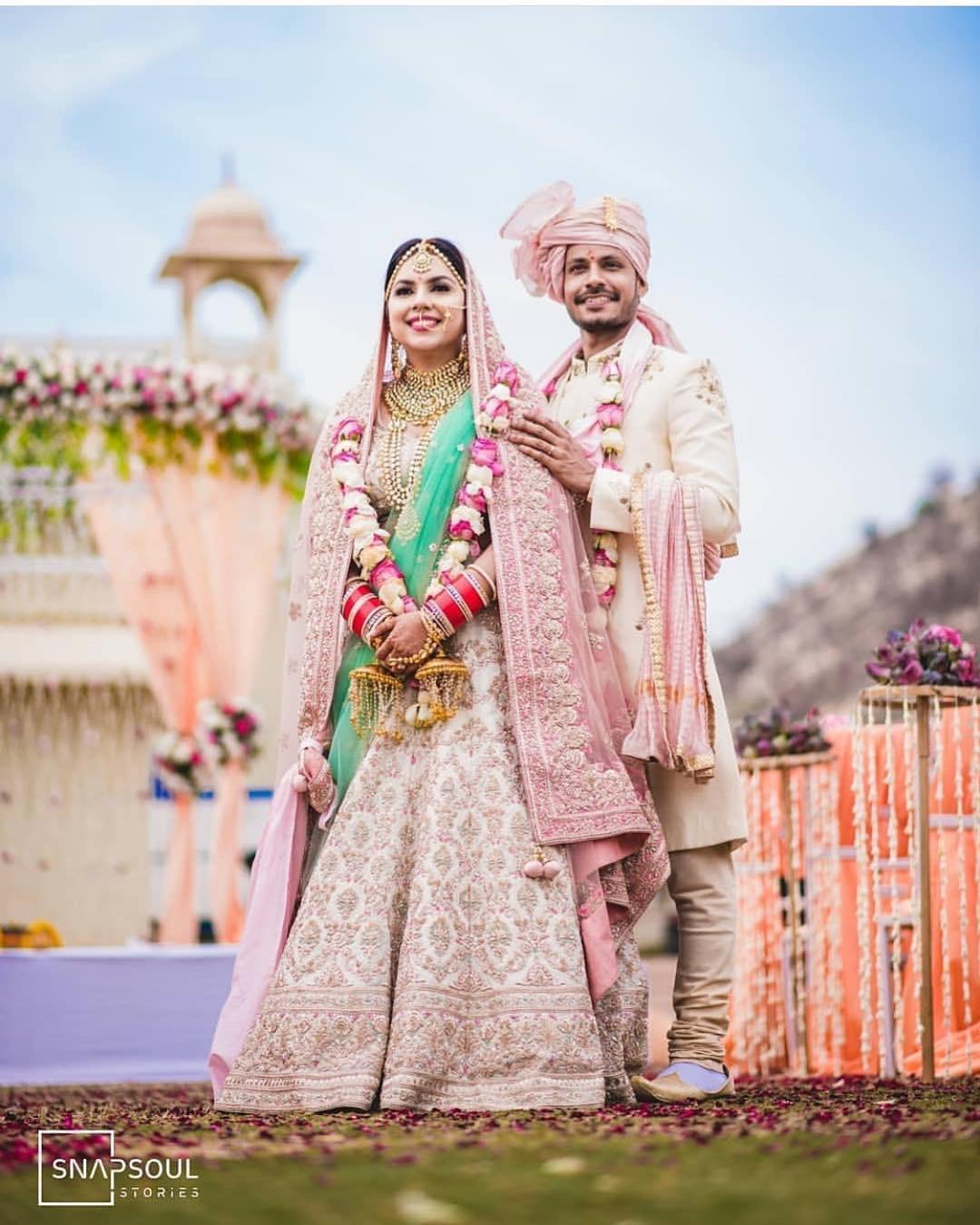 This is one of the oldest wedding apparel stores in Delhi and is revered in the true sense of the word. Over the years, it has turned into a premium wedding outfit store and thus the prices are quite high as compared to other stores in Chandni Chowk, but with higher prices come better quality and stunning designs. So, if you are ready to shell out a decent sum of money on your wedding Lehenga, OPJL is a must visit. While we do not have one wedding Lehenga with price to show you, we can assure you that you will find a lot of great designs.
Price range: ₹50,000 and upwards
7. Asiana Couture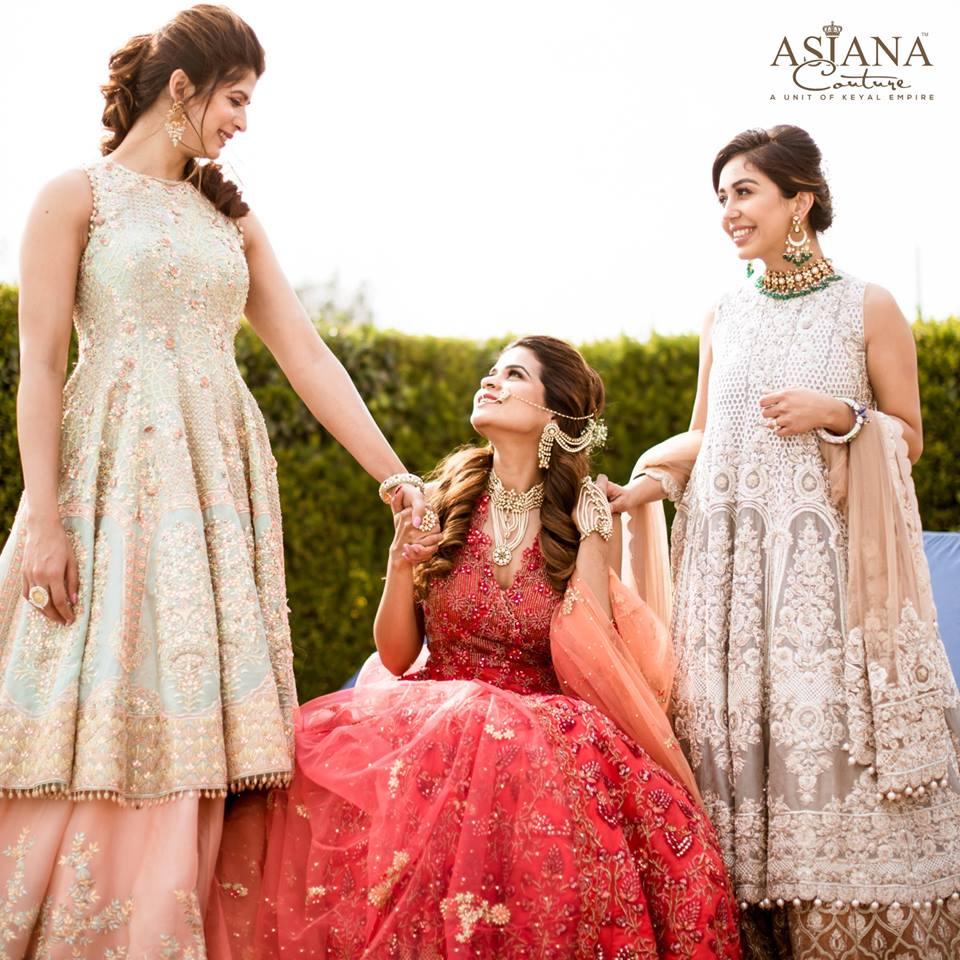 Asiana Couture is another much sought after wedding outfit store in Chandni Chowk, Delhi. It is fairly new but has created quite a fan base for itself. You can find some really modern and unique designs here as well as the traditional ones. It is advisable to take an appointment before visiting this store because it gets a lot of people on a daily basis, thus making it difficult for the staff to give you undivided attention if you go without prior appointment.
Price range: ₹50,000 and upwards
8. Surya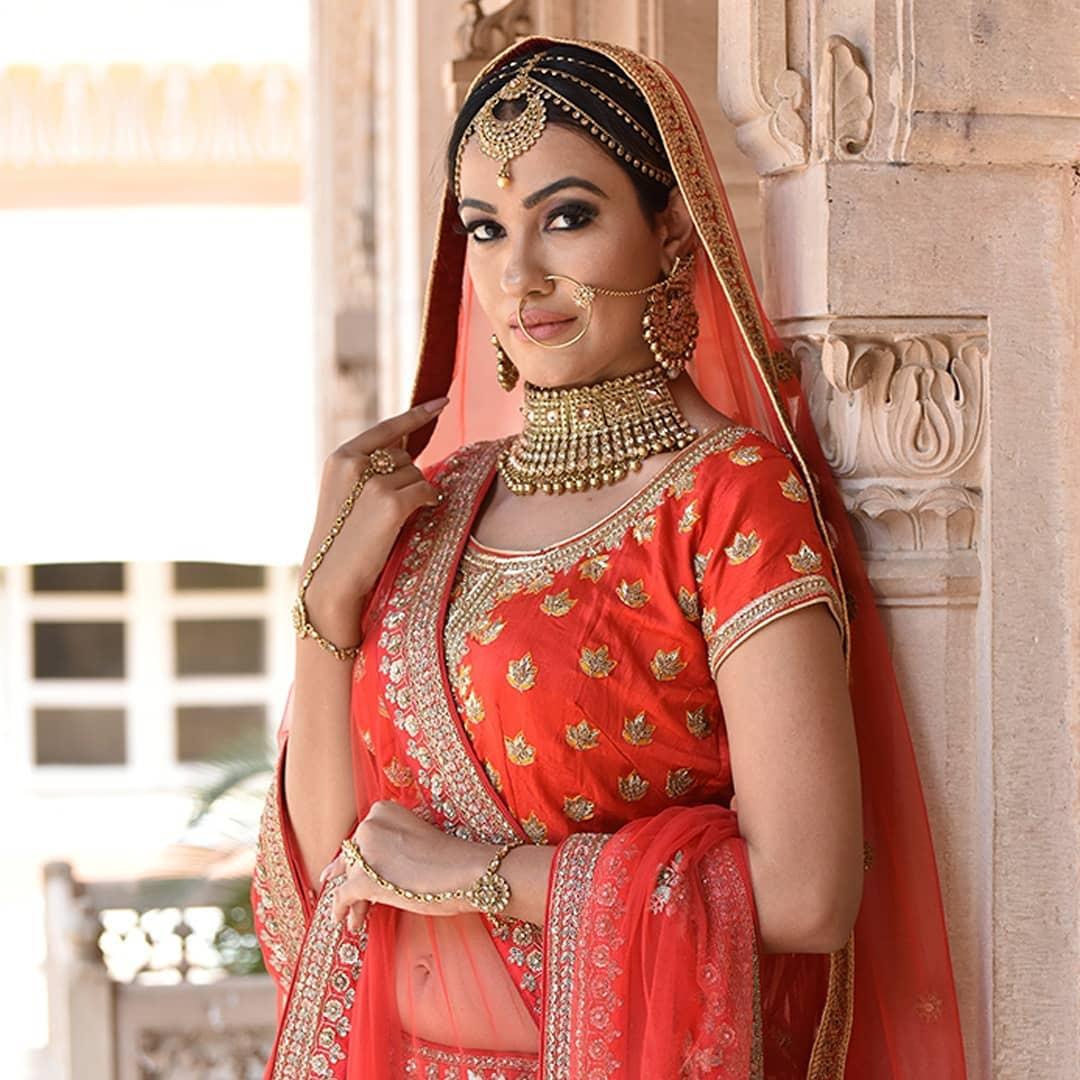 Image Courtesy: Surya Sarees
This is a true hidden gem and in the truest form of the word. Surya is a huge multi-floor showroom located in Maliwara, Chandni Chowk. A very narrow bylane takes you to the store which is a treasure chest of some gorgeous outfits. They have everything from wedding Lehengas to sarees to suits and even kurtas. And the best part, you ask? They sell all their outfits at wholesale prices. We are not kidding! If you are lucky, you'll be able to find a light Lehenga for your pre-wedding function for about ₹15,000. Coming to wedding Lehenga with price, their designs start at ₹35,000 and can go up to ₹2,00,000, or even higher depending on your customisations.
Price range: ₹35,000 and upwards
These three stores are absolute must-visits when you're on a wedding shopping spree. Even if you have already bought your wedding Lehenga, you can always check out these stores for your pre-wedding or post-wedding outfits. We hope these tips will help you find your perfect wedding Lehenga. Which of these options of wedding Lehenga with price did you like best?
Are you more inclined towards buying a designer Lehenga for your big day or do you just want something gorgeous, irrespective of where you buy it from? Do let us know your views in the comments section.