After selecting the design of the wedding invitation, every couple has to go through the complicated task of deciding on how they would like to present the wording of their invite. After all, the choice should not only reflect the personal style but should set the tone for the big day as well. If you are unsure from where to begin, we share with you some wedding invitation wording samples that will help you get started. Choose what complements the style, situation, and the spirit of your event.
1. Wedding Invitation Wording Samples for Friends
When it comes to sending out wedding invitations to your closest friends, it's a little different. Isn't it? You can consider sending them a more casually worded or even a funny invite. For instance:
"Free food, free drinks, a huge cake, live music and a dance floor...need we say more? Come join us for the biggest party of the century!"
"You were there whenever we took a big step. But this time, you get to dress well too! Come, be a part of this grand celebration, like you always have been in every other party."
Whether you plan to send your friends an e-invite or get an entirely different set of invites printed for them, these wedding invitation wording ideas will help you pen it right.
2. Muslim Wedding Invitation Wordings
Although not mandatory, it is a common practice that all Muslim wedding invitations begin with the name of Allah. For example:
"In the name of Allah, the most beneficial and merciful
Mr Syed Mohd. Rashid and Mrs Zareena Rashid
Cordially request the company of (Invitee's name) and family
To grace the joyous occasion of the wedding reception of
Their daughter
Kulsum
With
Zunaid
Son of Mr and Mrs Kazi Nazrul Aslam
DATE:
VENUE:
TIME:"
3. Traditional Marathi Wedding Card Wordings
A Marathi wedding invitation card usually begins with a prayer or an invocation to the family deity. Take a look at the sample given below:
"Gajanan Prasann"
By the grace of our Kulswamy
We invite you to the
Holy Matrimony of
Preetha
(The only D/o Mr. Deepak Sawant & Mrs. Swapna Sawant)
And
Vinayak
(Eldest S/o Mr. Somnath Gawde & Mrs. Debi Gawde)
Date:
Time:
Venue:
Please accept this card as a personal invitation.
4. Wedding Invitation Working Samples for the Comic-Con Couples
Don't want to go the traditional way? How about reflecting your favourite films or shows in your wedding invite? For instance, if you are a fan of Game of Thrones pick a character or a house you love the most and design your invite around it. Don't forget to incorporate a quotation or two from the show. Did we just spark an idea?
5. Bengali Wedding Invitation Wordings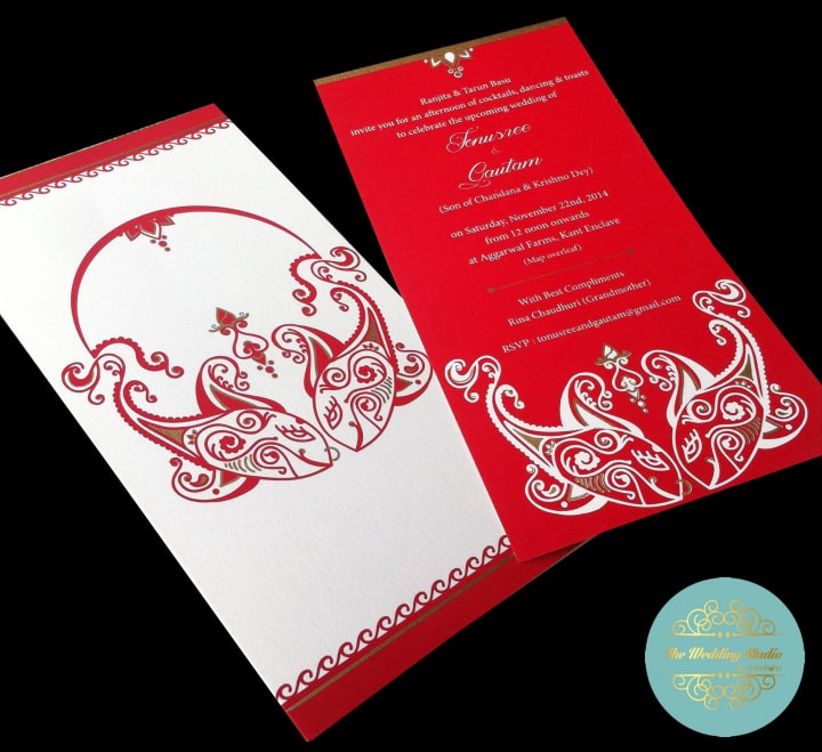 Usually, a Bengali wedding invite is written in both Bengali and English. We share with you an example of a traditional Bong invite.
Traditional:
"Om Prajapataye Namah
"Beauty is the harmony realized in the things which are bound by law. Love is the harmony in wills which are free."- Tagore
By the grace of God
You are all cordially invited to the
Wedding ceremony of our only daughter
Sudeshna
With
Ayan
Only S/o Mrs & Mr Biren Majumdar
Date:
Time:
Venue:
If you would like to add a fun and a creative touch to your invitation, these ideas will help you frame a Bengali wedding invite with a twist.
6. South Indian Wedding Invitation Wordings
One thing that makes a South Indian wedding invitation card different than others is the inclusion of educational qualifications of both the bride and the groom. So if you hail from Tamil Nadu consider mentioning your entire qualification and the name of the college you graduated from. What's more? Check out these conventional elements that are a must for a South Indian wedding invite.
7. Funny Wedding Invitations Wording Ideas
We can't agree enough that normal is boring. If you want to give your guests a tickle, try some humorous wordings like these:
"Love for food - Use your love for food as your invitation theme. Frame your invitation wording using food analogies:
"I was a chill vanilla; she was the hot chocolate fudge-
A known recipe for the world's best dessert!
Please join us to celebrate love for each other (and food!)"
Date
Venue
Time"
Looks like your cup of tea? Here are some more funny wedding invitation wording samples for you.
In the end no matter what you choose, just make sure that the wording of your wedding invitation card should correspond with the formality and the style of your occasion.
Get in touch with the top wedding invitation card vendors in your area to get started.