Wedding Invitation Wording for Friends From Bride and Groom - Your 'how to' Guide on Drafting the Invites
When it comes to cards that have wedding invitation wording for friends from bride and groom, you might get confused with the variety of creative and funky ideas out there. Sail smoothly with these inspirations and key pointers.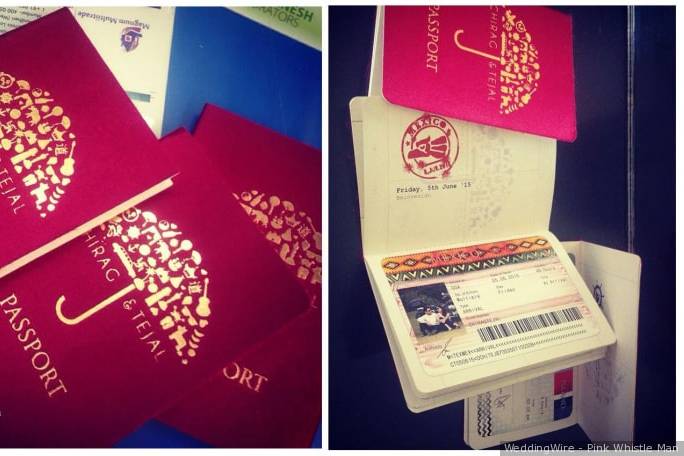 The wedding invitation wording for friends from bride and groom should be fun and casual. After all, with most of the other guests, you have to be formal and that's fine. But with friends, especially the close and common ones, the invites do not have to be limited. We share with you some informal wedding invitation wording ideas that will help you pick the right words for the gang.
What to Write in Your Invite for Common Friends?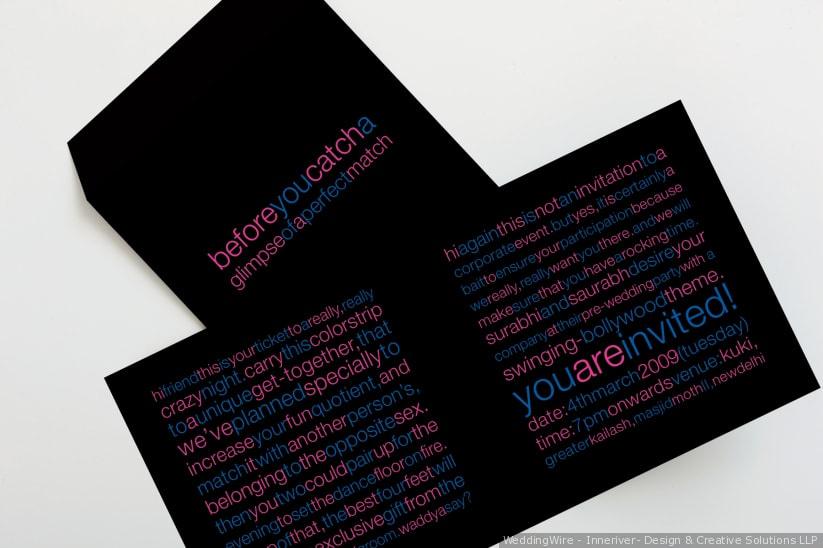 Image Courtesy: Inneriver Design and Creative Solutions LLP
For friends, wordings like "request the pleasure of your company" and "cordially invite you to" sounds a little on the formal side. For a more relaxed tone, consider including the following:
"invite you to celebrate the wedding of"
"join us as we take the plunge"
"invite you to join us as we get hitched"
"join us as we take our first fledgeling steps into our new life"
"we cherish the roles you play in our lives and would love you to join us"
"Your love and friendship have helped us become who we are. Together with our parents, we invite you"
Basic Details

Whether formal or informal, there are some basic details that must be included in every type of wedding invitation. We point them to you:
Name of the bride and groom
As obvious as it may sound, the name of the bride and the groom is the most basic thing to include. The only difference is that for formal invitations you may want to start it with the names of those sending the invite, traditionally the parent's of the bride or the groom but for common friends, you can keep the format relaxed and begin the invitation with the names of the bride and groom. Just make sure to include the full names either on the invitation or on the envelope so that your friends don't get confused.
The venue details
Friends or not, guests need to know about the location. So, make sure that your wedding invitation includes the venue details. You don't necessarily have to include the complete address on the invite, but at least include the name of the venue and the city especially for outstation friends. Also, if there are pre and post-wedding functions at a separate location, don't forget to mention.
The date and the time
Include the date and the start time of the ceremony. Also for RSVP include the name and numbers of both the bride and the groom in case of common friends.
Wedding Invitation Designs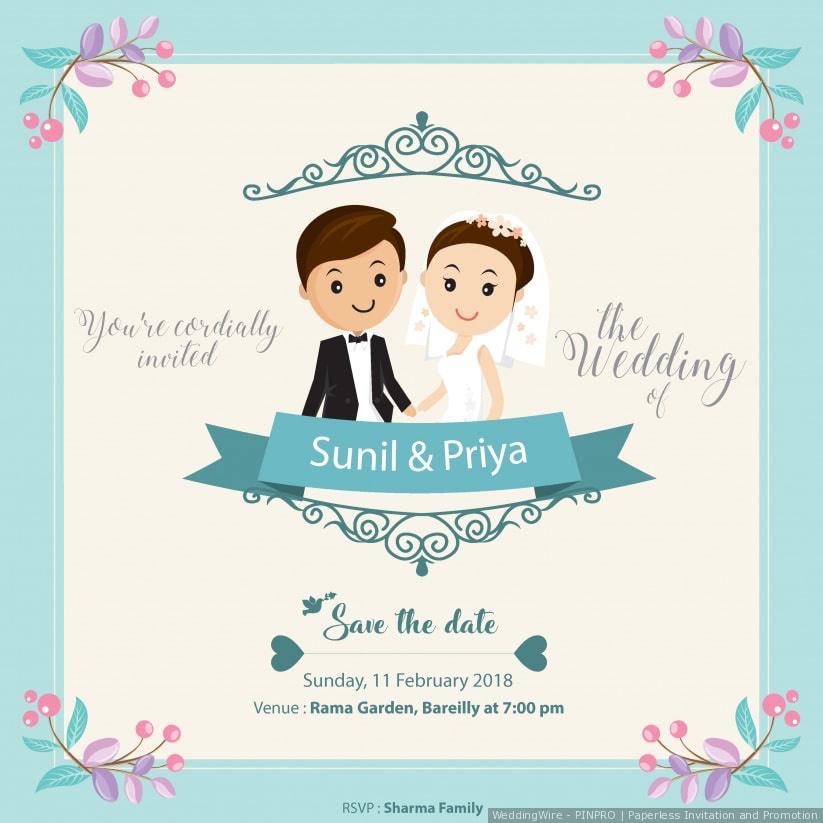 When it comes to wedding invitations especially for friends, choose the one that compliments your style. To get your creative juices flowing, we share some design ideas on wedding invitation wording for friends from bride and groom.
Include your story
Your friends may or may not know about your love story. Include a picture or two in your invite to give them a glimpse of your fairytale. This type of invite is perfect for those common friends who have a role to play in your love life.
Base it on your favourite movie
Are you both a Bollywood fan? Then why not style your wedding invitation card based on your favourite movie?
Tradition wedding invitation
No matter what, you cannot go wrong with a classic Indian wedding invitation. The design of the invite can be kept traditional, and the tone of wedding invitation wording to invite friends from bride and groom can be casual.
Electronic Invitations vs Printed Invitations
To help you make a better choice, we have weighed out the benefits of both e-invites and printed invites. Have a browse and take your pick!
Benefits of digital invites:
Its budget friendly: If you don't have deep pockets, this is one area which can really help you cut costs.
It's eco-friendly: Without a doubt, electronic invites are better for the environment. You can get your message out to the people without causing any harm to the Mother Earth.
RSVP is a breeze: To save yourself a massive headache, simply include an RSVP link for your guests to click on and confirm their arrival.
Benefits of printed invites:
Everybody may not be on social media: No matter what a traditional invitation is still the best way to reach everyone as all your friends may not necessarily be on Whatsapp or Facebook but for sure will have a physical address.
A cherished memory: Wedding invitations aren't just of the guests. If you like to preserve memories, you can get the physical invite framed to remember the milestone in your love story.
Overall, the wedding invitation wording for friends from bride and groom should be such that it should give them an idea as to what to expect at the ceremony. The design and tone can be casual and informal.
What else do you think should be included in the wedding invitation for friends from bride and groom? Tell us in the comments.