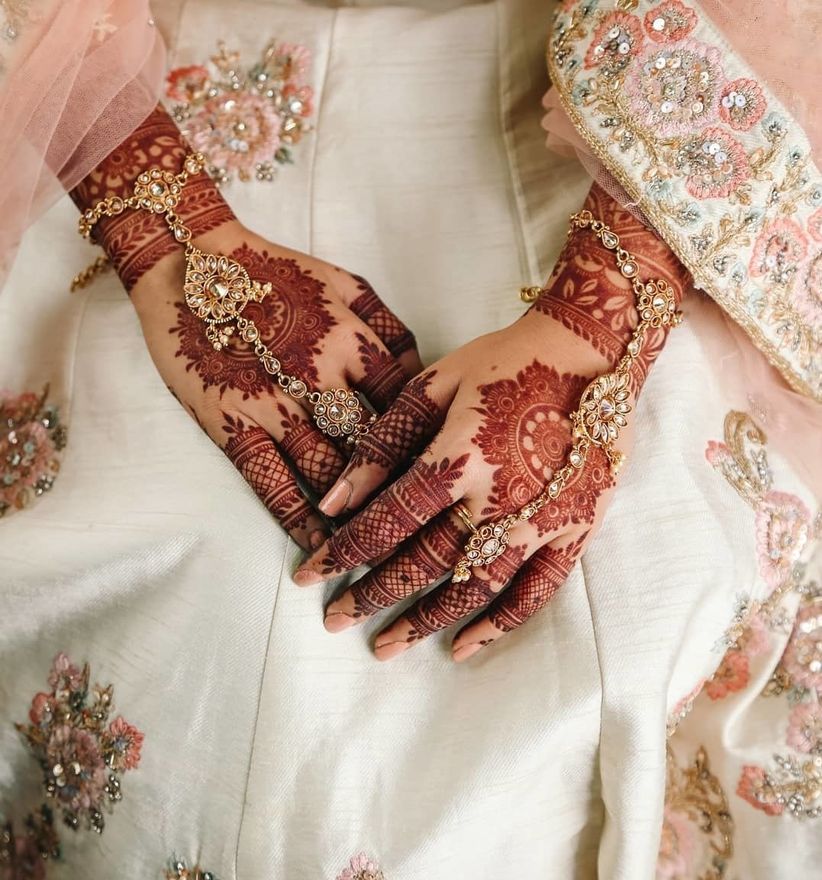 Image Courtesy: Mehndi By Hayat
Still, haven't narrowed down on your top favourite mehndi designs for your upcoming wedding celebrations? We are here to help you get ready for your big day with the correct dose of inspiration. If you are a minimalist at heart, and need simple mehndi designs and Arabic Mehndi patterns to slay your elegant bridal look, worry not! We are here to cheer you up with top simple mehndi designs in hand to your kill your wedding look. Intricate designs will of course take time, but for those of you who would rather spend that time elsewhere, here are some simple mehndi designs that won't take much time yet look great on your hands.
So, read our take on simple mehndi designs and get inspired to look like a million bucks on your big day or that of your BFF's wedding. Get ready for your own celebrations or that of your BFF's function and get one of these stunning simple mehndi design in hand to look as gorgeous as possible!
The mehndi function has evolved from being a sombre family affair to being one of the most fun event of an Indian wedding. Even if some guests miss the main wedding, they don't want to miss the mehndi ceremony, especially if it's planned at a winter afternoon. This is the one function where the environment is casual with a quirky and colourful wedding décor without too much fuss about traditions. The mehndi function also makes for some of the best pictures of a wedding album so it's imperative for the bride to be at the epicentre of all the happiness.
70 Simple Mehndi Designs That Are Romantic, Quirky and Edgy
From the huge variety of mehndi designs that are available on social media from full hand mehndi designs to front hand mehndi designs, we have curated some epic simple mehndi designs that will breathe romance into your big day and make you look like a true vision, in every sense of the word. Read on, bookmark the ones you like and get ready to slay with our edit of simple mehndi designs in hand! Also, while you're at it, don't forget to get some stunning snapshots of these simple mehndi designs which are anything but simple or boring.
These simple mehndi designs have us glued to our screens and we cannot get over how each of these brides and bridesmaids pulled this simple mehndi designs like a boss and completely left everyone floored! So, bring to the fore your creative skills and check out each of these simple mehndi designs until you find out that one design you think has your name written all over it!

Dearest Dulhaniya Simple Mehndi Design for the Win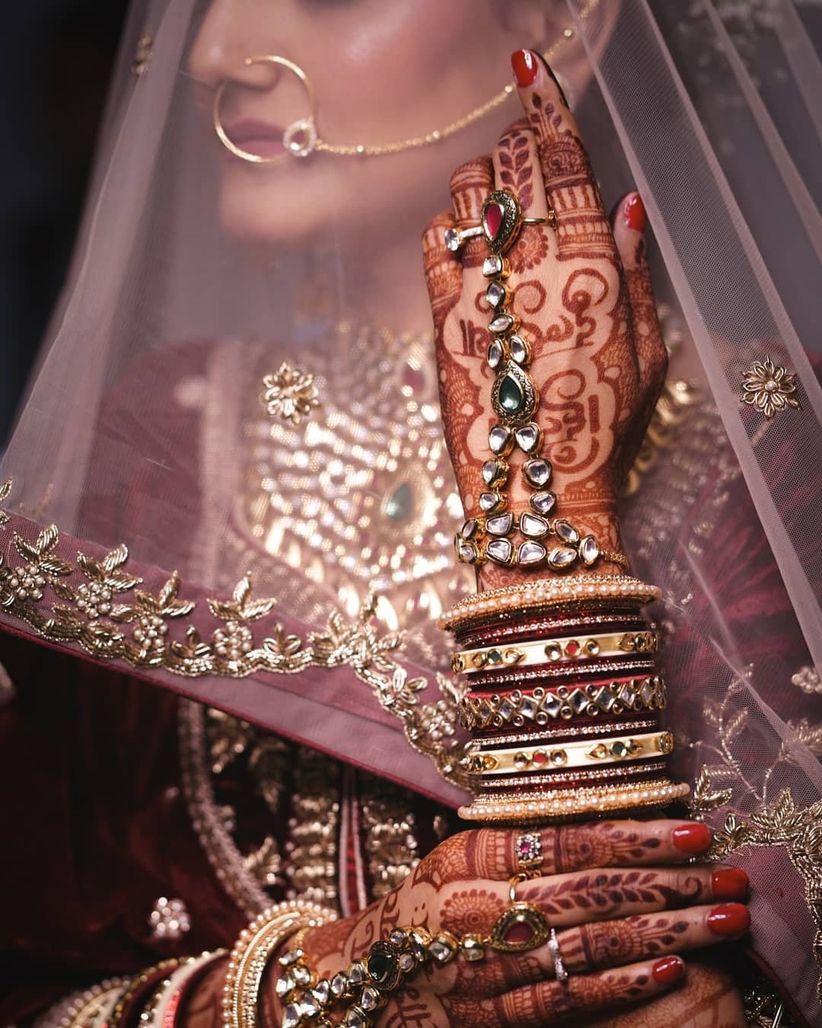 Image Courtesy: Deep_Joshi_Gallery
Looking old school is not always the worst thing, especially when your old school look makes you look like a head turner bride! We are in absolute awe of this real bride's henna design and the Shlokas that sit beautifully on the back of her palm. If you want the scriptures to rule your stars as well as this one, then ladies this is your cue for doing the same with your very own simple mehndi design.
Getting this simple mehndi designs for back hands at your very own Mehndi ceremony would add a rustic and royal charm to your bridal persona and we don't think there is any bride who shies away from that!
Pretty Hearts for the Pretty woman
It is a tradition for Indian brides to get mehndi on their hands and feet but we know that this can take hours and, in some cases, half a day. And if you're a bride who wants to make the most of her wedding, you won't want to be cooped up for so long. These are easy bridal mehndi designs for any professional mehndi artist which will not consume too much time. So, you can conform to tradition while being true to the party girl within you.
Hearts since time immemorial have been related to love and feelings and now that you have decided to tie the knot - getting hearts on your palms as you simple mehndi designs is a spectacular way to show how much you love you spouse-to-be.
Arabic Inspired Simple Mehndi Design for The Artistic Soul
Traditionally, the bride's hands and arms are covered with intricate Indian mehndi designs. If you would rather skip the detailed designs and have something simple yet elegant adorn your hands, here's a pick of simple mehndi design for front hand that we love. A little bit of Arabian magic is all we need to keep our lives and mehndi interesting. The real beauty of an Arabian style inspired mehndi is the bold pattern. The thicker the design the more beautiful it looks when the henna dries off and the hue of red gets reflected. So, if you wish to have palms worth stealing the show, then the Arabian way is your calling
Red + Silver = GOALS = Absolute Love
Isn't there something magical about a simple mehndi design for front hand? And, might we add, this Payal is absolute goals in its own right! If you wish to pose such as this real bride then all you need is a simple design that brings out the beauty of her feet, an ornate set of anklets and a very talented wedding photographer.
From her Pajjeb to her mehndi design to the way she has gotten this picture clicked - we are in absolute awe of everything! Have your chosen photographer get a few candid pictures clicked wherein you are posing with your accessories and your mehndi pattern being the focal element of the shot. Adding a few candid henna design pictures to your treasure trove of memories never hurt anybody.
The Darker the Colour the More Is the Love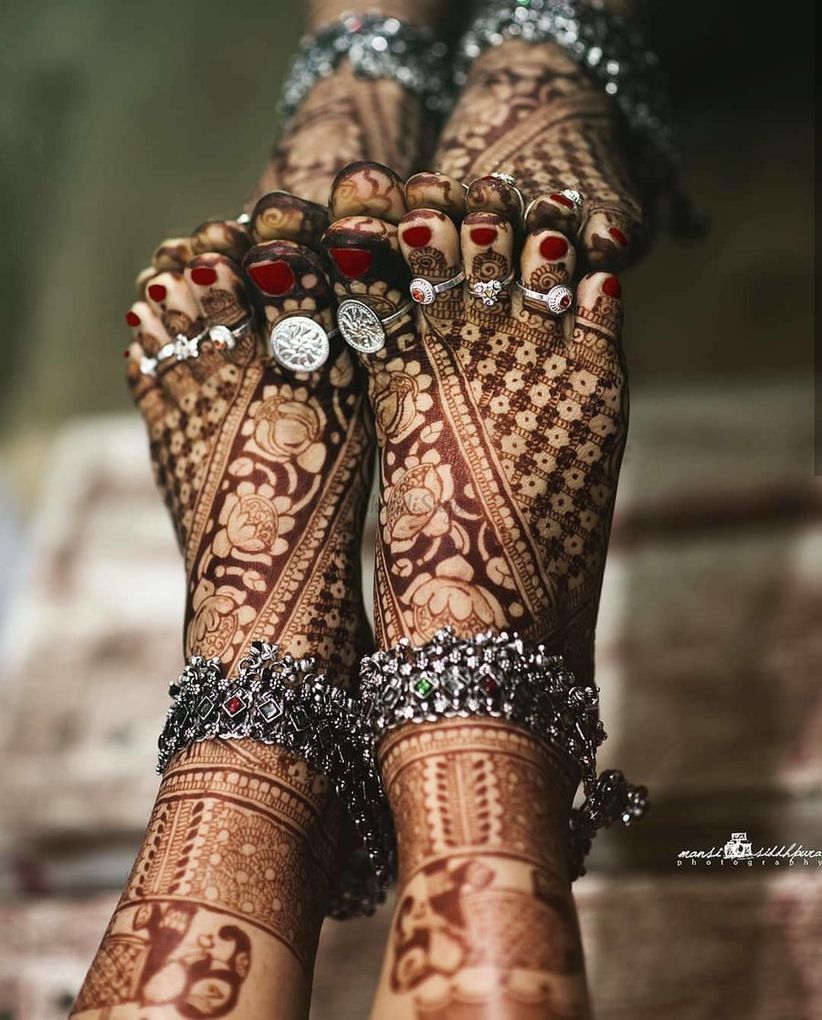 Image Courtesy: Mansi Siddhpura
There is nothing that we don't love about this photograph and the sheer intricacy of design which is at it's best display! Who knew lotus flowers could look so spectacular even as a mehndi design!
If you want your bridal mehndi to be just as dark as this one, then don't forget to apply lemon and sugar mix once your henna is dry! The darker the colour, the more is the love, at least that is what we all have grown up hearing! So, once you get your hands on what happens to be the best henna design for you, spend some time in following some hacks on how to make your henna darker.
From Peacocks to Elephants - Your Own Share of Zootopia and Magic
From florals to twirls to swirls to that cute elephant - this simple mehndi design is legit goals. And, when you have a henna design as stunning as this one, you should take all the time to flaunt it enough! Get your own Zootopia moment to life with this easy and simple mehndi design which features its own pool of cute mammals! Also, if you pay attention to the edges of her feet you will see these cute circular designs which are a different and a unique way of edging out your henna design. You can also play around with different shapes and styles - other than the generic design that most of the brides seem to be adorning these days, trying your hands on something that is less common should be your top most priority.
Minimalistic yet Super Chic for the Win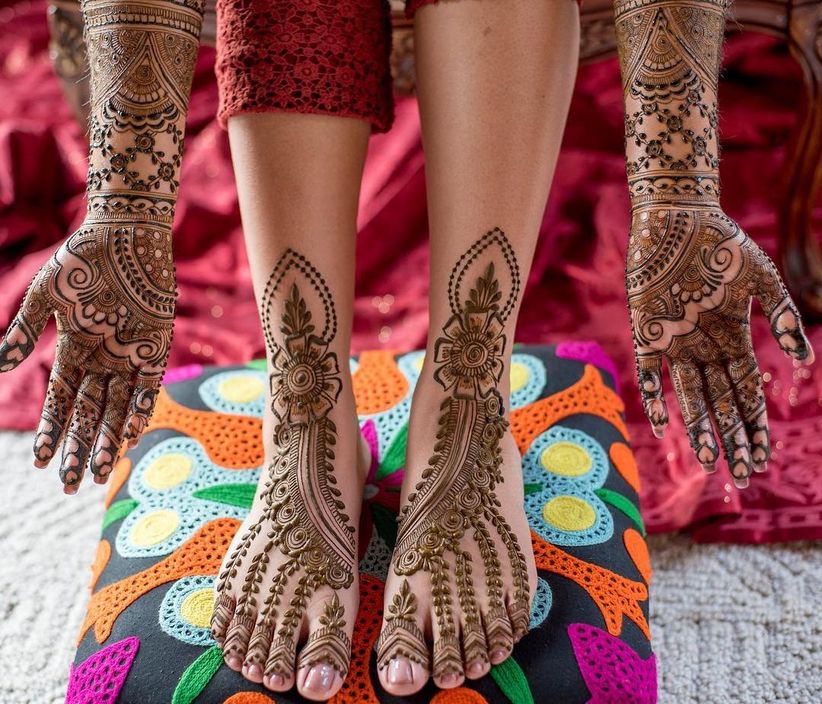 Image Courtesy: Minal Beauty
If you are a woman who is always on the go, then maybe get a mehndi design such as this one. This is minimalist and simplistic in nature and if you are more interested in well-spaced and bold patterns, then ladies this is your cue!
What we really like about this simple mehndi design is the unique take on the quintessential vine pattern. If you want to stand out from the crowd, this is how you do it.
Rosey Petals and Peacocks Crown = Pure Magic
Being quirky yet keeping up with the traditions, this mehndi is the perfect example that sums the thought of traditional meets modern. From rose flower mehndi design to the crown that is designed on her shin, everything is spot on, quite literally! If you want a fuller design and not something that is too minimalistic - then getting something like this would be the ideal choice for you.
This simple mehndi design is intricate without losing in on its charm. So even though the overall pattern is dense, it doesn't take away from the pleasing aesthetic look and feel of the design.
This Simple Mehndi Design is for the Braveheart and You Must Check It Out

Did you notice that cute elephant in reverse mehndi style? We sure did and are literally obsessed with how cute it's looking. If you loved it as much as we did then include this simple mehndi design in your very own bridal mehndi! The cute elephants carrying the umbrella will definitely add to the royal charm. So what Cersei couldn't get her war elephants, you can definitely flaunt yours (wink wink).
A Bit of Mandala Magic You Must Check Out
Try your hands on this minimalistic henna design yet a head turner design. The Mandala in the centre legit looks like a tattoo instead - this is what happens when your mehndi artist has an eye for creativity and details! This simple mehndi design is brought to life by that gorgeous ring on the bride. At first glance, the mehndi and the ring seem to be of the same colour! Boy, did this bride take her matching too seriously! Screenshot this for eternity!
Rose, Lotus & Daisies - Bridal Mehndi That Love at First Sight & More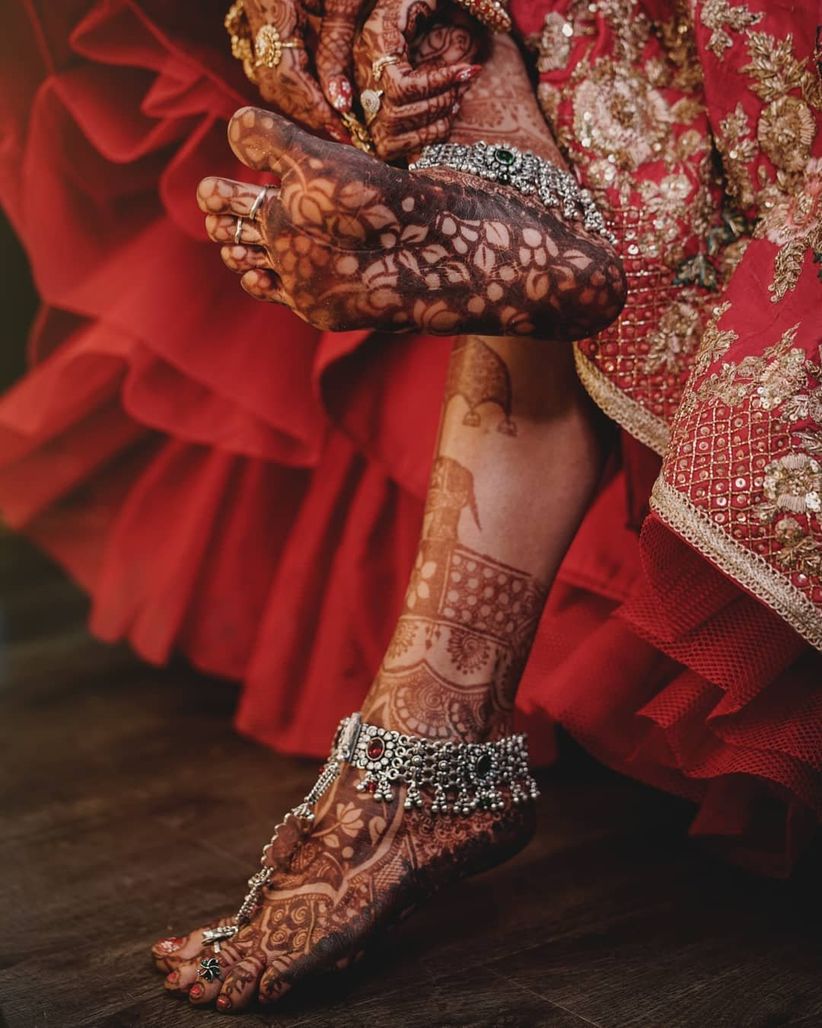 Image Courtesy: Deep_Joshi_Gallery
If at all there is one thing, this design deserves to be captured with just as much creativity by your wedding photographer and wedding videographer as well. Lotus, Rose, and inverted flowers - this is literally SPRING! And a simple mehndi design on the sole of your foot! Well, that is certainly something that you don't see all that often! Kudos to this bride for the sheer patience and will power it must have taken her to sit still long enough to let the mehndi design be formed on her soles. It has paid out beautifully, hasn't it?
Which Is Prettier? the Henna Rose or the Real Rose?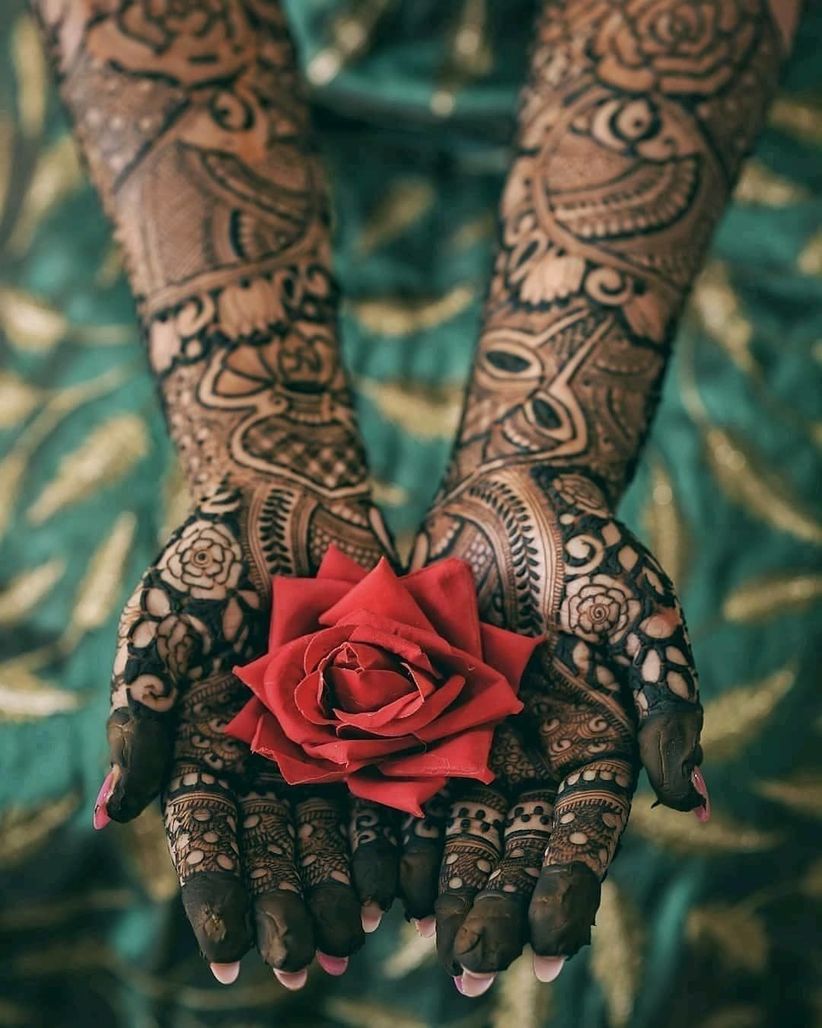 Image Courtesy: Crazie Cancerian
Firstly, we couldn't get enough of the real red rose and secondly that the henna pattern of rose flower is making us go bonkers. So much beauty in one single frame. This simple mehndi design for front hand is beautiful in its own distinctive way, but what is making this #mehndishot truly stunning is the contrast of the real rose with those on the palms of the bride. 10/10 will recommend you to try.
Mandala + Anklet + Floral = Simple Mehndi Designs Goals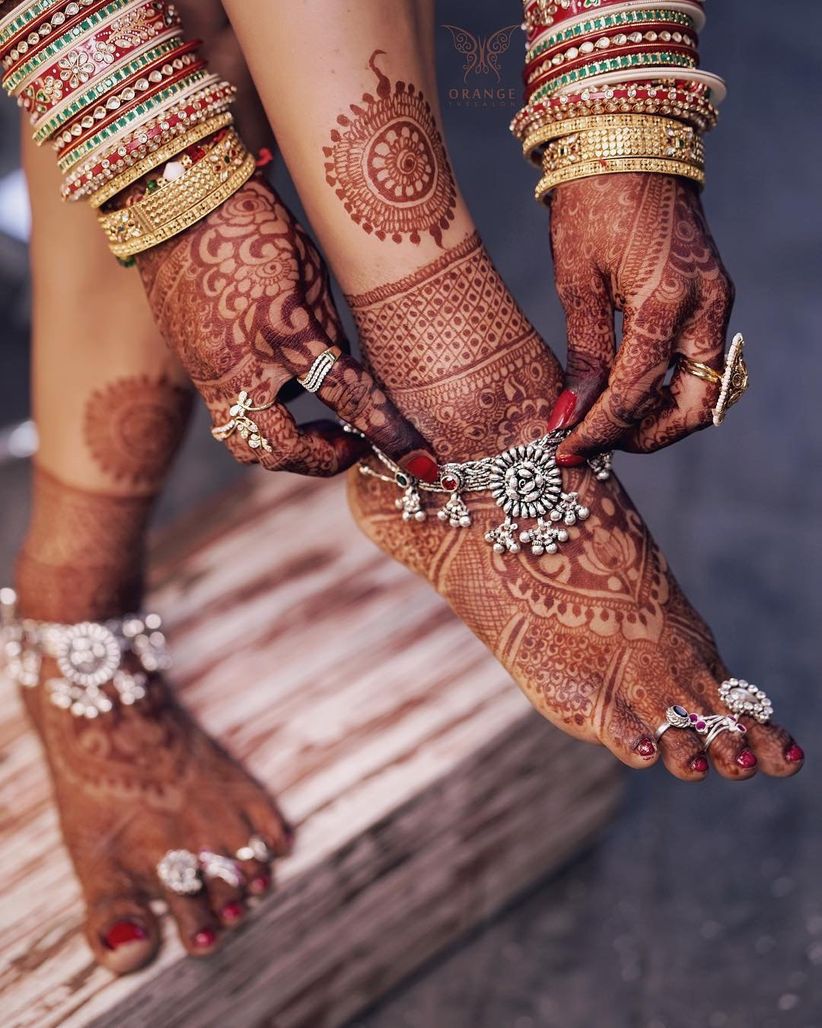 Image Courtesy: Aanal Savaliya
A little reverse mehndi magic - if you want your bridal mehndi to be a mix of floral motif + band style mehndi design + mandala design at the top, then this is the only mehndi design you need to bookmark right away! What we really love about this mehndi design is that it is not that overpowering that it will make the jewellery look awkward. After all, toe rings are important to some of us and it's great that one doesn't have to choose between the two for this shot.
Gulabo - The Mehndi Design Which Left Us Speechless
A little check and mate moment come to life! This simple mehndi design for back hands screams symmetry and if you are a geometric nazi who loves straight lines and motifs, then what are you waiting for? The rose on the right-hand mirrors her gorgeous ring and don't forget to notice the really cute floral manicure that has all our attention.
The Ambi - Details That Left Us Spellbound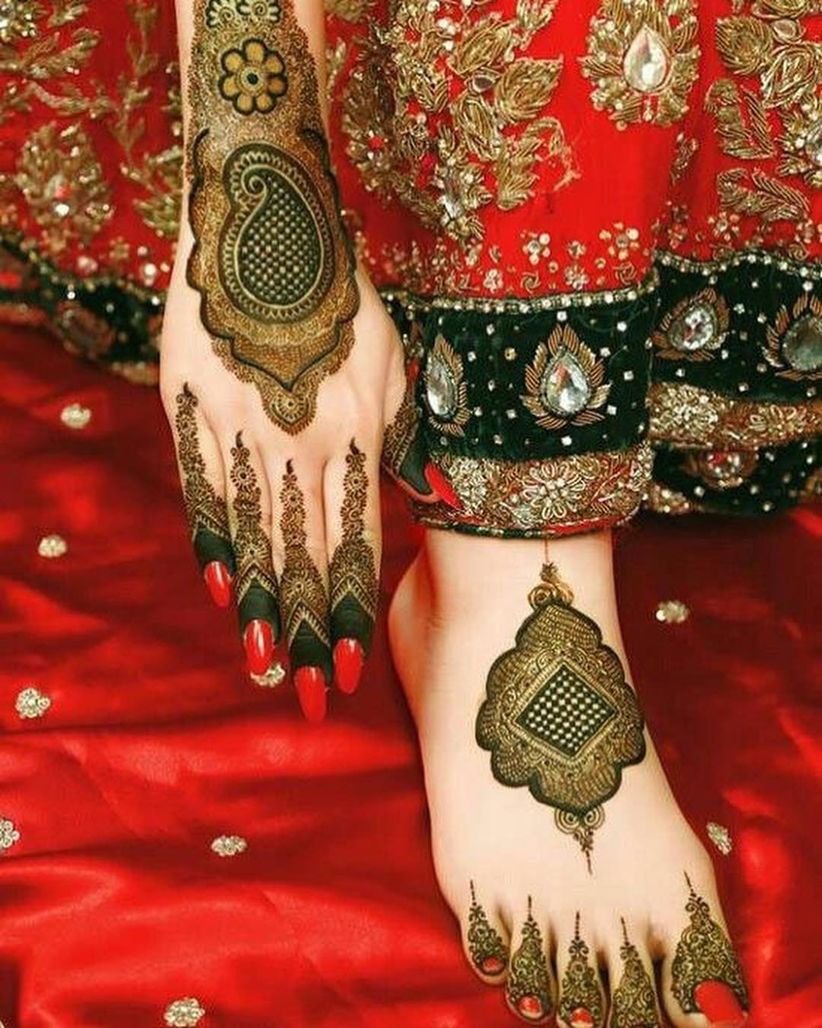 Image Courtesy: Kashees Official
Is it a simple mehndi design for back hands or a tattoo instead? We are confused! This simple mehndi design is so perfect and so precise that we mistook it for being a tattoo instead. Paisley or Ambi is quite a frequently used motif in traditional mehndi design, but instead f the usual swirls and florals this one has been filled out using geometry and the end result is nothing short of magic. Such a chic way of bringing some modern design elements in traditional motifs.
If you want your mehndi design to be anything close to this, then begin your hunt for a mehndi artist right away!
Simple Mehndi Design = Pure Magic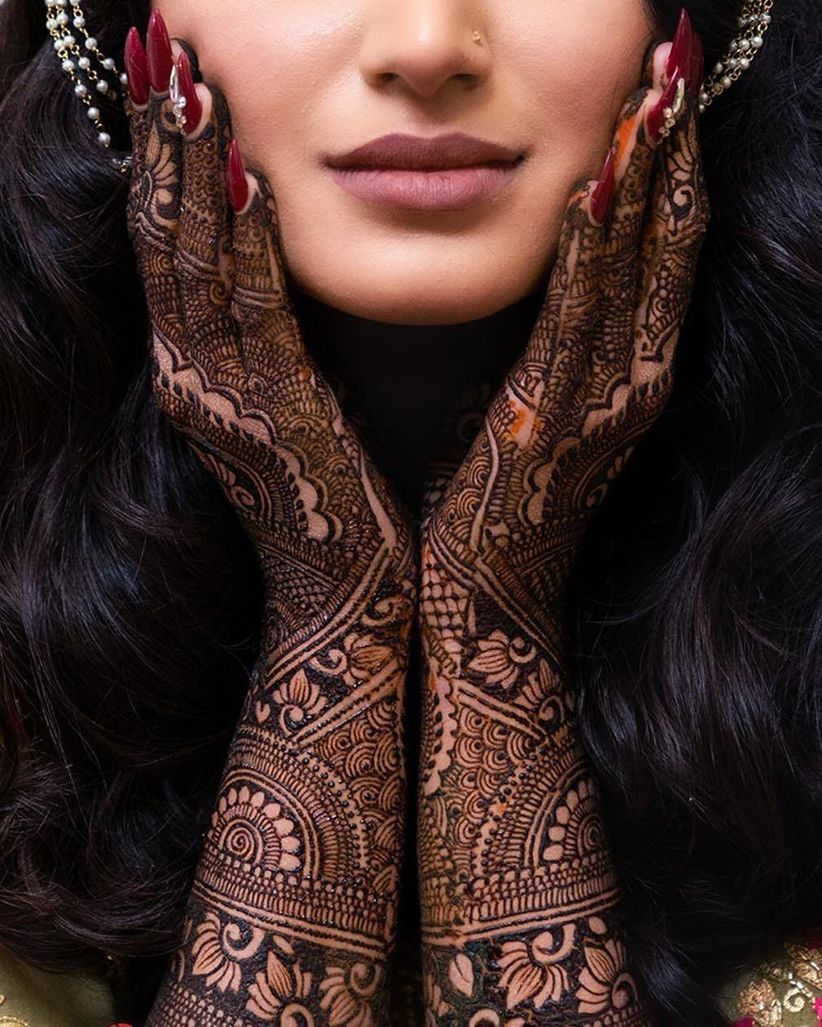 Image Courtesy: Vision One Studio
A mehndi design that looks effortlessly beautiful! From flower motifs to small ringlets to reverse pattern, this design is a mix of various styles and techniques of applying bridal mehndi! A total win-win! Even more points to this stunning #MehndiShot for breaking the monotony of open palms, long enough for us to cherish the side details on this simple mehndi design.
Swirls and Twirls for the Pretty Toes
This looks like a veritable garden or at least a gorgeous bouquet. Floral motifs go as far back as mehndi application but rarely have we seen such an artistic take on this age-old staple. Spot the rose flower which looks more real than a real flower! We were able to put our hands on it, how about you?
Colour of Passion, The Darkest Hue of Henna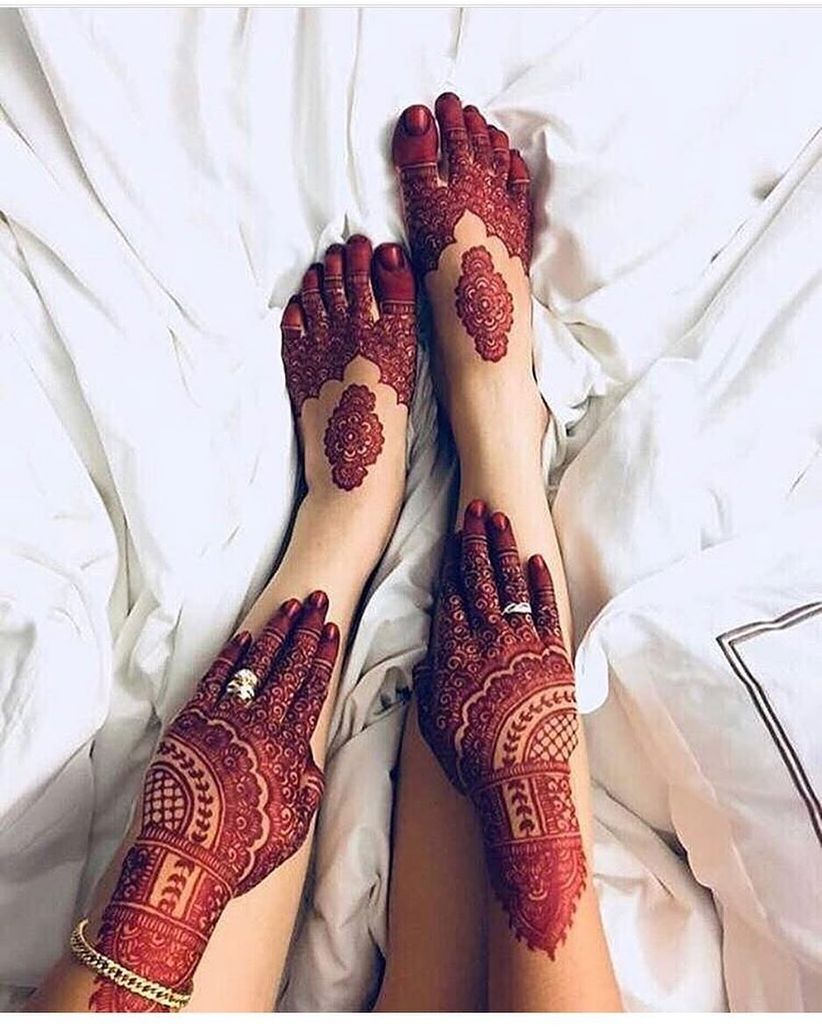 Image Courtesy: The Cage Story
We are in love, we are in awe and we can't get enough of the design or the colour of her bridal mehndi! This simple mehndi design proves that you don't have to go all out on miniature patterns and intricate detailing to get a beautiful outcome of the mehndi. Especially loving the very neat arches on her foot mehndi design and the overall colour that this mehndi has turned out in.
Chaadar All the Way - a Little Traditional Rendevous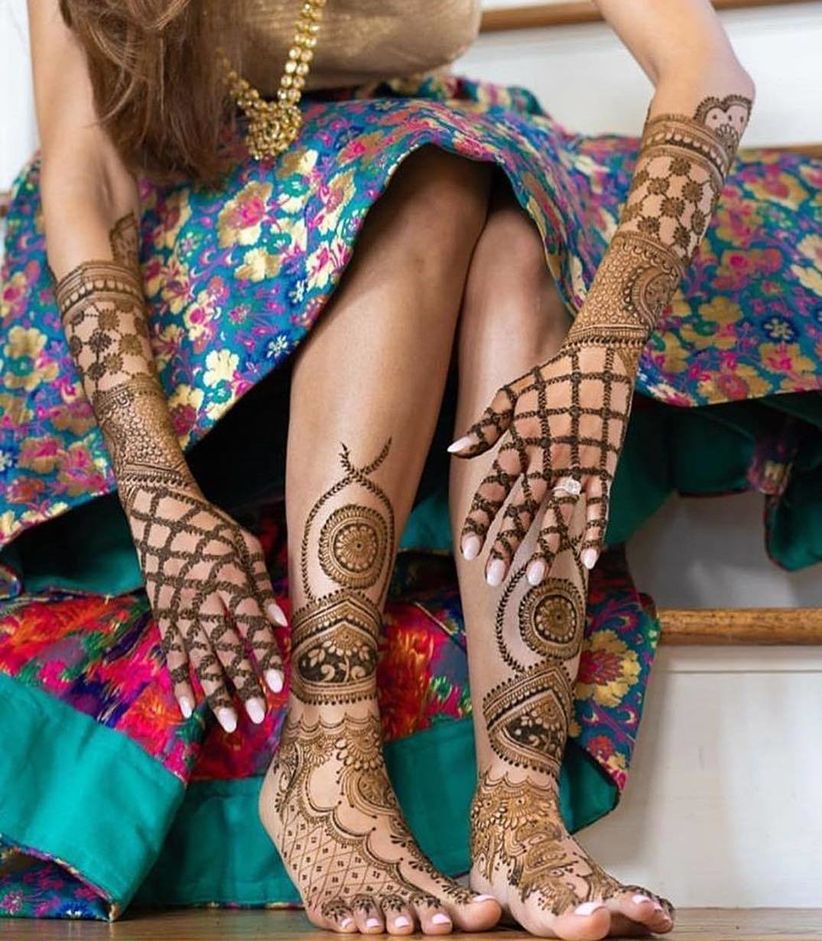 Image Courtesy: Amit Photo Video
Are you obsessed with Chaadar mehndi design and cannot get enough of it? Don't worry you are not alone. We are sailing in the same boat as you! But, can you really blame us? We love how well-spaced, yet precise this simple mehndi design is! Yet another specimen on how the beauty of a mehndi design is not directly proportional to the hours spent on trying to process as many motifs and patterns in a small space.
We are floored, what about you?
Dark Hues + Bling = a Combo to Die for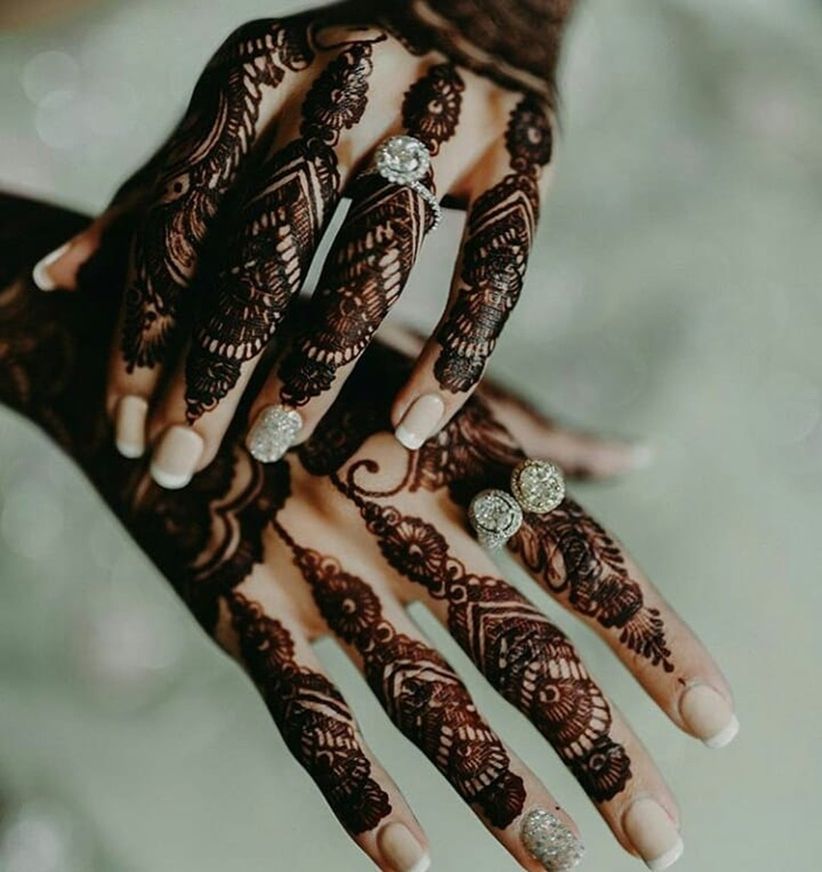 Image Courtesy: Black Tie Project
What are you more floored by? The hue of her henna or those blingy rocks? We say both! This simple mehndi design is a prime example of how mehndi patterns can be used to give a semblance of jewellery (would you look at those fingers!), and the statement ring is only making it look more elegant than ever.
Dulha Dulhan Portrait - Definitely a Not so Simple Mehndi Design
G.O.R.G.E.O.U.S. is what comes to our mind! Were you able to spot that cute caricature of the couple? If not, then look again and get something like this for your very own mehndi! Notice how the manicure is also reflecting the shade of the mehndi. This is one trend we'd definitely like to see more of.
Darshit + Kavita = Their Lovestory Is Special Just Like Them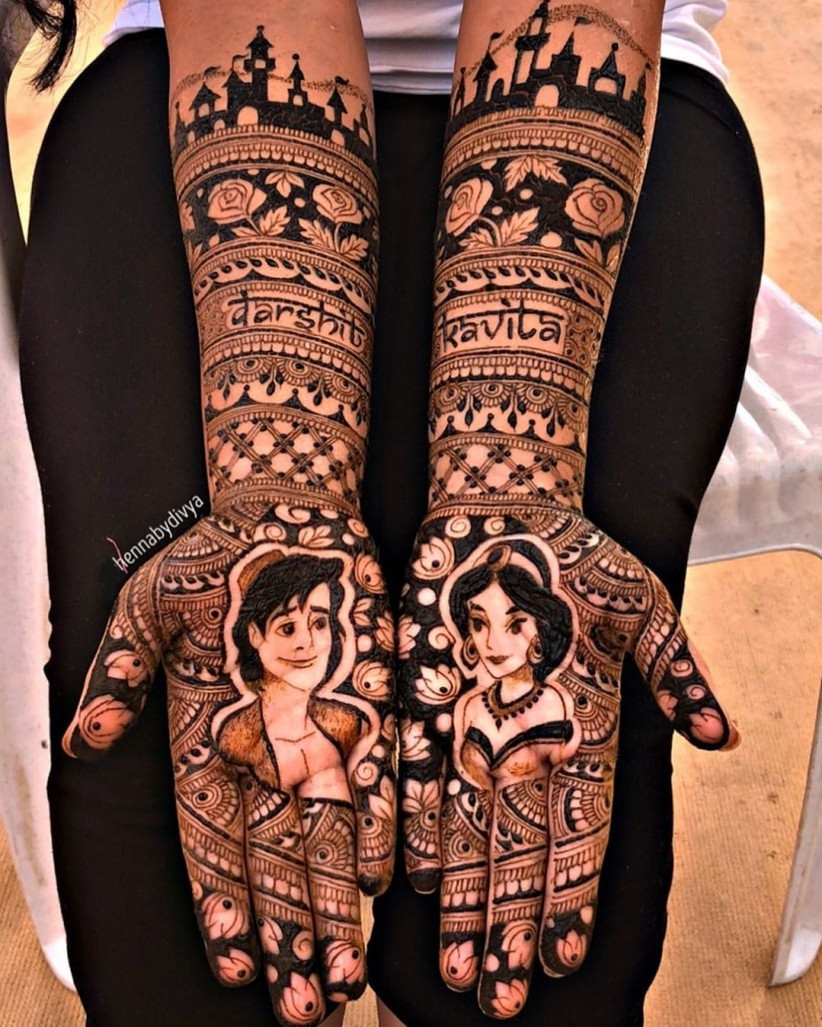 Image Courtesy: Henna By Divya
Remember Aladdin and Jasmine? We sure do! If your love story is as magical as your favourite fairy tale adaptation, then why not include them in your list of simple mehndi designs for front hand as well. It won't get any cuter than this, we are warning you! Kudos to the homage to Walt Disney with the Disney castle replicas on top of this gorgeous, but simple mehndi design.
Saat Samundar Paar Love Story You Must checkout Now
This simple mehndi design is far from being simple. Just look at every single element of this design. From where the couple met to how they fell in love - this simple mehndi design is literally a walk through of their epic romance and tale of forever after. What's that saying about a picture being worth a thousand words? Well we ar of the opinion that they had something like this in mind while coining that particular phrase.
The Bird Cage Of Dreams & Sheer Beauty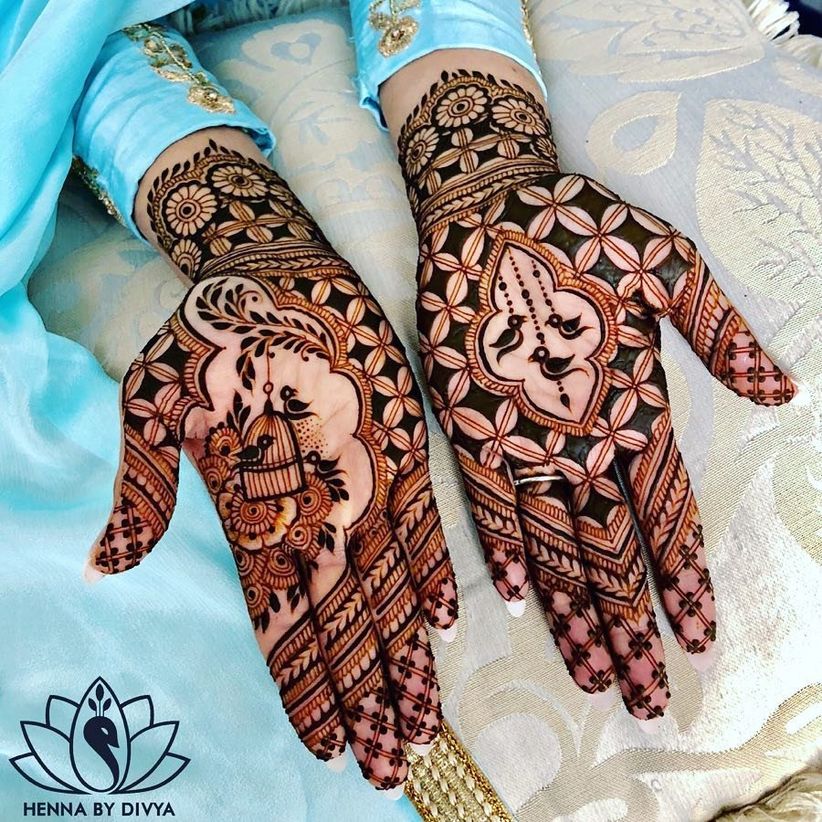 Image Courtesy: Henna By Divya
We are legit in the realm of henna dreams! I mean look at that birdcage and those cute and tinies birds peeking out of the cage! This is what we call perfection in every sense of the word! The talent and precision of Divya, the henna artist is making it seem like this was drawn on a smooth, flat paper and not on someone's hand. Every single line, every leaf has been laid out with love and oodles of accuracy.
The Symmetric Magic is Real and we are Floored
There is so much going around in this simple mehndi designs for back hands and it is anything but simple or plain Jane! If you love this checkered pattern with ringlets and leaflets as much as we do, then you know what to do! Pick up your phone, take a screenshot and share it right away with your mehndi artist.
The Glittery Affair That Took us By Surprise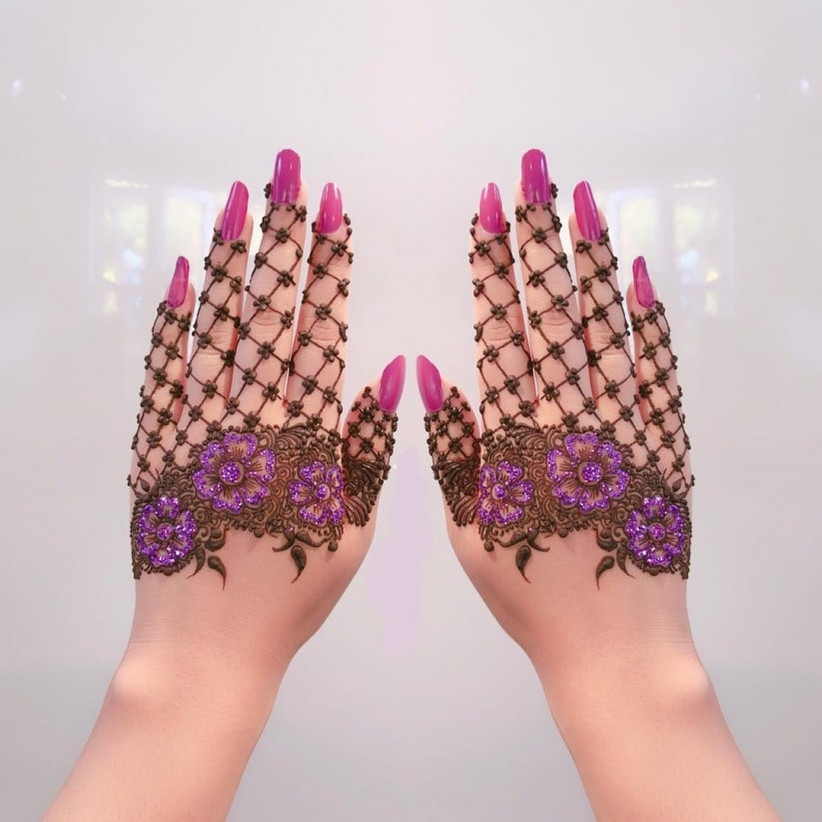 Image Courtesy: Hiffy Raja
When your jewellery is not the only thing that sparkles! Yes, this is what happens when your mehndi is ready to outshine every other element of your bridal look. And, if you ask us, we would have it no other way too because look how pretty her hands look with a dash of purple glitter! Total unicorn feels! While involving glitter in your mehndi you have to be extra careful as it can be quite the gamble. There is a very thin line between gorgeous and gaudy while playing with such loud elements as glitter, and this simple mehndi design has managed to stick to the former.
Simple Mehndi Designs With Checkered Pattern
This pattern has become one of the most loved traditional mehndi element. Most brides today opt for it for the fuller effect that it brings to the design and creativity. Those tiny leaves are adding that traditional tone to this otherwise minimalistic simple mehndi design. Shoutout to the photographers for capturing such an aesthetic picture of the overall look.
Arabian Nights For the Arabian Soul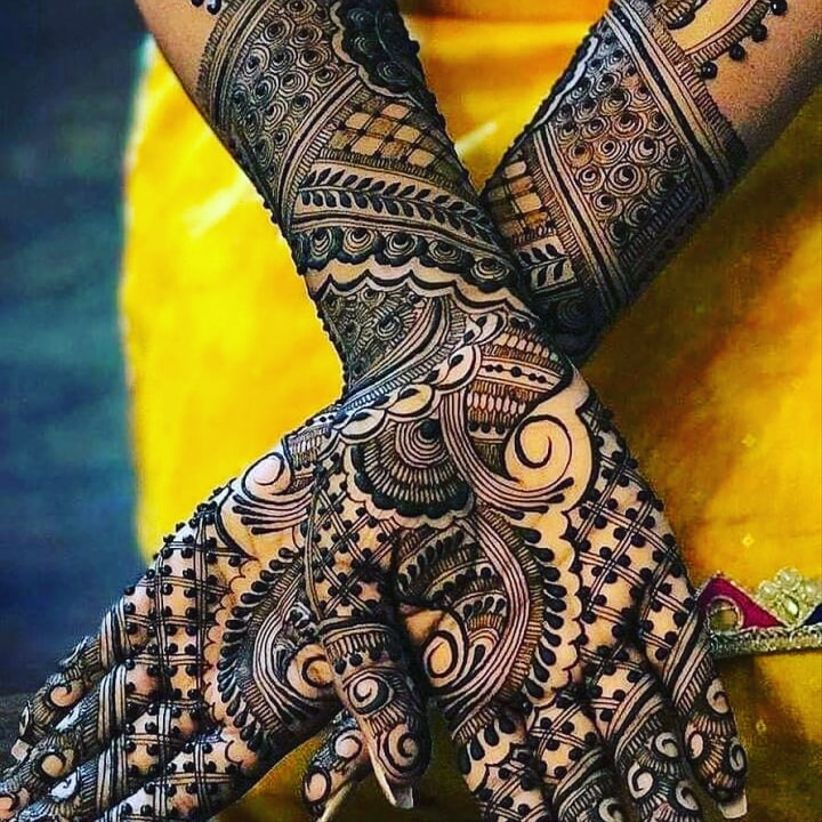 A masterpiece in every sense of the word! A true spectacle, this simple mehndi design for front hand is the concoction of bold and thin henna application technique. When the mehndi dries off and the colour comes out in full bloom, all these thick lines will complete the look and make this mehndi all the more stunning.
Yet again, we are bowled over by how seamlessly this simple mehndi design appears to play out on the hands of this gorgeous bride. Weaving magic out of a mehndi cone is no mean feat and these are some truly exceptional skills that these mehndi artists have developed after years of practice.
The Chirping Birds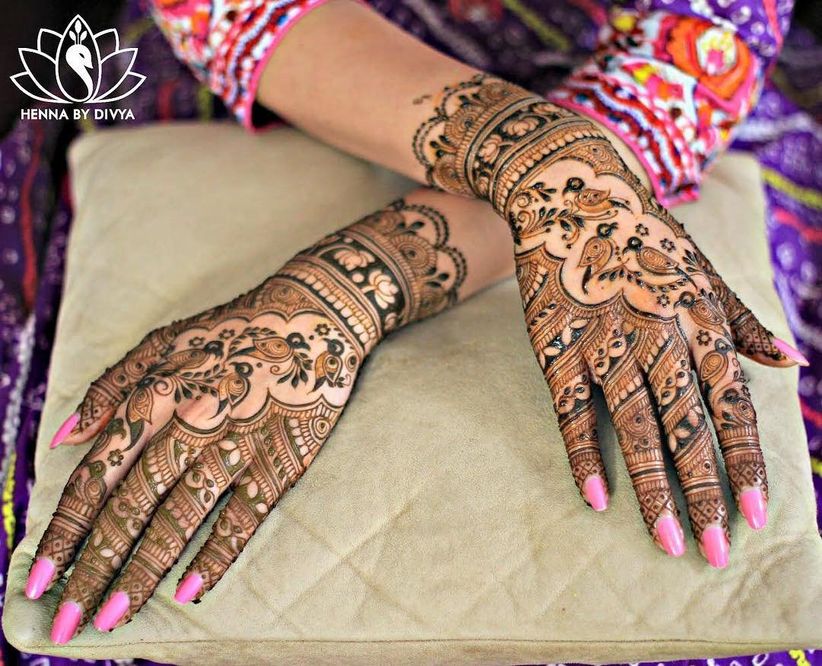 Image Courtesy: Henna by Divya
Now this one takes the cake for being one of the QUIRKIEST HENNA DESIGNS we have ever seen. Aren't these tiny birds adorable? And they follow a symmetric mehndi pattern as well even if it is not obvious in the first glance. Even the mehndi design on the fingers is totally #Goals! Hands down one of the best of the best.
The Beaded Beauty Magic Unfolds
To all the brides who are tying the knot, this is how you need to pose and flaunt your henna design on the day of your Mehndi ceremony. This simple mehndi design for back hands relies heavily on bands filled with different motifs, at once giving it a cohesive, put-together look as well as the beauty of diversity.
The Coral Beauty
The beauty of this simple mehndi design is enhanced by the so on point manicure that this bride has opted for. The best part is, neither the henna nor the nails are taking attention away from each other, and rather work together to form a cohesive aesthetic. We are sold.
If you want your coral shade mehndi to turn into the darkest hue of red, then check out a few natural and DIY remedies to darken the tint of your henna colour. Remember, the darker the colour - the stronger the bond (well at least that's what they say).
Peek-A-boo
Getting married in Spring? Then this is the simple mehndi designs for back hands you should get on your hands and feet! If mother nature is in full bloom then so should your mehndi be! We love how the mehndi artist has experimented with different kinds of flowers instead of sticking to one and replicating the same all over the bride's hands. They have even included some lotus buds on the fingers, giving a variety in the blooms.
Round Like A Merry Go Round
Another one of the oldest and prettiest traditional Mehndi elements, the traditional circular pattern. The size of the circular ring might vary, but you can incorporate both in full circles or semi-circle and they will both look just as gorgeous. Most of the brides usually go for a circle in the centre with bigger concentric ones working around it in different motifs and patterns. However, this unique design stands in its own right, with smaller circles incorporated on the side of the hand instead of the centre. Not to forget the generous sprinkling of vines and paisleys.
The Quintessential Henna Beauty
When your simple mehndi design for front hand and bridal bangles complement each other, they look as fabulous as this one here. The balance between mehndi design and empty spaces has given this bride's hands a special allure. And how beautifully and skillfully the symmetry has been brought out in this mehndi pattern. The effort of both the mehndi artist and the bride has paid off beautifully with how gorgeous the final colours has come out to be.
The Floral Goddess
Who can resist flowers? We sure cannot! You can just never go wrong with flowers. If you love flowers as much as we do, then add this image for simple mehndi designs in your mood board of design for your own function. The Jaali design and multiple identical flowers look oh so pretty on her hands, and the floral jewellery adds to the overall look beautifully.
Heart + Jaal = Check Mate
The symbol that defines love in its purest form - The heart and cupid. And if you ask us, we would have it no other way too because look how pretty and romantic it looks! While most brides go for traditional designs and patterns, we are loving how well this fusion has worked out to be. the mehndi artist has made use of a quintessential design motif - the Jaali or the Chaadar, and then incorporated tiny, filled hearts with precision. The complete look is nothing short of adorable and even the toes have some of these emoticons peeping through.
Birds...Flowers...Ringlets
Pay homage to mother nature by adding natural and animal motifs into your henna! Truth be told, they look pretty goddam cute too! And the overall impression is of a simple mehndi design, not just in terms of the time taken to make it - but also the final effect. Empty spaces give an idea of clean design and are a great thing to try if you are the best friends or sisters of the bride.
With all your bridesmaids' duties to be taken care of, it is very difficult to take out enough time to sit through an intricate and complex mehndi design, and then wait for it to dry before you can actually do something in the fear of ruining your hands. we suggest you go for something like this - not only is it time efficient, a simple mehndi design for back hands like this is a sure shot guarantee that you'd be standing out in the sea of similar looking full hand mehndi designs.
Mandala...Mandalaa...Mandalaaaa
If in your heart of hearts you wish your gang of BFFS will forever stay put and as tight as ever, then get this Mandala simple mehndi design as a group and validate her happiness by getting matching bridesmaid simple mehndi designs. Mandala designs are a huge hit these days because they stand for unity of the cosmos and are just too darn pretty to look at. We are absolutely smitten at the intricacy that has been achieved in this particular Mandala design mehndi, as the concept of symmetry and precision is very inherent to the Mandala art form.
From Mehndi To The Wink = Simple Mehndi Designs GOALS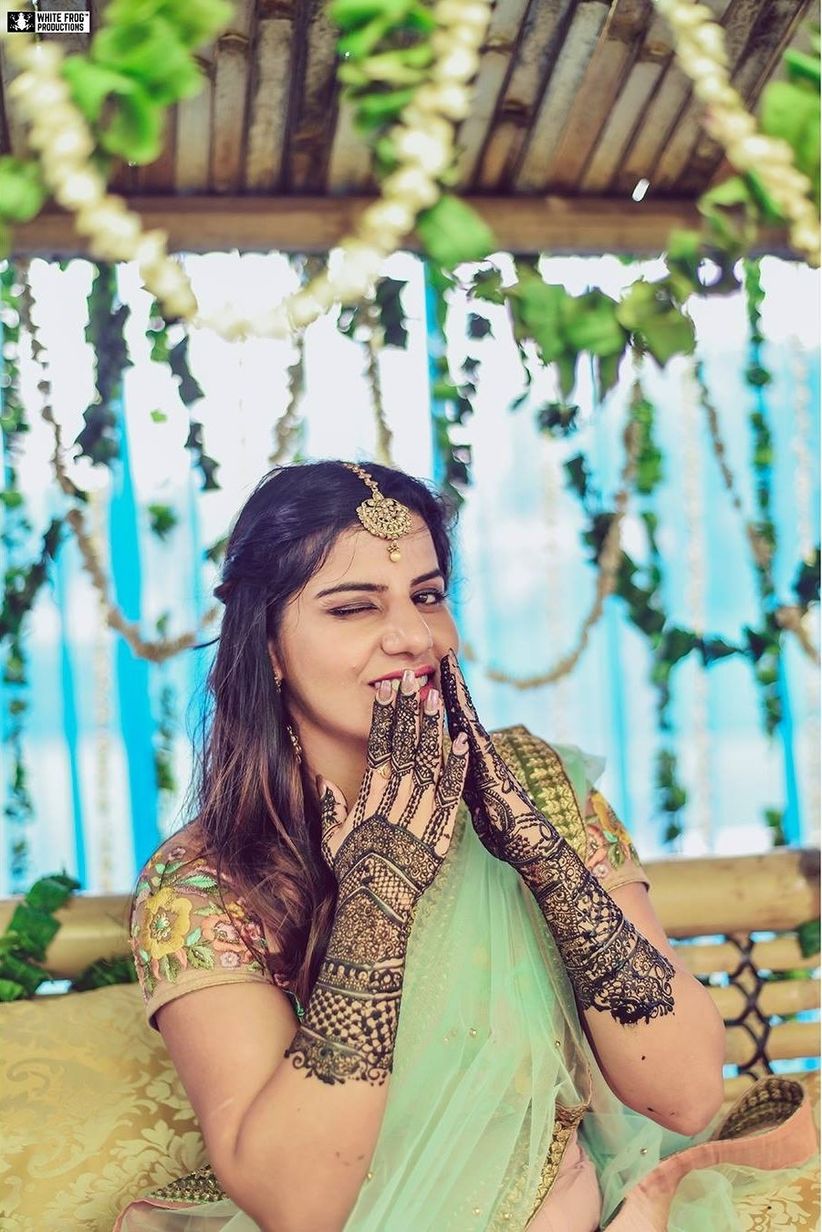 More than her mehndi we are in awe of her effortlessly chill attitude. Isn't she an example of a #bridechilla? We sure think she is! Instead of the usual vines and whirls of traditional mehndi designs, she has opted for the much simpler and yet equally breathtaking geometric patterns. The mehndi bands give an impression of bracelets and the chains up to the fingers are only adding to the illusion of hand accessories in the guise of simple mehndi design. We are surely adding this to our top favourite images for simple mehndi designs, are you?
Your Royal Highness - Simple Mehndi Designs for The Royal Diva!
It is all in the details and this photograph proves why. From the pose to the magenta colour of her lehenga and the intricate henna design - this simple mehndi design for your full hand + the pose = G.O.A.L.S and screams G.O.R.G.E.O.U.S.
If you look closely you'd notice that the mehndi artist has experimented with a lot of design elements which you usually don't see all together. Here we have waves and empty spaces, reverse mehndi technique, Chaadar pattern and more such simple patterns which come together to bring this simple mehndi design come alive.
Simple Mehndi Designs Which Look Like An Anklet
All brides-to-be this is the treasure trove of perfection and creativity! Put your creative juices to work and have your mehndi artist curate a replica of this one for you! The petite and beautiful motif which is spread across her entire foot is adorable, to say the least, in our opinion, it is an ingenious way of giving an illusion of a filled mehndi design but without the hassle and the chances of it getting ruined. After all, how long can you expect the bride-to-be to sit along, doing nothing but waiting for the mehndi to dry while all her best friends dance to their heart's content. With our shortlisted images for simple mehndi designs to dar inspiration from, you'd be free in no time and can dance to London Thumakda till the festivities last.
Mango Leaf Design
It is stunning through and through! If you are looking for some quick inspiration, then this mango leaf inspired simple mehndi design should do the trick! Even the peacock with its magnificent plumage is looking nothing less than a dream. This simple mehndi design has brought so many different motifs together and we must say, they are working beautifully together.
The Arabian Magic
We may have listed this simple mehndi design under simple mehndi category but boy it is anything but simple and definitely majestic, unique and drop-dead gorgeous, to say the least. The Arabic mehndi style infused with reverse mehndi technique - why didn't we think of it earlier. If you too want that your mehndi design should be unique and one-of-a-kind, we suggest you screenshot all the ones you like and meet with your mehndi artist well in advance to discuss what you'd like.
Gone are the days when the ladies of the house would replicate the same patterns and designs over and over. You are hiring a professional, and just like any other deal, this one should be finalised after multiple meetings and a clear set of goals as well - which in this case is to make you look like the princess that you are on your big day.
Mehndi That Looks Like Jewellery
Doesn't this image for simple mehndi design resemble an intricately designed jewellery piece instead? To us it totally does! If you want your bridal mehndi to look more fuller and give you the look of an anklet, then this is how you can have one!
Simple Mehndi Designs Only For The Bridesmaids
If you wish for your BFFs to have a similar kind of mehndi that matches from end to end, then this is the design you need to bookmark. It is unique yet totally gorgeous.
Stars, Galaxy, the Entire Milky Way
Who would have thought that getting some stars in your bridal mehndi design for back hands would look so chic and awesome? Well, this bride sure did and we cannot agree with her choice more. This simple mehndi design features a miniature Krishna with his ever-famous flute pose, topped with gold foiling effect, perfect for a bride who loves minimalism and traditionalism both.
Them Eyes + Mehndi = Simple Mehndi Designs G.O.A.L.S
We love this picture and definitely her! You too can sport a similar henna look as it is minimal, new, chic and perfect for a millennial bride who wants to have it all.
Strike Them With Flowers - Simple Mehndi Designs!
Tiny.. beaded..floral beauty! This is what this simple mehndi design for legs is in three simple words. And what we cannot take our eyes off of is the floral anklet that this real bride is wearing with it!
Parde Me Rehne Do - The Coy Type Simple Mehndi Designs
We are simply floored by this bride and her mehndi design and her floral jewellery which screams gorgeous. All thanks to the talented artist who took it to the level T.
Peacock - The King Of All Simple Mehndi Designs
If you aren't impressed by this peacock motif mehndi design then you must look at it again! It is all in the details and this peacock looks more real than anything we have seen all day!
Symmetry Is Pure Love When It Comes to Simple Mehndi Designs
If at all there is one thing that we will change about this simple mehndi design for your full hand, is add more and more flowers - because one can never have enough flowers in life and otherwise!
Raja Meets Rani = One of the Most Romantic Simple Mehndi Designs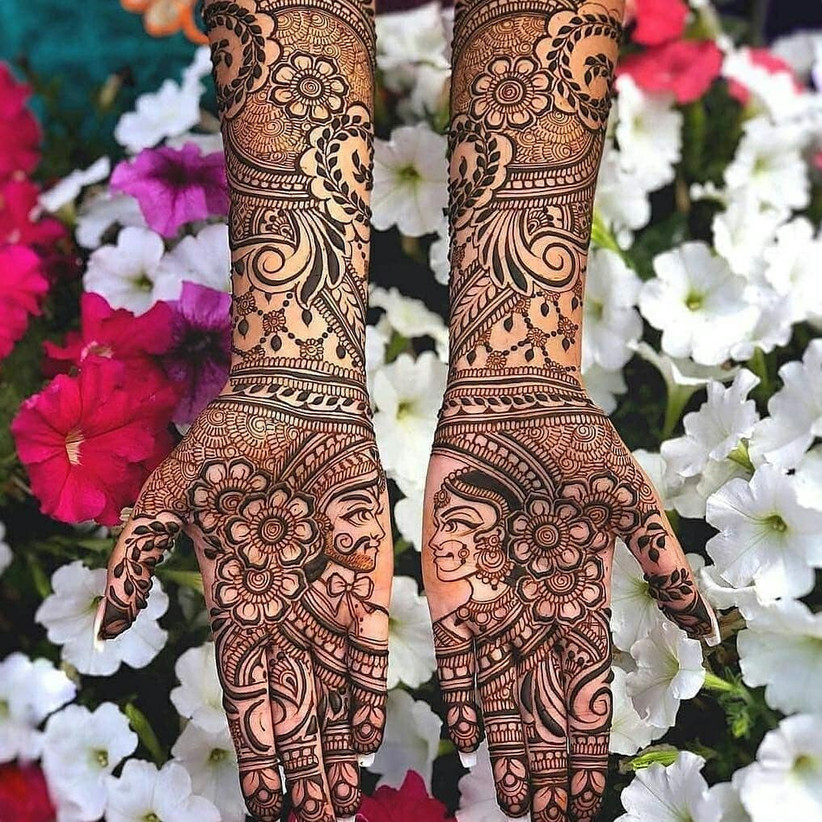 Image Courtesy: Barbie_ima
This simple mehandi design has struck the right chord between traditional and modernity. The Dulha Dulhan brings a rustic and traditional touch to this henna design and the details such as the eyes and the lips and that bridal Nath - they look way too real than just a creative design curated by the mehandi artist! The swirly patterns and the flower petals make us think of Spring! if you are planning to host a spring season wedding, then getting this simple mehndi design on your full hand is the way to go!
Phoolon Ka Taaron Ka...Sabka Kehna Hai...Ek Hazaroon Me...Mera Henna Hai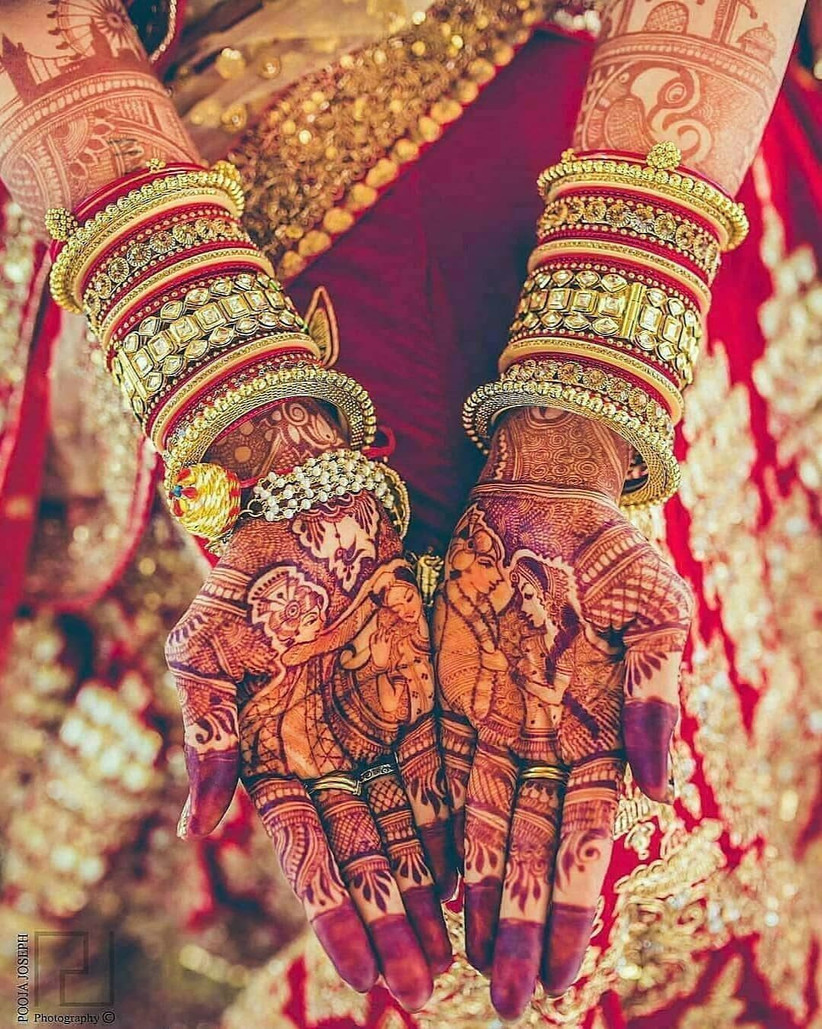 Image Courtesy: Pooja Joseph Photography
This graceful simple mehndi design is a soulful amalgamation of the ever famous swirly pattern around this real bride's wrists, Chaadar design that traces the thumbs and dark henna finger tips! But, what caught our attention was the couple at the centre of her palms. The dulha-dulhan are designed in the setting of a Jaimala ceremony and the final step - the Sindoor Ceremony!
This simple mehndi design beautifully captures the true essence of an Indian wedding by encapsulating the very key ceremonies that bind a couple in an unbreakable bond!
Simple Mehendi Design for the Nautanki Bride
Effortless and cool attitude brought to life with this simple mehndi design for legs and these uber cool slip-ons in pink and orange that says 'Nautanki Bride'. If you wish to make your mehendi design stand out, then this is how you get it right!
Lavender Beauty + A Simple Mehndi Design = Perfection
A minimalistic yet spectacular mehndi design! This Chaadar design inspired mehendi design is what symmetrical dreams are made of! every box of this mehendi design is equally centred and spread with rose flowers ornamenting the centre of every box. And, what can we say about this picture and her beautiful mauve shade lehenga - we are completely off the hook and floored!
From Bird Cage to Lotus = the Simple Design for a Pataka Bride
Who needs an anklet when your mehendi plays that part fairly well? while it is common for a bride to get mehendi on her feet prior to her big day - but that does not mean she cannot experiment with the style and design while she's at it! If we had to put the meaning into the word perfection - then this would be it!
Hold That Thought & Look at My Simple Mehndi Design Instead
From how effortlessly she is posing to that stunning henna design on her hands and feet - is there anything missing from this photograph? Absolutely, not! Especially her feet, the string type design is lit and she looks marvellous!
A Little Mandala Magic Is All We Need
The mandala stands as the representation of the universe and all of its cosmos. And, to have all that positivity in your henna designs will bring ten times positivity in your life and your new journey with your spouse. Also, moving aside from the spiritualistic point of view, the mandala simple mehndi design for back hands is also a hot favourite for bride's who wish to have a minimalistic design.
Hide 'n' Seek Mehndi
Bold simple mehndi designs are usually minimalistic in nature but they serve the purpose of covering up your hand and feet quicker than anything else. Not only is such a design perfect for a bride but it is also a fit henna design for the bridesmaids to get. Even though it is simple, the construction and execution of this design are such that it will catch anyone's attention in a jiffy.
Spring Is Here!
If you want you mehendi to be just as dark as this one, then you will have to make use of some DIY techniques to get that desired hue of henna. Running your hands through the steam of burning cloves or applying a mixture of sugar and lemon are two tried and tested ways of achieving the darkest hue of henna.
The Closest Thing We Have to Perfection
This maze-like beautiful and simple mehndi design with hearts right in the centre of each of these boxes is what binds this simplistic mehndi design. After all, weddings are all about love right? So, what better way to follow suit than incorporate hearts and cupids in your henna design.
A Simple Mehndi Design with Boss Attitude
This is how you slay as a bride! From her stunning and eye-grabbing henna design to her tasselled golden blouse(which we legit cannot take our eyes off from) to her aquamarine lehenga - this bride is all about bridal goals! A stunning set of floral jewellery and a cool pair of shades and you're ready to own the stage!
Mehndi Design Slayage!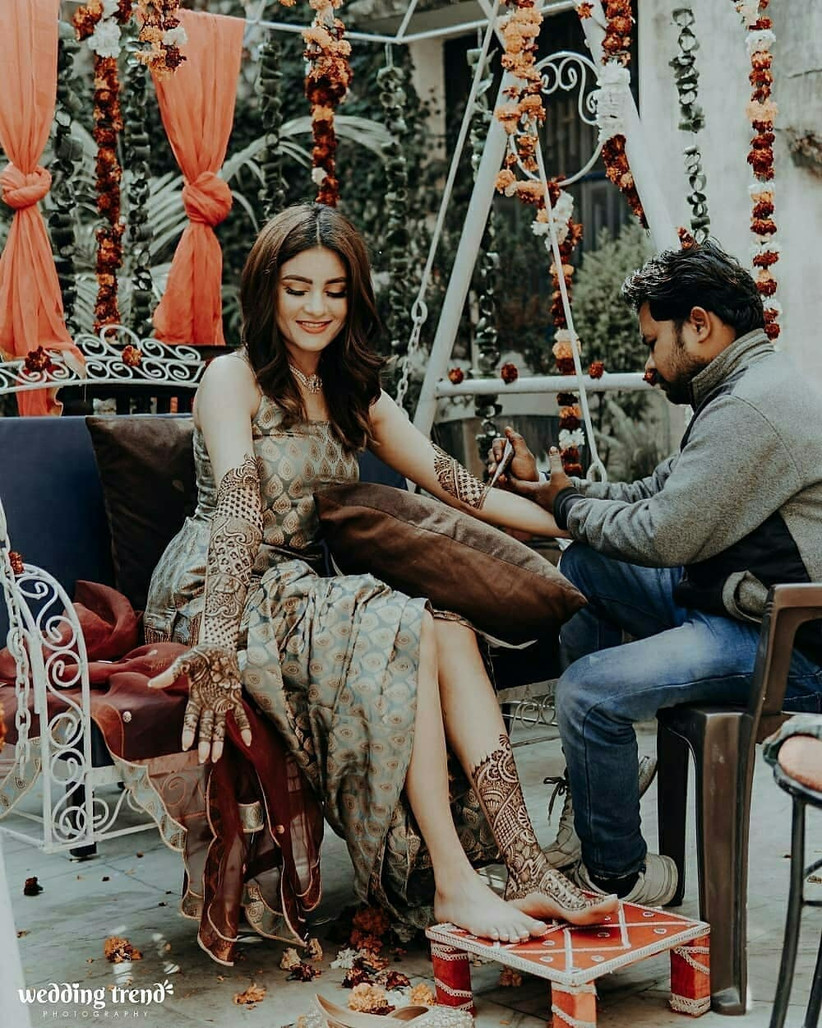 Image Courtesy: Wedding Trend Photography
If perfection had a form, then this would be it! From her outfit to her beautiful and simple mehndi design for full hand, to the way this photograph has been shot - everything is spot on and we are completely floored. If you wish to cover the entire length of your arm with henna patterns - then go ahead and do it, after all, you are the bride-to-be and you deserve everything bit of this fun!
Cinderella's Feet = Epitome of Magic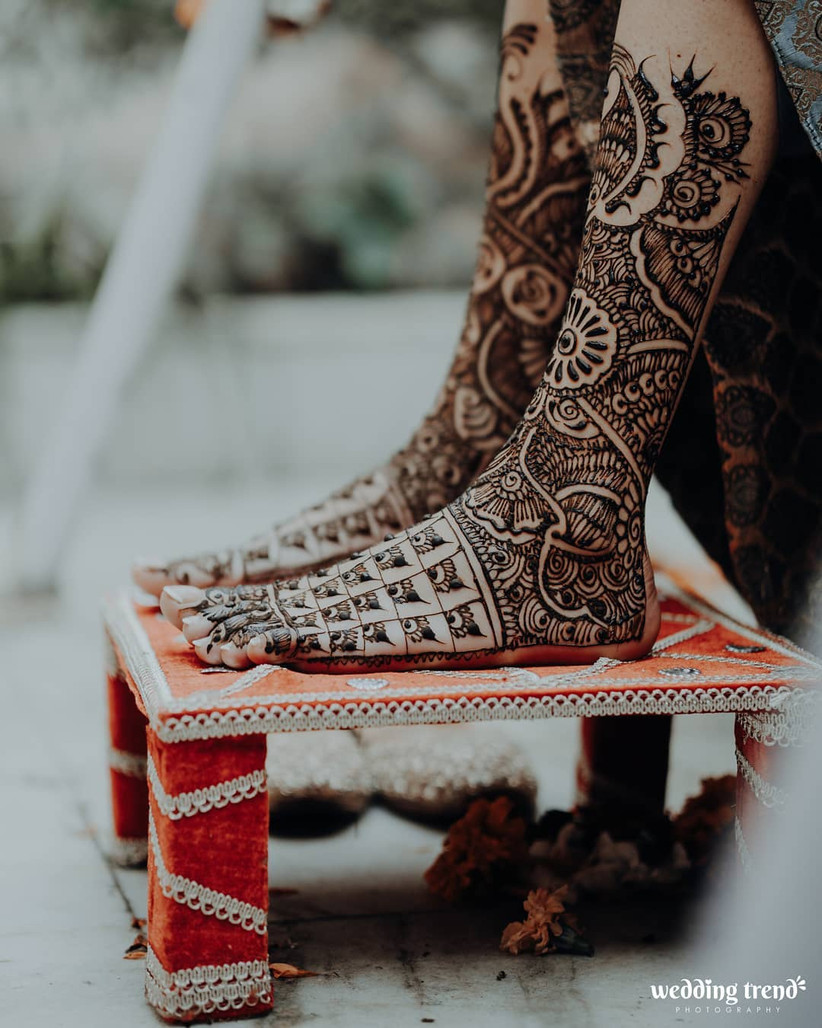 Image Courtesy: Wedding Trend Photography
We can't stop ourselves from gawking at this artsy simple mehndi design for legs. The mehndi design is different and unique for so many reasons that words fail to support our stance. From conch shells to jaal design it has each and every element perfected to the 'T'. This alluring mehndi design is a well-defined symmetrical dream with bold patterns and we can only imagine how stunning it will look once the mehndi dries off and the colourful plumes of red and maroon come forth in full display.
If You Like It...If You Like It...Put A Ring On It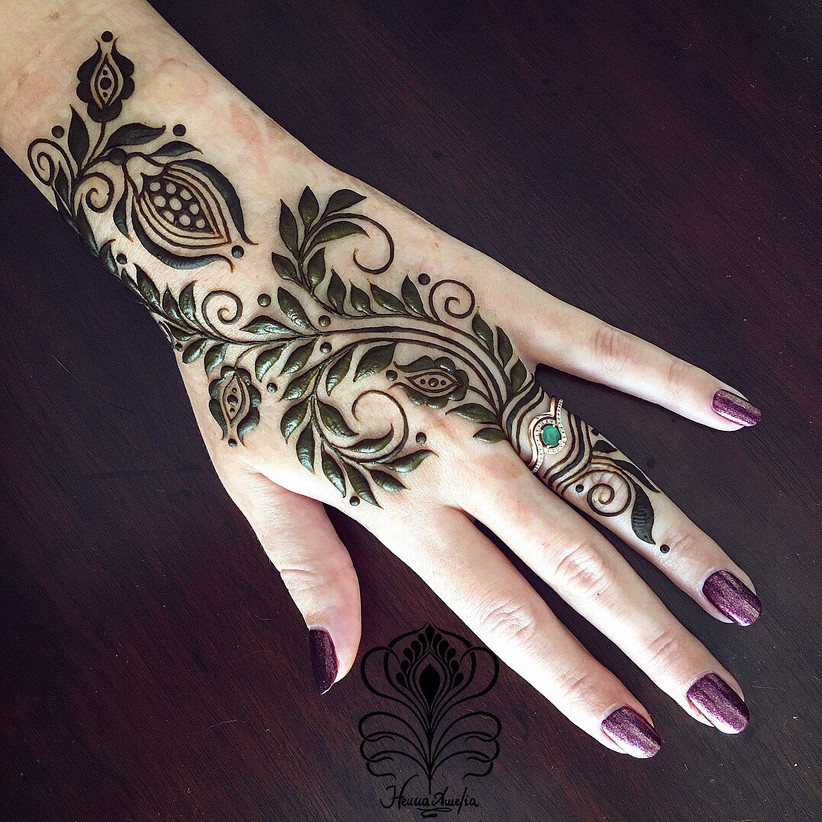 Image Courtesy: Amelia Dręgiewicz Kinsey's Instagram
Incorporating your jewellery into your beautiful and simple mehndi design is a stroke of creativity that lets you experience the best of both the worlds - mehndi and jewellery all at the same time, in a flick of a finger. If you want a little bit of some Arabic mehndi magic then you ought to check this out.
The Magic Of The Jaali & Arabian Vibes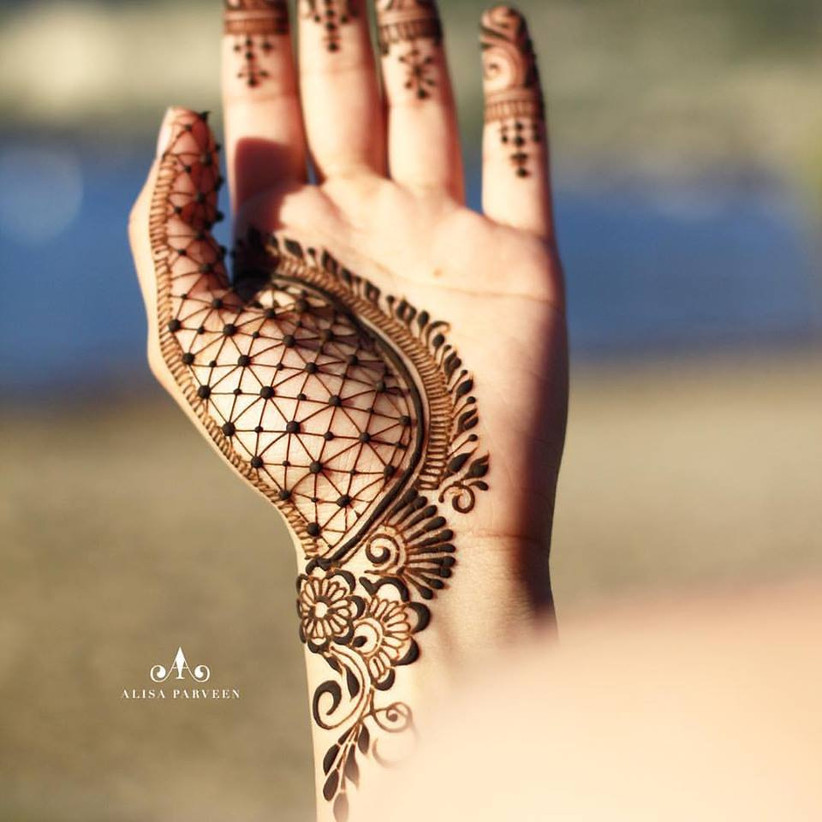 Image Courtesy: Alisa Parveen's Instagram
Arabic mehndi designs are full of simple, elegant jaali patterns and it is a common henna motif that most of the mehndi designers seem to follow. For instance, this half-hand design has our heart and our eyes - a replica of what sheer perfection tastes like. This one is a classic example of simplicity being and perfection the best combination ever.
When Bridesmaids Slay Like A Group Of Divas!
The quintessential beautiful and simple mehndi design that is perfect for your gang of friends. Why just stop twinning at just mere clothes when you can twin your way around by sporting similar henna patterns as well! So, if you want to create a fashion statement with your henna design, then girls this is how you get it right!
The Soulful Vibes
Who knew a simple mehndi design would suit so well for a full leg mehndi design too. This is elaborate yet simple, intricate and absolutely spectacular. Are you sold just yet? Because we know we are!
Paisley and Arches for the win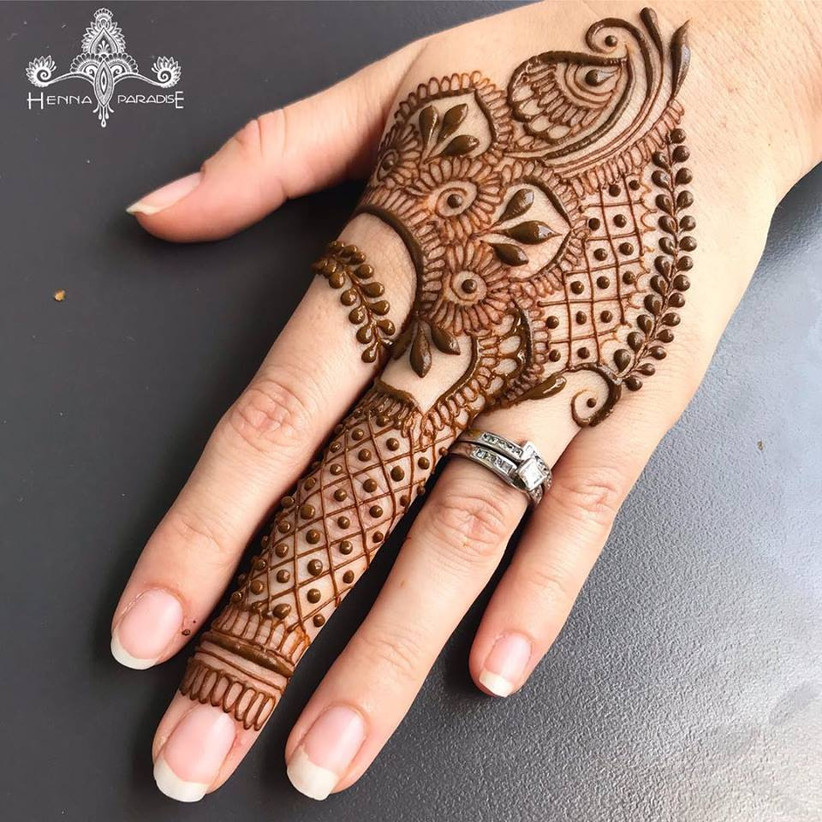 Image Courtesy: Henna Paradise
This simple Arabic mehndi design is so soulful with such clean arches and intricate paisleys. A little dotted line magic and a whole lot of awesome - who needs anything more than that, right? It is a simple design, we agree but nobody said that simple is less beautiful!
Half n Half Mehndi Design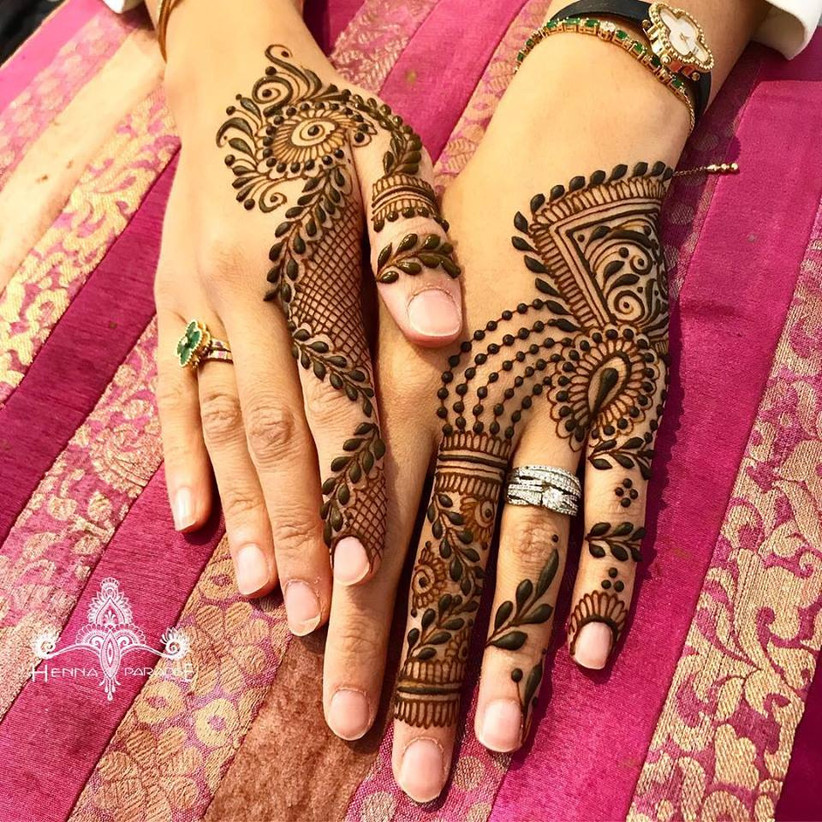 Image Courtesy: Henna Paradise
The beauty of the zig-zagging vines and the delicate touch of the mesh design is what works so well in favour of this mehndi design. a mehndi design like this with a highly sparkling bauble such as this - goals all the way, girl! Get your hands on something as spectacular as this and be ready to take the fashion industry by the storm. This is the perfect mehndi design for a woman who wants the best of both the worlds - the modern and the traditional! So if you want to get something like this for your own ceremony, then remember to share this design with your mehndi artist!
We know, it's the bridesmaid's duty to look gorgeous on the wedding day. And a beautiful and simple mehndi design on your full hands is a great way to round off an Indian wedding dress for that chic look. Since you won't have much time because of your friend being the bride, get one of these designs and enjoy the best of both worlds. Take cues from these bridesmaid's henna shot and come up with an interesting design that takes your styling quotient by the storm. From elaborate designs on the forearms and those designer fingertips - are swaying at how spectacular each of these women looks.
One of the other great things about these designs is their snub to the convention which will make you want to flaunt your bridal mehndi and can be a conversation starter in a venue full of strangers. Even if you're not a fan of henna, and are being forced to get it because the bride or your family, you can always make your peace with these non-conformist designs and be distinguished from the crowd.
Mehndi does not have to take hours or be uncomfortable. With these designs, you can eat, drink, and have a great time without hindrance. Choose a simple, beautiful mehndi design and enjoy the day by donning a light bridal lehenga with minimal bridal makeup. Look up our list of mehndi artists and their impressive range of designs before you decide what you want for yourself because whether you're the bride or her bestie, you deserve to get what you want. Use one or all of these simple mehndi designs to ace your mehndi game!
We hope you enjoyed wowing your eyes with our galore of 70 simple mehndi designs. We hope now more than ever that you are feeling pumped and a whole lot excited to get your very own bridal mehndi before your big day! These 70 simple mehndi designs are some of the finest, most intricate and majestic mehndi designs that wowed us! From creative patterns to the way they are captured by the photographer - everything makes us gawk and brings out the #muchwow factor.
So, brides-to-be and their friendly and sassy Sakhiyaans, take cues and give rise to some major mehndi #slayage! For more, you can always invest in a mehndi look book which features the latest and the trendiest of mehndi designs that are surfacing the market every wedding season. The positive point for doing so is that you will be introduced to an array of different designs from across the world, all of which will have some specialities which might speak to your liking! It is your wedding after all and you must not compromise on anything even if it is your simple mehndi design!
Tell us about the simple mehndi designs you would love to flaunt at your wedding, in the comments below and which of these did you like the most.