13 Funky Wedding Tags to Add the Quirk to Your Celebrations
As the wedding becomes intimate, personal and uniquely you, here's what will help everyone know that! Discover wedding tags and how to include them at your Shaadi.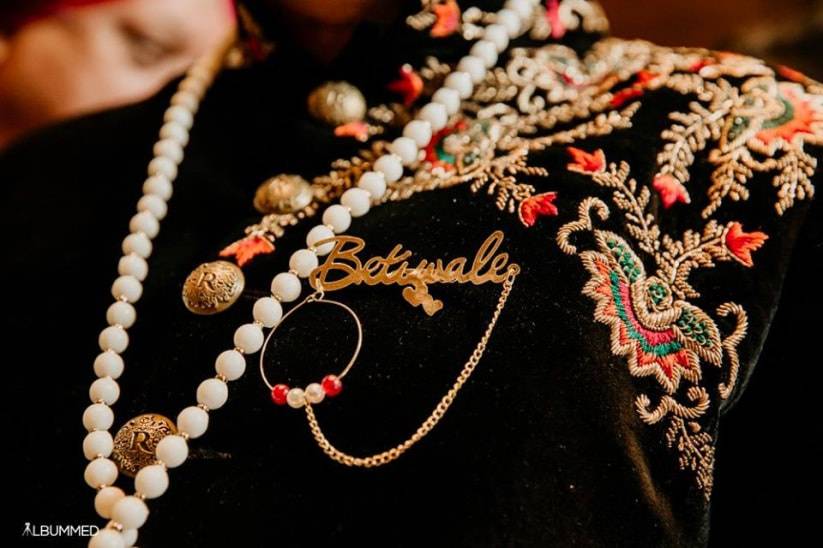 Did you know that you can add a personal touch in wedding decor and wedding favours with wedding tags? If you're wondering what they are, personalised labels that you give your guests upon arrival or with wedding return gifts are called wedding tags. That was the basic definition but this tiny element has been evolving so massively with the creative wedding planners that you'd be surprised to see them at unexpected places.
Are you curious to know more about them? Then read on!
A. Wedding tags on person
1. A 'Ladkewale' brooch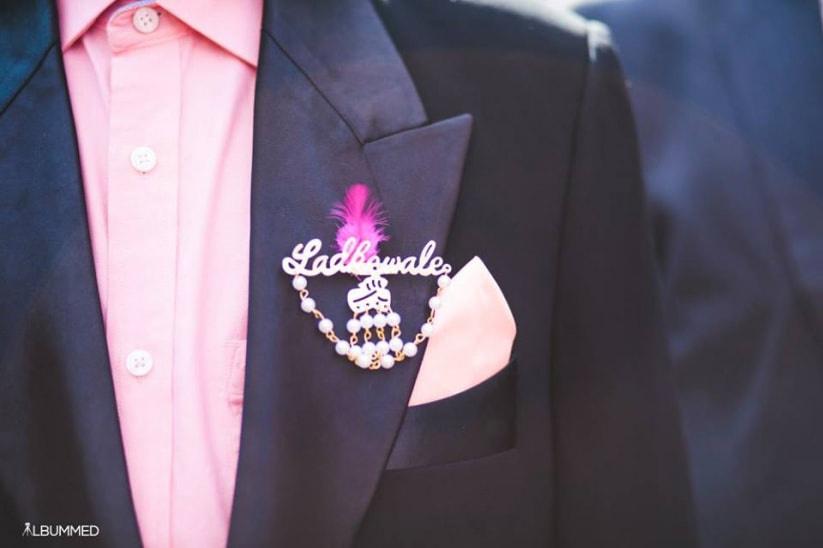 Let's say it out loud that you are from the groom's side with a brooch. When your guests arrive for the celebration, you can distribute these wedding tags. Also, it will be easier to find close family and friends during the chaos of preparation time.
Make sure you get your wedding photographer to click a cool group photo of all the "Ladkewale".
2. A 'Ladkewale' Juda pin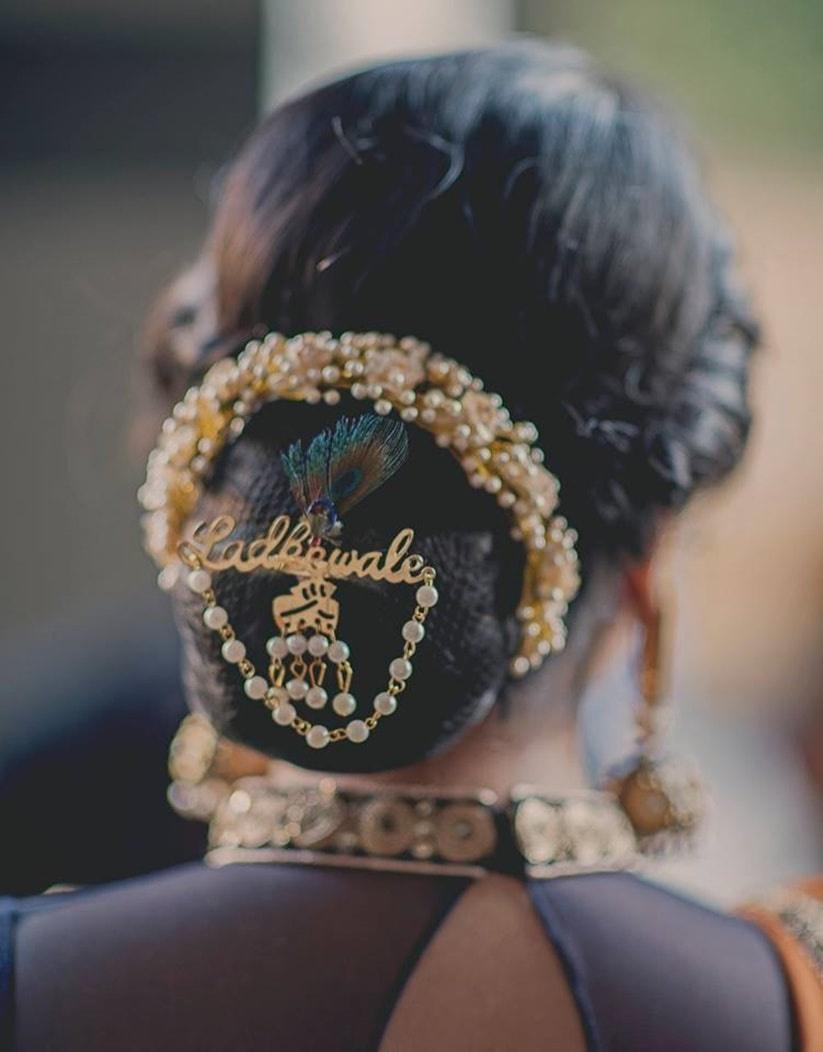 Who said it had to be a brooch for the blazer? Flaunt your wedding tags as a Juda pin or saree pin, ladies! Spread the swag with how you wear this wedding tag. These are easily available tags and you can even get these customised according to your preference.
In fact, order in bulk so as to get a cool deal from your wedding vendors.
3. A badge for the youngsters on the groom side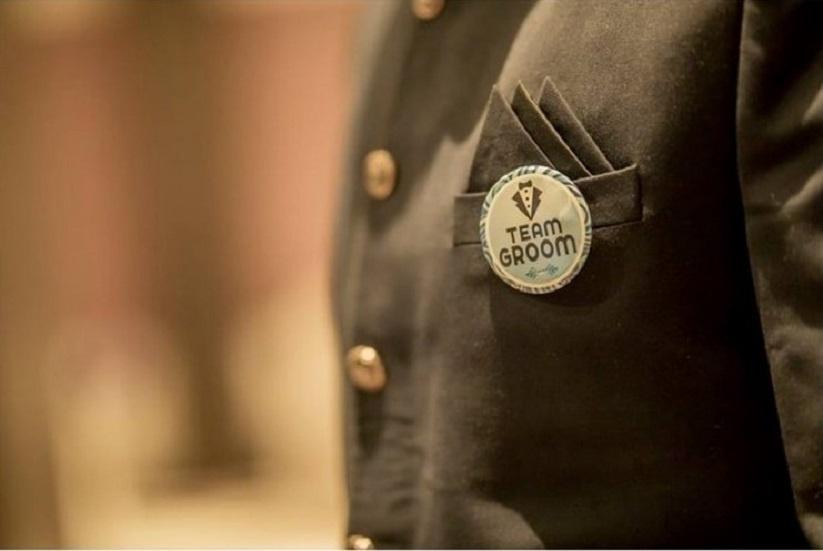 Give your groomsmen the privilege of flaunting a 'Team Groom' badge. All your cousins and friends will be proud to carry it around and won't stop showing it off. For a level of swag, get clicked with your men and friends flaunting this badge showing off the team that they are on.
These wedding tags will be easy identifiers for the family elders too, in case they need to call a Munda over!
4. Team bride mehndi designs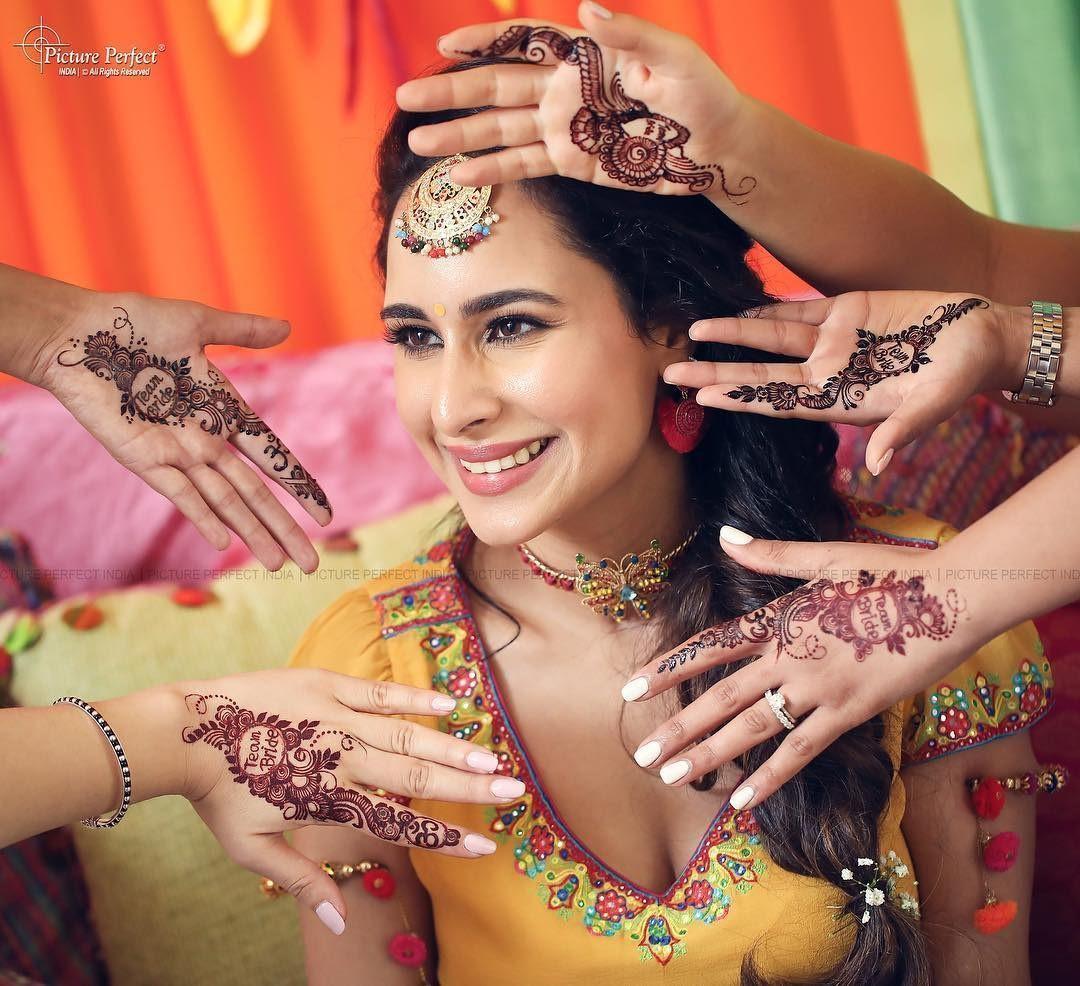 Take wedding tags to a completely different plane by asking your bridesmaids, sisters and soul sisters to have them inked (in henna) on their hands. Bonus points if you can ask all of them to strike a pose with their hands as a frame for your visage, like the beautiful bride above.
5. A badge for the father of the groom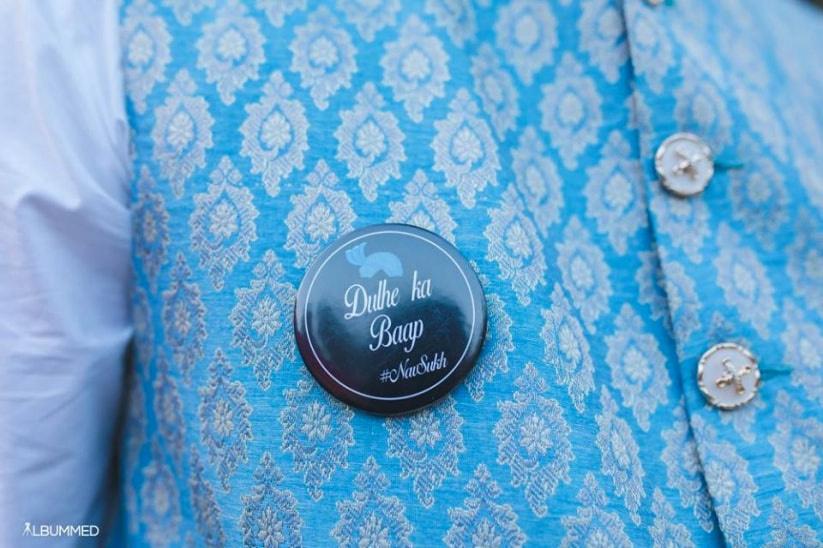 Guess who requires a special mention on the groom's side? Dulhe ka Baap! Do that with custom-made wedding tags that have the hashtag of the couple on it. You can also convince Papaji to wear the tag for the Milni ceremony, as he greets the Dulhan's relatives at the head of the Baraat.
6. The 'Betiwale' brooch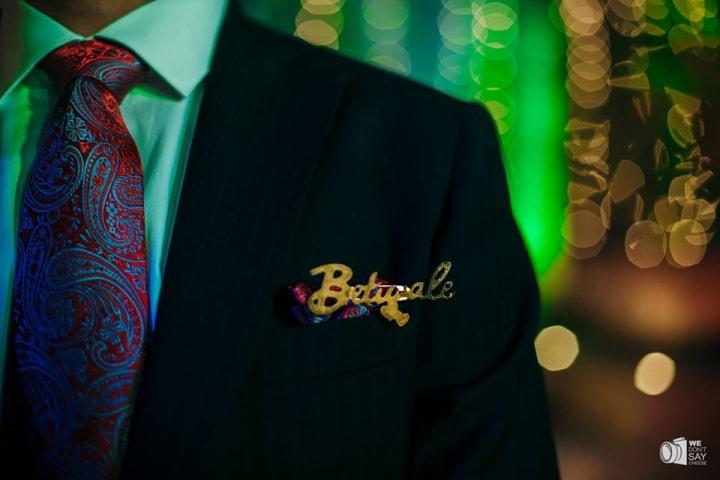 When everyone on the bride's side and groom's side is equally stylish, they need equally brilliant wedding tags. That's why a 'Betiwale' brooch for the bride's side is a must-have for all of your wedding events. Mark yourself as part of the girl's side when you head out to receive the Baraat and let others know that they can call on you to lend a helping hand.
7. Wedding tags for the bride and groom themselves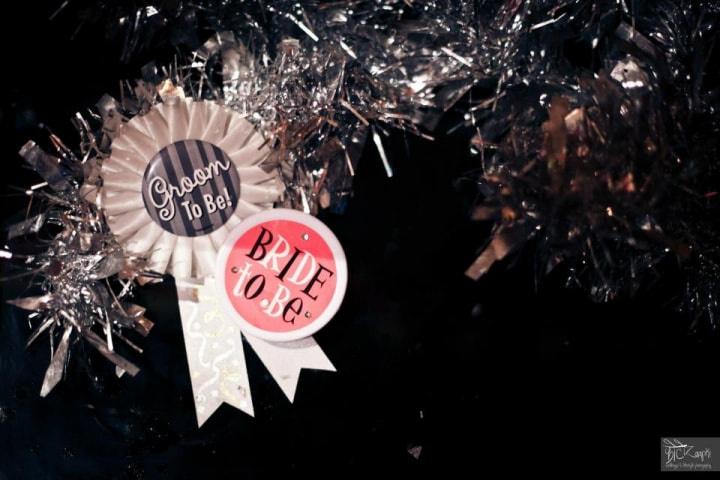 Your Sangeet or Cocktail night will be even more fun when you have wedding tags for both the bride and groom. Imagine your wedding tags to be your cake toppers, as well? Wouldn't that look picture perfect?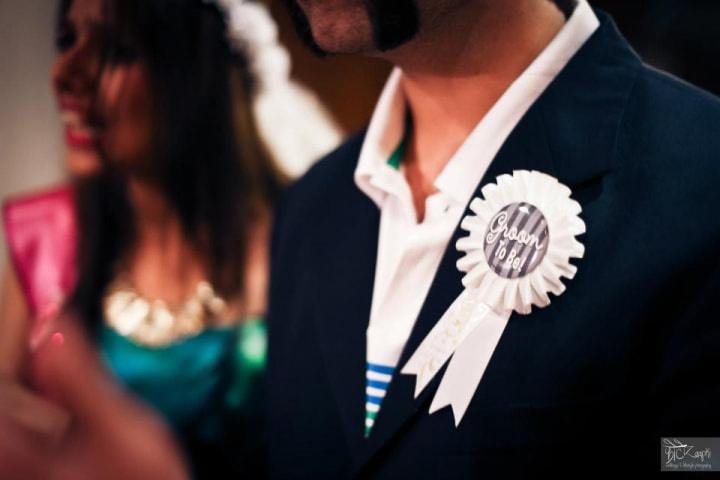 You can play around the idea and get it customised in almost any way that you wish to sport this wedding tag. This can be made into a delicately crafted fine brooch with stonework to exude a regal aura or a fun badge that you can sport on any of your wedding festivities. This would certainly help you ace your wedding game like a pro and provide inspiration to how well you can make your wedding your own.
B. Wedding Tags for Favours
Now, that we've covered wedding tags for all the important people at your wedding, let's explore how to mark and place them on the take-home return gifts and favours for both your big day and minor functions.
8. Must-have hangover kits
If it's your bachelorette party or one of the destination wedding ceremonies, a hangover kit like this one can come in pretty handy. These pouches work very well as your wedding tags. And that's how you serve two purposes with one welcome kit.
9. Pool party shenanigans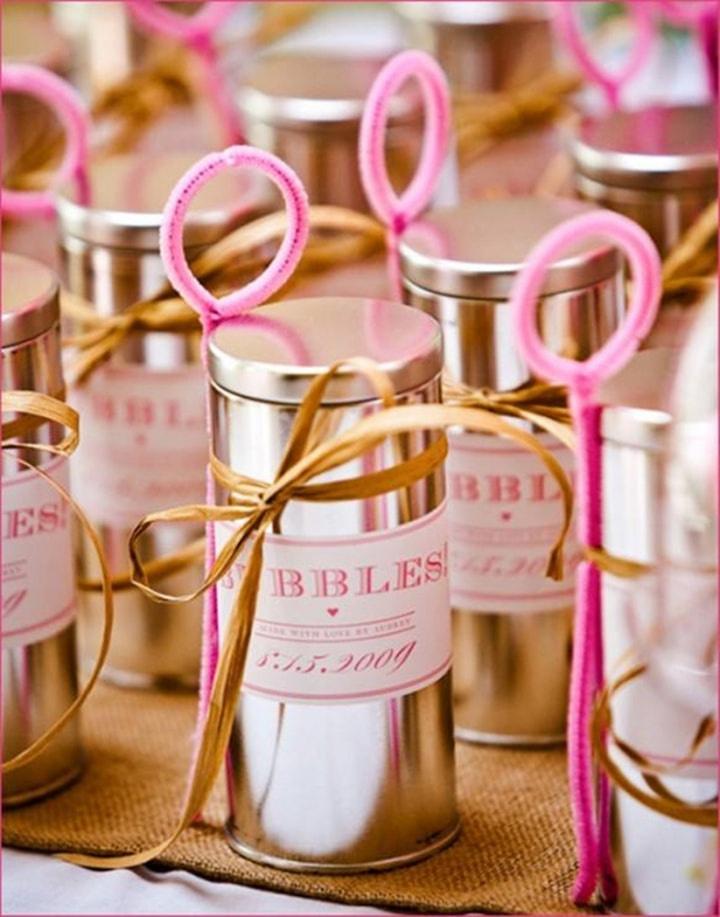 Paste your wedding tags on the wedding props that you're planning to use at a funky pool party like this one here. Or send it along with your bachelorette party invite! These are the small favours that tour wedding guests would certainly appreciate and remember you by.
10. Tagging along with wedding favours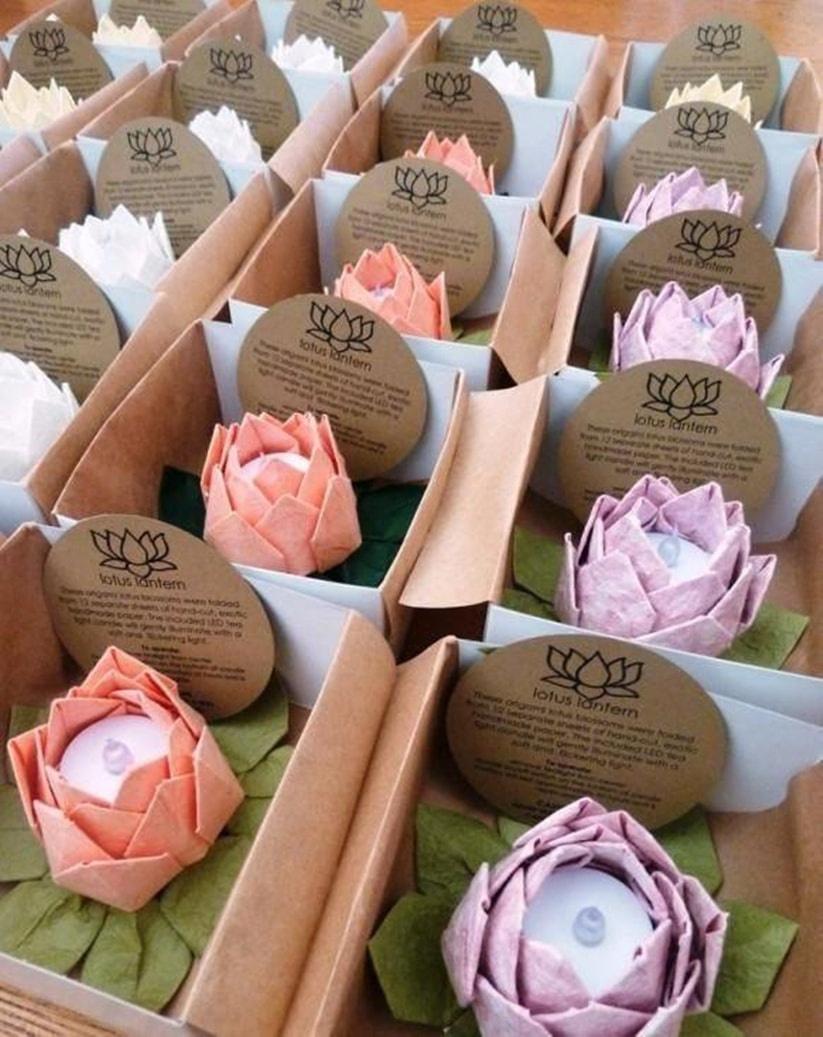 Put a wedding tag with all your giveaways. Let your wedding favour say that you care with a wedding tag attached to them, like in this picture. Wedding favours can give your wedding festivities an oomph factor, especially if they are tagged with cute messages or initials.
C. Wedding Tags Around the Venue
Next, let's spice up the venue, shall we? Here are all the ways in which you can add wedding tags to your venue as decor, crockery and quirky placeholders, markers and direction signs.
11. When crockery and cutlery becomes decor with wedding tags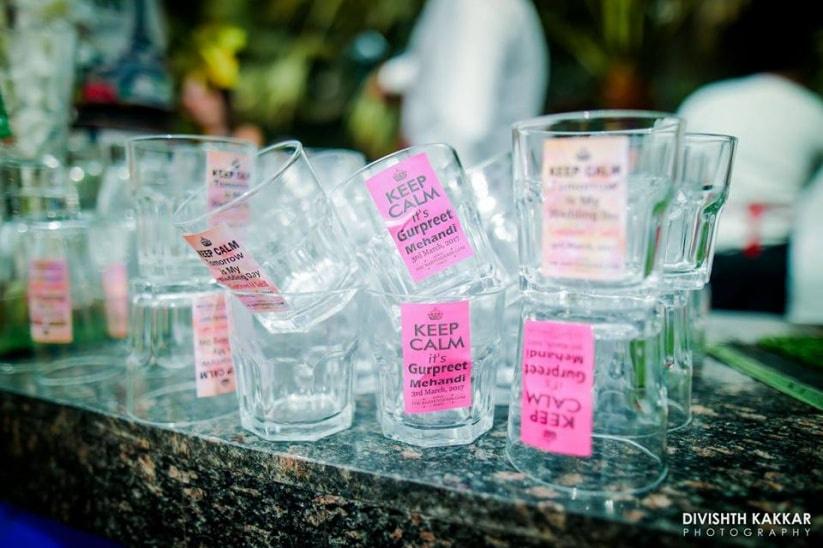 Put your wedding tags on the glasses and instantly turn up the quirkiness of that event. That's how subtly wedding tags work their magic into your wedding. Look at these cute stirrers! Anything can turn into a wedding tag with your creativity, so let the imagination flow.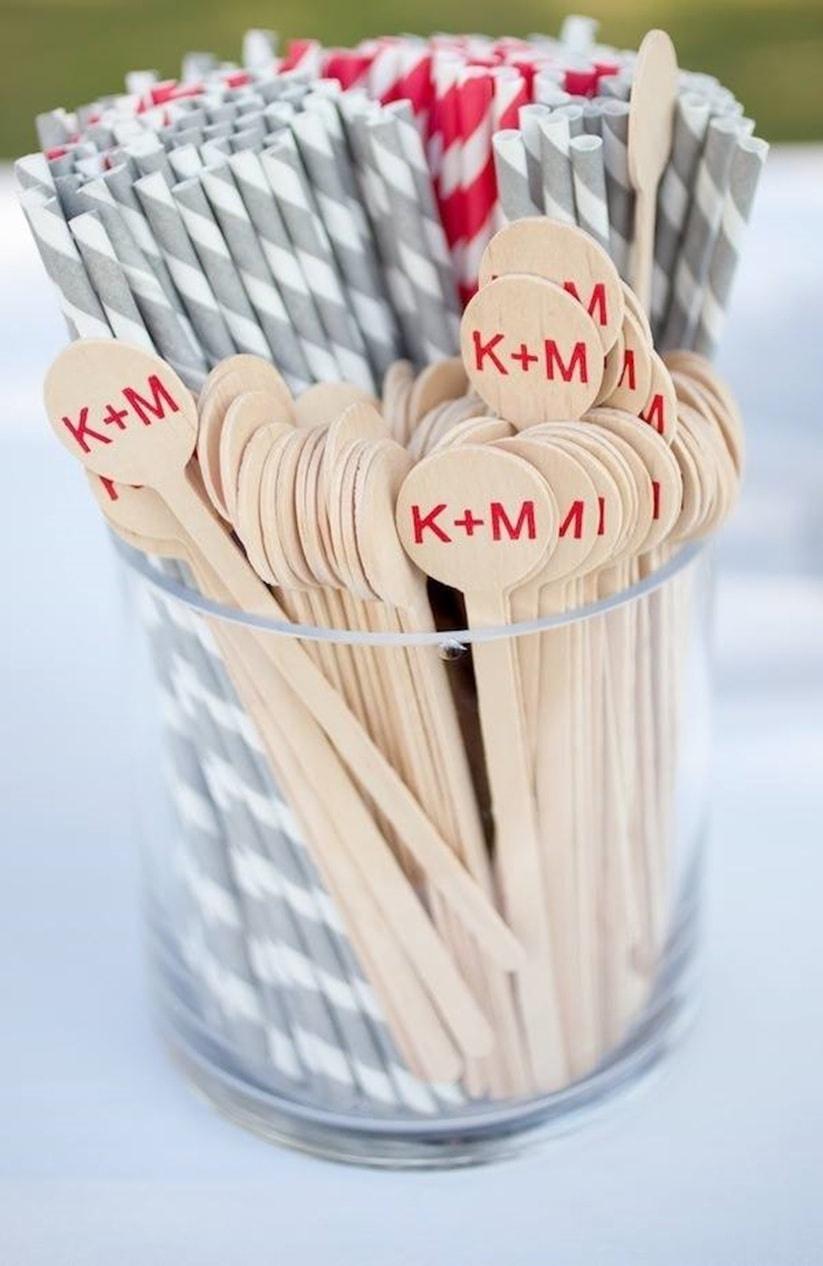 This would definitely add a wonderful touch to your wedding ceremonies while making them personal for you. You can get creative and play around the idea of cutlery tags while choosing the range of options like getting your initials printed, your wedding hashtag or even something that goes with the overall theme of your functions.
12. Counter cards and place cards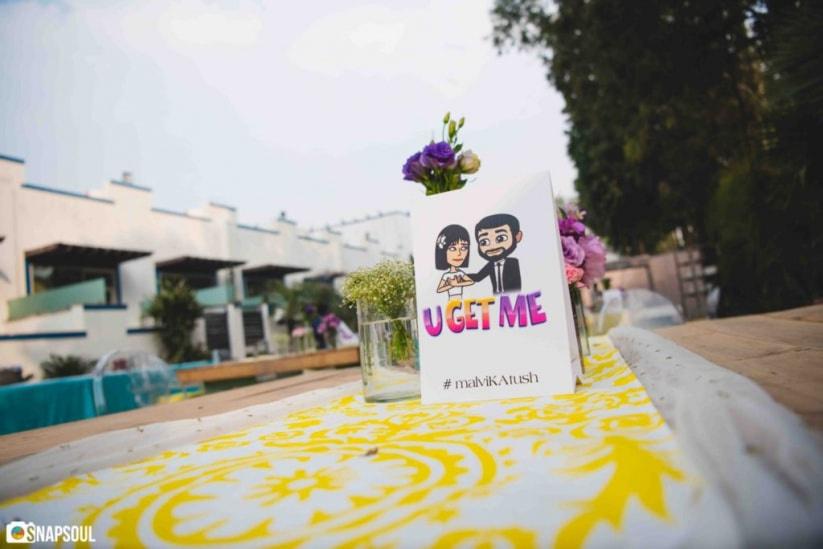 Place cards are optional but counter cards are at every wedding. Why be basic when you can go dramatic with the simplest of efforts? Turn them into funky wedding tags for all your wedding guests to remember your fun wedding decor.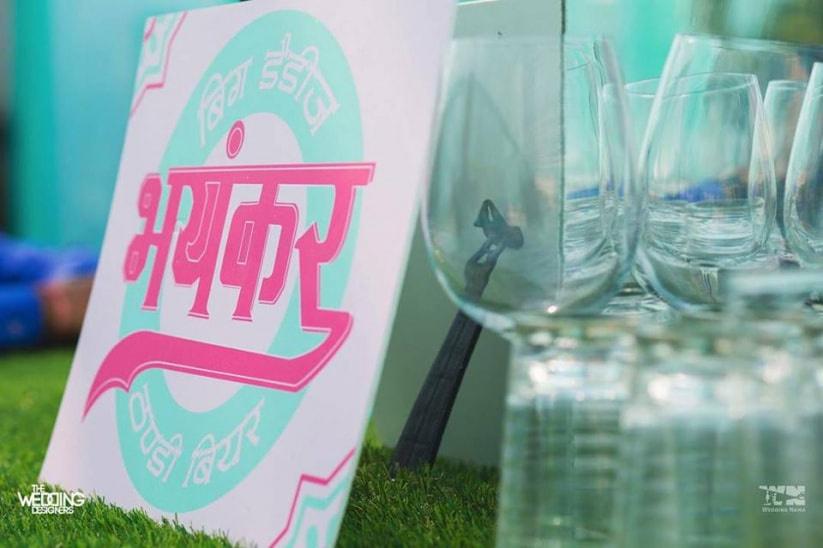 You can use these personalised and customised cards over your tabletops, along with your cuisine and even at your ceremony occasion.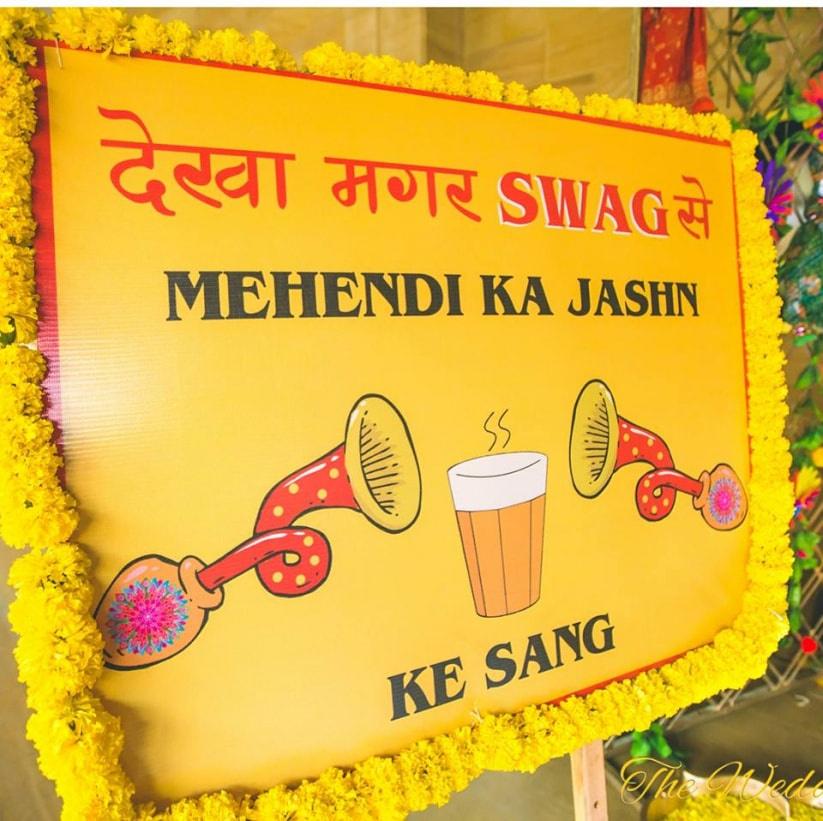 From your beautiful wedding hashtags to quicky quotes and dialogues, you can incorporate a range of words that would make your wedding festivities much more meaningful and memorable.
13. Say it with #Hashtags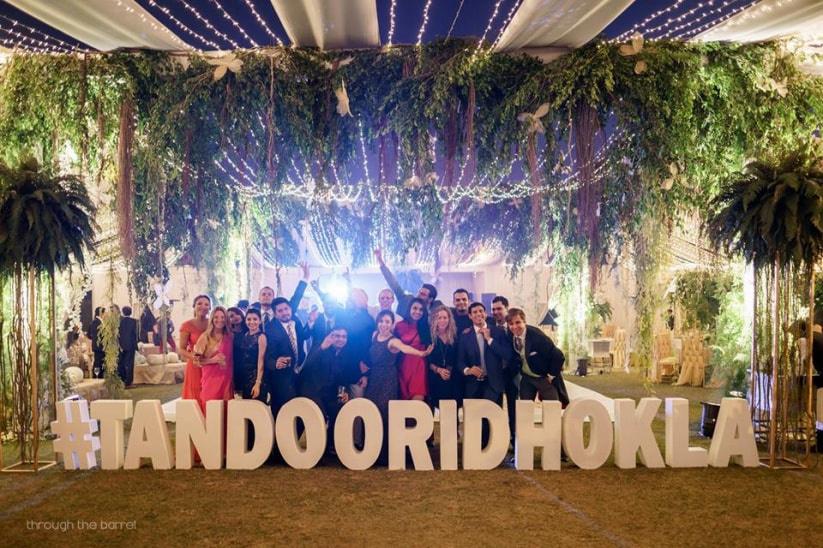 Wedding hashtags make your wedding tags even cooler. So, make it large and turn this wedding tag into a photobooth for your guests to enjoy a posing session around. You can come up with creative wedding hashtags for your wedding as you go about planning it as it adds a fun factor to all of your vibrant festivities. Your wedding hashtag is personal and you can choose to use any words that hold meaning for you, it can be the combination of your names, slogans or dialogues. Just as you are happy, it would work tremendously.
All these examples show you how easy it to include wedding tags in your wedding decor. For an enhanced effect, you can suggest your wedding decorators play around with the graphics of your wedding tags as well. Use the wedding font to make these tags a part of your overall wedding theme. And if you please, add the colour of the theme as well.
What's your wedding tag going to look like? Tell us in the comments below.