New Married Couple Images That Scream "Cuteness Overload"
After all those gorgeous pre-wedding images, here's a collection of some post wedding stuff. Take a look at some New Married Couple Images that are totally cute!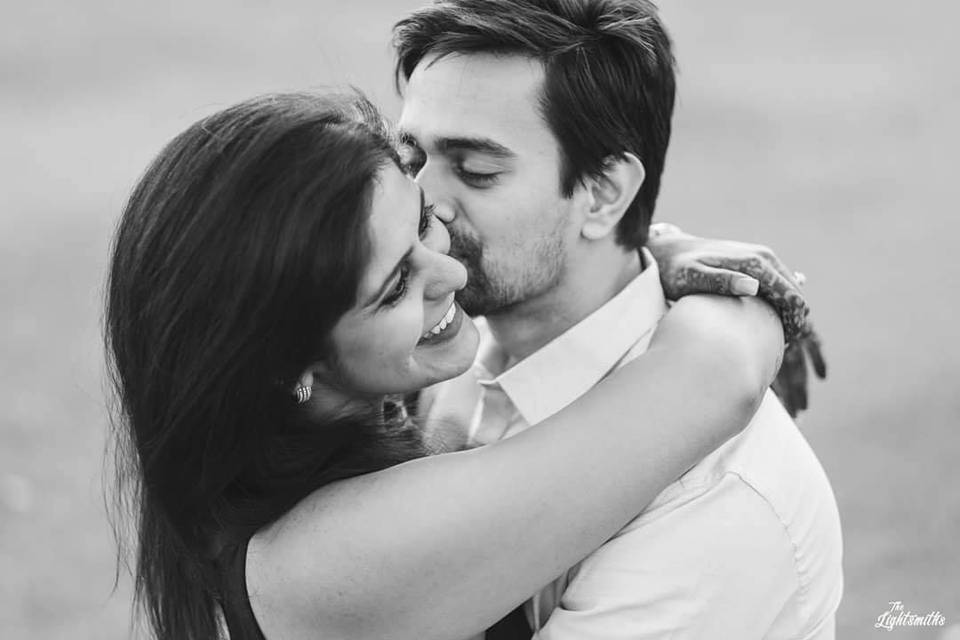 When a couple begins their marital journey, they have new dreams and excitement to design their fresh lives. How to decorate their new home, where to plan their first trip as a married couple, whom to call on their house parties...there is so much to plan and execute! Imagine getting a glimpse of a newly married couple and their little piece of paradise that they've so lovingly created for themselves! That's exactly what we've got for you this time! Flap through these super sweet New Married Couple Images that tells their stories in different styles.
1. Story time!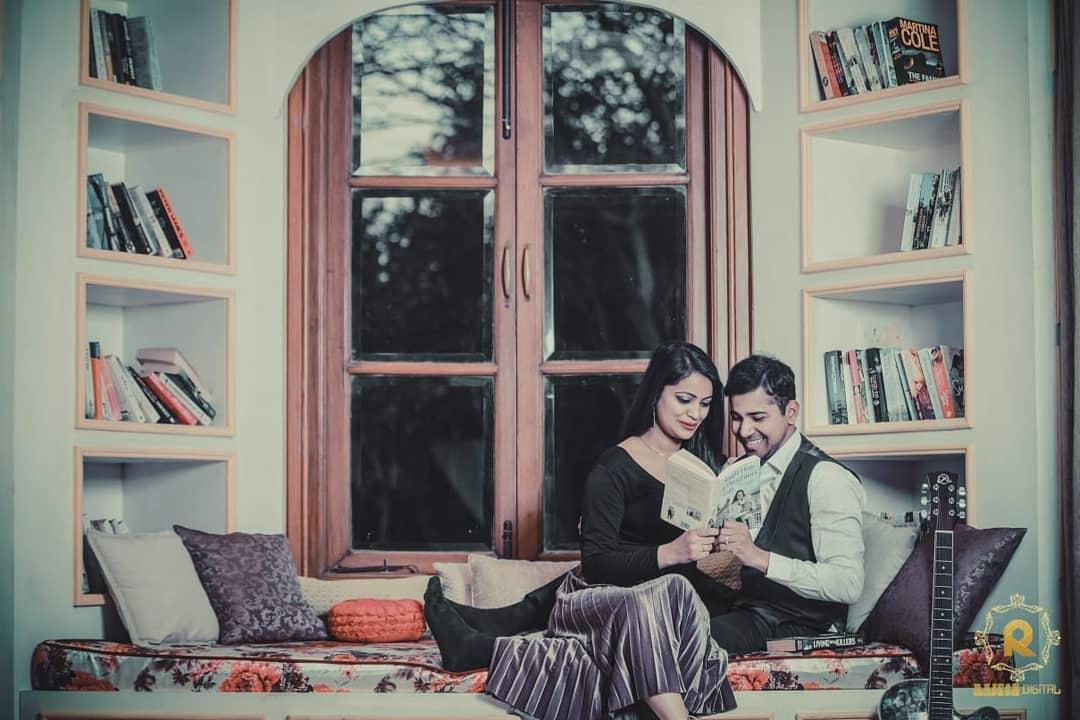 Find a cosy corner at your newly decorated study and read a story book...together! New married couple images look gorgeous only when they're candid or appear to be candid! If both of you have similar tastes, use that in your post-wedding photos. If reading is what you both love, do that together! Sometimes, reading each other a story is the most romantic thing a couple can do!
Outfit Inspo: Smart casuals and comfortable clothes work best in these photos. A pair of jeans and t-shirt or palazzo with a smart top or kurti would look perfect.
What works in this photo: The neatly arranged study, appropriately coordinated clothes and the candidness.
2. Morning Run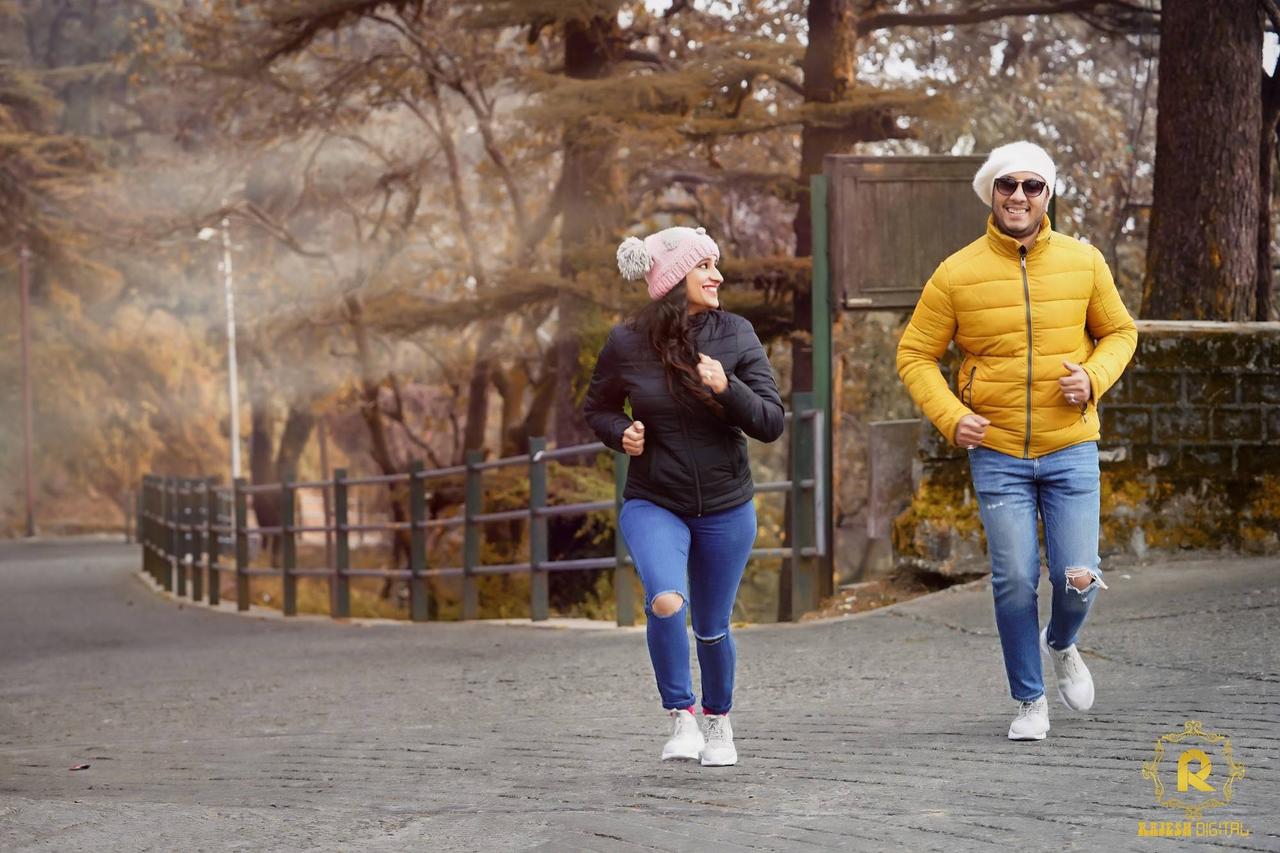 So both of you are fitness freaks and can't miss your daily morning run! So why not getting new married couple images with the two of you running? A shot of the couple in their sweatshirts and running shoes enjoying the early morning breeze gives us a quick peek at their everyday mornings. The outdoor location with trees and birds makes the runner couple photo even more picturesque.
Outfit Inspo: Bright colour jackets and caps on a winter morning, pair of coordinated jeans or running tights and coordinated running shoes.
What works in this photo: The candid running of the couple while smiling and talking to each other, the pine trees and the cold weather mist at the background.
3. Vacation mode on!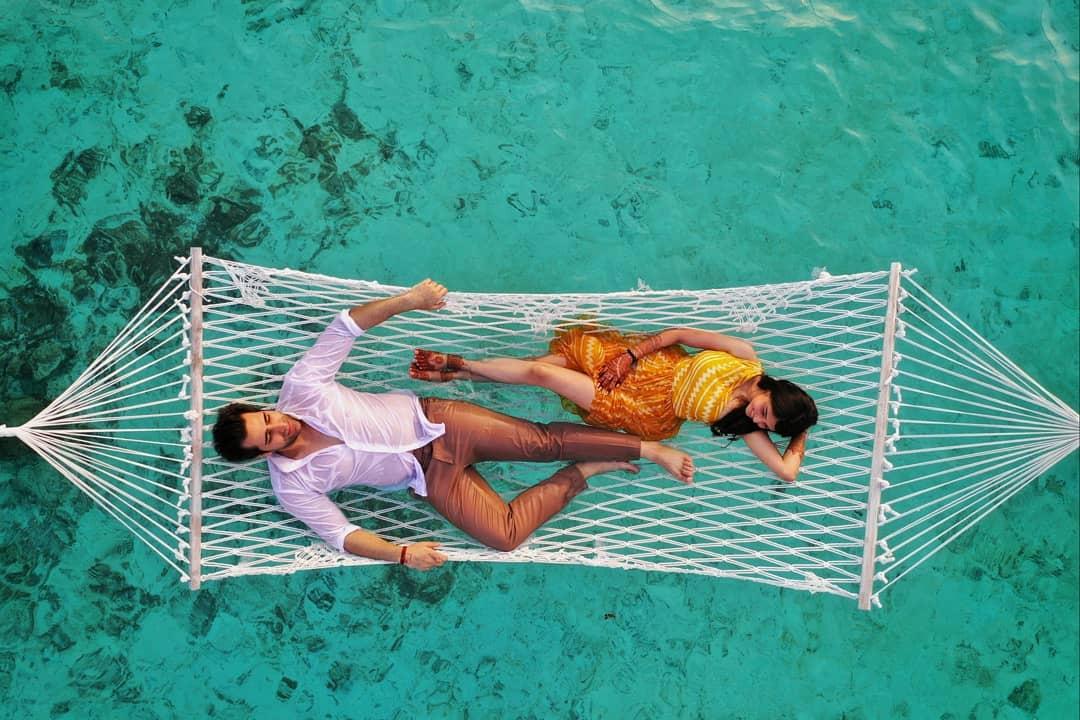 Whether it's the couple's honeymoon trip or a first-anniversary staycation trip to a lavish beach resort...new married couple images chilling on their vacay are always a delight to watch! Soak in the sun, drink up some exotic cocktails while chilling on a hammock by the sea...how can anyone not have a spectacular photo with all of this?
Outfit Inspo: White shirt with casual khakis and a vibrant coloured sarong are all you need to look ravishing!
What works in this photo: The fantastic colour combination of the outfits and the background colour of the water. Also the top shot pf the couple on a hammock is a sure winner!
4. Game night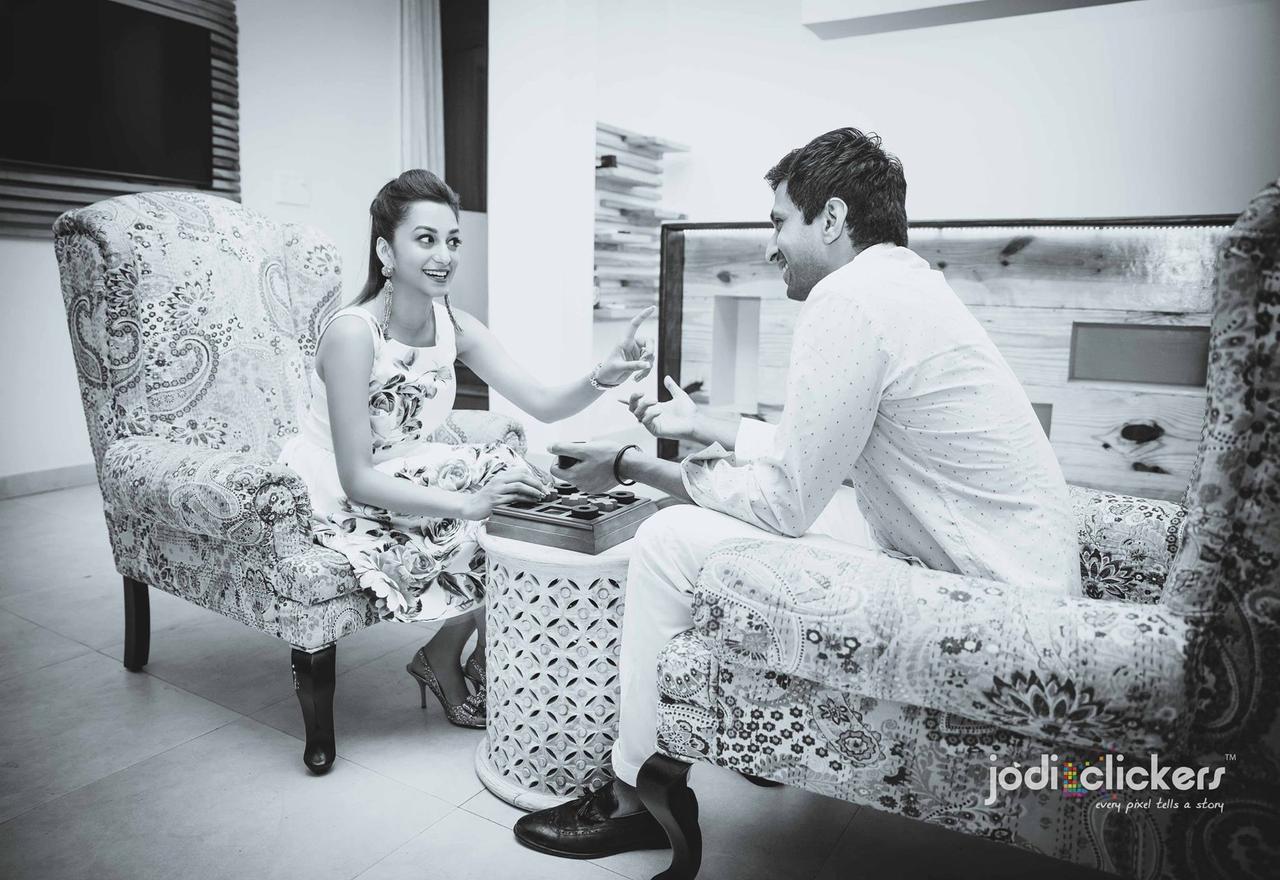 Let's up the excitement a bit on a game night! Every married couple needs a special night once in a while when they can let go of all their "adult" inhibitions and play games for sheer fun! And while the cute couple fight over who won and who cheated, the photographer gets some uber romantic new married couple images for their album!
Outfit Inspo: A summer dress or a midi skirt and top, white linen shirt and khakis.
What works in this photo: The casual banter between the couple over the game, the black & white mode and the candid expressions.
5. Revisit Nostalgia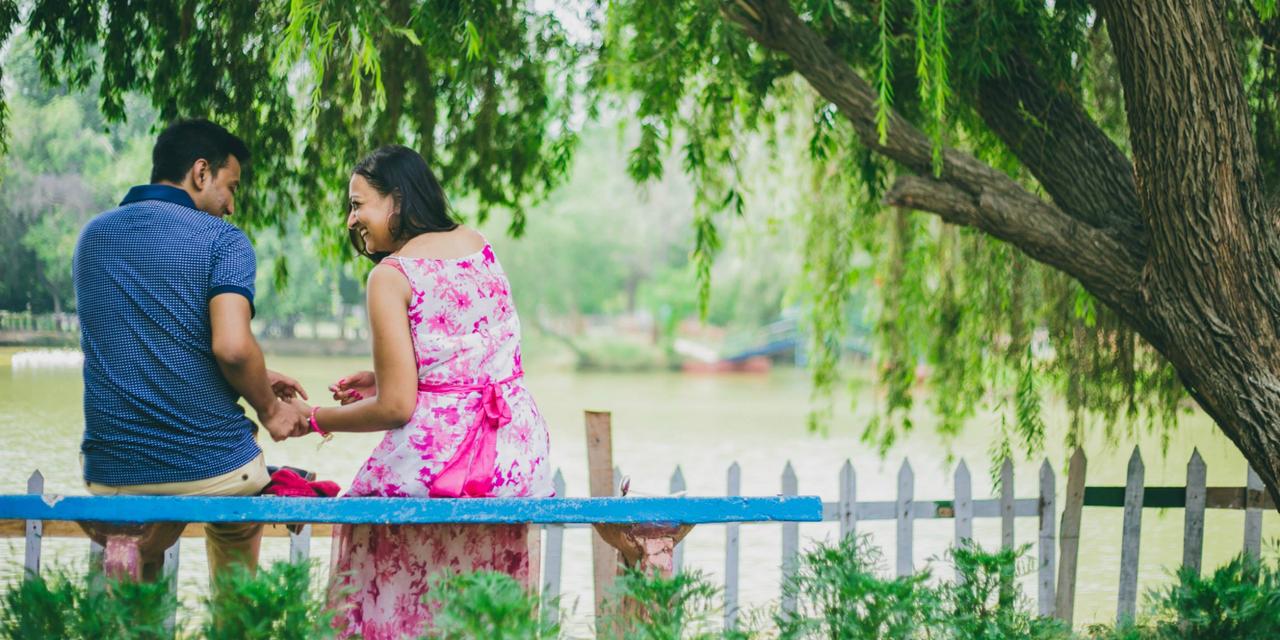 Do you know which are some of the most loved new married couple images? The ones that are dipped in nostalgic moments! Visiting the first date location or the place where you proposed will only bring some sweet memories that would naturally reflect on your smiles and giggles! Watch the magic of memories on your photographs later!
Outfit Inspo: Casual t-shirt with cotton pants or jeans, a colourful summer dress.
What works in this photo: The genuine smiles and chemistry of the couple, the colour combination of the dress and surrounding greenery.
6. Bike Date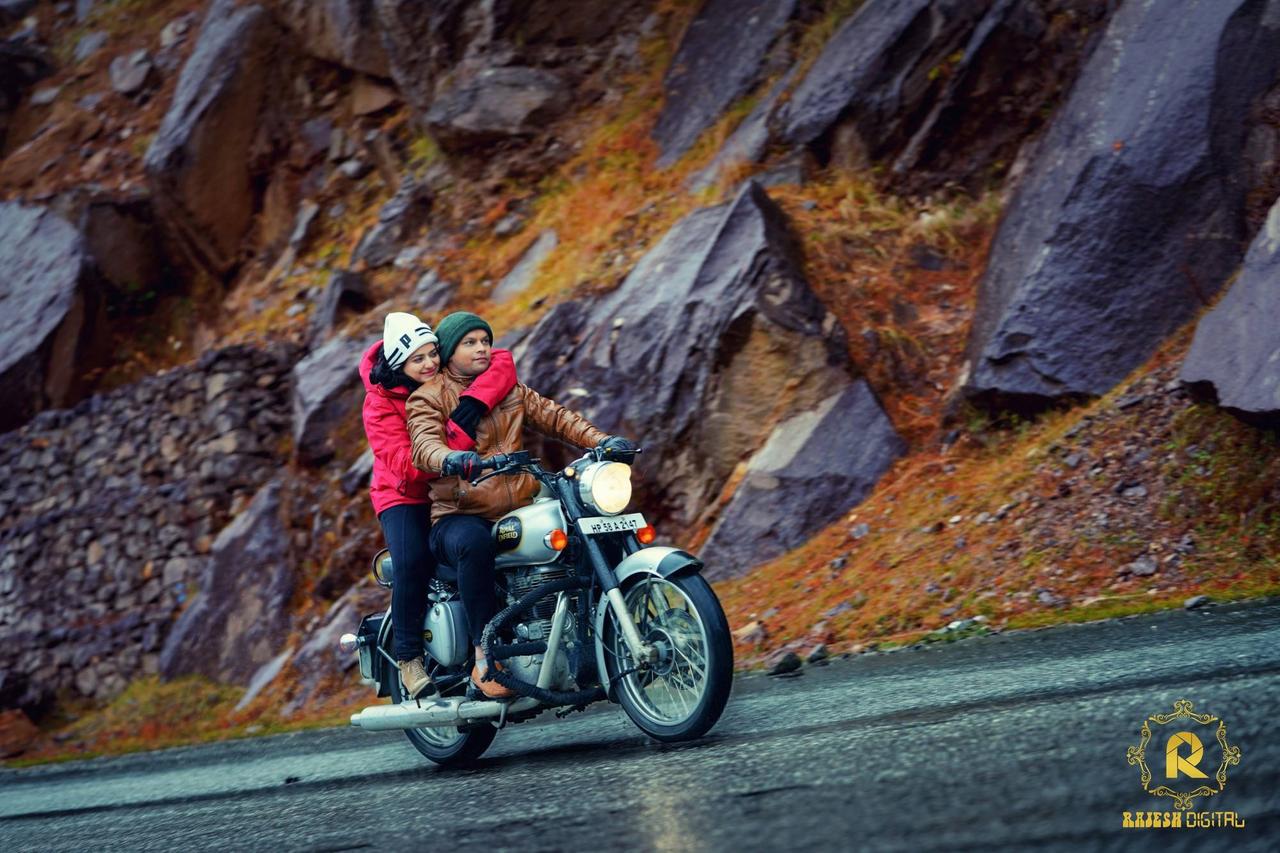 If both you and your wife equally love the road-chopper, that's exactly what you must display on your new married couple images! Go for a long rusty bike ride pose (in the rain, even better!) to feel the thrill! Nothing looks hotter than a couple getting cosy on the machine!
Outfit Inspo: Coordinated jeans, leather jackets in different colours.
What works in this photo: The smart outfits, the bike ride on the mountains and the adventurous vibe.
7. Casual Date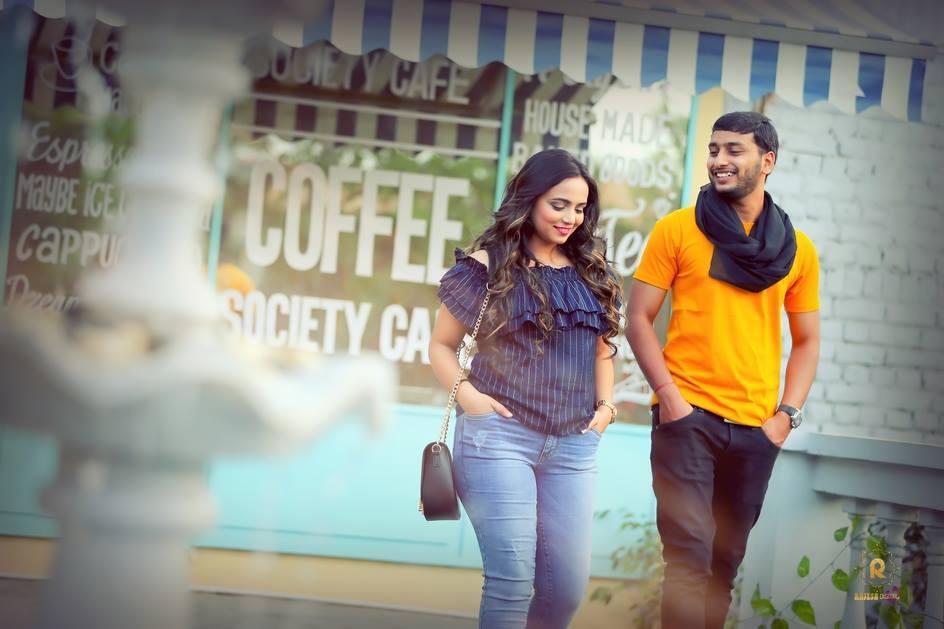 You don't need a Valentine's day or any special occasion to go out on a date! One of the coolest new married couple images are those which show the couple out on a casual date! Share jokes, have a drink or two, talk about the things you love...and don't forget to flatter each other! That's the secret to a stunning date pictures!
Outfit Inspo: Casual jeans with an off-shoulder top and a sling bag.
What works in this photo: The casual date vibe, no OTT posing or dressing, the comfortable ambience and casual conversation.
Hope you got some insightful tips to achieve fabulous new married couple images! The key is always to keep things as candid as possible. Even when you're posing, try a little bit of acting so as not to make it seem like a pose at all! Keep the conversation going. Talk about your romantic date nights or your proposal stories because those are the things that will bring genuine expressions on your faces. Forget the camera exists. Just stay in love and your photos will speak volumes!
If you haven't hired a post-wedding photographer yet, take a look at our vendor's list for some great deals!