Don't Know the Perfect Angle for Your Indian Wedding Couple Photos? 9 Portrait Ideas That You Need to Check-Out
We are living in the times of 'Pictures or it didn't happen' philosophy. It is only natural that you'd want your wedding album to be nothing less than perfect. We've come up with some stellar Indian wedding couple photo styles for you to pick from.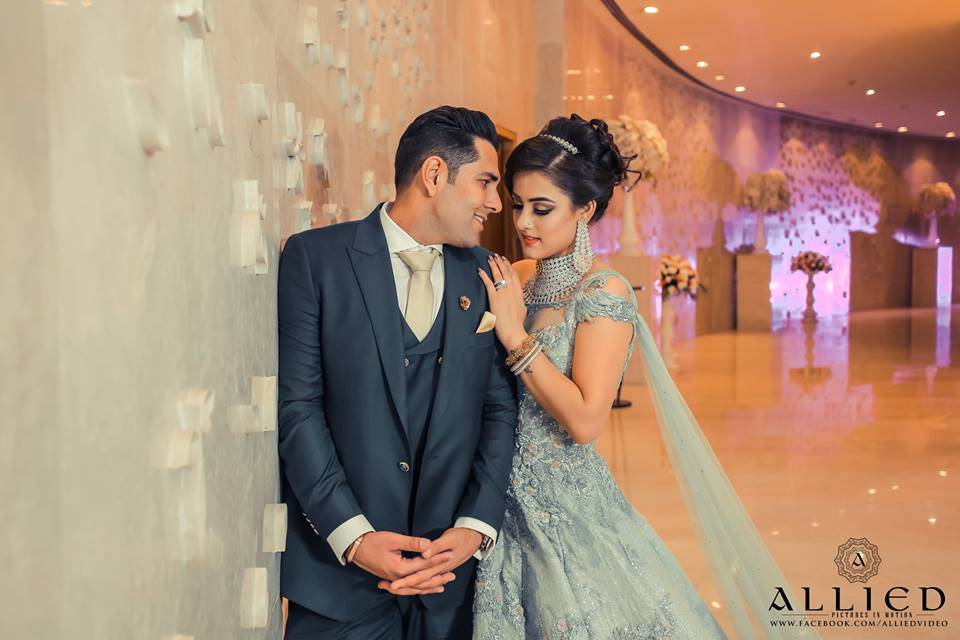 The wedding festivities end after a couple of days, memories tend to blur a little over time, but pictures? Well, they sure are forever. As looking through multiple Indian wedding couple photos will show you, it has become an important ritual. The process is now as compulsory as the age-old traditions which govern the sacrosanct ceremony. However, getting the perfect Indian wedding couple photos is not as simple a task as many think. It is not merely snapping pictures in a variety of settings. Each shot should be able to tell the couple's story or at least some part of it.
And as much as it is your photographer's job to make you two shine through, you too need to put in some work. Read on to know about our top 9 picks for Indian wedding couple photos, and try them to find what works best for you.
1. I'll always be by your side - the arms around each other portrait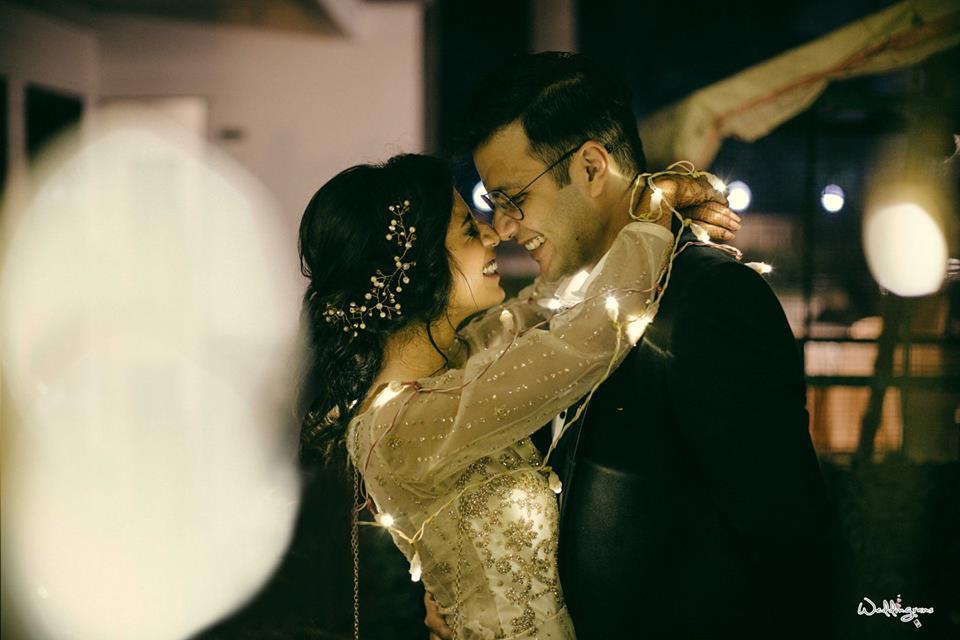 There is something very reassuring about the simple act of having your arms wrapped around your better half. It is at the same time calming, supportive and loving. When it comes to Indian wedding couple photos, this is a simple style which speaks volumes when clicked right.
2. I'm here for you - the subtle lean-in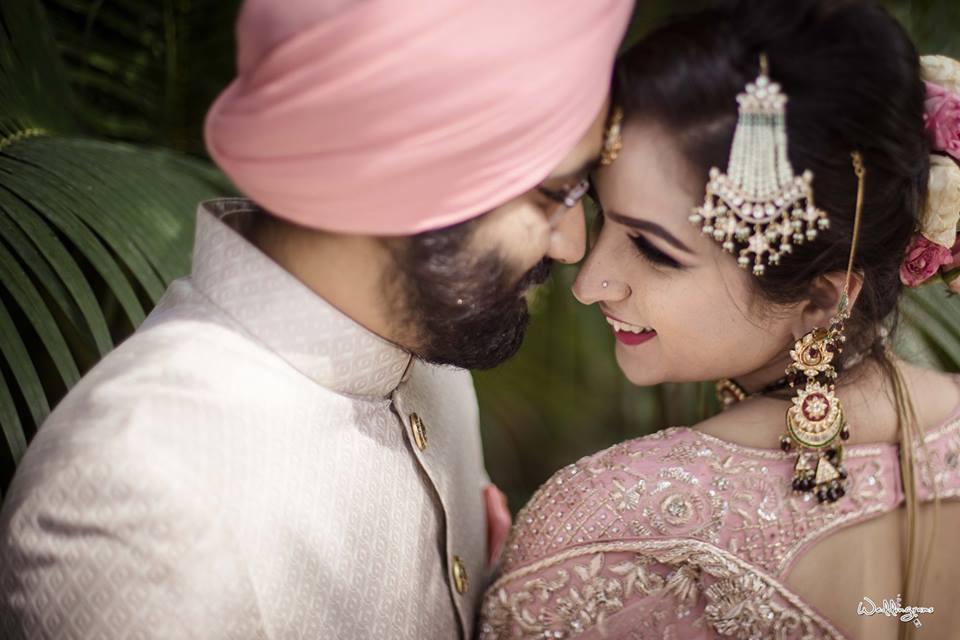 Another affirming pose. This is at once a display of love as well as a promise to be there by the side of each other - through sickness and in health. Gently touching your foreheads together adds just the right amount of warmth and love in the gesture.
3. Ready to whisk you away - the broom carrying the bride portrait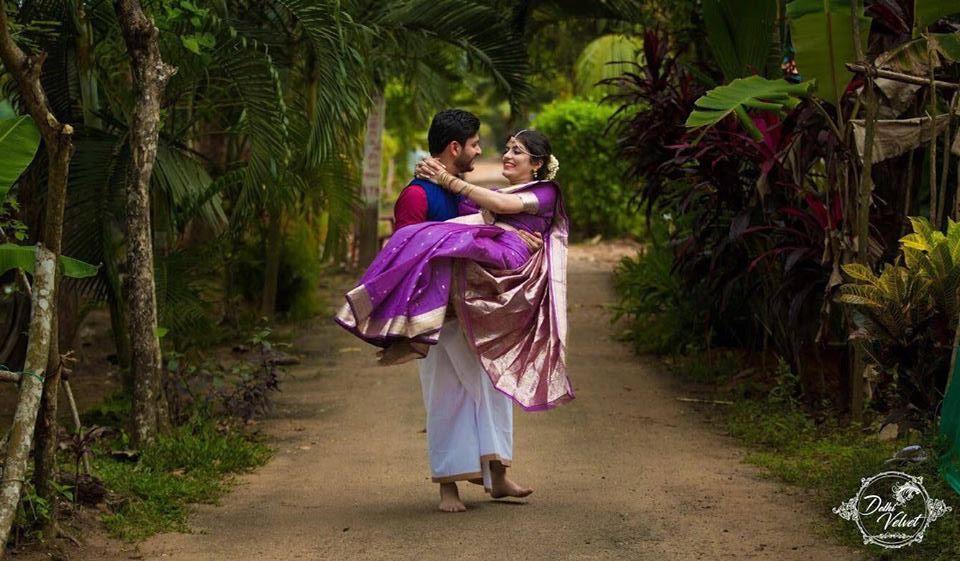 Husbands-to-be time to hit the gym (if you haven't already). This is a quintessential fun pose which has its origins in some not-so-ordinary traditions. Another great point is that it generates some really heart-warming candids. Trust us, no posed portrait can match the pure and natural smiles on the faces of the couple as they try to maintain their balance.
4. Partners in Crime, officially - the fun and quirky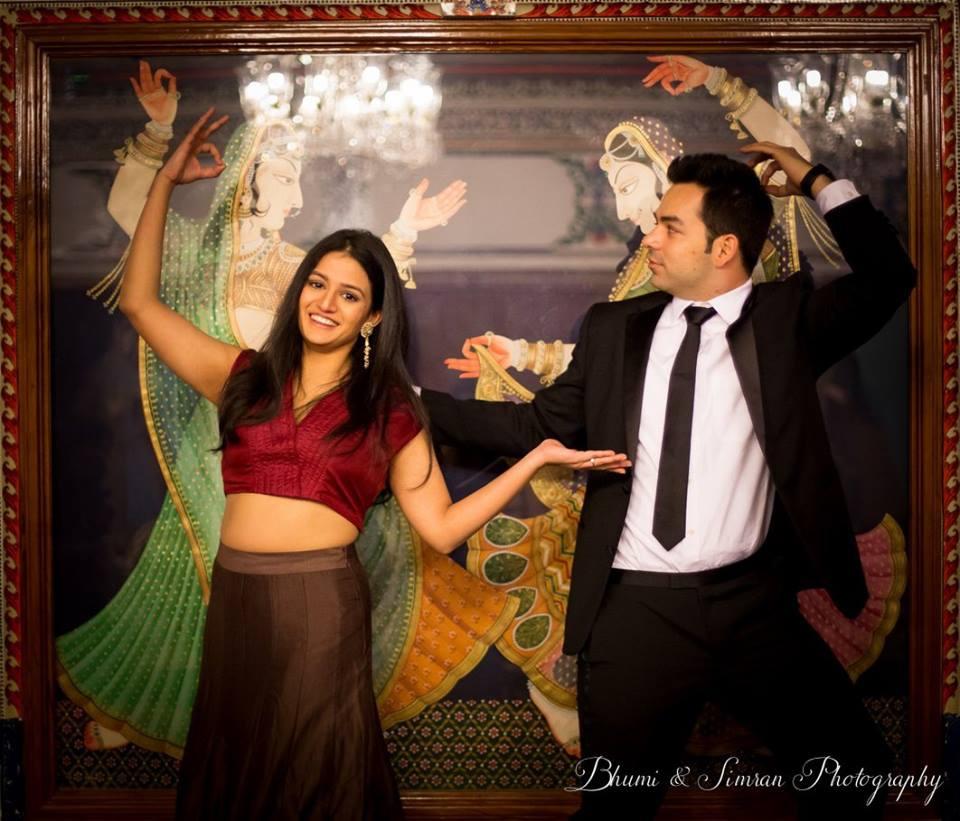 Weddings can be a lot of hard work, especially more so for the leading couple. Here's a fun idea - why don't you turn your official portrait session into a fun hangout? Be crazy, be funny, be you. Have as much fun together as you can and rest assured, the camera is capturing every beautiful moment as you two let off steam. That right there is a recipe for some killer Indian wedding couple photos.
5. The first dance - the twirl around the dance floor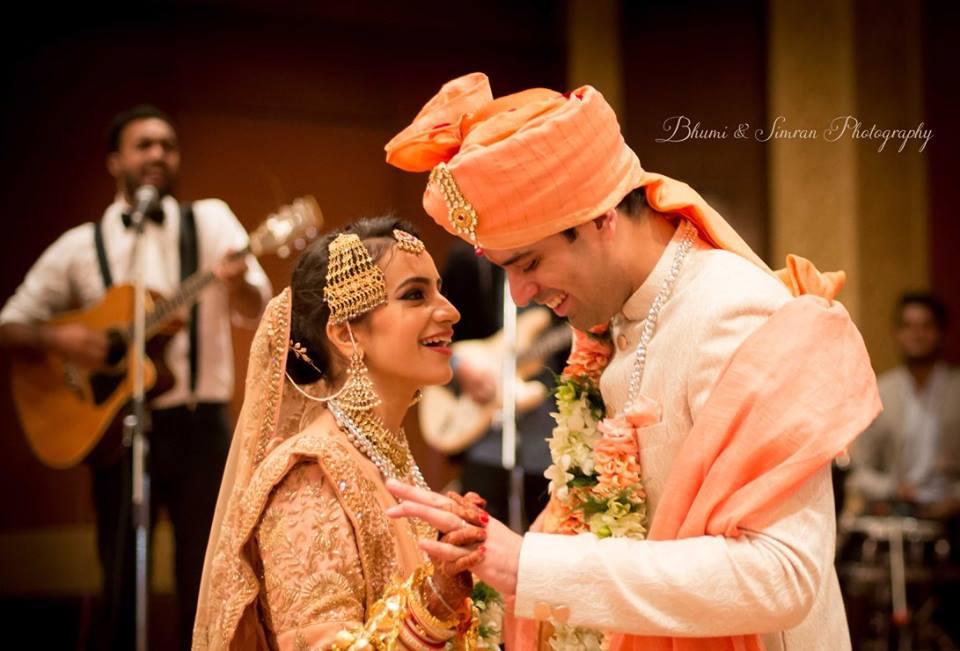 A very popular contender for every couple's cover photos, and why not. The elegance of the bride as she moves across the dance floor, the devotion on the face of the groom as he looks on at his better half, all make for the perfect click. This is one portrait that you absolutely cannot miss from your Indian wedding couple photo lookbook. So 5-6-7-8 and go!
6. Laughing out loud - the fun with no inhibitions portrait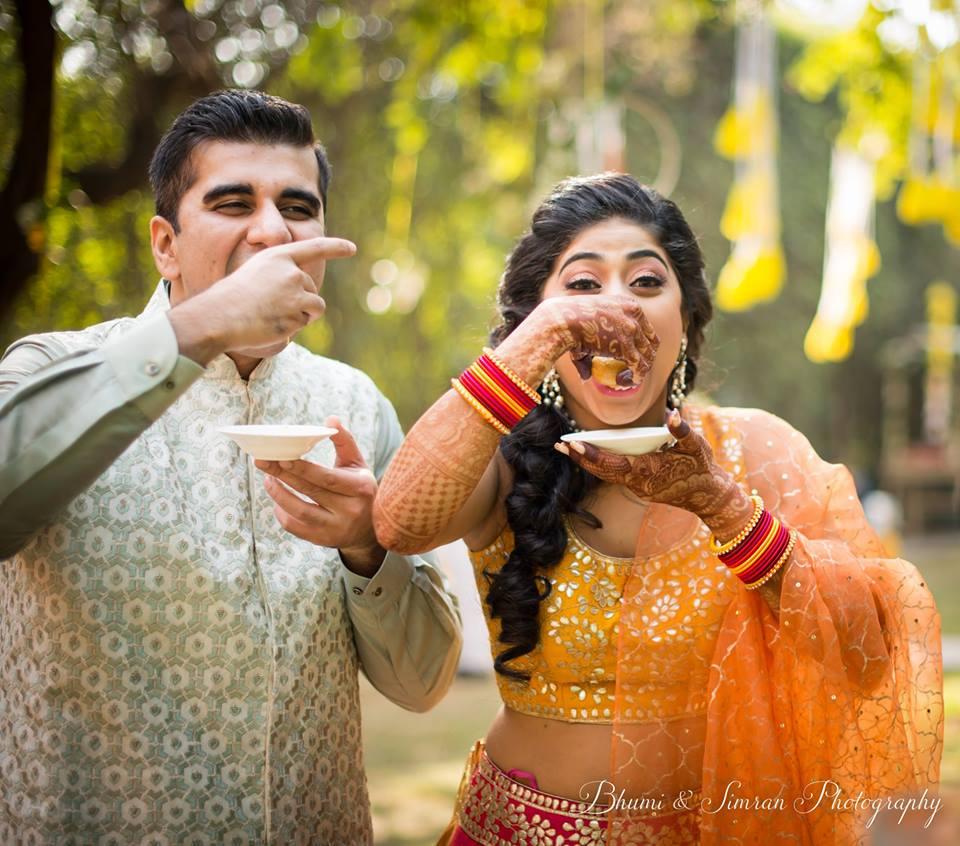 This one almost exclusively comes out best when the photographer is clicking candids without the knowledge of the bride or the groom. Trust us, laughter is infectious, whether in reality or from pictures. This is one shot that will bring back a smile to your face every time you look at it trying to remember exactly what was so funny about the moment.
7. Stealing a kiss - the gentle peck on the cheek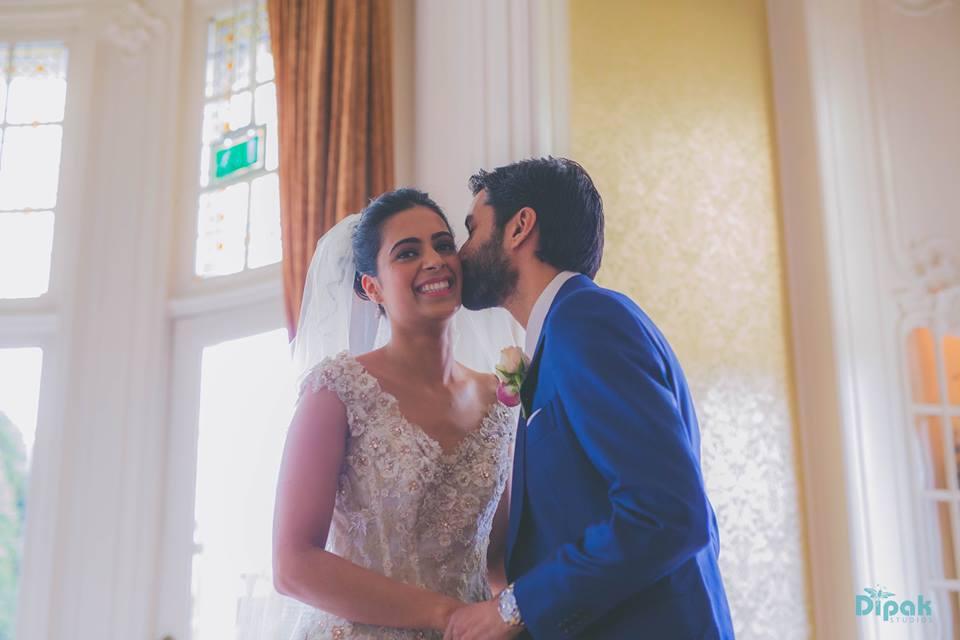 When it comes to Indian wedding couple photos a gentle peck on the cheek is the perfect balance between the love and passion which the couple must naturally be feeling and the propriety which the elders expect. This is a definite win-win, it is graceful, romantic and delightful all at once.
8. Out of this world - the surreal artistic shot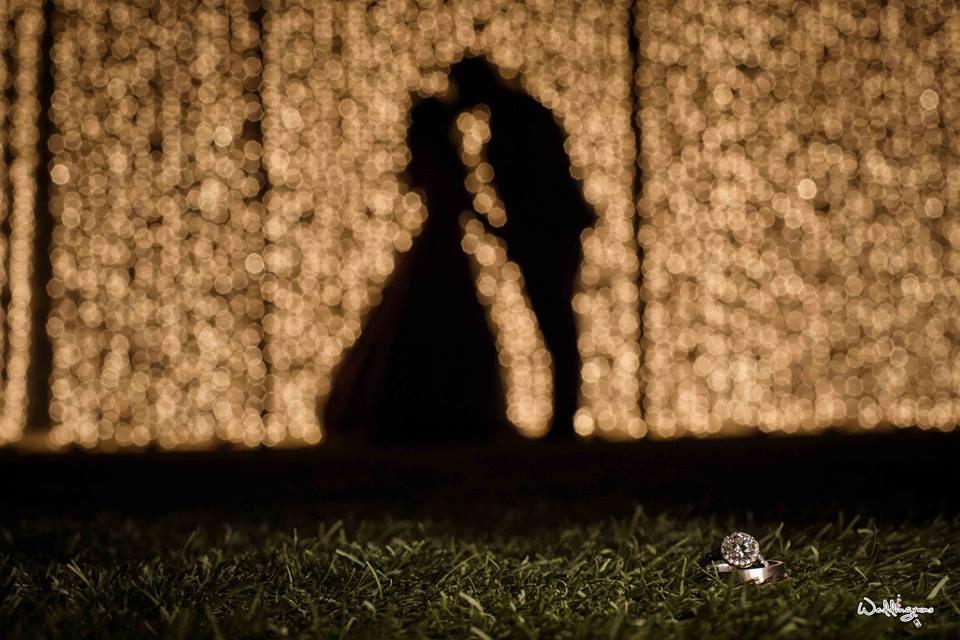 For the wedding couple, their love story is nothing less than a fairy tale. So shouldn't the couple's wedding pictures be just as magical and surreal? Ask your photographer about his editing skills and what elements can he play with and click away to magical glory.
9. Just the two of us - the intimate moment caught on camera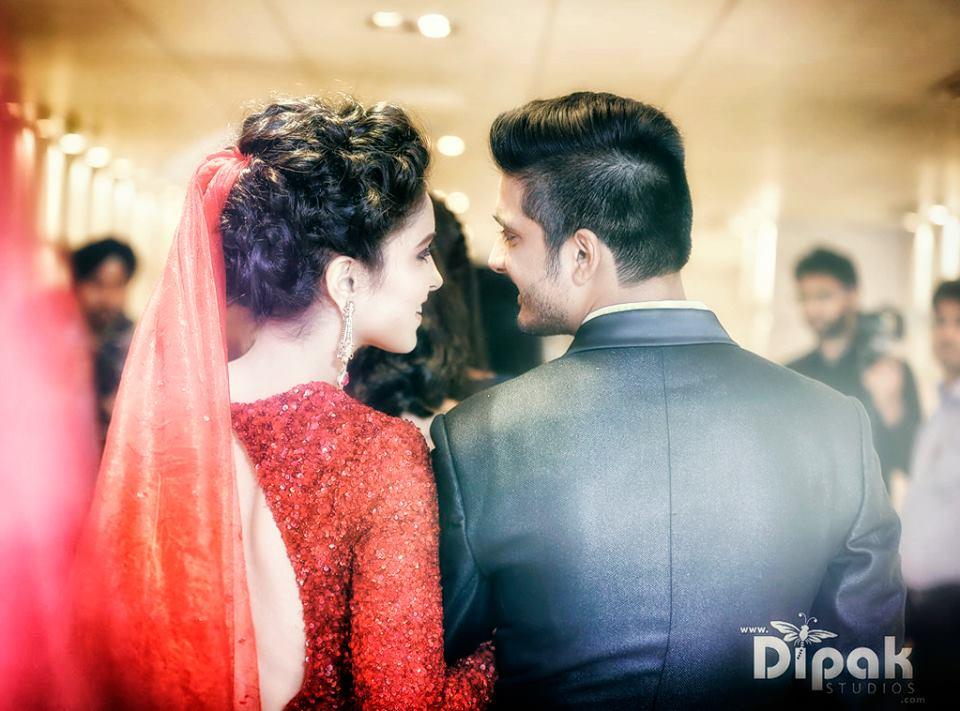 A wedding is about two people who almost never get any "us" time in the middle of the festivities and loved ones. But even while surrounded by chaos, love finds its way and these stolen moments of affection get captured for posterity. There is something truly beautiful and unique about a couple sharing a knowing look or a private joke in the middle of the celebrations. After all, in the end, the only thing that matters is that the two of you are in this together.
Honorary mention - The classic sit-in portrait, what we sometimes call 'The Raichand pose' (Kabhi Khushi Kabhi Gum- get it??). This one pose is a staple in all Indian wedding couple photos. It can be found in your parent's wedding albums and their parents before them. Why not play around with this one a little bit, and make your own regal-looking portrait.
Liked these ideas? You can try one, and you can try all- that's the beauty of the digital age. So what are you waiting for? Find the right photographer who can help get your version of Indian wedding couple photos.